10 Vinyl Transfer Projects – Step By Step
We're all always looking for new and inspiring project ideas, am I right!? We've searched the web for ten awesome projects that you can make with heat transfer vinyl and adhesive vinyl. So get out your cutting machine and heat press, and give some of these ideas a go!
#1 DIY Personalized Mugs
First up we've got this project from persialou.com. In this post, Alexis shows how to make these personalized mugs using adhesive vinyl. Change up the colors and the style of mug, and make this project unique to you. She has some helpful tips to make sure you get the best result possible, especially with her tip to do reverse weeding! I love the font she has used and I think these mugs turned out awesome! There are links for you to download the SVG files for both of the designs used. If you own a multifunction press or a mug press, then you could use HTV instead, which will be more durable long-term.
#2 Popsicle Tote Bag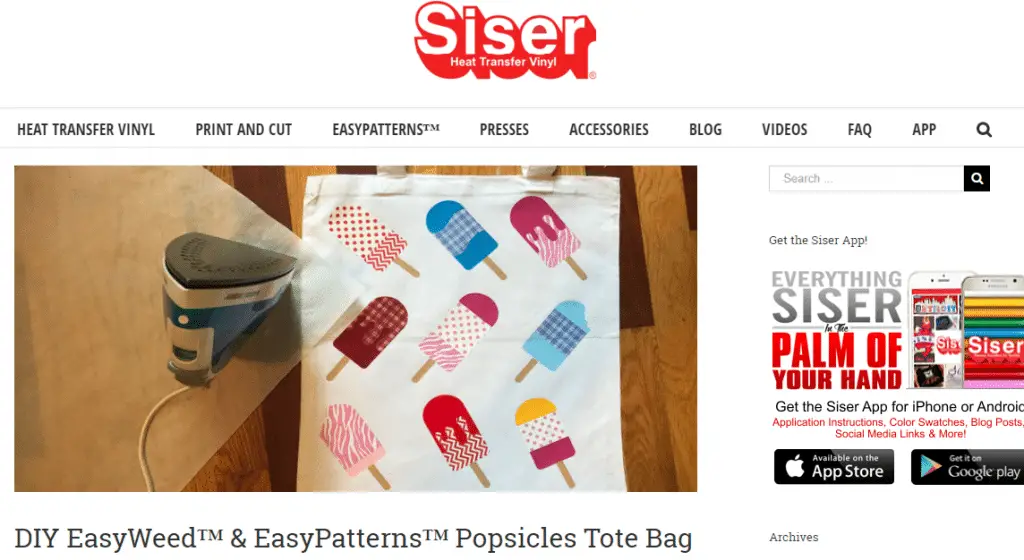 Unfortunately this project has been removed from their site – so you have another project you could share with us? Next we've found this Popsicles Tote Bag from the Siser Blog. Isn't it too cute?! This project is done using Siser's new EasyPatterns heat transfer vinyl. EasyPatterns, like Siser EasyWeed, has a pressure sensitive carrier that makes it fast to weed and very easy to work with. For this project, Lily gives step by step instructions and many pictures showing the entire process of how to make this tote bag. It's a little time consuming, but well worth the effort!
#3 Shimmer Heat Transfer Vinyl Tank Top
In this project from happycrafters.com, Chelsea shows how to press shimmer HTV unicorns onto a tank top. I love the iridescent look of this HTV – it is very subtle but stylish. You could really make this project unique by changing out the color and type of garment (maybe even put it on a dress?!), and the design (though I think the unicorn is too cute!) to make it exactly what you love. I definitely need to get my hands on that shimmer HTV!
#4 Alphabet Art
This next project is by far my favorite one out of this whole list. Megan from thehomesihavemade.com gives a tutorial on how to make this adorable canvas that she put up in her children's playroom. Here she paints a canvas in a blue color, places letters of the alphabet on top to work as a stencil, paints over the canvas again with white paint, and then lifts up the vinyl letters to reveal the original background color underneath. What a genius idea! I just love how it turned out with the watercolor effect and how it looks like it's handpainted!
#5 Custom Kitchen Towels
In this tutorial by Mandy at sugarbeecrafts.com, she shows a perfect idea for customizing kitchen towels. She shows how to sew pretty fabric on them and then how you can press vinyl words on top. She has chosen such pretty fabric for this project and the vinyl words 'chop' 'stir' 'whisk' and 'slice' make a cute set for any kitchen. As long as you know how to sew, this project shouldn't be too difficult! This is a great idea to try if you want to add a little spark of joy to your kitchen!
#6 Patterned HTV 'Mermaid Life' Shirt
This is another awesome tutorial showing how to use patterned heat transfer vinyl. Melissa from silhouetteschoolblog.com shows in this post how to make this adorable 'Mermaid Life' shirt using Sparkle Berry Ink HTV. This project is a little complicated (because you have to treat the patterned HTV as if it's adhesive vinyl until you eventually heat transfer it) but Melissa has so many photos with detailed instructions to guide you on exactly how to use this product.
#7 Custom Cork Trivet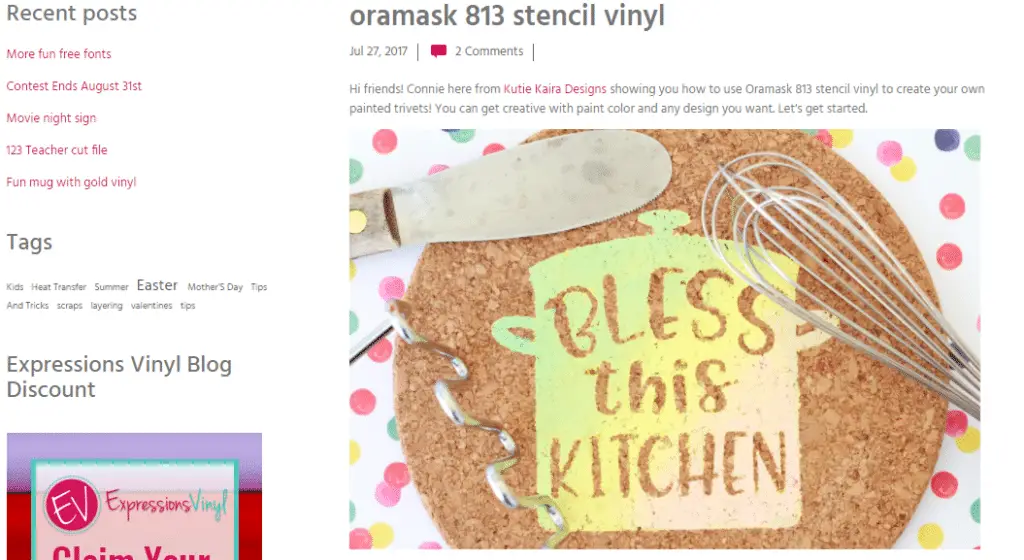 Here's a cool gift idea – personalized cork trivets! In this tutorial from expressionsvinyl.com Connie shows how to use vinyl as a stencil. Simply cut out your design, weed it, place it on the trivet, paint over it, lift up the stencil, and you're good to go! You could use this idea and make so many cool things – and you could make great personalized gifts for friends and family! I love how Connie has blended three different paint colors together to make this unique effect.
#8 Personalized Water Bottles
This aim of this tutorial by Kimber from thepinningmama.com is to explain to beginners how to use transfer tape with vinyl, however I loved her finished DIY so much that I thought i'd include this project in the list. I love the font she has used on the bottles, and this is such a practical idea to tell who's bottle is who's! This post is an excellent introduction for anyone who is just learning to work with vinyl and needs to go through some of the basics.
#9 Color Block Tank Top Using Foil HTV
In this tutorial from Stahlstv.com, Jenna explains how to create this color blocking effect with Foil HTV. She uses Stahls' CAD-CUT Adhesive which acts as a glue for the Foil HTV to stick to over top.  There's a video tutorial in the post showing exactly how the project is done. Jenna also shows how you can scrunch up your foil before you press it to create a cool distressed effect. This would be an awesome product to create in your business (or for yourself!). If you like the look of the pink craft press they're using in the tutorial, you check out our review of it here.
#10 'I Will Survive' Succulent Vase

The last project idea we've found for you is this tutorial from kimberdawnco.com showing how to make these cute succulent vases. This little trio of vases, each one unique but with the same color scheme, work perfectly together. Alicia also shows how she used her excess vinyl as a stencil on one of her vases, and it turned out great! This project idea would look great used on mugs too. You can download the 'I Will Survive' SVG cut file for free on their website.
Conclusion
We hope you love these project ideas and try some of them out! These detailed tutorials make it easy and less intimidating to try out a new technique, or to try products you've never used before.
If you'd like more project ideas, check out our articles 5 ways to earn extra money with vinyl and 10 cheap and easy gifts you can make with your heat press.
Thanks for reading! If you have made any of the projects in this post, please tell us about it in the comments below!
(Please note: This post contains affiliate links. Read our full disclosure policy here.)