Affinity Designer Vs Illustrator: Which is Best for Design Today?
This post contains affiliate links. If you use these links to buy something, we may earn a commission, but it doesn't cost you anything. Thanks!
Affinity Designer Vs Illustrator – let's compare them!
If you are working in design, you have probably already become familiar with Adobe products. For the past 30 years, the design world has revolved around the latest image editing and design applications from Adobe.
However, that is beginning to change as more desktop and mobile apps come out with image editing features that rival this graphic editing giant.
Illustrator Vs Affinity Designer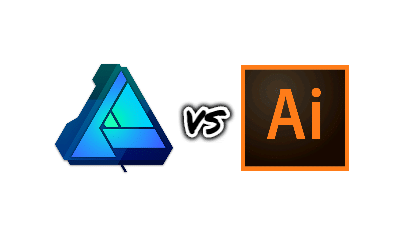 Can new applications like Affinity Designer truly deliver the same results as Illustrator?
If you look at tool sets, file formats, and workspace organization, Affinity Designer does have some clear advantages to the tried and true Illustrator application.
What Is Affinity Designer?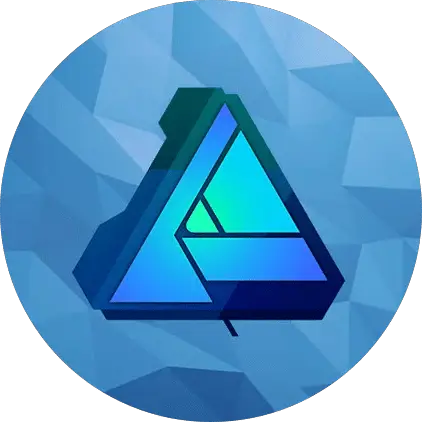 Invented by the UK team at Serif Labs, Affinity Designer is a vector graphics editing program that was designed to compete with Illustrator.
Serif Lab creates low-cost, Windows desktop publishing applications for those who are just starting out in the design world. However, Affinity Designer works for both Windows and Mac users.
You can edit and create layers much like with Photoshop, but it also has vector creation tools like Illustrator.
Many designers using Affinity Designer like the program because it combines Photoshop and Illustrator into one program. Affinity Designer has a ton of tools and shortcuts that are just like Photoshop. There are pen and shape tools to create vectors and pixel designs, too.
However, if you are looking for advanced masking and path tools, there aren't too many in Affinity Designer. There are also no column graph or perspective grid tools available in Affinity Designer, but they are available in Illustrator.
Affinity Design Pros and Cons
Here are some of the pros and cons of working with Affinity Designer.
Affinity Designer Pros
Low-cost, one-time price of $49.99
Combines Photoshop and Illustrator tools
Works with Windows and Mac
Includes image editing, workspace organization, and vector creation tools
Affinity Designer Cons
Does not have plugin capabilities
Lacks advanced Illustrator functions such as perspective grid
Difficulties in layering and selecting objects
Mainly, Affinity Designer doesn't compare to the workspace options available in Photoshop or Illustrator.
This is still where Adobe shines the most. However, you'll find all of the other same features are there such as the tools like pen, shape, drawing, and masks. It also has the same tools for effects, brushes, styles, and color swatches.
Can Affinity Designer create logos and vectors?
The software is made to create vectors with different tools than Illustrator, but you can create vectors just as well as Adobe's vector graphics program.
Here is a good review and comparison of Affinity Designer and Adobe Illustrator.
Ezra is a big fan of Designer and creates courses to help beginners. If you decided to go with that software, consider purchasing his Affinity Designer course to get you started quickly (we're not affiliated).
Here are some other recommended online Affinity Designer Courses:
The complete guide to Affinity Designer here
How to use the pen tool in Affinity Designer here
iPad Surface Design in Affinity Designer here
When Affinity Designer is Better than GIMP
GIMP provides freelance designers with a free open-source application that can handle basic image editing. It works with Windows and has always been used by those who don't want to pay for Adobe's Photoshop software.
If you are looking for a low-cost alternative to Photoshop and have been using the free program GIMP, then you may like Affinity Designer much better because it has more tools and workspace options than GIMP.
Affinity Designer Vs Illustrator
Whether you choose Adobe Illustrator or Designer will largely come down to what you're willing to pay. Adobe software comes with a monthly or yearly subscription fee, while Designer is a one off payment.
While Illustrator (along with other apps in Adobe's Creative Cloud) is much better, you'll have to decide if the cost is worth it.
When it comes to employment and professional work, AI will probably be the best choice. It's universally recognized at the best graphic design software, and is most commonly required for design applications.
Adobe Illustrator

Best vector graphics editor for t shirt design
Frustration free - gain total control over your t shirt design process
Best features & tools for creating an endless variety of designs for t shirts

View Latest Price

Adobe Photoshop

Better for photo editing & working with images
Bring images over from Photoshop to Illustrator
Best photo editing software

View Latest Price

Adobe Creative Cloud

Depending on the plan you select, get access to all of Adobe's Apps
Plans for individuals or business
Store your designs in the cloud

View Latest Price
Other posts in this series:
(Please note: This post contains affiliate links. Read our full disclosure policy here.)