Cheap Amazon Auto-Opening Heat Press Machines
In this article we want to draw your attention to cheap auto-opening heat presses for sale on Amazon.
We have previously written extensively on auto-opening machines.  In that article we got into what exactly auto-open machines are, who they are good for, and we listed the pros and the cons of the auto-open feature. If that sounds interesting to you then please go and have a look.
We also have written more specifically on the USCutter 15 x 15 auto-opening heat press – a machine that will make a guest appearance later on in this article.
In this post we review and compare some of the cheapest auto-opening machines, and we let you know which one we think is best.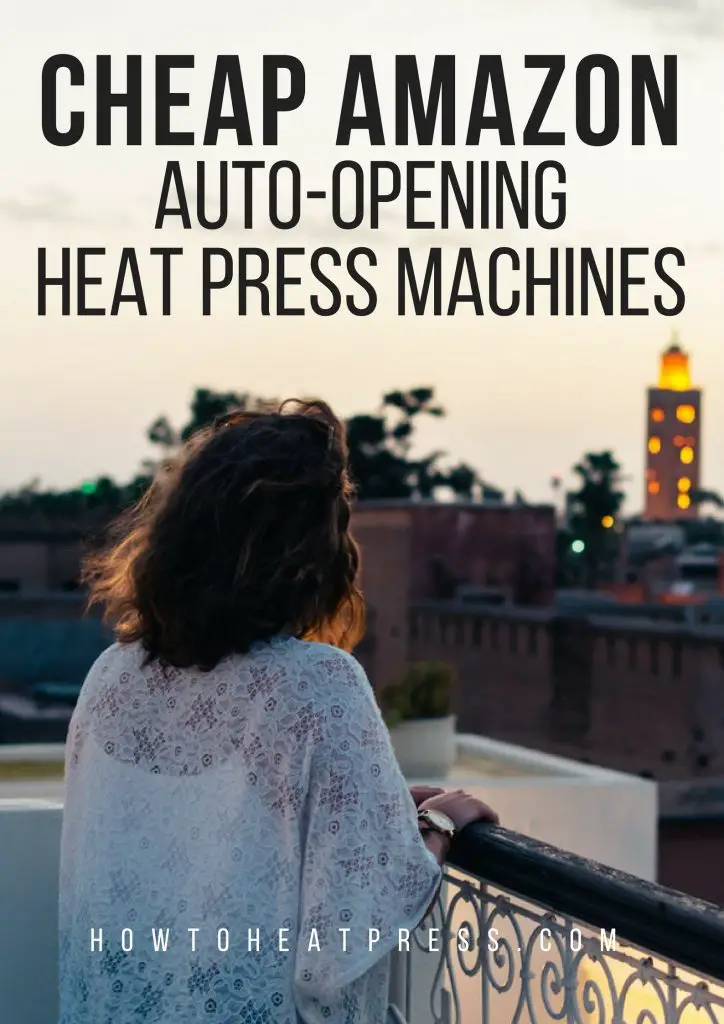 Five Identical Auto-Opening Heat Presses
The following five heat presses are all identical to one another.  
If you want to understand in detail why this is, read our article 'Why Do So Many Amazon Heat Press Machines Look The Same?'
To summarize and state it simply here, many of these presses are similar or identical because they are mass produced in China and then imported into the US by various Amazon Sellers. Once in the US they label, market and sell these machines at a price which they set under their own brand name.
This effectively means you can simply scan through the various sellers of the same machine and choose the one with the best price – you're basically getting the same machine, right?
And yes, when it comes to the machine, it is likely identical. But the differentiation between brands is in the customer service, technical support and added bonuses department.
There might be times when it is best for you to go with a more expensive seller because they have some or all of the following benefits:
Seller is easily contactable (having their details listed on Amazon or on a website)

The seller has a website with great how tos, project ideas, etc.

The company offers Tech Support

They have a strong brand and reputable name

They have been in the industry for some years and have more experience with the machines

Their heat presses come with bonus vinyl or Teflon sheets
You might be paying $10 – $50 more for the same machine with some sellers, but you might be getting more value than that in return – especially if you end up having technical difficulties with it.
The Identical Quintuplets
You can see these are all the same machine. They are likely made in the same factory. However, they are sold under different brand names.
Let me now give the features and specifications of them in one foul swoop, before giving you the differentiation between the sellers.
Features
These are all 15 x 15 inch clamshell style auto-opening heat press machines.
Other features include:
A strong ¼ inch thick steel frame

Digital time and temperature display

An "upgraded lower platen". This is a ¾ inch aluminium board that will help maintain the flatness of the platen. The thicker it is, the harder it is to warp.

Manual pressure adjustment knob
You cannot add attachment presses to these machines, they are stand alone.
Specs
Wattage: 1420 Watts

Power input: 110 Volts

Temperature range: 0 – 399℃ or 750℉

Time range: 0 – 999 seconds
The shipping weights and packaging dimensions vary between sellers depending on how they do it. They all come fully assembled with operating instructions, ready to unbox and use.
Pros Of These Machines
These heat presses are very affordable. They with the fantastic auto-open feature but are still very cheap. 
These are great machines for at home use or in a small business. They are good to learn and experiment with. They are simple to use and produce quality transfers.
Cons Of These Machines
These are cheap heat press machines and therefore are more prone to breakdown or technical failure. You only need to read some of the reviews to understand some of the difficulties people have had with them.
Sometimes sellers can be difficult to get in touch with if problems arise. I will give information on the contact info (or lack thereof) for the sellers below.
These also are not top-of-the-line models, so they will not be as smooth to use or produce as high a quality finish as a machine like this Hotronix auto-opening clamshell.
They will not be as reliable or as good under pressure in a fast paced and busy t-shirt business. I would spend more money on a US made machine if you plan to use this machine all day everyday. 
For all of these sellers, there are no websites, no direct way to contact them except by going through Amazon, and no added bonuses (such as free teflon sheets).
So based on this information, considering these machines, I would just go with the cheapest on the day.
BUT WAIT!!!
Before you do go and buy one of the five siblings above, let me try and convince you to check out another slightly different auto-opening machine.
The USCutter 15 x 15 auto-open heat press, which we mentioned at the beginning of this post, is another very similar machine, though it has been slightly customized.
We have written a full and extensive article on this machine which you can go and read, but let me just summarize why I think this one is better than the five we've just listed above.
This USCutter machine does give you all of those extra benefits, for only a slightly higher cost.
They do have a good website, as well as customer service and technical support which you can call during business hours for immediate support and help. They have also been in the industry for over ten years now, so they have far more experience and knowledge about these machines than many other sellers. And finally, their auto-open machine on Amazon does come with 6 sheets of bonus vinyl!
These are valuable benefits if you need help and support. I personally would be willing to pay a slightly higher price in order to obtain these bonuses.
Conclusion
So we've had a brief look at 6 machines here, and if it were me doing the buying, I'd go with the final one – the USCutter auto-open.
Functionally they are all very similar machines that will do the same job to the same level of quality, but those extras are what tip the scale in favor of the USCutter machine.
What are you thoughts? Let us know in the comments section below.
(Please note: This post contains affiliate links. Read our full disclosure policy here.)