Cricut Explore Air 2 Review: Cutting Machine For Heat Transfer Vinyl
The Cricut Explore Air 2 is one of the best craft cutting machines out there.
After dozens (if not hundreds) of hours researching and writing about cutting machines, I decided on the Cricut Explore Air 2 as my first cutting machine. If you cannot afford the Cricut Maker (which is better, but twice the price), the Air 2 is still an amazing machine.
It cuts, draws, and etches – and it looks great. What more could you want? With well over 500 customer reviews on the various Amazon listings and very high star ratings overall, this machine is obviously impressive.
I've got all the information you need to decide if it's right for you in this Cricut review.

Cricut Vinyl Cutter
While this machine looks a lot like a printer, instead of holding ink it holds either a blade, a pen or a scoring stylus. It can cut, write or score designs sent from your device (computer, phone or tablet), into or onto a variety of different materials.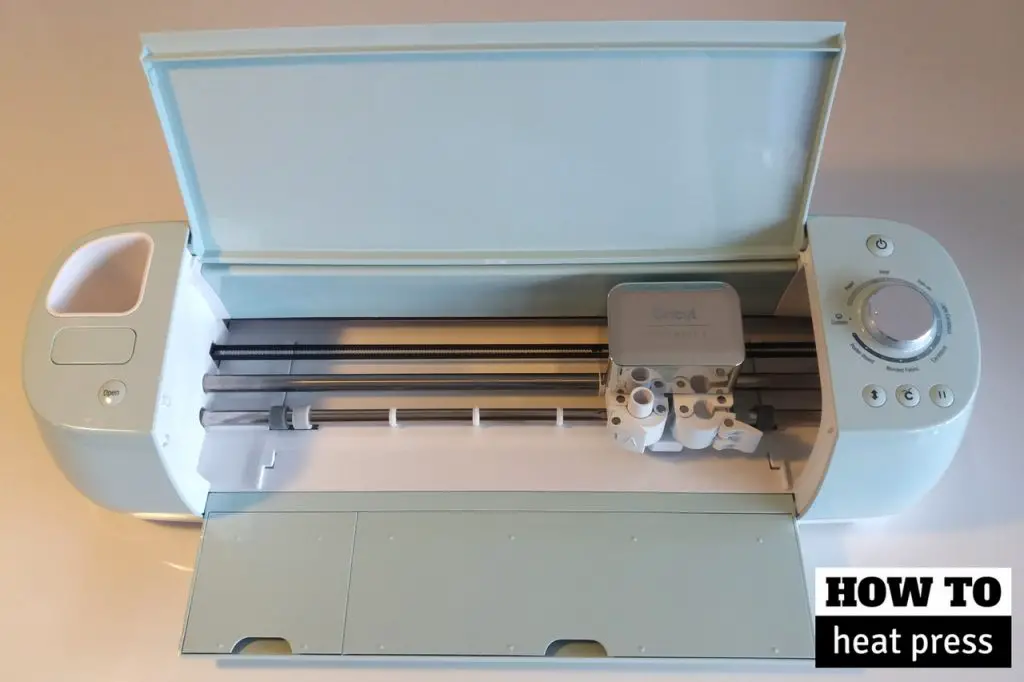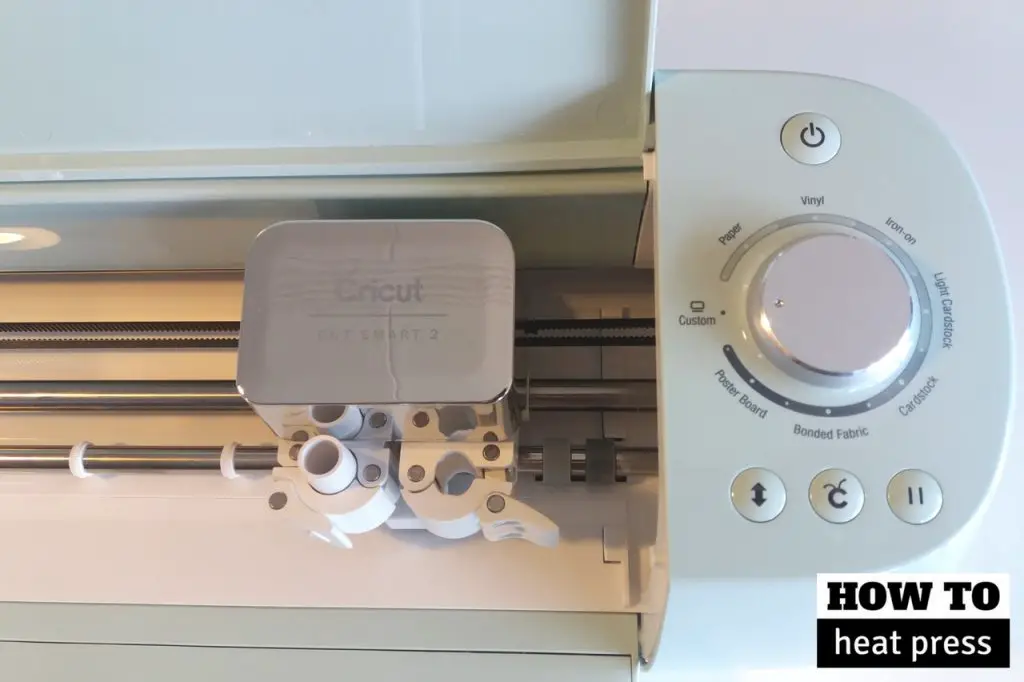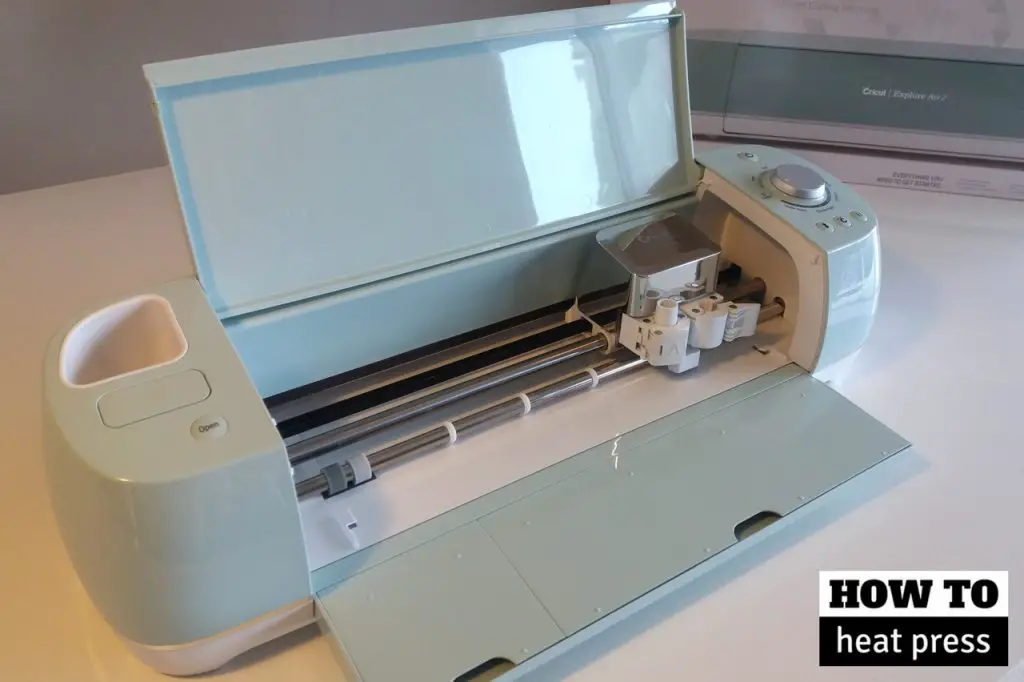 Cutting
You can cut heat transfer vinyl, sticker paper or cardstock and many more items. There are literally over 100 different materials that you can cut with this machine. This particular Cricut machine even cuts into canvas, leather and chipboard!
See the materials list at Cricut's website for more information, and for the particular settings and requirements for cutting each material.
Writing
The Explore Air can hold a pen and write in hundred of fonts. This feature is especially great for writing in cards. The result is something that looks hand crafted and personal, but professional and precise.
It comes with one black sample pen, and you must purchase further Cricut pens yourself. You can use non-Cricut pens so long as they fit into the adapter. They need to be the same size.
Scoring
The Scoring feature is for creating perfect lines in your project. It's perfect for scoring the fold in cards, craft boxes, envelopes and similar items.
In order to use this feature, you must insert the scoring stylus. The housing which holds the cutting blade also contains another position in which you place the pen for writing, or the scoring stylus for scoring. You can therefore have the blade and pen or scoring stylus ready for use at the same time.
The scoring stylus is not included with the machine. You must purchase this separately.  
Does The Cricut Explore Air 2 Print?
It does not print! I've seen some confusion about this, so it's important to state it. You will need a separate ink printer to work alongside the cutter if you plan to print and then cut out stickers, or cut out an inkjet design to press onto a t-shirt.
Who Is The Cricut Explore Air 2 For?
This machine is best for use at home by someone who simply loves crafts, making custom t-shirts, and making their own cards (among everything else you can do!). It is also suitable for business purposes. 
Of course, the target audience of Cricut is probably me! A mom that loves crafting – making my own gifts for family and friends, making beautiful custom baby onesies and tees for my children, and I'm really getting into card making now too.
WHAT'S THE PRICE? See How Much The Cricut Explore Air 2 Costs
Bluetooth
This machine cuts, writes, and scores, but what other features does it have?
Number one, it is a bluetooth enabled cutting machine. This is a great feature, meaning you don't need to think about connecting it to your computer or worrying about cords – a top frustration in my life! It is great to not have to situate it right next to your computer. It can have its own position elsewhere in the room, off your desk.
Before getting too excited though, check your computer has bluetooth capability. 99% of modern computers do have this feature, so it's more than likely yours will, but double check anyway.
If your computer does not have bluetooth abilities, but you really want this machine, you can always get a plug in bluetooth adapter. This will allow you to use the bluetooth feature.
And finally, failing that, this machine does come with a USB cord for you to connect to your computer physically. Now you have no excuse not to get this baby!
THE CRICUT EASY PRESS: 35 Pros & Cons
Smart Set® Dial
A fancy name for a fancy dial. Each type of material you cut has a different set of requirements. The blade needs to be set just right for each job. The Smart Set® Dial allows you to choose your material easily.
There is a setting for:
Paper

Vinyl

Iron On

Light Cardstock

Cardstock

Bonded Fabric

Poster Board
There is also a custom setting for those lesser used materials. If you choose the custom setting, the customization takes place inside Design Space. It is a very simple process. See the following video for proof.
Cricut Cartridges
What are Cricut Cartridges?
Cricut groups sets of images, texts or designs together and calls these a cartridge. Most often these images are of the same theme. For example, the Cricut Type Candy Catridge.
Once upon a time, before download speeds were as good as they are today, cartridges were an easier way to get these sets of images onto your computer quickly and through your machine. Now, however, the emphasis is on digital cartridges.
You are still able to use physical cartridges with the Cricut Explore Air 2. You can still buy them, or you can load up your previously purchased ones. When you have loaded your physical cartridge to your account, it will remain there in digital form. You are able to get rid of the physical cartridge.
Explore Air 2 Dimensions
This machine is delightfully small. Thankfully, it will not take up a lot of room in your home or craft room. Mine is smaller than my printer, for example. 
Its height is 6 inches or 152 centimeters

Its width is 7 inches or 178 centimeters

And its length is 22.5 inches or 564 centimeters
Software & Device Integration
Most people will use their computer to send designs to the Explore Air 2, but for those wishing to send it via their smartphone, you might like to have a look at the Apple or Android apps, depending on what type of phone you have.
This machine will work with both Windows and Apple computers.
Once you plug the cutter into your computer, you should find the software automatically begins downloading. If this does not happen, here is the page for Windows and here it is for Apple.
Cricut provides a platform called Design Space for you to work with in creating or choosing designs. They offer a lot of incredibly helpful videos to support you as you begin using the machine. Their website is also full of amazing ideas and projects for you to get started on.
Compare Cricut Machines
In this section I'm just comparing the Explore, Explore Air, and the Explore Air 2.
Common Features Of All Three Machines:
All of these machines have precise cutting, writing, and scoring technology

They can all can cut over 100 different materials

All projects for each machine can be easily designed on any of your devices
Unique Features Of The Explore Air & Explore Air 2:
These two machines have bluetooth capability

They are both endowed with a double tool holder – this allows for you to continue a project requiring multiple tools without stopping
Unique Features Of The Cricut Explore Air 2:
This machine has been updated and can go up to 2 times faster than the other two – it is the best!

You have the latest machine, so you have the prestige of this title – it's the

Explore Air 2

!
Here is a Youtube video showing the difference in speed between the Explore Air and Explore Air 2:
What Comes With the Cricut Explore Air 2?
Along with the cutting machine, you will get or gain access to:
A premium German made carbide blade – German's make the best

A USB cord to connect manually from cutter to computer

A power cord

An accessory adapter  – for holding the pen

An information manual

A sample pen

Sample cardstock

A Cricut 12 x 12

inch standard grip cutting mat  

The Cricut Design Space software, as linked to above

Access to 100+ images in Design Space

Access to 50+ projects in Design space
It does not come with vinyl or other materials for you to start cutting. You will need to purchase materials separately.
If you decide to purchase the Cricut Explore Air 2, get some vinyl while you're at it. Cardstock is another great material to have on hand. Vinyl and cardstock are the best items to find your feet with if this will be your first time using a cutter.
Adhesive vinyl is another fun product you can practice using your machine with – make vinyl labels, pimp your vacuum, your kid's bike, or even your drone! 
Cricut Project Ideas
Here are just a few ideas for what you can do with this amazing machine. The only limiting factor is your imagination!
Vinyl cell phone covers

Business cards

Magnetic business cards

Stickers

Vibrant, colorful labels for kitchen storage

Vinyl splashback for the kitchen

Draw your own coloring pages

Create jewellery

Coasters

Food labels

Party invitations

Table place settings

Vinyl to decorate drawers

Gift tags

Masks

Wood veneer earrings

Chalkboard labels

Temporary tattoo paper

Leather labels

Bunting

Thank you fridge magnets
Here is an example of how you could use the Cricut Explore Air 2 to make your own personalized t-shirt:
FREE SVGS: Take A Look At These Free Cricut Images
We hope this article helps you to know whether this machine is right for you. Please comment with any further questions and we would be happy to find you the answer. If you're ready to purchase, don't hesitate. Head to Amazon now and get your machine on its way!
You can also check out our article on the best vinyl cutting machines to read about other popular cutting machines.
(Please note: This post contains affiliate links. Read our full disclosure policy here.)