ePhotoInc 15×15 Heat Press Machine Review
The ePhotoInc 15×15 clamshell press has among the best star ratings on Amazon, and so it's definitely worth taking a look at when considering which heat press is best for you. This machine is a standard no-frills heat press that might not be the prettiest press on the block, but there are more important considerations than that when you're making your choice. 
Does it press well? Does it get the job done? Will you find heat press success with this press? Let's find out!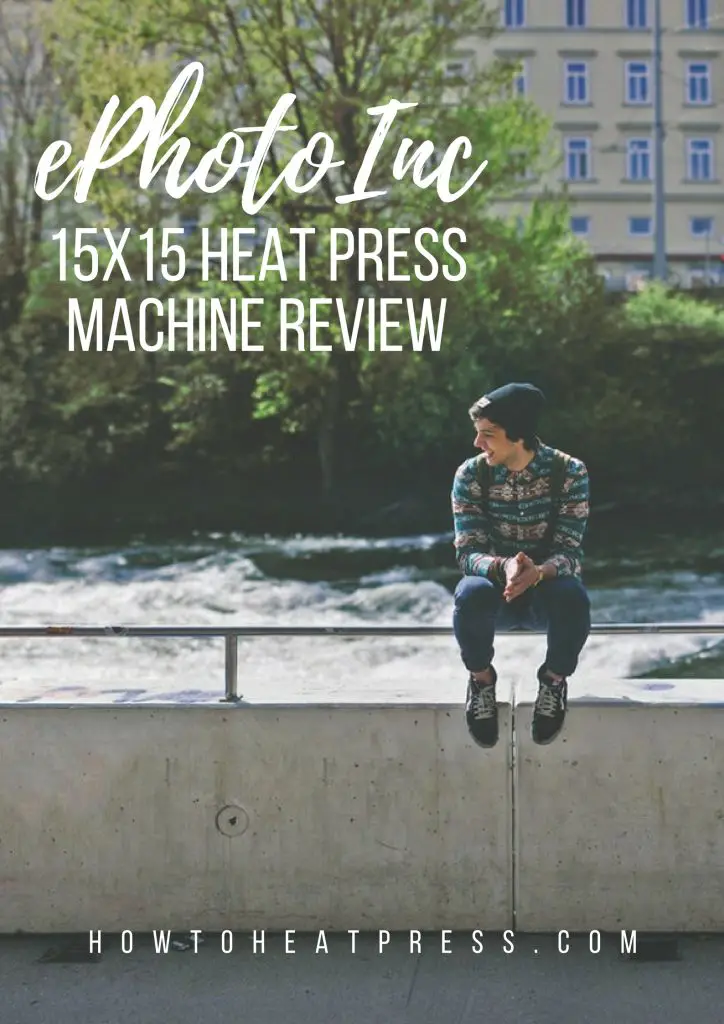 Features
This press has basically the same features as the many other cheap heat press machines. Here they are:
As already stated, it has a 15 x 15 inch pressing area. This makes it good for doing any sized t-shirt. It allows you to press about a 14 x 14 inch transfer, and you probably aren't going to need to do anything bigger than that. The reason you can't do a 15 x 15 transfer is because the heat does not usually reach top temperature right to the edge of the platen.

Clamshell style – great for smaller spaces and ease of use.

Strong steel frame construction – makes it heavy but you don't want it to be moving as you clamp down!

Adjustable pressure knob – raises or lowers the platen depending on how thick the item you're pressing is.

Digital time and temperature display.

It will beep when the press time is complete.
What Does This Press Not Do?
It does not have dual (two) heat platens. Only the top heat platen heats up. This is best for doing heat transfers. Rosin press machines

 have dual heat platens, but are too small for t-shirts.

The base is not threadable – this means you cannot slip a t-shirt over the base in order to only press the side receiving the transfer. This is not a necessary feature to have.

It is not an auto-opening press

.

This machine cannot press extra large transfers beyond 14 x 14 inches. ePhotoInc do have a 16 x 20 inch press

 which might be better for you if you think you'll be doing big transfers.
It is also not ideal for heating panini's.
Technical Specifications
Here are the numbers:
A temperature range of 0 – 500

℉

A timer range of 0 – 999 seconds

Voltage of 110V

Weight of approximately 50 pounds

1500 watts
This machine also comes with a 3 month seller warranty and free shipping (can depend on your location so please check before purchasing whether there will be any further costs).
What Heat Transfers Can I Press?
The ePhotoInc machine will press all your standard transfers:
Heat transfer vinyl (HTV)

Smoothed, flocked or glittered HTV

Rhinestones

Inkjet transfers

Sublimation transfers

And the major majority of transfer papers
Sublimation transfers require the most heat (around 400℉) and can be the trickiest transfer to get right. You can see our article on sublimation transfers for more info.
What Can I Press Onto?
This is not an extensive list, but one to get your imagination going:
Cotton and polyester garments

Canvas tote bags

Ceramic tiles

T-shirts or sweatpants

Jigsaw puzzles

Mousepads

Baby onesies or kids clothes
Some of these items are specialty products for heat pressing. For example, in order to do a successful sublimation transfer onto jigsaw puzzles or ceramic tiles, these items must have a special polymer coating. Ensure you are purchasing the appropriate item for your transfer.
Who Should Buy This Machine?
This is a great machine for you to start pressing with. It is a good one to practice and learn on. This is for those of you who want to begin pressing your favorite designs and quotes onto t-shirts.
It is fantastic for making Christmas and birthday presents – once you've paid for the machine you can make very affordable gifts for your loved ones.

If you are into arts and crafts, this is perfect for you. It is not so expensive to be a burdensome cost layout, but will make a wonderful addition to your craft room.

If you want to start a real business with one of these machines, but you're not totally sure if it's the right thing to do, it might be best to do some tests with a cheap machine. If you find it to be a success you can upgrade to one of the better US made machines

.
You shouldn't buy this machine if you are already an established and busy t-shirt maker. This is among the absolute cheapest heat press machines and as always, you get what you pay for. It might not be able to perform at a high level for long if you are using it day in and day out.
About The Seller
ePhotoInc have a website here. It is a good sign when an Amazon seller has a website because it usually means they are going to be much easier to get in contact with if you have any problems. You can see the heat press we're reviewing today on their site here. Notice that it is cheaper on Amazon. This seller specializes in selling photography equipment, but has branched out into the heat press field.
Comparing The ePhotoInc 15×15 With Other Machines
You might have noticed how this machine looks very similar to many others? In fact, this machine is the same as the very popular Power Press Heat Press. We have written an extensive article on why some Amazon heat press machines look the same. To sum it up, it's because sometimes they are the same. They are purchased from manufacturers in China and then branded with the Amazon seller's label.
So, when comparing the ePhotoInc 15×15 inch machine with many of the other machines, it can be a better idea to compare sellers instead. When comparing ePhotoInc to other sellers they fare pretty well.
In which ways?
They have a website through which you can contact them

This machine has good ratings and reviews

Their range for sale is not spread across sooo many categories so as to make their sale of heat presses insignificant to them

The machine is very cheap
Conclusion
This ePhotoInc 15 x 15 heat press is a good machine from a good seller. As I said earlier in the article, you get what you pay for, and so keep in mind as you buy this, or any other cheap machine, that they may not be flawless. Of course in terms of parts and labor they should be faultless, and you have a 3 month warranty against that, but what I mean is that they are not perfect top-of-the-line heat presses. You should not expect them to be as good as a $500 or $1000 press.
If you thought you might prefer a smaller heat press machine from the same seller, you can have a read of our review on the ePhotoInc 10 x 12 heat press machine.
Thanks for reading this review, we're always keen to hear your thoughts in the comments section below. Goodbye!
(Please note: This post contains affiliate links. Read our full disclosure policy here.)