Fancierstudio 15 x 15 Power Heat Press Machines
Fancierstudio have a large range of heat press machines for sale. So many, in fact, it's hard to know which one to choose.
Last time I looked, there were at least ten different 15 x 15 heat press listings from Fancierstudio. They are all very similar in look, function and price, so which one should you get?
Which is the best Fancierstudio heat press machine?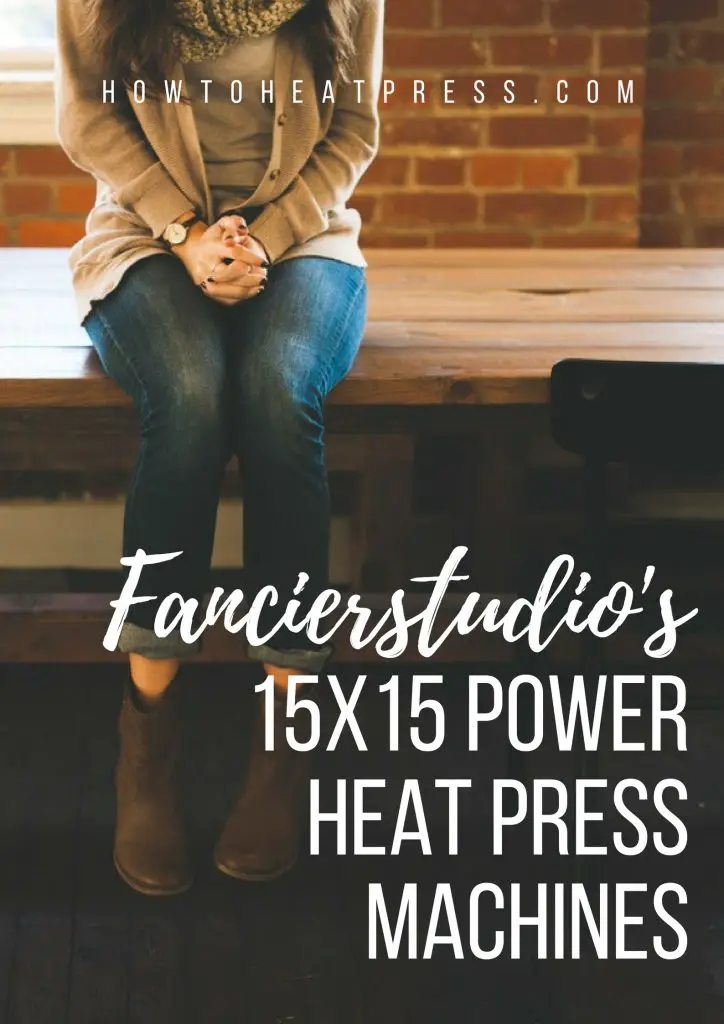 Comparing Fancierstudio 15 x 15 Heat Press Machines
There really are too many machines to list and link all of them here. It's impossible to keep track of all the listings! When you search 'Fancierstudio 15 x 15 heat press' in Amazon, this is what comes up. 
Here are a few of the best-selling Fancierstudio listings.The difference between them? They are different colors!
So, the color of the top heat platen is the only real difference between these machines. Do you prefer green, blue, yellow or plain black? Though they can also be listed at different prices. Just choose the cheapest on the day you are looking!
What They Have In Common
All of these machines:
Are clamshell style machines

Have digital time and temperature displays

Are fitted with a manual pressure knob

Have a silicon base mat

Have a top heat platen which is coated for accident protection
Are made in China
Are able to press the same types of transfers onto the same surfaces.
What They Don't Do
They can't take attachment presses (such as a mug, cap or plate press)
They do not automatically open or close – you must manually open and close
These machines don't automatically switch off – you must remember to turn it off
Here is the yellow press in action:
FIND OUT: 17 Heat Press Tips & Tricks!
What's The Specs Difference?
The technical specifications for these machines are all very similar (if not identical) as well. They are all built to do the same thing: make t-shirts. And that is what they're good at. Here are the general specifics, but double check before purchasing.
Temperature range: 0 – 500

℉ or 0 – 260℃ – able to press all types of standard heat transfers

Time range: 0 – 999 seconds (16 minutes! Far longer than you'll need for any heat transfer!
Weight: 50 – 60 pounds
Dimensions: approx. 19 x 16 x 17.5 inches
Who Should Get A Fancierstudio Heat Press?
These machines are fantastic for:
Beginners and learners
Craft use
Making gifts for friends and family
Use for a small online store
Somebody on a limited budget
Homeschool projects
Start-up t-shirt entrepreneurs
Many people do use these machines for commercial use as well. I think they are suitable for small, quiet businesses – or as a side service to your main business – I don't think they're great for busy t-shirt businesses. Better to get something more reliable and of a higher quality.
These machines can and do break down more regularly than expensive US made machines. They are slightly more prone to having faults. They most certainly are a good deal for the price you're paying, but they are not the best quality machines available.
What's The Amazon Review Difference?
There is a great difference in review numbers across the range on Fancierstudio machines. The overall star rating, however, is pretty consistent. The major majority of these presses have a star rating of 3.9 to 4.2. This holds true on listings with hundreds of reviews and those with only a dozen.
This is very positive, especially compared to some sellers. These cheap heat press machines are made in China to be as affordable as possible while still adequately performing their function. There is always going to be the odd machine with technical faults or flaws. There is a warranty to protect against this which we will go into next.
READ: Fancierstudio Heat Press Machine Reviews
Fancierstudio Heat Press Warranty
These machines come with a 6 month warranty as specified under the warranty section on Amazon. There is also Amazon's A to Z Guarantee which protects you against rouge sellers. However, given Fancierstudio's time in the market and success in selling heat press machines, they are likely to deal fairly with any claims.
You can find contact details on their website. You can connect by phone, email, or they even have a live chat box at certain times.
Finally, it is worth paying a little bit more for a two or three year extended warranty when you check out. This is usually automatically offered as you're going through the purchase process.
Making A Decision
With the only real difference being the color of the heat press machine, I would just choose your favorite color, or go with whichever is cheapest. The price is always moving about, and there are always one or two which are cheaper than the others. If you are not worried about the color, just get the cheapest on the day.
I think that these machines are a fantastic machine for the price. No, they are not the best heat press machines, you'd have to go US made for that. But Fancierstudio have sold thousands of these heat presses and will continue to do so. I wonder how many t-shirts out there are made with these units? It must be in the millions!
See the Full Range of Fancierstudio Heat Press Machines Here
Thank you for reading our article here today, please leave any thoughts or ideas you have below. We look forward to reading them.
(Please note: This post contains affiliate links. Read our full disclosure policy here.)