The Five Best Cheap 15×15 Heat Presses
Have you been struggling to decide which is the best cheap 15×15 inch heat press to buy? Are you starting to get overwhelmed by all the choices? There are so many machines!!
If so, thank goodness you've wound up here, because we're going to let you know the top five cheap 15 x 15 heat press machines available on Amazon.
Why or how are we qualified to write this list? And why should you listen to us? We'll, we've researched, studied and then written a ton of articles on heat press machines. Spend a few minutes just looking around our site – we are How To Heat Press after all! In doing this we've come to know that there are better and worse machines out there.
We want to help you narrow down your choices and focus in on the machines that are worth your time. We will put these five machines in order, from our personal favorite to our least favorite – but understand, even the machine in the number five position is still a fine heat press! So here are the five best cheap 15 x 15 heat press machines for sale on Amazon.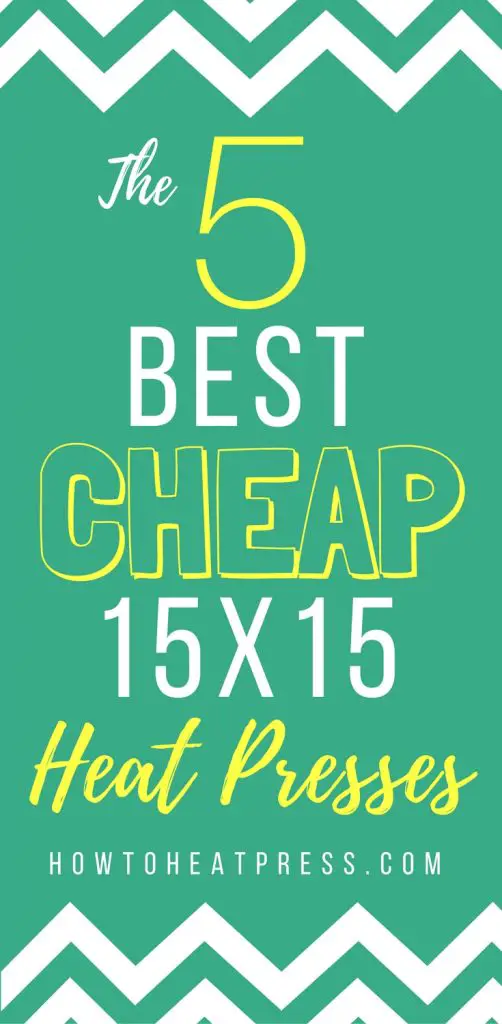 The 5 Best Cheap 15×15 Heat Presses
#1 The USCutter 15×15 Heat Press
This machine is most certainly our favorite – we believe this is the best cheap 15×15 heat press machine for your money. We have written a full article on it here.
There are a number of reasons why we put this at the top of the list. While the machine itself is very similar mechanically and functionally (i.e. it is the same or of similar quality, with the same or similar features) as the other heat presses on this list, USCutter are a superior seller. They sell under the name 'Greenstar' and 'USCutter' on Amazon.
Here's why you should choose USCutter:
They have a website with live chat which means you can easily get in contact with them if you have any problems. You can also call or email them and get real technical support and help.

Their machines have great reviews and high star ratings.

They are specialists in the field of heat presses and cutting machines – this is what they do, and they do it well.

They have been in the industry for more than ten years meaning they've got the experience and expertise needed.

The warranty is at least 90 days (make sure to check each machine if this is important to you). Many machines have up to a one year limited warranty.  

Many of their machines come with free vinyl and/or teflon sheets – the bundles are great value!

Their machines come with far better and more in depth user manuals than most other heat presses. These can also be found on their website.
They have a number of listings on Amazon for their 15 x 15 inch machines. One listing, for example, will be for a machine on its own, while another will be a starter bundle, coming with t-shirts and Siser EasyWeed vinyl (and it's still super cheap!). They also have a heat press and cutting machine bundle which is an excellent deal if you are needing a cutting machine as well.
They also sell all of their machines on their website, though more often than not, they are a lot cheaper on Amazon. Compare the 15 x 15 bundle on Amazon and on their website.  There's a big difference!
#2 The Promo Heat 15 x 15 Heat Press
The second best cheap 15×15 press: Promo Heat's machine. A complete and thorough review of this machine is available here.
This machine makes second place because it is so good looking! Haha, that might sound a bit silly, but it really does look better than many. A lot of the heat presses look really clunky, so it is noteworthy that this one is a bit sleeker. Sometimes the machine we've linked to above can be out of stock and they have a similar model here (but it's not quite as good looking).
This machine works well and has many of the same benefits as the previous press. These include:
Promo Heat have a website

 with their contact details.

Their machines are well reviewed (with none rating below 4 stars at the time of writing).

They are only selling heat press machines (at least under this brand name) – good because you know that this isn't one of many products that they are selling which may or may not mean much to them.

Their machines come with a one year limited product warranty.

Very competitive on price.
The Promo Heat 15 x 15 is well worth your inspection, especially if you are not sold on the USCutter option above.
#3 The PowerPress Heat Press

The PowerPress heat press makes the list mainly because of its great popularity. It is the Amazon best selling heat press, with over 1100 reviews, and many more than that sold.
This machine is often out of stock, or sometimes the listing disappears altogether. However, it has always come back! The other thing which happens every other day is that it changes names! What's up with that? Don't ask me, I have no idea!! If you click through and it is not available, check out the Fancierstudio Power Heat Press or the same machine here under another listing. These are the same as the PowerPress.
We have multiple articles relating to the PowerPress:
This machine is a real work horse. It has been so popular and the momentum it has built up over the years continues to drive more sales. If you decide on this machine, you will be in the company of many thousands of other heat press users.
#4 F2C 15 x 15 Heat Press
The F2C heat press is another fantastic heat press, certainly worthy of the number four position. Personally, I prefer this model/style of heat press to the PowerPress above and the ePhotoInc below. To me it looks more robust and sturdy. However, it's the number of reviews which pushed the PowerPress into position number three.
We have a complete article about F2C machines here, taking a look at a variety of their heat press machines for sale. If you are interested in their 15 x 15 model, please read much more information on that page.
#5 The ePhotoInc 15 x 15 Heat Press
And finally, position number five goes to ePhotoInc's 15 x 15 heat press. This machine is actually the same as the PowerPress and Fancierstudio machines above, but of course it's sold through a different seller under a different brand name. ePhotoInc must be doing something right though, because they have a very high star rating with many satisfied customers.
Their 15 x 15 heat press is for sale in two different colors – black or blue. It is another basic machine that is great for pressing t-shirts. And as with the others, it is so cheap! Please read our full article on ePhoto's 15 x 15 inch machine for much more information.
Conclusion
So there you have it, the five best heat press machines for sale on Amazon – at least, in the opinion of howtoheatpress.com! We think the best cheap 15×15 is the USCutter model. These are all cheap heat press machines which are well suited for craft and hobby users, they are good for learning with and practising on different substrates. They will be suitable also for a small business starting up – in the long run though, for business you will be better off with a US made heat press.
These cheap heat press machines are also fantastic as gifts – either for your loved ones birthday, or there's always Christmas just around the corner! Perhaps it's you that needs to send this article to your loved one as a not so subtle hint? Haha.
We hope you've found this helpful. Please leave any other presses you might add to this list in the comments section below. We'd love to hear what you think.  
(Please note: This post contains affiliate links. Read our full disclosure policy here.)