Free Fonts For T-Shirt Design & Cutting Machines
Free fonts… Those two little words every designer loves to hear. We need fonts for cutting machines, heat press projects, design projects and so much more. We've listed a few of the best free font sites in this post and trust you'll find what you're looking for.
Fonts can be funny things – at least in my experience. If I see too much of one font I'm sick of it. I can't use it anymore. I guess the most classic case of this is Comic Sans MS, the most hated font in the world. There is even a movement to ban the use of it! The point being, you need a steady supply of fonts to keep you from getting sick of the one you're overusing.
Fonts are the intellectual property of those who create them. You will need to find out which license a font has before using it, whether it's free only for personal use or for commercial use as well.
The YouTube videos below will show how to install fonts either onto a Mac or onto Windows. Or, watch one of the many guides on YouTube if you get stuck. Now, let's get into the list of free font sites!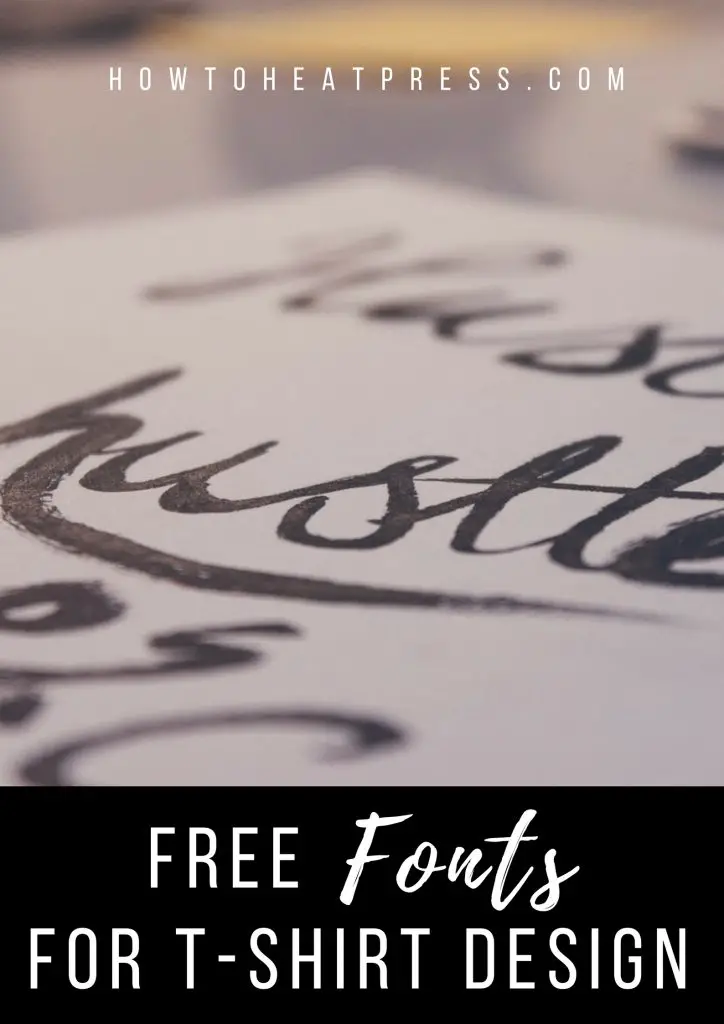 The Hungry Jpeg
Chances are that you have already heard of thehungryjpeg.com. They sell high quality design resources for all uses:
crafters

new and old graphic designers

t-shirt creators

and basically everybody else with a love for design!
Every Wednesday a new 'Weekly Freebie' is available for download. This is a free font with a complete commercial license (like all of their fonts on the website), meaning you can use it on items you plan to sell.
They also have special font bundles each month. This is a package of extremely discounted fonts, usually a really good deal. On top of all this, they have a great selection of $1 deals each month. Click on the link above to explore their site!
Dafont
Dafont is a source for a truckload of free fonts. The only possible problem is many of them are only 'free for personal use'. You cannot use them commercially without the author's permission. Unless it is listed as free to use commercially you will need to contact the author and have that conversation with them.
Font Squirrel
Totally free fonts that have all been licensed for commercial use – fontsquirrel.com! As you might imagine, they tend to be fairly standard and simple fonts, but a lot of the time that's all you really need or want.
Font Spring is Font Squirrel's sister site. These fonts are not free, but many are very cheap and come with a 'worry free font licensing guarantee'.
Google Fonts
Google fonts is another must see on the free font train. All of their fonts are free and open source, meaning you can use them how you like without paying or giving attribution. These fonts tend to be high quality fonts. A low quality font will have incomplete curves which your cutting machine will not like. 
Free Fonts Summary
You should be able to make a good start with the free fonts from these websites. If you would like some further information on licensing then see this article. If you would like to read about a font lawsuit, check out this article. T-shirtforums.com is another good place to go for information on fonts, or to ask any tricky questions. You might even be able to find help matching a font there.
If you're new to t-shirt creation and you'd like to heat transfer your designs onto t-shirts, check out this article on the five best cheap 15 x 15 heat presses, and this article on cheap vinyl cutting machines to help you get started. We also have many other useful resources on our site, so be sure to have a look around!
Thanks for reading – please leave us a comment with your favourite font site and we might be able to add it to the list!
(Please note: This post contains affiliate links. Read our full disclosure policy here.)