ImPRESSED Vinyl Heat Transfer Review
Recently, we were lucky enough to receive several packs of heat transfer vinyl (HTV) from ImPRESSED Vinyl.
They sent us this HTV free of charge for us to try out, but this review of ImPressed Vinyl is our honest opinion, and is not biased by the awesome freebies! The HTV was not in exchange for a review, or any other mention, but we wanted to do this so that you know whether or not you should try it out!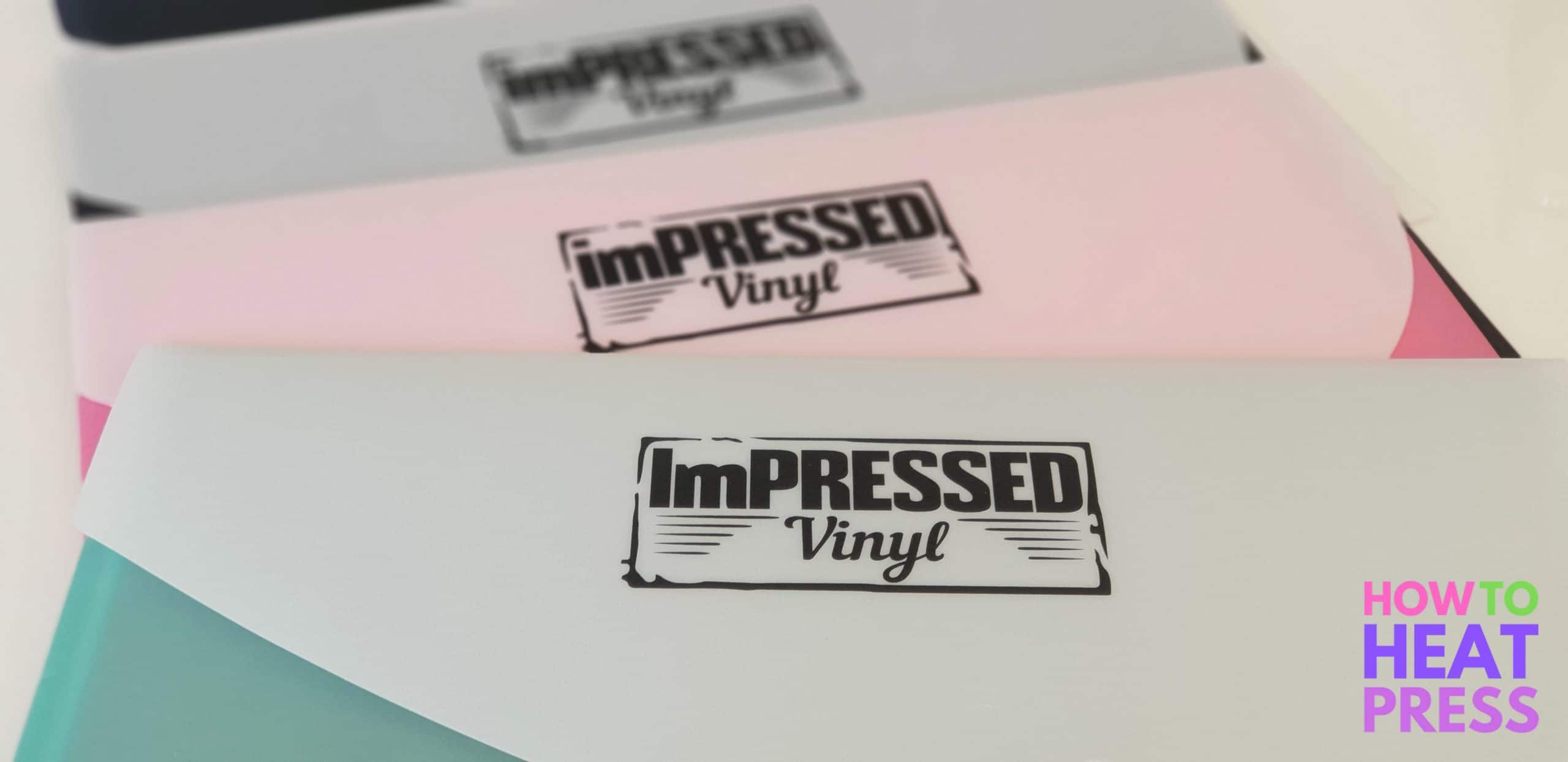 ImPRESSED Vinyl HTV Review
So what did we get in our sweet little bundle from ImPressed Vinyl?
✔️ The 20 Pack Assorted Color HTV Bundle
✔️ The 10 Pack Black HTV Bundle
✔️ The 10 Pack White HTV Bundle
✔️ The 10 Pack Pink HTV Bundle
First ImPressions
First impressions of ImPRESSED Vinyl?
I'm Impressed! The packaging and presentation is really impressive!
I love the strong, colorful envelopes that the vinyl comes in. I'm used to the Siser HTV that I order on Amazon arriving in all sorts or ugly bags or boxes, usually unmarked, and mostly unprotected and without a good storage option.
ImPRESSED Vinyl wins on packaging!
When I emailed ImPRESSED Vinyl to thank them for sending us their product to try out, I mentioned how nice the presentation was. They replied:
"One of our goals with the packaging was to provide a long term storage option for our HTV. Our document bag style packaging makes it very easy to slide the sheets of HTV in and out. It protects the sheets from bending and from light. It also gives you a place to store your scraps (HTV scraps are like gold)."
The other really cool thing about the packing, are the instructions displayed on the back. Check this out!
The back of the large HTV storage envelopes contain:
Cutting instructions
How to prepare your garment for heat transfer
Application instructions for both heat press and iron
Care instructions
Features of the product
I can honestly say that no other HTV or adhesive vinyl that I have bought or received has come with this level of help!
So first impressions of ImPRESSED Vinyl are really good.
Using ImPRESSED Vinyl HTV
The first project I have made using ImPRESSED Vinyl is this Interactive Father's Day T Shirt.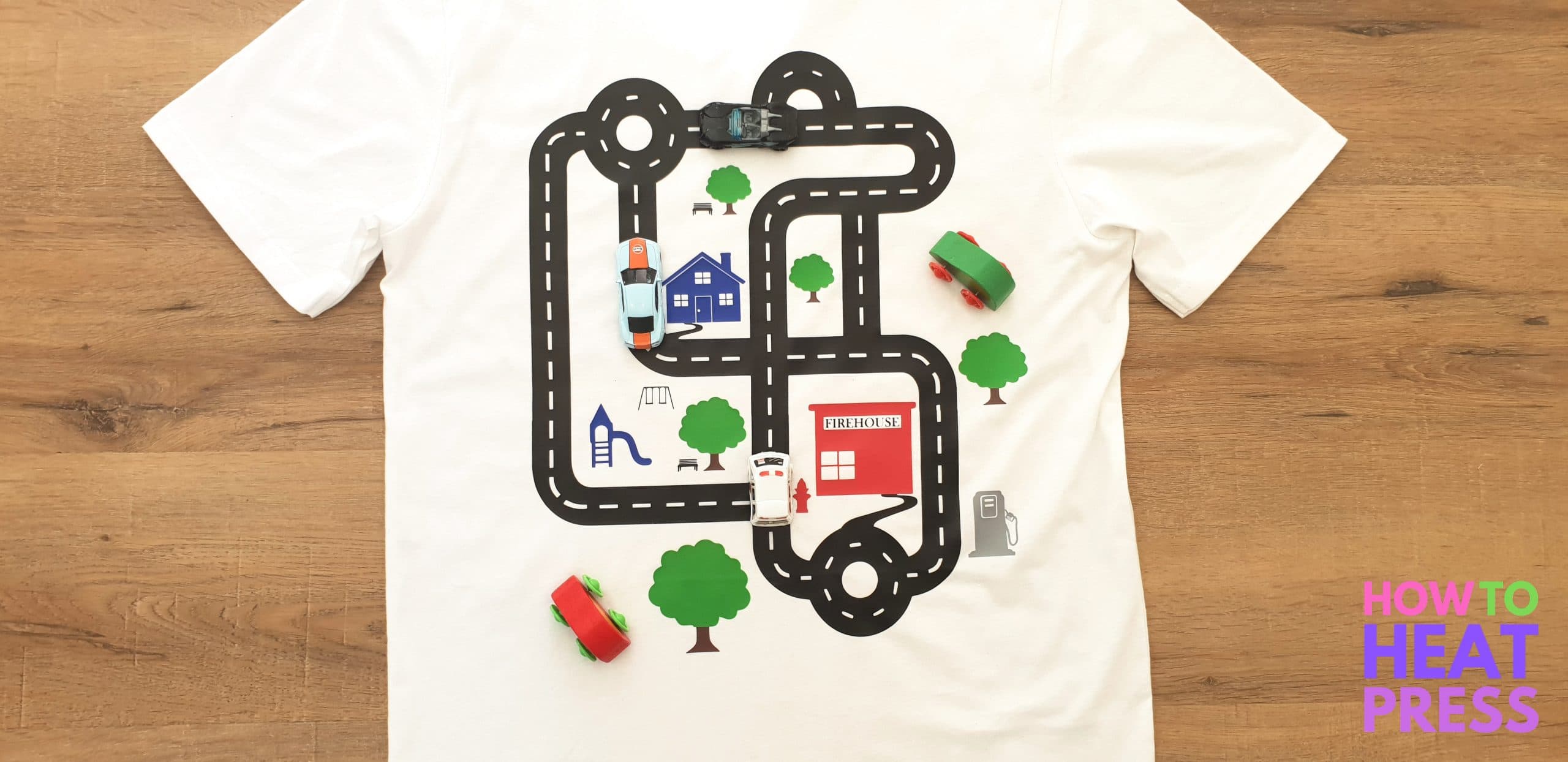 The Multicolored HTV Bundle was perfect for this project, as you can see! I think I used 6 different colors for this one t-shirt. I really like the selection of colors that are included as well.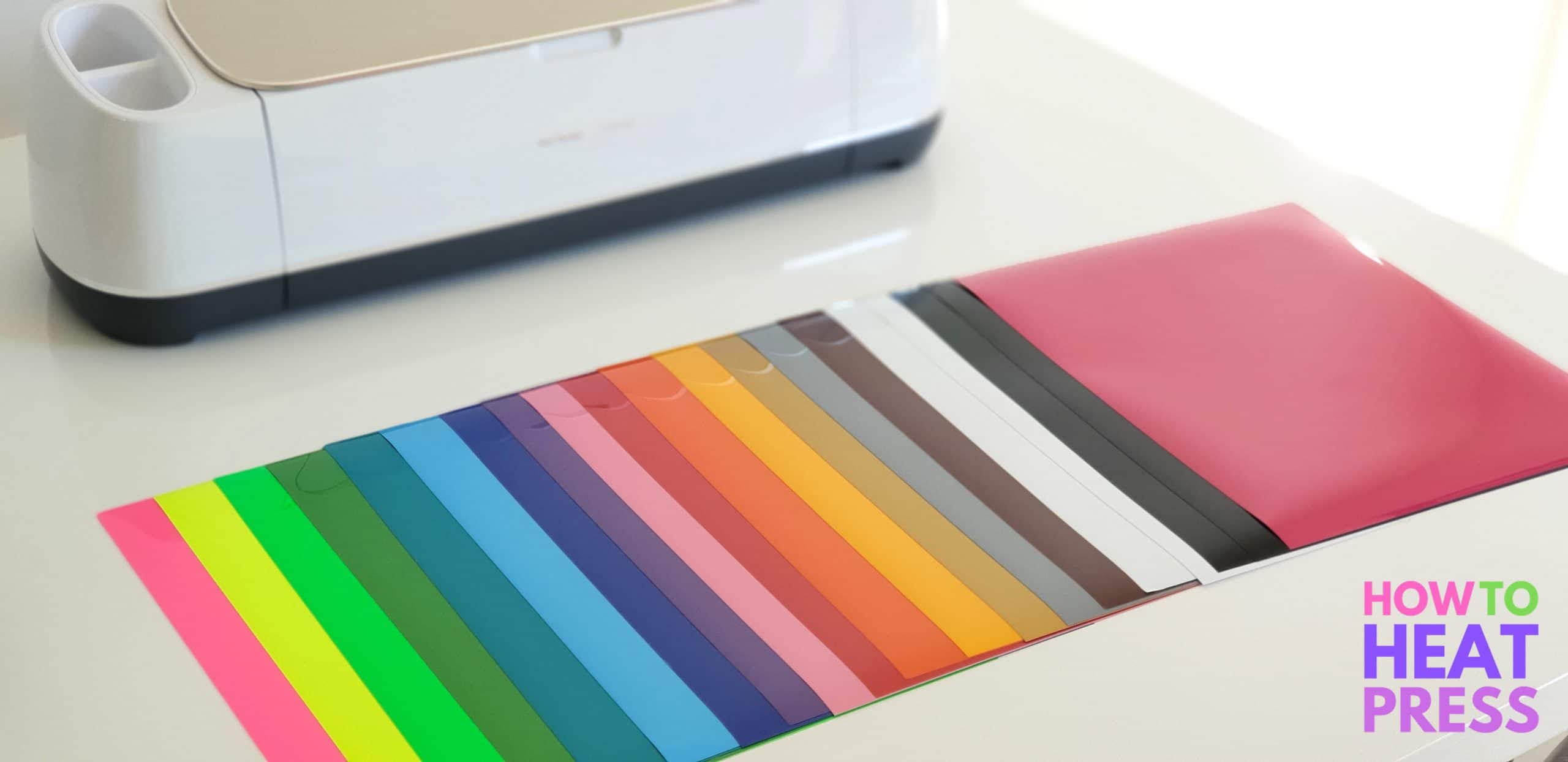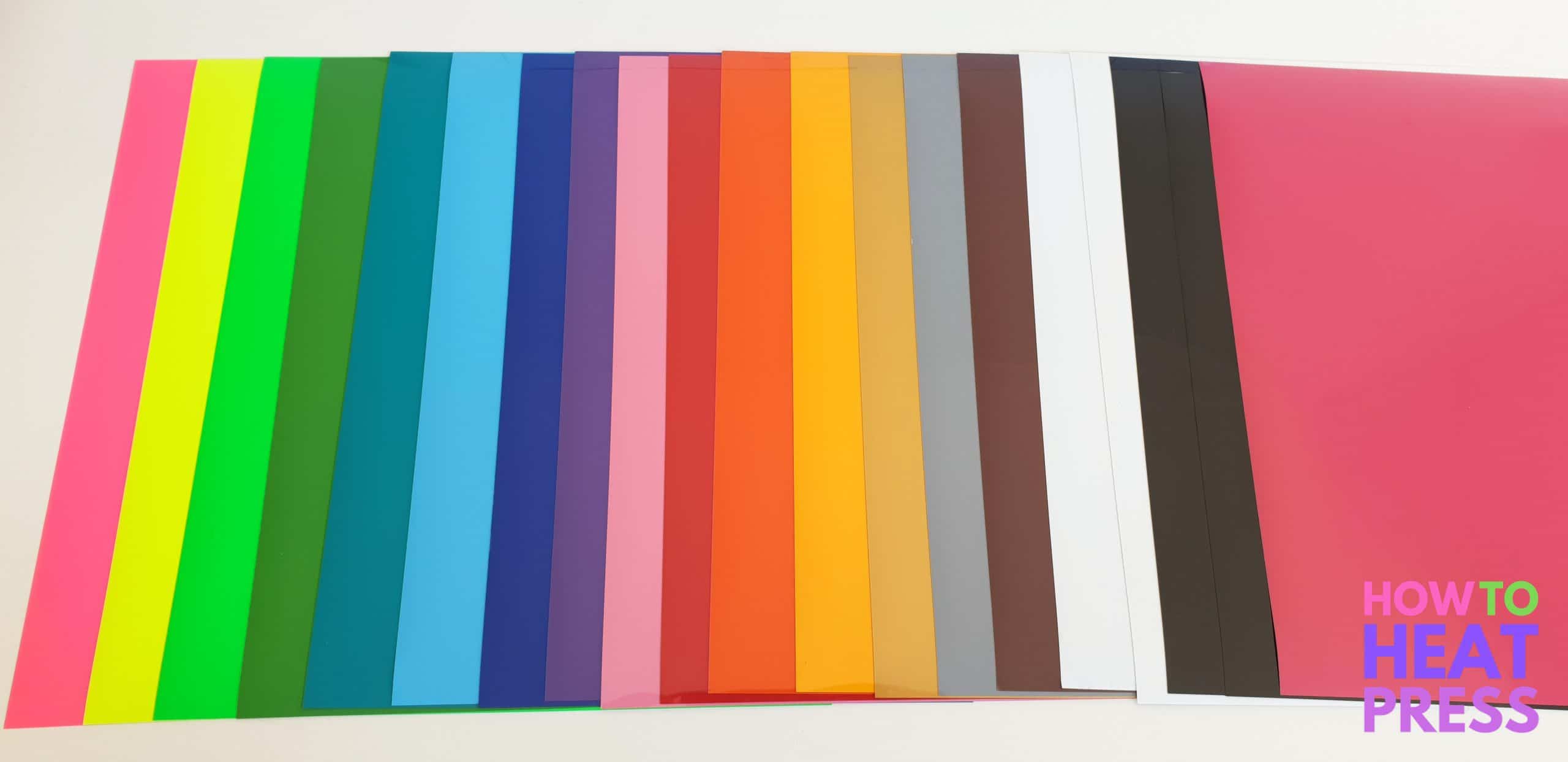 Here are the colors that come in the Multicolor Bundle (12 x 10 inch HTV sheets):
2 black
2 white
Silver/Grey
Gold
Brown
Grass Green
Light Pink
Fuchsia
Red
Orange
Yellow
Purple
Aqua
Royal & Sky Blue
Neon Yellow
Pink & Green
And here is my experience using ImPRESSED Vinyl HTV.
Easy To Cut
I used the Cricut Maker to cut this HTV, and there were no issues. As you'd expect, it cut very easily.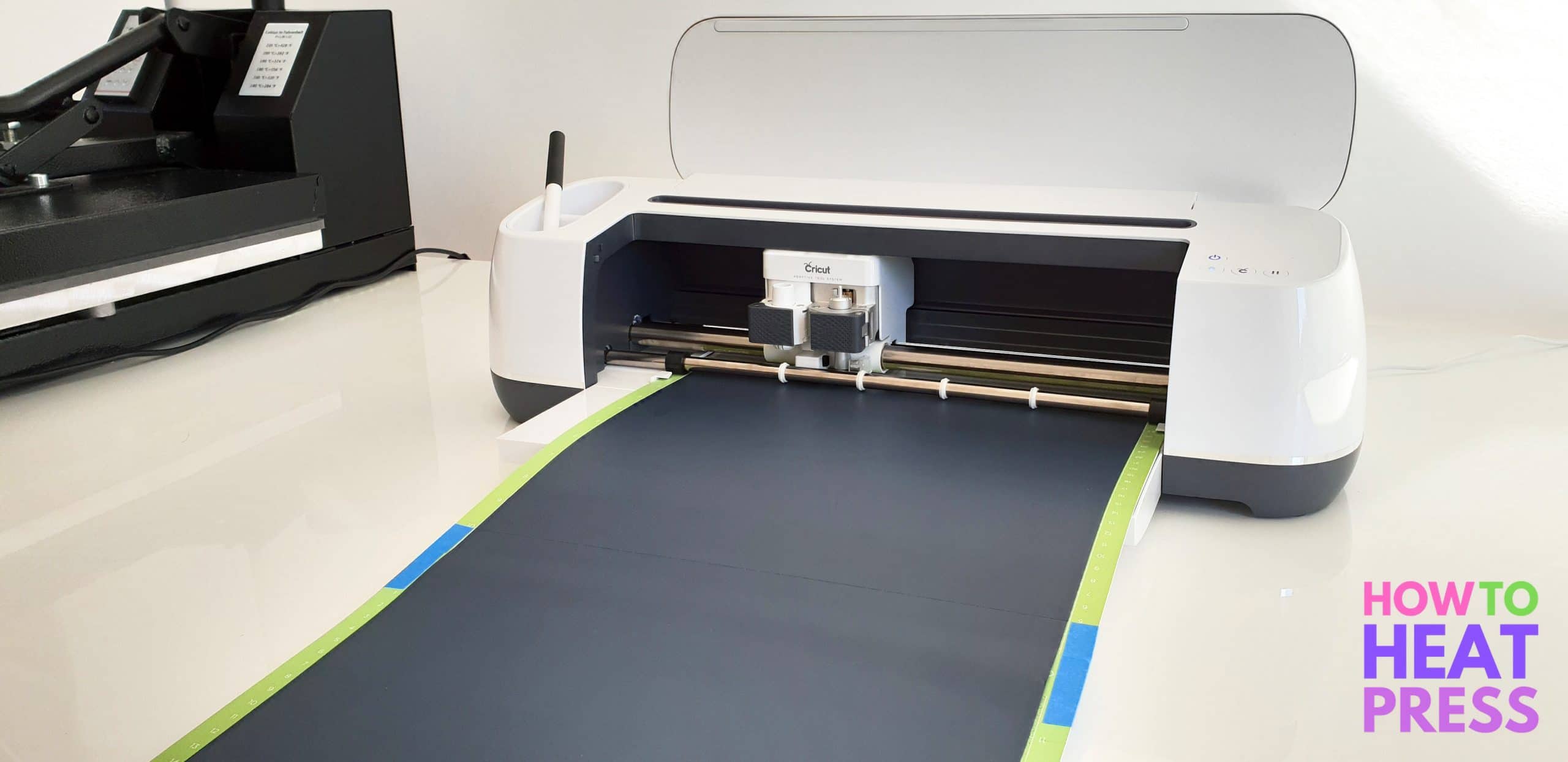 The HTV didn't pull away from the carrier sheet while being cut, or anything nasty like that, it cuts perfectly with the appropriate settings.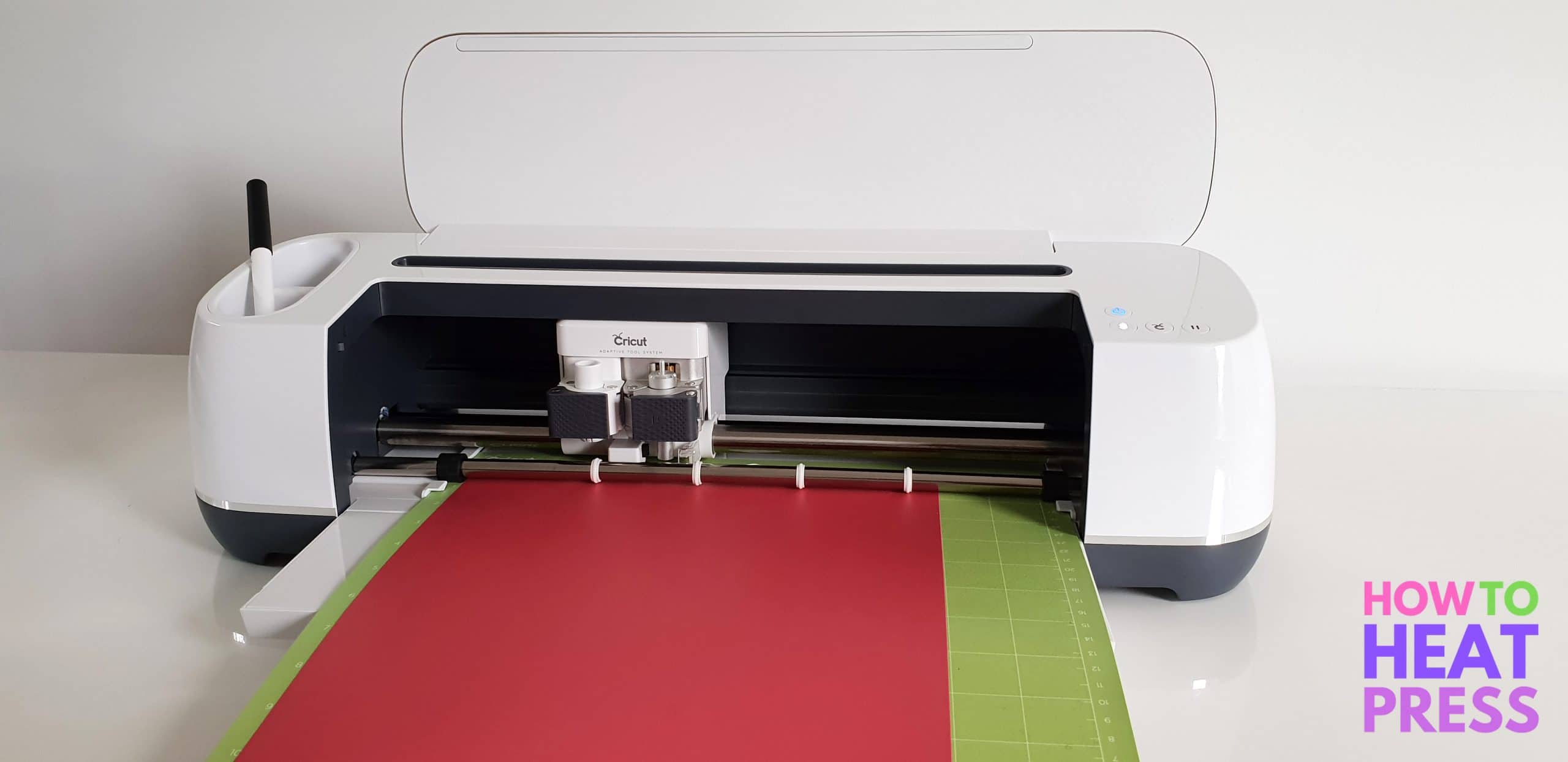 Easy To Weed
While I was weeding the HTV, I realized that the carrier sheet wasn't very sticky. This made it really easy to weed because my hand didn't get stuck to the carrier sheet all the time (as is the case with other brands). It was also really easy to pull the vinyl away from the carrier sheet.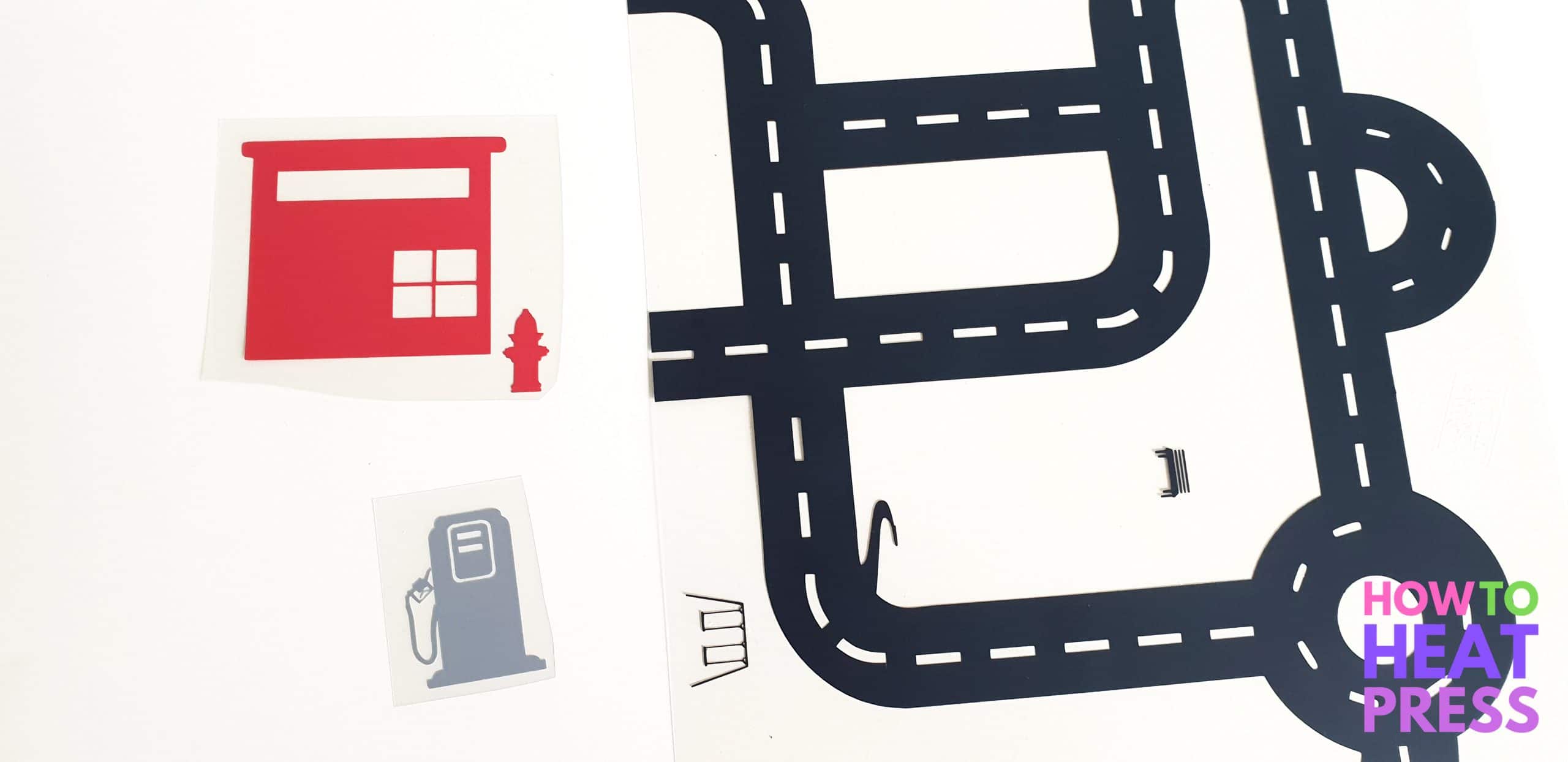 Initially, I was a little worried that the transfer  might slip around when trying to press it, due to the limited stickiness of the carrier sheet, but this didn't happen and I had zero problems pressing it!
Heat Presses Well
I pressed the car track heat transfer in stages because it was so large and had many pieces. And even though I ended up pressing some parts of the design multiple times, the HTV still looked perfect, and there were no signs of shrinkage.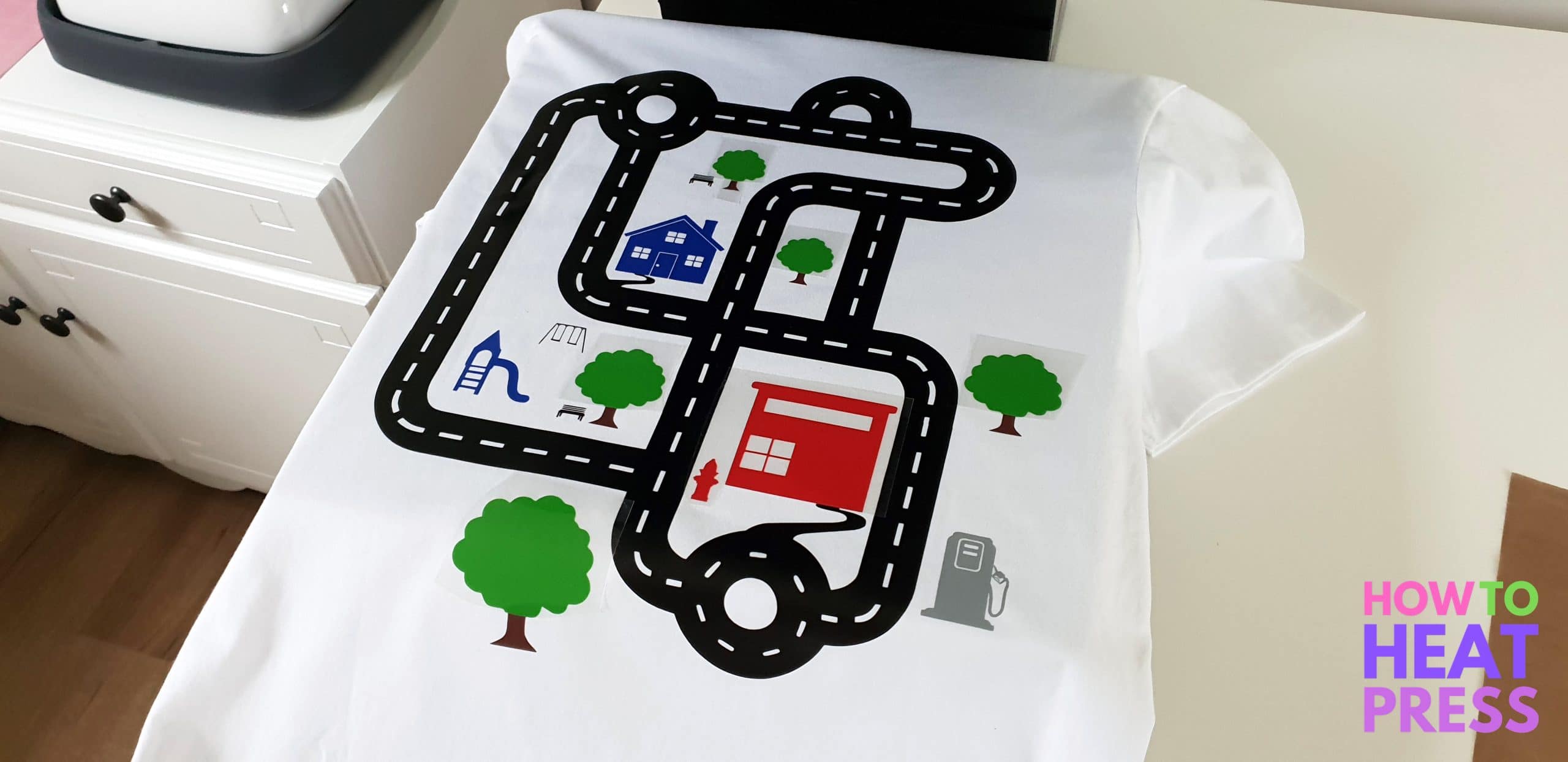 After using this HTV and following the simple instructions, I got the impression that this HTV is very forgiving and not easy to stuff up! Unlike Foil HTV for example… How many times have I melted that…!?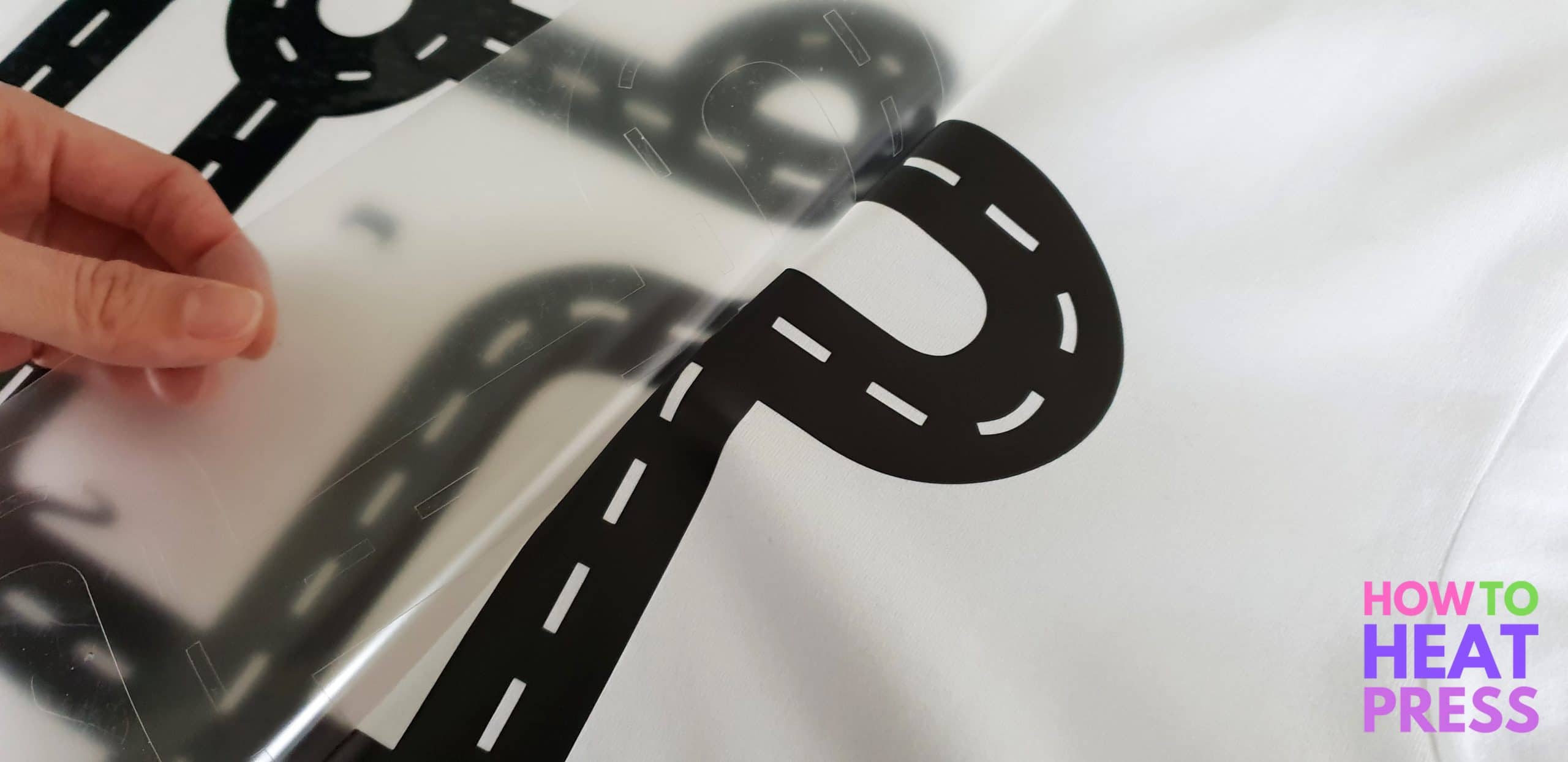 Good Looking & Feeling HTV
I am also really pleased with the final look and feel of the applied heat transfer vinyl.
It is not a thick and heavy vinyl, but sits really nicely on the t-shirt. There is no real ridge if you run your finger from the cotton to the vinyl. I'm not a fan of HTV that doesn't appear to be one with the garment (unless it's supposed to, like flocked HTV).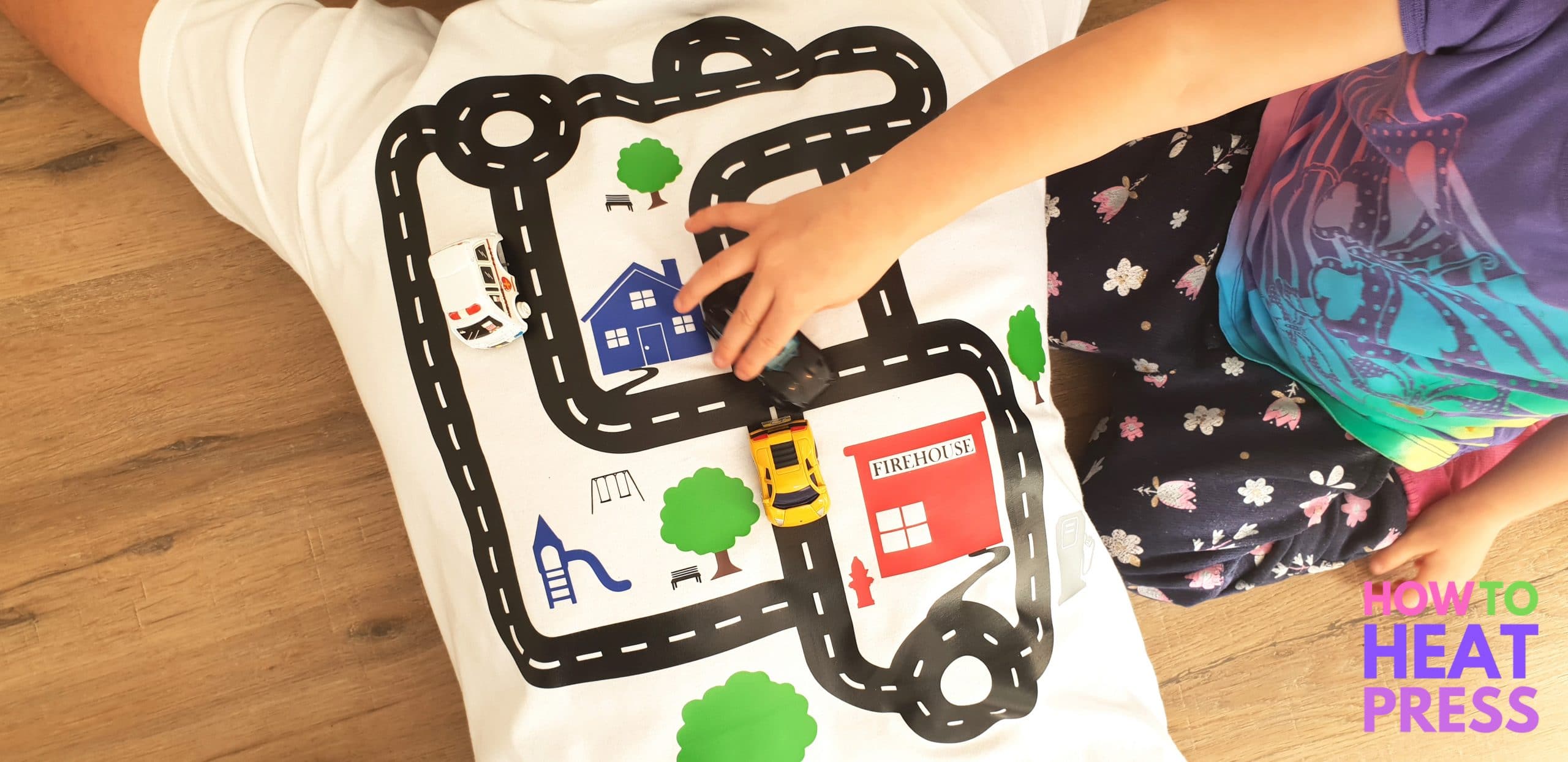 The vinyl is not super glossy either, which is good (in my opinion). It has what I would describe as a low-sheen for most of the colors, but some even almost a matte (like the green on the trees in the design).
Final Thoughts On ImPRESSED Vinyl
To be honest, I don't have any negatives to report with ImPRESSED Vinyl.
The t-shirt has not been worn and washed at all yet, so I will update this article in a few months and comment on how well it lasts. But, I'm not expecting any surprises. It appears to be very well adhered, and I don't doubt that it's on there for the foreseeable future!
After seeing how the HTV performed in this project I'm really keen on trying a layered HTV design with it to see how well it layers.
At this stage, ImPRESSED Vinyl only sells regular HTV, there doesn't seem to be any fancy stuff like patterned HTV, or glitter HTV, for example. But I have a feeling they will expand their range in the future. For now, I'm happy to say that their regular HTV is very good, and can recommend it for your tees.
We'll continue using this vinyl for different types of projects and update this review as necessary. Thanks for reading!
(Please note: This post contains affiliate links. Read our full disclosure policy here.)