Best Industrial Heat Press Machines
People are frequently searching online for the best industrial heat press machines. And perhaps that's how you've arrived at our site? However you got here, welcome!
Here's what we'll take a look at below:
What does the term 'industrial' mean?

Why do so many heat presses listed on Amazon include this word in their heading?

What are the best industrial heat press machines?
Why did I decide to write this article for you today? Well, look at all the heat press machines on Amazon with 'Industrial Quality' in the listing title here. There are tons of them! I wanted to explain what it's all about, so let's get into it.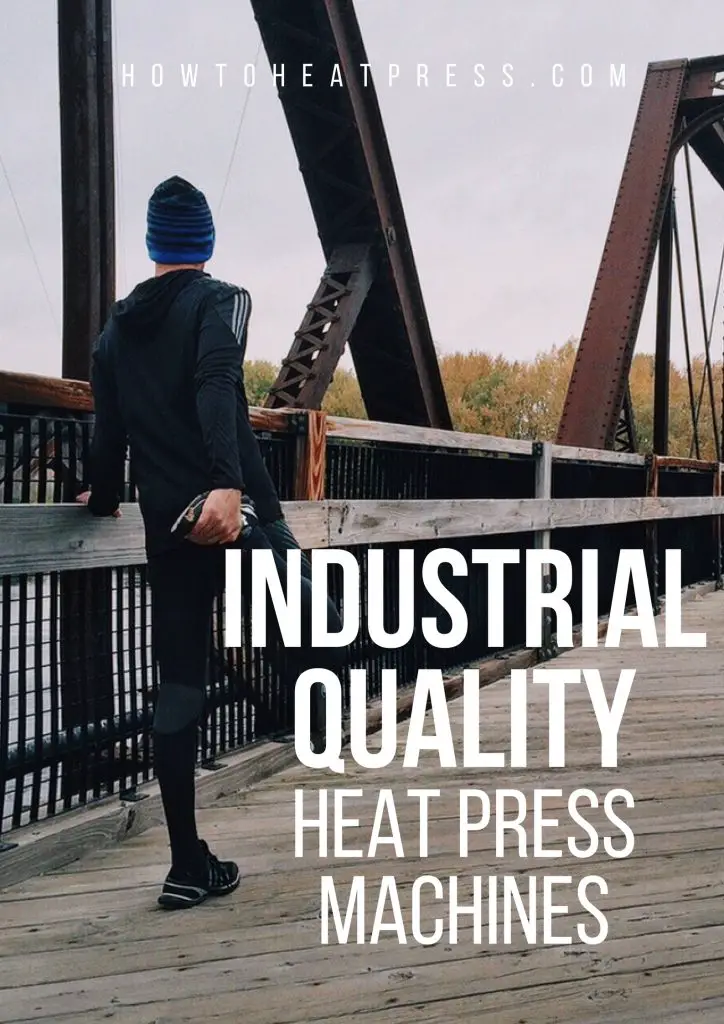 What Is An Industrial Quality Heat Press?
Normally, when I hear the words 'industrial quality', I think of  'made for business'. I think of a strong machine lasting a long time while being very durable and hardy. I get the impression of a machine that is high quality and built to perform at a superior level.
Is that what you think of and expect when you see this label applied to a heat press?
What it really means is 'a high standard heat press used by professional t-shirt designers.' 
But is that what you get with these listing on Amazon?
What Can We Learn About These Machines?
Heat press machines that have the term 'Industrial Quality' in their title on Amazon actually tend to be among the cheapest available.
For example, a popular industrial heat press is the PowerPress heat press. This machine is reasonably cheap… At least, it costs nowhere near what a US made heat press would cost.
For a similar price, there are also the 'Superland Power Heat Press 8 in 1 Industrial-Quality….' and the 'ePhotoInc Digital T Shirt Heat Press Machine Industrial Quality…'.
So one common denominator is that these so-called industrial heat presses are cheap!
What else do they have in common?
They are all made in China – at least the ones which I've listed above. This is not necessarily a bad thing, but is worth mentioning.  
They are also, for the most part, entry-level heat press machines. They have a very similar, if not identical, look about them. Their essential features are the same. They do not tend to have any bells or whistles such as a digital pressure read. They are cheap heat press machines.
So Are They Industrial Quality?
I wouldn't really be comfortable calling the mahcines listed above 'industrial quality' – at least not as I understand the term.
These heat presses are basic entry-level heat press machines for home use. They are perfect for those with a limited budget, or with limited use in mind. They are great for crafters and those starting out in heat pressing, but I would not recommend them for true 'industrial' use. The term is used in these listings to give the appearance of quality and authenticity. 
Perhaps the main reason sellers use this term is because that is what people are searching for – it's possibly the phrase you yourself are searching for! The term 'industrial' is added in these listing titles to rank in Amazon's search for those keywords.  
I would suggest that you disregard this term when it comes to looking for your new machine, or at the very least don't let your search end there.  
READ: The Best Heat Press Machines For Beginners And Home Use
True Industrial Quality Heat Press Machines
Here are two examples of heat press brands that I do consider to be industrial quality:
Hix Heat Press Machines are of a high standard and are used by those in t shirt business. These machines can do long runs, pressing many garments day in and day out. They are a much better quality machine, to say the least. 
Stahls' Hotronix Heat Presses, which we also have written an article on, are very high quality machines. Stahls' is one of the more respected heat press brands, if not the most respected. These machines are for the serious business person who truly wants an industrial heat press.
READ: The Best Heat Press Machines For Business
Conclusion
Don't worry too much (or at all) about the term industrial quality!
Think about which heat press is right for you at this time. Consider your needs and budget and go from there. If you are looking for a quality entry level heat press at a good price, check out the USCutter 15 x 15 starter bundle. That's our favorite machine for beginners. 
If you are going to be using your machine a lot, and will make a thriving business out of it, definitely consider buying a more expensive and better quality machine from this list of presses for business. You might even need to simply save up for a while longer first?
We hope this post helps you make a little more sense out of those Amazon listings!
Thanks for reading this post. What's your preferred industrial quality heat press machine? Leave a comment below!
(Please note: This post contains affiliate links. Read our full disclosure policy here.)