How To Use Irons For Heat Transfers: Everything You Need To Know
Irons for heat transfers are a great way to start making t-shirts. If you're like me, your first ever heat transfer was an iron-on with a regular household iron. I was given a single heat transfer as a Christmas present, and that was the first I knew of them. I remember the excitement with which I pressed that first transfesur and my excitement when it worked – so much fun! And many, many years later, here I am writing 'everything you need to know' about using irons for heat transfers' – I can't even remember who to thank for getting me started with that first transfer!
Iron-on transfers are a great way to start designing and making your own t-shirts. This gives you a chance to have a go at it before outlaying too much money to see if you're going to enjoy the process, or to test whether you can make some money.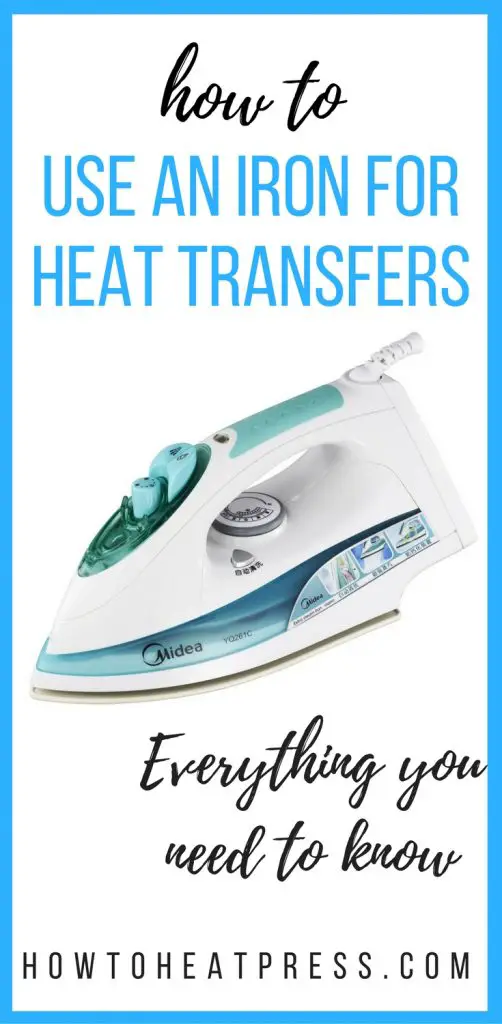 What Types Of Transfer Can You Press With An Iron?
Heat Transfer Vinyl (HTV)
Heat transfer vinyl (HTV) is perhaps the most popular type of iron-on transfer. It is definitely not best to press with an iron, but is certainly fine to try it out. Siser EasyWeed is the most well known and (arguably) the best HTV and they give the following application instructions, as found on their website:
Application instructions (home iron):
Set your iron dial between Cotton and Linen
Cover design with parchment paper or Teflon sheet
Place on a flat, hard surface such as a wooden chopping board (ironing board not recommended)
Press iron with medium/firm pressure – don't slide iron around over transfer
Press each section of the design for 10-15 seconds – if you have a large transfer you might need to press it in 3 or 4 stages
If areas of design lift after application, replace cover sheet and re-press for 5-10 seconds
Peel the carrier sheet off hot or cold (can depend on the type or brand of transfer)
You can see in this Siser video how to press vinyl with an iron correctly:
Inkjet Transfers
Inkjet transfers are another type of t-shirt transfer you can make with your home printer and iron. This way you can print out your favorite photos, images and designs onto transfer paper, and then apply them to your t-shirts, tote bags, or whatever else! Avery InkJet Iron-On transfer paper is one of the most popular transfer papers. It's available for use on dark garments or light garments.
You can see these products in use in the following video from Diving Head First. If you appreciate the video, and want to support the creator, click through to view it on YouTube and you will find her affiliate links underneath (which will help to support her future video creations!).
Rhinestone Transfers
Rhinestone transfers are also able to be pressed with an iron – at least some of them can! These are awesome little suckers which will make your t-shirts glimmer and sparkle, and are especially cool for little girls clothing.
You can make your own Rhinestone transfers (the Brother Scan N Cut is a good cutting machine for this job), or you can buy them pre-made and ready to press from eBay or Amazon.
Pros Of Using An Iron
An iron is very small when compared to a heat press. It's not going to take up much space. You can actually store it away somewhere when not in use! A heat press is difficult to store and and can be a bit unsightly.
You probably already have an iron in your home. You may not need to buy one especially for heat transfers.
Irons tend to heat up a lot quicker than a heat press. Setting up an iron does not take so long.
Irons are probably easier to use. There isn't as much to learn (you already know how to use an iron), and there isn't a lot to it. It's a simple and easy process.
Irons are a lot cheaper than heat press machines.
Cons Of Using An Iron
The quality of an iron-on heat transfer is not equal to one that has been done correctly with a heat press machine. A heat press will cause the transfer to adhere stronger and harder than an iron will. Therefore, you are likely to get a longer lasting, better looking result with a heat press over an iron.
You cannot control the 3 ingredients of a great transfer as accurately with an iron. These are the time, temperature and pressure. A heat press allows you to set these parameters as you need, but using an iron takes a bit more work.
Irons have a small pressing area, which means doing transfers larger than the iron is more difficult. You need to apply pressure for the appropriate amount of time across the whole surface of the transfer, so it can mean doing it in stages.
It is easier to scorch or burn your garment with an iron – if you hold it down a bit too long you can end up with that unfortunate triangular burn mark in your t-shirt.
Irons with a whole bunch of holes in the base aren't the best for transfers – these can mess with the pressure of the press. Some have large holes, so imagine that when you're doing the transfer that area is not actually being pressed.
Saying you used an iron to do your transfer is nowhere near as cool as saying you used your heat press (agreed?).
Ultimately, irons were not designed to do heat transfers, but heat press machines were!
So you can see, there are plenty of pros and cons for each option. If you're just starting out and haven't even tried an iron-on transfer, I would give that a go first, and then consider buying a heat press. If you want to have these points elaborated on a bit more, read our blatantly pro-heat press article, Three Reasons To Use A Heat Press Instead Of An Iron.
Tips For Applying Transfers With An Iron
There are quite a few tips and tricks to getting the best iron-on transfer you can. Here are the ones we've discovered:
If you are using a steam iron, make sure the steam setting is off!
Set your temperature setting to between cotton and linen and test. If it does not seem to be transferring well, turn it up more towards cotton and test again. Usually cotton is the hottest setting on an iron.

Make sure the surface that you are pressing on is flat and hard. For example, don't attempt to do it on a padded ironing board, but rather a wooden surface.

A large wooden chopping board is a great surface to press on, and it will protect your table (or other surface) from any damage at the same time.

Iron your garment before you press your transfer to remove any moisture and wrinkles.

Always use a Teflon sheet (or parchment paper) when pressing your transfer to protect both your garment and your iron.

A Teflon sheet will also make it easier to run your iron over the transfer – it is easier to glide across that than the transfer backing.

If you are new to HTV or other transfers, cut a couple of pieces of vinyl (or print a small image) to test on some scrap fabric. Try to familiarize yourself with the process before doing your first real job!

When you press down, apply even pressure upon the iron – this will be easier to do if you are standing above the project and can put some weight down upon it.
Here is an infographic we made up on how to apply HTV with an iron:

[You can find the code to embed this infographic on your own website here]
What Are The Best Irons For Heat Transfers?
The trick to finding the best irons for heat transfers is to find the flattest, weightiest iron with the fewest holes on the bottom. You won't be using the steam feature for the process, so if you're seeking an iron only for transfers you won't need to consider irons with that feature. Irons without the steam feature are known as 'dry irons.'
With that in mind here are a few suggestions on Amazon:
Oster Heavyweight Classic Dry Iron
We think this is the best one if you are looking for an iron solely for heat transfers. This is a heavier iron (weighing 4 pounds) which is great because it means you don't need to apply as much pressure yourself. A lightweight iron is no good for heat transfers. This iron also does not have any holes or grooves in the base which means you'll be getting the best pressure without missing any spots. And the final feature I'll mention is that the heat plate has a comparatively large surface area, meaning you'll cover more ground in less time!
Continental Electric Classic Dry Iron
This is another good iron for transfers. It also doesn't have any holes in the surface, it is simply a flat hot plate, not a steam iron. This iron weighs 2.2 pounds.
BLACK+DECKER Digital Advantage Professional Steam Iron
This iron is an option if you were wanting a cheap iron for transfers that you could also use for your regular ironing (you can use the other ones as well, of course, but this is one with the steam feature). As it is a steam iron it has holes in the plate, though they aren't as intense as some irons (this one is known for its 300 holes!). This Black and Decker iron is also a heavy iron at 4 pounds. This makes it easier to get the needed pressure.
eBay also has a number of dry irons for sale, including some of the same ones from Amazon. You should search 'dry iron' in eBay and compare prices. There seems to be a few more options over there.
How To Use Irons For Heat Transfers
What better way is there to learn how to do this than by watching YouTube videos?! (besides doing it yourself at least…)
Pressing vinyl onto a baby onesie with Bailey's Blossoms.
Another couple of creative ways to use irons for heat transfers. This video uses iron on letters and fabric paint. This cool video is from But First Coffee.
Cleaning And Caring For Your Iron
Similar things apply to cleaning your iron as apply to cleaning your heat press, as we've written about in the linked article.
Irons (and heat press machines) get grubby over time, even if you haven't had an accident melting a heat transfer! They can get starchy from the fabric, or they tend to pick up other bits of grime from general use, and so it's a good idea to give them a bit of a clean every once and awhile, and there are some great products you can use to do this well.
We recommend using an iron cleaner from your local store, or see these cleaning products for sale on Amazon:
Conclusion
Irons are a great way to start heat pressing transfers onto t-shirts. These can make awesome additions to your own wardrobe, or even fantastic gifts for friends and family – Christmas is coming! And if you really enjoy the process, you should definitely think about upgrading to a heat press. If you're at that stage, this article with the 5 best cheap heat press machines would be a good place to start!
Further Resources
(Please note: This post contains affiliate links. Read our full disclosure policy here.)