What Is The Best Janome Embroidery Machine?
This post contains affiliate links. If you use these links to buy something, we may earn a commission, but it doesn't cost you anything. Thanks!
A Janome Embroidery Machine… the perfect addition to your craft room!
Janome have a range of 'embroidery only', and combination 'sewing and embroidery machines'. What is the best Janome embroidery machine?
In this post, we'll share with you all the options, along with the features and specifications. We'll also help you to find the best price on your next Janome Embroidery Machine!
Janome Embroidery Machine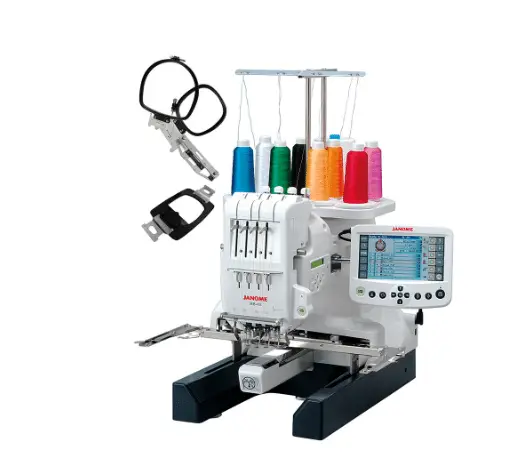 Here are the most popular Janome machines for embroidery (Janome sewing machines here). They are in general order from least expensive to most.
Compare prices between retailers to ensure you get the best deal possible!
Janome 350E Embroidery Machine
The Memory Craft 350E is the cheapest Janome machine for embroidery, though that doesn't mean it's not good (because it really is)!
It comes with many great features, including:
manual thread tension control
100 built in designs
3 built in fonts
built in 2 or 3 letter monograms
USB drive for bringing in more designs
And has large embroidery hoops, which we all end up wanting before long!
5 x 4.3 inch hoop
5.5 x 7.9 inch hoop
Meaning you are not going to be limited to smaller designs, as with cheaper embroidery machines.
Take a look at what the Janome 350E can do in the following video.
Janome Memory Craft 400E Embroidery Machine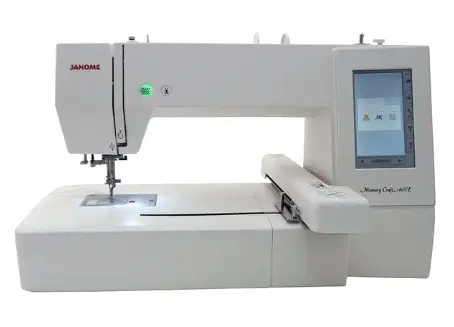 This is an embroidery only machine which was released in 2016.
It has a standard 7.9 x 7.9 embroidery area – this is very large when compared with many other machines. Other hoop sizes that can be purchased separately include:
5.5 x 7.9 inch
5.5 x 5.5 inch
4.3 x 5 inch
Other features include:
160 built in designs (including monograms)
built in USB port
adjust embroidery speed
edit embroidery designs on screen
go back or forwards through stitch count
auto thread cutter
auto stop if thread breaks
Find out everything you need to know about the Janome 400E in the following video.
Janome 9900 Embroidery Machine
The Janome 9900 is another great high powered embroidery machine with a huge range of features. And not only is it for embroidery, but a combination of sewing as well.
It has an adjustable stitch speed of 400 – 800 stitches per minute, built in needle threader, and automatic thread cutter… all the bells and whistles!
Other big features include:
an LCD color touchscreen
adjustable hoop positioning
hoops sizes of 6.7 x 7.9, and 5.5 x 5.5 inches
free arm
foot pressure adjustment
and so much more!
Check out the full range of features and specifications here on Janome's website!
Janome MB4 Embroidery Machine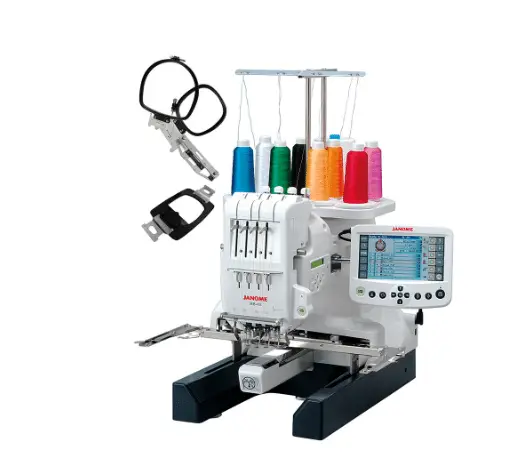 This Janome MB4 is a multi-needle embroidery machine, allowing you to do up to four colors without having to switch. Four needle machines are good, because it allows you to save time, while not having the price tag of a 10 needle machine (eg. the Ricoma EM-1010 embroidery machine).
It comes with 3 embroidery hoops, sized 2 x 2, 5 x 5, and 8 x 9 inches.
You are able to bring in outside designs with USB, and it comes with 100 in built designs, 10 fonts, and monogram options.
Watch the MB4 embroider onto a t shirt in the following video.
Janome Horizon 12000
This Janome Horizon sewing and embroidery machine is excellent!
edit and create designs on the LCD screen
linear motion embroidery system for larger designs
high speed, up to 1000 stitches per minute for embroidery
10 LEDs for best illumination of the work space
4 great embroidery hoop sizes
Check out the Janome 12000 in this video.
Janome Horizon 14000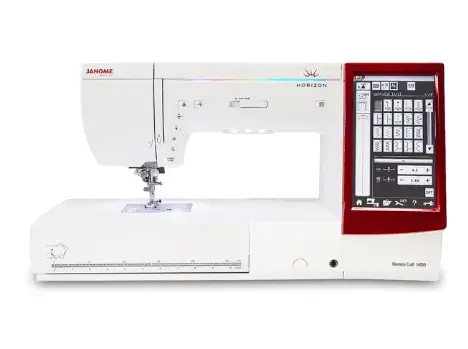 The Janome Memory Craft 14000 is the next step up in features, specs, and price!
This is a serious machine for passionate embroiders. It comes with many more built in designs & fonts (350+), has improved on board edit & design function, and more of those great features.
programmable jump thread trimming
adjustable speed while embroidering
adjustable hoop positioning
more embroidery formats
and much more
And of course, it has a huge range of awesome sewing features as well (see them all here)!
See the Janome Memory Craft 14000 in action in the following video. This demonstrates embroidery on a hand towel.
Best Janome Embroidery Machine
So there you have it… and what is the best Janome Embroidery Machine?
It's all going to depend on your budget. These are all high quality units for machine embroidery, and are suitable for home crafts and small business.
They do not come cheap, as with all embroidery machines, but they are an investment, similar to a heat press machine or vinyl cutting machine. The prices vary so much, that you really need a firm idea of what you can spend, and then pick up the best machine for that price.
Janome loyalists should have an easy time choosing the right machine because the price gaps are significant. Each level of machine is in another price range.
Set your price range and you'll find the best Janome machine for you!
Thanks for visiting!
Pin this post!
(Please note: This post contains affiliate links. Read our full disclosure policy here.)