Janome HD3000 Review: Find The Cheapest Option!
This post contains affiliate links. If you use these links to buy something, we may earn a commission, but it doesn't cost you anything. Thanks!
The Janome HD3000 Sewing Machine… is it be right for you?
This machine is designed to provide avid sewing enthusiasts with the best sewing experience for a good price. In this review, you'll learn everything about this reliable machine, so you can determine if it's the right one for you.
The Janome HD3000
The Janome HD3000 is a durable sewing machine, specifically designed for serious users. This is not a fancy model with hundreds of built-in features, but it's a decent choice for beginners and intermediate-level users who want a sturdy machine that will last for long.
The machine comes with a hardcover and weighs 18.8 pounds. The work area measures W 6.5 x H 4.6 inches, so it's suitable for most sewing projects.
It's considered to be an updated version of the HD1000; another great model from Janome. It's one of the few machines that can handle heavy-duty work requirements without breaking down.
Pros:
This is a sturdy machine that can withstand heavy duty use. It's made of long lasting metal, and can handle everyday use. Some machines are made of cheap and flimsy plastic parts and they're likely to break soon. This one can last for decades if you store it and maintain it properly.
It's a suitable model for beginners and intermediate-level users. The machine doesn't overwhelm users with hundreds of unnecessary features that they might never use but would definitely pay for. It covers the basic needs that most sewing enthusiasts would need to finish any sewing project.
The HD3000 gives users the opportunity to choose between 18 built-in stitches. This gives you the chance to finish any sewing project in the desired quality. Choosing and adjusting the size of the stitches is easy and straightforward, saving your time and increasing your productivity.
This machine can work on thicker materials. The HD3000 is designed to offer users maximum versatility so you can work on any fabric. Adjusting the speed will allow you to work comfortably on the most challenging materials.
Cons:
The machine is heavy. If you're attending sewing classes or like to carry your machine around, this might not be the most portable option. It comes with a hardcover to protect it while you're transporting it, but there are other lighter models that you can consider.
There's only one buttonhole style. For the price of this machine, users would definitely appreciate having more selections to choose from. However, this basic design will help you execute most pieces with no problem.
Janome HD3000 Review
Check out the following video of the Janome HD3000 from Ken – hear more about it's great features, and see it in action.
Key Features Include:
18 decorative and utility stitches
1-step buttonhole
Stitch selection dial
Thread tension adjustment
Automatic bobbin winding
5-piece feed dog
Maximum stitch: 6.5mm W x 4mm L
Extra high presser foot lift
Drop feed
Reverse stitching
Built-in light
Thanks to the 5-piece feed dog, the fabric will move smoothly with no jamming. This is an excellent feature so you can work on thicker materials and multiple layers.
Selecting the right stitches is easy because all the stitches are listed on the front of the machine.
Best Price On The Janome HD3000 Sewing Machine
Where can you get the best deal on the Janome HD3000? Compare prices across these top retailers to find out!
Consider shipping costs (most have free shipping), bonus offers, and whether you can add any coupons for the Janome HD3000.
Janome HD3000 Black Edition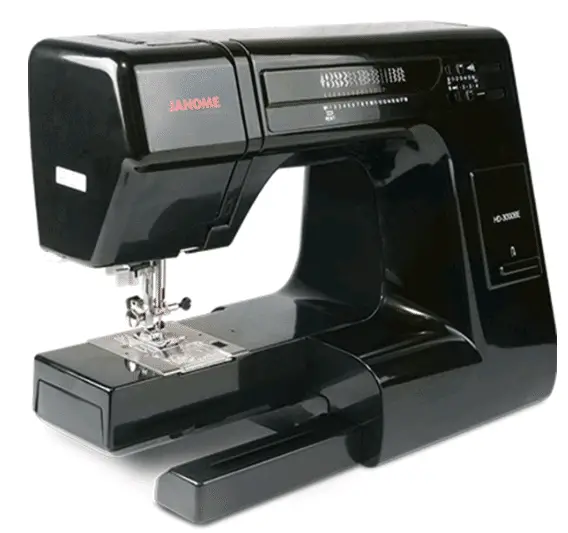 What are the differences between the Janome HD3000 Black Edition and the original?
Other than the color, there aren't any differences between the HD3000 Black & White sewing machines. And personally, I think the Black machine is a lot cooler!
The only other difference that you may come across is with what's included. Different retailers may include different accessories etc with the HD3000.
What's Included With The HD3000?
Your sewing machine comes with several useful accessories (but make sure you check with each retailer – some sellers may include extra items or exclude these items):
Extra bobbins & needles
Seam ripper
Lint brush
Quilting bar
Several feet: blind stitch, zigzag, rolled hem, zipper, & over-edge feet (in addition to the sewing & buttonhole feet)
Performance of HD3000
This machine is an excellent choice for users who need a reliable and fast machine, delivering 860 stitches per minute as a maximum speed. The feet pressure adjustment dial allows you to adjust your machine for a customizable sewing experience. It's one of the best choices for quilting.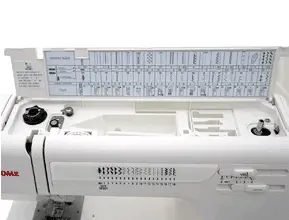 Threading and winding of the bobbin are very easy. It facilitates your job whether you're a newbie or a professional. Amateurs will love these features because they can finish several projects with no issues. For professionals, this means more productivity from your sewing machine.
The selection of the stitches is easy thanks to the position of the arm. You can also find the adjustment guide so you can choose the right size of your stitches. This is an excellent choice for beginners, especially if you're not sure about the right size to pick. The body of the machine is designed to withstand every day because it's made of metal.
As you turn on the machine, you'll be able to see your work area thanks to the built-in light. This allows you to work comfortably on darker fabrics. This feature is extremely beneficial for sewing enthusiasts and those who sew for professional purposes. It helps you avoid eye strain because you can see all the details comfortably.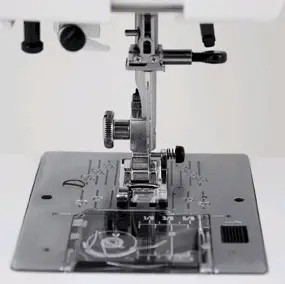 One of the things that make this machine extra special is the free arm. This helps you work on pieces like sleeves, pants, and collars.
The HD3000 sewing machine doesn't overwhelm you with unnecessary features and also comes with a user's manual that can walk you through the first uses. However, it would have been better if it offered more buttonhole selections so you can work on several sewing projects.
While the speed is high, it's not the highest on that you can find. This machine is a good choice for quilting projects and heavier materials so it will certainly cover most of your sewing needs.
Who's The HD3000 For?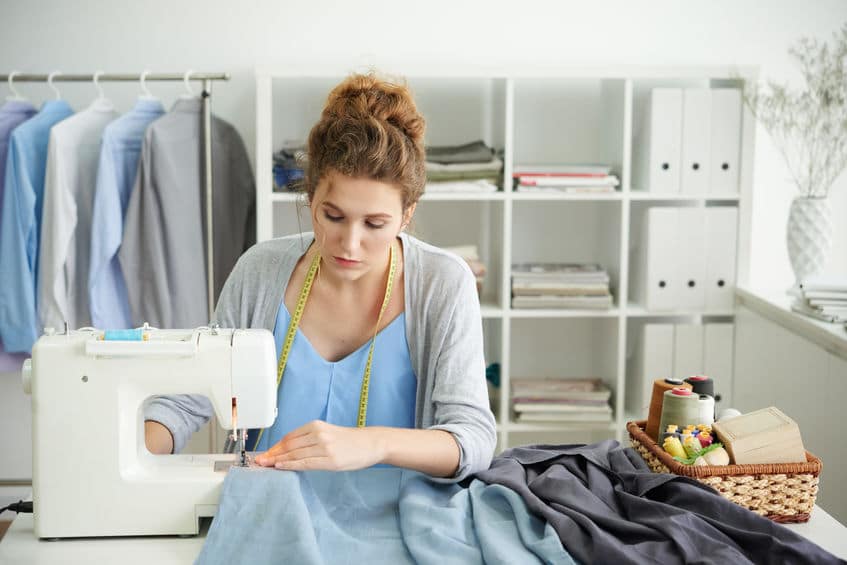 Beginners and first-timers should definitely take a look at the HD3000. It can also be used by intermediate-level sewers as it offers several amazing features.
However, if you're very experienced or looking for a professional-level sewing machine, then you should look for another model. Check out these other heavy duty sewing machines, or these Janome sewing and embroidery machines.
Janome HD3000
If you're looking for a sturdy, heavy duty sewing machine then you should look no further. The HD3000 from Janome offers users the best sewing experience thanks to a durable machine that can withstand heavy use.
It's an excellent choice for beginners and intermediate-level sewing enthusiasts as it comes with basic yet adjustable stitches. It also comes with lots of wonderful and useful accessories that can help you embark on your sewing journey. If you need to keep looking, check out these other Janome sewing machines!
Let us know your thought's in the comments below!
(Please note: This post contains affiliate links. Read our full disclosure policy here.)