Promo Heat 12 x 10 Swing-Away Heat Press Transfer Machine Review
We have another Promo Heat heat press to have a look at – their 12 x 10 inch Swing-Away model.
We have already reviewed the Promo Heat 15 x 15 Clamshell Heat Press, and we also have an article comparing that machine to the Power Press heat press.
The Promo Heat 12 x 10 is a small and cheap heat press. As we will discuss, this machine will be perfect for some applications, and not so great for others.
If you've ever wondered why so many differently branded heat presses look alike, or identical (as is the case with this Promo Heat machine), check out our article on why this is.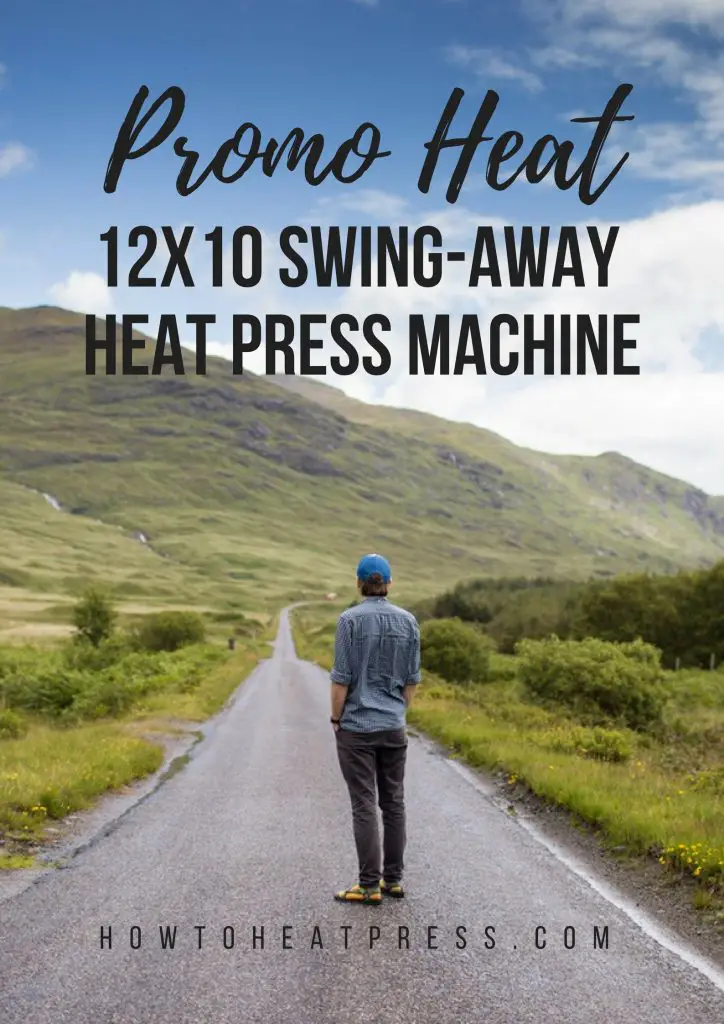 Features Of The Promo Heat 12 x 10
Features of this machine include:
It's a swing-away heat press – which is good if you have enough space. It needs plenty of room for the top platen to swing around out of the way.
The swing-away feature allows for a greater amount of work space in the press itself. It makes it easier to lay out a t-shirt and transfer.
Like most machines, this has a digital LCD time and temperature display. You are able to set the time, which starts counting down once the machine is clamped shut.
A manually set pressure knob – you change this to suit the thickness of whatever it is you're pressing.
Easily transported, or stored, because of its lighter weight and smaller frame (as compared with a 15 x 15 inch sized machine)
Pros
There are many positives about this machine, including:
It is very cheap and affordable

If you do not have a lot of space, it is small

It will work with a ton of different transfers and substrates

It is relatively light and easy to move around

It is one of the better looking heat press machines

Good for home and craft use

It is fully set up and ready to go after unpacking
Cons
There are always some 'cons' to any machine:
Because it is cheap, it will not necessarily last as long or do quite as fine a transfer as for example, an American made machine

You will not be able to do large transfers on large t-shirts with this small machine

It may not stand up to long hard runs of t-shirts everyday – although many will indeed successfully accomplish this, some will have technical issues
Specs
The Promo Heat 12 x 10's specifications:
Shipping weight – 30 pounds

Dimensions – 14 x 15 x 17 inches

Temperature range – 0 – 450°F

Time range – 0 – 999 seconds

Watts – 550W

Volts – 110V
What Is This Machine Good For?
This is a small heat press which means there are obviously some items for which it is not suited. It will not be good for any transfer larger than approx. 9 x 11 inches. It could also be difficult placing large t-shirts into the press, even for a small transfer, because there is not the same amount of work space inside the machine. You could end up with some bunching which is not ideal for maintaining an even pressure for the press.
Its small size makes it good for pressing:
Babies onesies

Small plaques

Baby bibs

Childrens clothes

Labels and tags on larger garments

Tote bags
You will be able to press the following types of transfers:
Rhinestones

Sublimation images

Inkjet transfers
And basically any other usual transfer – just check with the transfer manufacturer's specifications first to be sure.
You can transfer onto the following types of substrates:
Wood

Various fabrics

Glass

Metal (tags etc.)

Ceramic (tiles, for example)
Just make sure you're using the right transfer paper and refer to any other specifications before trying anything new and freaky.
Who Is This Machine Good For?
This machine is especially good for part-time heat pressing! – rather than full-time full-on heat pressing.
As I've stated many times in this post, it is a small and cheap heat press. This doesn't mean it sucks, but it means it certainly has its limitations.
If you have a t-shirt printing business, this might be good as a back-up press, but not as your one and only. If you're just starting out and testing the validity of your design ideas and t-shirt creations, then it could be suitable for that.
This machine is good for:
Homeschool projects

Businesses pressing tags and/or brand labels onto garments

People starting out in the industry

People testing their ideas

Beginners and learners
And finally, it is good for you if it's all you can afford!
Conclusion
If this machine is good for you then it is good for you! If you meet the criteria listed above and believe it will do the job you need it to do, then go on and buy it.
Consider another couple of heat presses on Amazon first which are very similar to Promo Heat's. The following three machines are very, very similar (if not identical). If you think this 12 x 10 press is the one for you, check out all three machines below to see which is cheapest on any given day:
If you are interested, see our article on why these machines are so alike.
Thank you for reading, we hope you have been helped. Please leave a comment below!
(Please note: This post contains affiliate links. Read our full disclosure policy here.)