Rosineer Heat Press Machines For Rosin
In this article we're looking at Rosineer heat press machines for producing rosin. Usually here at howtoheatpress.com we're looking at heat press machines for making t-shirts – or, at least, heat press machines for pressing heat transfers onto something! However, a rosin press is a method for extracting plant oils from plant material.
If you have stumbled onto this page looking for heat press machines for t-shirts, check out these articles instead: The USCutter 15 x 15 Clamshell, one of our favorite machines; or the Power Press Heat Press, one of the more popular cheap t-shirt pressing machines.
Before we go any further, I'll readily admit that the ins and outs of oils, waxes, rosins, resins, or shatters are not my area of expertise. I don't make or use the products myself. Heat press machines are what we're into around here, and it's about those that I hope to give you some valuable information.
That being said, let me give a brief overview of the subject of rosin.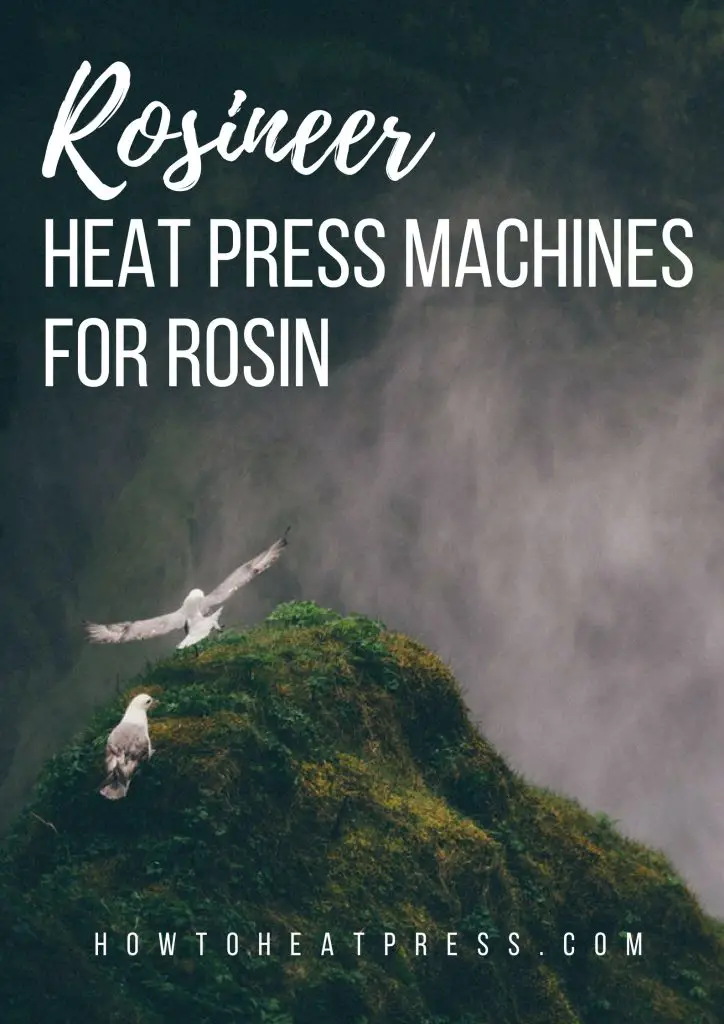 Rosineer Rosin Press Machines
Wikipedia's definition of rosin goes like this: "a solid form of resin obtained from pines and some other plants".
The 'some other plants' is the reason these machines have become so popular. They are, of course, speaking of cannabis and/or hemp. Most people purchasing rosin machines on Amazon, for example, are those wanting to extract their own cannabis or CBD oil. This oil can be used both medicinally or recreationally.
For more information on the medicinal uses, see this article on non-psychoactive CBD Hemp Oil. This oil is one way to get the medicinal benefits of the rosin or oil, without getting the high.
How Is Rosin Taken?
Rosin tends mostly to be smoked by recreational users. Medicinal users might instead opt to take it in pill form. Those who produce their own rosin might also suck up the oil with a needleless syringe and then simply push a little out to be taken as need be.
How Are Rosin Machines Different From T-Shirt Press Machines?
Heat presses for pressing plants to make rosin are a bit different from t-shirt pressing machines in a number of ways.
Here are some of these differences with reasons why you should get a dedicated rosin machine over a t-shirt heat pressing machine.
Heat presses for pressing rosin tend to have two heat platens, whereas on the other, only the top heats up. Dual heat platens are better for extracting the oil from the plant.


There are heat press machines on Amazon describing themselves as 'rosin heat press' when they only have a single heating platen. You would be best to get one with dual heating platens, unless you were considering doing t-shirts as well!
Rosin machines have small heat platens. They tend to be from 4 x 3 inches to 6 x 8 inches. You do not need a large heat press for pressing rosin – at least you don't if it's just for personal home use. If you were a rosin producing company, or thinking about that, you might need a commercial sized rosin machine like this beast.
Many rosin presses are pneumatic. This means they contain or are operated by gas or air. The cheaper pneumatic machines for sale on Amazon, like the Rosineer machines we'll look at below, require air compressors to work. Pneumatic presses (or manual presses with hydraulics) can generally apply more pressure than a traditional t-shirt press.
Genuine rosin machines tend to have different (and dedicated) sellers from the tradition t-shirt presses on Amazon. There are some sellers who sell machines for garments that are marketing their single heat platen machines as 'rosin' machines, like this one. They're just hoping to pick up a few people searching for that keyword. These machines can be cheaper but they are not going to be as good for pressing rosin.
Apart from these things, the two types of presses are fairly similar. They look alike, they both reach the same temperatures, and they are both heat presses.
Should I Get A Manual Or Pneumatic Rosin Press?
Once finding out there are these two types of heat press for making rosin, you'll likely be wondering, 'should I get a manual or a pneumatic press?'
A manual press is operated by pulling down a lever on the side of the unit, while a pneumatic press works at the press of a button, but needs an air compressor to work. The air compressor must be bought separately – most of the cheaper rosin press sellers do not supply these themselves.
Pros Of Manual Presses
Manual presses tend to be the cheaper machines – if you're on a small budget, you may need to opt for a manual. This is especially the case when you factor in the need for an air compressor as well

They are less complicated without the need of an air compressor and there is less that can go wrong

There is less to set up when you're gearing to go

Takes up less space
Cons Of Manual Presses
Number 1, they aren't quite as cool

You probably won't be able to extract as much with a manual press

Manual presses are a little more work – obviously you are having to clamp down the press yourself rather than pressing a button. There can be some cranking up and down with the manual presses until you have it really tight
Pros Of Pneumatic Presses
With the press of a button you are away laughing (once everything has been set up that is!)

Higher yields
Cons Of Pneumatic Presses
Quite a bit more expensive when you factor in the price of the compressor

More that can go wrong with it

More dangerous to use, especially if you are impaired

Takes up more space
Although when you look at these pros and cons lists, there seem to be more pros to going manual, that's not what most users would conclude. Because with a pneumatic press you get a higher yield, they would say go with that one. The higher yield outweighs all the other possible negatives.
Rosineer Rosin Press Machines
Now we are going to take a look at the Rosineer brand of rosin pressing machines.
Who Are Rosineer?
Rosineer have been in the rosin pressing game since 2014. Rosin pressing machines are their specialty and focus.
There are some t-shirt heat press companies who are now supplying rosin presses, or marketing their t-shirt presses as good for producing rosin. These companies seem to be jumping on the rosin bandwagon, if you know what I mean? They have seen an increase in demand for the product, and risen up to supply it – and there's nothing wrong with that. But what's nice about Rosineer is that this is all they do, they aren't thinking about t-shirt machines as well (as far as I know at least!). They make rosin press machines.
Rosineer presses are designed by the company and manufactured by the company (through third parties). They do not merely buy their machines from mass producers and then on sell them. These are their machines.
The company have their offices in Bellevue, Washington State. The design of their machines and services are completed in the US, while manufacturing takes place in China. You can visit them at their website here.
Rosineer RNR-MV1 Manual Rosin Press Machine
The Rosineer RNR-MV1 is the entry-level machine and is the cheapest from this brand. This is a manual machine which does not need a compressor. It does not have the option of taking a compressor either.
Features
3 x 4 inch dual heat platens

A hydraulic press with mechanical lever for achieving great pressure

Dual heat platens for the most efficient press – the platens have a temperature range of 0-750℉

Each platen has its own time and temperature display and settings

An adjustable lower platen – raise or lower it according to how much you are pressing

Achieves pressure of up to 700 PSI

Instruction manual (though there are plenty of better how to's on YouTube)

Tools for lowering platen

2 backup fuses
So this is a good machine to play around with. It perhaps doesn't achieve quite the same yields as a pneumatic press, but it is simple and easy to use, and is not going to cost you nearly as much.
I'd say the number one negative of this machine is the time and effort it takes to shift the lower platen. It's not as easy as 1, 2, 3. It's more like 1, 2, 3, 4, 5.
Rosineer RNR-MV2 Manual Rosin Press Machine
This is the latest manual model from Rosineer. It's updated features include being able to give the temperature reading in fahrenheit. Other than that small insignificant change, it looks to be the same (if you do know of any other additional changes, please leave a comment down below).
Rosineer RNR-PV1 Pneumatic Rosin Heat Press Machine
The RNR-PV1 is Rosineer's first pneumatic press. This machine is similar in many ways to the RNR-MV1 above, except it is pneumatic.
Please ensure you watch some videos on YouTube before unpacking and starting to use.
Features
3 by 4 inch dual heating platens

Separate time and temp displays for each plate

Robust Pneumatic Cylinder

Maximum pressure of 150 PSI
This machine also has a special feature to ensure you don't turn your fingers into oil: you must press the buttons on either side of the machine at the same time in order for the press to initiate. Because it takes two hands to get going, there won't be any fingers under the press. Make sure your buddies hands are out the way too!
Rosineer RNR-PV2 Pneumatic Rosin Press Machine
This is the final machine we'll mention today, and it is the latest machine from this company. Again, it is very similar to the PV1, it simply can achieve a higher pressure. Why does this matter? Well, the lower the temperature but the higher the pressure is how you gain the best product. With machines that cannot achieve a high pressure, you must increase the temperature to compensate, which results in a lower quality rosin (or in technical terms, it can destroy some terpenes).
Features
As mentioned, this machine is basically the same. The PV2 is simply an updated, newer version. Updates include things like the temperature readings now being in fahrenheit rather than celsius.
Rosineer Warranty & Contact Information
These machines come with a 90 day limited warranty that they will be free from defects in materials or workmanship. You must contact them via their email address at support@rosineer.com. Please see Rosineer's website for full warranty details and wording.
You may also like to phone or fax them on the following numbers, or through the contact form on their website.
Phone: (888) 508-0098
Fax: (206) 219-5991
Air Compressors
Here are some ideas for air compressors to accompany your Rosineer press. You want a compressor able to reach at least 150 PSI.

PORTER-CABLE Pancake Compressor 

DEWALT 6-Gallon 165 PSI Pancake Compressor 

PowRyte Elite Pancake Portable Air Compressor 
Best Rosin Press Machine
If you are looking for rosin presses under $1000 then Rosineer machines are a great choice. Their machines work well, do as advertised, and Rosineer seem quick and eager to help anyone with problems.
There are a ton of helpful videos on YouTube to help you get started. Most users say there is a bit of a learning curve while you are getting used to the machine, but once you know what you're doing, they're fantastic machines.
Compare them with others which are available and make your choice!
(Please note: This post contains affiliate links. Read our full disclosure policy here.)