5 Ways To Find Local Customers For Your T-Shirt Business
You don't have much of a t-shirt business without t-shirt buyers. In order to sell t-shirts, you need customers!
How should you start? It's important to validate your business before investing too much into it. Approach friends and family and share with them your ideas. Ask if they would be willing to buy some of your wonderful creations. Your ability to create, market and sell on a small scale will reflect whether you can do it on a larger scale. It will also give you experience making products for sale and prepare you for the future. 
Once you've got some experience and you know what you're doing, it's time for the next step. You've got your heat press and cutting machine. You've got your vinyl and polybag packaging. Now let's find some customers!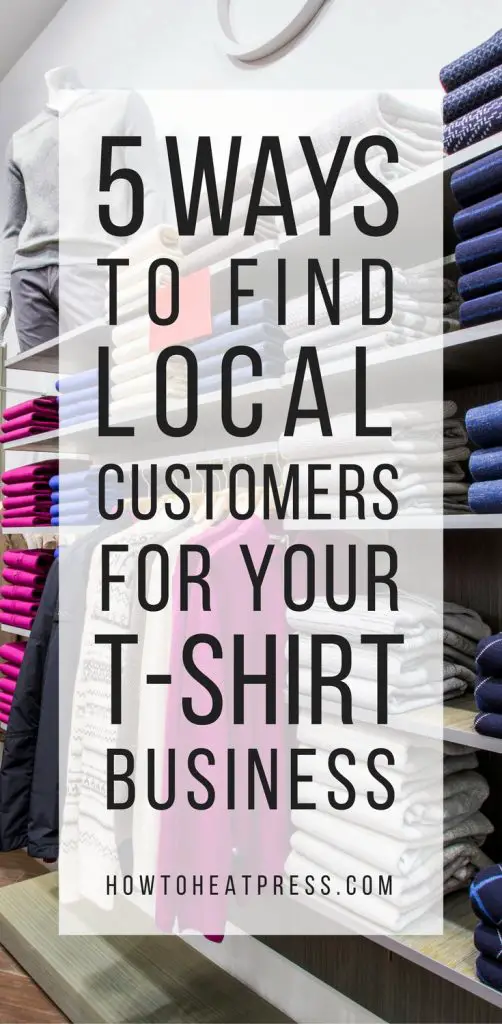 Starting A T-Shirt Business – Our Strategy
It is very important to have a beautifully designed website to direct potential customers to. However, it takes time for your website to rank in the search engines, for momentum to build,  and for orders to start coming in. In an upcoming article we'll discuss selling t-shirts online a lot more, but in this article we want to help you find local customers.
Our strategy in the early days of a t-shirt business is to go local. It is easier to get initial business in your area than to go hunting around for it in other ways.
Here are the five local spots to find customers that we'll look into today:
Clubs and societies

Churches

Schools

Cafes and restaurants

Trades people
1. Local Clubs & Societies
You are likely to have a wide array of clubs and societies in your town or city. Especially if you have a college or university nearby. These groups, small or large, are ripe for a t-shirt entrepreneur! People in these groups grow close to those with whom they have a shared interest. Having a t-shirt with the group name or logo is a way of further cementing that bond that develops among group members.
Take the initiative and find a group with a logo but without a t-shirt or any type of uniform. Make the t-shirt and pitch it to them. See if they'll present an order form to the rest of the group. If your t-shirt concept is good there will be plenty who go for it. If there are 50 people in the group and 40 decide to buy, it has been well worth your time.
What types of clubs and societies are there in a given area?
Sports clubs – football, basketball, soccer, tennis, Frisbee golf and everything in between
Miscellaneous clubs – chess, bowls (or is that a sport?), book clubs and coffee groups
University groups – the scavenger hunt group, ballroom dancing, French group and hundreds of others
University societies – the Alexander Hamilton Society, Astronomical Society and so on
Don't worry if another t-shirt business is in the same area. They may not be actively approaching groups and pitching ideas like this. These groups are yours for the taking.
2. Local Churches
Local churches are another potential customer base, and you shouldn't feel intimidated about approaching them! Of course, if you're already part of one you've got an easy in. Not only can you sell t-shirts to the church at large, but also to smaller groups within it. What might a church want a t-shirt for? Possibly for a church camp, conference or other large event.
Smaller groups within a church that might buy a tee include:
Youth groups wanting a tee to remember a particular year of meeting together

Bible study groups who've grown particularly close

Church sports teams – often indoor soccer or volleyball!

Or for when the church is out serving the community in a particular way they often use church t-shirts to identify themselves
For much larger churches, the possibilities are endless – use your imagination! God willing, success will find you. 
3. Local Schools
The same applies to local schools as applies to churches. The school on the whole might be interested in having a t-shirt made up for a current year. This fosters unity and participation among the attenders and wider community. It is also nice to have a tee when it's all over to remember past times.
There are also, as always, smaller groups within the larger body as well. For example:
A particular class at school might like their own t-shirt

School sports teams – not just an item as part of a uniform while playing the games, but something a bit more fun to remember the year and the team by

School camps are a popular t-shirt time

Even the teaching staff might like a tee celebrating making it through another year!
Schools are a wealth of opportunities. Find some email addresses on their website and start offering your services!
4. Local Cafes & Restaurants
Local cafes and restaurants are another opportune place to find customers for your t-shirt business. There are many opportunities to sell your wares.

These businesses need branded tees or shirts for their staff. Restaurants and cafes are the natural choice for starters. Many workers in these spots are simply wearing unmarked black or white tees. Approach the owner to see if you can give them a sample tee with their logo on it. It's much more professional for staff to be wearing branded uniforms.
If you are located in something of a tourist destination you can sell t-shirts as a souvenir. If a cafe or restaurant has a cool and unique logo, people will go for it! I know because I've experienced this in a restaurant I've worked in. Perhaps the best example of this is a Hard Rock Cafe t-shirt – you see people wearing it all over the world!
Local food festivals and fairs may require a business do up an extra special tee to stand out. If you know of any that occur in your area then get on top of things well in advance. See if you can supply the stallholders with the apparel they need, but maybe don't yet know they need!
5. Local Trades People
Trades people are an excellent group to target for t-shirts or other branded products. In particular small owner operated trades businesses. These people are often very busy juggling a multitude of tasks. Finding someone to do up some work t-shirts is not always at the top of their list, but if you approach them they can be very receptive.
It's pretty obvious who trades people are, but let me list a few to get your mind juices flowing:
Builders, plumbers, electricians, plasterers and painters
Carpet layers, heating and cooling specialists, tilers and carpet cleaners
Gardeners, cleaners, chimney sweepers and gutter cleaners
And no doubt there are many other types of in home services who require branded uniforms. Try and figure out who doesn't yet have one and convince them they need some!
Conclusion
So there you have it (for now at least). Five ways to find local customers for your t-shirt business. Remember this famous quote from speaker and business coach Zig Ziglar: "You will get all you want in life, if you help enough other people get what they want." 
Give some of these ideas a try, if you have not already. Make sure the end result of your product is top notch and go get those customers. Let us know how you get on!