The Best Small Heat Press Machines For Crafts & Business
For a number of reasons, sometimes a small heat press is going to be best for your situation.
Maybe it's because:
you don't have much space in your home
you have a limited budget
you only plan on doing small transfers (kids clothes, etc)
or you think big heat presses are ugly!
There are a lot of small heat press machines for sale, and I'm going to share the best with you today.
For the sake of this post, a mini or small heat press is a press with less than a 15 x 15 inch heat platen.
What Is The Best Small Heat Press?
Not everyone wants or needs a large heat press hanging around their home. As already mentioned, sometimes there isn't the space, sometimes there isn't the money for a larger one, and sometimes there just isn't the need.
Mini heat press machines can still do most things a larger machine can do, simply on a smaller scale, or in more stages. You can still do a larger transfers in two or more stages.
See an example of this with the Pink 9 x 12 Craft Press in this video.
What can I press with a small t-shirt press?
You can press the same things, and do the same projects that you can with a larger machine. You are not limited in that way by a smaller heat press,
Here are some examples of the types of materials you can press with a small heat press:
T-shirts & sweatshirts

Kids clothes

Baby bodysuits

Pillows & cushions

Metal and wood plaques and tags

Canvases
You will also be apply to apply the same transfers:
Rhinestone Transfers, etc.
1. The Cricut Easy Press 2
The Cricut EasyPress is my top pick for 'best small heat press', especially for home and craft use. I own this machine myself, and find that it's great for small jobs here and there. It can be purchased in 3 sizes: 6 x 7, 9 x 9, or 10 x 12 inches.
What sets it apart?
it heats up very quickly
easy to set the time & temperature
very easy to apply transfers with
very light and small
it is very cheap and often discounted
looks amazing on the craft table!
If you'd like more info, check out how the EasyPress compares with heat press machines.
MORE INFO: Cricut EasyPress 2 Review
2. Fancierstudio 9 x 12 Inch Small Heat Press Machine
The Fancierstudio Small T Shirt Press Machine is one of the best small cheap presses.
At 9 x 12 inches it obviously isn't going to take up as much space as the larger machines and will be easier to store away when not in use.
Fancierstudio 9 x 12 Features
swing-away design
small 9 x 12 inch pressing area
digital time and temp display
able to do all heat transfers
silicon gel base
1100 watts
110 volts
If you're looking for a small and cheap t-shirt press, but don't want the 9 x 9 inch Cricut Easy Press, this is a good choice. It has received good reviews over hundreds of sales. We've written more about Fancierstudio heat press machines here.
CHECK PRICE: & Read The Reviews
3. MPress 9 x 12 High Pressure Heat Press Machine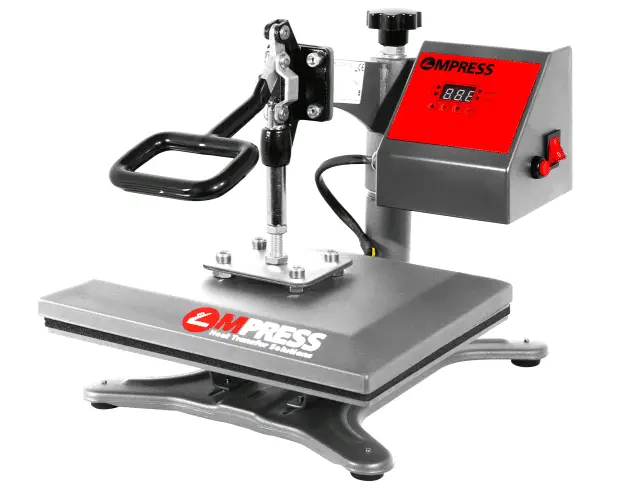 The 9 x 12 inch MPress is sold by Heat Press Nation. It is a strong and durable swing-away style heat press. It costs a little more than the cheapest machines, but you are buying from a much better seller. HPN offer fantastic support and customer service.
9 x 12 MPress Features
strong pressing handle
durable heating platen with full range of heating coils
0 – 400 F temperature range
1400 watts
110 volt power supply
HPN support
I also like how this machine isn't just black as well. It's nice to see heat press machines in a range of colors! Find out more about the MPress Heat Press here, or click below to view the price.
CHECK PRICE: The 9 x 12″ MPress
4. F2C Professional Swing Away 12 x 10 Heat Press
This 12 x 10 F2C Heat Press is a super cheap small press that has also been well reviewed. It's very similar to the Fancierstudio and HPN heat presses above.
12 x 10 F2C Press Features
12 x 10 inch heat platen
swing away design
800 watt
110 volt power supply
How Cheap Is It? See For Yourself Here
4. HPN Black Series 9 x 12 T-Shirt Press
Another Heat Press Nation machine, this is the 9 x 12 Black Series Heat Press. This machine is another quality level higher than the aforementioned MPress. In particular, the clamp construction is much stronger.
This machine is good for all heat press applications:
heat transfer vinyl
sublimation transfers
inkjet transfers
DTG transfers
rhinestones
HPN 9 x 12 Black Series Features
good as a small commercial or business heat press
very strong pressing handle
better heating coils for faster and most consistent heating
improved electronic circuits
top micro-processor for perfect timing and temperature
This is one of the best small machines that is still very affordable. If you're wanting to get a small t-shirt press for business, this machine is perfect.
READ REVIEWS: The 9 x 12 Black Series OR The 13 Other Black Series Presses
5. Hotronix Maxx 11 x 15 Heat Press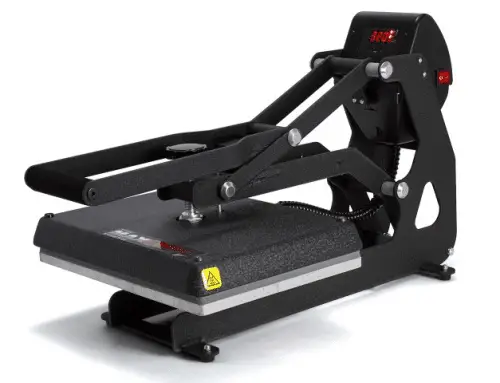 The Hotronix Maxx 11 x 15 inch heat press is the most expensive, but highest quality heat press on this list. Stahls' Hotronix heat press machines are designed and manufactured in the USA.
Features
clamshell style press which opens wide to 65° (10° wider than most other clamshells)

cast in tubular heating element – a better, more even and reliable way to heat the platen

Stahls' patented upper flotational platen – this is an excellent feature, especially if your garments are not totally flat

smooth shock opening – no jarring when opening and closing

scratch-resistant powder coated finish

coated non-stick heat platen

durable silicon rubber lower pad

able to take four interchangble lower platens

quality digital time and temperature display

shipping weight of 72 pounds
1000 watts
LEARN MORE: Over At Heat Press Nation
Small Heat Press
All of the small heat press machines listed above will be perfect for someone. Depending on your budget and use, choose the heat press best for you.
Thanks for reading this article, we hope it's helped! Leave your comments, questions and concerns below and we'd be happy to interact with you soon!
Pin this post! 🙂
(Please note: This post contains affiliate links. Read our full disclosure policy here.)