What Is The Best Small Heat Press Machine?
When you don't have a lot of room, you need a small heat press. If you have a limited budget, you need a mini heat press. These machines, are cheap and do not take up a lot of room. They're great for transporting and moving around the house.
There are a lot of small heat presses for sale and we're going to share the best with you today. For the sake of this post, a mini or small heat press is a press with less than a 15 x 15 inch heat platen. These are flat heat press machines for pressing garments and labels, not for mugs and caps.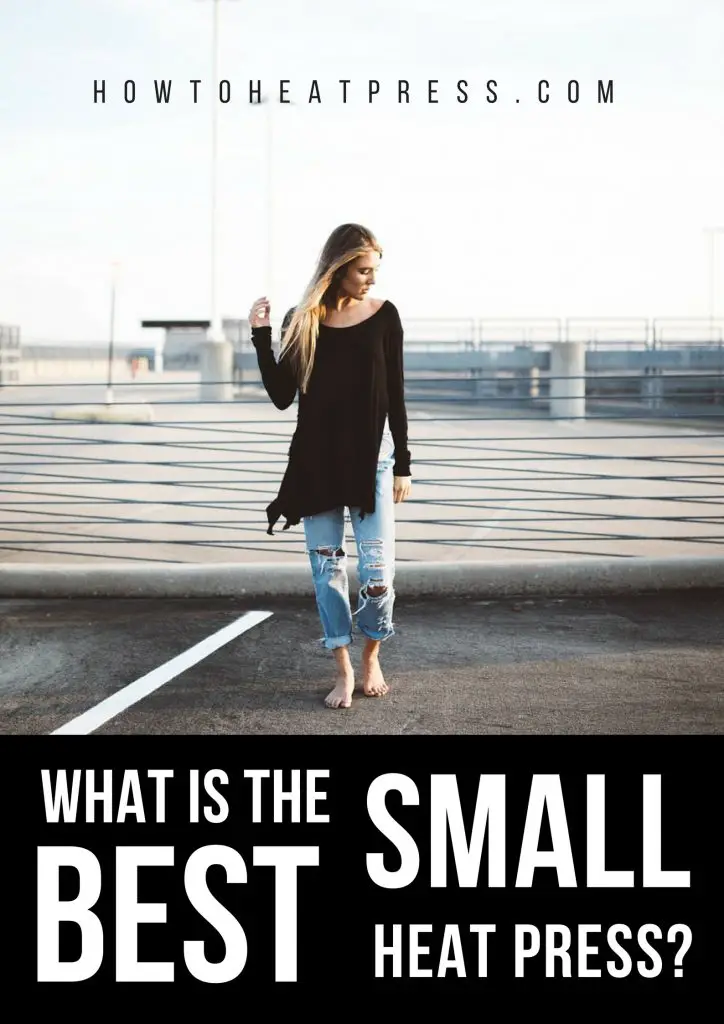 Small And Mini Heat Press Machines
Not everyone wants or needs a large heat press hanging around their home. As already mentioned, sometimes there isn't the space, sometimes there isn't the money for a larger one, and sometimes there just isn't the need.
Mini heat press machines can still do most things a larger machine can do, simply on a smaller scale, or in more stages. You could still do a transfer that is larger than  12 x 12 for example, by pressing one half and then doing the other. See the video below for an example of this using the Stahls' 9 x 12 Craft Press. Anything is possible!
Small Heat Press Projects
What can I press with a small t-shirt press? Anything you can press with a 15 x 15 inch machine and larger really!
Here are some examples of the types of substraits you can press with a mini press:
Kids clothes

Baby onesies

Small transfers

Size and brand labels

Small cushions

Metal and wood plaques and tags

Coasters and mousepads
The Best Small Heat Press Machines
#1 TransPro 9 x 12  Mini Heat Press
We begin our list with a great little machine, the Transpro Mini – a mini heat press indeed! This machine comes with a 9 x 12 inch heat platen making it great for use as a craft or hobby press.
Features
Threadable lower platen – this means you can slip a t-shirt over the lower platen, pressing only one side of the garment. This feature can also make it easier to get an even pressure.

A digital time and temperature control – as you'd expect with any machine these days

A silicon pad on the lower platen

A heavy duty design with a scratch-resistant powder coated finish

It's blue!
Specs
A temperature range of 0-450℉ set with the digital temperature controller

Weight of 35 pounds or about the weight of your average 2 year old – very manageable to shift around, though you probably wouldn't want to be lugging it with you all day long!

Can press items up to 1 inch thick

600 watts

110-120 volts
Who Is This Heat Press Good For?
As I said above, this machine would be a great addition to your craft room. I think this would also be good for somebody who is not so sure whether t-shirt creation is for them. You can test the waters with a machine like this.
It might also be useful if you're in business and need a heat press for use at trade shows or fairs – a small heat press is obviously much easier to carry around.
Some items that you might typically press with the TransPro Mini include:
Childrens clothes

Babies onesies

Small plaques

Small transfers onto larger garments
This press is suitable for pressing:
Sublimation images

HTV (heat transfer vinyl)

and other transfer images

Proworld

 advertises this press as being able to press ALL types of heat transfers
This is a swing-away press giving you easy access to the lower platen and enabling you to lay down your transfers without interference from above.
Cons
As you'll see in the (very poor quality) video below, sometimes things go wrong!
It's good to be aware of what can possibly go wrong, especially if it is a common complaint. The customer's problem in the following video seems like a one-off. They got a dud and their machine won't hold temperature.
Remember, however, that the press comes with a one year warranty when bought through Amazon. Also keep in mind that this is a very cheap heat press. You can't expect it to perform like a $1000 machine.
ProWorld, the sellers of this press, are a reputable company who strive to do right by their customers. If something goes wrong and it's their fault, they'll make it right. See how they respond to this user with a problem at t-shirtforums.com.
They have great customer service and care, one of the benefits with going for this heat press machine.
#2 Rincons 4 x 6 Heat Press
This is a very small heat press indeed! With a heat platen of only 4 by 6 inches, the Rincons Heat Press is perfect for doing a few specific jobs, such as pressing labels.
Features
This press has a digital time and temperature display

A steel scratch-resistant frame

A top heating platen (the bottom does not heat up)

Adjustable pressure clamp

Clamshell style
Specs
0-400℉ temperature range

Time range of 0-240 seconds

110 volts

300 watts
What Is This Press Good For?
This press is specifically for pressing labels and tags onto garments.
With it you can apply custom size and brand labels to your garments. Because this machine is so small, you are able to do these small heat transfers after having done the main, larger transfer. You won't have to worry about messing up your first transfer.
As an example, you can press size labels onto the inside of your t-shirts giving a very personal and professional look to your garment. This is shown in the following short video – although they are using a large heat press for the job. Imagine how much easier it would be with the Rincons 4 x 6!
Another idea is to use this machine to apply your own personal brand label – often these are placed in one of the bottom corners of the t-shirt. The person demonstrating this in the video below is using an iron. It would be a lot easier (and last a lot longer) with the Rincons 4 x 6!
Features such as we've just described, having a custom size and a personal brand label, add a sense of authority and authenticity to your garments.
It is good to have this continuity in your t-shirt designs – these features that carry on from tee to tee. It identifies it as your creation! Can you imagine a Nike garment without the Nike 'swoosh'?
Aside from garments, here are some other small items that you can press with this machine:
Foam or wood coasters

Dog tags

Steel ID tags

Pet tags

Keyrings
You are able to press all the usual types of transfer with this machine.
Cons
Like all cheap heat presses, this machine can have faults – be they electrical or otherwise. But like all heat press machines on Amazon, it comes with a 1 year warranty for your peace of mind.
Common traits of Chinese made presses, such as this one, include:
A generic look and design (the Chinese presses are easy to spot – I think they often look a bit clunky and awkward. Compare with this small American made press

 – stylish!)

Basic functionality

They may not be as durable and may not last as long

They may not be as happy about pressing tons of labels in a shorter period of time

The display bells and whistles are not always as high quality

A lesser quality heating coil within the heat platen
These things are not negatives, per se (for all you Latin speakers out there), because ultimately it means the heat press is cheap! It all depends on your requirements and budget.
Have a look at our article on the Rincons 15 x 15 clamshell heat press if you would like more information on the LA based business.
#3 Fancierstudio PowerPress 9 x 12 Heat Press
The PowerPress 9 x 12 heat press  is one of the more popular small heat press machines available. This is the younger brother of the PowerPress 15×15 heat press which we have detailed extensively on our site.
Features
A swing-away style press able to rotate 360°

Light weight

Scratch-resistant paint job over industrial strength frame

Digital time and heat control (don't ask me what it would be otherwise!)

Silicon gel base pad that has been glued down (not all base pads come glued down)
Specs
Weighs 27.9 pounds

Temperature range of 0 – 500° making it suitable for sublimation

Time range of 0 – 999 seconds

110 volts

1800 watts
Who Is This Press Good For?
This small press is perfect for the person with a limited budget but who wants a machine that has been tried and tested. The PowerPress 9 x 12 has sold plenty of units and has a very good star rating on Amazon – 4.2/5 stars from 37 reviews at the time of writing.
Who is it for?
The person who has up until now been using their iron to do heat transfers

Ideal for home use

Good for the crafts room

Good for homeschooling projects

Great for making gifts for friends and family

Excellent for beginners
You are able to press all of the same transfers onto all of the same substrates as are listed with the other presses above. Keep in mind the size – 9 by 12 inches. You are only really able to press transfers smaller than that.
And who is it not for?
I would not buy this machine if I were going to be using it often for business purposes. If you are intending to use it day in and day out, or are going to be relying on it for paid jobs, I would consider a different model.
It is not for you if you are loaded with money! Go with the Hotronix Maxx listed below!
If you are seeking a heat press for business, have you considered the Hix range of heat presses?




Cons
The downside to a machine like this is that it is not as reliable as a more expensive press. This is another cheap heat press that will go well for 90% of people, but 10% of people will walk away dissatisfied and angry.
According to reviews, some machines will have an issue heating up. They will also show an infuriating HHH on the display while continually beeping at you.
#4 BestEquip 9 x 11.5 Heat Press
The BestEquip 9 x 11.5 heat press is one of the larger of the small heat presses listed here – if you know what I mean!
To be honest, this machine has not been very well reviewed on Amazon. At the time of writing, it has only a 2.7/5 star rating, with some negative and worrying reviews.
It is said that the company is difficult to deal with if you are having any problems. I would consider choosing another press. We will continue to give information below for those who are still curious. At the end of the day, it is very cheap and who knows? You might get a good run out of it. And, let's put it this way, more people have been satisfied than dissatisfied.
Features
11.5 x 9 heat platen

Swing-away style heat press

Digital time and temperature display
Specs
Weighs 29 pounds

Temperature range of 0 – 450℉

Time range 0 – 999 seconds
Who Is This Press For?
Like the PowerPress machine above, and the Mophorn machine below, this is an entry-level machine.
It is best for:
Someone experimenting and testing with heat pressing

Home craft use

Trialing a small business

Making gifts for friends and family

Taking to trade or craft shows

Somebody with a small budget
This would not be a great press for use in a business that is doing well. I would be hesitant to rely on this press as my primary means of production.
If you fit into the 'best for' criteria above though, and you like the look of it, then go for it. It comes with a one year warranty and as I've already said, there have been plenty of happy customers.
Cons
Like the cons of the cheap heat presses above, this is simply not a top-of-the-line machine.
#5 Mophorn 10 x 12  Heat Press
This is Mophorn's contribution to small heat presses.
The Mophorn 10 x 12 inch heat press is a very similar machine to the PowerPress 9 x 12 and the BestEquip 9 x 11.5. At the end of the day there are only slight variations between the machines. Therefore, you can expect them to function about the same.
In fact, compare the pictures of the Mophorn and the BestEquip. They are identical. The only difference is that the Mophorn is a fraction larger, with a corresponding increase in price. It is more than likely they come from the same factory. Nevertheless, let's have a look at Mophorn's small heat press.
Features
This is a swing-away style press

Digital time and temperature display

Adjustable pressure knob (like every heat press!)
Specs
0 – 440℉ temperature range

0 – 999 second time range (but I probably wouldn't put anything in for 999 seconds!)

110 volts

550 watts

Weighs 37 pounds
Who Is This Machine For?
Like the PowerPress and BestEquip machines, this machine is best for simple home use. Great for the craft room for making gifts for friends and family. It can press all the usual transfers onto all the usual substrates.
Cons
This machine would not be ideal for a thriving (or striving to be thriving) business. These cheap heat presses are entry-level machines not made for full-time commercial use.
It is unlikely to last as long or perform as well as an expensive machine such as the Hotronix Maxx listed below. However, there is a good chance it is the right press for you!
It will do the job it's advertised as doing and comes with a one year warranty through Amazon.
#6 Hotronix Maxx 11 x 15 Heat Press
The Hotronix Maxx 11 x 15 inch heat press is by far the most expensive of the bunch. However, it is also the best machine by a country mile! 
The Hotronix Maxx is available in three sizes – 11 x 15, 15 x 15 and 16 x 20. The 11 x 15 is the smallest size. Here is a good overview of the three machines by the Stahls' team:
Features
A clamshell style press which opens wide to 65° (10° wider than other clamshells)

Stahls' patented upper flotational platen – this is an excellent feature, especially if your garments are not totally flat. The platen can land down and move (or float) slightly and keep pressure over slight inclines or declines. This is the only way to get an even pressure from corner to corner, top to bottom – necessary for the perfect transfer.

Smooth shock opening – no ugly jarring when opening and closing

Scratch-resistant powder coated finish

A coated non-stick heat platen

A cast in tubular heating element – a better, more even and reliable way to heat the platen

A durable silicon rubber lower pad

Able to take four interchangble lower platens 

Quality digital time and temperature display

Made in the USA
Specs
Temperature range of 200 – 400℉

Shipping weight of 72 pounds
1000 watts
Unboxing & Setting Up The Hotronix Maxx
Who Is This Press Good For?
As this is the most expensive small heat press on our list, it won't be for everyone. This is by far the best small heat press, which is obviously why it costs the most. It is the best quality, best looking, best functioning, and has the best features.
This mini press is good for a business owner who needs a quality and reliable 'work-horse' machine. There is nothing that will compare to the ease of use of this machine, as well as the quality of the end product.
It comes with a lifetime warranty on the heating element, and a 1 year warranty on the parts and labor.
Cons
It's expensive for a small heat press! And, you may spend too much time creating t-shirts if you have this machine. It may be too much fun.
#7 Breville Nonstick Panini Press
And last but not least, the very small Breville Nonstick Panini Press!!
Haha. I wonder how well this would do your t-shirt transfers? (Send us a pic if you try*).
*How To Heat Press shall not be held responsible for persons attempting to perform a heat transfer with a panini press machine.




Summary
If you're after a small heat press for pressing small heat transfers (other than labels) onto t-shirts and you have a very small budget, go for one of the cheap heat presses.
Choose either:
If you would like a slightly better machine than these three, for a small increase in price, I would go for the TransPro 9 x 12 Mini heat press. Proworld, who supply this machine, are a great company and were you to experience any difficulties or problems, they will be a much easier company to deal with than the three above.
If you are after a very small heat press, go for the Rincons 4 x 6 heat press. This is the perfect machine for doing your size and brand labels.
If you are going to be using this machine for business I would definitely go with the best, the Hotronix MAXX 11 x 15 Heat Press. This will be a reliable machine that will do the best possible job.
The MAXX is also for the casual and craft user who can afford it, or is willing to spend the money. If you like having the best, this is the one.
And finally, if it's a grilled cheese sandwich that you're after, I would go with the Panini Press. The only press on the list with dual heat platens, and for a low, low price, you can have a hot toasted sandwich in no time.
Thanks for reading this article, we hope it's helped! Leave your comments, questions and concerns below and we'd be happy to interact with you soon!
(Please note: This post contains affiliate links. Read our full disclosure policy here.)