Best Adobe Illustrator Classes & Courses: Free & Premium Tutorials
This post contains affiliate links. If you use these links to buy something, we may earn a commission, but it doesn't cost you anything. Thanks!
Where can you get the best Adobe Illustrator classes?
Whether you are using Illustrator for t shirt design, logo design, or any other type of work, you can learn how to do it better with these resources.
There are a huge range of both premium and free Illustrator courses online. We're going to show you where to find the best of them!
Adobe Illustrator Tutorials
One of the remarkable things about our time, is the number of high quality online training classes available.
Depending on what you want to do, many can get better training online over going to college! We can educate ourselves through these fantastic online course platforms.
There are so many helpful video course series to get us started with Adobe Illustrator, and any other design software.
Here are our top picks for Adobe Illustrator classes.
Illustrator Tutorials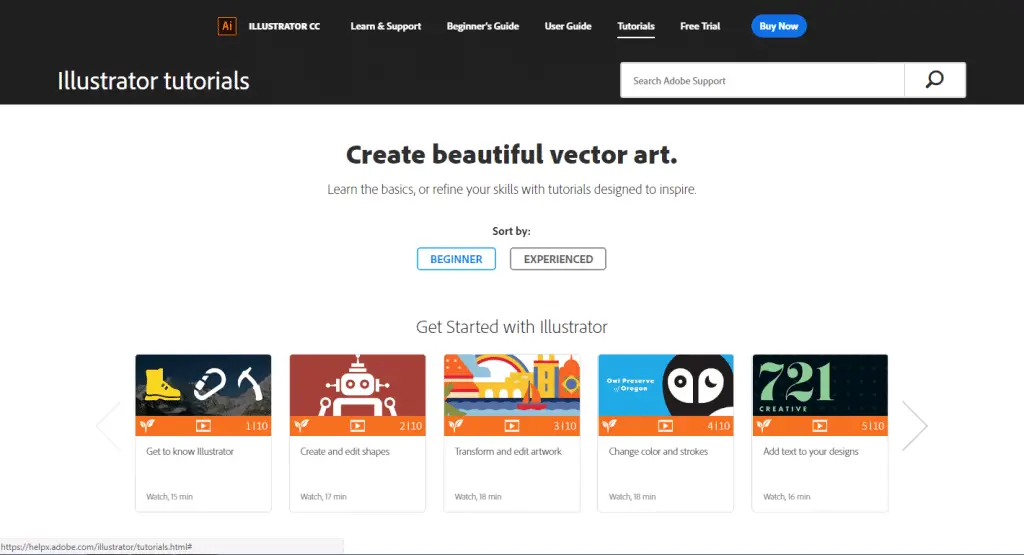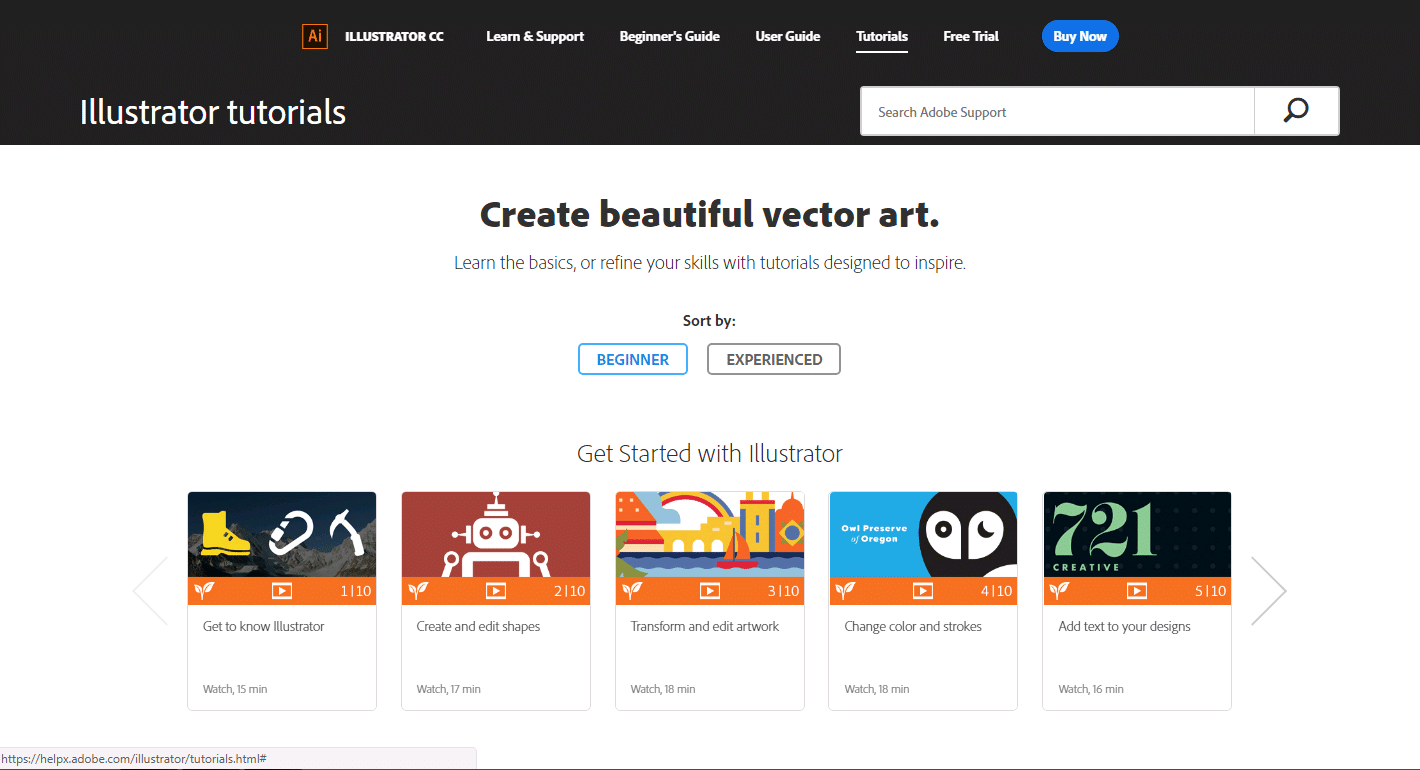 To begin with, watch the Illustrator tutorials created by Adobe themselves!
These are FREE Illustrator courses, which you don't have to have an AI subscription for – anyone can watch them. Select beginner or experienced, and a range of training videos will be available.
Videos for beginners include:
Get to know Illustrator
Create and edit shapes
Add text to your design
Design a logo, web icon, or monogram
There is a huge range available, watch and see what you think!
YouTube Classes
There are a ton of high quality Illustrator courses on YouTube.
You will find many fast and simple tutorials, along with more long form videos teaching more advanced Illustrator tactics.
Especially when you are first starting to learn Illustrator, it's good to go through a few full series in order to lay a strong foundation of knowledge.
YouTube is great for those who need quick questions answered. Need to know how to curve text in Illustrator? YouTube is the place to go for answers to those types of questions.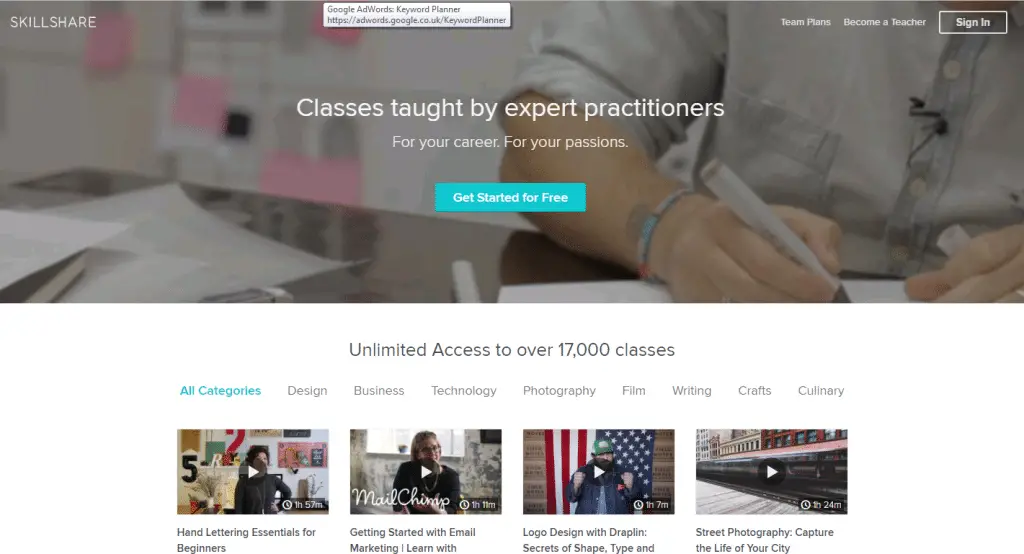 Skillshare.com is the best platform for learning how to use Adobe Illustrator (and any other design software).
While they have a bunch of free courses available all the time, you can also get (at least) your first month free.  Test out as many of the premium courses as you can get through in a month!
A Skillshare membership gives you access to over 17,000 courses for around $8 per month on a yearly term, or $12 per month on a month by month basis.
Some Adobe Illustrator classes to check out:
Best Adobe Illustrator Classes
So you see, there are plenty of free illustrator classes, and even more very cheap Illustrator courses.
While you don't have to pay to learn how to use this software tool, purchasing a course will be the best option for some people.
If you are starting out from scratch, it's good to go through a longer, more thorough course where you are introduced to all of the main features and functions. Skillshare is the best place for this.
For the answers to more specific or technical questions, YouTube is the place to go!
Adobe Illustrator

Best vector graphics editor for t shirt design
Frustration free - gain total control over your t shirt design process
Best features & tools for creating an endless variety of designs for t shirts

View Latest Price

Adobe Photoshop

Better for photo editing & working with images
Bring images over from Photoshop to Illustrator
Best photo editing software

View Latest Price

Adobe Creative Cloud

Depending on the plan you select, get access to all of Adobe's Apps
Plans for individuals or business
Store your designs in the cloud

View Latest Price
(Please note: This post contains affiliate links. Read our full disclosure policy here.)