How To Start Selling T-Shirts & Make Money Working From Home
There are a large number of people selling t-shirts online today. That's the great thing about the internet – it has dramatically reduced the barrier for entry into such businesses. No longer do you need a brick and mortar store with all the very expensive trimmings. All you need is a heat press, a cutting machine, and away you go. You can easily work from home selling t-shirts online.
Lower barriers to entry also mean a lot more competition on the supply side, however. This means t-shirt sellers need to keep on their toes, making t-shirts cheaper and better both in design and fabric. Consumers get the benefit of this extra pressure. More people can afford cool t-shirts now than ever before. When I was growing up, I couldn't get a really cool t-shirt for under 30 bucks. Now, I can make one for under $5, or buy one for well under $20!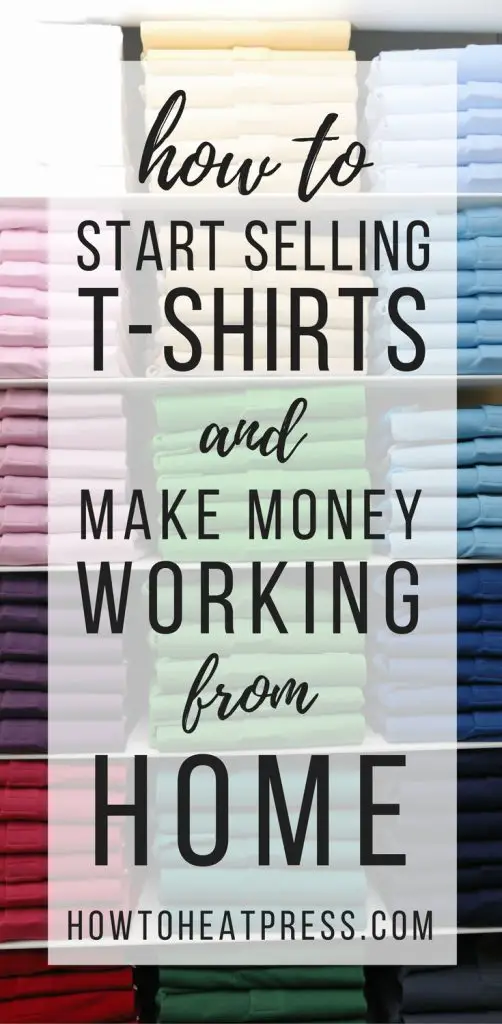 Why Do We Love T-Shirts?
Number one, we have to wear something and tees are so comfortable! But besides that, t-shirts are great devices for expressing ourselves. They allow you to either make a real statement or simply blend into the background. You can tell the world you've trekked the Himalayas, or been to the moon (though there's probably not a lot of people with that t-shirt). You're able to show that you are a part of the hiking club, or that you support your local football team. You could even have a t-shirt with 'I Love Dumplings' on it (because is there anything better than a Chinese dumpling?). The possibilities are endless…
T-shirts also help us to remember good times. Imagine you've had an awesome holiday in Hawaii. You probably wouldn't think about it that often were it not for a souvenir t-shirt looking at you every time you opened your drawers. It triggers your memory! T-shirts also remind us of the people we were with when we got them. What more could you want?
T-shirts make for a reasonably priced promotional product – especially if they are cool enough to sell! You can turn your customers into walking billboards for your business.
These are some of the reasons why there is always demand for t-shirts, and why you should think about selling them yourself!
Why Should I Start Selling T-Shirts?
1. Selling t-shirts is a way to make a side income. You might even be able to grow your business to a point where it is making decent money.
2. The start-up costs are relatively low. For well under $1000 you can be up and going.
3. You are able to use and develop your creative skills. Whether that be through designing a transfer for a tee or physically making it.
4. You are producing a tangible product that you can sell. Personally, making things makes me feel better than not making things. It feels good to be productive!
5. You will learn marketing and sales skills in trying to sell your t-shirts (or other item of clothing). This is an invaluable skill to have which can be applied to anything.
6. There are going to be people who only want what you can do. Put your unique touch on the business and make your customers remember you.
How Do I Start Selling T-Shirts?
Here are a few ways to begin selling t-shirts:
To start selling tees you should keep it local. Create and sell pieces you know will be popular and help to get your name out there. Baby onesies are actually one of the best products to do this. When babies are born there are going to be a lot of presents. A locally designed onesie is a cool gift to give and they sell well.
Ebay and Craiglist might be the next step. You can sell one-off pieces to get a feel for what your target audience really wants. Create great tees and keep track of the ones that do especially well. An Etsy or Shopify store is for when things really start moving. There are many benefits that come with the price of using these platforms.
If you already have a website and have built up a bit of a following in a particular area, you have a ready made audience. In this case it might be best to use your own site to sell your wares. Investigate how much money you will need to set it up for eCommerce (member login, checkout process, etc) and if it's going to be worth it.
What Equipment Do I Need To Start Selling T-Shirts?
Starting a t-shirt business can be very cheap indeed. You do not need to get all the best gear right from the start, especially if you're fresh and are unsure if it's going to be for you.
For heat pressing t-shirts, all you really need is the following:
A Heat Press Machine Or Iron
If you are totally new, it's best to begin practising with an iron. While t-shirts with iron-on transfers are not ideal for sale, they're fine as presents for the family! The adhesion of iron-on transfers doesn't tend to be as good as those which have been heat pressed. If you would like to learn more about iron-on transfers, read this article. If you are keen to get going with a heat press, check out our list of the five best 15 x 15 inch machines.
A Cutting Machine & Heat Transfer Vinyl
If you have a low budget and need a cheap cutting machine, there are plenty of options. We have a list here of the most popular and reliable cutting machines. You will need to be ready to learn how to use these machines – they all work slightly differently but don't take long to master. YouTube is your friend.
Heat Transfer Vinyl comes in all sorts of colors and textures. Siser Easyweed is probably the best known and highest quality option. Test a few brands and go with the one you like best which fits with your budget.
Blank T-Shirts
Blank t-shirts can be bought cheaply all over the show. I like to begin by going to my local Walmart (or equivalent store) and picking up some cheap blanks. When you're not buying in larger quantities this is one of the cheaper ways to buy t-shirts.
READ: The Best Free Design Software For T-Shirts (& Adobe Illustrator)
Conclusion
In conclusion, if you've got the passion and drive to create and sell t-shirts, you should do it! Why not give it a go? You're doubtless going to learn a lot – even if you can't sell any you don't lose! But if you keep at it and continue learning you really can't fail.
If you're just beginning we'd love to see some of your creations. Send us a message through our contact page, or leave a comment below. We might even be able to feature your works on our site to help you get going. All the best!
Further Resources
(Please note: This post contains affiliate links. Read our full disclosure policy here.)