HPN Black Series Heat Press Machine Review
This post contains affiliate links. If you use these links to buy something, we may earn a commission, but it doesn't cost you anything. Thanks!
Wanting a little more info on the HPN Black Series Heat Press?
The Black Series is the next step up from HPN's entry level machine, the MPress Heat Press.
It has a range of specialty features which make it great for starting a small home t shirt business. The Black Series is definitely worth taking a closer look at!
HPN Black Series Heat Press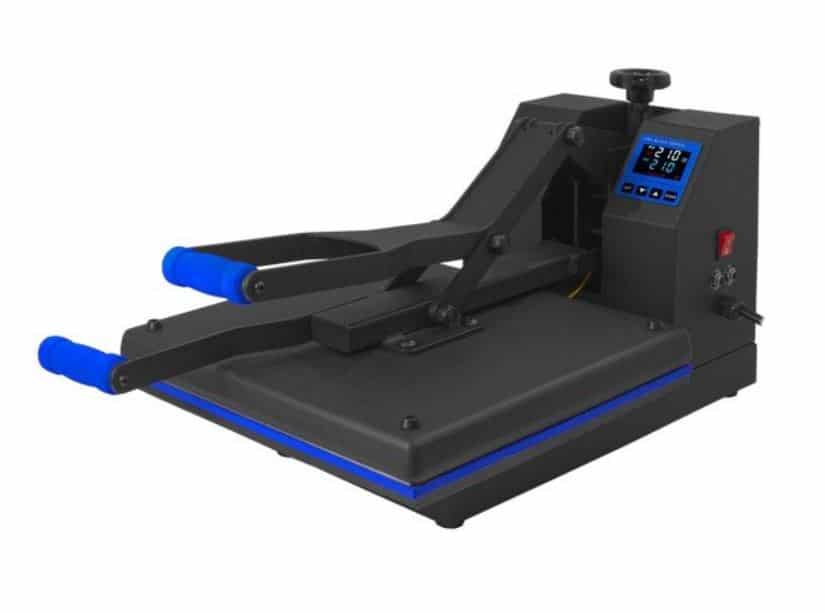 It's not hard to guess how the Black Series got its name… but it has other distinct features too! The extra hand-hold attached to the upper platen of the t-shirt press is one of them.
This is an excellent feature that more heat press machines should have. It allows you to open the machine without it jumping.
I know that with our cheap PowerPress heat press, anytime I want to open it I have to be so careful because it does not have a smooth action, is not connected to the table, and loves to spring up suddenly!
Here is the range of machines in the HPN Black Series – all up there are 10 varieties of t shirt heat press, and 3 types of dedicated cap & label press machines.
HPN 9 x 12 Clamshell Heat Press

Small clamshell style heat press
Upper floatational heat platen
Great for small heat transfers & craft projects

View Latest Price

HPN 9x 12 Swing Away Heat Press

Small swing away style heat press
Thick structural leverage bar
Ideal for children & baby clothing transfers

View Latest Price

HPN Manual Swing Away Presses

2 different sizes of manual swing away press
Silicon wrapped swing away bar
In house testing on all units before sale

View 15 x 15 ModelView 16 x 20 Model

HPN Manual Clamshell Presses

3 different sizes of manual clamshell press
Capacitive touch screen
Complete commercial business grade

View 15 x 15 ModelView 16 x 20 ModelView 16 x 24 Model

HPN Auto Open Heat Press

2 different sizes of auto open clamshell press
Increased steel & aluminiun
Auto open machines are best for business

View 15 x 15 ModelView 16 x 20 Model

HPN 8 in 1 Multifunction Press

15 x 15 inch swing away t shirt press
Cap/hat platen, 2 x plate platens, 4 x mug elements
Good for variety

View Latest Price

HPN Cap Hat Press Machine

Dedicated hat cap press machine
3.5 x 5.5 upper platen; 3.5 x 5 lower platen
Usually better than the multifunction cap attachment

View Cap PressView Cap & Label PressView Label Press
Black Series Heat Press
The video overview above is of the 15 x 15 Black Series Clamshell Press.
Features mentioned in the video include:
quality components for a durable & accurate machine
unmatched for quality in its class
made of strengthened steel & aluminium
reinforced connection points
capable of heavy duty applications
powerful clamp mechanism ensures increased leverage & torque
non stick platen for easier clean
cast in heating element
fast heating element maintains heat longer
optional second handle for additional leverage
touch screen display to set time & temp
in built press counter
dual internal fuses
extensive quality control process before shipping
1 year warranty
It's good for pressing DTG transfers, embroidery patches, screen prints, rhinestones, HTV, sublimation, and others!
HPN Black Series User Review
And in this next video from a buyer of the 15 x 15 inch Black Series Press, we get a closer look at this machine – including a heat platen test with a laser thermometer!
Other features mentioned in this video:
further explained capacitive touch screen – it's like a smart phone screen that doesn't require you to press down
showed the dual fuse hatches
also has an auto shut off feature after a set time
The laser heat test showed that while the center of the heat platen is fairly accurate, the outer edges do not quite reach the set temperature. While this is to be expected with this machine (which is just a step up from the most basic entry level), it's not ideal.
You can expect this from most non-US made heat press machines. You would need to consider something like the Hotronix Fusion for total reliable accuracy.
This was only a test on one of the 13 types of Black Series Heat Press, and I wouldn't let it put you off the machine all together.
It will still be fine for small home business use… I mean, I know people who are selling t shirts pressed with the Cricut EasyPress, and I'd prefer the Black Series any day over that!
HPN Black Series
So should you get one of the HPN Black Series machines?
If the perfect machine for you is available at your price point, I wouldn't hesitate!
I would agree with the Heat Press Nation promo video above, that it's one of the best (if not the best) heat press series in its class.
The next step up in quality, precision, and durability is the Signature Series range. If your budget can stretch to cover one of those machines, and you're in this for business, that might be the better option for you.
(Please note: This post contains affiliate links. Read our full disclosure policy here.)