Cricut Easy Press Review: 35 Pros & Cons Of The Cricut Heat Press
Is the Cricut Easy Press the right machine for you?
The EasyPress is a unique way to press heat transfers – it's not quite an iron, and not quite a heat press machine. It's the Cricut heat press… in its own category!
We personally own 3 EasyPress machines (the original EasyPress, the 6 x 7 EasyPress 2, and the EasyPress mini), and so we write with a bit of experience!
Here's what you'll find:
Cricut EasyPress Review
Find the cheapest Cricut EasyPress
Compare EasyPress Vs Iron
Compare EasyPress Vs Heat Press
EasyPress Pros & Cons
Alternatives to the EasyPress
The Cricut Easy Press
The Cricut EasyPress 2 (which is an improvement on the first) is available in 4 sizes.
The 4 sizes are:
Cricut EasyPress 6 x 7 inches
Cricut EasyPress 9 x 9 inches
Cricut EasyPress 10 x 12 inches
Cricut EasyPress Colors
There are 7 great Cricut EasyPress Colors. Here they all are, along with where you can get them!
EasyPress Features & Improvements
There are some significant differences between the original blue EasyPress, and the EasyPress 2. These include improvements in technology, added features, and other refinements to make the product better.
Here's what changed:
It is now in 4 different sizes, instead of the one 9 x 9 EasyPress
The new machine remembers previous press time
The EasyPress 2 has a higher max temp of 400°F
It can press more materials and transfers
The new machine heats up to 25% quicker than the original
It has a thicker heat plate with less temperature variance
A much improved safety base that protects the surface underneath better
EasyPress 2 has a USB port for firmware updates
The color has changed from sky blue to raspberry red (and Mint, etc)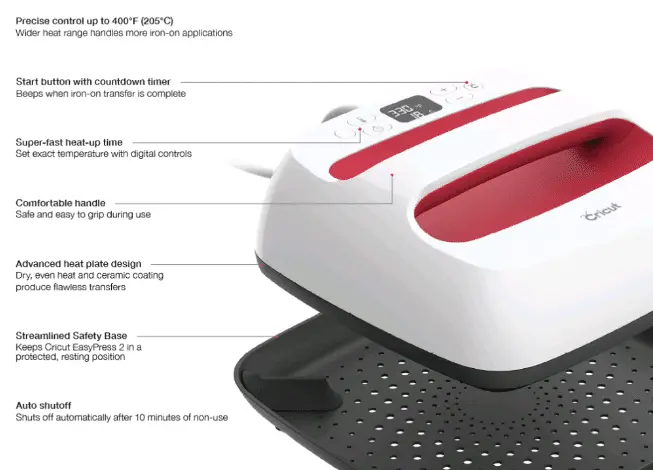 With EasyPress 1, each time you pressed you needed to reset the time and temperature. EasyPress 2 remembers the previous press settings, speeding up production when pressing multiple shirts at a time.
What Can You Make With The EasyPress?
What sort of projects can you do with the Cricut EasyPress? T-shirts, t-shirts, and more t-shirts!
Here are a bunch of EasyPress projects that I have done over the past year or two. Just click on the picture and you'll go to the full tutorial.
And while I tend to only make t-shirts, you can press on all sorts of other garments and surfaces. Other cool ideas are:
Cardstock
Wood
Silk
Canvas
Burlap
Jersey mesh
There really are a ton of things you can do! Compare today's prices on Michaels, Cricut, & Amazon.
Now, compare the EasyPress with an Iron.
Cricut Easy Press Vs Iron
Here are the reasons the EasyPress is better than an iron.
---
1. Larger Press Area
The Easy Press has a larger heat plate than an iron.
With a 9 x 9 inch pressing surface, Cricut's press is far larger than a regular iron. This means:
Each press will be done quicker
You won't have to press as many times all over the transfer as with an iron
You can be confident larger transfers are receiving equal time, heat, and pressure – essential to a successful press
The EasyPress 2 is available in 4 sizes: 6 x 7 inches, 9 x 9 inches, 10 x 12 inches, and the Mini. All are larger than your standard iron.
---
2. Easier To Press
You do not have to apply as much pressure as you do with an iron.
The EasyPress weighs 11 pounds (5 kgs), while the EasyPress 2 weighs between 5 & 14 pounds (depending on which size you choose), and so the weight of it provides the pressure. You only have to press down a little. The average household iron weighs 3 -4 pounds, so the EasyPress provides more weight and pressure.
---
3. Digital Timer
The Easy Press has a digital time display.
You can set the timer to the precise time your heat transfer vinyl manufacturer specifies and lift her up at the right time. Irons can't count down like this! Once you have placed the EasyPress into position upon your project, you need to press the Cricut C button to start the countdown timer. The machine will beep once the set time has elapsed.
---
4. Digital Temperature Display
It also has a digital temperature setting!
Unlike an iron, where you're usually setting the dial "somewhere between linen and cotton", you can set the exact temperature. No more mystery, no more guessing. Set the perfect temperature for your HTV.
The EasyPress 1 has an adjustable temperature up to 350℉, while the EasyPress 2 has a max temperature of 400℉ (allowing you to do sublimation transfers as well).
An orange light tells you the machine is heating up, and a green light means go!
---
5. A Faster Press
The Cricut press is quicker than an iron.
Because it can reach higher temperatures and weighs more than an iron, it doesn't take as long for the transfer to adhere to the t-shirt.
---
6. Even Heat
The Easy Press distributes heat better than an iron.
It is designed to keep a consistent heat across the platen for the purposes of heat transfer. Unlike a household iron which is there to get wrinkles out of your clothes. The hot plate of the EasyPress is made of aluminium covered in ceramic – nice!
---
7. A Flat Surface And No Steam Holes
The Cricut Press does not have steam holes.
Irons have steam holes (unless it's a dry iron) which cause unequal pressure, and can result in a lower quality transfer. The HTV being pressed under a hole will not adhere as well – there's no pressure!
For the perfect transfer you want nice equal pressure undisturbed by holes or lumps. The flatter the better.
---
8. A Better Press
Cricut's machine will produce a higher quality result.
Being able to press with more pressure, a more accurate time and even temperature, the resulting product is superior to an iron on transfer.
---
9. Auto Shut Off
The Easy Press has an auto shut off feature.
This is really cool! How many times have you accidentally left your iron going? Or left the house and then had that horrible feeling that you've left it on?
The auto shut off feature turns the press off after 10 minutes of inactivity. It's not a hassle if you are still using it either because it heats up so quickly.
---
10. Can Press On More Substrates
Not only does the EasyPress transfer onto fabric, but onto a range of other surfaces as well. These include the following:
Cardstock
Wood
Silk
Canvas
Burlap
Jersey mesh
And more!  View Cricut's recommended settings for each material here.
---
So you can see why the EasyPress is much much better than an iron!
Now let's compare the EasyPress with a traditional heat press machine.
Cricut Easy Press Vs Heat Press
Now we'll compare the EasyPress with a heat press machine. These are the reasons an EasyPress is better or on par with a heat press.
---
1. Quick Heat Up
The Easy Press heats up faster than a heat press machine.
I often use my EasyPress over my heat press simply for this reason! A heat press typically takes 10 – 15 minutes to get to a pressing temperature of between 300 – 350 degrees. The EasyPress takes 2 – 3 minutes. It's so much easier if you're just doing one or two things.
---
2. Safer
There is less chance of burning yourself with the Cricut press.
The safety tray keeps you from getting burnt. With heat press machines you must place your hands under the hot platen to arrange the tee and transfer (especially with a clamshell heat press). But with Cricut's machine you only have to lift it off the tray and place it down upon your project.
---
3. Smaller
Good for those who don't have enough room for a heat press.
This is a very compact, small heat press that is easily hidden away. The small size is not so imposing in your craft room, living room or bedroom.
---
4. Lighter
If it's smaller, it's a good guess to say it's going to be lighter.
And it is! Compared to a heat press this is a very light machine. A standard 15 x 15 heat press weighs over 60 pounds (28 kgs), while Cricut's press weighs between 5 and 15 pounds (depending on which size you get).
Obviously that's a huge difference! It's not a two person job getting it into place.
---
The EasyPress compares well with heat press machines, especially for craft applications. There are definitely occasions where an EasyPress is not as good. We'll take a look at when a heat press is preferable below.
Here are some more reasons you should consider buying an EasyPress. These are further reasons that are not so much related to irons and heat press machines.
---
Here are some of the reasons an iron is better than the Cricut EasyPress.
---
Nearly there… here are the reasons a heat press is better than an EasyPress.
---
Where To Buy EasyPress
Compare prices between Amazon, Cricut, & Michaels to see who has the best deal on the Cricut EasyPress.
EasyPress Resources
Here are a few final resources for more information and guidance:
Cricut EasyPress help page – EasyPress settings and how-tos
Cricut EasyPress Tips & Tricks – How to get the most out of your machine
Weekly Cricut Coupons & Promo Codes – new Cricut discounts & sales
The Home Dweller – buyer's guides for all your household needs
Pin for later! 🙂
(Please note: This post contains affiliate links. Read our full disclosure policy here.)