Cricut Easy Press Review: Features & Projects
In this Cricut Easy Press review, we're sharing everything you need to know!
It's a unique and fun way to press heat transfers at home – it's not quite an iron, and not quite a heat press machine. It's the Cricut heat press… in its own category!
The Cricut Easy Press
What is the Cricut EasyPress?
The EasyPress is a machine used to press heat transfers onto garments. You can press transfers made from iron-on (HTV), inkjet transfers, and even sublimation transfers with the EasyPress 2.
Prior to the release of the EasyPress, we all used a heat press or our home iron. If you would like to know more about that, visit Cricut EasyPress vs heat press where we compare the different machines.
With the EasyPress, you can set the exact time and temperature for a heat transfer. It's small and easy to store, while still being an effective means of achieving quality transfers.
It's VERY easy to learn to use. Trust us, if you can use a Cricut cutting machine, you can use this, no trouble!
The Cricut EasyPress 2 (which is an improvement on the first) is available in 4 sizes.
The 4 sizes are:
Cricut EasyPress 6 x 7 inches
Cricut EasyPress 9 x 9 inches
Cricut EasyPress 10 x 12 inches
Cricut Easy Press Colors
There are 7 great Cricut EasyPress Colors. Here they all are, along with where you can get them!
Easy Press Features
There are some significant differences between the original blue EasyPress, and the EasyPress 2. These include improvements in technology, added features, and other refinements to make the product better.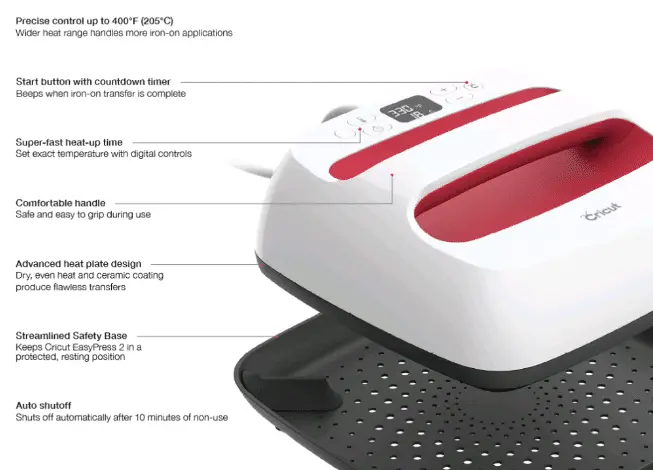 Here are some of the stand out features:
Remembers previous press time
The EasyPress 2 has a max temp of 400°F
It can press many materials and transfers
Heats up very quickly
Thicker heat plate with little temperature variance
A safety base that protects the surface underneath
EasyPress 2 has a USB port for firmware updates
EasyPress Projects
What can you make with the Cricut Easy Press?
Here are some of the EasyPress projects we've done over the past year or two. Click the picture and you'll go to the full tutorial.
While we tend to make a lot of t-shirts, you can press on all sorts of other garments and surfaces. Other cool ideas are:
Cardstock
Wood
Silk
Canvas
Burlap
Jersey mesh
There really are a ton of things you can do!
 Cricut Heat Press
The EasyPress is a great machine. It's perfect for home crafters and those just wanting to make t shirts at home. If you are wanting to make t shirts to sell, we recommend checking out other heat press machines.
Compare prices between Amazon, Cricut, & Michaels to see who has the best deal on the Cricut EasyPress.
Pin for later! 🙂
(Please note: This post contains affiliate links. Read our full disclosure policy here.)