Brother CS6000i Review – [Personal Experience] Too basic or just right?
This post contains affiliate links. If you use these links to buy something, we may earn a commission, but it doesn't cost you anything. Thanks!
Whether you're the owner of your own brand, you're tired of fast fashion and want to try your hand at creating more sustainable clothes, or you're just interested in a new hobby you'll first need to get your hands on a sewing machine. We're here to give you our honest opinion from personal experience and in consideration with other Brother CS6000i reviews.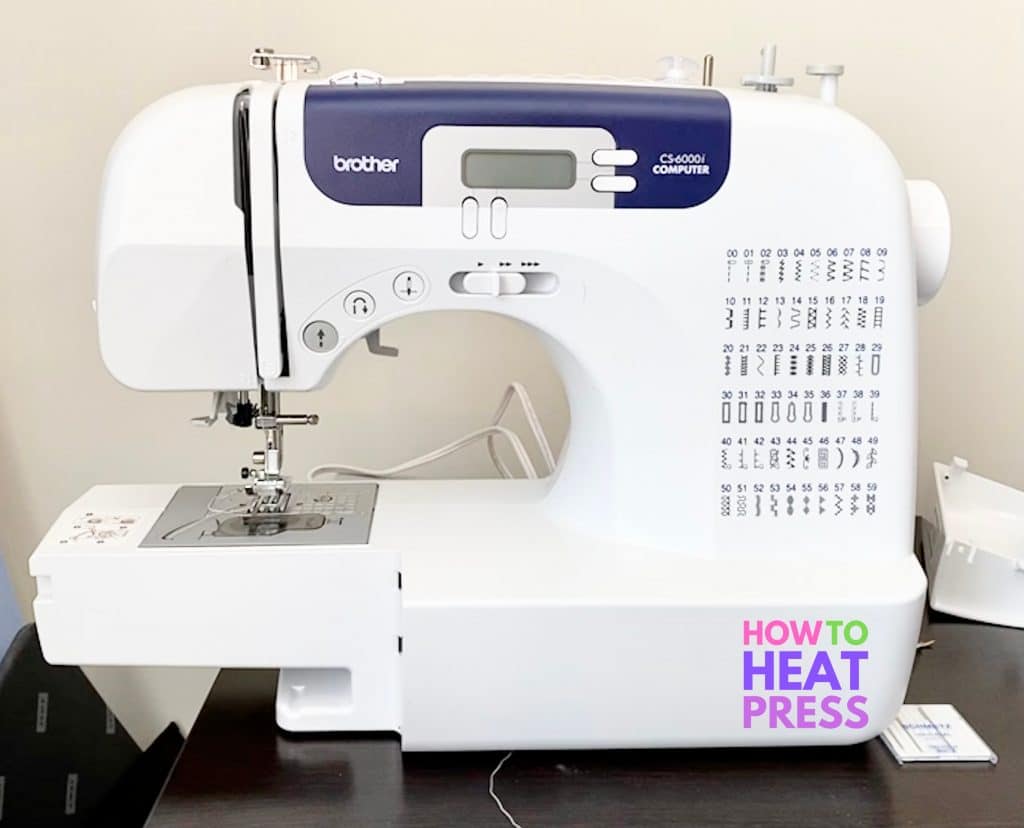 A tried and true favorite, as far as sewing equipment goes, the Brother CS6000i is widely considered to be one of the best machines on the market. But, is it worth the money or too basic? That's where we come in.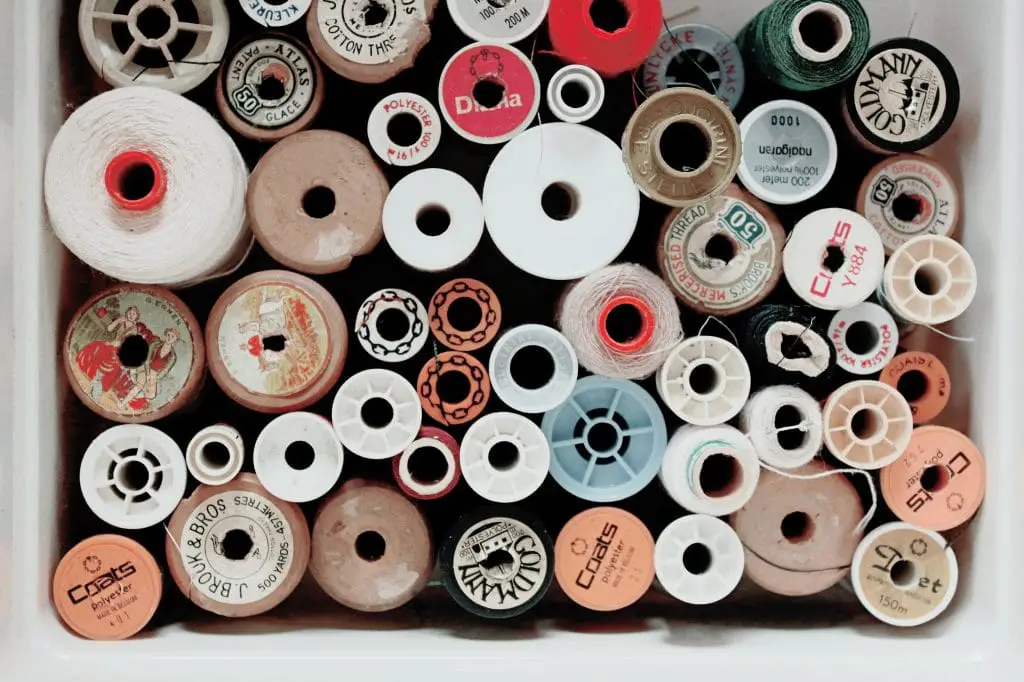 In this review of the Brother CS6000i sewing machine we're going to be providing you with an extensive review that will help you make an informed decision on whether or not you should add it to your crafting collection.
From the pros and cons, company background, to machine specifications – we've made sure to cover all bases and share our personal experience.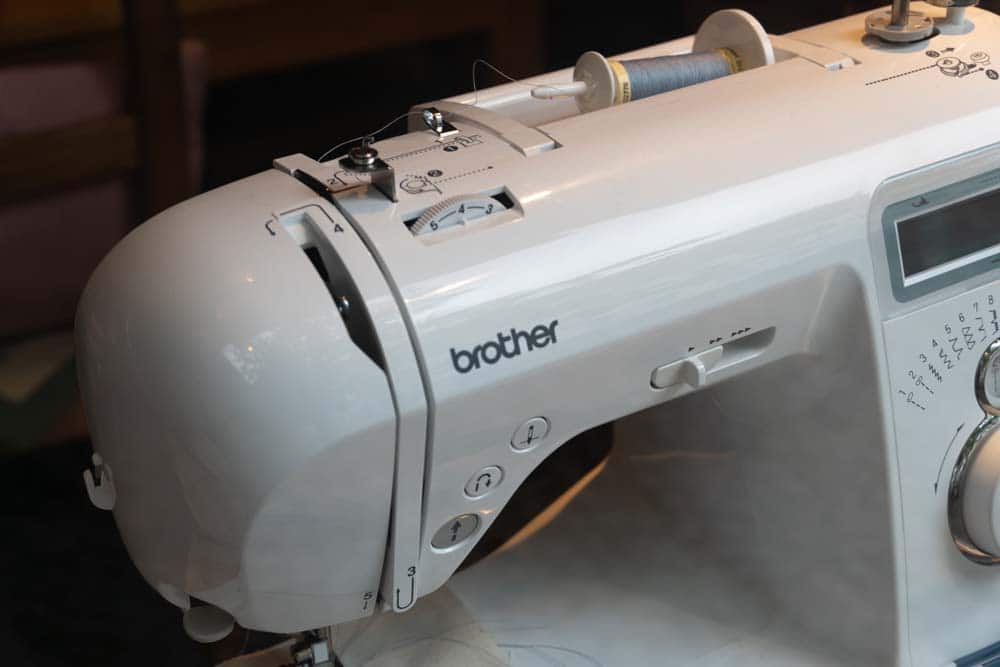 Brother Company Background
Based in Japan and founded by two brothers, Brother started out as a company that offered repairs for sewing machines in 1908.
Fast forward to the present day, and Brother is now a well-known manufacturer of printers, sewing, and embroidery machines.
They're so popular, in fact, that they were awarded the Consumer Digest's Best Buy award in 2013, and the Brother CS6000i reviews show it is considered one of the best sewing machines on the market. You can trust that the brand recognition Brother enjoys is a solid indicator of the good quality products they manufacture.
Brother CS6000i Reviews: The Positives
There are a lot of things we really do love about the Brother CS6000i. We'll go through them below to help you understand what you're in for if you choose to buy this machine.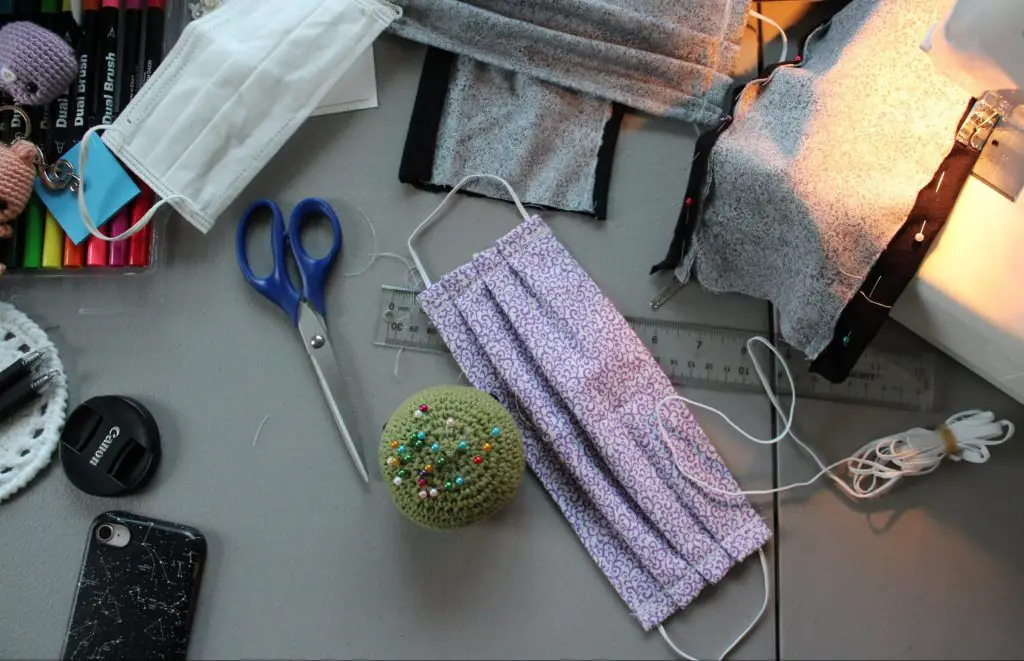 LCD Display
This Brother Sewing Machine features a large, easy-to-read LCD display which will allow you to easily operate the machine. It has a touch screen, so you'll be able to quickly change the settings, or select a stitch pattern without missing a beat.
This makes the CS6000i ideal for beginners who may get confused with navigating a traditional sewing machine, while we're sure that more experienced stitchers will appreciate the convenience of a touch screen. 
In my opinion, one of the best things about having the LCD screen is that it takes the guesswork out of problems with your machine. The machine will tell you exactly what the problem is if something isn't right so you can quickly adjust and get back to sewing.
Needle Threader
Another great beginner-friendly feature is the automatic needle threader. The CS6000i comes with an automatic threader and a needle position key which will be able to move the needle for you, all the while re-threading itself.
This is a really useful tool, especially as threading can be a tedious task and take up unnecessary time. The needle threader and position key also allow for a much smoother transition between the high and low sewing points. 
LED Light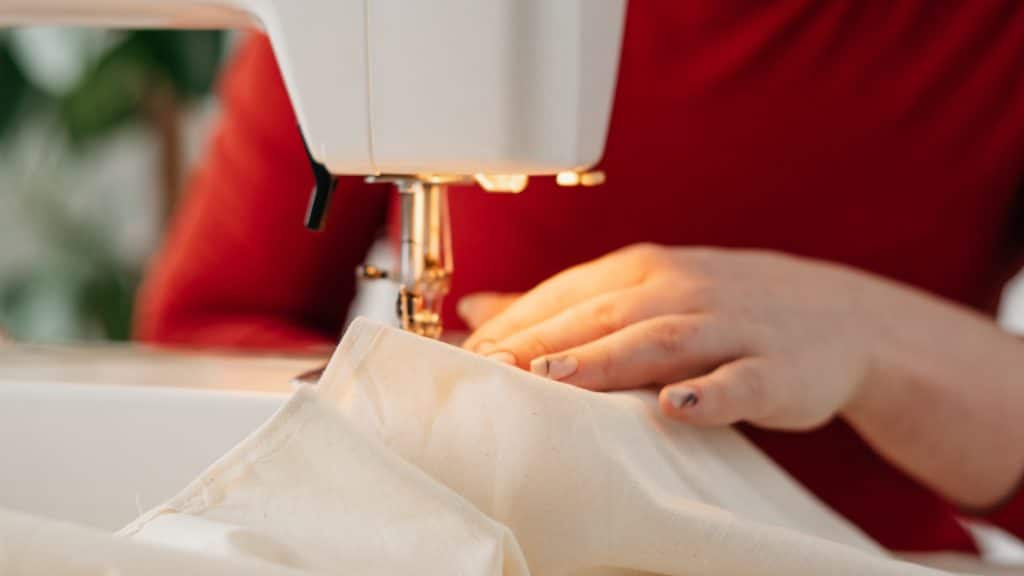 Unlike traditional sewing machines that use a yellow light (or don't have one at all), the Brother CS6000i comes with a white LED light that provides excellent visibility.
Not only does this mean that you'll be able to use this machine in low-light conditions, but you'll also be able to clearly see the colors of the fabric.
It's also great for sewing smaller projects with more precision and will help you to view the stitching on darker colored fabrics. 
Extended Table and Free Arm
The next standout feature is the extended table and free arm. The wide table option will give you the support needed when working with garments, costumes, and larger pieces of fabric so that you can take measurements with precision and line up pieces of fabric ready to be sewn.
The Brother CS6000i also comes with an additional free arm where you can drape cuffs, pants, and sleeves. 
Portability
Another advantage that the CS6000i offers is its portability. At 17 lbs, it's significantly lighter than most sewing machines on the market, and you should be able to pick it up and move it around without any trouble. The machine comes with an extension table that detaches keeping the footprint small and storage easy. If you do have the space for it, a dedicated sewing table would be a perfect home for this machine. 
Something to consider here is how often you'll plan to use your sewing machine and where you'll plan to use it. For me, my machine is out pretty much constantly from about October 1st through Christmas for Halloween and holiday projects. After that, it takes a break unless I need to mend things or make a gift. This machine is small enough that it can fit in a cabinet easily. I love that it doesn't take up valuable space in my work area!
Something else I really like about Brother's modern sewing machines is that the foot pedal and power cord both detach from the machine. I find that it makes things easier to store because I'm not having to wind up a bunch of cords around the machine. When I go to put the machine away I simply wind the power cord and foot pedal cords around the foot pedal and store them in my sewing supplies box.
My neighbor Kim has this machine and it has made the rounds to all of our houses on the block. We all have curtains hanging that were sewn on the CS6000i, one house has custom pillows made on the machine, and there have been many a Halloween costume made with it. The portability makes it easy to share!
However, though it might be easy enough to move from room to room around the home, if you're traveling, you might want to keep it in a carry case. 
Brother CS6000i Sewing Machine Review: The Negatives
No Automatic Tension
Though the Brother CS6000i Sewing Machine comes with a whole host of built-in convenience factors, it doesn't offer any automatic tension control.
Though it certainly won't take a long time to get the hang of, you'll likely find that you'll have to readjust the tension yourself every time you turn the machine on or switch pieces of fabric around.
Intermediate to expert sewers won't struggle with this, but it might be frustrating for beginners. Either way, the price is right on this machine and in our opinion, this shouldn't be enough of a factor to turn you off from purchasing a Brother CS6000i.
Fabric Limitation
Perhaps the biggest drawback to this sewing machine is that it hasn't been built to handle thicker fabrics.
You'll find that this sewing machine has difficulty working with multiple layers of thick fabric at a time, as well as thick fabrics like real leather or denim. 
However, there is still a wide variety of fabrics you can use to sew with this sewing machine, such as:
Cotton

Linen

Polyester

Stretchy knits

Wool

Silks

Lycra

Yoga fabric

Faux leather (as it is thinner than real leather)
If you're looking to use this machine for small projects and mending clothing the fact that it isn't built for heavy-duty work shouldn't deter you. Again, the price is right this sewing machine can get 95% of projects done with ease. Before my heftier sewing machine arrived with the movers I borrowed my neighbor's CS6000i to sew curtains. The machine had no problem handling the fabric nor the extra blackout layer I added. A good thing to consider is lengthening your stitches if the machine is struggling and the project will allow.
How easy is it to use?
The Brother CS6000i Sewing Machine features a quick-set top drop-in bobbin, which is the basic part of the sewing machine and will enable it to form a precise seam from two threads (one coming from the top from the needle and one coming up from the bottom from the bobbin). If you're new to sewing just know that this is the same method as pretty much all at-home machines use.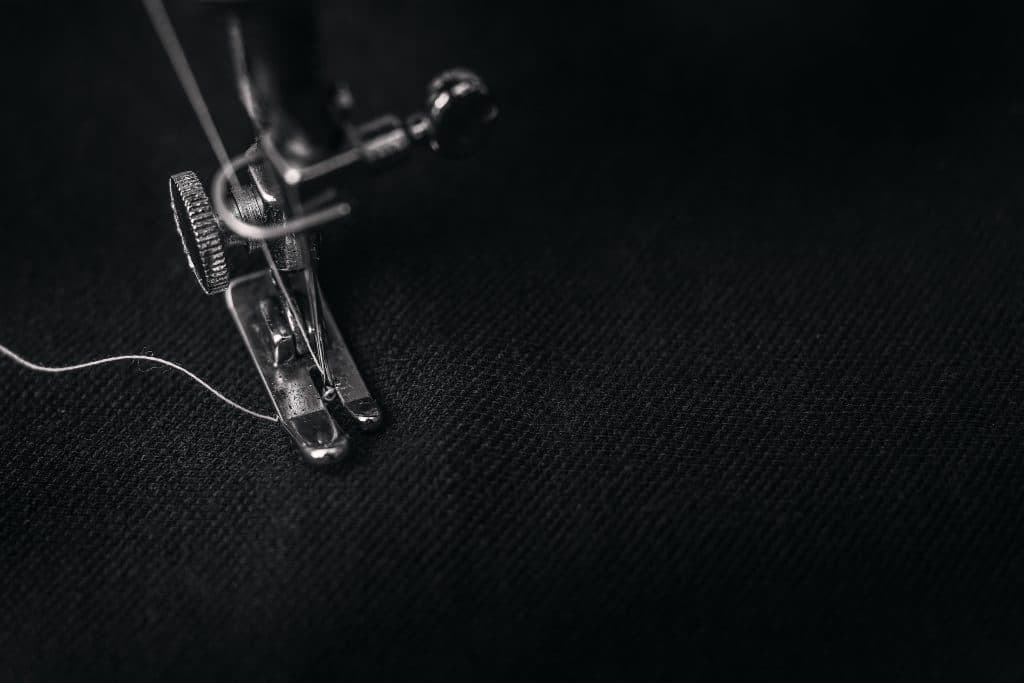 It's jam-resistant, is quick and easy to set up, and features a numbered diagram across the appropriate threading spots for extra convenience. Bobbin winding is also quick and easy following the numbered steps that are right on top of the machine.
In addition to this, the machine takes care of the needle threading automatically. All you'll need to do is switch the function on via a lever, and the sewing machine will handle the rest.
Plus, thanks to that big display screen we mentioned earlier, the display screen makes it easy to set up your features.
It'll also show you which presser foot to use with each stitch, so you don't have to keep referring to the manual and keep stopping and starting. 
The display screen will also display an error message if you happen to do something wrong, which is a feature we think that both first-timers and sewing experts will appreciate. We find this really helpful when something has gone wrong as it saves a lot of time troubleshooting and will direct you to exactly where the issue lies.
You'll also be able to have tools and accessories stored in a designated area, all thanks to the accessory compartment on the arm of the sewing machine. In the picture above you can see what a sewing machine body looks like when the compartment is opened. This is nice for the extra bobbins, presser feet, eyelet punch, screwdriver, and seam ripper that all come along with the machine.
The variable controls allow you to adjust the speed of each stitch. Depending on your experience sewing this is a great feature. The way it works is it basically sets a top speed for your sewing. Your pressure on the foot pedal still determines how fast the stitches are sewn but the top end is limited so it won't run away on you. For some simple straight sewing projects (think sewing blackout fabric to the back of a curtain), my five-year-old son likes to operate the foot pedal for me. Being able to keep the stitches quite slow makes this a fun projected to do together. 
The needle position key can also be used to stop the needle in either its highest or lowest point, so you won't have to manually push the needle into a lower position while sewing. This makes it great for saving time. If you've learned on a machine that has your muscle memory reaching for the knob at the right of the machine to adjust the needle that still works too : ).
How many stitch selections does it offer?
As a computerized sewing machine the Brother CS6000i has a selection of 60 stitches, consisting of:
Bar tack stitches. 

Overcasting stitches.

Blind hem stitches.

Basic stitches.

Buttonhole stitches (7 in total).

Straight stitch for zipper insertion.

Applique stitches.

Stretch stitches.

Quilting stitches.

Decorative stitches (20 in total)

Patchwork stitches.

Zigzag stitches.
Though there are sewing machines that can offer 100+ stitch options, we still think that 60 stitches are more than enough to be able to sew without any limitations. I've been sewing clothes and crafting for years and I rarely venture out of the stitches listed above so I feel confident saying more than 60 stitches is overkill for 99% of people purchasing a sewing machine.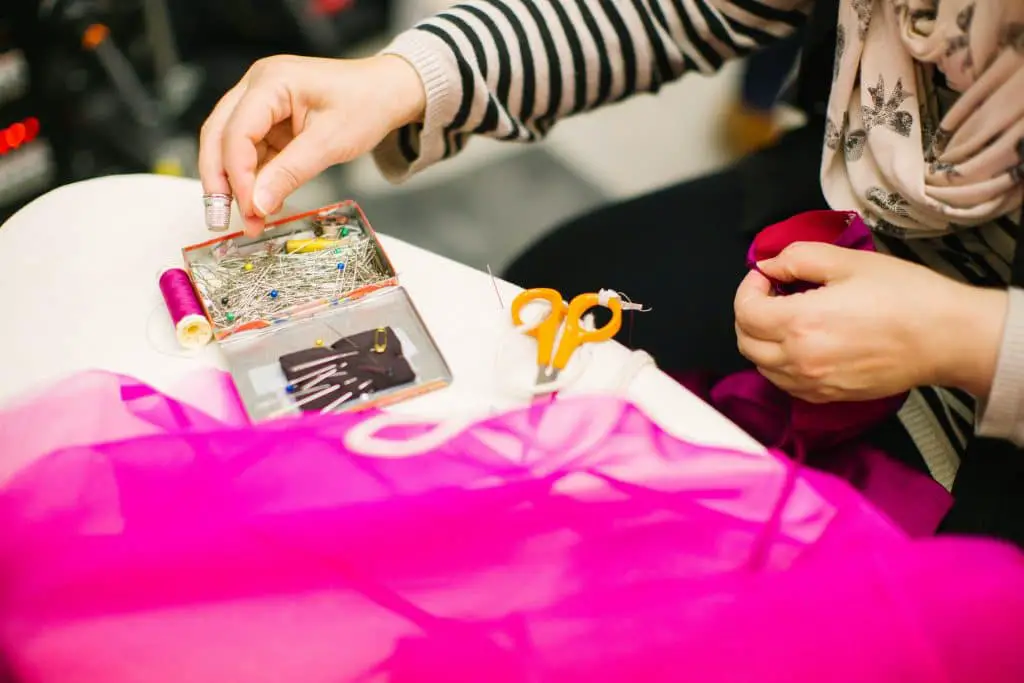 Does it come with a warranty?
The CS6000i does come with a warranty. The limited warranty is valid for 25 years, although replacements to the machine's parts and accessories are only viable as part of the 1 year warranty after the purchase of the sewing machine.
In addition to this, the electronics and circuit boards can be replaced up to two years after the time of purchase, while the chassis casting can be replaced for up to twenty-five years after the time of purchase. 
If you would like to learn more about the warranty, you can view the full PDF version here. (Link)
While sewing machines have historically been a bit of a family heirloom (I for one still have my great grandmother's Singer!) that's not really a fair bar for today's machines. If you go this route you'll be getting a high-quality machine that will last you years and years – but it's realistic that by the time the machine would be handed down to your grandkids lots will have changed. I love having my great Grandma Bea's machine, but the few times I've used it I've found it not to be worth the frustration and headed back to my modern Brother sewing machine.
Where to buy it
One of the main reasons why the Brother CS6000i reviews so well and is a bestseller is because it's so affordable.
It can be found at your local Walmart or can be purchased from the Brother Website. It's also available from Amazon, which you can check out below.
Brother Sewing and Quilting Machine
Specifications
| | |
| --- | --- |
| Adjustable foot pressure | Yes |
| Adjustable LED screen brightness | No |
| Automatic Thread Cutter | No |
| Display Type | LCD |
| Feet Dog Points | 6 |
| LCD Display | 2.0" x 0.7" |
| UL/CSA Listed Voltage | 110V |
| Stitch Width (mm) | 7 |
| Stitch Length (mm) | 5 |
| Speed Control | Yes |
| ButtonHole Styles | 0 |
| Maximum Sewing Speed | 850 stitches per minute |
| Back to Beginning Key | No |
| Built-In Stitch Selections | 60 |
| ButtonHole Styles | 7 |
| Knee Lifter | No |
| Carton Dimensions  | 12.48" x 20.079" x 17.638" (W x D x H) |
| Carton Weight | 17.637lbs |
| Unit Dimensions  | 11.4" x 6.7" x 16.1" (W x D x H) |
| Overall Unit Weight | 13lbs |
Our Verdict - Is the Brother CS6000i worth it? 
All in all, we highly recommend the Brother CS6000i Sewing Machine. It offers excellent value for the money, 60 stitch selections, and a large display screen that will make the operation of the sewing machine a breeze.
This sewing machine even comes with extra feet including an overcasting foot, a monogramming foot, a buttonhole foot, walking foot, blind stitch foot, zipper foot, and even a spring action quilting foot. I challenge you to actually make use of all of the features of this machine! Don't be fooled into thinking it's just a simple beginners machine, this is a great choice for any sewist. 
This will save you plenty of money in the long run, and it even comes with additional bobbins, a seam ripper, and a cleaning brush. 
Though it might not be suitable for heavy-duty fabrics, if you want to hone your everyday sewing skills or try out some more ambitious projects that don't include super heavy fabric, then the Brother CS6000i is the sewing machine for you.
If you're still considering other machines please check out all of our sewing machine reviews to find the best fit!