The Best Sublimation Printer [UPDATED 2020] Buyers Guide
Last updated on July 8th, 2020
What is the best sublimation printer?
SawGrass Vs Epson sublimation printer is the big decision we all have to make. Which is best will be determined by what stage you're at: are you wanting to make sublimation transfers at home or for business?
Best Sublimation Printer Review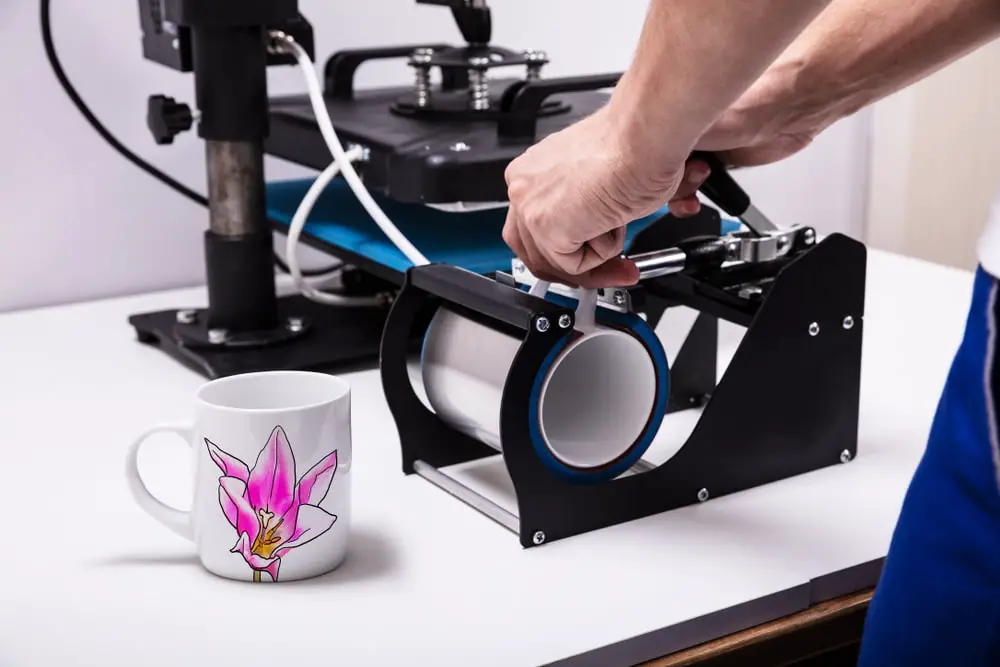 Whether you are looking for a sublimation printer for t shirts, mugs, or other hard blanks, the printers in this round-up are perfect for the job.
Notice that as of 2020, SawGrass have released new and improved versions of their SG400 and SG800 printers. The updated SawGrass SG500 and SG1000 have the latest and greatest sublimation technology and print resolution.
Epson Workforce WF-7710

Best used with a continuous ink supply system
Well rated printer for sublimation
Creates clean vibrant transfers

View Latest Price

Epson Workforce WF-7720

A step up from the WF-7710
Used by many for sublimation
Use with or without a CISS

View Latest Price

Epson Artisan 1430

Wide format printer for sublimation 13 x 19 inch
Can be used with SawGrass Inks
Can be used with a CISS

View Latest Price

Sawgrass SG500

NEW UPDATED SawGrass Dye Sub Printer
Upgraded components, features, interface, inks
Max media size: 8.5" x 14"

View On Heat Press NationView On Heat Transfer Warehouse

Sawgrass SG1000

NEW UPDATED SawGrass Dye Sub Printer
Larger version of the SG500 - same all new updates
Max media size: 11" x 17"

View On Heat Press NationView On Swing Design

The SawGrass EasySubli Bundle

SawGrass SG400 with Siser EasySubli Inks
Sublimatable HTV which is able to be pressed on dark colors & cotton
Complete Kit also come with Siser EasySubli Media & Masks

View On Heat Press NationView On Heat Transfer Warehouse

Sublimation Packages

Range of sublimation bundles available
Mug sublimation packages
heat press, cutting machine, printer deals

View On Heat Press NationView On Pro World
Here are the sublimation printers we'll take a deeper look at down below:
Epson Stylus C88+
Epson WF-7710 Vs WF-7720
SawGrass SG500 & SG1000
SawGrass and Siser EasySubli
SawGrass VJ 628
Keep in mind that when buying an inkjet printer for sublimation conversion, you cannot then switch inks. You won't be able to use your sub printer for inkjet printing and vice versa.
You will also need a good heat press machine to apply the sublimation transfers onto garments or other hard poly-coated blanks. The EasyPress 2 is suitable for sublimation, though not recommended for business use.
The Epson Stylus C88+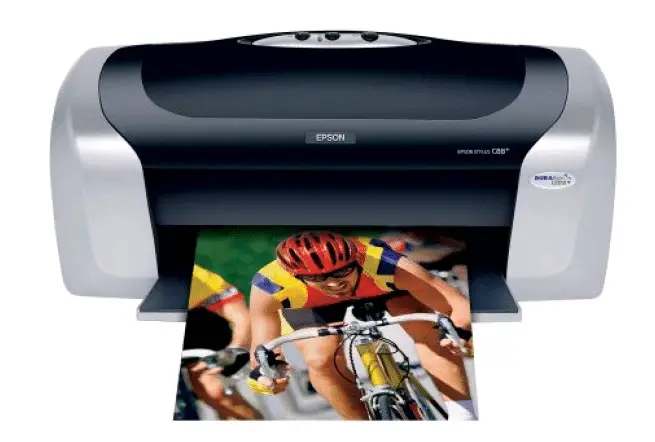 A beginner sublimation printer, the Epson Stylus C88+, is the most basic and the cheapest sublimation printer for sale.
It's great for the home crafter and for those wanting to try out and learn dye sublimation. The maximum transfer size with this printer is 8.5 x 11 inches, so you won't be doing all over sublimation.
Consider getting this machine if:
you are starting out with sublimation
you want the cheapest sublimation printer
you'll use it every 1-2 weeks (to prevent ink-heads from drying out)
The C88+ is made by Epson as an Inkjet printer, but can be used with sublimation ink. It can take sublimation ink cartridges (like standard inkjet cartridges), or be used with a CISS system.
This machine is certainly not the best printer for sublimation for everyone, and the results are not going to win any awards, but it is a great starter dye sub printer.
Epson Sublimation Printer
Which Epson sublimation printer is best?
Should you get the WF 7720, the WF 7710, or another model altogether?
To start off with, the only real difference between these two Epson model is the the WF7710 has a single feed tray, while the WF7720 has two feed trays. They both have the same print size, same output levels, and can both be used wirelessly.
The Workforce WF-7210 is another alternative Epson printer for sublimation. It has the same print size as these other models, but can often be picked up cheaper on sale. It is able to be used with a CISS and many people have had great success with it.
There are downsides to converting these printers to sublimation:
it may void the warranty
once it's had sublimation ink installed it needs to remain
not designed for sublimation paper and ink so there will be some issues over time (picking up multiple pieces of paper at a time, for example)
Using these Epson printers for sublimation is the cheapest way to get started. Visit Cosmos Ink for great sublimation ink and CISS packages!
SawGrass SG500 and SG1000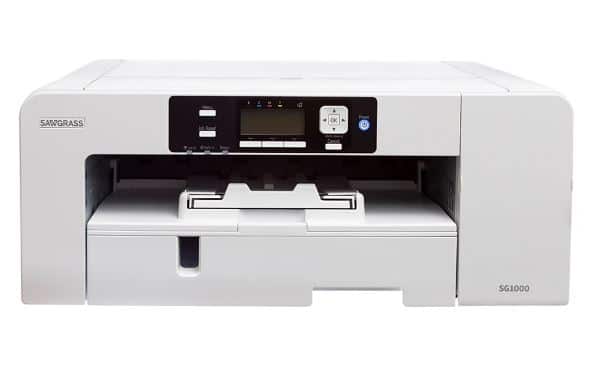 Released in early 2020, the all new SawGrass SG500 and SG1000 are welcomed updates on the SG400 and SG800. These machines were also previously known as Ricoh sublimation printers.
The big difference between the SawGrass and Epson is that the SawGrass printers were specifically designed for sublimation. The Epson inkjet printers were not (hence why the warranty can be void upon conversion).
SawGrass printers are made to print sublimation ink on sublimation paper, and they have a number of features and specifications that allows them to do this better than a conversion.
The SG500 and SG1000 have an extremely high print resolution at 4800 x 1200 dpi, and are made to work with the NEW SubliJet UHD inks. This ink with this print set up produces the highest quality sublimation transfers. With a massive color range you will have the most vibrant transfers for your hard and soft applications.
While the SG500 has a smaller print width (at 9 inches) than some of the Epson printers, it's length can be greatly increased with a bypass tray. The SG1000 is the larger machine with a print range of 13 x 19″ with bypass tray.
Features:
Self maintenance cleaning
Wireless connection to computer
New updated components and interface
Prints transfers that will last
Quality software and print manager
High res images
Specs:
High speed prints (15 seconds)
High res images (max 4800 x 1200 dpi)
MacOS 10.12 – 10.15 or Windows 10
2 year warranty
Lifetime tech support
For more info, see our SawGrass sublimation printer review.
Siser EasySubli Sublimation Printer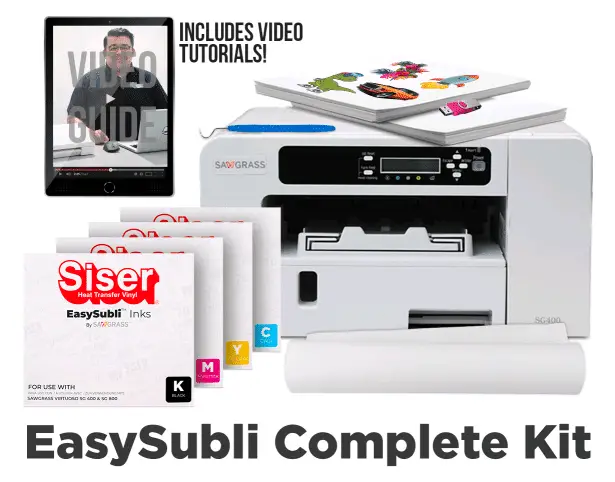 The range of Siser EasySubli products were released mid-2019.
This is a new way of using specially formulated sublimation inks (made by SawGrass in partnership with Siser) to print onto Siser EasySubli HTV.
Because the actual transfer base is a type of heat transfer vinyl, you are able to use your heat press to apply it to dark and/or cotton garments – something that, of course, cannot be done with regular sublimation transfers.
You can also use the Siser EasySubli Inks for printing onto regular sublimation transfer paper, and then applying it to your garment as you would do usually.
Check out the following EasySubli video tutorial, or visit our Siser EasySubli review for more info.
The Sawgrass Virtuoso VJ 628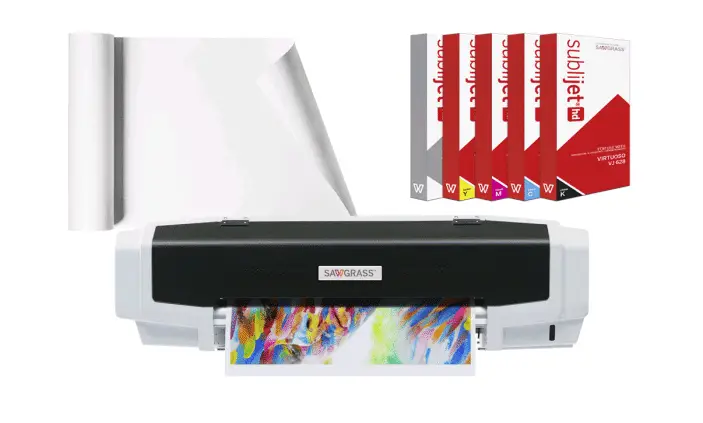 From one extreme to the other: we've gone from the cheap Epson C88+ to the Sawgrass Virtuoso VJ 628. The cheapest printer for sublimation, to one of the more expensive options.
I put this here as something to aspire to. If you aren't yet at the level of having one of these top sublimation kits, one day you just might be. Keep providing quality products, awesome designs, great prices, and you will have a thriving sublimation shop.
Why couldn't you one day have the Sawgrass Virtuoso VJ 628?
The Best Sublimation Printer
Hopefully this short list has helped you to determine the best sublimation printer for your budget and requirements.
The SawGrass machines are certainly better than the Epson sublimation printers, but it's going to depend on your budget. So many people have found a lot of success using the conversions, and there is a lot of support out there in the Facebook groups and on platforms like YouTube.
If you can afford a SawGrass sub printer, we highly recommend them. But if you're just starting out with dye sublimation heat transfers, there's nothing wrong with an Epson. Grab a Workforce WF-7710 and get sublimating today!
Leave a comment below with your favorite machines, or printers you think need to be on this list, and we'll add them to it!
Pin this post! 🙂
(Please note: This post contains affiliate links. Read our full disclosure policy here.)