The Best Sublimation Printer [UPDATED 2023] Buyers Guide
This post contains affiliate links. If you use these links to buy something, we may earn a commission, but it doesn't cost you anything. Thanks!
Best Sublimation Printer Review
What is the best sublimation printer?
You've decided you want to move your crafting or small business into the world of sublimation printing and now you need to know what is the best sublimation printer out there. Congratulations! Now, SawGrass Vs Epson sublimation printer is the big decision we all have to make. Which is best will be determined by what stage you're at and what your budget is: are you wanting to make sublimation transfers at home or for business?
Sublimation heat transfer is a way to make high-quality customizations that look and feel great and will withstand lots of washing and use. Whether you are a beginner making your first t-shirt, or you're running a business printing mugs, tumblers, glassware, or one of an endless list of great blanks for sublimation printing, this review will help you choose the best printer for your needs.
Notice that in 2020, SawGrass released new and improved versions of their SG400 and SG800 printers. So first off, if you see a SawGrass SG400 or SG800 for sale know that it's now outdated. The updated SawGrass SG500 and SG1000 have the latest and greatest sublimation technology and print resolution.
 

Epson Workforce WF-7710

Best used with a continuous ink supply system
Well rated printer for sublimation
Creates clean vibrant transfers

View Latest Price

Epson Workforce WF-7720

A step up from the WF-7710
Used by many for sublimation
Use with or without a CISS

View Latest Price

Epson Artisan 1430

Wide format printer for sublimation 13 x 19 inch
Can be used with SawGrass Inks
Can be used with a CISS

View Latest Price

Sawgrass SG500

NEW UPDATED SawGrass Dye Sub Printer
Upgraded components, features, interface, inks
Max media size: 8.5" x 14"

View On Heat Press NationView On Heat Transfer Warehouse

Sawgrass SG1000

NEW UPDATED SawGrass Dye Sub Printer
Larger version of the SG500 - same all new updates
Max media size: 11" x 17"

View On Heat Press NationView On Heat Transfer Warehouse

The SawGrass EasySubli Bundle

SawGrass SG400 with Siser EasySubli Inks
Sublimatable HTV which is able to be pressed on dark colors & cotton
Complete Kit also come with Siser EasySubli Media & Masks

View On Heat Press NationView On Heat Transfer Warehouse

Sublimation Packages

Range of sublimation bundles available
Mug sublimation packages
heat press, cutting machine, printer deals

View On Heat Press NationView On Pro World
Here are the sublimation printers we'll take a deeper look at down below:
Epson WF-7710 Vs WF-7720
Epson EcoTank ET-2720
SawGrass SG500 & SG1000
Ink Options for Sawgrass Printers
SawGrass VJ 628
Dye Sub Photo Printers
Before we dive in here are a few things you need to know before you buy any sublimation printer.
 Heat Transfer vs. Photo Sublimation
Epson and Sawgrass inkjet printers are the two main companies making desktop printers that are suitable for sublimation printing onto various blanks. Beware, there are other printers that use dye sublimation technology but are not suitable for heat transfer projects.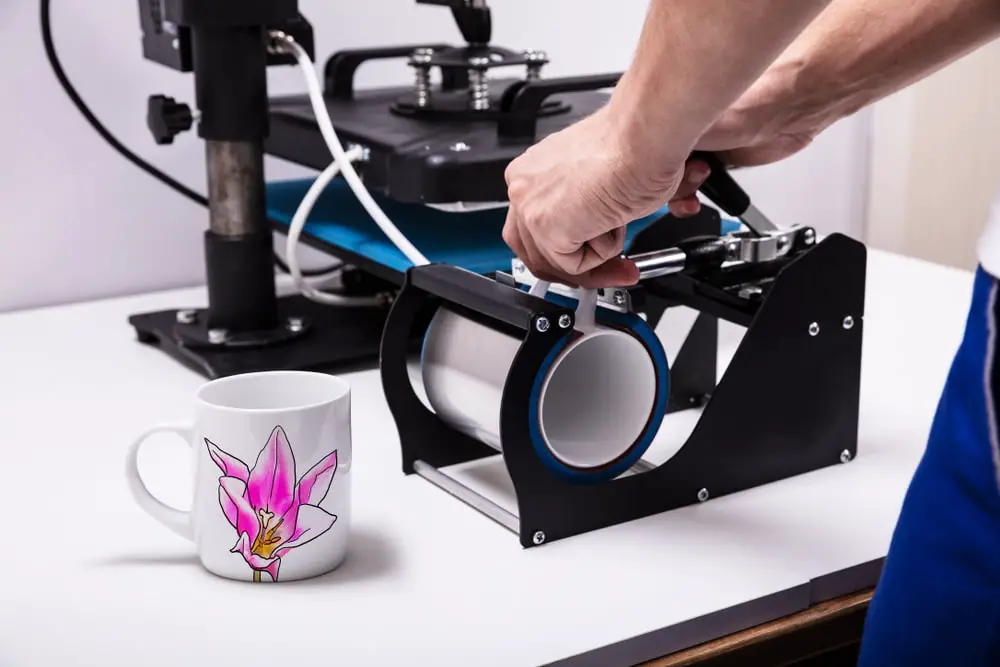 For example, the Canon Selphy cp1300 might show up in a quick search for dye sublimation printers and you might be thinking "woohoo, only 99 bucks on Amazon!" Unfortunately, it's not suitable for heat transfer. The Canon Selphy line uses dye-sub technology to print high-quality photos on photo paper but this printer can't be used with sublimation paper to transfer printed images. Make sure you're not just buying a photo printer if that's not what you're looking for. 
All of the printers in this review are suitable for making sublimation transfers onto shirts, mugs, or other blanks at home or for business with the exception of the section "Best Dye Sublimation Printers for Photos."

Why Sublimation Instead of Vinyl?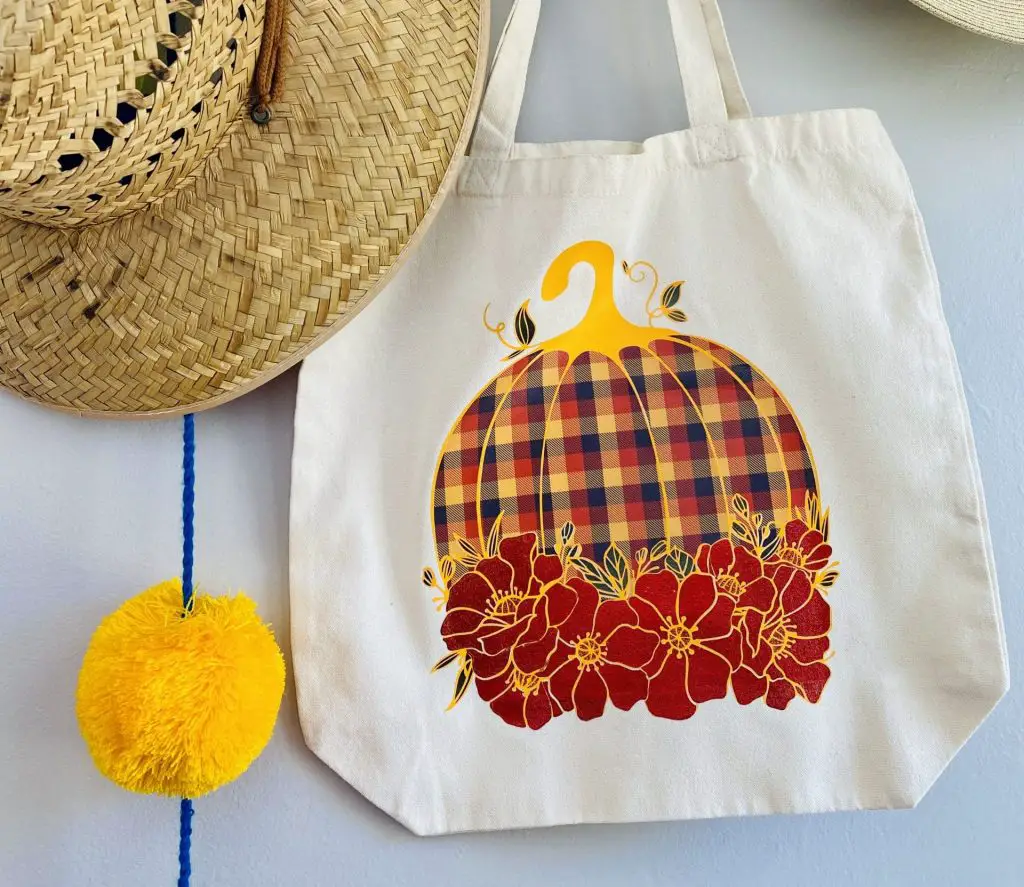 Any other Cricut fanatics out there? We get it – it's pretty fantastic to create things with heat transfer vinyl and adhesive vinyl. And the possibilities there are pretty amazing when it comes to multilayer designs. But there are also huge limitations – namely your time in creating and the longevity of the project.
Creating custom projects with sublimation will be faster than vinyl/HTV and also last longer. If you have the budget to invest in a sublimation printer you will not regret it!
Converting Inkjet to Sublimation is Permanent
Once you have converted or set up an inkjet printer (traditional cartridge or EcoTank) for sublimation printing you can't go back to printing with normal ink on paper. You won't be able to use your newly converted sub printer for inkjet printing and vice versa. Sawgrass printers are exclusively set up to do sublimation printing. 
Don't get caught thinking you can have one printer that can do it all – a once printer has been converted to sublimation that is all it will be able to do.
Quality Ink is Essential
No matter which printer you choose you'll have the option to purchase third-party inks. With the Epson printers that have been converted to sublimation printing, purchasing quality ink is especially important as the ink company you choose will be the only customer support you'll get. 
Sawgrass users usually stick with Sawgrass inks until the warranty has run out at which point they might experiment with third-party inks. We highly recommend using Cosmo's Ink for whichever sublimation printer you end up going with. Their reviews speak for themselves!
Additional Supplies
You will also need a good heat press machine to apply the sublimation transfers onto garments or other hard poly-coated blanks. The EasyPress 2 is suitable for sublimation, though not recommended for business use.
Additionally, you'll need to choose the right sublimation paper for your needs.
Epson vs. Sawgrass
Your choice is between Espon and Sawgrass (formerly Ricoh) for sublimation printing, which should you choose? 
It used to be if you wanted a dedicated sublimation designed for sublimation inks (not an aftermarket conversion) you only had Sawgrass as an option. Epson has since (thankfully) complicated things by adding their own entry level sublimation printer, the SureColor F170 Dye Sublimation Printer.
Here are your options for sublimation printers:
Sawgrass Sublimation Printers – proven quality, higher price point
Epson SureColor – First Generation printer, midrange price point
Epson Conversion to Sublimation – cheapest option, less support
Both the Epson SureColor as well as converted Epson inkjet along with all Sawgrass Sublimation Printers include the following features:
Wireless printing with WiFi direct connections

Smartphone/mobile device compatible with both Android and iPhone

Ability to print various on paper sizes and specialty paper

Appropriate for home use as well as business

Mac and Windows compatibility

High-resolution print quality

Fast print speed
Based on our extensive research of the many sublimation printer options out there we have determined that your budget will be the key determining factor in which printer you choose.
Bottom Line on Sublimation Printers: If your budget allows, buy a Sawgrass. Not ready to invest in the Sawgrass but want the comfort of knowing you'll have support if needed? Buy the Epson SureColor. If you're looking to get into sublimation printing as cheaply as possible buy an Epson and do the conversion yourself.
Check out the table below to see how we came to this conclusion:
EPSON PROS:

 

-Cheapest starter option, low-cost

-Common inkjet printers, often discounted

-Operate as a scanner after conversion and can copy too (though it'll be printing with the sublimation ink)

-EcoTank models do not require cartridges for conversion, just sublimation ink

SAWGRASS PROS: 

-Designed specifically for sublimation

-Self-maintenance mode keeps the printer in top shape even when used infrequently

-2 year warranty and unlimited tech support plus 30 minutes 1-on-1 to get you up and running

-Free access to Sawgrass CreativeStudio design 

EPSON CONS:

-Converting to sublimation printing voids the warranty eliminating Epson customer service

-Potential for ink heads to dry out if used less than every 1-3 days

SAWGRASS CONS:

-More expensive to start with

-Less likely to find a discounted price 

EPSON BOTTOM LINE:

 

Choose Epson if you're a hobbyist on a budget who plans to use their sublimation printer every few days and are willing to DIY the conversion and void the warranty.

SAWGRASS BOTTOM LINE:

Choose a Sawgrass model if you have the budget and want the capability to print high volume projects but not the pressure to maintain the machine often.
Now let's get to the specifics of each individual printer!
Epson Sublimation Printers
Which Epson sublimation printer is best?
Should you get the WF 7720, the WF 7710, or another model altogether? You can essentially convert any Epson inkjet printer into a sublimation printer but the Work Force models have become very popular for conversion. For this reason, we'd recommend this route (or the Ecotank below) because you'll find the most online support from others who've made the same conversion.
Both printers are nice all-in-one options. They have a nice touchscreen display, can AirPrint wirelessly, with an ethernet cord, NFC, or from a memory card. 
No matter which model you choose you'll need to complete a conversion to sublimation ink as they're designed as traditional inkjet printers. I have to admit the first time I heard this I was intimidated and just thought "no way, I'm just going to pony up for a Sawgrass." Do not let the conversion hurdle get in the way of choosing an Epson!
Converting is basically just cleaning the print head nozzles, injecting sublimation ink into the cartridges, and getting the printer going again. There are many great videos on YouTube to guide you! 
The only real difference between these two Epson models is the WF7710 has a single feed print tray, while the WF7720 has two feed trays. They both have the same print size, same output levels, and can both be used wirelessly. If it were me I'd choose whichever model I could find at a cheaper price.
Additionally, if you are looking to upgrade from an old Epson Stylus C88+ either of these printers would work well for you and provide similar (if not improved) quality prints.
The Workforce WF-7210 is another alternative Epson printer for sublimation. It has the same print size as these other models, but can often be picked up cheaper on sale. It is able to be used with a CISS and many people have had great success with it. The Epson Expression Photo HD XP-15000 (which replaced the Epson Artisan 1430) is a nice option if you'll be needing large prints up to 13" x 19" for canvases or anything else.
There are downsides to converting these printers to sublimation:
Converting the printer to sublimation will void the warranty so you won't get any customer support from Epson

Once an inkjet printer has had sublimation ink installed it cannot be swapped back to normal inkjet ink

These Epson printers are not designed for sublimation paper and ink so there will be some issues over time (picking up multiple pieces of paper at a time, for example)
Even with these downsides using these Epson printers for sublimation is the cheapest way to get started and I would definitely recommend them as a viable option for growing your sublimation printing hobby or business.
You'll need to select sublimation ink for your conversion - Visit Cosmos Ink for great sublimation ink and CISS (continuous ink supply system) packages!
Epson EcoTank ET-2720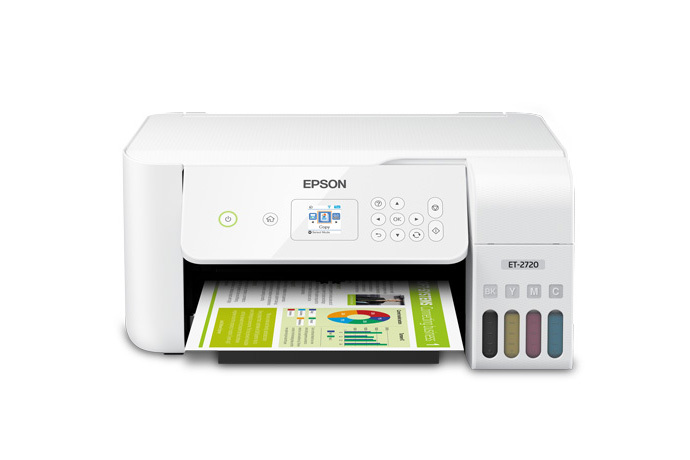 If you have decided to go with an Epson it's definitely worth considering the EcoTank series of printers. They differ from the WorkForce series in that they don't use ink cartridges at all but rather have tanks that you refill directly in the printer. Both the EcoTank series and the WorkForce printers have successfully been converted to sublimation printing by many people - don't be intimidated by the process! 
The downsides of the WorkForce printers outlined above apply to the EcoTank printers as well. Additionally, it's only advisable to convert a brand new EcoTank printer to sublimation, not one that has already been used for normal inkjet printing. 
On the upside though is the large ink storage capacity as well as the fact that your conversion to sublimation printing will be cheaper as you don't need to purchase new cartridges. 
Personally, I like that you have the choice of a white printer body option as it would fit in with my craft room color scheme nicely.
SawGrass SG500 and SG1000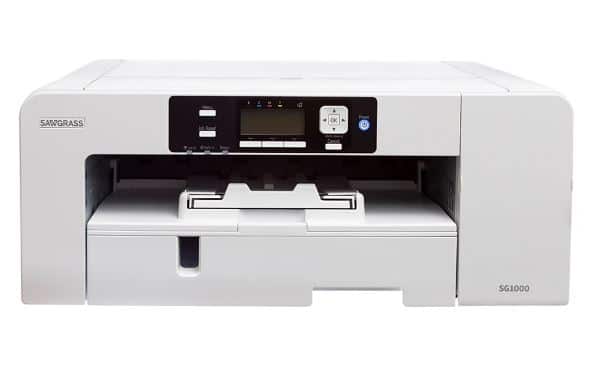 Released in early 2020, the all new Sawgrass SG500 and SG1000 are welcomed updates on the SG400 and SG800. These machines were also previously known as Ricoh sublimation printers.
The big difference between the Sawgrass and Epson is that the Sawgrass printers were specifically designed for sublimation printing. The Epson inkjet printers were not (hence why the warranty will be void upon conversion).
Sawgrass printers are made to print sublimation ink on sublimation paper, and they have a number of features and specifications that allow them to do this better than a conversion. You can expect higher quality, more professional results with a SawGrass.
The SG500 and SG1000 have an extremely high print resolution at 4800 x 1200 dpi which results in incredible image quality. They are made to work with the NEW SubliJet UHD inks. This ink with this print setup produces the highest quality sublimation transfers. With a massive color range you will have the most vibrant transfers for both your hard and soft applications.
While the SG500 has a smaller print width (at 9 inches) than some of the Epson printers, it's length can be greatly increased with a bypass paper tray up to 51". The SG1000 is the larger machine with a print range of up to 13 x 19″ with bypass tray. Both options have an optional 250-sheet tray add on.
Features:
Self maintenance cleaning
Wireless connection to computer
New updated components and interface
Prints transfers that will last
Quality software and print manager
High res images
Specs:
High speed prints (15 seconds)
High res images (max 4800 x 1200 dpi)
MacOS 10.12 – 10.15 or Windows 10
2 year warranty
Lifetime tech support
For more info, see our Sawgrass sublimation printer review.
Ink Choices for Sawgrass Printers

If you've decided that a Sawgrass printer is the way to go your final choice is the type of ink you want to put into your printer. When purchasing through Heat Press Nation you'll have three options. Luckily, your choice should be easy based on your printing needs.

It's important to note that you cannot swap out inks in your Sawgrass printer. It's literally cheaper to buy a new printer than to buy all of the ink necessary to do a swap so make sure you choose wisely according to what you plan to make.
Your choices for ink in your Sawgrass Virtuoso SG500 or SG1000 are: 
Sublijet-UHD

- This is the original (but recently upgraded) sublimation ink and it is great on all surfaces including HTV and can be applied to cotton and dark-colored fabrics.

This is the way to go if you plan to use your sublimation printer to customize a variety of different blanks. Because you can use Sublijet-UHD ink to print onto EasySubli HTV to be applied to cotton and colored fabrics this is the most versatile ink choice.

Siser EasySubli - Siser and SawGrass worked together to create this ink specifically designed to be printed onto Siser EasySubli Heat Transfer Vinyl that can then be applied to colored polyester, cotton, or rayon. You can also use EasySubli inks for printing onto regular sublimation transfer paper and then applying to garments or other hard or soft blanks. Check out the following EasySubli video tutorial, or visit our Siser EasySubli review for more info.

 

If the majority of your sublimation printed designs are going to be applied to fabrics in a variety of colors then Siser EasySubli inks are definitely a solid choice.

Sawgrass ChromaBlast - prior to this awesome new product you could only sublimate onto polyester fabric, but with Chromablast your designs can go right onto 100% cotton! This is a game changer if you want to use sublimation technology for cotton t shirts.ChromaBlast allows you to print onto sublimation paper and then transfer your design directly to the fabric which is exactly what makes sublimation awesome. If you plan to sublimate exclusively on 100% cotton items then this is the ink for you. It'll have an amazing feel to the touch as the design will become a part of the fabric rather than being bonded on top of it.
The Sawgrass Virtuoso VJ 628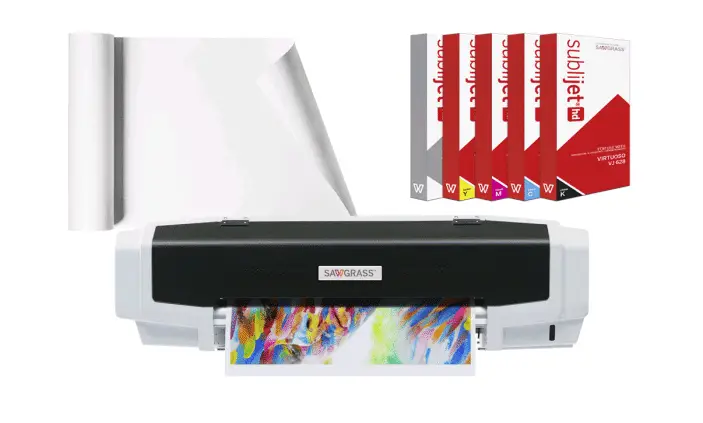 From one extreme to the other: we've gone from the budget-friendly Epsons to the Sawgrass Virtuoso VJ 628. The cheapest printer for desktop sublimation, to one of the more expensive options.
I put this here as something to aspire to. If you aren't yet at the level of having one of these top sublimation kits, one day you just might be. Keep providing quality products, awesome designs, great prices, and you will have a thriving sublimation shop.
Why couldn't you one day have the Sawgrass Virtuoso VJ 628?
Best Dye Sublimation Printers for Photos
So far we've focused on sublimation printers that are designed for heat transfer applications. It would be easy to assume that sublimation printers all work for printing heat transferable images but that's not the case. Some printers use the sublimation processes specifically for photo printing because of the fast printing speed and the fact that prints dry instantly - no more 'oopies, there's a thumb smudge!' 
These types of printers are ideal for photo booths or businesses that need to print high volumes of high photo-quality prints. You can use matte or glossy photo paper or even make stickers with these printers! PLEASE NOTE: These will not print on transfer paper for heat transferring images onto blanks.
Mitsubishi CP-K60DW
You can always tell a photo specific printer by its distinct output tray and boxy shape. This powerful photo printer can print 300 x 300 dpi 4 x 6 inch photos in 11.4 seconds! An awesome option for a photo booth.
DNP DS-RX1HS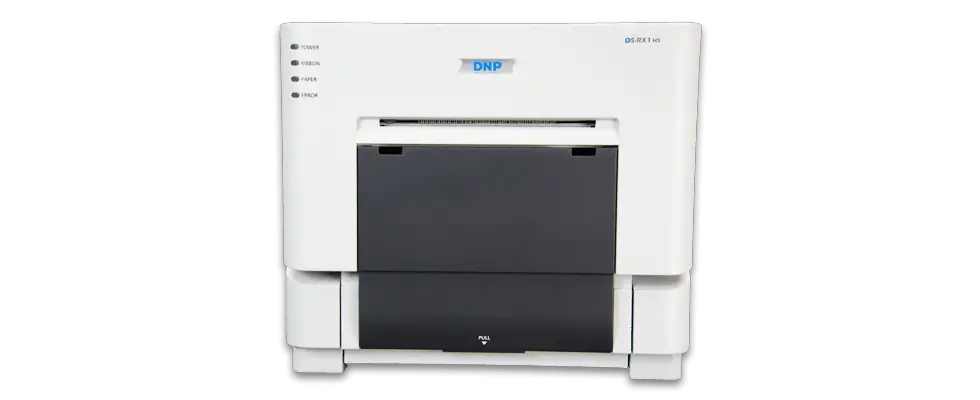 A nice midrange DNP photo printer can do up to 290 4 x 6 inch prints in an hour.  
DNP DS620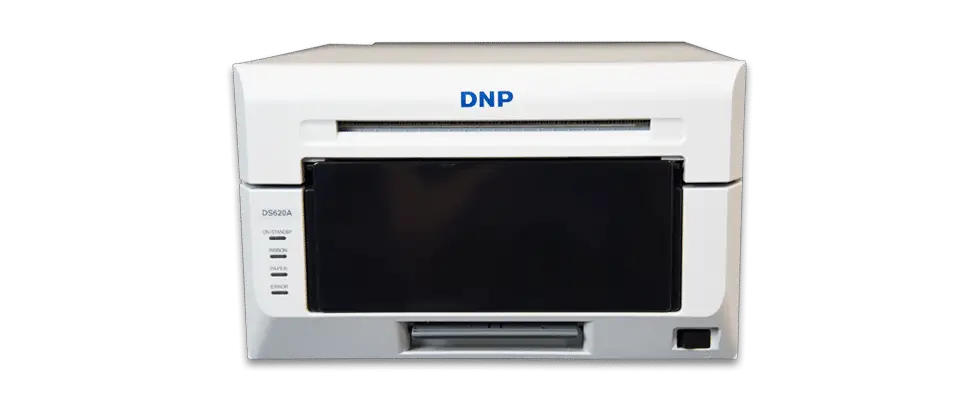 This higher end DNP version replaced the much loved DNP DS40. It's got glossy or matte finish options, a wider range of print sizes, and 4 x 6 inch prints are made at a rapid 8.4 seconds each.
The Best Sublimation Printer
Hopefully this short list has helped you to determine the best sublimation printer for your budget and requirements.
The SawGrass machines are certainly better than the Epson sublimation printers, but it's going to depend on your budget. So many people have found a lot of success using the conversions, and there is a lot of support out there in the Facebook groups and on platforms like YouTube.
If you can afford a Sawgrass sub printer, we highly recommend them. But if you're just starting out with dye sublimation heat transfers, there's nothing wrong with an Epson. Grab a Workforce WF-7710 and get sublimating today!
Leave a comment below with your favorite machines, or printers you think need to be on this list, and we'll add them to it!
Pin this post! 🙂
(Please note: This post contains affiliate links. Read our full disclosure policy here.)