The Best Sublimation Printers For Starter & Advanced Home Business
In this article I'll share the best sublimation printers for sale – as well as some awesome sublimation printer bundles!
Most of these machines are good sublimation printers for beginners. Two of the recommendations are also very suitable for the advanced small business, and the final machine is suitable for industrial use!
The Best Sublimation Printers For Sale
Here are the 5 sublimation printers we'll take a look at below. I'm starting with the cheapest and ending with the most expensive.
Epson Stylus C88+
Sawgrass Virtuoso SG400
Sawgrass Vituoso SG400 with Siser EasySubli Inks
Sawgrass Virtuoso SG800
Sawgrass Virtuoso VJ 628 Large Format Sublimation Printer
Heat Press Nation's 'everything you need to know about sublimation' video is great for a general overview of sublimation supplies. For further information about any of their products, visit their website here!
Remember when getting a printer for sublimation, once sublimation ink has been installed into it, the printer will need to remain a dedicated sublimation printer. You won't be able to switch over to using it as an inkjet printer.
And also remember that you'll need a good heat press machine to transfer your sublimation images onto your tees or other blanks.
1. The Epson Stylus C88+ Printer For Sublimation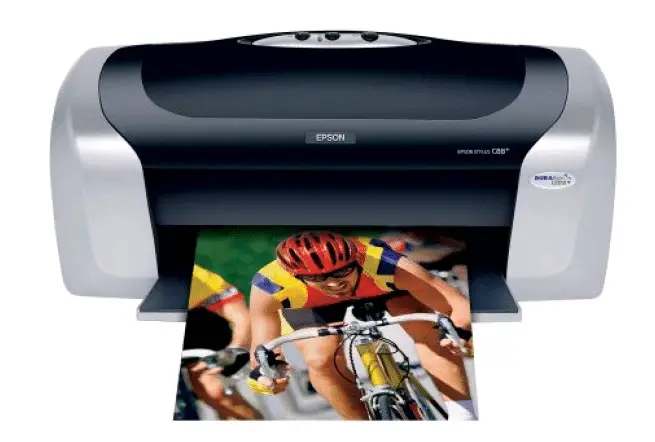 The beginner model: the Epson Stylus C88+ is the most basic and cheapest sublimation printer for sale. It's great for the home crafter and for those just wanting to give sublimation transfers a go. The maximum transfer size you can print is 8.5 x 11 inches.
You should consider getting this machine if:
you'll use it at least every 1-2 weeks (to prevent ink-heads from drying out)
you want to make home craft sublimation projects
or for making t-shirts for friends and family
This printer is made by Epson as an Inkjet printer, but can be used with sublimation ink. It can take sublimation ink cartridges (like standard inkjet cartridges), or be used with a CISS system.
This machine is certainly not the best printer for sublimation, nor is it ultra-durable, but it is a great starter and craft dye sub printer. It's available for purchase at Heat Press Nation OR on Amazon.
2. The Sawgrass Virtuoso SG400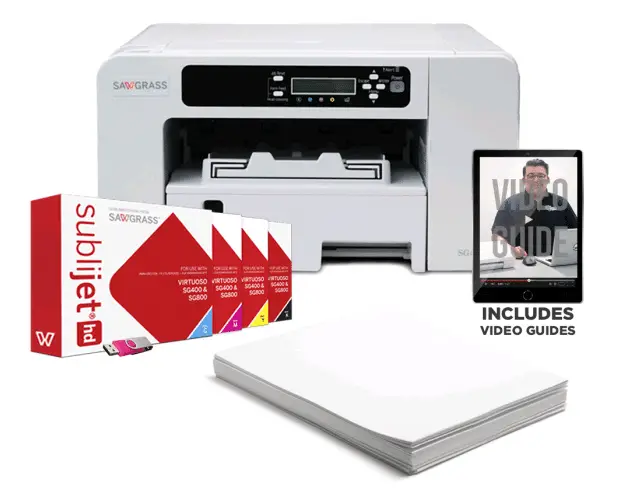 The Sawgrass Virtuoso Series is a big step up from the Epson C88+. This machine has been specifically designed for dye sublimation printing, and it is more than adequate for the start-up home t-shirt business. The max print size on this machine is 8.5 x 14 inches.
Seriously consider this machine if:
you're entering into business and want to offer dye sub tees and products
you want a much more reliable and durable machine than the Epson C88+
This printer has a lower cost per page than many other printers. This is because it uses a gel ink concentrate that goes a lot further than many other options. 1 milliliter of Sawgrass SubliJet Sublimation Ink goes as far as 3 milliliters of other ink.
As far as sublimation printers go, this is a very affordable option, especially if you get it from Heat Press Nation with all the bonuses (comes with Sublijet sublimation ink, paper, support, and video guides). It is also for sale on Amazon with slightly different add-on products.
3. The SG400 EasySubli Printer Kit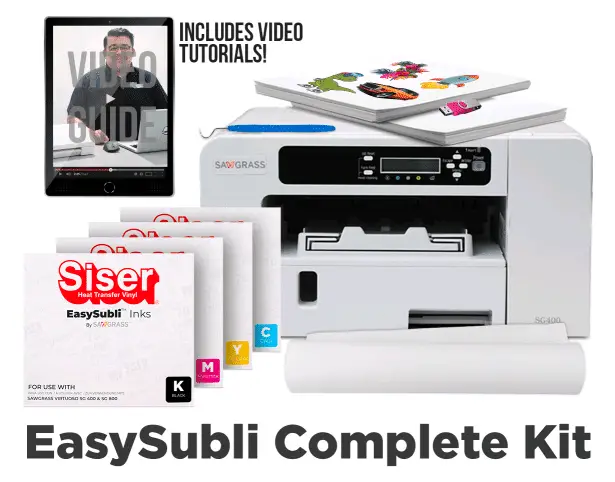 The range of Siser EasySubli products were released mid-2019.
This is a new way of using specially formulated sublimation inks (made by SawGrass in partnership with Siser) to print onto Siser EasySubli HTV.
Because the actual transfer base is a type of heat transfer vinyl, you are able to use your heat press to apply it to dark and/or cotton garments – something that, of course, cannot be done with regular sublimation transfers.
You can also use the Siser EasySubli Inks for printing onto regular sublimation transfer paper, and then applying it to your garment as you would do usually.
Check out the following Siser EasySubli video tutorial for a whole lot more info.
4. The Sawgrass Virtuoso SG800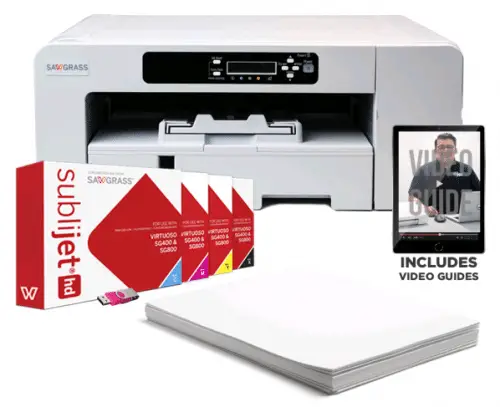 The Sawgrass Virtuoso SG800 is a larger version of the SG400. This machine can print images 13 x 19 inches with the bypass tray attached, or 11 x 17 inches without.
The differences between the SG400 and the SG800 are:
8.5 x 14 verses 11 x 17 inch print size
the ability to take larger high capacity ink cartridges for busier operations
This sublimation printer is best for:
those wanting to print larger format sublimation transfers
the busy sublimation business that will use it enough to justify the investment
those needing accurate color profiles
This is a premium dye sublimation printer that will take time to learn how to use and maintain. There is the initial investment of money, and the following investment of training time. However, you are getting a machine for a busy small business that will get you the results you need.
5. Sawgrass Virtuoso VJ 628 Large Format Sublimation Printer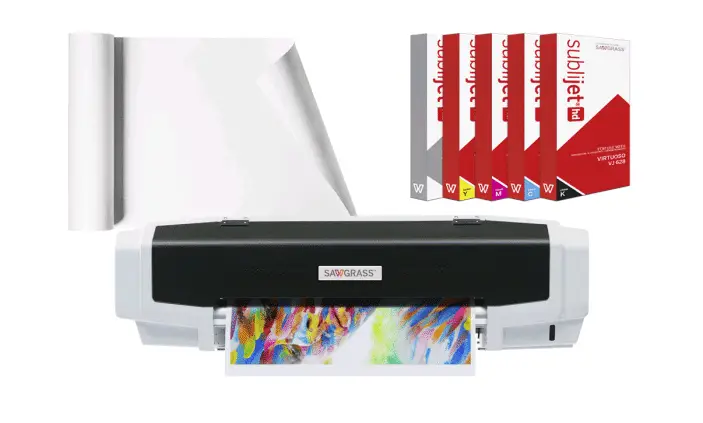 From one extreme to the other, we've gone from the cheap Epson C88+ to the Sawgrass Virtuoso VJ 628. The cheapest printer for sublimation, to one of the more expensive options.
I put this here as something to aspire to. If you aren't yet at the level of having one of these top sublimation kits, one day you just might be. Keep providing quality products, awesome designs, great prices, and you will have a thriving sublimation shop.
Why couldn't you one day have the Sawgrass Virtuoso VJ 628?
The Best Sublimation Printer
Hopefully this short list has helped you to determine the best sublimation printer for your budget and requirements. There are not many good cheap sublimation printers out there, as many of them get discontinued (like the Epson Artisan 1430).
Check out our SawGrass Printer Buyer's Guide for more info on those great units.
Leave a comment below with your favorite machines, or printers you think need to be on this list, and we'll add them to it!
Pin this post! 🙂
(Please note: This post contains affiliate links. Read our full disclosure policy here.)