The Best Free SVG Files For Cricut & Silhouette – Free Cricut Images
Are you, like me, always on the hunt for free SVG files for Cricut?
I'm sharing my favorite websites with free SVGs and free Cricut images! Many of these websites have hundreds, or even thousands, of free designs available for download in multiple formats.
*The NEW Cricut EasyPress 2 is now available for purchase. Check out our EasyPress 2 post, or take a look at Cricut's EasyPress info here!
Free SVG Files – Free Cricut Downloads
I hope these SVG files inspire you to start creating. I'm sure you will find designs that you can make wonderful projects with. You can use these free SVG cut files for Cricut, Silhouette or Brother cutting machines.
1. The Hungry Jpeg SVG Freebies
The Hungry Jpeg is a hugely popular website for free SVG files and fonts. Take a look at all of their freebies here. Use the category selector to look for the type of files you want.
They include:
Free SVG files for crafters
Free graphics
Free fonts
SVG PROJECT IDEA: Baby Onesie With Cricut Iron-On Foil
2. Creative Fabrica Free SVGs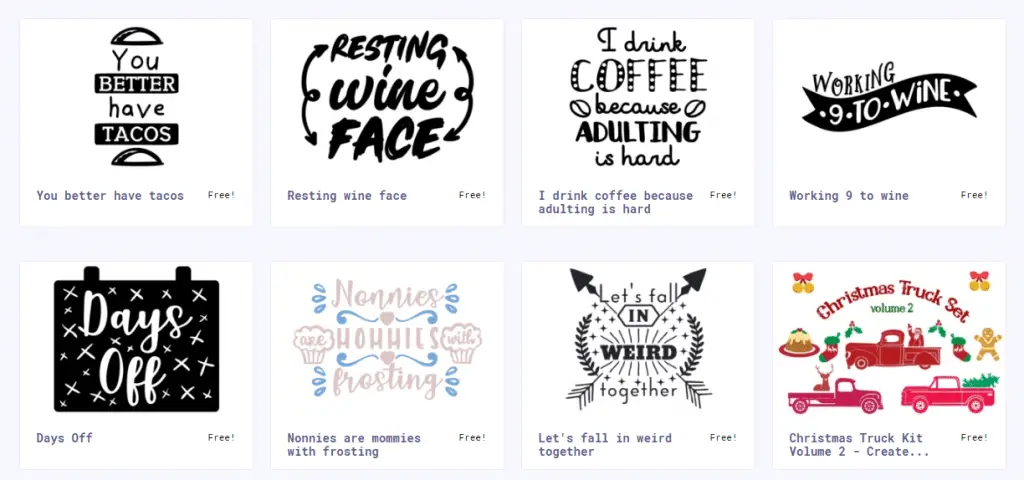 There are a ton of awesome free SVG files for crafts from Creative Fabrica. Use these free SVGs for vinyl, iron-on, or cardstock. These are super stylish designs that will have your t-shirts, baby onesies, and cards popping.
Not only do they have free cut files, but a lot of free fonts and other graphic design elements – 365 quality freebies at the time of writing!
3. Craft Bundles Free SVG Files

Craftbundles.com is a great source for free Cricut designs. There are a lot of really pretty designs for free, as well as huge craft bundles you can purchase.
See their freebies here, available in several different format options (SVG, PNG, EPS, DXF Format). All of their free cut files come with a full free commercial license.
4. Design Bundles' Freebies

You have got to check out Design Bundles' free cut files – there are so many awesome files it's hard to choose which to use first!
As you'll see in the banner above, they have:
free SVG, DXF, EPS, PNG files
free mockups, textures, templates & backgrounds
royalty free images
Their freebie offers don't last forever, so get them while they're free and keep checking back for newly released free SVGs! Design Bundles' sister site is Font Bundles, who also have a huge range of free design fonts.
5. Love SVG Free Downloads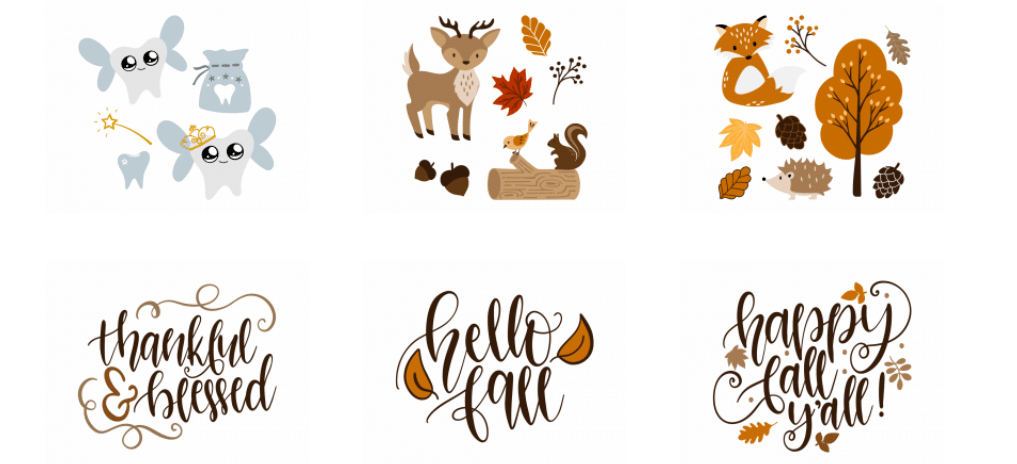 Love SVG has the biggest library of Free SVG cut files known to man – almost 5000 of them in total! It is one of the very best websites to get free SVG files for Cricut, Silhouette and Brother cut projects.
They have many seasonal and holiday designs as well, so it is the perfect place to get:
free Christmas SVGs
free birthday cut files
free fall, winter, summer, and spring downloads
6. Printable Cuttable Creatables
Next up is Printable Cuttable Creatables' freebie page, offering currently 189 free SVG designs for download.
This website is a fantastic resource for those who want to create amazing crafts on a budget, without compromising on design quality. Double check their licensing information before using them commercially.
What Is Best? The Cricut EasyPress Vs Heat Press
7. SVG & Me Freebies
SVG & Me gives away hundreds of free SVG files for Silhouette & Cricut. In order to get access to all the freebies, you will need to join the mailing list here. You will then get a password to access the many free SVG files that are on offer.
8. The Craft Chop SVG Giveaways
This Tribal Fox Head design is one of the intricate SVG files for free on the Craft Chop. I have actually used this SVG for a heat transfer vinyl design that I applied to a t-shirt. Make sure you leave plenty of time for weeding the vinyl!
9. Kimber Dawn & Co Free SVG Projects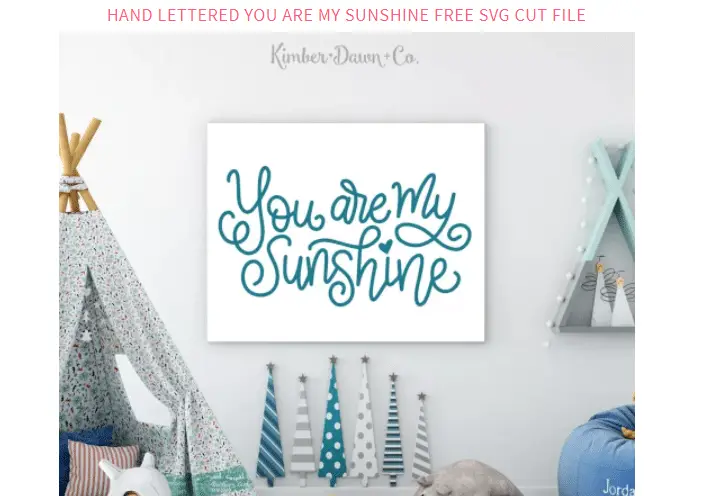 Kimber Dawn & Co do not have as many freebies as the sites above, but what they do have is super cool. They release free SVG cutting files along with photos demonstrating how they could be used. I like this style! It makes it easier to think of what to make with free SVG files.
FIND OUT: When To Use HTV & When To Use Adhesive Vinyl
10. Hey Let's Make Stuff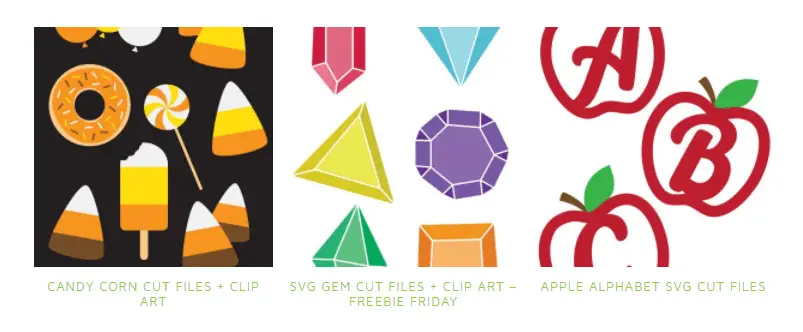 Hey Let's Make Stuff has many cute SVG files, free for a limited time. There is a new one available each Friday, free for a week, after which time they must be paid for. Sign up to be notified about each new freebie as it is released.
11. SVG Cuts Free Cut Files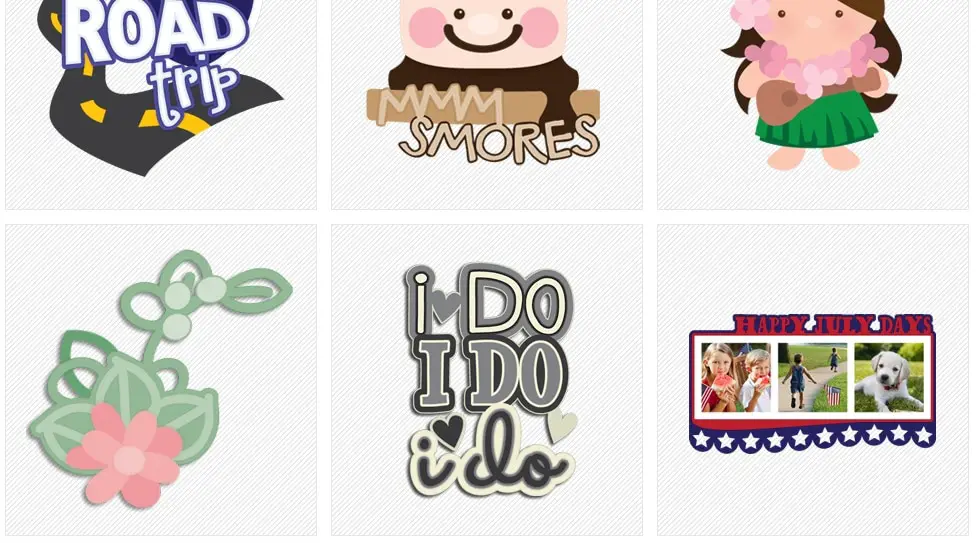 SVG Cuts have free designs for cutting machine projects and more. Take a good look at their blog and inspiration page to get fun and beautiful project ideas. If you'd like to use these designs commercially, you can fill in their commercial use form and wait to be approved.
12. Love Paper Crafts Cricut Downloads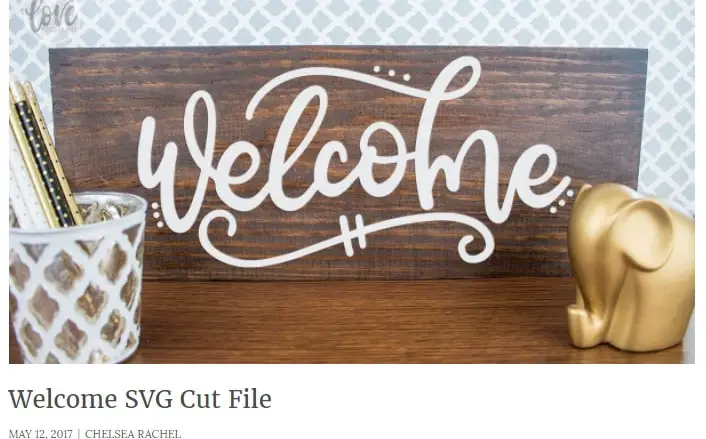 How pretty is this wooden welcome sign in the image above? This is one example of the kind of awesome hand lettered designs you can download for free from Love Paper Crafts. There are also cool ideas for how to use the designs. Also take a look at the SVG designs for sale in the Love Paper Crafts Etsy store.
SVG VINYL PROJECT: Japanese & Korean Water Bottle Project
13. Cut That Design

Cut That Design is all about 'Free SVG Cutting Files for Crafters'. With more designs being added each week you won't be short on ideas and inspiration for SVG vinyl projects & more.
Their selection includes:
free SVG files for halloween
free mason jar cut files
free nautical SVG files
14. Poofy Cheeks Freebies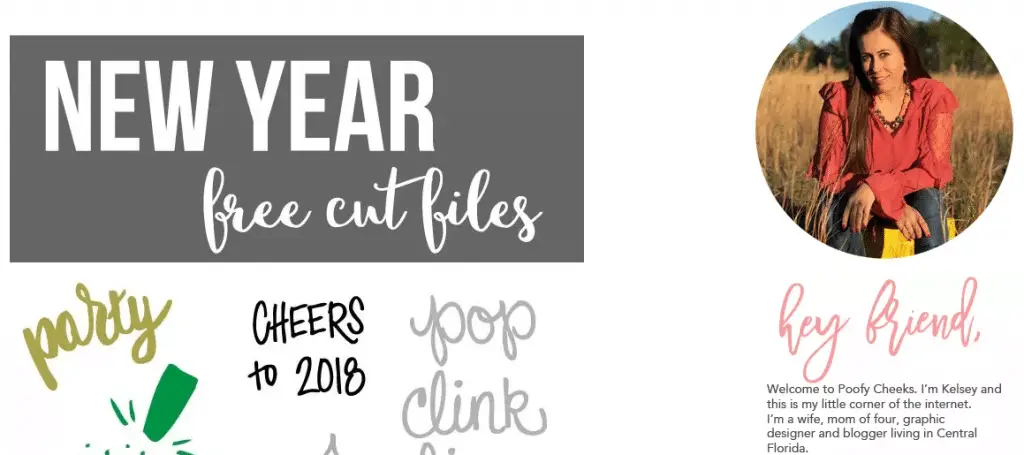 Poofy Cheeks has a range of free files for cutting projects. There are many resources for Cricut and Silhouette crafts, along with lots of other project ideas.
The Best Free SVG Cut Files
You've probably got free SVG fatigue by now, right? Between all these sites, we've got access to 10,000+ free SVG files, so we're not going to run out anytime soon!
Read the comments below for more great suggestions from readers, and be sure to add your own if it's not on the list.
Pin this post!
(Please note: This post contains affiliate links. Read our full disclosure policy here.)