10 Best Heat Press Machines Review 2022 (Recommended!)
This post contains affiliate links. If you use these links to buy something, we may earn a commission, but it doesn't cost you anything. Thanks!
Best Heat Press Machine
What is the best heat press machine?
We own five different heat transfer machines and have been working with them for many years now. We want to share what we've learned as you look for your new machine.
There is no single 'best heat press machine for t shirts' for everybody. It's going to depend on your budget, the features you need, and what you're using it for. However, we think we've got something in the buying guide for everybody here!
For those in a rush, here are our top five picks (more options below)!
Cricut EasyPress

Best for crafters and small biz
Easy to use, transport, & store
Max temp of 400°F

View On CricutView On Amazon

PowerPress Heat Press

Best for beginners and crafters
15 x 15 inch heat press
Press all types of heat transfers

View Latest Price

FancierStudio Heat Press

Another top press for home use
Amazon best seller
All the features you need to get started

View Latest Price

TUSY Heat Press

Best 15 x 15 heat press
Extremely well rated
Over the center pressure adjustment

View Latest Price

HPN Black Series Press

Best for small business
Many sizes & styles in this range
A big step up in quality

View Latest Price

ProWorld TransPro

Quality 15 x 15 inch machine
Different sizes & styles available
Top selling US heat press

View Latest Price

Siser Digital Clam 

Best for heavy crafters and small biz
Over the center pressure adjustment
11" x 15"

View On Heat Transfer WarehouseView On Happy Crafters
1. Power Press Heat Press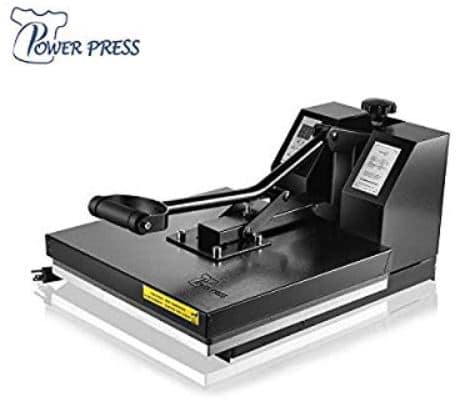 The Power Press heat press has been an Amazon bestseller for many years now, and for good reason!
We personally own the PowerPress press, and it has served us well for all sorts of projects.  We make gifts for friends and family, and use it for small t-shirt orders.
The PowerPress is a good digital heat press machine for beginners. It's an affordable heat press, it has all of the basic features and functions that you need, and it gets the job done!
The Power Press is good for home craft use, and for getting started in t shirt business. It is not ideal for a busy business operation where it would be in use all day, every day.
Features:
Digital LCD display for time and temperature
High temperatures range of  0 – 500 degrees Fahrenheit
Adjustable pressure knob
Silicon base plate
A thickened aluminum and coated heat platen
A heavy duty steel frame
replaceable fuse
Pros
Clamshell heat press requires less space
Easy to use
Solid machines – great durability
Achieve more pressure than EasyPress
Free shipping for Prime Members
Good warranty
Cons
Not very smooth to use
Can have faults (like all cheap machines)
2. FancierStudio T Shirt Press
The Fancier Studio tee shirt press is also a best seller on Amazon. The two brands have always been neck and neck!
When it comes to the PowerPress Vs FancierStudio, the two are extremely similar. Both machines have essentially the same features and functions. The good thing about the PowerPress over this machine is the easy to replace fuse feature.
The Fancier Studio Press is perfect for heat pressing sublimation transfers, HTV (heat transfer vinyl), Rhinestones, transfer paper, and any other heat applied shirt decoration.
Pros
Affordable entry level machine
Do all types of transfers
15 x 15 inch machine
Easily set digital timer, temperature, & pressure
3. Cricut Easy Press 2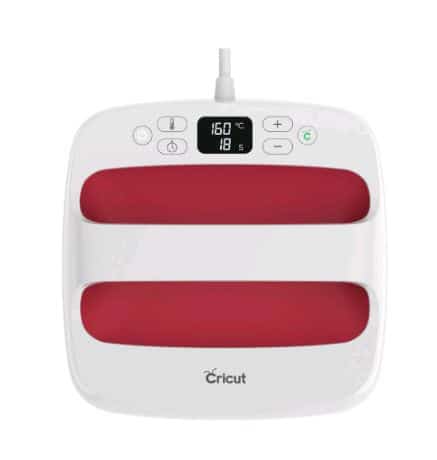 The Cricut Easy Press 2 is next – this is by far the most popular machine for home use (we have 3 of them)!
This machine is more like a cross between a heat press and an iron. It is a great way to start applying more complicated heat transfers once you have outgrown your home iron.
This machine is best for crafters, making t shirts at home, beginners, and teen crafts. It's not so good for making items to sell, or for pressing a lot of shirts at once. Its temperature range does reach 400°F, so is suitable as a sublimation heat press.
Cricut is a highly respected brand, known for creating high-quality products that function well and last. They have good customer support, and a lot of online resources. Compare the Cricut EasyPress Vs Heat Press here.
Features:
Easy to learn how to use
Safe support tray & auto-off feature
4 different sizes (mini, 6×7, 9×9, & 12×10)
Range of colors to match your crafting vibe
Digital time & temperature control display
Quick set up and heat up time
Pros
It's a cheap heat press
Very easy to use
So easy to hide away for storage
Firmware updates through USB
Fine for sublimation or Infusible Ink transfers
Great online support, resources, & community
Cons
You must manually apply pressure which is difficult to regulate
Largest size is only 12 x 10 inches
4. The MPress T Shirt Heat Press
The MPress Range is an affordable alternative to the Amazon machines. It's similar to the PowerPress or Fancierstudio models, but it has some distinct advantages.
The MPress comes in 5 different styles and sizes:
the 9 x 12 inch swing away heat press
a 15 x 15, 16 x 20, or 16 x 24 inch clamshell heat press
the MPress sublimation mug press
The main benefits of buying the MPress from Heat Press Nation is trust. Each machine goes through a quality control process before shipping, and each purchase includes tech support. Heat Press Nation stands by the quality of the presses they sell 100% so you know they'll back you up should anything go wrong.
This machine is a slightly better t shirt heat press for beginners, and for those wanting the extra support of HPN.
MPress Features:
Strong heavy duty machine
Non stick platen with cast in heating element
Digital time & temperature settings
1 year parts & service warranty
Good for all the usual heat transfer applications
Pros:
Higher quality machines
Range of sizes to choose from
Quality control procedures
Access to heat press support
5.  F2C Multifunction Heat Press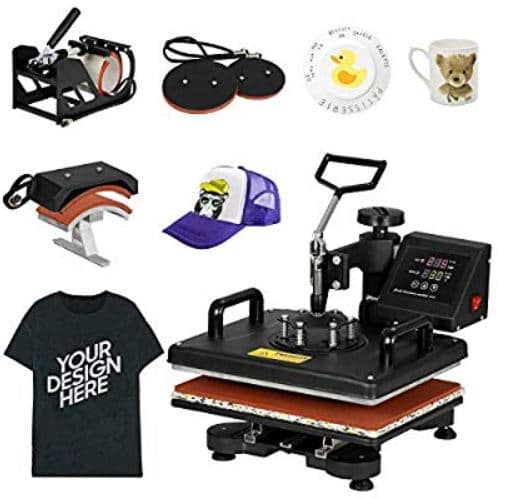 F2C 5 in 1 machines are an easier and cheaper way to add versatility and do different types of heat press projects.
These units are also available with more attachments, usually including:
a t shirt press
hat/cap attachment press
mug/cup heat press
attachments for pressing plates
There are a ton of multifunctional presses for sale on Amazon, which are good for home and small business use. The higher quality machines from Heat Press Nation are suitable for medium to large business.
Keep in mind that you can only have one type of press going at a time (ex only the hat press), and the attachments on cheaper machines can be tricky & fiddly to change.
Pros:
Opportunity to press on a variety of substrates
Transfer onto mugs, caps, tees, plates, jigsaw puzzles, ceramic tiles, & more
Many affordable options
Cons:
Cheap versions are error prone and lack customer support
Not as good results as with dedicated machines
Can be fiddly to use
6. TUSY T Shirt Press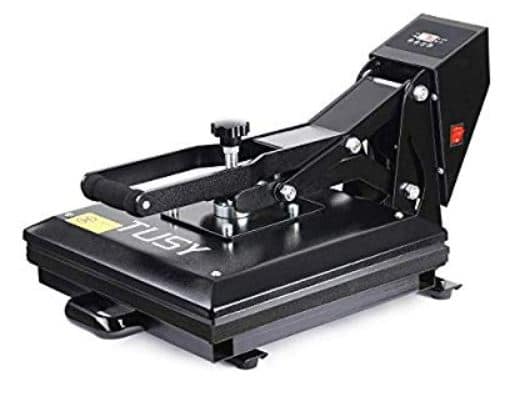 The TUSY machine is another top press for shirts.
This unit has a different look from the PowerPress and Fancierstudio press, and also has some improved features.
The pressure is adjusted over the heat platen, rather than at the back of the press. This makes it easier to change and set correctly. It also has a handle on the lower platen which is great for preventing the machine from jumping when you open it!
There is an instruction manual, and some online videos to help you get started, and a ton of good reviews.
Pros:
Lower handle
Easy to set pressure knob
15 x 15 press
Complete all transfers
Different look
Cons:
Cheap machine for beginners
7. Transfer Crafts T-Shirt Heat Press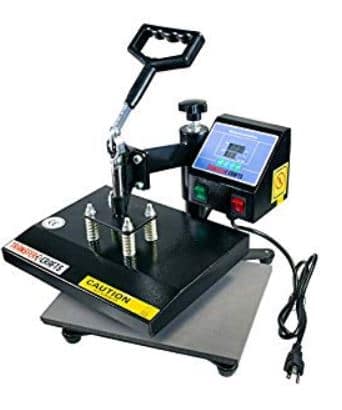 Small heat press machines like the 9 x 12 inch Transfer Crafts press are excellent for home craft and small business. There are many occasions where it's better to have a small machine handy, rather than having to get a big machine up to heat.
As with any category of heat press, there are the lower quality imports, the mid priced range imports, and the high priced US made machines. The best press for you will depend on your budget!
The Pink Craft Press is another popular small craft press that is solid and of sound quality. It weighs only 35 pounds, has a 9 x 12 inch heat platen, and over the plate pressure adjustment.
Pros:
Good for small transfers
Easy to store
Press labels & tags
Light weight
Cons:
Can't do larger transfers
8. Black Series Heat Press Machine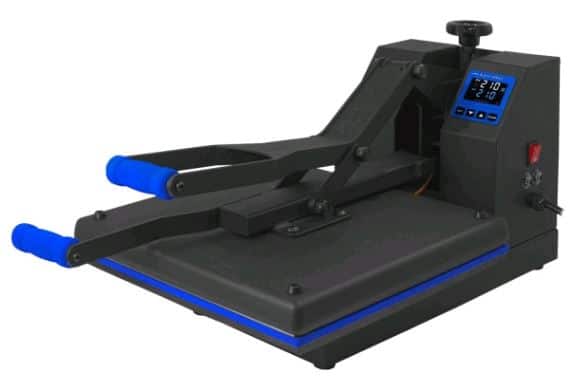 The Black Series Heat Press range has better quality components and smoother ease of use than the cheap presses.
There are 14 different heat press machines in this series with different sizes, styles, and functions.
There are, for example:
clamshell heat press machines (9×12 – 16×24 inches)
swing-away design heat press machines (9×12 – 16×20 inches)
8 in 1 multifunction heat press machines
cap, mug, & label press machines
And, as with the MPress, you know you are getting a machine that has been tested, gone through a quality control process, and comes with access to support.
One of the great things about some Black Series machines is the extra lever on the top of the platen. You are able to hold this down while opening the machine, which supports the press and stops it from jolting upwards!
Features:
Clamshell press can take substrates 1/2 inch thick
Machines come with a 1 year warranty
In depth user manuals & online resources
Often used on HPN YouTube Channel
Large range of Black Series buying options
Pros:
Higher quality machines
Range of sizes to choose from
Quality control procedures
Access to heat press support
Cons:
Lacks some top quality features
9. Signature Series Heat Press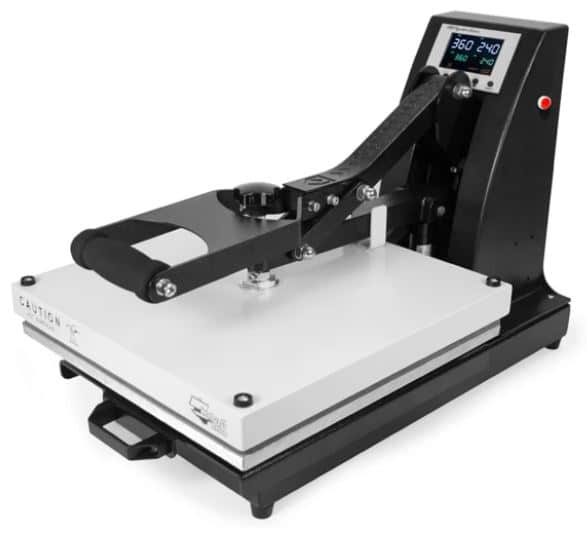 HPN Signature Series Heat Press Machines are the best heat press machines in their price range. They are more than suitable for advanced small business.
The Signature Series Press is best for the serious t shirt business with regular and consistent customers. It's for those who need the press to do the work for them.
Signature Series Features:
A range of auto open options (magnetic release)
Some with draw style opening
Upgraded time & temperature gauges
Gas shock opening for smooth action
Pros:
High quality components
Durable long lasting heat press
Stylish look & feel
Upgraded & with special features
Cons:
Much more costly
Not as good as US made
10. Heat Press Bundle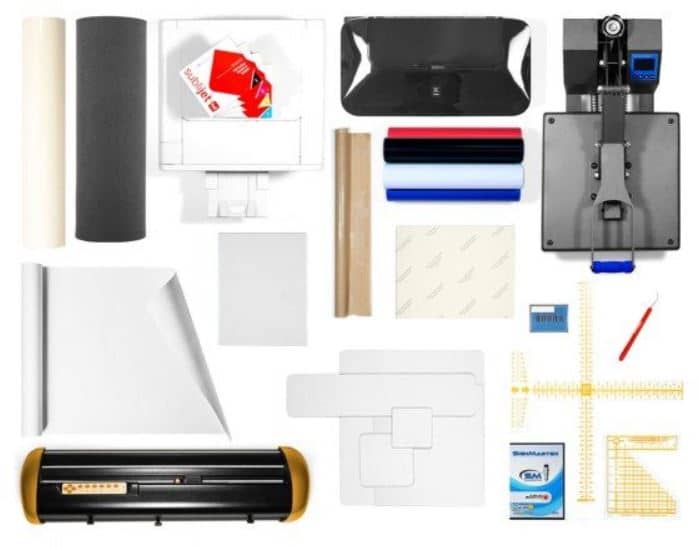 For many who are going into t shirt business, a heat press bundle or business package may be the best option. You can pick up a printer, cutting machine, heat press accessories, and heat press, and pay less than if you'd bought them separately.
Consider a heat press bundle if:
you require a full business set up
it looks like it will work out cheaper
you really require the bundle items
it's in your business plan & budget
The press bundles from HPN are very attractive for small to medium sized business start-ups.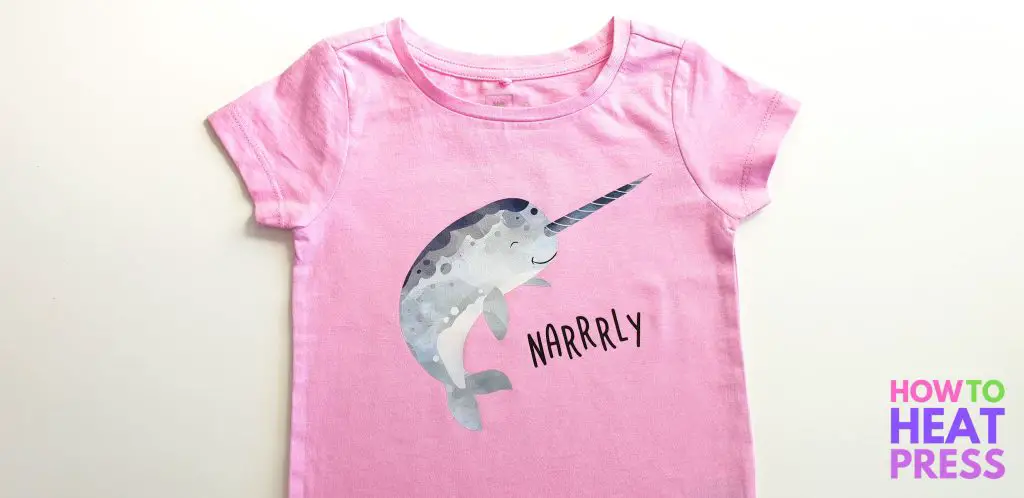 Heat Press Buyers Guide
Here are 5 things to keep in mind when buying a t shirt press machine:
Do they have a website?

What are their buyer reviews like?

How long is the warranty?

Does it come with bonuses?

Is it worth the price?
1. Do They Have A Website?
Buying from a seller that has a website can make it easier to make contact if anything goes wrong. If buying from Amazon, Google the name of your seller to see what comes up.
For example, Heat Press Nation has a very good website. They are very easy to contact and offer buying and ongoing technical support.
2. What Are The Reviews Like?
This is pretty straightforward – of course you're not going to buy from a seller with a ton of negative reviews. But it becomes difficult because most sellers have some good and some bad reviews. 
A couple of my favorite negative heat press reviews include: "I'm being generous giving this press one star…". Or, "They should have called this a de-press-ed heat machine because that's how I feel after buying it…".
Hilarious. But I think it's important to keep in mind that there are always going to be faults and flaws which occur in products – and perhaps even more so in industrial electrical equipment like heat press machines.
Overall, if a heat press has a 4+ star rating, you're onto a winner.
3. Warranty
Compare warranty lengths between the heat presses before making your purchase.
Some are 6 months, some are 1 year, and some of the more quality machines are even longer!
4. Bonuses
Does the heat press come with any bonus products?
These might include:
Teflon sheets

Sheets of vinyl

Blank t-shirts, tote bags, or mouse pads

Free shipping
It can be tempting to choose a machine simply because it comes with freebies, but use the other guidelines before letting this one determine your choice.
5. Price
This is often the first consideration people have in mind when it comes to purchasing a transfer press. We'd encourage you to really consider your needs because getting the cheapest press isn't going to be best for everyone. Also, spending money for features you'll never make use of is inadvisable as well. 
Occasionally you'll be able to find a quality used heat press and that's absolutely a great way to go!
If after comparing sellers you see they are all selling the same (or very similar) press, and there is little else differentiating them from one another but the name, just go with the cheapest.
Best T Shirt Press
We hope this has helped you to settle on the right t shirt press for your needs.
We'd love to hear from you – what are your thoughts and questions? Leave comments below and we'll get back to you asap.
Thanks for reading! Please pin for later 🙂
(Please note: This post contains affiliate links. Read our full disclosure policy here.)