The 10 Best Heat Press Machines & Ultimate Heat Press Buying Guide
What is the best heat press machine?
We've got heat press recommendations for people at all different levels, from beginner to advanced. We've been using these machines ourselves for many years now, and enjoy sharing what we've learned in posts like this!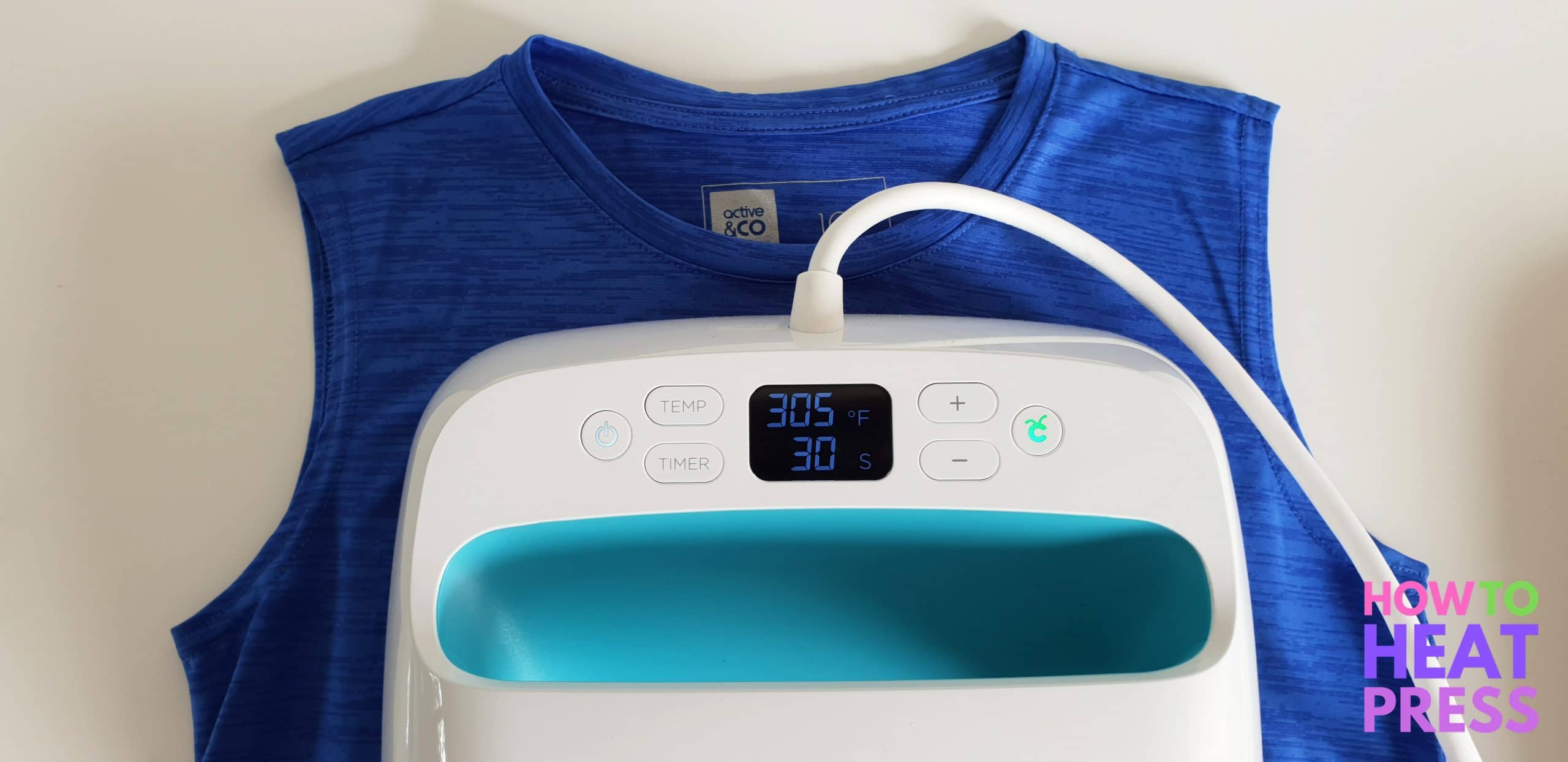 In this post we want to share with you a range of the best heat press machines for beginners and those looking to upgrade. For the most part, these are cheap heat press machines, though we do include some higher quality (and therefore more expensive) heat presses.
As always, the more you spend the better the quality, but if you're just starting out, it's better to get the best cheap heat press and work your way up from there as you need. It all depends on your budget!
In our opinion, here are the 10 best heat press machines for beginners to advanced small business – we'll get into much more detail below.
The Cricut Easy Press 2
The Power Press Heat Press
The MPress 15 x 15 from Heat Press Nation
The Fancierstudio 15 x 15 Power Heat Press
The Heat Press Nation Craft Pro T-Shirt Press
Heat Press Nation Black Series Heat Press Machines
Siser Heat Press Machines
The F2C 5 in 1 Multifunction Heat Press
The Pink Craft Press
HPN Signature Series Heat Press Machines
While we only own the first two heat presses on the list, we have literally spent thousands of hours researching and writing about heat press machines. That's what leads us to these recommendations.
The Best Heat Press Machines For Beginners
We also recommend you check Amazon's 'Best Selling & Top Rated Heat Press' List – it's updated each hour based on real buyer reviews and ratings.
1. The Cricut Easy Press 2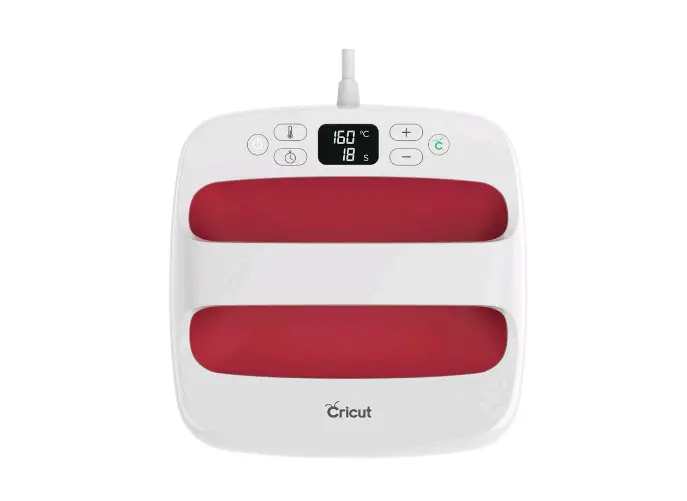 In position number one we've got the Cricut Easy Press 2. While this machine is more like a cross between a heat press machine and an iron, it is a great way to get started making your own HTV projects.
Cricut is a very highly respected brand, known for creating high-quality products that work well and last a long time. They have awesome customer support and helpful resources – not to mention huge Facebook communities.
What makes it so special?
It's a cheap heat press
It's a very small heat press – compact, easy to store, and portable
It's very easy to learn how to use it, even if you have had no experience
It's a safe press that even kids can use (with supervision)
For sale in 3 different sizes (6×7, 9×9, 12×10 inches)
Easy Press 2 Features
A 9 x 9 inch hot plate with consistent, even heat
A digital time and temperature display
Automatic shut off after 10 minutes
A heat resistant safety base
Quick set up and heat up time
Easy Press 2 Cons:
A smaller pressing area than most industrial heat press machines
It can't apply as much pressure as a traditional t-shirt press – you must place it on the garment and apply pressure
If you want to know more about the Cricut Easy Press 2, make sure you take a look at our EasyPress 2 features review here. We also compare the EasyPress with a heat press in that post. We also have a list of pros and cons of the EasyPress, featuring the original model.
2. PowerPress Industrial-Quality T-Shirt Heat Transfer Press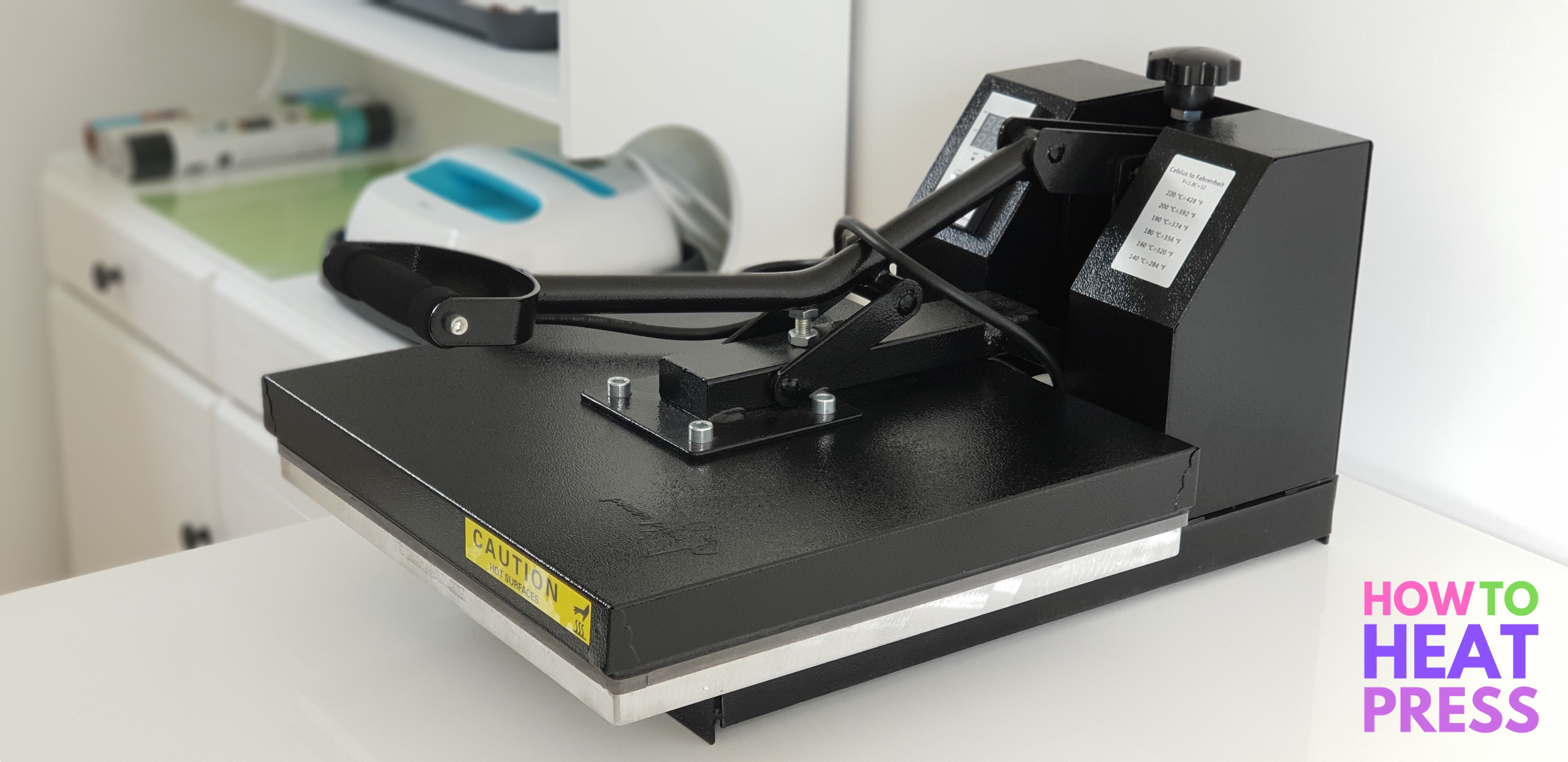 The Power Press heat press has got to be the most famous 15×15 heat press machine. It is by far the best selling heat press on Amazon, and therefore probably all of the US.
This is a basic machine, like all cheap heat presses, but it works well and we've been really happy with the results we get. It's not the heat press you would choose for a large thriving t-shirt business, but it's great for making t-shirts for friends and family, doing craft projects, and for smaller home business purposes.
Power Press Features
Digital time and temperature screen
Temperature range of  0 – 500 degrees F
Adjustable pressure knob on top
Silicon base plate
A thickened aluminum and coated heat platen
A heavy duty steel frame
Replaceable fuse and safe electrical system
Able to press flat items up to 3/4 inch thick (approx.)
Power Press Cons
Cheap machines don't function as well as more expensive US made machines
Not as smooth to use as more expensive machines
A very small percentage of machines will arrive with faults & need to be returned or exchanged
However, this is definitely one of the best heat press machines for t-shirts and other home craft projects. It's the one we chose for our first heat press. You can find out more info in our full PowerPress article, or click below to read more buyer reviews.
3. The MPress 15″ x 15″ Heat Press Transfer Machine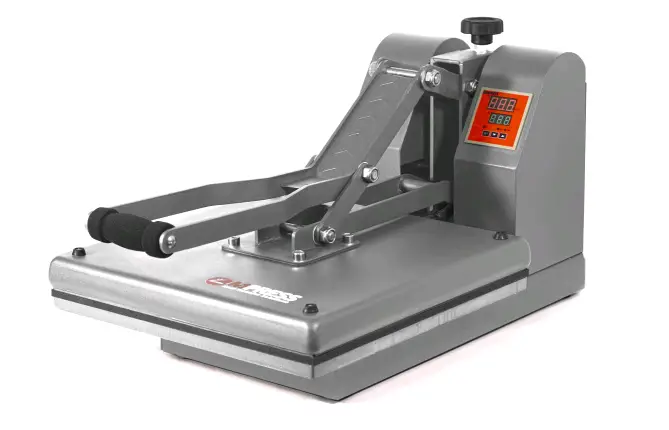 The MPress is a 15 x 15 heat press sold by Heat Press Nation. That's why it looks a little different from the standard machines for sale on Amazon. It is an incredibly well reviewed clamshell heat press machine, good for small business and home use.
MPress Features
Watch this video to see all the features of the MPress.
The MPress is definitely worth checking out, especially if you're a little weary of the Amazon sellers (not that I've ever had a problem with them).
4. Fancierstudio Power Heat Press 15 x 15 T-Shirt Press Machine
Fancierstudio offer a range of heat presses, with this 15×15 press being their most popular. Very similar to the Power Press above, Fancierstudio t-shirt presses really only differ in the branding. They are basically the same machine (you can read more about this in the buying guide after these reviews).
Here are the features of the machine pictured above.
Fancierstudio Heat Press Features
15 x 15 inch press suitable for pressing large transfers
Automatic time & temperature display
Affixed silicon rubber base
Non-stick coating on heat platen
Free Teflon sheet included
Clamshell style
Fancierstudio Cons
As with the Power Press, this machine isn't going to act like a $1000 heat press (because it's not one)
Customer support can also be a bit lacking from these retailers, though you can visit Fancierstudio's website to start chatting
Also, some machines will arrive with faults
Nevertheless, I wouldn't hesitate to buy one of these vinyl heat press machines if the price was right (which it very often is!). For my starter heat press, I was tossing up between a Fancierstudio and a Power Press. I only chose Power Press because it shipped cheaper at the time! Read our Fancierstudio article for more info, or click below for buyer reviews. The ePhoto Heat Press is another very similar machine with good reviews.
5. Heat Press Nation Craft Pro T Shirt Press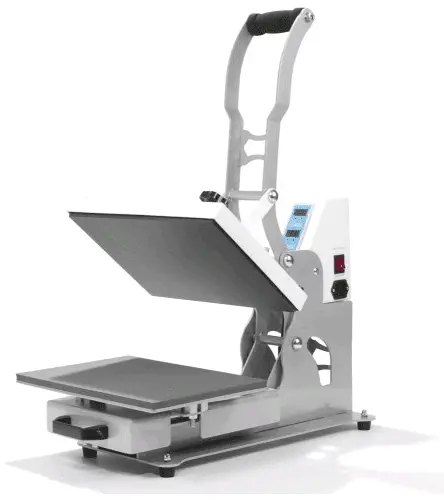 This high quality heat press from Heat Press Nation comes in 2 sizes. Choose either 13 x 9 inches, or standard 15 x 15 inches. Design with heat press crafts in mind, this is probably the cheapest draw style heat press, allowing you to work away from the heat.
Heat Press Nation are one of the top heat press retailers in the US.
HPN Craft Press Features
consistent heat and pressure from a quality heat platen coil
floatational upper platen
a more slimline design
digital time and temperature display
draw style clamshell press
Draw style machines make things easier when preparing to press. In particular, if you do vinyl layering projects, draw machines make it A LOT easier. You are able to pull the project right out on the platen, and precisely apply the next layer without having your view impaired or hands burned.
6. HPN Black Series High Pressure Heat Press Machine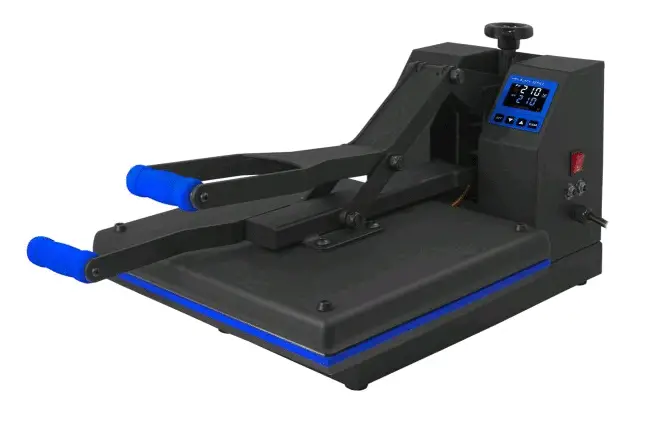 There are 14 different heat press machines in the Heat Press Nation Black Series range. These are different sizes, different styles, and different functions. The machine pictured above is the HPN 15 x 15 inch Black Series press, and is a very good machine for starting out.
One of the things I love about the Black Series is that extra lever on the top of the platen. You are able to hold this down while opening the machine, and you don't end up with a jumping heat press! (For those who haven't experienced this, with many machines, if they're not bolted to a surface, when you open the machine it can spring open and lift up off the table).
Why Consider HPN Heat Transfer Machines?
They have a website with live support – easily get in touch if you have any problems
Technical support included with purchase of an HPN machine
Great reviews and high star ratings
They are specialists in the field of heat presses and cutting machines
HPN have the experience and expertise that comes from being in the industry a long time
1 year warranty
In depth user manuals
Besides all these reasons, the machines themselves are a better quality than the cheap heat press machines. There is a greater quality control process that a heat press goes through to be sold on Heat Press Nation's website.
7. 

Siser Heat Press Machines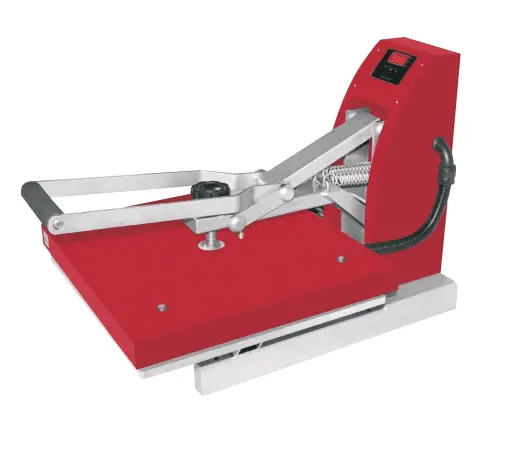 The Siser Heat Press comes from the creators of the world famous Siser EasyWeed HTV. Their machines are of much higher quality than the really cheap heat press machines – you can tell just by looking at them!
They sell this exact same press in 3 different sizes:
11 x 15 inches
15 x 15 inches
16 x 20 inches
Features Of The Siser Heat Press
Trusted & sold by very reputable and knowledgeable retailers
Upper floatational platen for even pressure
Strong, laser-cut steel frame
Fully circulating heating element for even press temperatures
This machine is for sale from a number of top retailers, so it's best to compare heat press prices among them. Take a look at our post on Siser Heat Press Machines and you will find a list of where you can compare prices to buy it at the best price!
8. F2C 5 In 1 Digital Swing-away T Shirt Press Machine
The F2C 5 In 1 T shirt press machine is the only multifunction heat press on this list. Along with t-shirts, this press can also press hats and caps, mugs, and plates. If you want a machine to make shirts but also want to dabble in other heat press crafts, a multifunction might be your best bet.
The attachment presses plug into the main electrical box that you can see on the t-shirt press, except for the cap press. The t-shirt pressing platens are removed and the hat press is installed in its place.
Features Of The F2C 5 In 1 Shirt Printing Press
12 x 15 inch t-shirt press
6 x 3 inch cap press
11 oz mug press
Two sizes of plate press: 1 x 5″ max diameter & 1 x 6″ max diameter plate
F2C 5 In 1 Cons
Attachment presses can be quite fiddly to install (especially the hat press)
The quality of the attachment presses is not as good as if you were buying each press individually (however, that would be super expensive!)
You can read in the reviews how happy the major majority of people are with their multifunction heat press. While you will mostly use the t shirt press, it's fun to have the option to use the other presses too. Sometimes I get a bit sick of pressing t shirt after t shirt, and it would be nice to do a cap or a plate!
9. The Pink Craft T-Shirt Press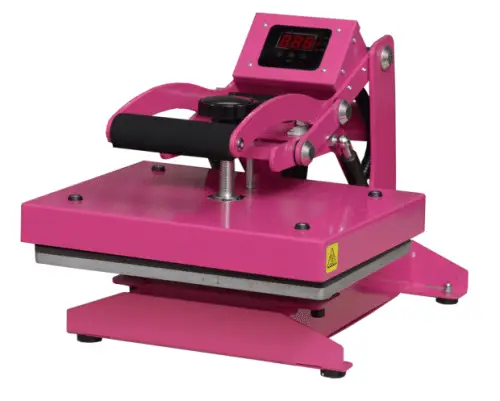 The Pink Craft Press is a very good small heat press. As you can see, it is very pink, and so will mostly appeal to the ladies.
The Craft Press has a 9 x 12 inch hot plate. You can be sure, however, that this machine is of a high quality. It is sold buy some of the best heat press retailers, including Heat Press Nation and Stahls Hotronix.
Craft Heat Press Features
Over the centre pressure adjustment
Non-stick coated platen
A lighter weight at 35 pounds
Scratch resistant powder coated
Digital time and temperature display
Why Consider This Heat Press?
Sold by the leading heading heat press retailers
Higher quality components than the cheaper heat press machines
Great support from sellers
Great online resources
The size and color are great for home crafters
You can read our Complete Pink Craft Press Review for more information, and to see other retailers.
10. Heat Press Nation Signature Series Range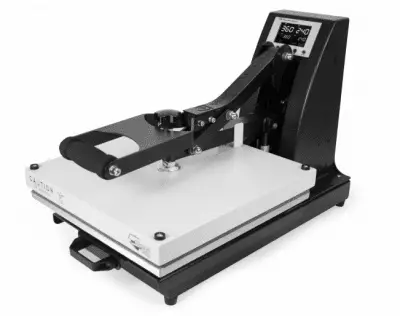 The HPN Signature Range of heat presses are very good heat presses. There are at least 20 different styles and sizes of heat press in the Signature Range, so if this is your price bracket you'll be able to find the perfect machine!
The HPN Signature Series machines differ from the HPN Black Series in the quality of components, the ease of use, the smooth opening and closing action, and better displays.
Here is an idea as to what's available in the HPN Signature Range:
Draw Style Press in 15 x 15, 16 x 20, & 16 x 24 inches
Auto Open Draw Press in 15 x 15, 16 x 20, & 16 x 24 inches
Swing Away Style Press in 12 x 15, 15 x 15, & 16 x 20 inches
Multifunction Heat Press as 8 in 1 OR 12 in 1 (same machine but with more or less attachments)
Label, Cap, Tag Heat Press Machines
Mug Heat Press Machines with variety of sizes up to 6 in 1
If you are lost on which machine to get, but you're wanting to do a range of clothing products, I highly recommend the 15 x 15 Draw Style machines, and go Auto-Open if it's in your budget! It's so nice not having to be there to open the machine if something comes up.
All these machines are priced mid-range (though significantly more than the cheap Amazon machines) and are more than suitable for advanced small business operations.
Heat Press Buying Guide
If you would like to know more about heat press styles and sizes, different heat press brands and places to buy them, see our beginners guide to heat press machines. In the next section of this article we've got 5 ways to find the best heat press seller.
To find the best t-shirt press seller, we recommend asking the following 5 questions:
Do they have a website?

What is their star rating?

How long is the warranty?

Does the heat press come with bonuses?

How much does it cost?
1. Do They Have A Website?
Buying from a seller that has a website can make it easier to make contact if anything goes wrong. If buying from Amazon, google the name of your seller to see what comes up.
For example, Heat Press Nation has a very good website. They are very easy to contact and offer buying and ongoing technical support.
2. What Is Their Star Rating?
The second guideline to follow in choosing a seller is to review their heat press reviews!
This is pretty straightforward – of course you're not going to buy from a seller with a ton of negative reviews. But it becomes difficult because most sellers have some good and some bad reviews. 
A couple of my favorite negative heat press reviews include: "I'm being generous giving this heat press one star…". Or, "They should have called this a de-press-ed heat machine because that's how I feel after buying it…".
Hilarious. But I think it's important to keep in mind that there are always going to be faults and flaws which occur in products – and perhaps even more so in industrial electrical equipment like heat press machines.
Overall, if a heat press has a 4+ star rating, you're onto a winner.
3. Best Heat Press Warranty
Compare warranty lengths between the heat presses before making your purchase.
Some are 6 months, some are 1 year, and the more expensive models do it a bit different.
4. Heat Press Bonuses
This is a relatively minor consideration in the big scheme of things. Does the heat press come with any bonus products?
These might include:
Teflon sheets

Sheets of vinyl

Blank t-shirts

Free shipping
It can be tempting to choose a machine simply because it has a freebie with it, but I would use the other guidelines first before letting this one determine your choice.
5. How Much Does The Heat Press Cost?
This is often the only consideration people have in mind when it comes to purchasing a heat press. While it is important, you will hopefully see through reading this article that there are other factors as well. 
If after comparing sellers you see they are all selling the same (or very similar) press, and there is little else differentiating them from one another but the name, then I would just go with the cheapest.
Heat Press Seller Recommendations
Finally, I want to recommend two cheap heat press sellers and heat press machines that I think do score highly on these criteria. 
The Power Press Heat Press
The PowerPress Heat Press is our first choice for a cheap beginners heat press.
The Power Press seller:
Has good reviews and ratings
6 month warranty
Has been selling these presses since 2012
Can be picked up at a very reasonable price
Heat Press Nation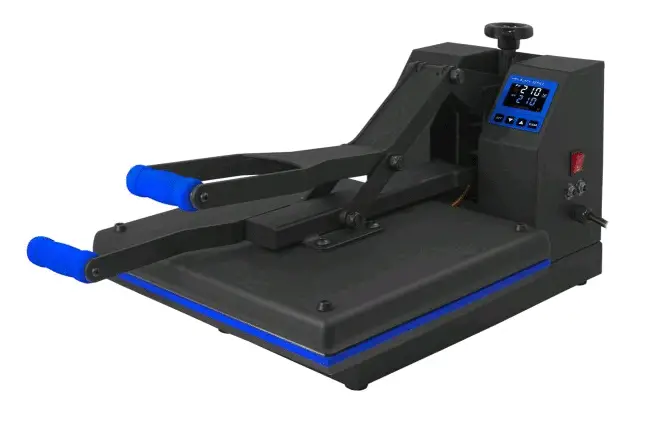 Heat Press Nation is where you want to buy if you're looking to level up. These are not the cheapest machines, but they're not the most expensive either. If you are starting out in business, HPN presses will likely be perfectly suited to you.
Best T-Shirt Heat Press
Ok, if you've made it this far, you've done well! We hope this has helped to choose a heat press.
We'd love to hear from you – what are your thoughts and questions? Leave comments below and we'll get back to you asap.
Thanks for reading! Please pin for later 🙂
(Please note: This post contains affiliate links. Read our full disclosure policy here.)