Black Friday – Cyber Monday Cricut, Craft & Heat Press Deals 2018
Well, those were some excellent Black Friday Cricut, Craft and Heat Press Deals!! Now I can't wait for next year. I've left a few of the deals listed down below so that we can reminisce about what was, but understand that most (if not all) of these deals have expired!
The Black Friday & Cyber Monday Sales:
Cyber Monday Craft Deals
Cricut's Cyber Monday Sale
Astounding Heat Press Nation Discounts
Reduced Price Vinyl & Iron-On
Cut Price Cutting Machines
Skim through all the deals, right down to the bottom, so you don't miss anything.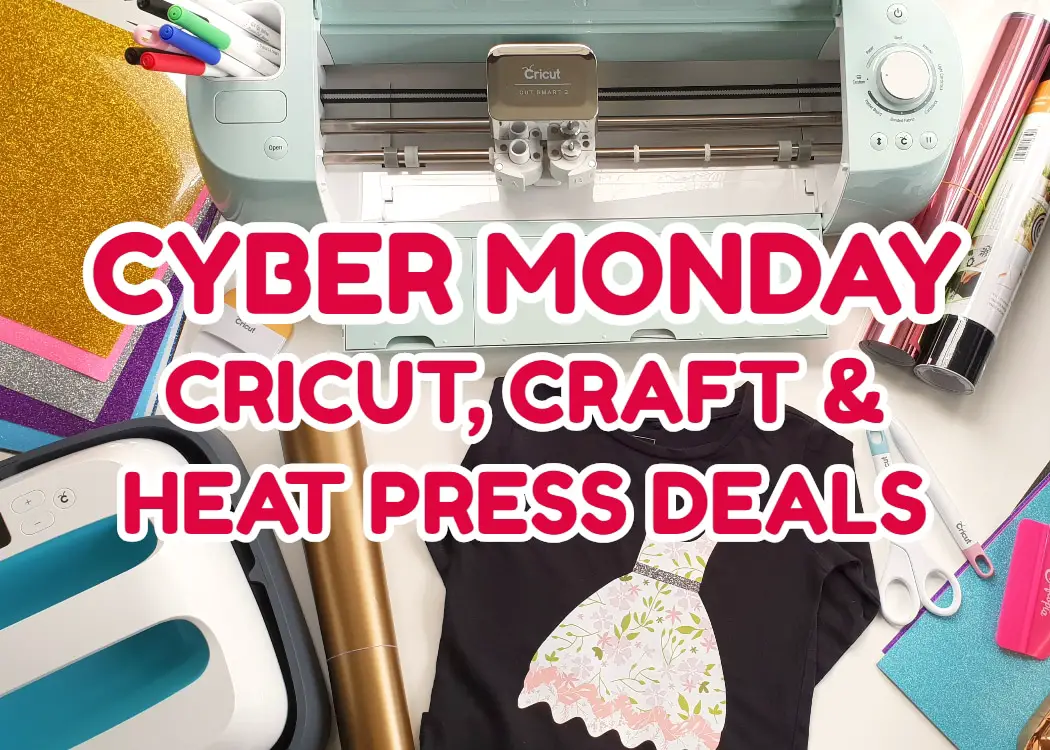 Black Friday – Cyber Monday Craft Deals 2018
Here are the Heat Press Sales and Cricut Deals:

 The Mpress is HPN's cheapest 15×15 inch heat press. It is a great price for a quality entry level machine.

Heat Press Nation's Cyber Monday Deals are amazing!
These deals include more than 30% off MANY high quality heat press machines, 10% off Siser HTV, and much more (further details and sale item examples down below ?).
The Cricut Explore Air 2 is still totally cheap right now on Amazon! Available in Mint or Persimmon.
Or consider the major price reductions on these Explore Air 2 Bundles. The materials & accessories are worth far more than the extra cost to buy them in a bundle.
The price of the Cricut Maker has been reduced even further on Amazon. Available in 2 colors: Champagne or Rose.
Or again, you may prefer to grab a discounted Cricut Maker Bundle if you do not already have many materials or accessories.
 All 3 sizes of the new Cricut EasyPress 2 are currently on sale.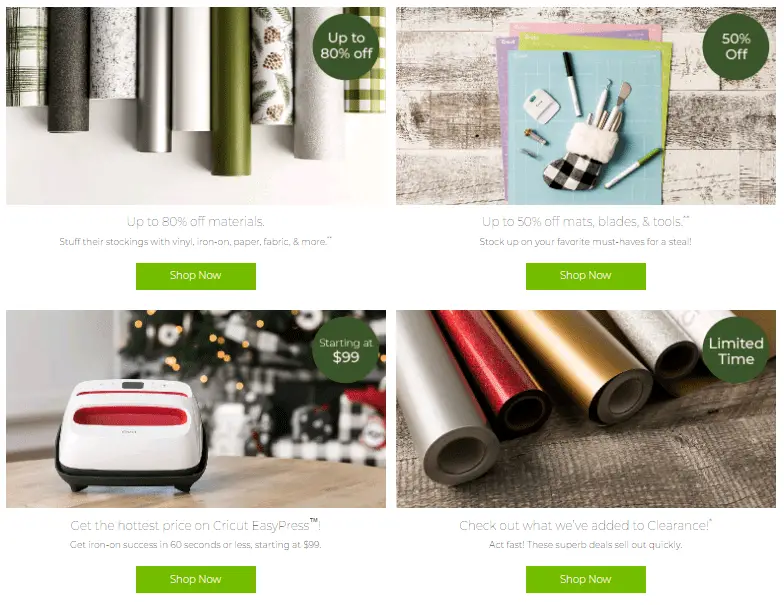 One of my favorite sales this Thanksgiving Week is The Cricut Cyber Monday Sale!
Up to 80% OFF Cricut materials (vinyl, iron-on, paper…)
An updated clearance category
Cheap EasyPress machines and reduced cutting machine bundles
Free Shipping on purchases over $49 with Code FREESHIP49.
Black Friday – Cyber Monday Cricut & Craft Sales
This is a fantastic deal on a heat press pillow set! These are used to gain better pressure when heat pressing garments with buttons, seams, zippers, etc.
Half Price Cricut Cutting Mats. Standard grip, light grip, fabric grip, strong grip, self-healing mats – all sizes!
Avery Transfer Paper for White T-shirts is super cheap. You need an inkjet printer to use this product, and it is applied with a heat press, EasyPress, or iron.
Avery Dark T-Shirt Transfer Paper on sale. If you haven't tried making an inkjet t-shirt transfer, you should! This paper is for t-shirts that are not white,
The Cricut Brightpad is only $49.99! Use this to help when weeding vinyl and iron-on.
Creative Fabrica have some great discounts going. SVGs, Fonts, Clipart, graphics, cut files for Cricut, Silhouette, Brother.
Cricut Iron-On Half Price! Foil, Patterned, Cricut Sportflex, Glitter, Everyday Iron-On… You name it, it's on sale. It's the perfect time to stock up!
 The original EasyPress is now very cheap. I have this machine, use it all the time, and absolutely love it.

Quality mug heat press machine. Make awesome custom Christmas gifts this
The Cricut Knife Blade & Housing is SO CHEAP on Amazon. For use with the Maker for cutting wood, leather, foam, etc.
The Cricut Bonded Fabric Blade is half price. For use with the Cricut Maker for bonded fabric projects.
The Cricut Deep Cut Blade is also 50% OFF. Such a great time to pick up these accessories cheap!
25% OFF all graphics on Hungry Jpeg with code JPEG25. Christmas & holiday graphics, winter & seasonal graphics – There's a huge selection at 25% OFF.
Cricut transfer tape @ 50% OFF. Trasnfer paper is needed for applying adhesive vinyl.
If you're getting (or already have) an EasyPress, don't forget to grab an official pressing mat.  They are on sale on Amazon.
Heat Press Stands (and other supplies) from Heat Press Nation. It's a great deal for a strong and sturdy dedicated heat press stand.
Font Bundle's Cyber Monday $1 Event! 3000 fonts going for $1 each (500 copies of each available).
The Cricut Everyday Pen Set is 50% OFF. Three different colors in medium and fine point.
Cricut Sportflex Iron-On is made for use on active wear (fabrics like nylon & polyester).
The Sizzix Big Shot Starter Kit price is reduced. Great for card-making and scrapbooking.
The Cricut Essentials Tool Kit = 50% OFF. All the tools you'll need in Lilac, Rose, Mint or Blue.
This pack of 40 12×12 inch sheets of adhesive vinyl works great with Cricut at half the price of Cricut vinyl! I have this pack and it's taken a while to make a dent in it – there's so much!
Black Friday Heat Press Deals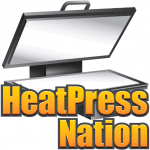 Heat Press Nation's awesome Black Friday Heat Press Sale is well underway. Each day there are more great deals being released, but there is already so much to choose from!
There are tons of high quality heat press machines, in the full range of sizes and styles, for sale at amazing prices.
Many heat press machines in the HPN Black Series range are on sale – some with over 30% OFF!
SEE THE FULL BLACK SERIES RANGE HERE

The same goes with the HPN Signature Series range – most (if not all) are dramatically discounted for Cyber Monday.
SEE THE FULL SIGNATURE SERIES HERE

The range of HPN Mug Press Machines is also on the cheap!
SEE THE FULL RANGE OF MUG PRESS MACHINES
Other Heat Press Nation Deals include:
10% OFF Siser heat transfer vinyl & free shipping
10% OFF all sublimation paper
10% OFF blank mugs and drinkware
10% OFF Silhouette cutting machine bundles
Store credit & free shipping on top-of-the-line US made heat press machines
Cyber Monday Cricut EasyPress 2
The EasyPress 2 has been reduced for the Thanksgiving Sales 2018!
This heat press is the latest Cricut product release (more info about it here), featuring many improvements on the original EasyPress. Compare prices to see the discounts!
Best Cyber Monday 2018 Cut File Deals
There are bound to be tons of great SVG freebies, cheap cut files, and awesome font deals, especially on Cyber Monday. We'll have deals from:
Black Friday – Cyber Monday Christmas Craft Deals
The Black Friday sales are the perfect way to get ready for Christmas. This means grabbing gifts for your loved ones, and grabbing craft supplies for yourself ?
Here's more of what we'll be including as the deals are released closer to November 23 2018:
early Black Friday craft deals
Cricut Black Friday deals
vinyl and iron on sales
heat press machine (including EasyPress) deals for Black Friday
heat press accessories and supplies
Silhouette Cameo sales
Clipart, graphics, SVG & cut file freebies and cheapies
Tons of other Black Friday craft deals
Amazon Black Friday deals
cyber Monday Cricut & craft sales
Whether you're buying for yourself or your loved ones, there are going to be awesome deals for crafters of all persuasions.
Most deals are only released on the day and so we'll be updating the list below as they come. We're constantly scouring the internet for the cheapest and very best Black Friday craft supplies!
Black Friday Craft Deals
That's all the speculating I'll do for now – keep checking back for early Black Friday Craft deals.
Subscribe to our email list as we'll be emailing out the best Craft and Cricut deals as they're released!
Stay tuned as well for Cyber Monday deals: will we get cheap Cricut Design Space access? (Not guaranteed!) There are sure to be great cut file deals, craft downloads, and other Black Friday digital amazingness.
(Please note: This post contains affiliate links. Read our full disclosure policy here.)