The Ultimate Seasonal Heat Press and Cricut Craft Calendar
This post contains affiliate links. If you use these links to buy something, we may earn a commission, but it doesn't cost you anything. Thanks!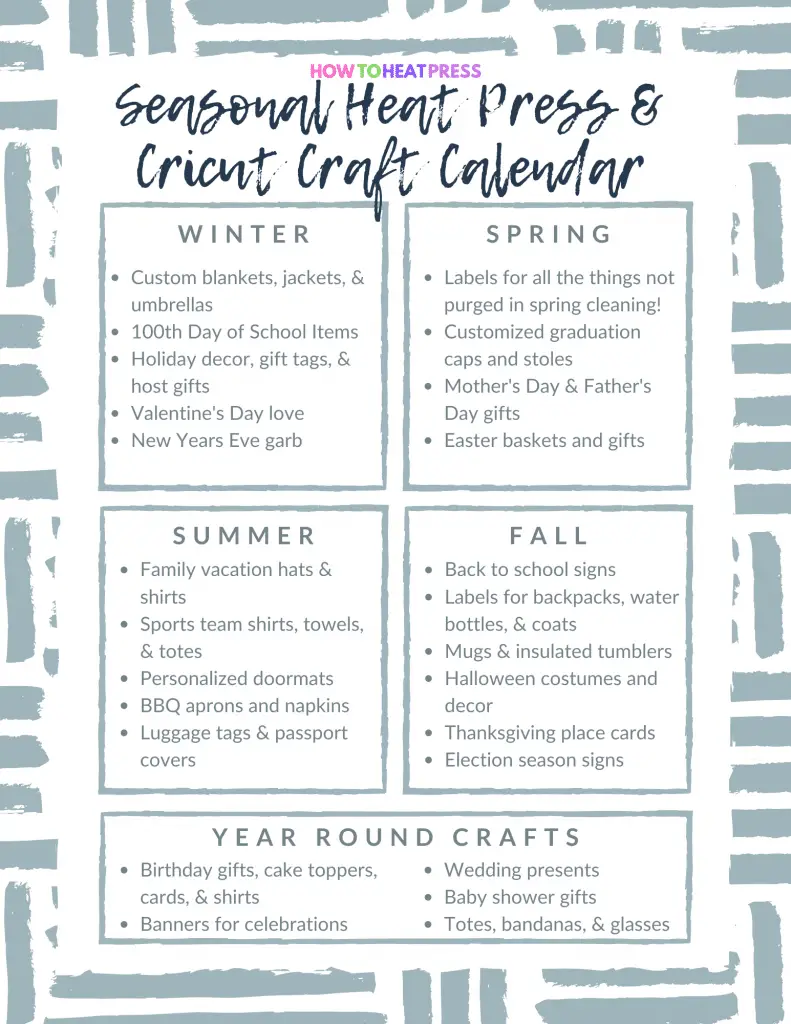 The humble heat press is an exceptional tool for anyone who's creative at heart. You can unleash your inner artistic spirit on just about anything, creating a magical masterpiece that's 100% personalized!
But what should you make with your Cricut? What heat press projects are quick and easy? What should I make now that I can sell in a few months? We have the answers to all of these questions and more!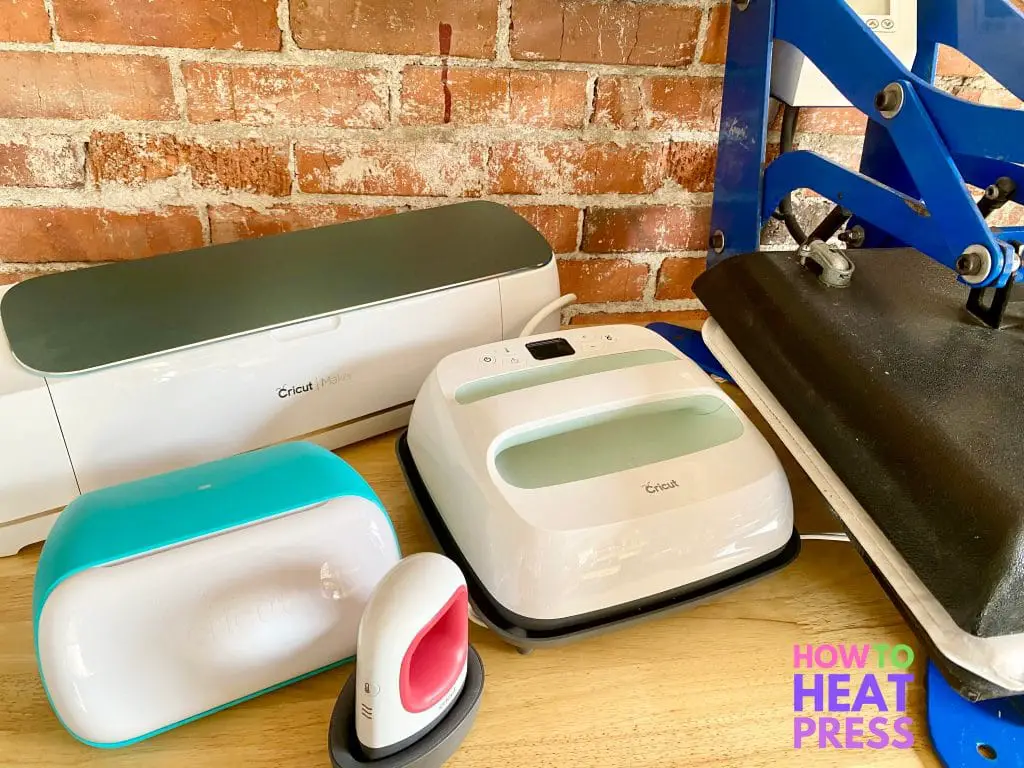 Heat presses use pressure and heat to apply unique designs onto a wide range of surfaces, including fabrics, metal, glass, resin, plastic, paper, and more… The possibilities are endless.
A high-quality heat press can lend a high-quality, professional touch to any seasonal crafts and creations you can dream of. Along with a good cutting machine you can use yours to customize virtually any item you can think of, from t-shirts to baseball caps, wine glasses to banners, and birthday cake toppers to spooktastic Halloween costumes for the trick-or-treaters in your life.
Without further ado, here's a collection of all of our best seasonal ideas for heat press & Cricut crafts, from summer through to winter and all year round! Make sure not to miss our handy printable inspiration guide at the bottom : )
Year-Round Heat Press and Cricut Craft Projects
Special seasonal crafts are always fun, but you can use your heat press to create awesome crafts all year round, too. 
Check out these top ideas for year-round inspiration.
Birthdays
Not only can you use a heat press to create stunning birthday decorations and favors, but you can also rope the birthday boy or girl into the process for additional fun.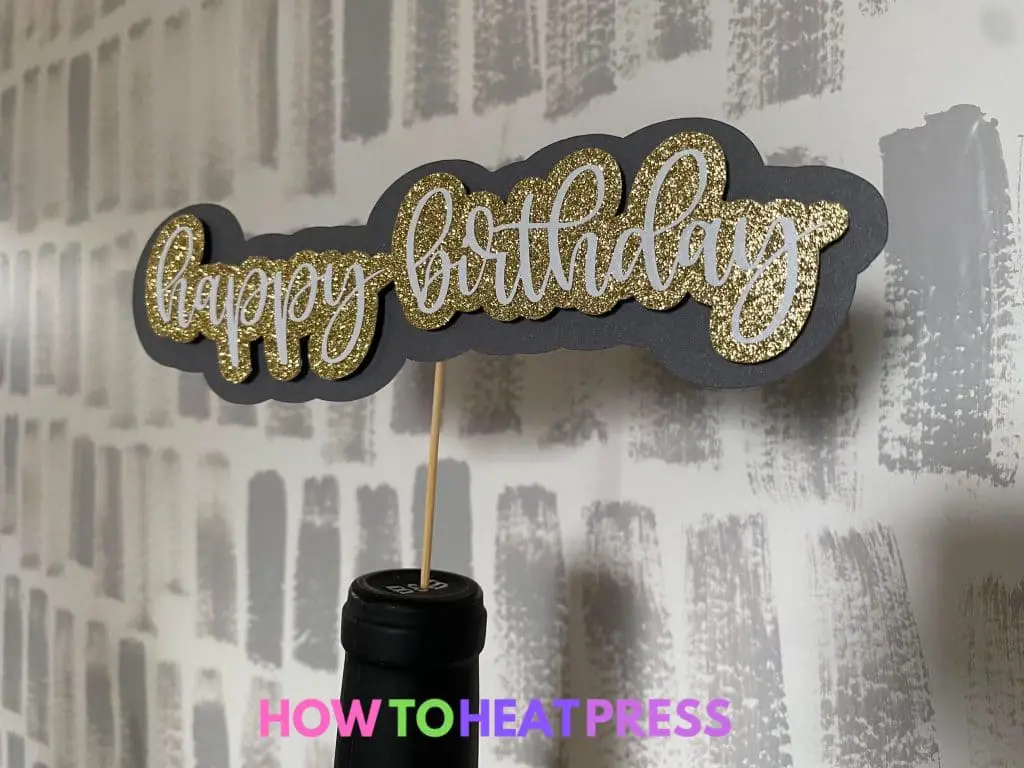 You can use your press to create unique team t-shirts for birthday party games, themed tote bags for scavenger hunts, and pre-cut party signs to let guests know that they're at the right venue. 
Why not make every guest a personalized gift to thank them for coming, too? A heat-pressed shirt, hat, pin or drink koozie with each guest's name on it will help to make any special occasion even more memorable.
Cake Toppers
Your heat press can make eye-catching cake toppers (or my favorite, wine bottle toppers) for birthday cakes, wedding cakes, anniversary cakes, and virtually any other celebratory confections you can think of. Use your imagination and create a cake topper that steals the show.
Banners & Bunting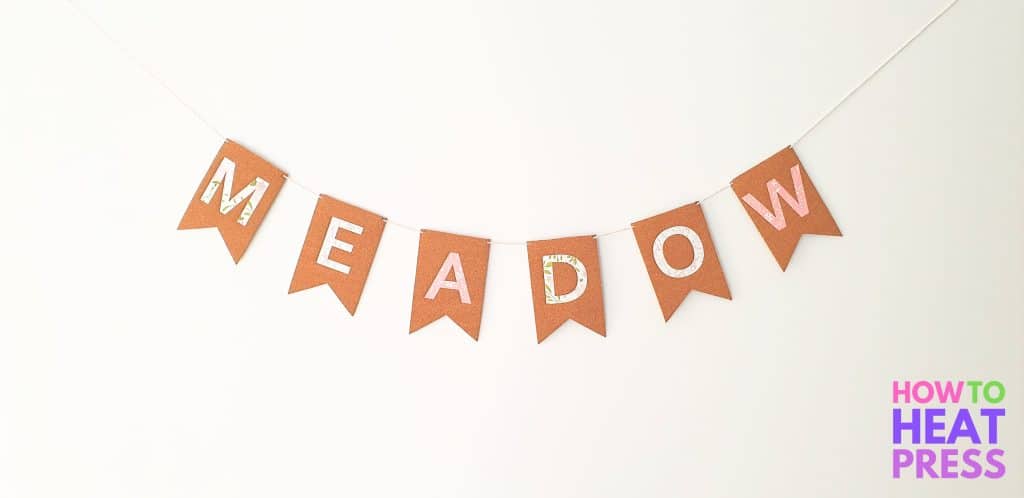 What's a celebration without a few banners or some bunting to set the mood? Create colorful banners and flags to add a special touch to any occasion. Alternatively, create bunting that's used for decor in your little one's room, or to liven up a playroom or outdoor party space. Vintage-style bunting is always super trendy, so why not make your own?
Home Decor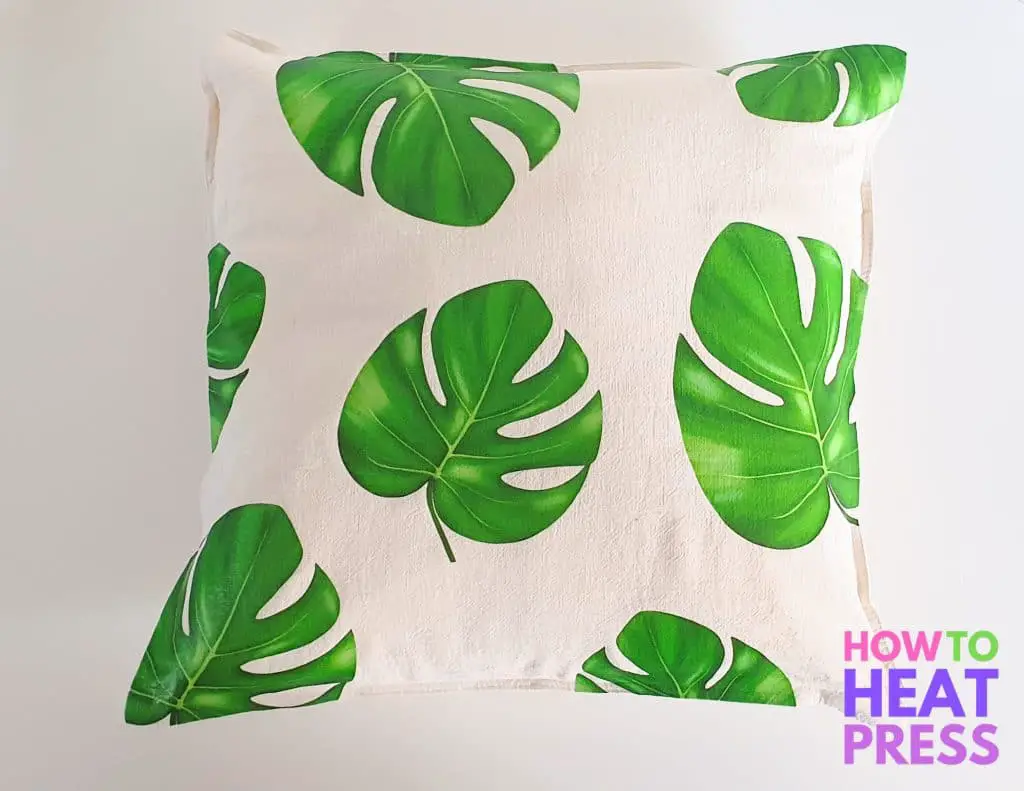 Heat presses can help you to create unique table centerpieces, hanging ornaments, customized posters, pillows, and even vinyl window stickers to brighten the room. Choose a theme and make decorations that tie in perfectly. 
T-Shirts
Everyone loves a one-of-a-kind t-shirt, and there's no limit to the kinds of garments you can create with a heat press. Make custom shirts for team-building exercises, stag and hen parties, baby showers, and family vacations to make your next outing one to remember.
Upgraded Gifts
A plain and simple item from the Dollar Store can be given an instant upgrade with the help of your trusty press machine.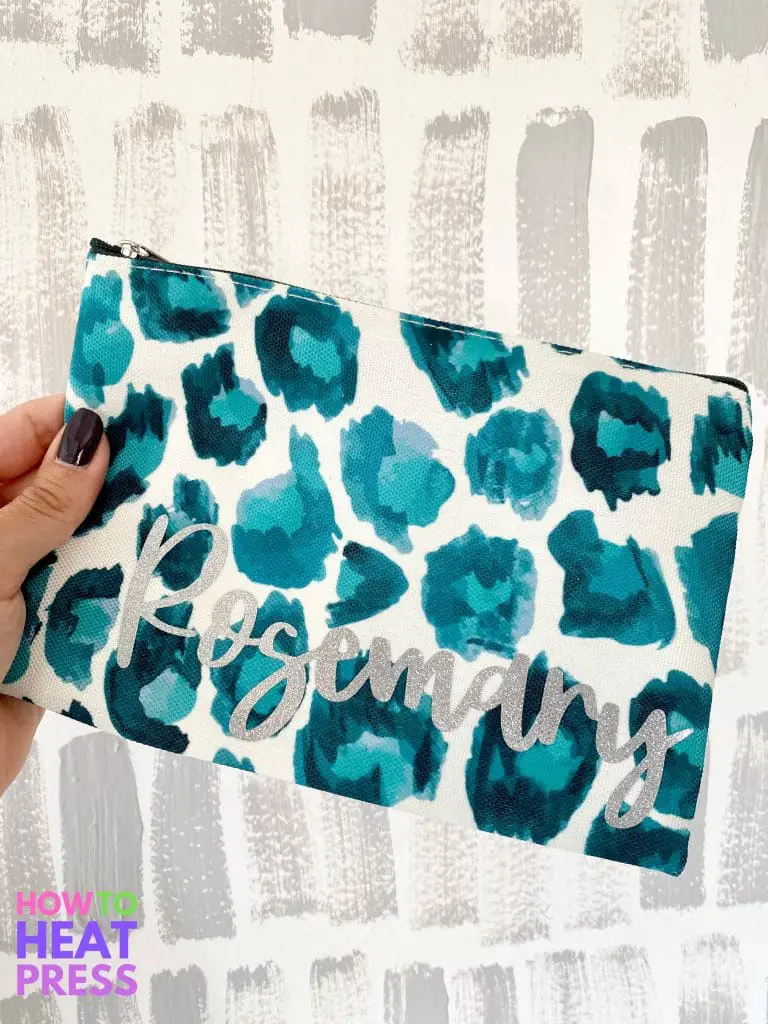 Cosmetic bags, stationery bags, and other useful items can all become fabulous personalized gifts with the addition of a few fun prints, patterns, or graphics. Go wild with glitter, neon colors, or whatever else you know the recipient will love.
Baby Showers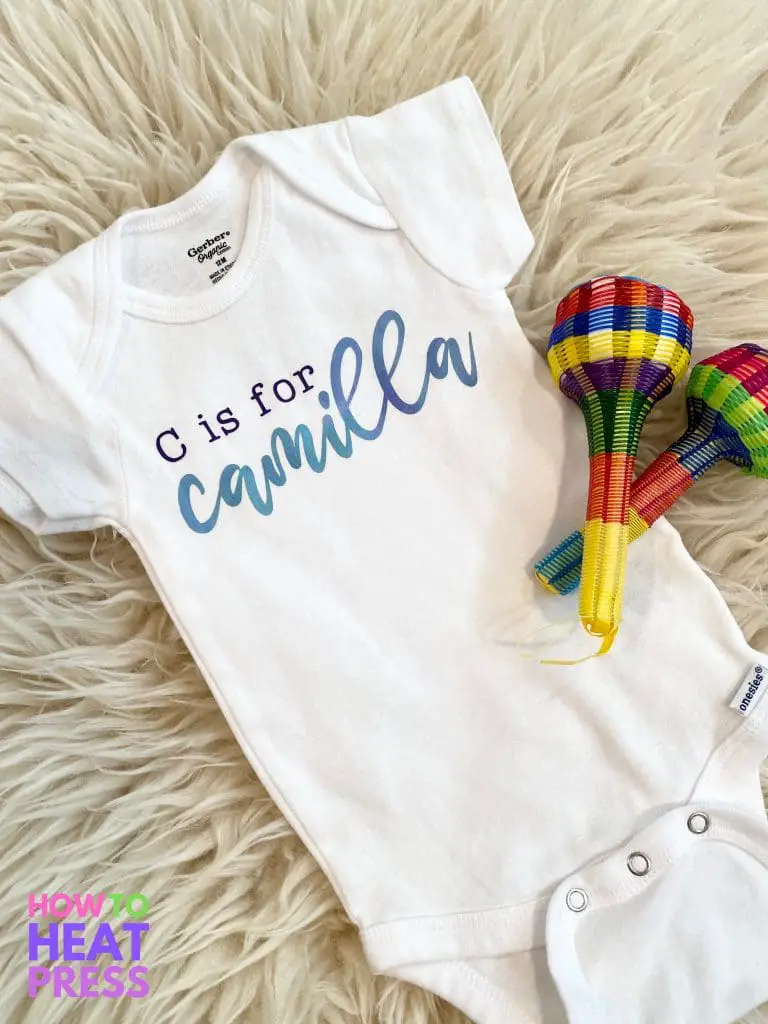 Showers are always a perfect time to create something extra special for the new bundle of joy. You can easily customize Onesies, receiving blankets, mini mittens and hats.
Wedding Gifts
The wedding gifts that a bride and groom love the most are always the more personal ones. You can thrill the soon-to-be-married couple in your life with a personalized gift like a charcuterie board, a set of camping mugs, a memory box, or a printed canvas to commemorate the most important day of their lives. 
Bonus points if you add their new married titles and the date of their wedding date!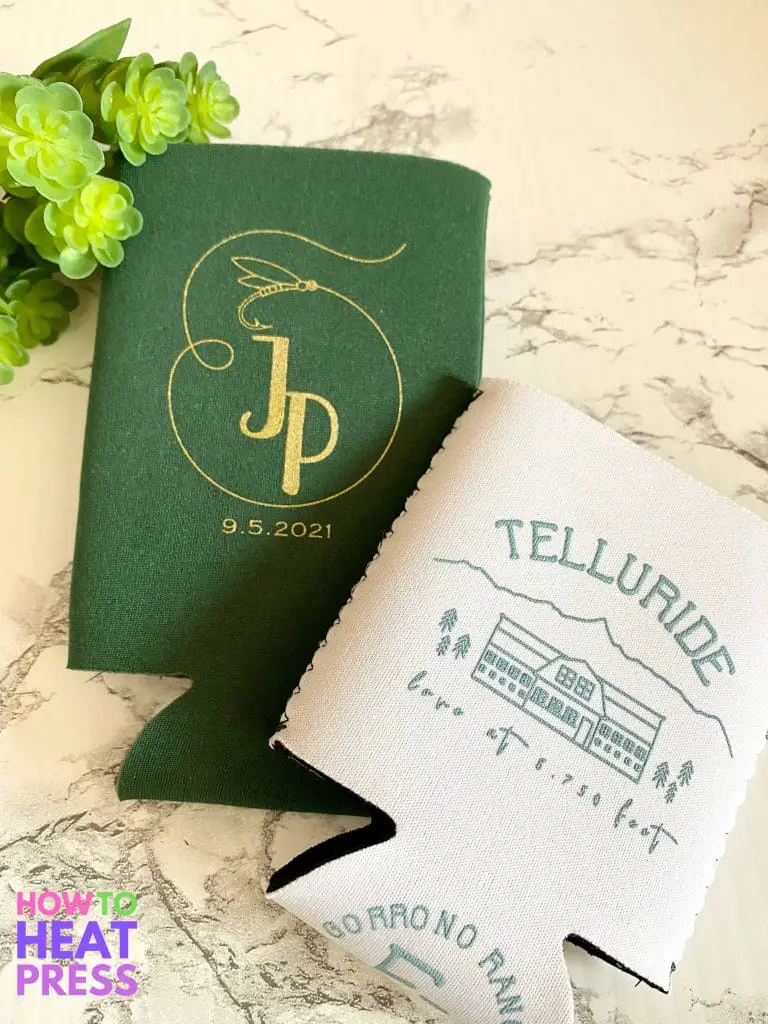 Is it your wedding that's coming up? Use your Cricut and heat press to create custom wedding favors – a custom koozie to commemorate the event always a crowd-pleaser. Bachelor and bachelorette parties are practically begging for personalized goodies. Tumblers, handkerchiefs, and shirts are great projects to make for a memorable weekend!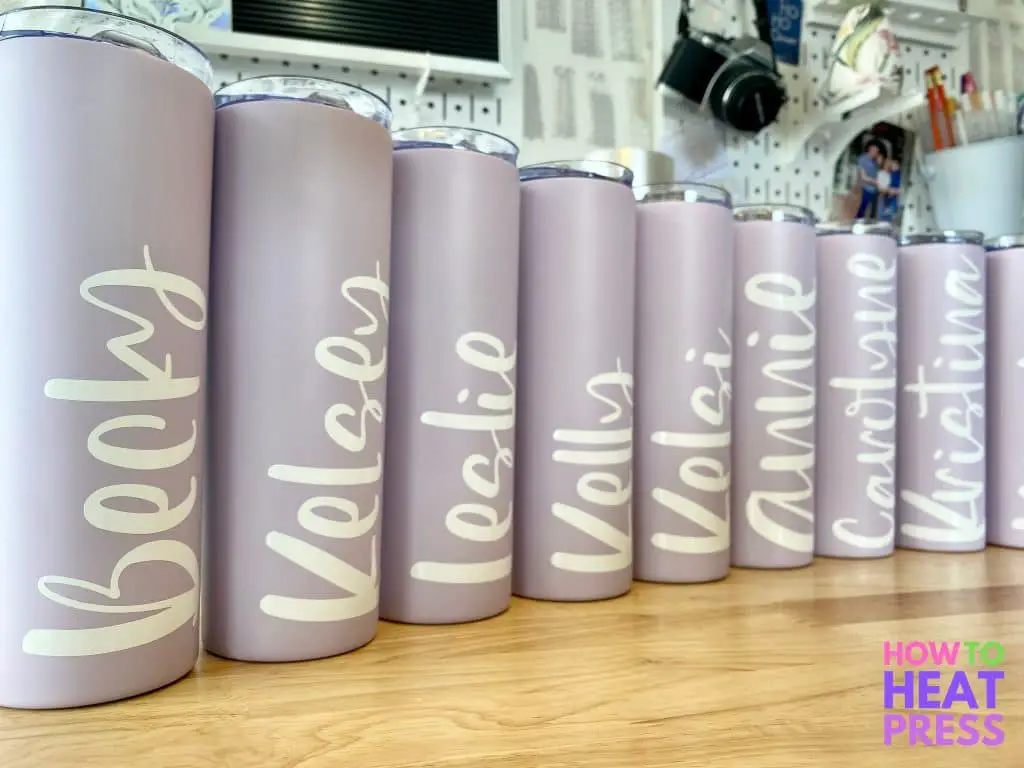 Gender Reveals
Imaginative and exciting gender reveals offer great opportunities for using your heat press to customize t-shirts for the mom and dad to be, and for siblings too.
You can even print hoodies that are unzipped to reveal t-shirts with details of the new arrival, or opt for cute slogans like I'm going to be a big sister! or Dad of the world's best daughter!
Totes For Every Activity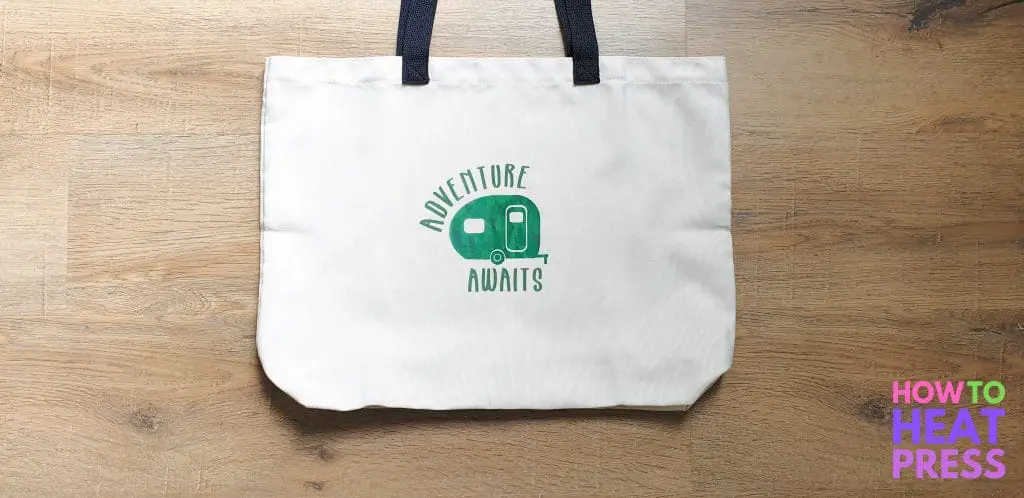 Make sure you never mix up your tote by printing your favorite design on it. You can heat press different designs on various totes, and personalize your gym bag, your kids' school or book bags, or any other totes you use regularly. 
You can even have totes that display your favorite sports team's logo or that match your outfit.
Pet Bandanas
A cute bandana with your pet's name on it is a real winner, and you can even make them for all your friend's furry friends too.
Heat presses open up a world of opportunity, and you could make pet bandanas for dogs with special needs or those looking for homes. A personalized bandana with I scare easily or looking for a home are great ways to speak for a dog, and a bandana with I love belly scratches is sure to go down a treat at the dog park.
Tea Towels
A heat press gives you the opportunity to turn something from the ordinary into the extraordinary. If your kitchen has a specific theme, you can match your tea towels to it, or you can label them attractively, depending on what they're used for.
Tea towels make great practical gifts too, especially for housewarmings. 
Summer Heat Press/Cricut Crafts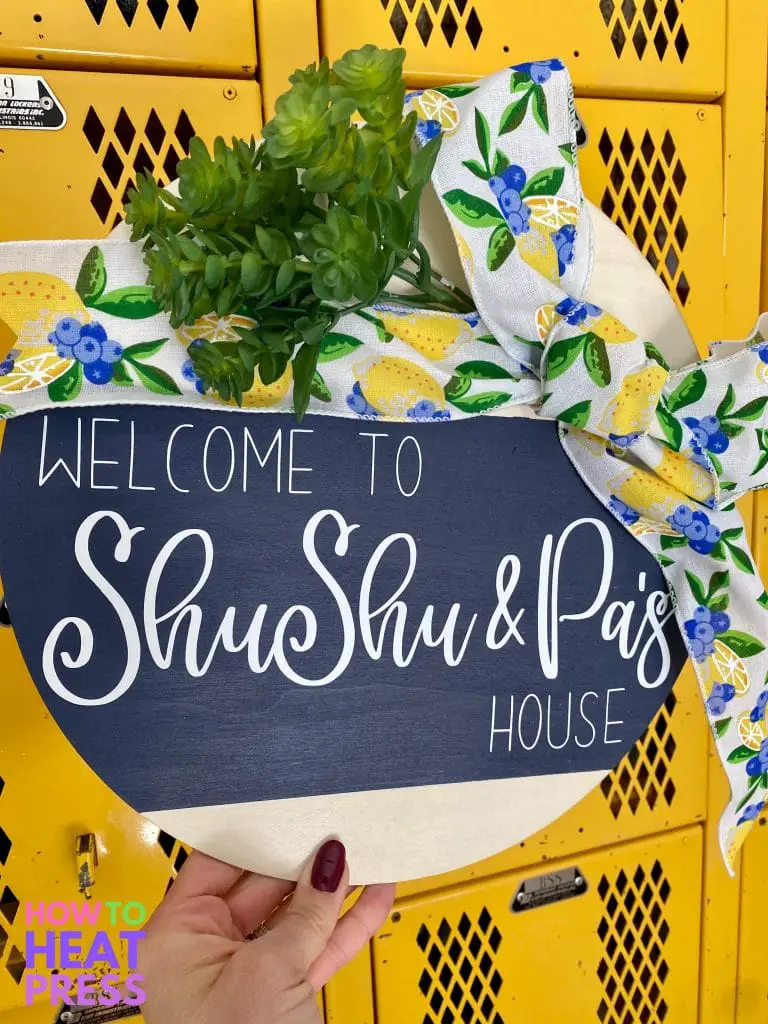 The sun is finally out, and while you're enjoying the heat, there are plenty of awesome seasonal crafts you can create with your trusty heat press to make the most of everyone's favorite season.
Family Vacation Crafts
If you and your family are planning on heading off on a summer vacation, crafting could be the ideal pre-holiday bonding experience for you.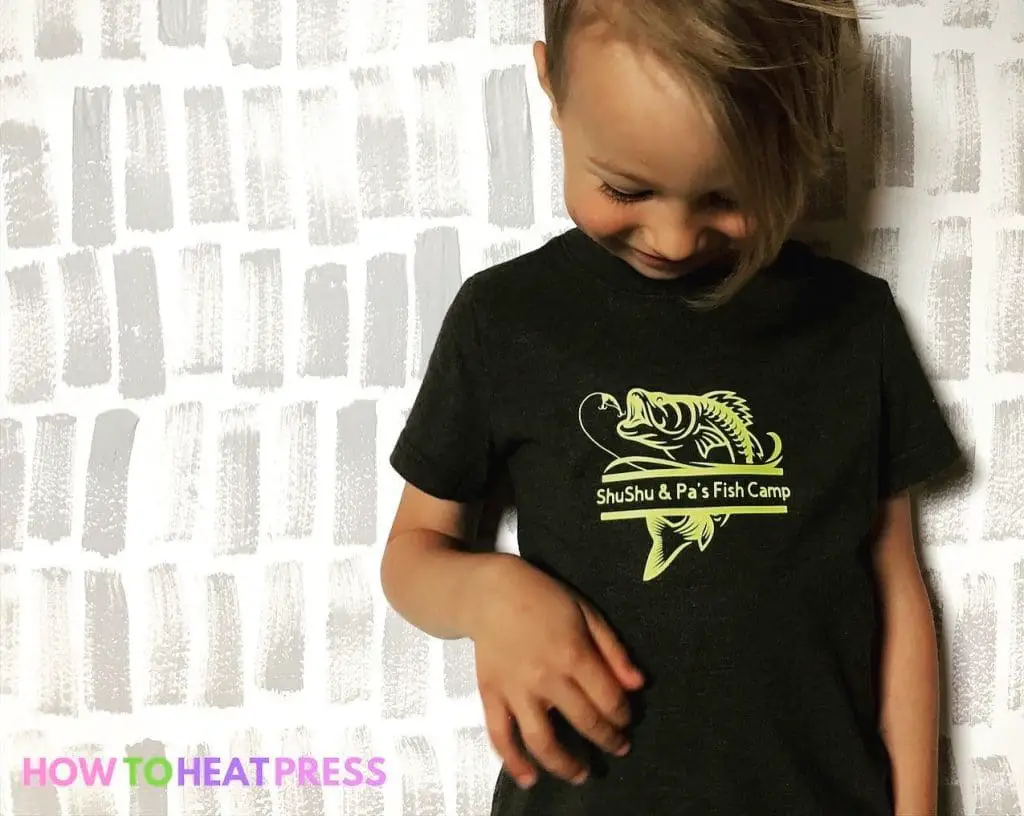 Gather the troops and try your hand at creating family shirts, sun hats and caps, drinks koozies, and luggage tags to take with you on your upcoming adventure. Personalized shirts and tags are a great way to ensure that nobody gets lost amid the excitement!
Olympics
Fans of the summer Olympics can gear up for the world's premier sporting event by heat-pressing Olympic flags, garments, and décor to help support their favorite participating countries and athletes.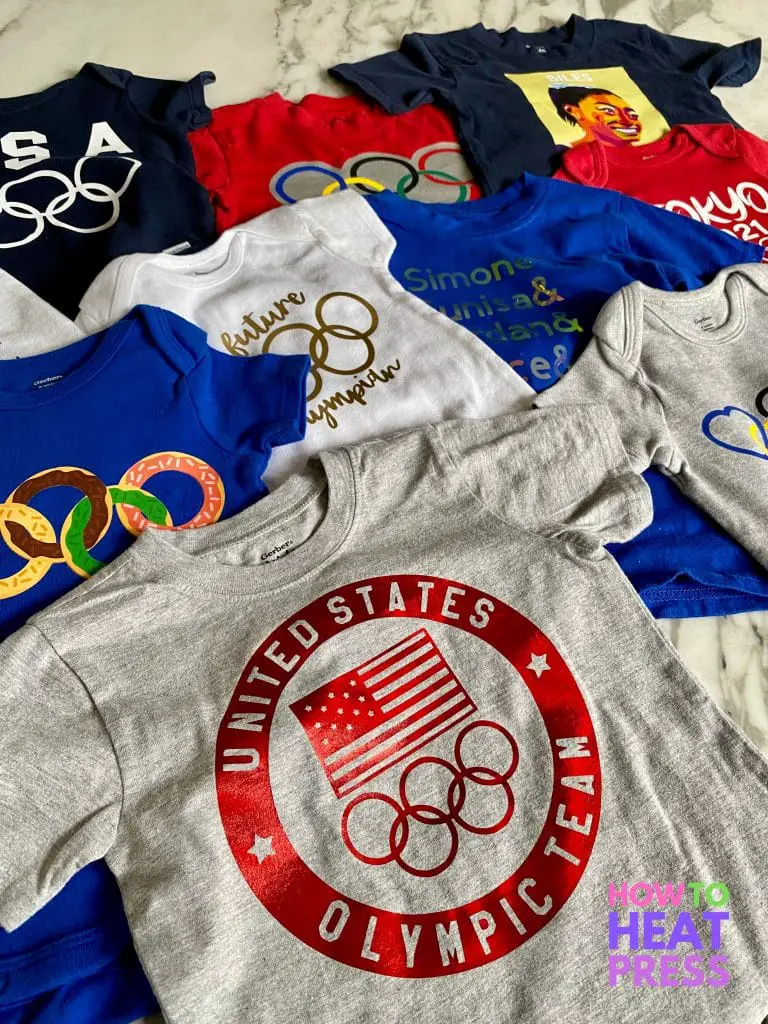 The Olympic rings logo looks fantastic on a variety of surfaces, from lanyards and drawstring sports packs to dedicated notebooks you can use to note your top competitors' performances and scores!
Baseball Season
No reasonable baseball fan would say no to a personalized baseball cap, baseball shirt, or neoprene jacket. Heat press the names of the baseball lovers in your life (or the names of their favorite players) onto one of these items and you're sure to have created a smash-hit gift!
Water Bottles
Stay hydrated in style this summer with a cool heat-press printed water bottle. Heat pressing works well on hard plastic and stainless steel bottles, so the choice is up to you.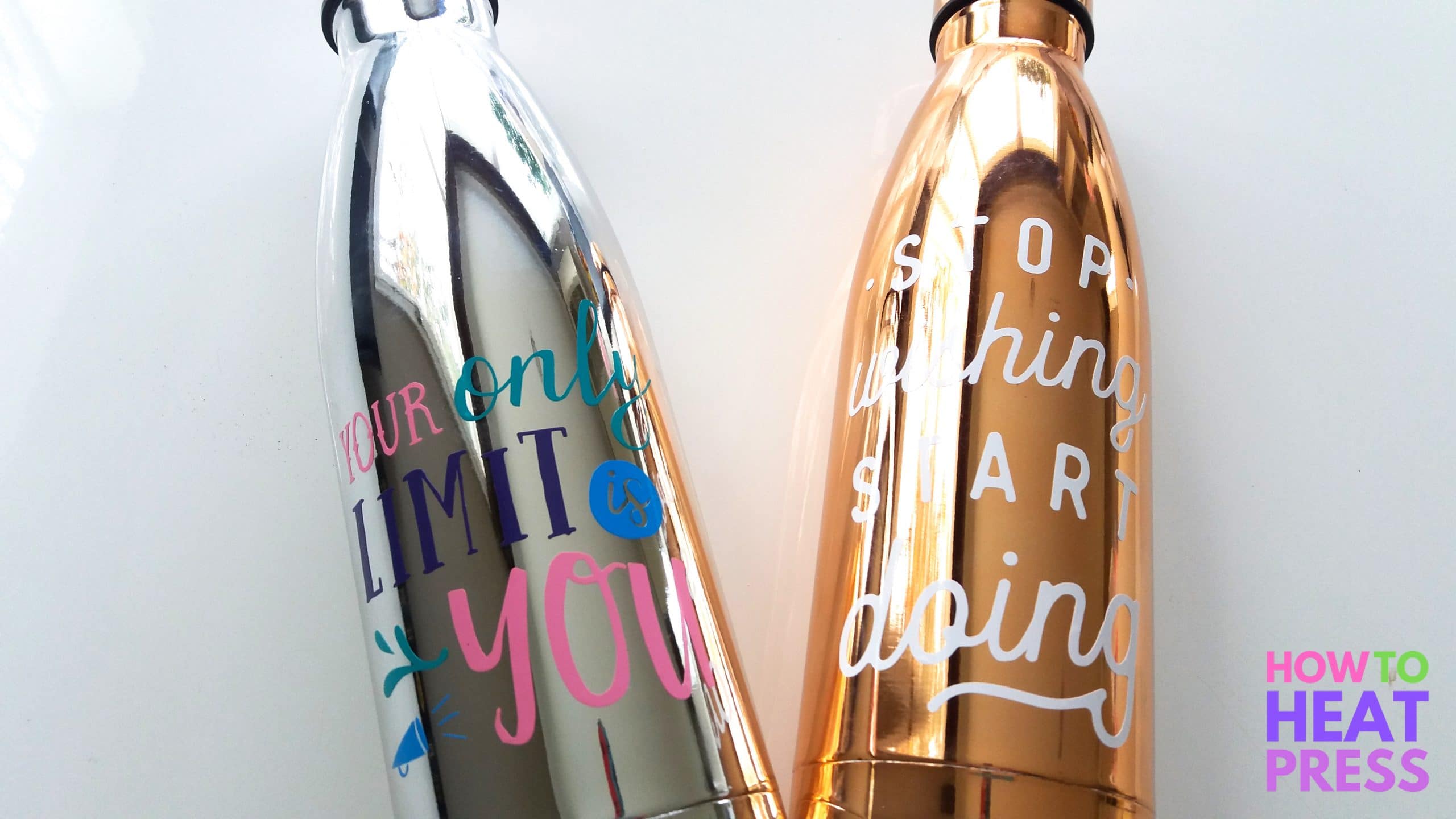 Wine Tumblers
Cool down on balmy summer evenings by sipping a wine spritzer from your very own custom wine tumbler. Fun wine-related quotes and graphics add a nice touch to what will surely become your new favorite drinking vessel.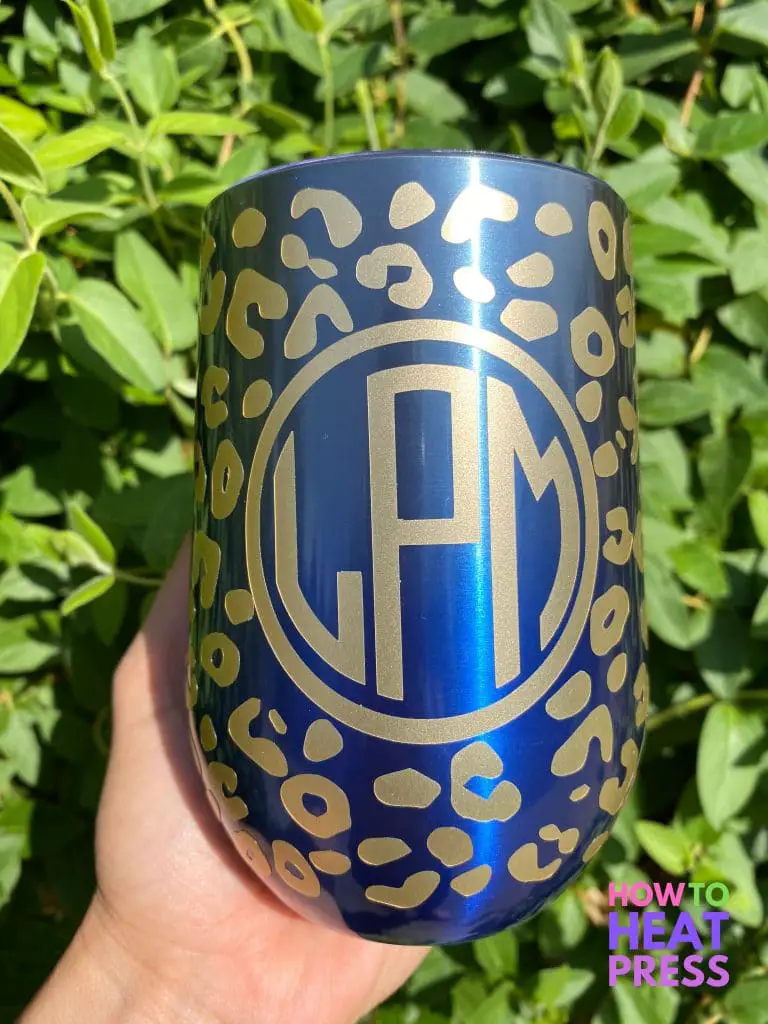 Party Favors
Summer is party season. Make the most of it by creating amazing personalized party favors like bubble jars, personal goody bags, and named mason jars filled with sweet treats. 
Your party guests can keep the customized bags and jars to use again and again, so they'll always be reminded of your impeccable summer party-hosting skills.
BBQ Aprons
Break out the barbecue and grill your way to glory with a fun printed BBQ apron. 
Fun slogans like 'Grill Master', 'King of the Grill', and 'Never Trust a Skinny Chef' are always big hits, as are superhero-themed aprons that transform the wearer into the Superman, Green Lantern, or Wonder Woman of the grill!
Doormats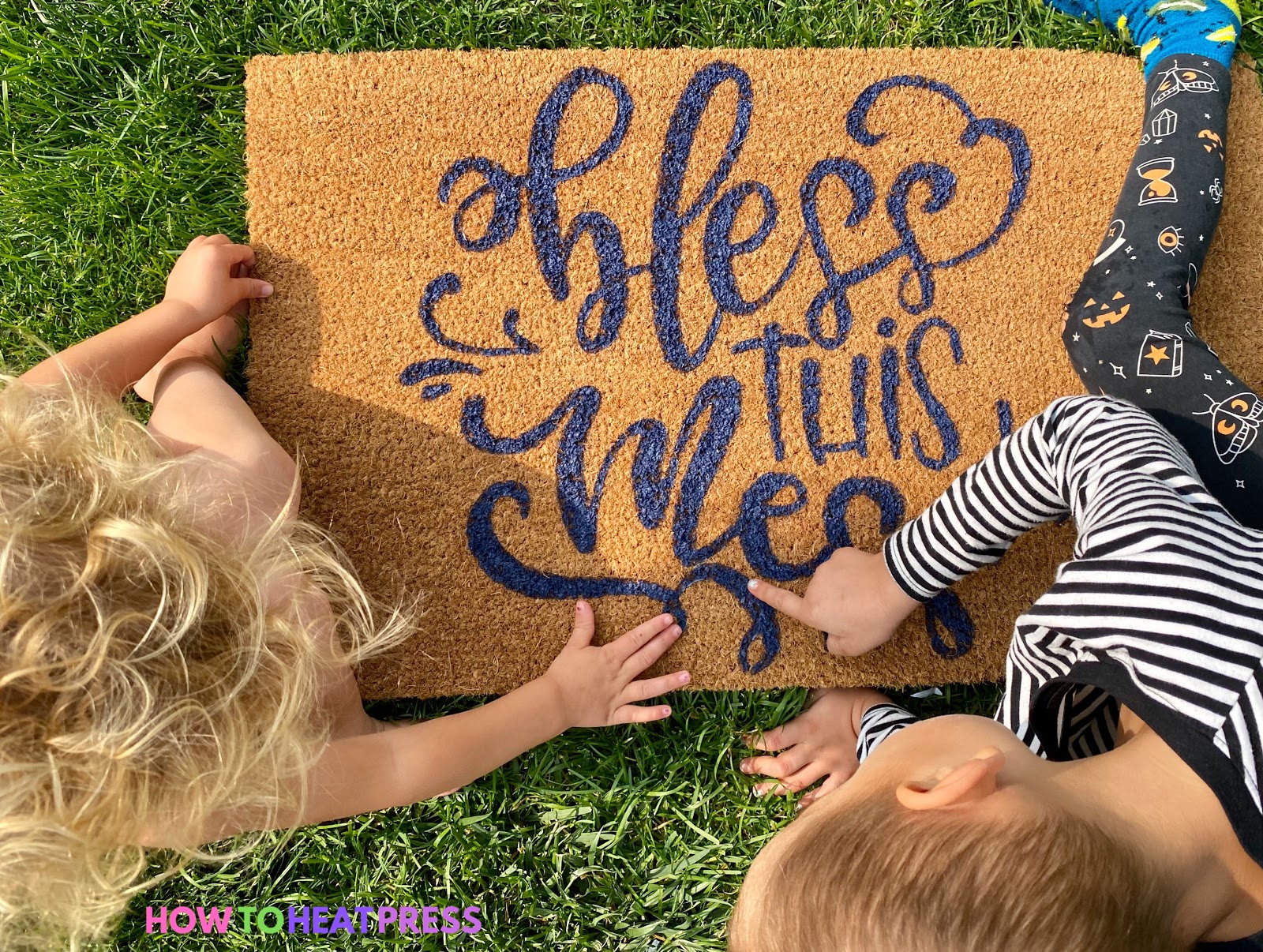 If summer is the rainy season in your neck of the woods, a cute custom doormat is just what you need to keep the mud at bay. Welcoming, sassy, or tongue-in-cheek—what you print on your mat is entirely up to you.
Monogrammed Luggage Tags and Passport Covers
Generic passport covers and luggage tags are so last-decade. Put some spirit back into your travel plans by creating unique custom passport covers and tags for your luggage. 
Having personalized covers and tags ensures that if you do lose your passport or bags, they'll be easy to identify, no matter where they may be.
Beach Towels
If your family is always arguing over whose towel is who's, make sure they'll never mix them up again. Customize everyone's towels so that when they hit the pool or the beach, they know which towel is theirs.
With big towels you can get extra creative, so let your imagination run wild.
Fall Heat Press/Cricut Crafts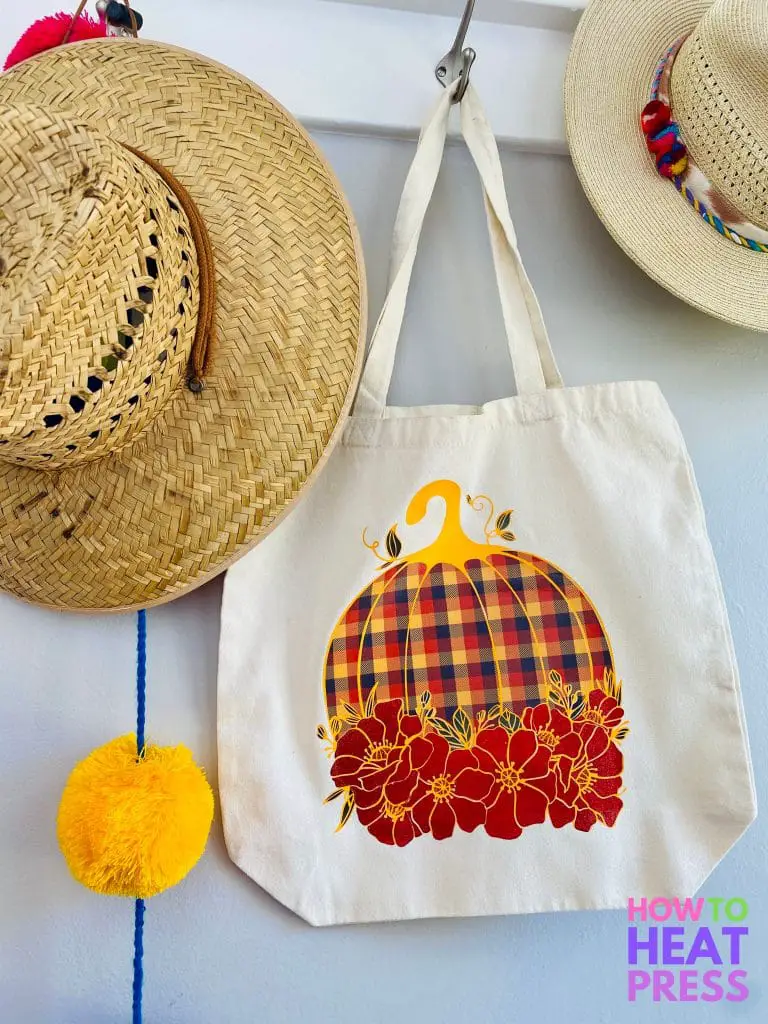 Some folks love fall because of the cooling temperatures, pumpkin spice lattes, and cozy atmosphere. Others are simply counting the days until Halloween rolls around. 
Either way, there are plenty of opportunities to get out the heat press in fall and make some truly spooktacular crafts…
Back to School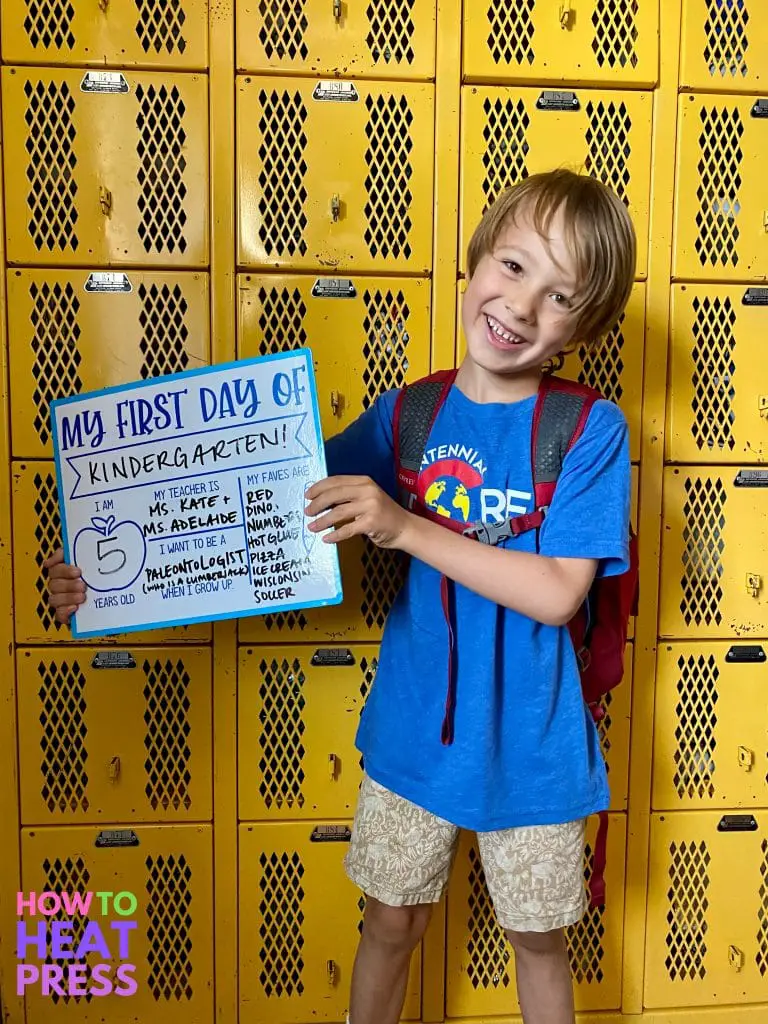 First day of school pics are that much more memorable with a cute little peek into who they are in that moment. Custom first day signs are a quick project you'll use year after year.
Use your heat press and cutting machine to make funky and bright custom labels for your children's school supplies, sports gear, and backpacks as they head back to the classroom. Rope them in to choose their own designs, graphics, and colors and they'll likely feel much less embarrassed about touting labeled items at school!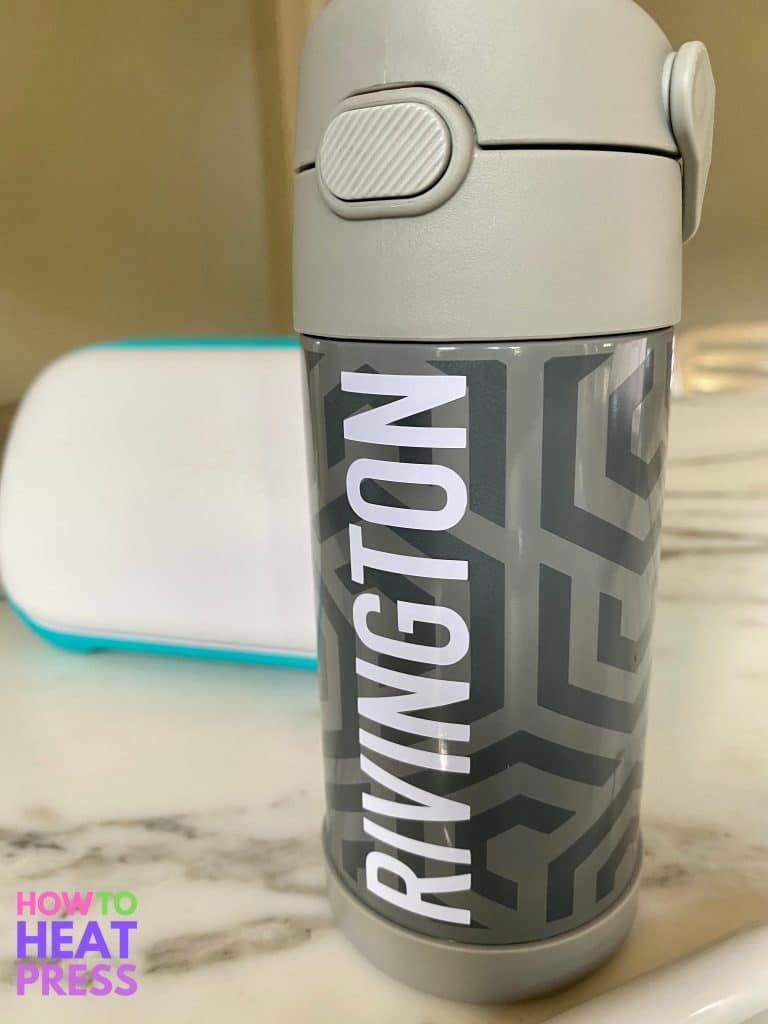 With your help, they can customize their pencil cases, chair bags, lunch boxes, and water bottles as they please to complement their individual personalities.
Mugs
There's nothing better than curling up with a cup of hot coffee, cocoa, or an iconic pumpkin spice latte when fall rolls around. Spice up your plain mug with a cute fall-related phrase or some autumnal graphics to celebrate the season in all its glory.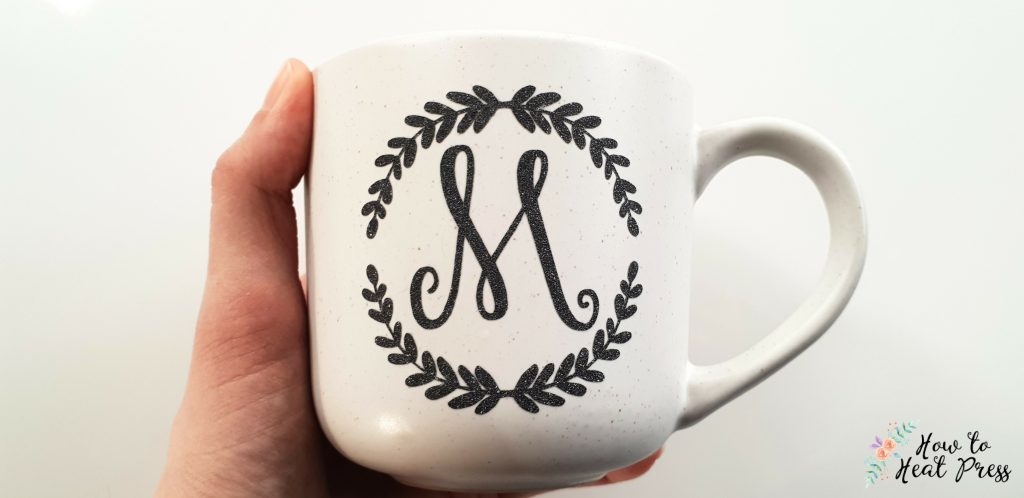 Copper autumn leaves, plump orange jack-o-lanterns, and adorable cartoon bats all speak directly to this time of the year.
Football Memorabilia
It's finally football season, and there's no better way to support your team of choice than by using your heat press. 
Customize inflatable footballs, flags, shirts, trophies, and caps with the names and mascots of your top teams and players—and don't forget to create football-themed beer mugs for the adult sports supporters in the household too!
Halloween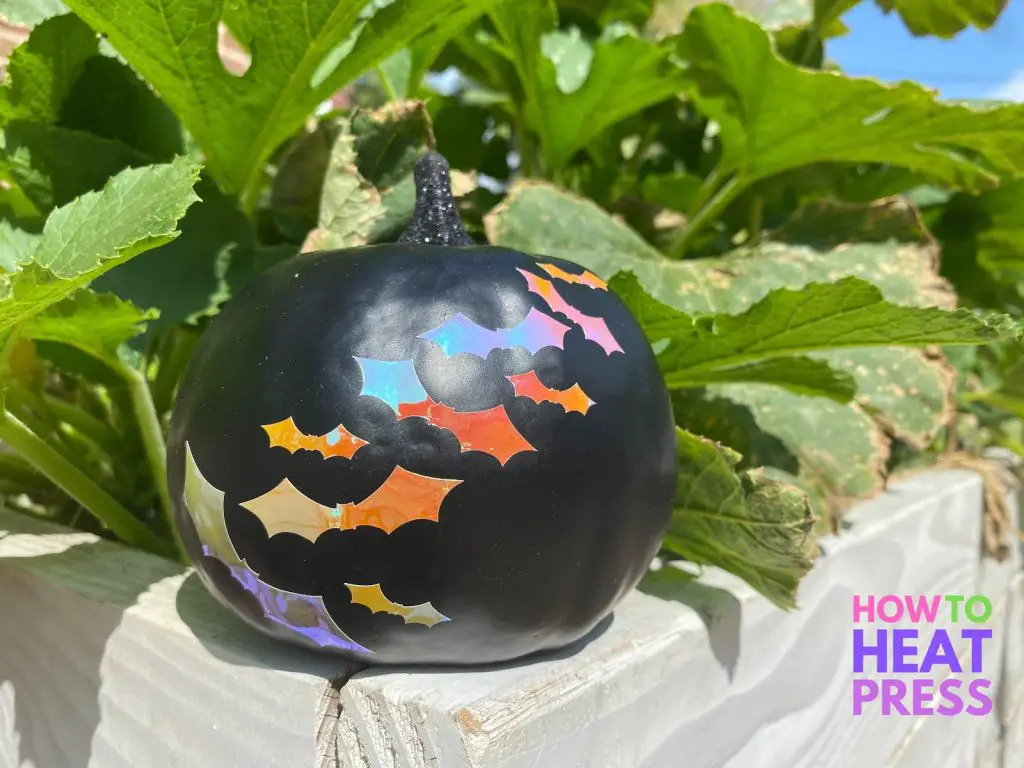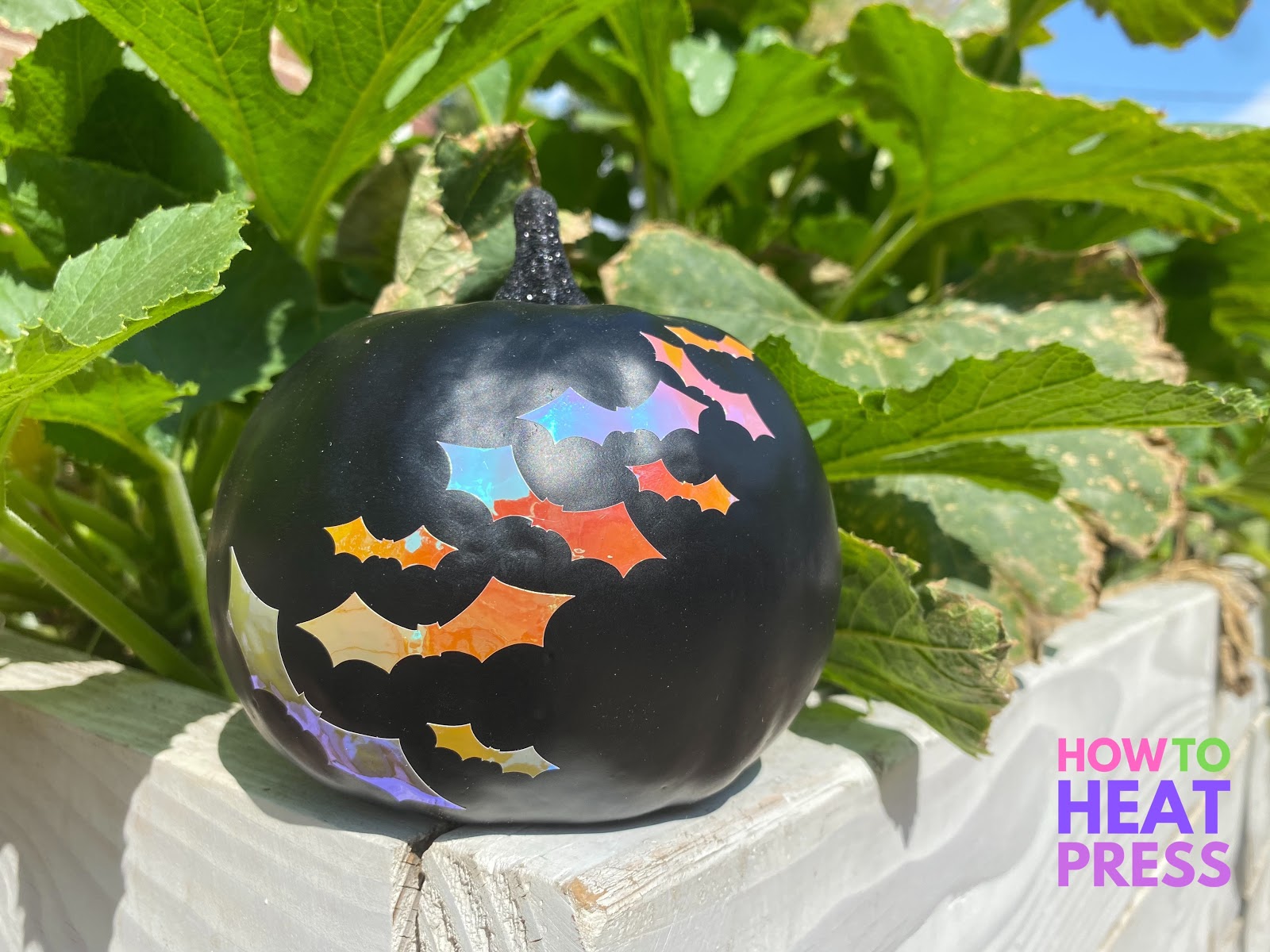 There are so many ways you can use your heat press during Spooky Season. Use it to craft original and innovative Halloween costumes, personal treat holding buckets, and spine-chilling masks for your trick-or-treaters this year to ensure that they get all the best candy your neighborhood has to offer.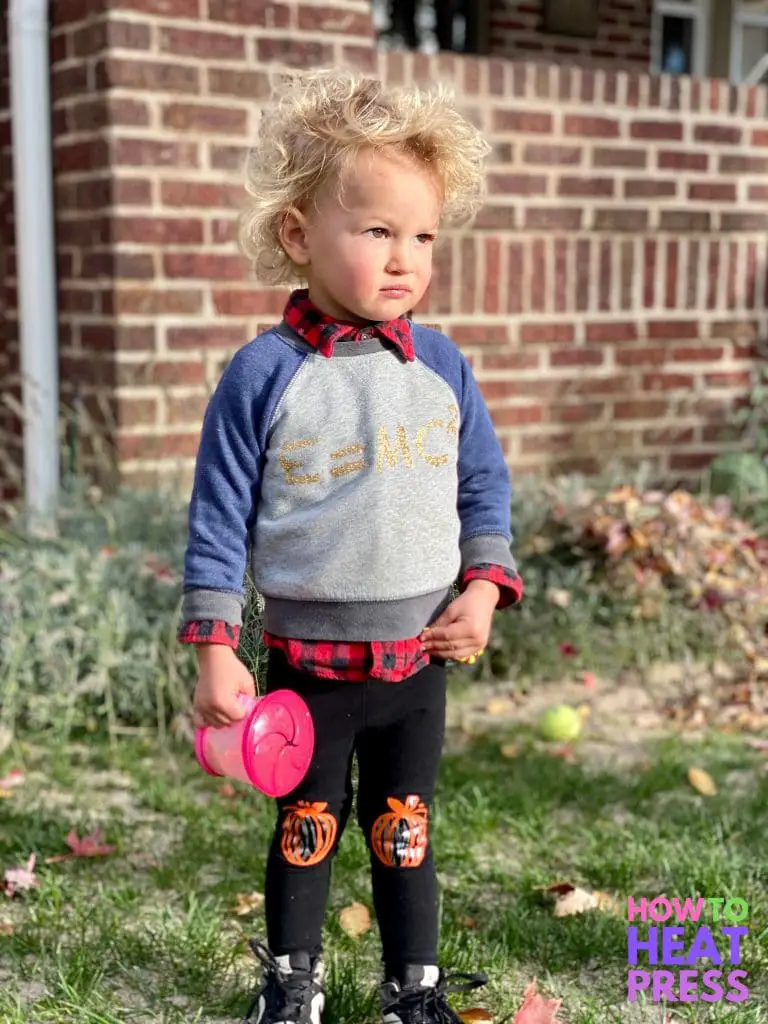 You can even create themed wall and table decorations to adorn your next Halloween party with skulls, pumpkins, witches, bats, and monsters galore.
Thanksgiving
Give thanks for the blessings in your life by creating stunning cards of thanks, banners, and décor for your next Thanksgiving dinner. You can even print place cards that each of your guests can take home after dinner as a memento of a night well spent.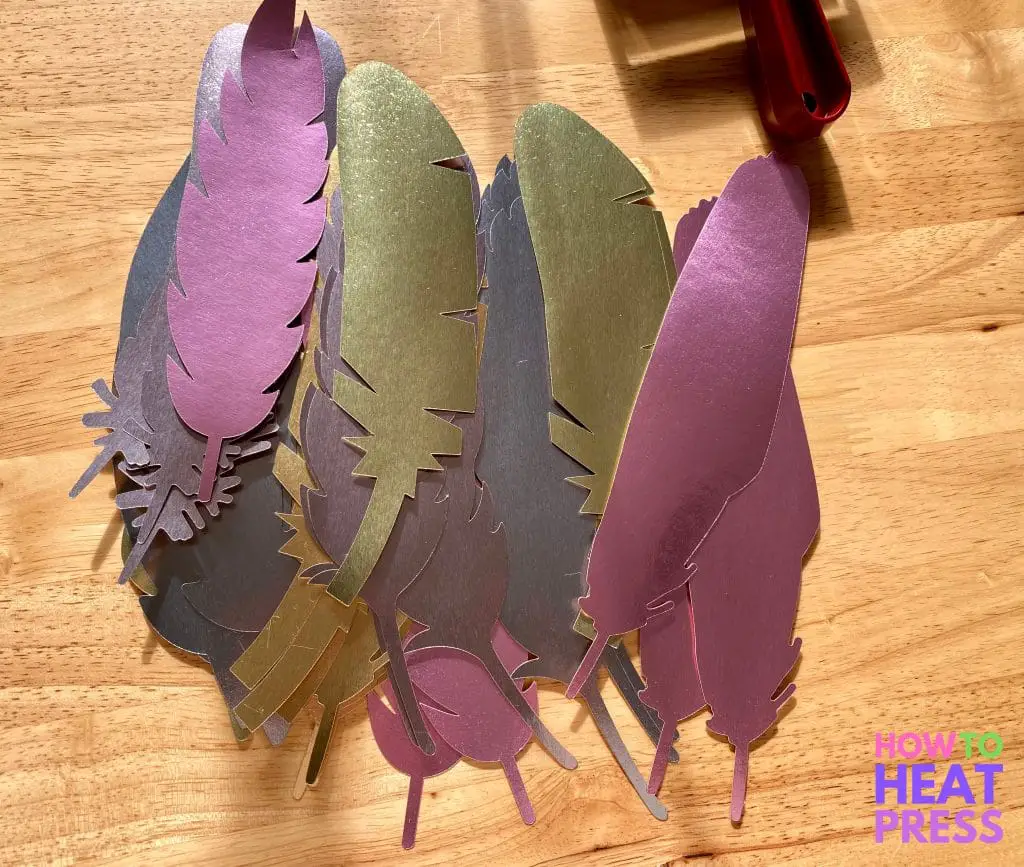 Last year we used these beautiful paper feathers to create a thankful turkey sharing all of the things we were grateful for in our lives.
Election Season
Election day is coming up, and there's no better time to show support for your political party. Heat-press flags and banners to put up around your home and garden, and pins that you and your family can wear to proudly support your allegiance. 
Printed shirts, scarves, jackets, and beanies will achieve the same effect while keeping you warm as the weather becomes chillier.
Winter Heat Press/Cricut Crafts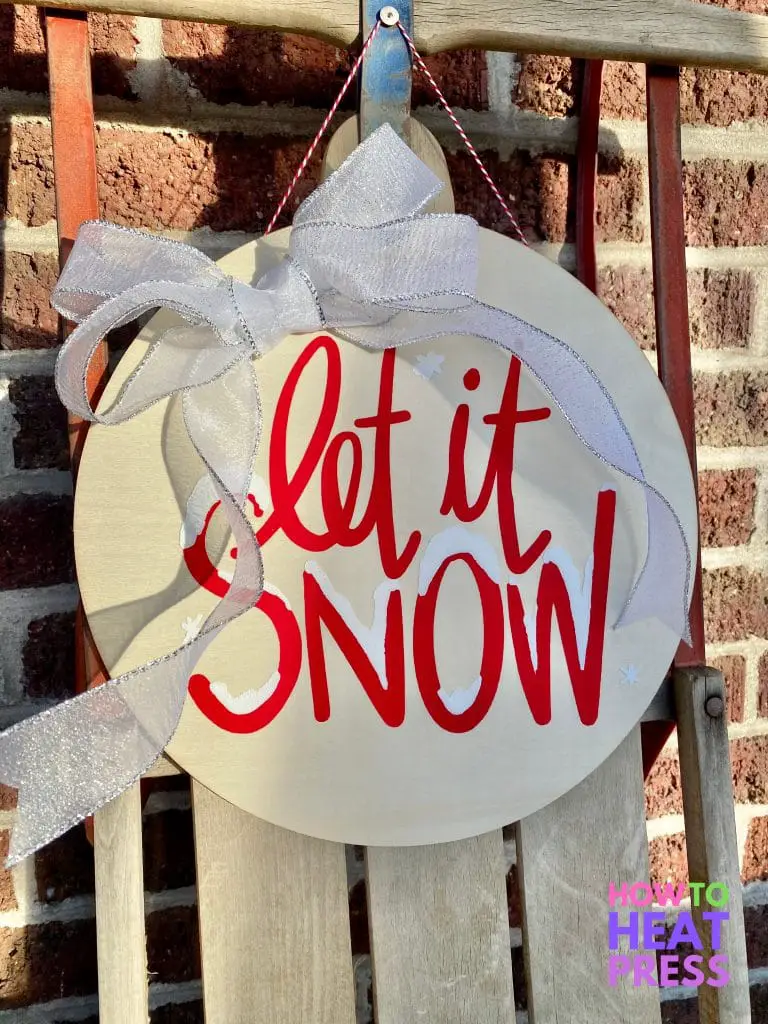 Snow or no snow, there are plenty of seasonal events that make winter a wonderland in its own right. 
Whip out your heat press and create some cool crafts to keep the chill at bay!
An Umbrella For Everyone
Stop losing your umbrella and make sure your kids never lose theirs either! Turn a rainy day into a crafty adventure and use your heat press to make everyone's umbrella stand out from the crowd.
100th Day of School
There are so many different ways to celebrate the 100th day of school, whether you're a teacher or a parent of school-going kids. You can create a 10 x 10 square one hundred chart using your heat press for kids to fill in, or print out some 100-piece puzzles to keep them entertained. 
Better still, create a poster of the different sizes, weights, and lengths of groups of 100 different items, like pennies, feathers and elephants. This is a great way to keep things educational and fun at the same time.
Stadium Blankets
Sports fans don't have to be cold this winter! Creating a customized stadium blanket to keep you warm and dry while cheering on your team has never been simpler.
You can even update your blanket annually with new graphics, especially if your team recently won a major championship. 
Festive Ideas for the Holidays
There's no better time to get crafting than during the festive holiday season, and there's practically no limit to the crafts and gifts you can make with your heat press. Why not craft personalized gift stockings for your family members and fun place cards for your Christmas dinner guests?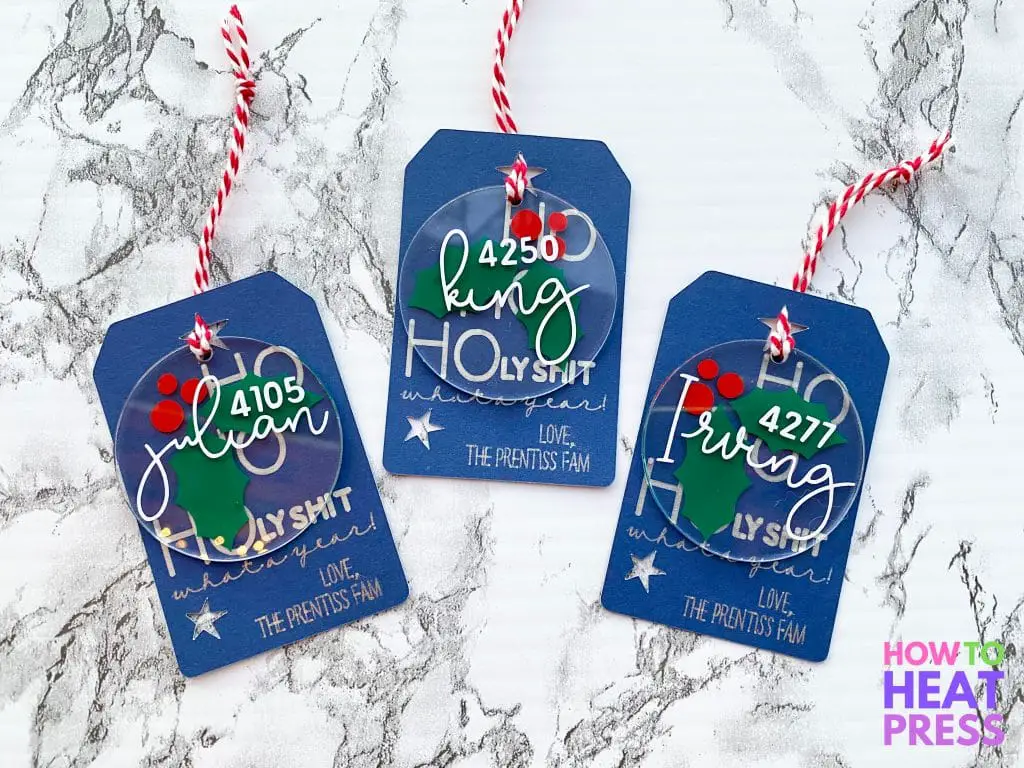 Alternatively, if you'll be going to someone else's home for dinner this year, create an awesome hostess gift like a custom mulled wine glass or a monogrammed throw pillow. 
You can use a heat press to create monogrammed Christmas ornaments, wreaths, and gift tags for all of your presents. Some folks even heat-press their own gift boxes for an extra special touch.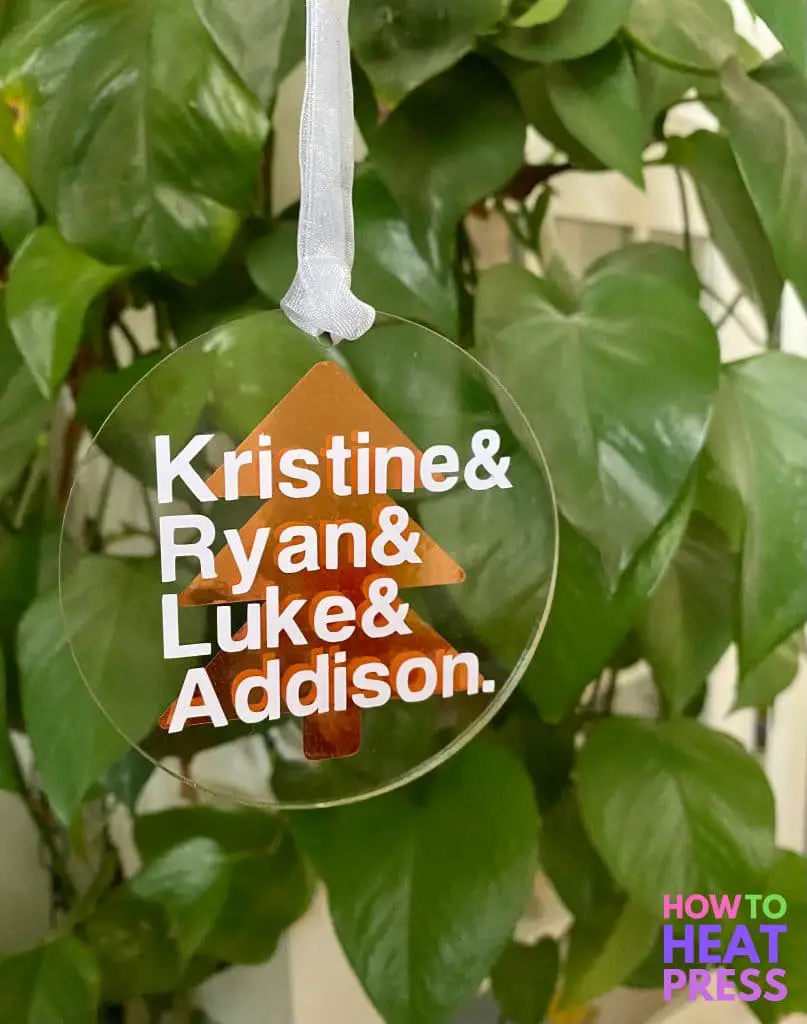 New Years' Eve
Get the new year off to a bang with a New Year's Eve bash like no other! 
You can create monogrammed mini champagne bottles and glasses, custom balloons and streamers, and unique décor like hold-able party cards and masks for the occasion. 
Throw in home-crafted tablecloths covered in fireworks' sparkles and your guests will be talking about your party for years to come.
Valentine's Day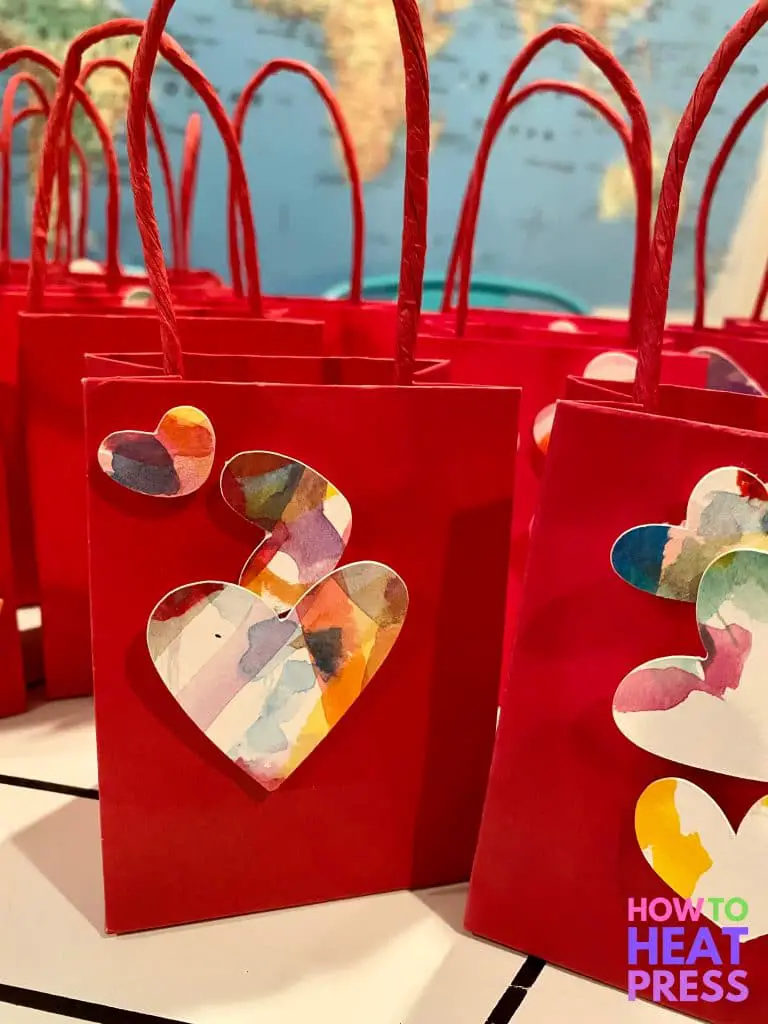 You can warm anyone's heart with a thoughtful heat-pressed or perfectly cut gift. Start by upgrading a simple gift box with vinyl hearts, arrows or roses, and fill it with romance-inspiring presents like a pair of custom wine glasses (and a bottle of vino, of course!), a printed teddy bear featuring their name, or a gorgeous monogrammed mug to remember you by.
Spring Heat Press/Cricut Crafts
The spring blossoms are peeking out, and the winter frost is quickly melting. Celebrate the growth of new life and the arrival of the warmer months with these ingenious heat press craft ideas.
Graduation 
If you've got an excited graduate in your life, use your heat press to customize their graduation cloak and cap to send them off in style. You can create lovely teacher appreciation gifts like paper flowers, mugs, homemade brownie or cake mixes in printed jars, or buckets of assorted treats complete with heat-pressed messages of gratitude. 
Even a plant in a home-decorated pot would make a perfect addition to any doting educator's desk.
Spring Cleaning and Organizing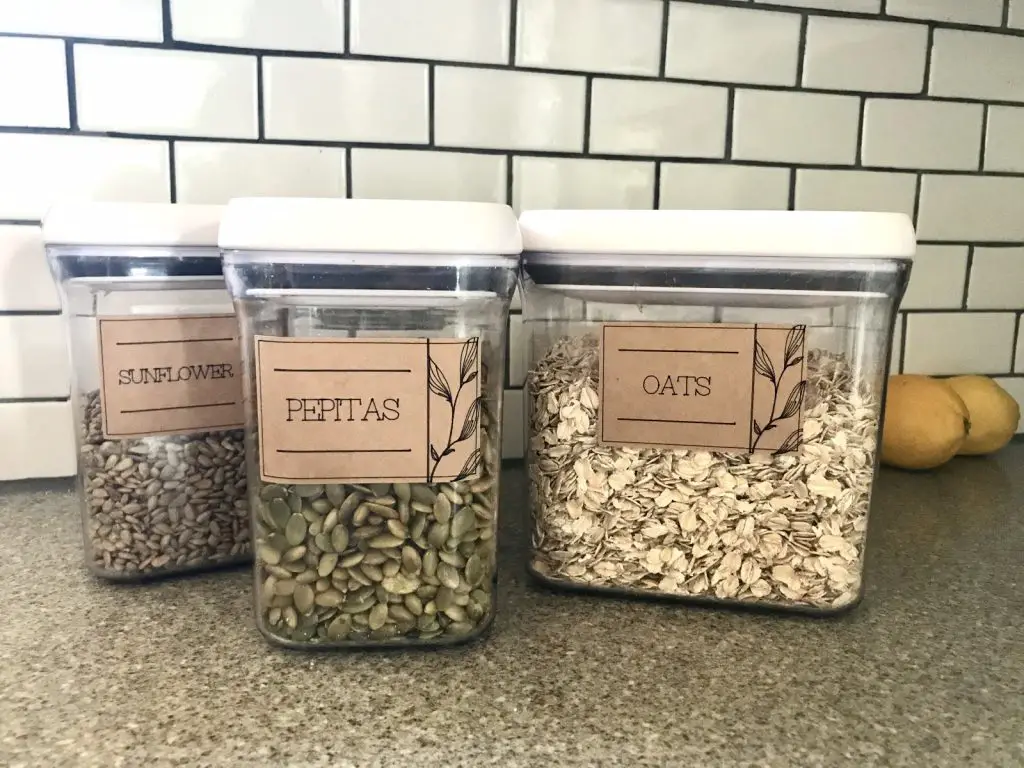 Kick your spring cleaning into high gear by using your heat press to create labeled organization tubs, containers and jars for your home. Print labels for pantry staple jars, and heat press plastic tubs with labels like Toys, Chargers, Batteries or Remotes to keep things structured.
Mother's Day
Our mothers work hard, and they deserve only the best. Show the mother figures in your life your appreciation by handcrafting them a gift from the heart. Plush monogrammed slippers, bathrobes, tea towels, tea sets, and scented candles will instantly brighten her day.
Father's Day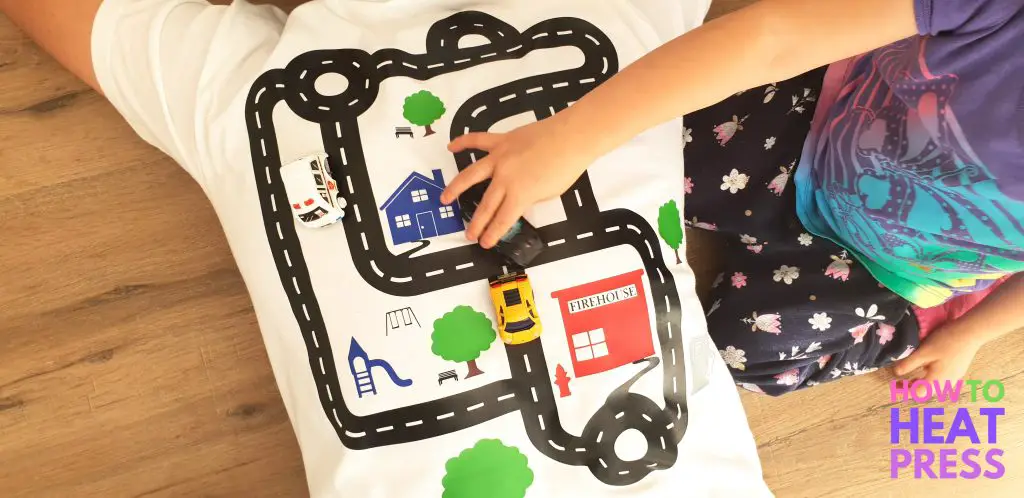 Buying a Father's Day gift isn't always easy. There are only so many toolsets and bottles of cologne dad can handle. Give the father figure in your life a gift they won't forget in a hurry instead. Personalized T-shirts are always a hit, as are hats, and mugs with fun messages.  
Easter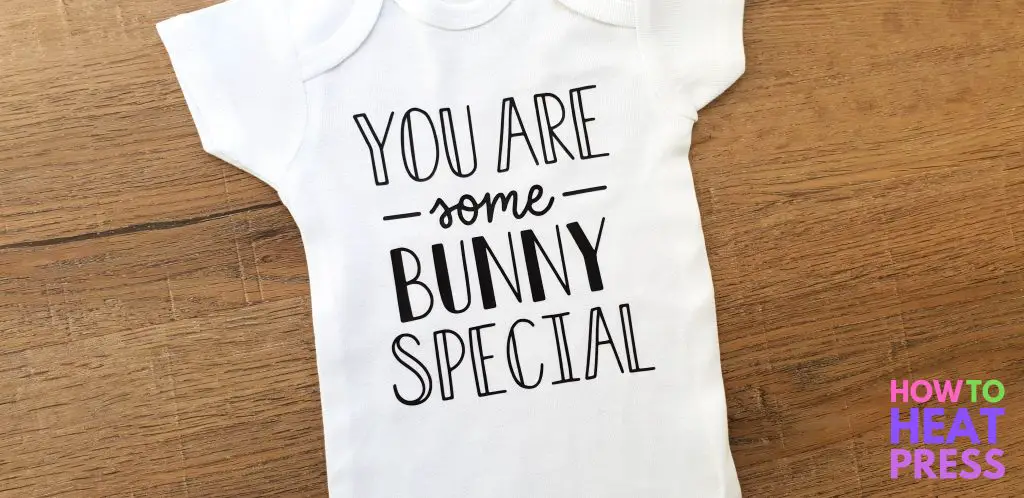 Make Easter magical with printed egg collection buckets and bags, themed t-shirts, and cute hats adorned with printed bunny ears for the kids. 
You can use your heat press to print out Easter bunny direction signs to place in your egg hunt location and give hints as to the whereabouts of any chocolate treasures you've hidden…
Other Holidays Throughout the Year
World Days
Earth Day, World Book Day, World Wildlife Day…the list goes on! Every year there are a number of different days dedicated to various causes, and your heat press gives you the opportunity to celebrate them all.
Print t-shirts, mugs, banners, or any other items that highlight these special days and get other people celebrating them too.
Awareness Days
Like Earth Days, these come around annually and intend to draw attention to certain important causes. World Autism Day, World Press Freedom Day, and World Blood Donor Day all highlight specific causes, and with a little creativity, you can too. 
Print on tote bags, create banners, or make t-shirts that support the cause. You can even sell them to raise money for donations to a cause that's close to your heart.
Fun International Days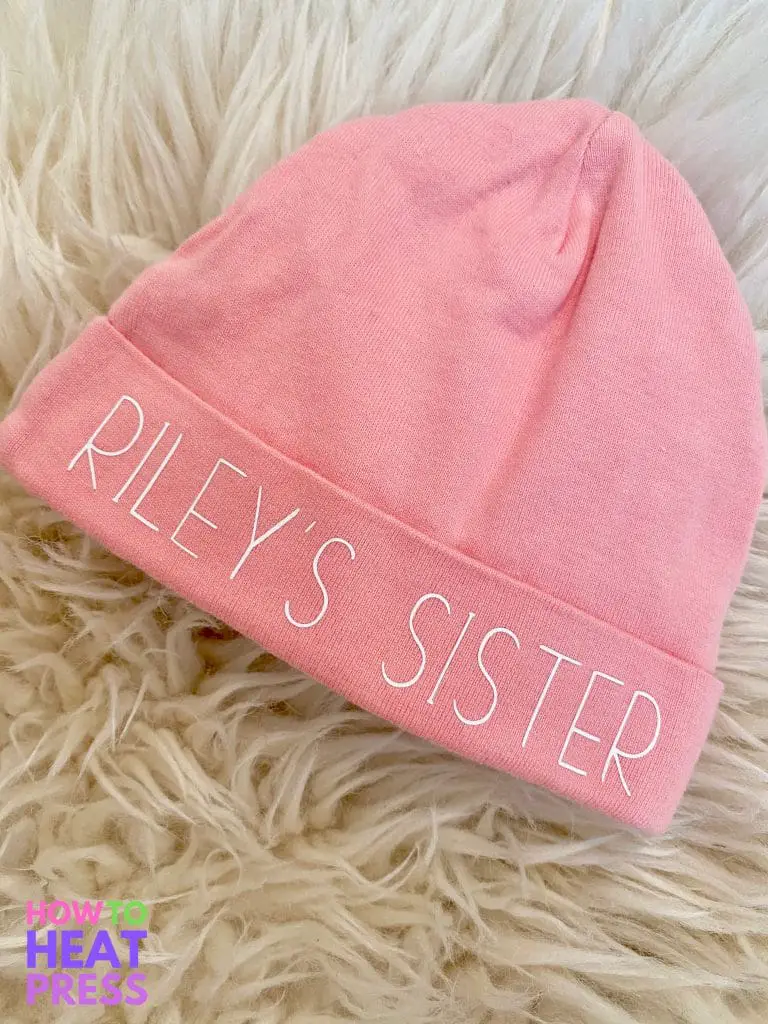 Not all international days are serious, there are some that are simply fun and celebrate your favorite things. International Cat Day, Chocolate Pecan Pie Day, Sibling Day, and Star Wars Day are just some of the few that offer a huge scope for creative license. A personal plug here for Teacher Appreciation Day – phew do those folks deserve some special love!!!
You can print mugs with your favorite cat pictures, napkins to go with that giant slice of pie you're about to devour, or a beanie or cap with a lightsaber on it.
The Ultimate Seasonal Heat Press and Cricut Craft Calendar
There are 365 days in the year, and just as many opportunities to get heat pressing. Print out this calendar to use as inspiration, and make sure to pencil in your own entries along the way too. Happy heat pressing!