Weekly Cricut, Craft, & Heat Press Deals – Find The Best Prices Here
This post contains affiliate links. If you use these links to buy something, we may earn a commission, but it doesn't cost you anything. Thanks!
Each week we update this post with the latest and greatest Cricut sales! 
The biggest shopping day of the year Black Friday 2021 is just around the corner, and Prime Day is long gone. There are still a lot of deals to be found and now is the time to order. It's looking like supply chain issues could make getting all of your holiday must-haves a little tricky. We recommend you find a good deal and go for it now, before the shopping craziness heats up.
We list the best Cricut discount codes & deals, along with other current promos. There are new official deals each week, and trust us, there is always something good to be found!
Cricut Coupon Codes & Sales
This next table contains a round up of where you can find Cricut, craft, & heat press sales, deals and coupon codes.
Amazons Deals

A huge range of Cricut products, often cheaper than other retailers
Heat press machines & accessories for those on a low budget
Free shipping for Prime Members

View All Cricut DealsView All Heat Press Deals

Cricut.com Deals

New sale items released each Wednesday
Discounts on Cricut machines
Sales on materials, accessories, & tools

View Cricut Machine DealsView Cricut Sale Page

Heat Press Nation

The best range of quality heat press machines
Heat transfer printers, papers, & inks
Amazing sales (get ready for Black Friday!)

View All Heat PressView Sale, Clearance, Refurb

Michaels Stores

Always a great sale & discounts to be found!
The full range of Cricut products
Many items exclusive to Michaels

View All Cricut DealsView Michaels Coupons

Walmart Deals

Huge range of Cricut products frequently on sale
Cheap heat press deals - mug, cap, t shirt presses
Free or cheap shipping options

View All Cricut DealsView All Heat Press Deals

Swing Design Sales

Cricut, Silhouette, heat press, accessories
Great deals on cutting machine bundles
US made heat press machines

View Latest DealsView Sale & Clearance

Happy Crafters Coupon

New deals each week on HTV & adhesive vinyl
Coupon code at top of homepage on notifcation bar
Range of Siser heat press machines

View Latest DealsView Sale & Clearance

Expressions Vinyl Discounts

HTV, adhesive vinyl, heat press machines & accessories
Take 20% first order coupon code pop-up
Take 10% OFF code with email sign up

View Latest DealsView Sale & Clearance

My Vinyl Direct Deals

Buy vinyls, pre printed transfers, blanks
Unique blanks for vinyl & heat transfers
Lots of random items popping up on sale page

View Latest DealsView Sale & Clearance

Sizzix Sale Page

Sign up for newsletter & get a 15% off coupon for entire order
Great sales page
Awesome prices of the full range of Sizzix die cut products

View Latest DealsView Sale & Clearance

Joanns Deals

Full range of Cricut products
Frequent sales and discount offers
Cricut heat press

View Latest DealsView Sale & Clearance

Target Sale

Target now carries Cricut machines and supplies!
Plenty of materials for crafts
Great craft furniture & storage offers

View Latest Cricut DealsView Sale & Clearance

Sewing Machines Plus Deals

All the best brands of sewing & embroidery machines
Sales page with fresh deals often
Clearance bin use code SAVE30 for 30% off

View Latest Sale ItemsView Clearance Bin Deals
Cricut.com Sale
Some of the best Cricut deals each week are to be found on the Cricut Sale Page. Many deals are inventory specific so act fast if something strikes your fancy! We were pretty pumped to recently discover Cricut's official clearance page!
Here are this week's deals, valid until 10/31/2021: 
After you click scroll down to get to the deals!
There are plenty more deals on page however, with discounted EasyPress totes and mats, Cricut Maker bundles, and so much more.
Amazon Cricut Deals
 These deals are regularly updated, as they will change without notice!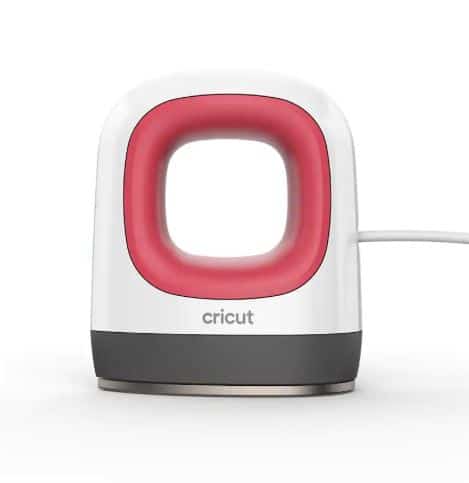 Cheap EasyPress mini this week. If you'd like some more info, check out this EasyPress Mini review.
Cricut Infusible Ink is now sold on Amazon, and it's generally cheaper than elsewhere! There are different prices for different packs, so check them all out.
Cricut Printable Vinyl is a great price on Amazon this week. It's a super fun product for making your own hard wearing stickers to apply to anything and everything!
The Cricut EasyPress is well reduced this week! All 3 sizes are a great price, but the 6×7 inch machine in particular. For more information see this EasyPress review.
Check out our post on Cricut Explore Air 2 Colors – you will often find your preferred color is on sale. This week the Air 2 is cheap on Amazon!
The Power Press Heat Press is quite a bit cheaper than normal. This is one of the best selling beginner heat press machines that we've tried & tested (PowerPress review).
The newest Cricut blades are cheap on Amazon. This is the QuickSwap Housing along with the new engraving, debossing, perforation, and wavy tips. More info in this post.
This set of heat press pillows are not on sale, but there are so remarkably cheap I had to slip them in here (compare with these other heat press pillows).
The Cricut Knife blade is discounted on Amazon at the moment.
Pick up the genuine Cricut Easy Press mat – it's much cheaper than usual this week.
This single light grip mat is discounted – it's best for working with cardstock and paper.
Have you always wanted the Sizzix Big Shot? Now's the time to get it while on a steep discount!
The Cricut Basic Tool Set is still below regular price. Another essential item for working with your Cricut Machine.
Cricut Machine Sales
Where can you find the cheapest Cricut Machines? Compare prices between these top retailers – there are many different colors and bundles which you can choose from.

Cricut Maker Bundles sale. Check out the Essentials Bundle, the Everything Materials bundle, and more. The Mint Maker Bundle is a very good deal
More info about Cricut Bundles here, or check out this review of the Cricut Maker.
The Cricut Explore Air 2 is discounted right now on Amazon. It is available in multiple colors, and is a very good cutting machine.
See the range of Air 2 colors here, or check out this review of the Explore Air 2.
The Cricut EasyPress is on sale.
The largest size is heavily reduced! This is a great craft heat press for making t-shirts, and is a real step up from the household iron.
See the range of EasyPress colors here, and check out these EasyPress tips & tricks.
The Best Cricut Promo Codes
What was your favorite Cricut Promo Code this week? Did you make use of any of them? What products would you like to get a Cricut Coupon for?
Let us know in the comments section below!
Pin this post! 🙂
(Please note: This post contains affiliate links. Read our full disclosure policy here.)