30 Fun Cricut Joy Projects – So Quick & Easy!
This post contains affiliate links. If you use these links to buy something, we may earn a commission, but it doesn't cost you anything. Thanks!
What can you make with the brand new Cricut Joy?
The Cricut Joy is the newest Cricut machine, released in 2020. You can read our Cricut Joy review here, but in this post we're going to take a look at what can make with it! It's mini but mighty and the range of Cricut Joy projects is quite impressive.
UPDATE: Cricut Joy just got better with the free Cricut Joy app!

In case you needed another reason to grab the most recent release from Cricut they now have a FREE app for the new Cricut Joy! Even better – for a limited time with the app you get FREE access to an entire library of fonts and images just for use on the Cricut Joy. I played with it, it's awesome – here are 5 reasons to love it.
Here are 30 things you crafters can make with the Cricut Joy!
Cricut Joy Project Ideas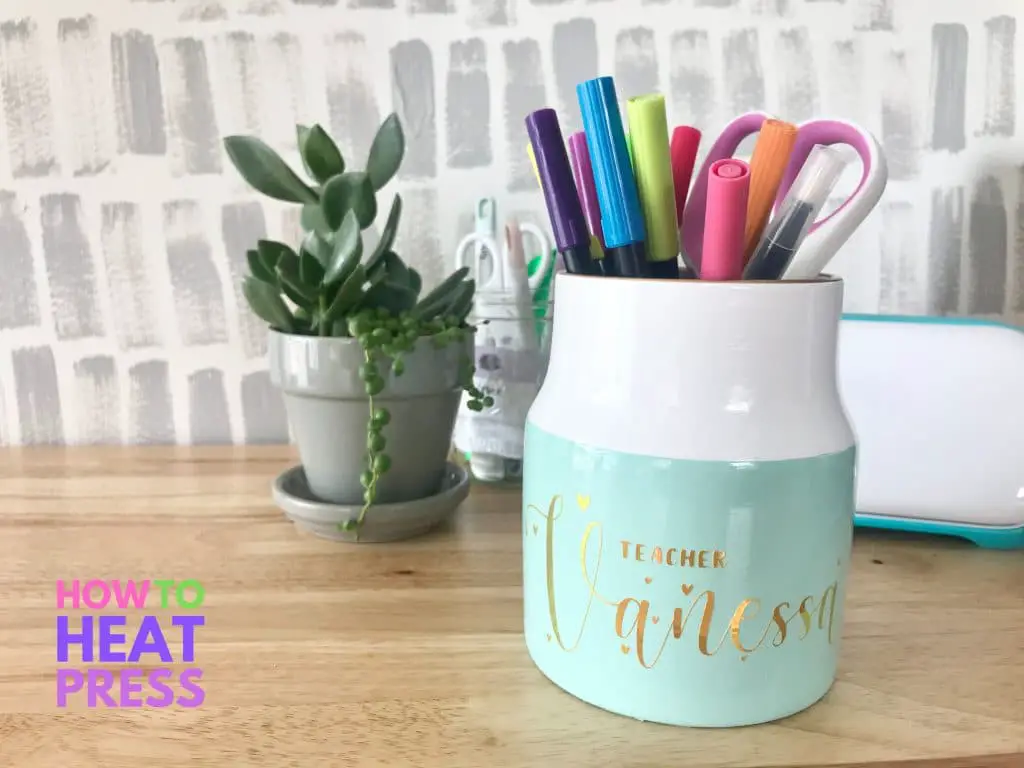 Creating gifts for teachers is quick and easy! You can use any cup or vase and whip up a one-of-a kind gift in no time.
Great blanks for teacher gifts can often be found at Dollar Tree. I recommend tote bags, notebooks, vases, jars, or mugs (especially if you can get an insulated one with a lid!).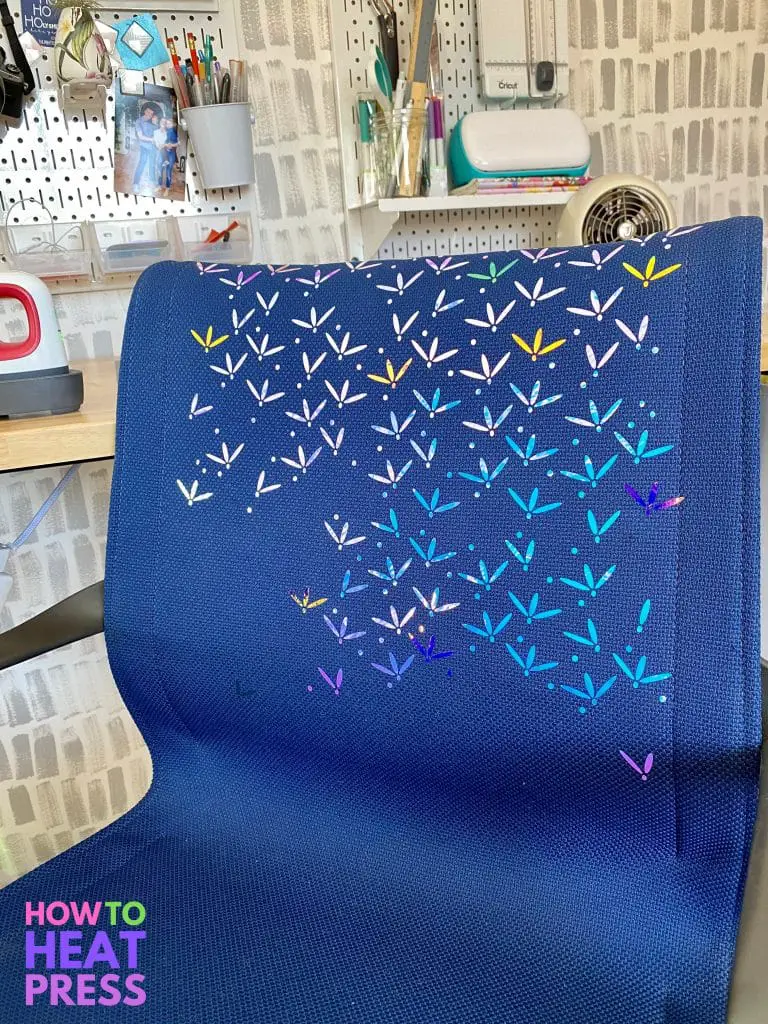 Have an old chair that could use a little facelift? We've got just the thing for you – our DIY office chair makeover tutorial. This is a great way to bring new life to something that might be a bit worn out.
This project is also a fabulous way to take a cheap item and make it one of a kind. While we used HTV for this chair you could also use adhesive vinyl on a wooden chair.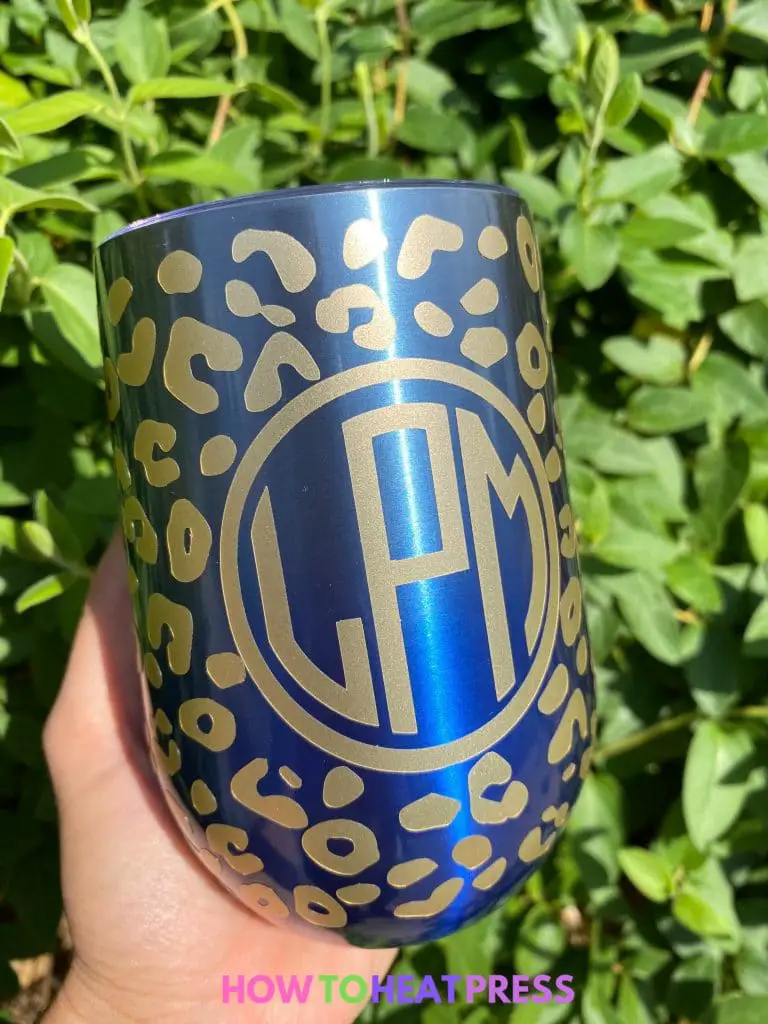 Wine glasses or wine tumblers are totally doable with the Joy! They make amazing gifts and can easily be personalized with a monogram.
Making complete wraps is a bit more complicated (but totally doable) so a pattern like this leopard print is pretty forgiving. Don't be afraid to cut it into sections when applying or even apply spots one at a time to get the right density.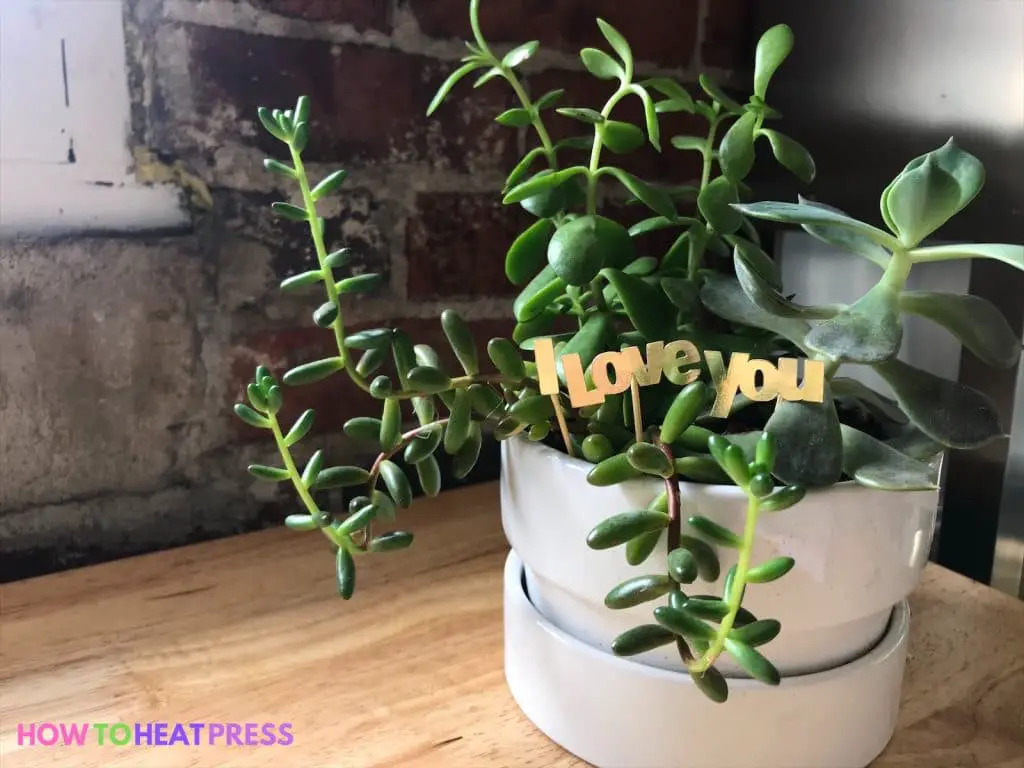 Sometimes you just need a little reminder that you're loved, am I right?! This little cutie was made out of metallic cardstock and mounted on toothpicks with hot glue. I love surprising my husband with little notes like this in the plant on his desk.
The Joy is also big enough to make really nice cake toppers!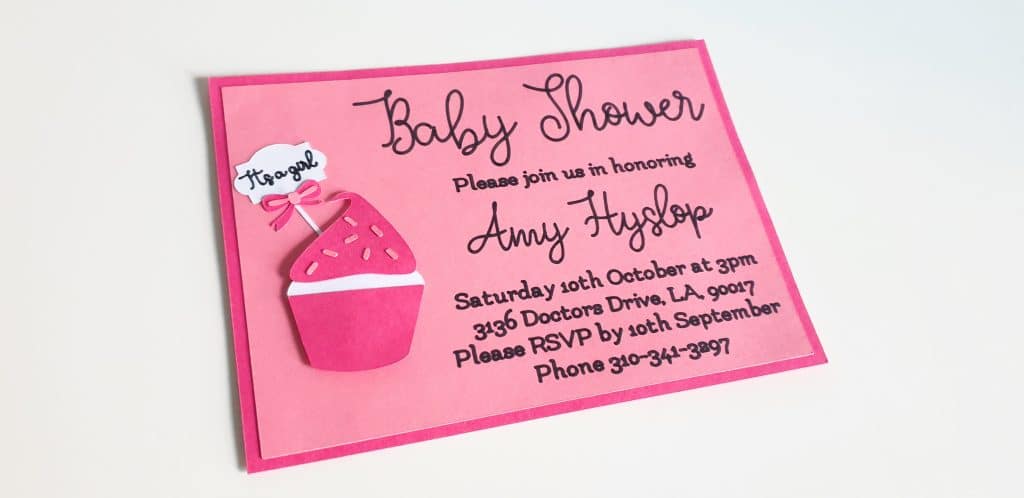 The Cricut Joy can write with pens just like the Explore Air 2 and Maker do. You can make beautiful invitations for parties, baby showers. Here's how to use pens with the draw feature in Cricut Design Space.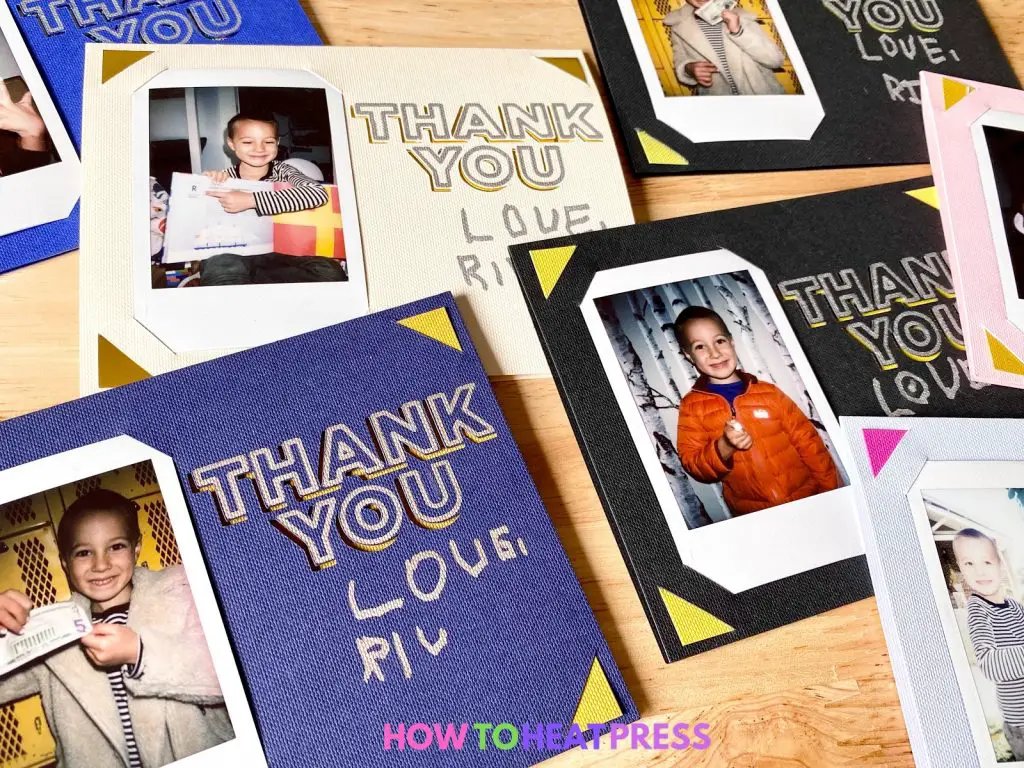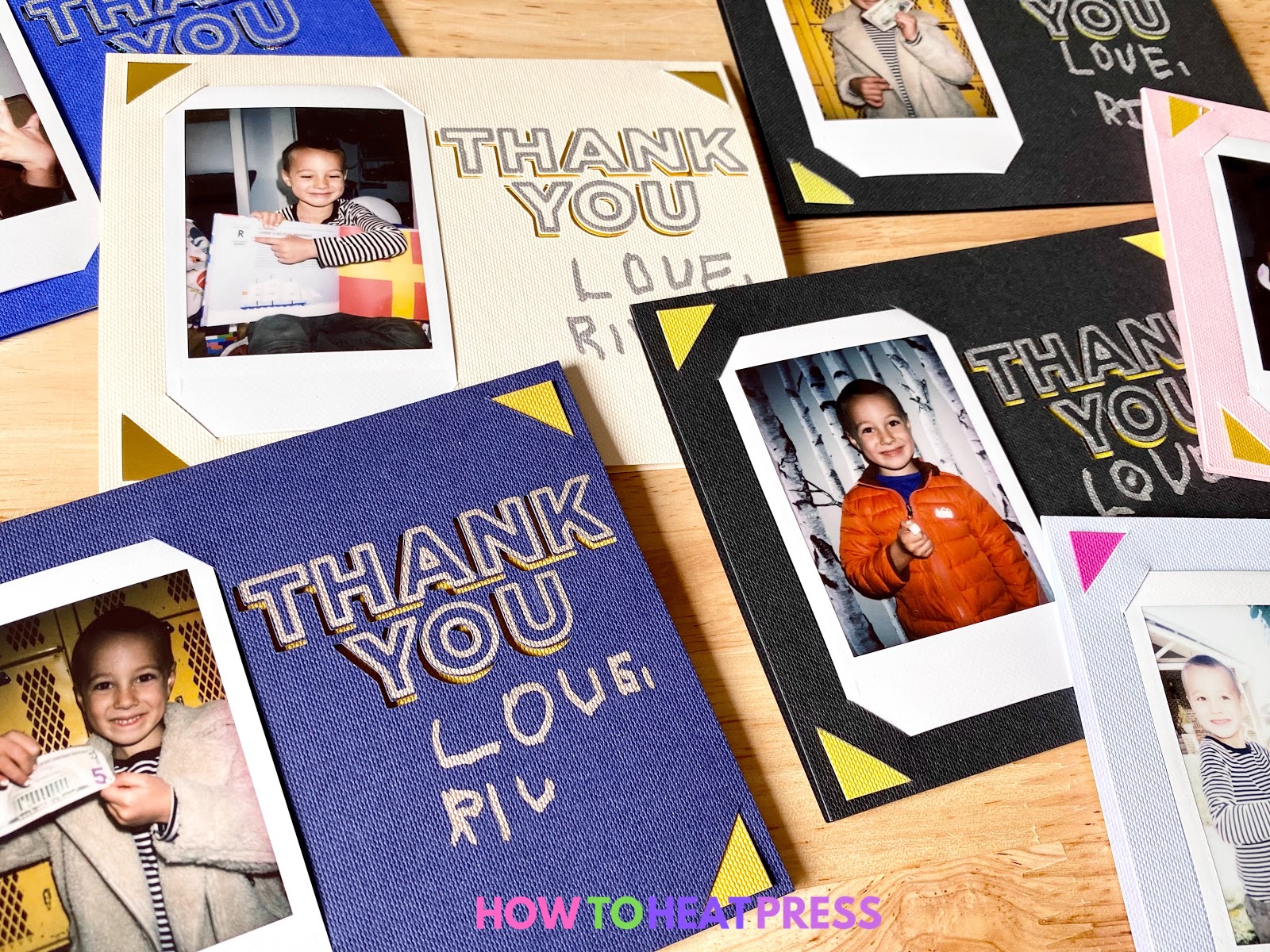 Another amazing thing to make with the Cricut Joy – custom thank you cards! This post can show you exactly how to create your own thank you notes like the ones above. We particularly love them for early writers like our newly minted 5 year old!
You could also make cute little frames for the sweet polaroid photos from Instax cameras!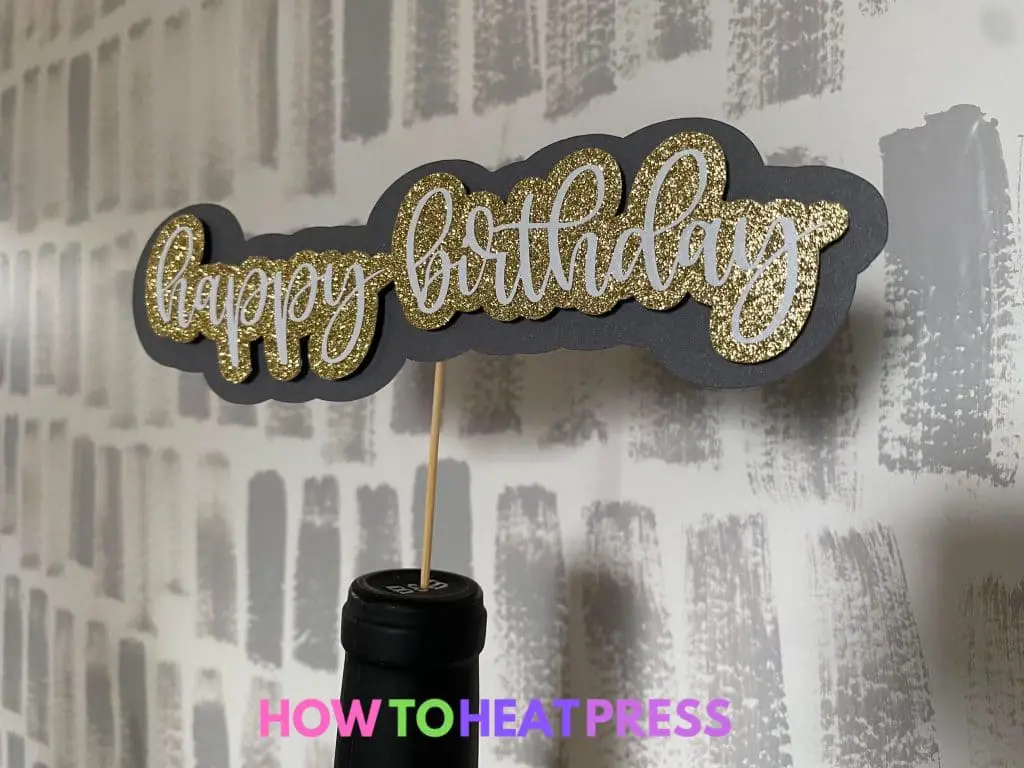 This little wine bottle topper is my go to for making a last minute bottle of wine feel like a treasured birthday gift. Using adhesive foam dots between the gray and glitter cardstock layers helps this look extra fancy!
Design Space works just the same as it does with the Maker or the Explore Air 2. I created the outline for the design above in Inkscape, uploaded it to DS, and cut the layers on my Joy.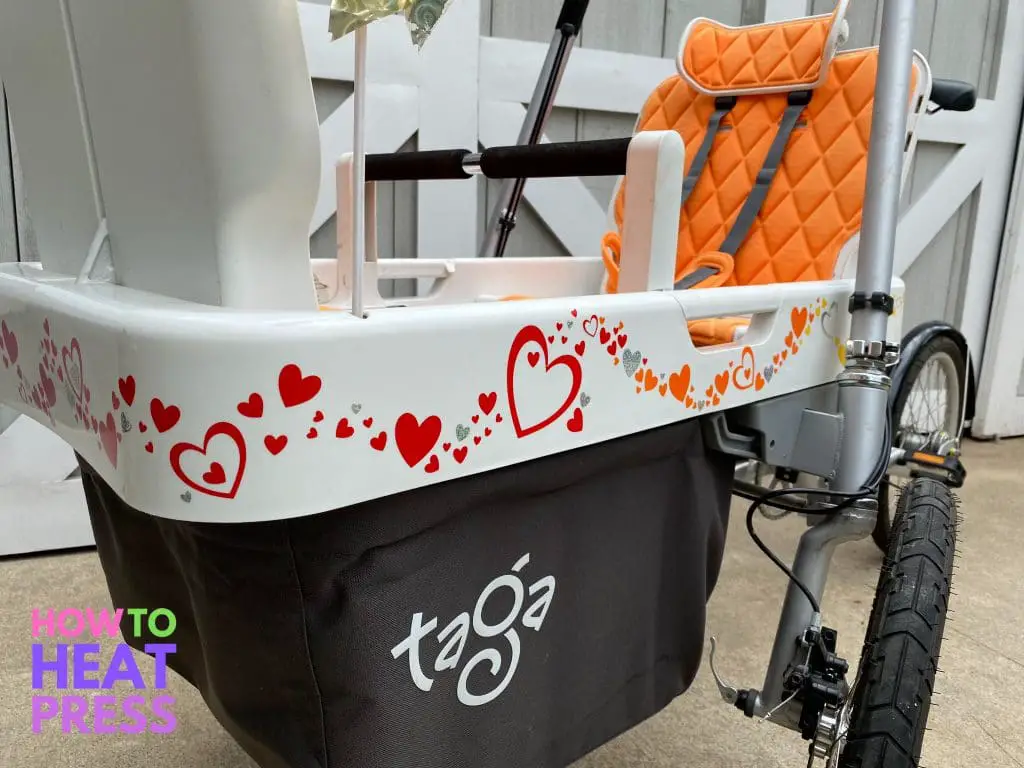 Spruce up an old bike or make a hand-me-down feel like the most exciting thing in the world with some Oracal 651 adhesive vinyl cut on the Cricut Joy.
To make this rainbow ombre design around the basket of my family cargo bike I just used the heart shape in Design Space and then applied the hearts one at a time. I used the cutting mat to mount the Oracal vinyl because it's not a Cricut Smart Material.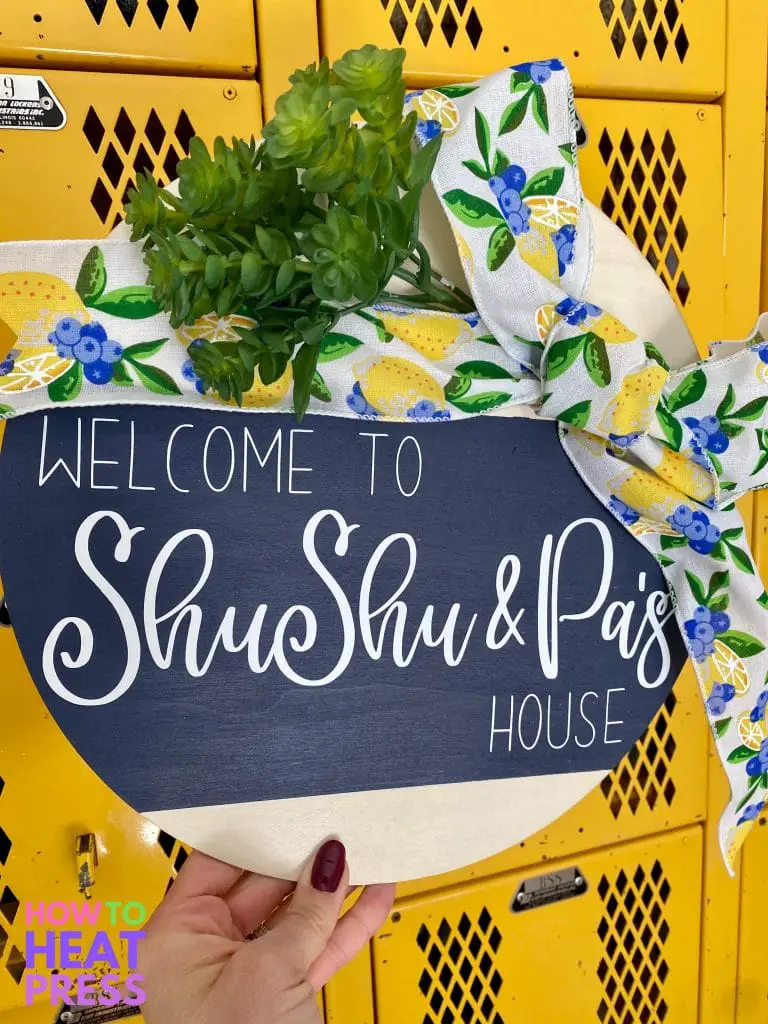 Wooden door signs are absolutely doable on the Cricut Joy! Here we've simply applied adhesive vinyl on top of a painted strip on a round wood blank.  These are wonderful gifts for housewarming, or as in the case above, a little extra love for the grandparents in your life!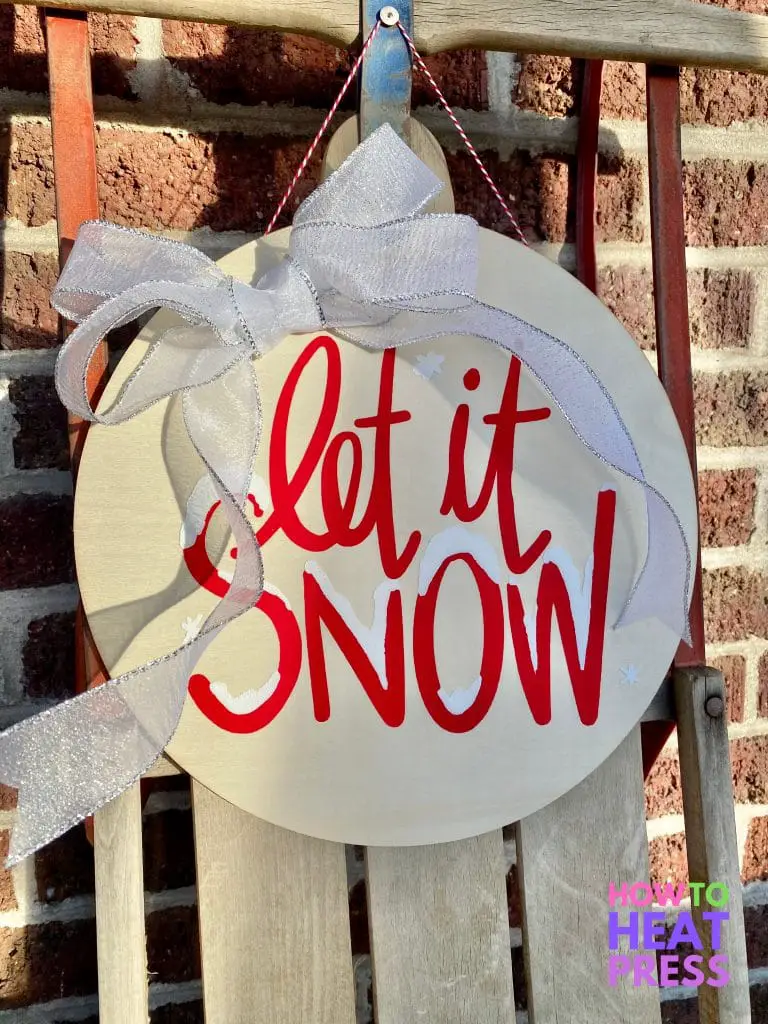 Another fun option for a wood sign is something seasonal. This was actually done with HTV on wood and some white puff HTV for that 3D look on the snow.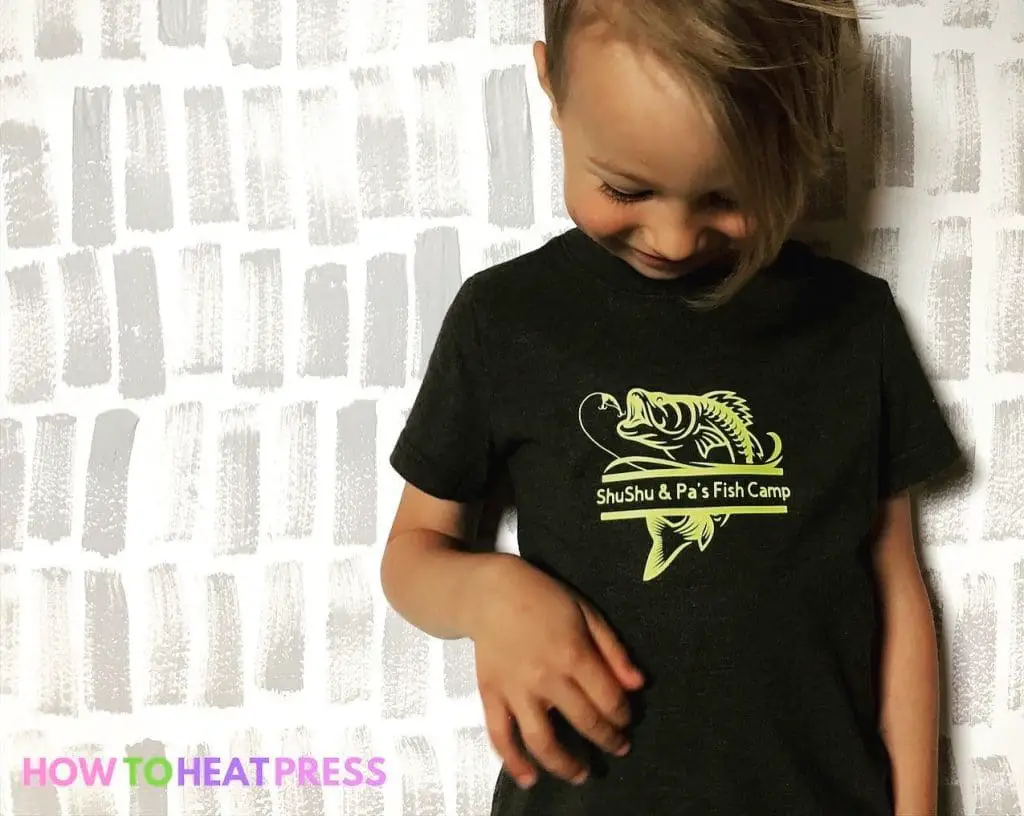 My son and I designed this shirt before his first fishing trip with his grandparents. The Joy is perfect for personalizing items for any occasion!
One of my favorite things about the Cricut Joy is that it is easy to use with my children. My four year old is able to load the materials or mat, do some weeding on simple projects, and even help with the Easy Press Mini.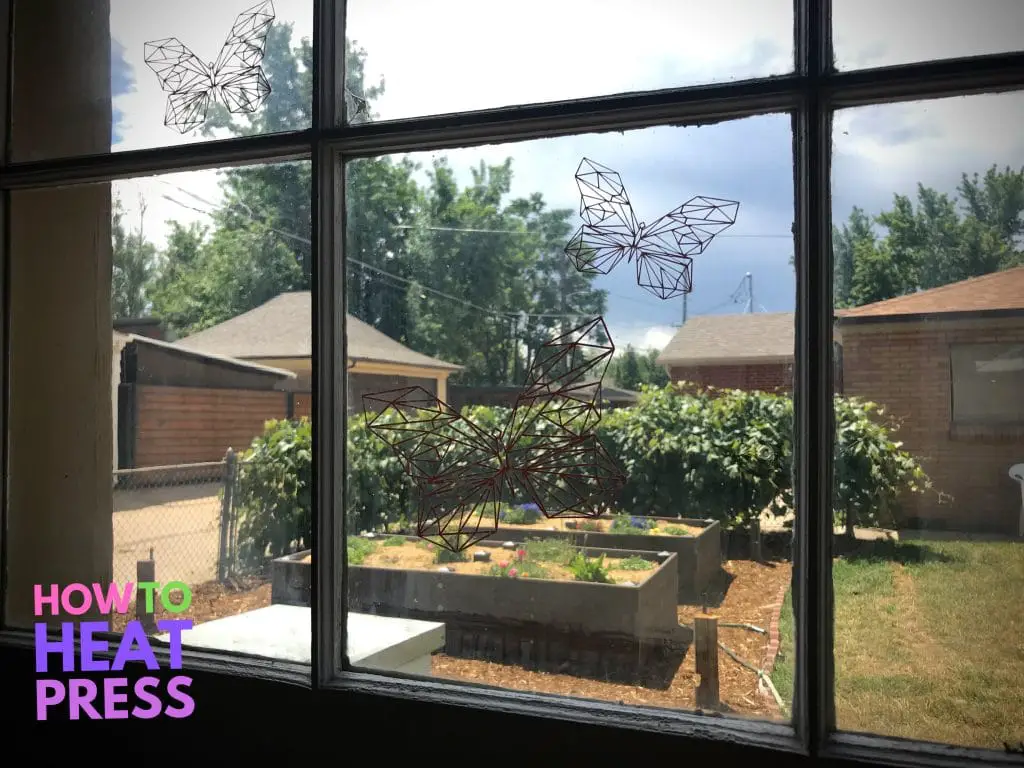 Can you spot those beautiful geometric butterflies on the window? Making decorations for your windows is a great way to use the Joy.
For these butterflies I used removable vinyl that I found on clearance. Window cling is a great option for enjoying your designs from inside and outside! Remember that even though the Joy specializes in cutting Smart materials without a mat you can still cut regular vinyl, paper, and cling on a mat.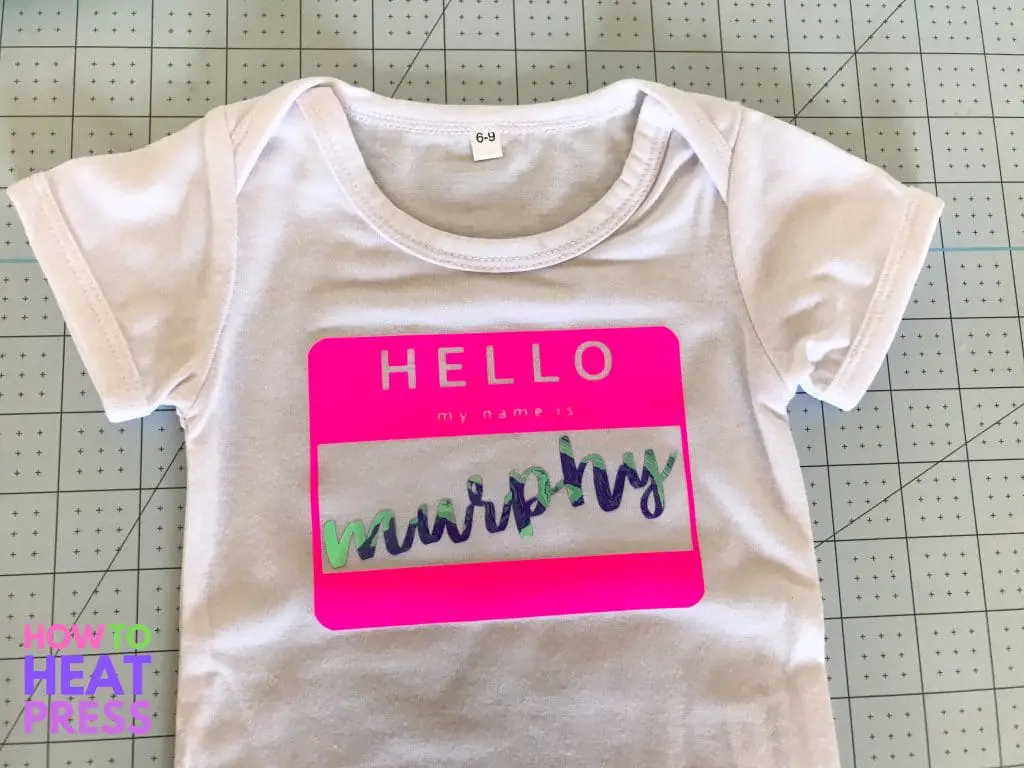 Making baby onesies is an obvious choice for the Joy because small onesies means small design size! For this design we used neon Cricut Smart HTV and holographic vinyl.
Making personalized onesies is an even better option. If you're going to DIY the onesie you might as well make it personal!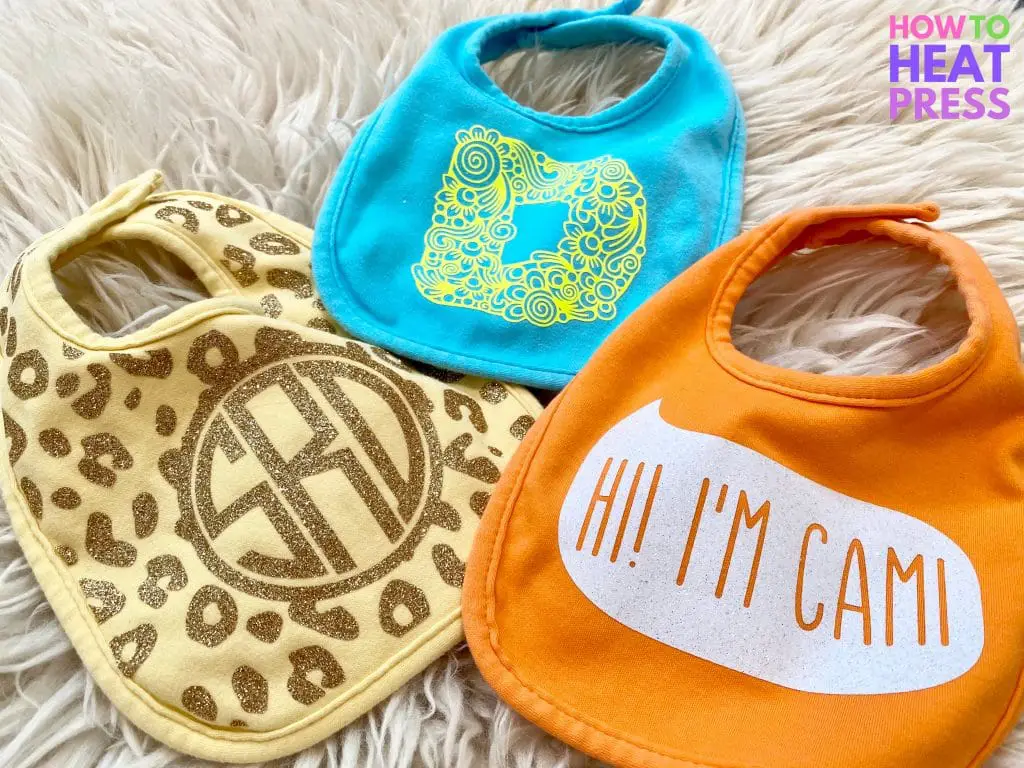 Baby bibs are a perfect project for the Cricut Joy! Really any baby item is ideal as the surface area you're going to be customizing is pretty tiny. We've got examples to get you inspired and explain how to customize baby gear including bibs, onesies, receiving blankets, burp cloths, hats and even those adorable little mittens!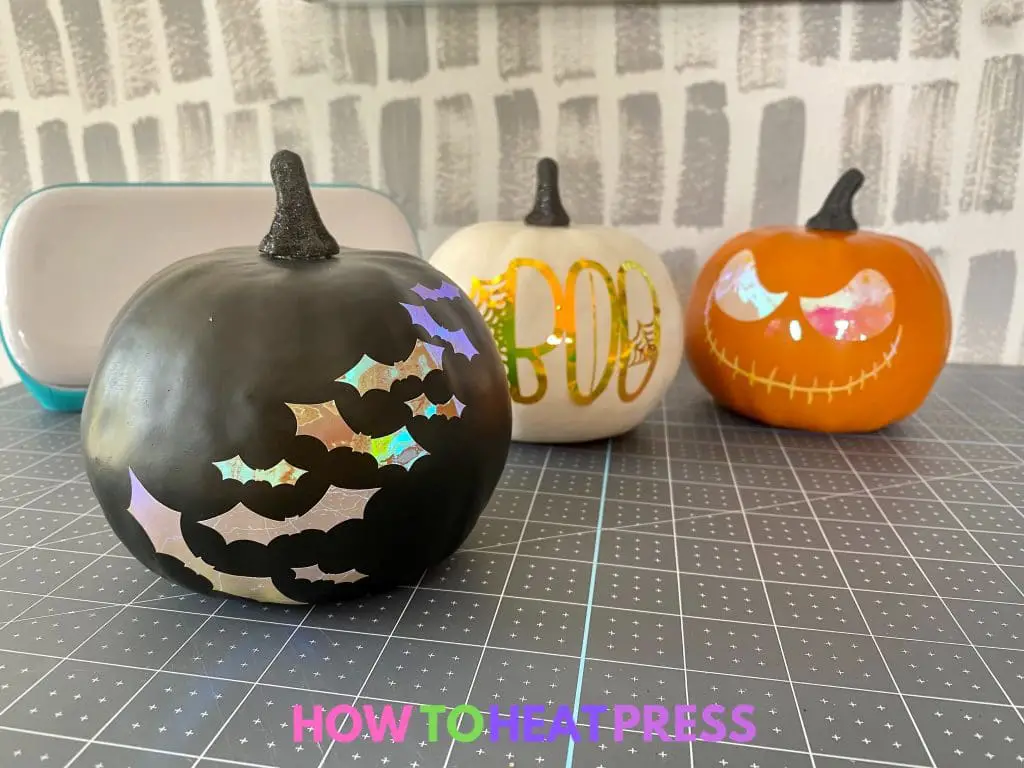 These fake pumpkins were made with the much beloved Cricut adhesive holographic vinyl. These will last for years unlike a real pumpkin. (Complete pumpkin tutorial here should you be interested.)
Making multiple pumpkins was super fast because while the design was cutting on the Joy for one I was weeding and applying others.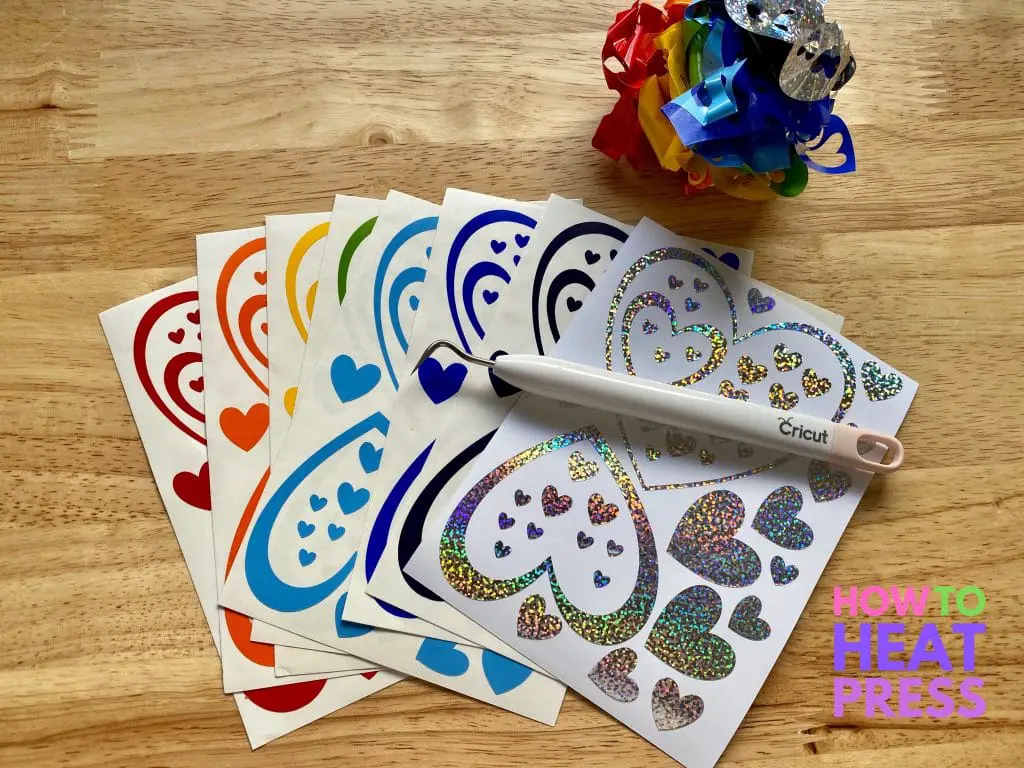 Raise your hand if you've got a kid who can never have enough stickers! I love using the Cricut Joy to turn my adhesive vinyl scraps into stickers for my kids.
Be thoughtful about the type of vinyl in terms of where you set your kids free with the stickers so you don't end up with permanent hearts on your toilet – unless that's what you want!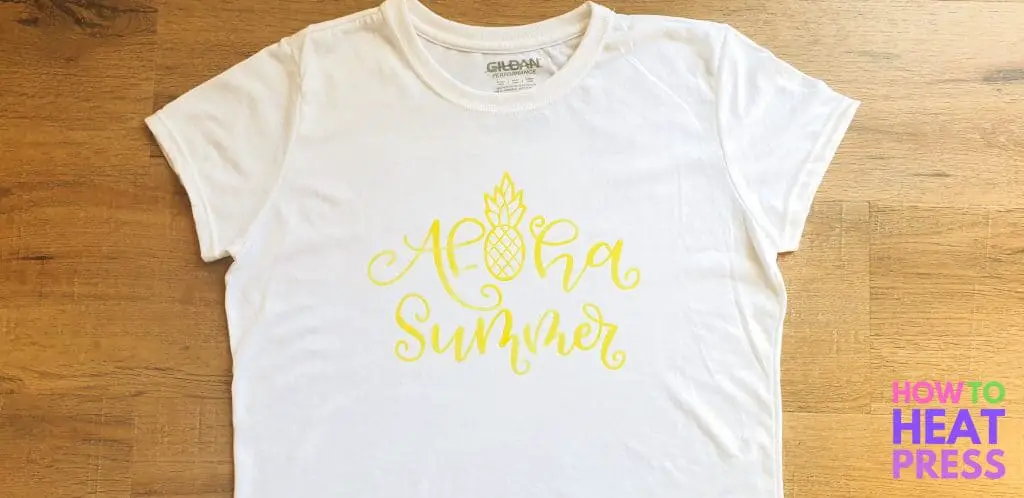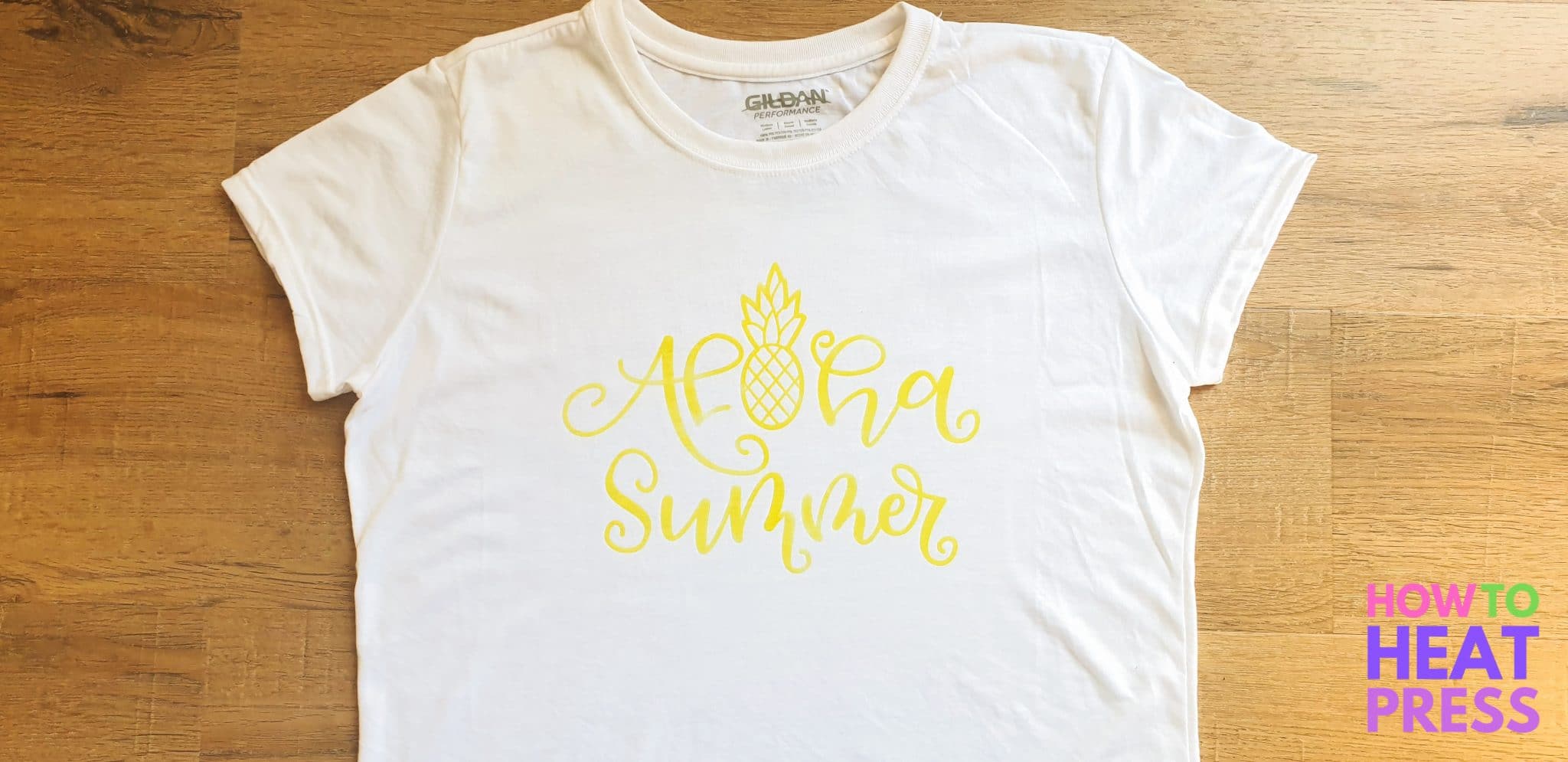 We made this Infusible Ink shirt recently and love how good it turned out… such a different result to iron on vinyl!
Use the Joy Infusible Ink Sheets and apply them to your favorite white polyester shirts! The transfer sheets for the Joy are specially sized at 4.5 x 12 inches.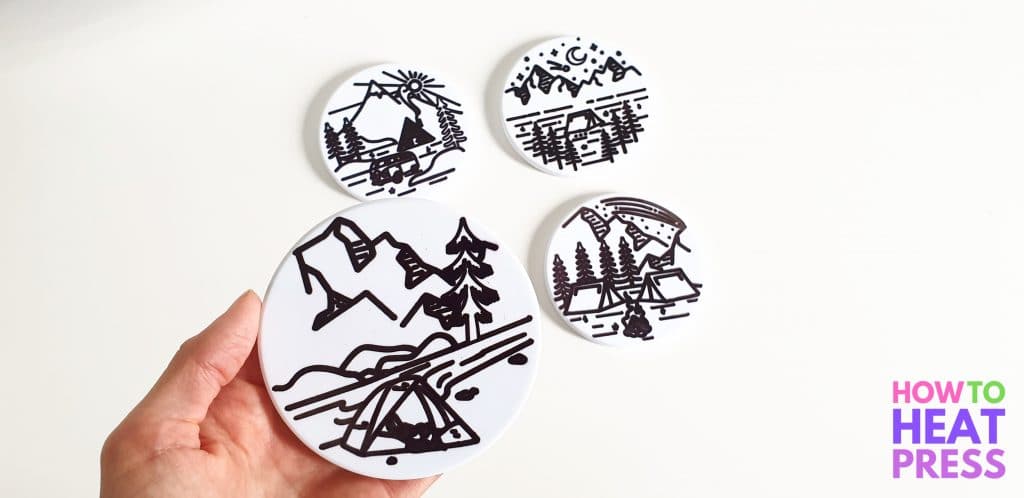 Create your own heat transfers with the Cricut Joy using the Infusible Ink Pens and Markers from the Smart Materials range. These transfers can be applied to any of the regular Infusible Ink Blanks.
The Cricut Joy pens  are smaller than those made for the Maker and Explore Air 2.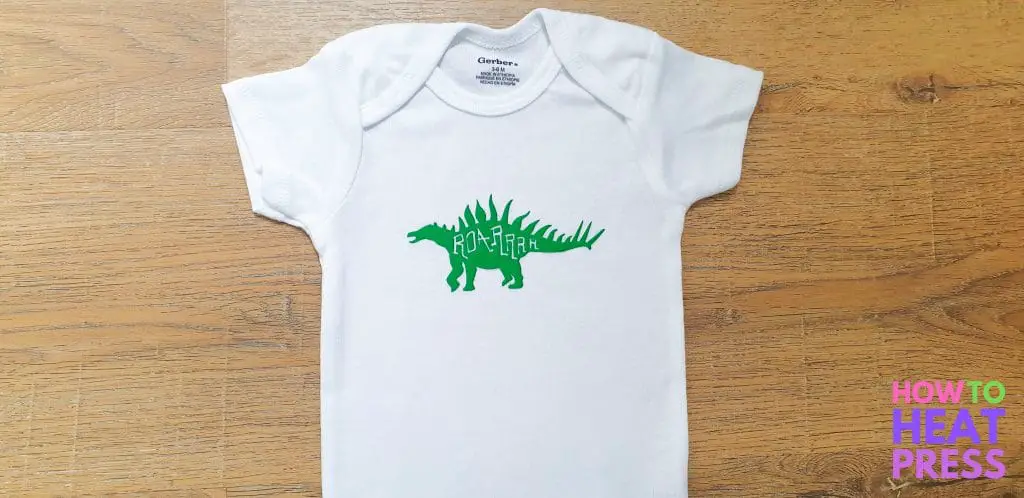 Use the Joy to make small Flocked HTV transfers for baby onesies. We made this cute project using Craftables Flocked HTV recently, and it came out great! This could even be a fun craft to do at a baby shower.
The Cricut Joy is the perfect little machine for these types of small transfers. It's much quicker and easier to whip out than the larger smart cutting machines.
The Cricut Joy Materials range includes a selection of Smart Labels. The machine is easily portable so you're not stuck working in the craft room, bring it to the kitchen! Plus, no mat is needed when working with Smart materials.
This means you can write and then cut out your very own labels for everything in your home! The app has templates already set up for a variety of labels – just type in what you want written and hit 'make it.' Crafting that helps keep you organized!
Use the Joy for making small iron on transfers for kids shirts!
This was a quick and easy EasyPress Mini project – why use a big machine like the Cricut Maker when you can use the Joy? Using Smart Iron-on Vinyl makes it even easier.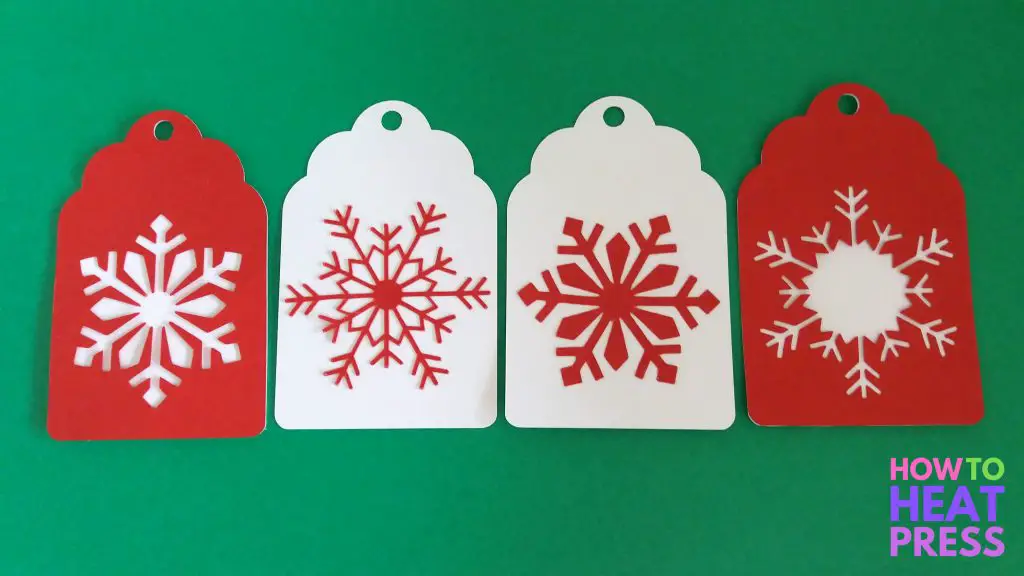 Another Cricut Joy project: cut cardstock and make DIY Christmas gift tags like these!
There isn't any Cricut brand cardstock for the Joy yet, but no doubt there will be before long. In the meantime you can cut your regular cardstock down to size. While there are many Joy specific Smart Materials it's important to know you can still use normal vinyl, HTV, or paper cut to size and mounted on the cutting mat.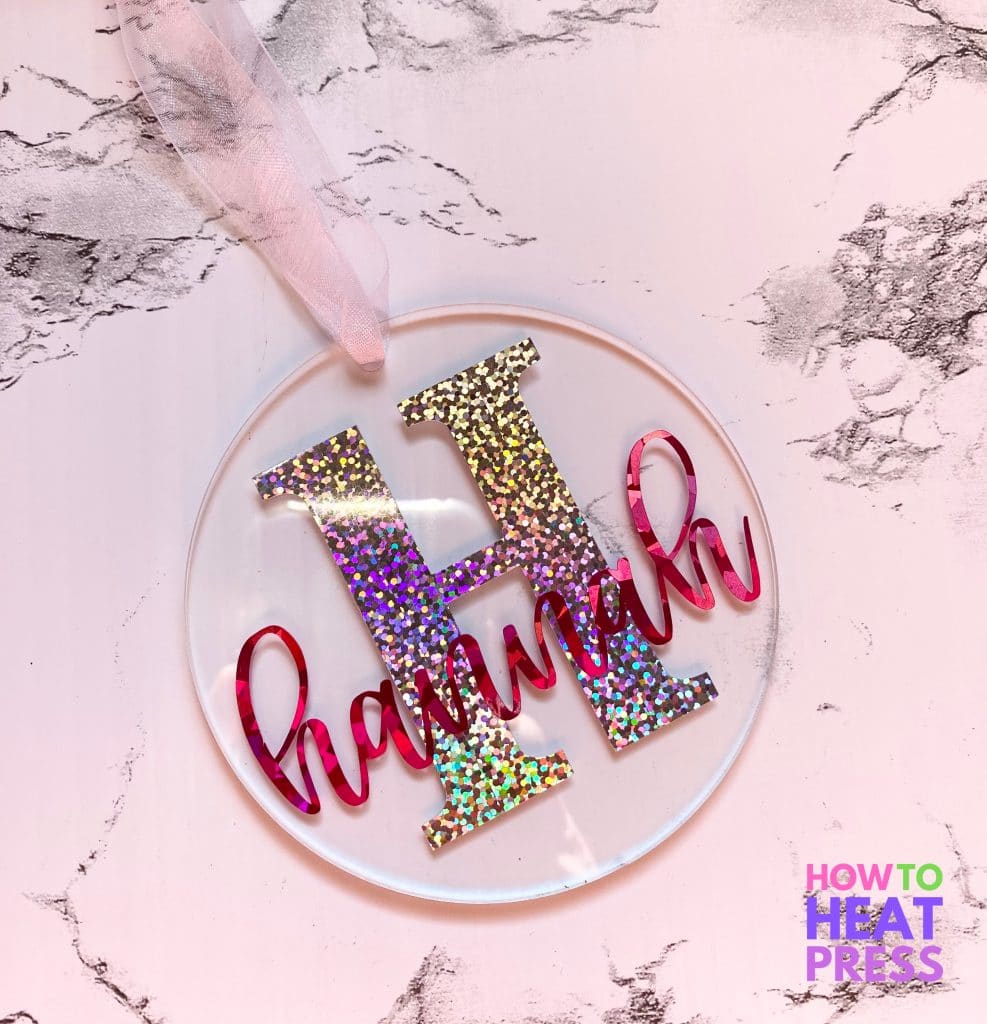 The Cricut Joy is the perfect machine for making adorable personalized Christmas ornaments or keychains! It's great for tons of Christmas craft projects as a matter of fact.
We love the look of the layered vinyl – pink on the front and holographic sparkle on the back or these blank acrylic ornaments.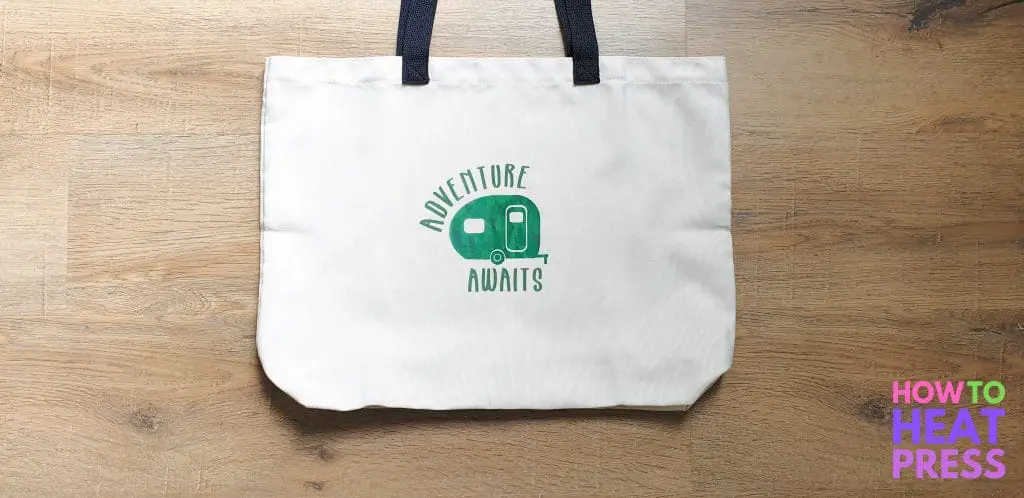 Not only can Cricut Infusible Ink be applied to shirts and coasters, but also onto the blank tote bags.
While the Joy has a max cutting width of 4.5 inches, there are so many substrates that you can apply transfers to within this size range.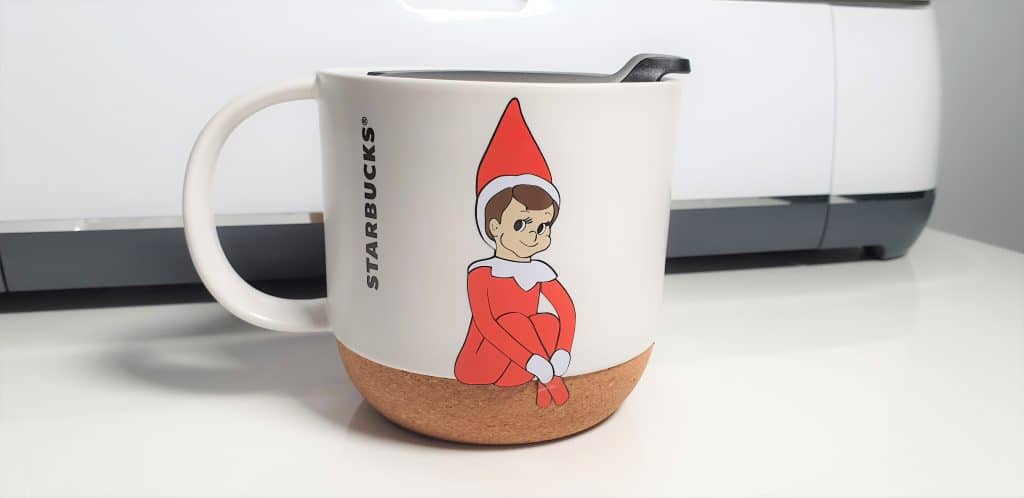 Another type of Cricut Joy project is using adhesive Cricut Joy Smart vinyl.
Small adhesive vinyl decals like this Elf of the Shelf can be applied on mugs and cups. This is a layered HTV project using this SVG from Etsy and could be made with Smart Vinyl or regular vinyl on a mat.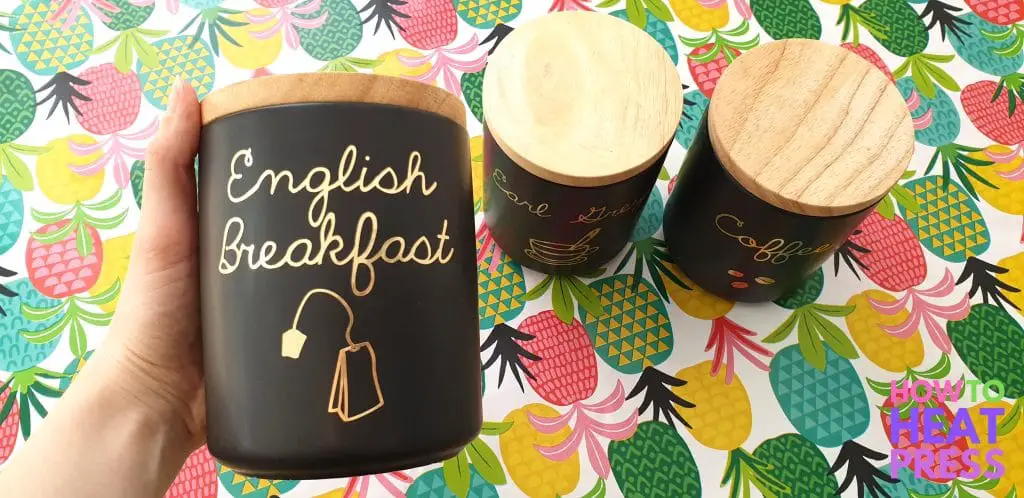 Make simple vinyl decals for kitchen storage containers.
Work with the Cricut Joy machine right in the kitchen using bluetooth and your phone – too easy!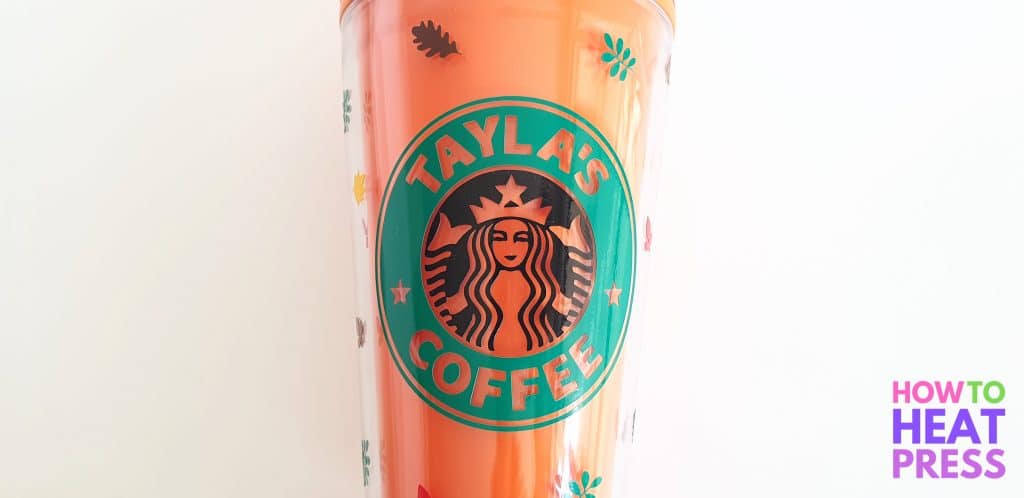 We've covered cups and kitchen storage, but what about Starbucks Tumblers?
Use the Joy to decorate everything with small vinyl decals. Go with a single color or multiple colors.
The Joy is the perfect size for making greeting cards… in fact, if this is the main thing you do, this is one of the best cutting machines for card makers!
There is a specific Cricut Joy Card Mat and insert card sets. Using the card mat makes centering your designs easy. If you've got Cricut Access tons of beautiful pre-made designs are free. If you don't, you can purchase them of $0.99 or design your own!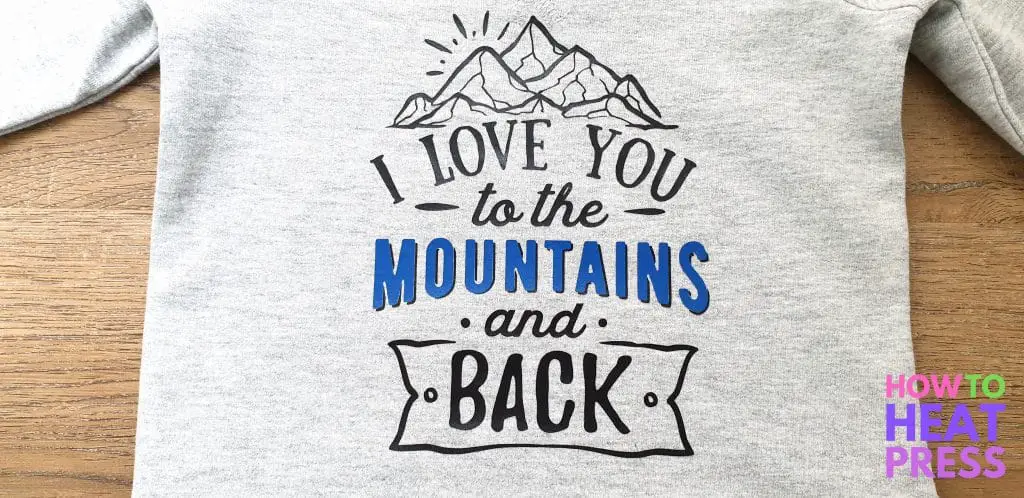 The 4.5 inch cutting width on the Joy is totally fine for kids sweatshirt projects as well.
We used SVG files from this pack to make this cute HTV project. Adding an extra color made all the difference!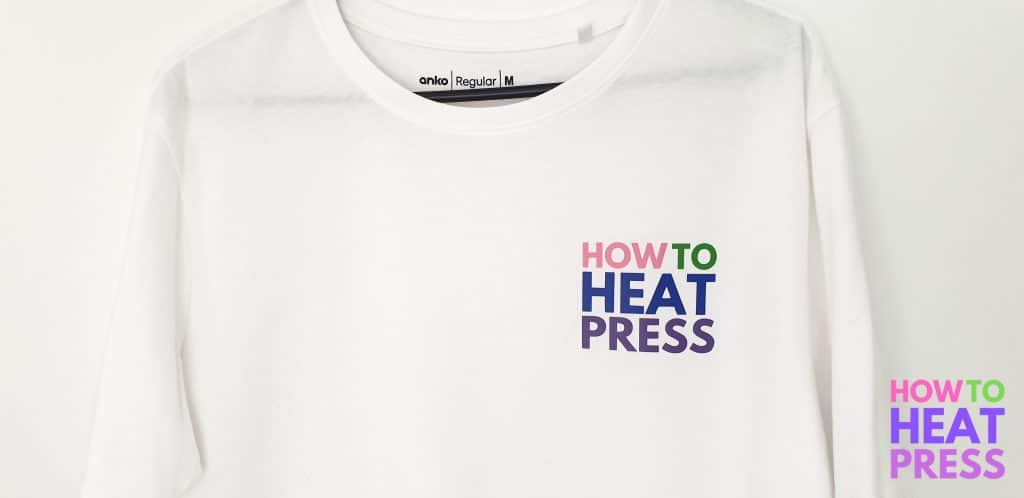 Does your business have staff uniforms?
Make the Cricut Joy a business expense and use it to make t shirts for your employees! It's easy enough to cut logos out of HTV and apply them yourself – you could even do it on a single mat in Cricut Design Space!
Use the Cricut Joy Vinyl to create decals for walls, furniture, or whatever else!
Make designs for your laptop, your fridge, or even the Cricut Joy itself!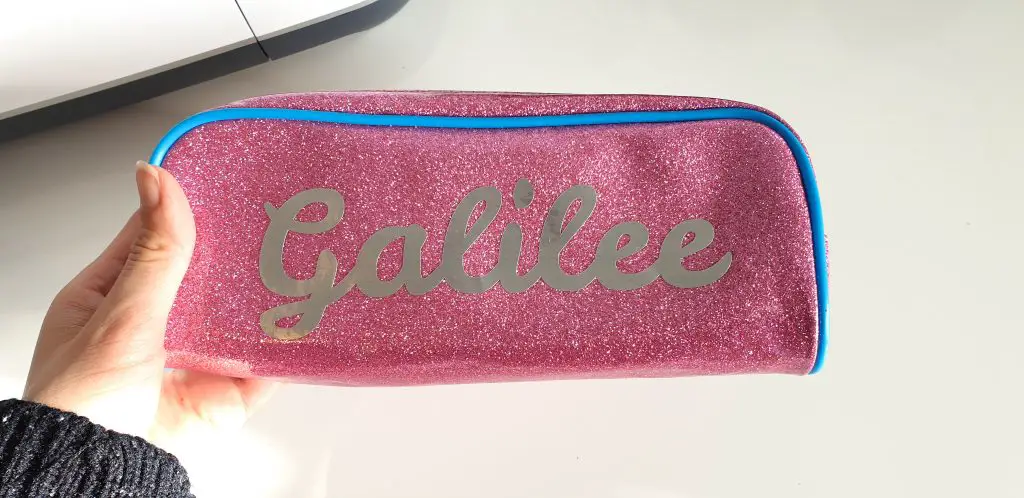 Another idea for a Cricut Joy project… decorate a pencil case with adhesive vinyl. You really could personalize anything!
If you aren't yet totally sure, these are the differences between adhesive and iron on vinyl.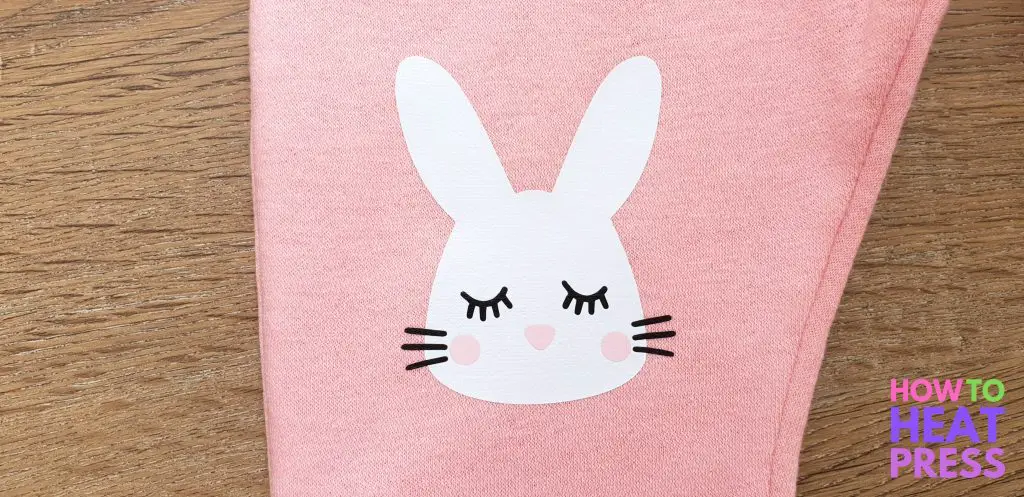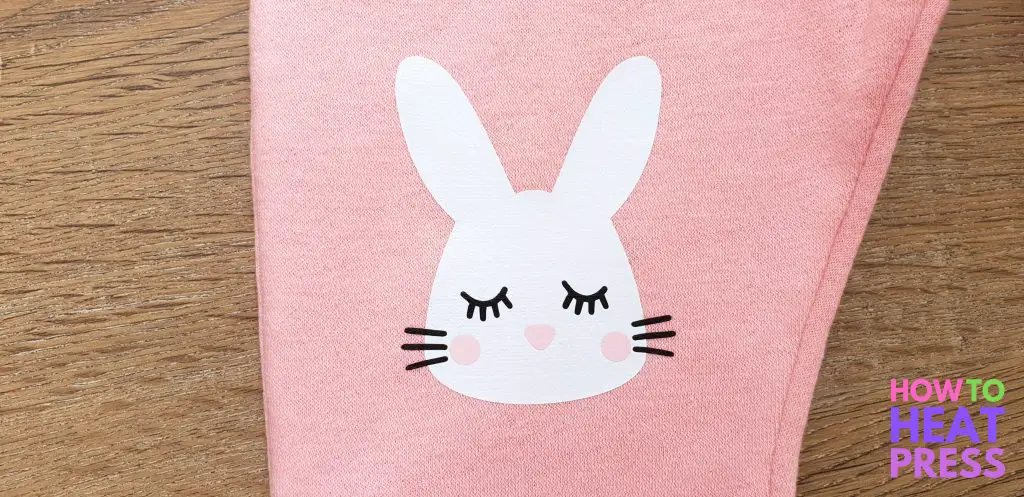 These HTV knee patches are another layered iron on transfer which could make for the perfect Cricut Joy project.
Make all the plain things pop!
One of the big differences of the Cricut Joy, compared with the Maker and Air 2, is that it can cut up to 20ft lengths of vinyl.
Make Happy Birthday decals like this one to make your friends birthday extra special!  You could also make long banners for car windows.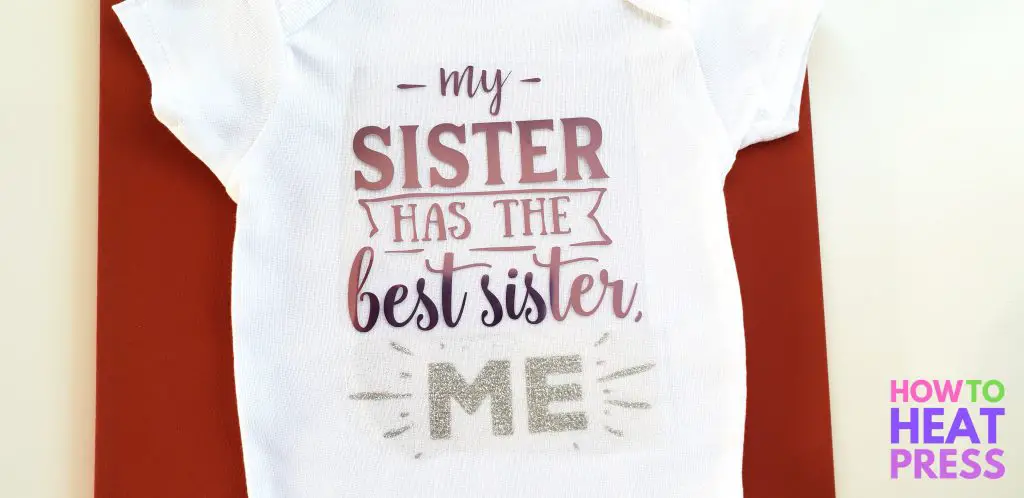 There are many types of vinyl out there, and while the Cricut Joy Smart Materials range is still being filled out, you can still cut down other types of HTV to fit. As you can see above, plastic backing is still on the design. You'll use your same weeding tool, transfer tape, and scraper to transfer the images. The Easy Press Mini is perfect for most Cricut Joy projects!
This Cricut Foil Iron On project is small and doesn't go beyond the Joy's limit of 4.5 inches wide. You can orient designs sideways too so you have more room to cut all of your DIY projects.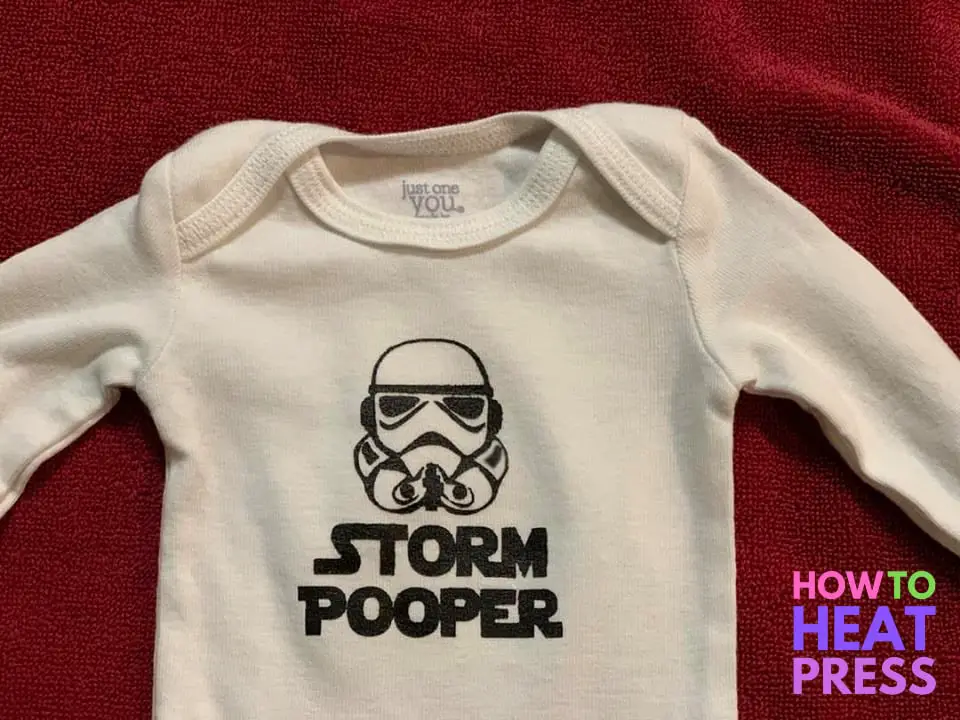 This is a Speedball Screen Printing Ink Project which has a stencil cut from freezer paper.
The Joy will cut this, no problem, so you can make your own screen printed transfers. Although the Joy can't cut as many heavy duty materials as the Explore or Maker machines it will handle paper, vinyl, and cardstock with ease.
And finally, the Cricut Joy can be used with Cricut writable vinyl or adhesive back deluxe paper. A cute little way to make custom stickers for your little best friend's lunch!
Make your own stickers and labels with the Cricut Joy!
Cricut Joy Inspiration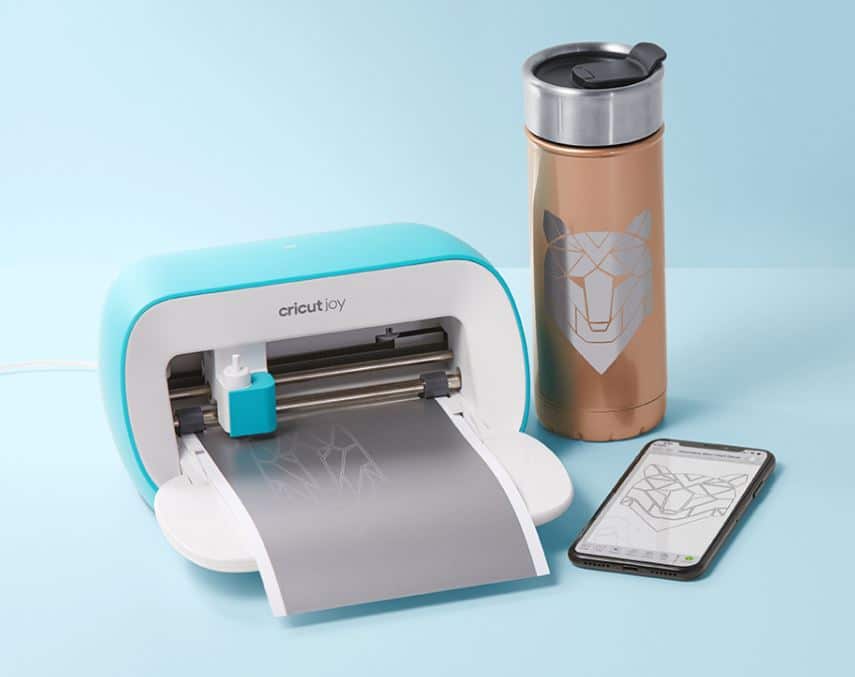 We hope that's given you a good idea of the numerous Cricut Joy projects out there. What will you make with yours?
Let us know if you have any questions down in the comments 🙂 Have fun with your Cricut crafts!
(Please note: This post contains affiliate links. Read our full disclosure policy here.)