Cricut Joy Review: Better Than The Explore Air 2 Or Maker?
This post contains affiliate links. If you use these links to buy something, we may earn a commission, but it doesn't cost you anything. Thanks!
The Cricut Joy vs Explore Air 2 vs Maker: which is better?
The Cricut Joy is a small personal cutting machine that is capable of cutting the most popular Cricut materials. It's about 1/4 of the size of the Cricut Maker and Explore Air 2, and has a single carriage for holding either a blade or pen.
Let's take a good look at it, and compare it with the other Cricut Machines!
The Cricut Joy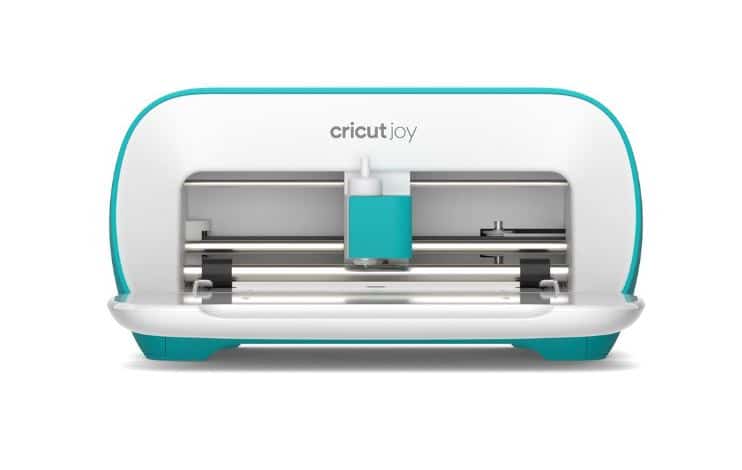 The small size is certainly the main selling point and point of difference for the Cricut Joy.
It's a highly portable cutting machine than can be easily moved around the house, or transported wherever you need. It's extremely light when compared with the Cricut Maker and Air 2, and can even be held in one hand!
Cricut Joy material width is 4.25 inches, with the max cutting width being slightly less. The Maker and Air 2 have a material width of 12 inches, so the Joy is almost two thirds smaller in this regard.
The other big difference the Cricut Joy has is that it can cut lengths of vinyl or iron on up to 20 feet long! The Maker and Explore Air 2 have a max length of 24 inches. We'll consider the pros and cons of this down below.
While many may be wondering whether to get an Air 2, Maker, or Joy, the latter should perhaps be seen as an additional machine, rather than one's only machine. We'll also dig further into this below.
Cricut Joy Features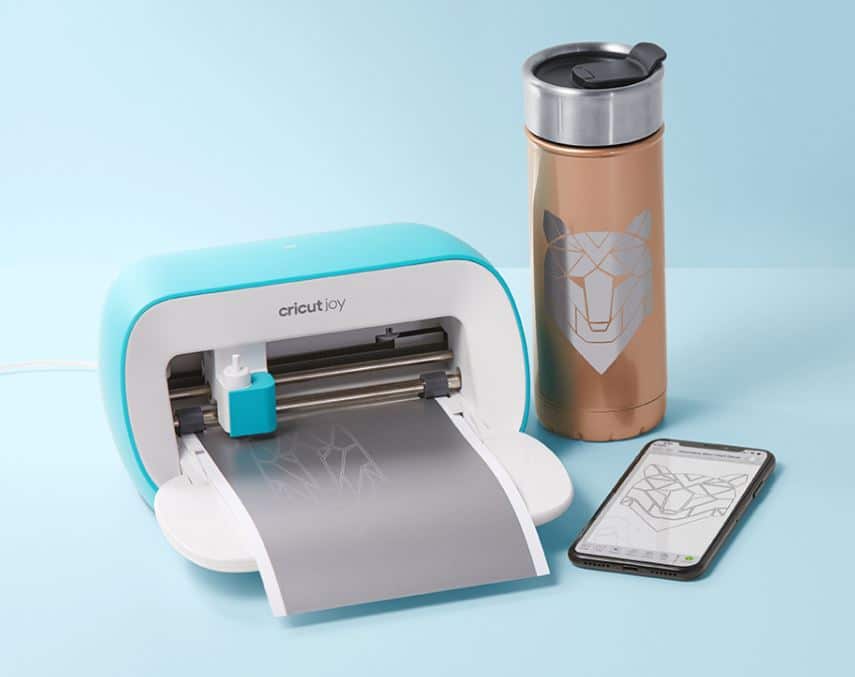 What are the features of the Cricut Joy?
The best feature of the Cricut Joy has got to be mat-less cutting of longer lengths of vinyl and HTV – up to 20 feet long!
This makes it possible to insert 20 ft rolls of Cricut Smart Materials into the machine, and have a 4 ft design cut up to 5 times. You are not able to cut a totally unique design to the full length, but must use a repeating 4 ft pattern.
This feature is good for making farmhouse signs, long/tall vinyl decals for walls or wood, or all the pieces of a large iron on transfer in one go. The downside is that it can only be a bit over 4 inches wide at max.
The Joy does not have a USB port like the Maker and Air 2, it must be used via Bluetooth.
If you'd like an idea of what you can make, see here for 20 different Cricut Joy Projects!
Cricut Smart Materials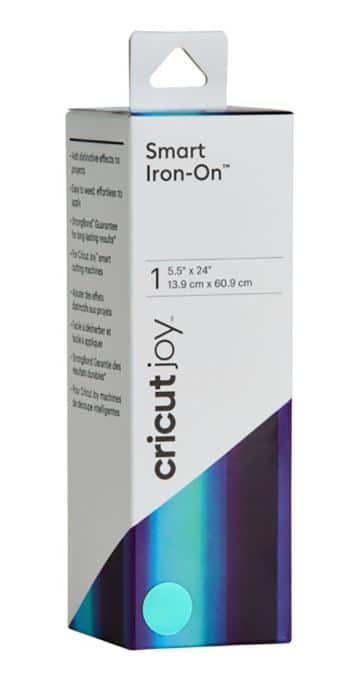 What are Cricut Smart Materials?
Smart Materials is simply the name given to the materials that have been specially designed for use with the Cricut Joy. These new materials are all branded smart to distinguish them from other (non-smart?) materials.
This includes Smart Iron On, Smart Vinyl, and Smart Paper – no doubt we'll see Smart Infusible Ink and other Smart materials in the near future.
Of course you can still use many of the other materials you already have for your Maker or Air 2, they will simply need to be cut down to the correct width.
Cricut Smart Labels are an especially fun material for the Cricut Joy. This is essentially a writable sticker paper for quickly and easily creating labels for storage containers, boxes, and everything else.
Cricut Joy Price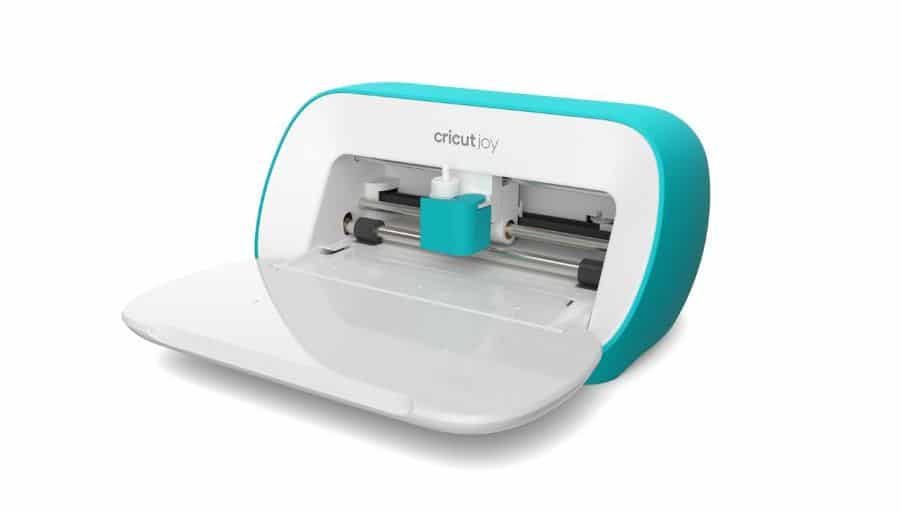 How much is the Cricut Joy?
The Joy has a list price of $179.99 – about $20 less than the Air 2 when it's on sale – and so many will be tossing up between the two.
Remember, however, that the Air 2 has a list price of $250.00. This means that the regular sale price is a discount of about 20%. If we can assume a 20% discount on the Cricut Joy during a sale, the $144.00 price is a lot cheaper.
The Cricut Maker has a list price of $399.99, and so the difference is far greater.
Let's compare the Cricut machines further.
Cricut Joy Vs Explore Air 2
What's the difference between the Air 2 and Cricut Joy?
The biggest difference is obviously the size of the machines. The Explore Air 2 is a 12 inch cutting machine that weighs more and takes up more space!
The Air 2 has a max cutting length of 24 inches, and needs to be used with a cutting mat at all times. It can also be used via Bluetooth, but also has a USB port for working via a cord. The Joy can only be used with Bluetooth.
The Air 2 is compatible with many more materials (100+), cutting thicker, stronger, and harder items. There are 4 different tools/blades that can used with the Air 2, compared with 2 for the Joy.
If you are deciding between the Joy and Air 2, the latter is for those who would like the option to do a wider range of projects, who want to do bigger cuts, and whose machine doesn't need to travel around.
Cricut Joy Vs Cricut Maker
What's the difference between the Maker and Cricut Joy?
There is a greater difference between these two machines, with the Maker being Cricut's premium cutting machine.
It's another 12 inch cutter, but can work with over 300 different materials. There are over 12 different Cricut Maker tools, including blades for perforation, engraving, debossing, and cutting fabric.
The Maker has commercial grade cutting technology, and is used by many craft business owners for making all sorts of items to sell.
There is so much more you can do with the Maker that if you are deciding between it and the Joy, the choice should be clear. Do you need a compact cutting machine for limited uses? Go with the Joy. Otherwise, the Maker or Air 2 is the way to go.
Cricut Joy Unboxing
What comes with the Cricut Joy?
Besides the Cricut Joy machine itself, in the box you will find:
Blade & Housing
Black Fine Point Pen (0.4 mm)
StandardGrip Mat – 4.5 x 8.5 inches
Power adapter
Materials for a practice cut
Also, if you are a new Cricut user, you can get a free 30 day trial of Cricut Access. If you've already used this trial, but don't want to subscribe to Cricut Access, there are still 50 free Cricut Joy projects waiting in Design Space!
Cricut Joy Review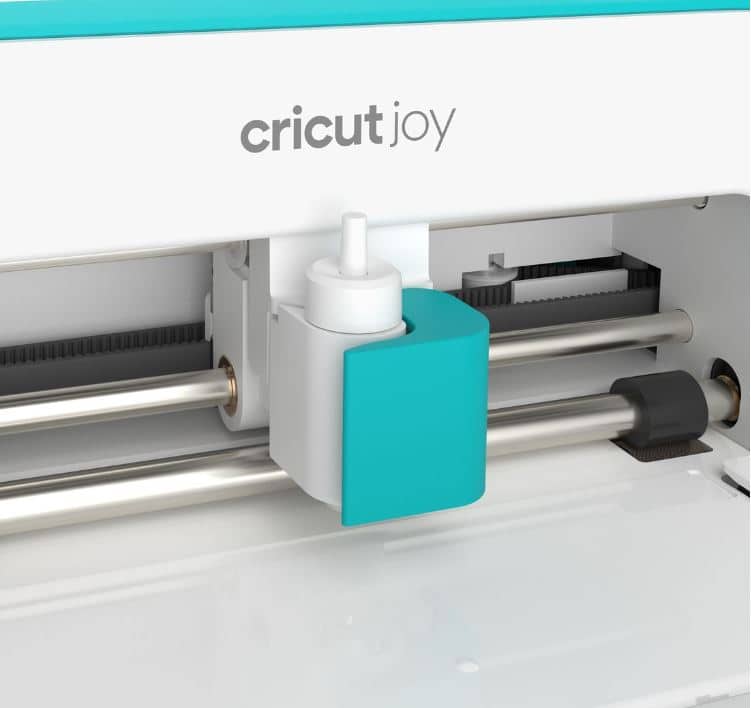 So that's the Cricut Joy!
This is a great electronic cutting machine for making cards, vinyl decals, and iron on transfers. It's perfect for those with limited space who want to be able to move around easily with the machine.
It's a craft cutting machine that is good for those starting out. It makes for a great birthday or Christmas present, and will be loved by all those who try it!
As mentioned at the start of this post, it's a great additional machine for serious crafters. It's definitely worth getting so that you can have a machine that you can easily use from your phone when you desperately need to make labels!
Take it to your mom's house, or your friend's house, and label all the things for them – it's too easy!
Pin this post! 🙂
(Please note: This post contains affiliate links. Read our full disclosure policy here.)