Cricut Explore Air 2 Review: Pros, Cons, & Everything Else!
The Cricut Explore Air 2 is one of the best cutting machines for vinyl, card, and so much more.
I've been using it for the last couple of years, and am a huge fan! In this Cricut Explore Air 2 Review, we'll take a look at the best features, tell you what it can and can't do, and reveal where you can find the cheapest Cricut Explore Air 2!
By the end of this review, you'll know if the Cricut Explore Air 2 is for you.

Cricut Explore Air 2 Review
User Experience

Specifications

Software

Community

Value For Money
Summary
The Cricut Explore Air 2 is a 12 inch cutting machine that cuts, draws, and etches. It is 2x faster than previous Explore models, allowing you to produce great results quickly!
The Air 2 uses a cutting mat to feed materials into the machine, and uses one of three different blades to cut out your amazing designs. Create stunning works of art with this creative machine.
Compare prices to get the best deal on the Cricut Explore.
Pros
High quality components
Beautiful design
Very affordable
Easy to learn
Cut hundreds of materials
Huge FB support groups
Tons of online resources
Suitable for small business
Cons
Does not cut as many materials as Maker
Design Space software slow
Only 12 inches wide
Cricut Explore Air 2 Review
A couple of years ago I decided to buy a Cricut Explore Air 2 after dozens of hours of researching, and comparing it with machines like the Silhouette Cameo 3, and the Brother Scan N Cut 2. The Air 2 came out on top, over the other the machines available at that time.
Since then, the Cricut Maker has also been released, and this is the best Cricut machine. However, it is quite a bit more expensive, and the extra features that it has may not be required by everyone. We'll get into that shortly.
Here are some of the Cricut Explore Air 2 features:
✔️ cut hundreds of materials
✔️ Double tool holder
✔️ Bluetooth capable
✔️ Set material to be cut on dial (or on computer for custom materials)
✔️ Super easy to get up and running
Now let's take a closer look at the Cricut Explore Air 2.
What Can The Cricut Explore Air 2 Cut?
Personally, I use the Explore Air 2 as a HTV cutting machine. I love working with HTV (iron-on) and adhesive vinyl – there's no end to the things I can make!
However, other than these, the Air 2 can cut a wide range of other materials.
Here are some of the other cool materials you can cut and use with the Cricut Explore Air 2.
Standard materials like:
paper
light cardstock
cardstock
different iron-ons
fabric
poster board
washi sheet
adhesive vinyls
parchment paper
Interesting materials like:
window cling
magnetic sheet
vellum
wrapping paper
adhesive backed cork
canvas
thin faux leather
felt
aluminium foil
I've had so much fun trying out so many materials with the Cricut Explore Air 2. I never felt limited by it, and only really got a Maker because of the blog – it doesn't look so good if I use the Air 2 forever, right? But I really wasn't limited by it.
I'm also sure you can see that the Air 2 is capable of cutting a huge range of fabrics, vinyl, craft boards, papers, and more. Next to the Maker, it is the best craft cutting machine for doing a wide range of different craft projects.
Cricut Explore Air 2 Blades
In order to create all different kinds of projects, there are 3 blades that are used with the Cricut Explore machines.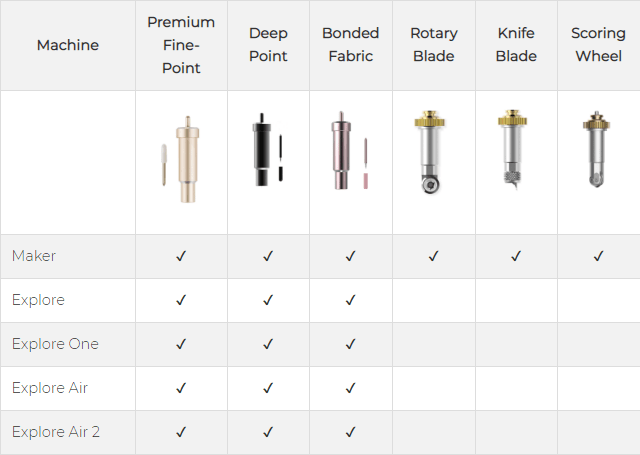 The first three blades can also be used with the Explore Air 2, while the following three blades are only used with the Cricut Maker.
Cricut Explore Air 2 Blades
Premium Fine Point Blade – is used for most materials. HTV,  vinyl, cardstock, and felt are examples of what can be cut using this blade.
Deep Point Blade – is used for thicker and harder materials. Genuine leather, craft foam, and magnetic sheet are some of the materials you will cut with this blade.
Bonded Fabric Blade – is used for working with bonded fabric. This includes materials like bonded polyester, bonded silk, bonded burlap, as well as many other types of bonded fabric.
Scoring Stylus – is not technically a blade, but it's like one! This is used for scoring lines in cardstock when making custom cards, boxes, and so on.
You don't need all of these blades to start using the Cricut Explore Air 2. The machine comes with the Fine Point Blade & Housing which is what you will use for most tasks. Get the other blades only if you know you need them.
To learn more, see our Cricut blades guide.
What Can You Make With The Explore Air 2?
Here are some of the projects I have made with the Cricut Explore Air 2 over the past year or so. I love using heat press machines, so you might notice they're mostly iron-on vinyl projects! Click the image to see the full project tutorials.
There are so many craft projects that can be done with the Air 2. Other popular things people make include:
intricate paper flowers
scrapbooking decals
stencils
complex cards & boxes
stickers and labels
vinyl wall decals
wedding and birthday cake toppers
wedding signs, menus and invitations
shadow boxes
reverse canvas wall art
Cricut Design Space
Most people will use their computer to send designs to their Explore Air 2, but for those wishing to send it via their smartphone or tablet, download either the Apple or Android app, depending on what type of phone you have.
The Air 2 cutting machine works well with both Windows and Apple computers.
Once you plug the cutter into your computer, you should find the Design Space software automatically begins downloading. If this does not happen, here is the page for Windows and here it is for Apple.
Cricut Explore Air 2 Colors
Like everything Cricut, the Air 2 comes in a range of colors. The original color was Mint, but there are a whole bunch of other colors on offer. Different colors are available from different retailers.
Amazon usually sells Persimmon, Mint, Matt Black, and Cherry Blossom.
Cricut has Mint, Matt Black, Raspberry and Sky Blue.
Which color do you like best?
Who Should Get The Cricut Explore Air 2?
In my opinion? Everyone should have either the Air 2 or the Maker!! Haha. But seriously… I'm not joking – you need one.
If your budget allows for the Air 2, then you should go for it. You can make custom cards, t-shirts, mugs, as well as vinyl decals for cars and walls. It's the most fun machine you can buy (alongside the Maker, of course).
Is The Explore Air 2 Worth It?

The Cricut Explore Air 2 is definitely worth the money – more than worth it in many ways. It's a high quality cutting machine, with tons of support, great design, and the potential to make amazing things.
However, if you fall into the following categories, you should consider not getting one:
if you don't have the desire and patience to learn how to use it
if you don't like new things
if you don't like crafting (I don't understand it, but some people just don't!)
if you don't have time to use the machine
BUT if this is you, the Explore Air 2 is worth it:
you love making extraordinary craft projects
you want to learn new skills
you want to explore craft business
you love beautiful crafting machines
you want to be able to make cards and gifts for all your family and friends
If this is you, pick your favorite color and buy a Cricut Explore Air 2 right now!
Cricut Explore Air 2 Sale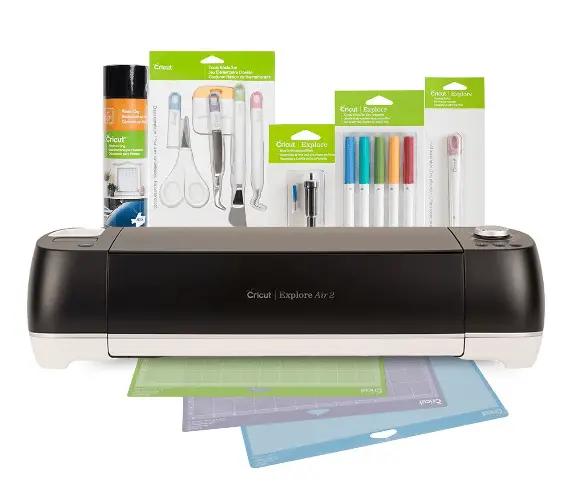 Compare prices to find the cheapest Explore Air 2 deal.
Also consider these Cricut Bundles. If you have no supplies, materials, or tools, they can be a good way to stock up a bit cheaper.
Thanks for taking the time to read this Cricut Explore Air 2 Review. Is your mind made up?? Please leave any comments or questions down below!
(Please note: This post contains affiliate links. Read our full disclosure policy here.)