Heat Transfer Vinyl Vs Adhesive Vinyl: Which Is Better?
Heat transfer vinyl or adhesive vinyl for your next project?
It depends on what you want to use it on. For some projects you can use only one or the other, but for other projects, you have the option to choose between the two. In that case, which is better to use? Which will last longer and which is least expensive? Which is less complicated? These are some of the questions we will be addressing in today's post.
I will give you an overview of what exactly heat transfer vinyl (HTV) and adhesive vinyl are, what you can use each of them for, and which is better to use in different situations.

What Is Heat Transfer Vinyl?
Heat transfer vinyl (HTV) is a type of vinyl which is adhered to a substrate using heat. This may be done using a heat press machine, a home iron, or the recently released Cricut EasyPress. HTV vinyl is not sticky, unlike adhesive vinyl which is very sticky. Though the carrier sheet attached to the HTV is sticky.
There are lots of different types of heat transfer vinyl available:
These are just a few of many options you can choose from, each in a range of different color options. Each manufacturer will have their own specialty types of HTV, all with specific application instructions (which you can usually find out from their website).
READ: 35 Pros And Cons Of The Cricut EasyPress
What Can You Press Heat Transfer Vinyl Onto?
HTV is perfect for clothing and fabric items.
You can press HTV onto:
T-shirts
Sweatpants
Jumpers
Hats and caps
Shoes
Swimsuits
Placemats
Teatowels
Baby and children's clothes
Canvas tote bags and stretched canvas
Glass
Drink coolies
Mousepads
Ceramic tiles
Jigsaw puzzles
Wooden plaques
Dog tags
License plates
And much more!
If you press HTV onto your clothing correctly (as per the manufacturers instructions), it will adhere well and last many washes. Adhesive vinyl on clothing is not as durable in the wash and will begin to peel off before long. Therefore, it's always best to use HTV for clothing and fabric.
The items you are able to press (including the composition of the fabric) will depend on the HTV you are using and your manufacturer's specifications.
READ: The 13 Best Heat Press Machines For Beginners
How To Use Heat Transfer Vinyl
To use HTV, you will need to create a design with your software, or purchase a ready-made design from somewhere like Etsy. Make sure you always mirror your design (flip it horizontally) before you send it to be cut in your cutting machine. When using adhesive vinyl your design doesn't need to be flipped.
To cut your mirrored design, you need to have the carrier sheet side down and the non-shiny side of the HTV facing up, when loaded into your cutting machine. Make sure you have your machine set to the correct settings so that you only cut the HTV and not through to the carrier sheet!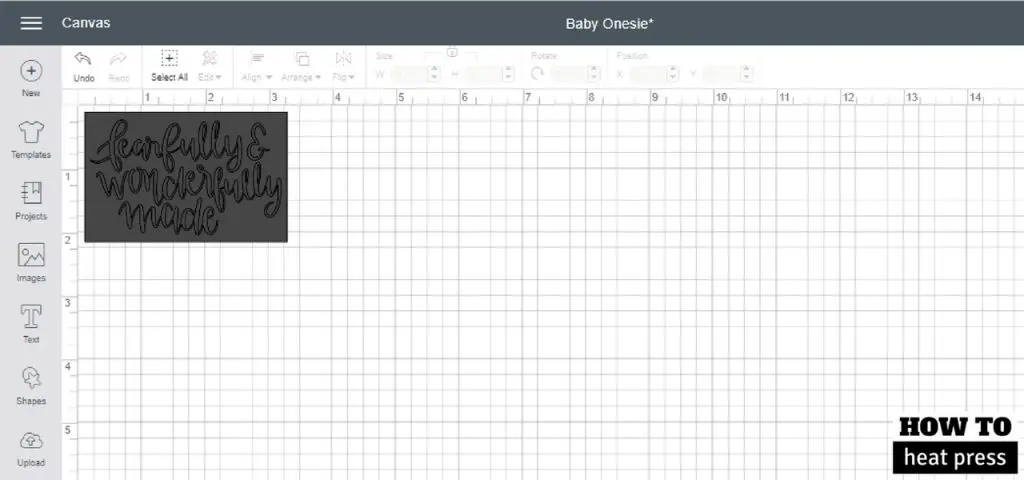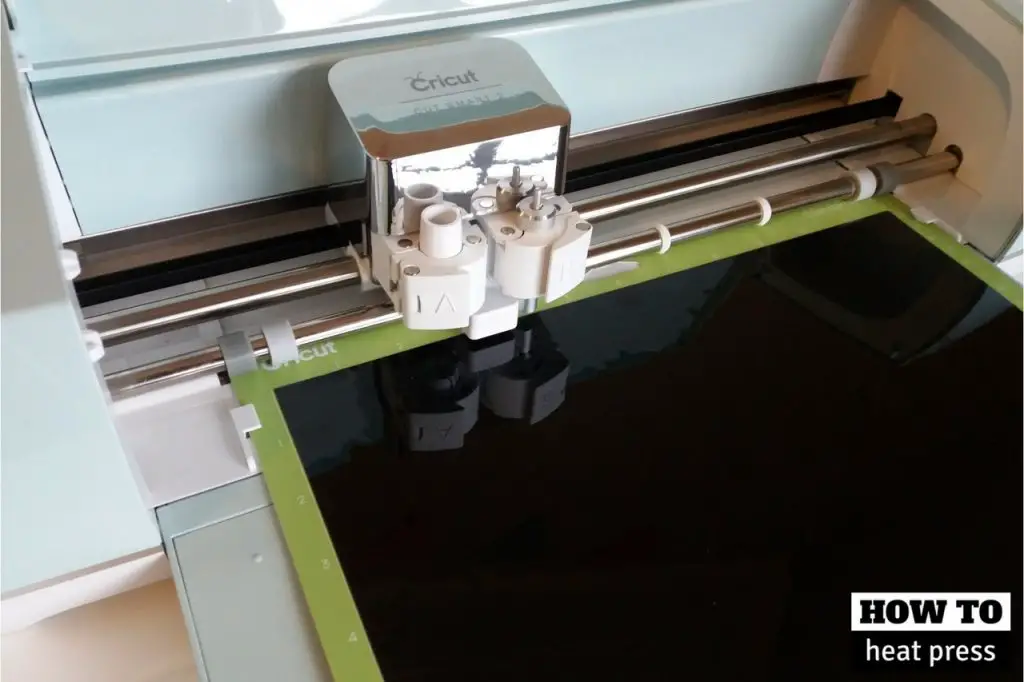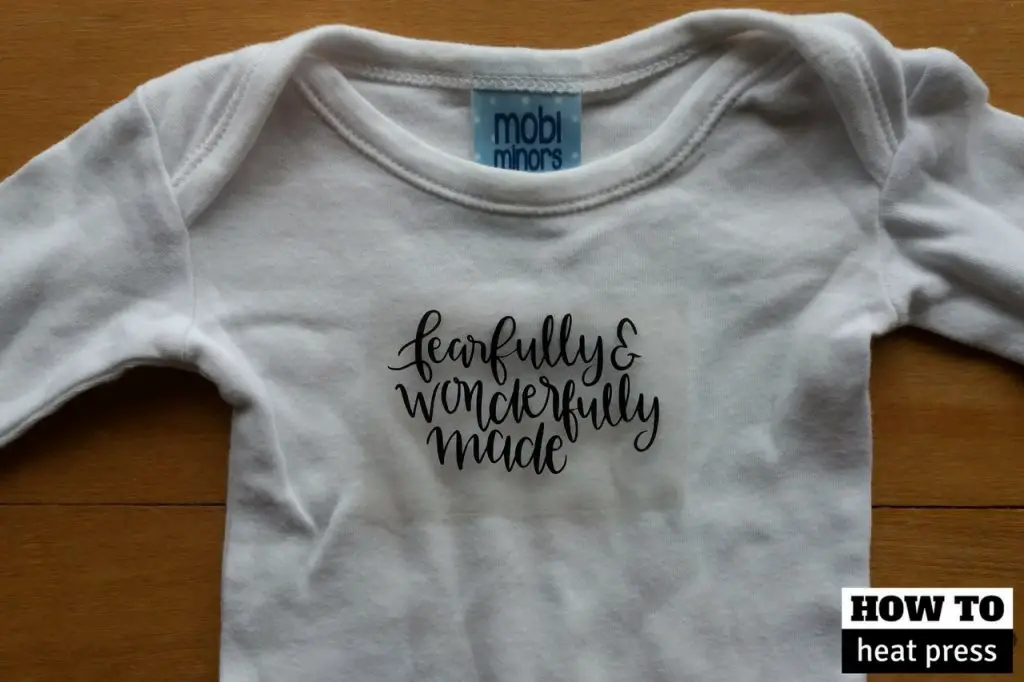 Here's a video showing how to cut HTV:
Once your design is cut, weed it so that all the excess HTV is removed. Make sure to pre-press any fabrics to remove moisture and wrinkles before you press your design. If you are ironing on your HTV, make sure you have an iron that only has steam holes around the edge of the iron and not in the middle. Holes in the middle of your iron will give you an uneven surface and affect the pressure applied to your design, meaning it won't adhere as well.
Check your vinyl manufacturer's specifications for the application settings of your iron or heat press. Press your design with your heat press or iron, remove the carrier sheet (check if you need to peel it hot, cold or warm), and you're done!
Where To Buy Heat Transfer Vinyl
Three well known manufacturers of heat transfer vinyl are:
Siser HTV – who sell their products through Amazon, Expressions Vinyl, eBay and more. Siser have a range of HTV called Siser EasyWeed as well as many more different types you can see on their website.
Stahls' HTV – who sell products through their website. Stahls' range of HTV includes Thermo-FILM, Fashion-FILM, Glitter Flake and more.
Cricut HTV – a huge range is available for sale on Amazon.
There are also many other competitive sellers of heat transfer vinyl on Amazon and eBay, such as Handy Crafts, ProSupplier and Fame Crafts.
You have the option to buy HTV either in rolls or sheets, and in various different sizes. It's best to go with a known brand, and also to read user reviews and check star ratings on Amazon before purchasing your HTV. The quality of your vinyl can dramatically affect the end result of your project.
What Accessories Do I Need With HTV?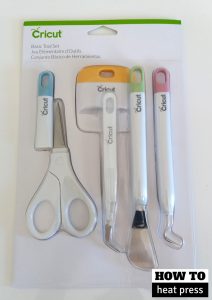 There are some basic accessories you need to do heat transfers.
You will need:
When pressing a garment with buttons, seams, or pockets, it is a good idea to use a heat press pillow in order to get adequate pressure. If you are pressing mugs, you might like heat resistant gloves and heat transfer tape.
What Is Adhesive Vinyl?
Adhesive vinyl is sticky and works like a sticker. There are different types of adhesive vinyl you can choose from. You can choose one with a temporary or removable adhesive, such as Oracal 631, which is great for things such as wall decals. Or, you can get one with a permanent adhesive, such as Oracal 651, which is ideal for outdoor use on things such as signs and cars. Oracal 651 is also suitable for mugs which will be washed many times. There are also other types of speciality adhesive vinyl available for specific situations.
What Can You Put Adhesive Vinyl Onto?
You can apply adhesive vinyl onto:
Walls
Signs
Cars
Cups and mugs
Pots and vases
Stretched canvas and canvas tote bags
Glass (e.g. on photo frames or glass chopping boards)
Wooden plaques
Ceramic tiles
Keychains
And much more!
Adhesive vinyl is best for things that are not going to be washed or even handled a whole lot (so definitely not clothing!).
Don't apply adhesive vinyl to anything that is rough or porous as it won't stick well. When applying adhesive vinyl to stretched canvas for example, it's best to coat the canvas in a layer of acrylic paint or to spray it with clear coat before you apply your vinyl (make sure the paint or clear coat is completely dry first). This will help the vinyl to stick better. The same goes for wood, which you can also sand down and stain before applying your vinyl.
READ: The Best Free Design Software For T-shirt Business
How To Use Adhesive Vinyl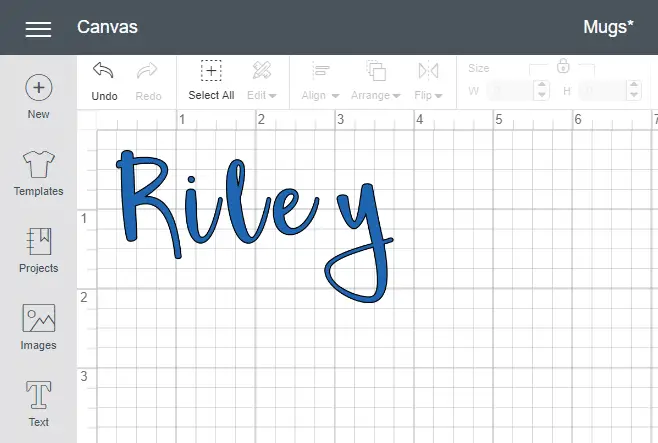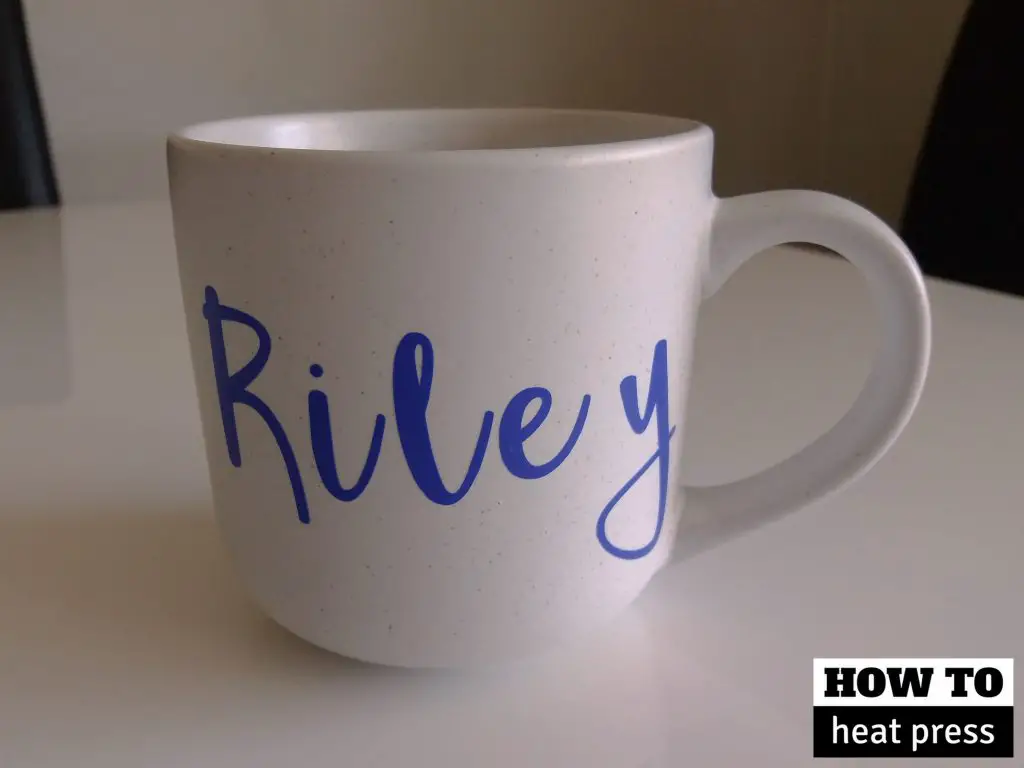 You will need to cut your design with the backing paper side down and the vinyl facing up, in your cutting machine. Unlike with HTV, you do not need to mirror your design before you send it to be cut. Simply cut it the same way you have designed it. Weed your design to remove any excess vinyl so that only your design remains.
Next, apply transfer tape over your design. Use a squeegee to make sure your design is firmly attached to the transfer tape and that there is no air bubbles. Then, you can remove the backing paper. If your design is large, you can remove the backing paper in sections to make it easier to apply your design to the substrate.
Place your design onto your preferred surface, use your squeegee again to carefully stick it down and remove all air bubbles. Now you can carefully pull away the transfer tape at an angle, holding it back flat against itself.
Where To Buy Adhesive Vinyl
You can purchase adhesive vinyl from Amazon, Expressions Vinyl, eBay and more. You can get it either by the roll or in sheets, and in various different sizes.
Make sure you choose a well known and popular manufacturer of adhesive vinyl to ensure it is high quality. Check user reviews and star ratings on Amazon. The quality of the vinyl you use can have a big impact on the end result.
Oracal 651 is by far the most popular, and in my opinion, the best!
What Accessories Do I Need To Use Adhesive Vinyl?
When using adhesive vinyl some of the basic things you will need are:
a cutting machine to cut out your designs
tons of free and clear surfaces to put vinyl onto!
Which Is Better?
Heat transfer vinyl is always best for clothing and for fabric items such as tote bags, cosmetic pouches, drink coolies, mousepads and so on. The use of heat allows the design to firmly adhere to the substrate, making it more durable.
The same is true for using HTV on cups and mugs. These products will last a lot longer if you use HTV instead of adhesive vinyl. However, investing in a mug press or multifunction press with a mug attachment to do these transfers can set you back a few hundred dollars. If your budget is tight, then it will be better for you to use adhesive vinyl. Use adhesive vinyl if you'd also prefer to go the less complicated route (so that you don't need to buy extra equipment and learn how to use it). For simple projects with HTV you can always use your home iron, but just make sure you apply a good amount of pressure with your iron so that your HTV adheres well.
Adhesive vinyl is great for awkwardly shaped objects that aren't able to be heat transferred. Overall, adhesive vinyl can be a lot more versatile with the things you are able to create with it. It's great for making wall art, or for decorating things such as glass chopping boards! It's cheaper and less complicated to use than HTV.
There are definitely pros and cons with using both HTV and adhesive vinyl!
This video from Expressions Vinyl shows some interesting and unconventional ways of using HTV (you might get a few new ideas!):
Pros of Using Heat Transfer Vinyl
It is more durable (can be washed many times) and lasts a lot longer when used on canvas, wood, ceramic etc.
HTV is better for business – if you want to sell great, high quality products, then HTV will give a better result, as long as it's appropriate to be used on the substrate.
It is more fun to do heat transfers, especially with a heat press!
Pros of Using Adhesive Vinyl
Likely to be cheaper than using HTV as you don't need to buy a heat press.
Apply adhesive vinyl to awkwardly shaped surfaces, like wine glasses. You can't do this with a heat press!
Easily applied to outdoor surfaces, like vehicles.
It's quicker to use and less complicated than HTV. You don't need to buy a heat press, learn how to use it  and learn how to use it. Once you have cut your design you can simply apply it with your hands.
Conclusion
I hope you now have a better idea of when to use HTV and when to use adhesive vinyl. As you see, there are pros and cons to using each, depending on the project you have in mind. You can consider which is going to be more durable and which is going to be more convenient. You can choose which is going to be cheaper and which one is best for the surface.
For more project ideas, check out our post on 5 ways to earn extra money with vinyl. In that post there are step by step instructions for how to use heat transfer vinyl and adhesive vinyl on several different surfaces.
Thanks for reading! Please leave us a comment down below and tell us about a project you have completed recently!
(Please note: This post contains affiliate links. Read our full disclosure policy here.)