What's The Difference Between Heat Transfer Vinyl & Adhesive Vinyl?
Should you use heat transfer vinyl or adhesive vinyl on your next project?
While it is pretty clear cut what should be used when, the answer will sometimes depend on what you want to use it for.
For most projects you can use only one or the other, but for a few projects, you have the option to choose between the two.
In this post I'm going to compare adhesive vinyl and heat transfer vinyl and share with you which is used for what!
Comparing Adhesive Vinyl & Heat Transfer Vinyl
I need to mention that Cricut use their own lingo for these materials:
I have made the mistake (a few times unfortunately) of buying Cricut Vinyl when I really wanted Cricut Iron On.
I am used to calling them adhesive vinyl and heat transfer vinyl! Despite the different names, Cricut's products work just the same, and are a premium vinyl.
Best Place To Buy HTV & Adhesive Vinyl
For those of you who already know the difference between HTV & adhesive vinyl, and just want to know where to get it, check out this table. Here are the best places to buy iron on and adhesive vinyl.
You have the option to buy heat transfer sheets or rolls in different widths and lengths.
Because I use the Cricut Maker, I can't use vinyl wider than 12 inches (unless I want to trim it to size myself, which I don't). Many HTV sheets are sold in 12 x 12 inch sheets, which is what I prefer. However, for vinyl colors that I use a lot of (black & white heat transfer vinyl, for example), I will buy a 5 foot rolls or larger.
It is best to go with a known brand of premium heat transfer vinyl. The quality of the vinyl will determine how easy it is for you to do your project, and the quality of your finished custom t shirt.
What Is Heat Transfer Vinyl?
Heat transfer vinyl, or HTV, is a product that is applied to t-shirts and other substrates by heat. You will have had many t-shirts and other garments with HTV on it! The heat transfer can be done using a heat press machine, a home iron, or the recently released Cricut EasyPress.
HTV vinyl comes in sheets or rolls, and has two parts to it. There is the vinyl and the carrier sheet. They are both joined together and come apart during the heat transfer.
There are different types of heat transfer vinyl, including:
Perhaps the most well known brand of heat transfer vinyl is Siser EasyWeed HTV. I have to confess that this is my favorite brand, just because it is so easy to use, and it looks and feels great.
What Can You Press Heat Transfer Vinyl Onto?
Heat transfer vinyl is most commonly used for t shirts and other clothing. I use it all the time on baby onesies. However, you can press it onto a ton of other surfaces – some of the following I haven't even tried myself yet!
You can press HTV onto:
T shirts
Sweatpants
Baby onesies
Sweatshirts
Hats and caps
Shoes
Wooden farmhouse signs
Swimsuits
Placemats
Teatowels
Baby and children's clothes
Canvas tote bags
Stretched canvas (a reverse canvas project, for example)
Drink coolies
And much more!
Heat Transfer Vinyl For T Shirts
If you press HTV onto your clothing correctly (as per the manufacturers instructions), it will adhere well and last many washes.
Adhesive vinyl cannot be used on clothing. This would be like putting a sticker onto your t-shirt and then expecting it to last. Therefore, it's always best to use HTV for clothing and fabric.
How To Use Heat Transfer Vinyl
Here's what you need in order to use heat transfer vinyl and make your own t shirts:
HTV Design Example
Here's a quick example of how to make an HTV design in Cricut Design Space and to press it onto a baby onesie.
1. I chose a free font and arranged the text as you see below.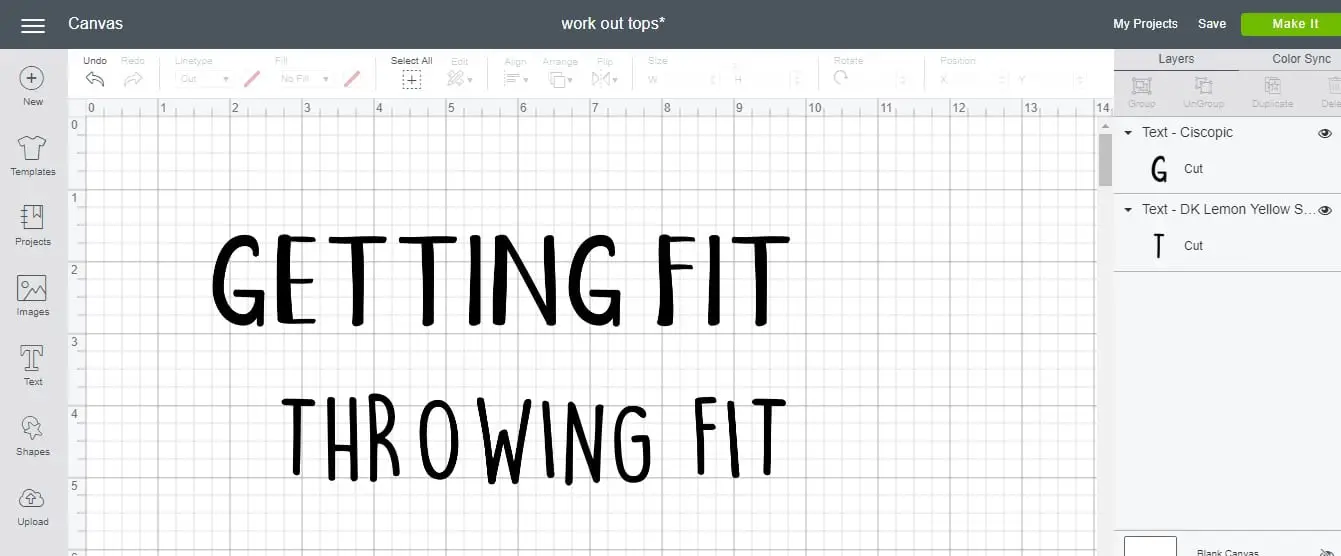 2. Mirror your image because HTV is applied in reverse.

3. Place the HTV onto the cutting mat and then weed the design (pull away excess vinyl) to be pressed.
4. Pre-press any fabrics to remove moisture and wrinkles before you press your design. Place the heat transfer onto the onesie and press with your iron, EasyPress, or heat press.
Once the design has been pressed onto the garment, the vinyl carrier sheet is removed. For most HTVs (including Siser & Cricut) the carrier sheet can be peeled off while warm.
What Is Adhesive Vinyl?
Adhesive vinyl is just like HTV, except it's not applied with heat, it's just a great big sticker!
As with HTV, there are different types of adhesive vinyl you can choose from. You can choose one with a temporary or removable adhesive, such as Oracal 631, which is great for things such as wall decals.
Or, you can get vinyl as a permanent adhesive, such as Oracal 651, which is ideal for everything, especially outdoor use on things such as signs and cars. Oracal 651 is also suitable for mugs which will be washed many times. There are also other types of specialty adhesive vinyl available for specific situations. Or, for more info, see 'what is Oracal 651 used for?'
What Can You Put Adhesive Vinyl Onto?
You can apply adhesive vinyl onto:
Walls
Fridges
Signs
Cars
Cups and mugs
Pots and vases
Stretched canvas and canvas tote bags
Glass (e.g. on photo frames or glass chopping boards)
Wooden plaques
Ceramic tiles
Adhesive vinyl is best for things that are not going to be washed or even handled a whole lot (so definitely not clothing!).
It's fine for cups and mugs – though they say not to use in a dishwasher. However, I do put my mugs with adhesive vinyl through the dishwasher, and they're totally fine. They've been through dozens, if not hundreds, of times and haven't begun to peel.
It's not best to apply adhesive vinyl to anything that is rough or porous as it won't stick well. When applying adhesive vinyl to stretched canvas for example, it's best to coat the canvas in a layer of acrylic paint or to spray it with clear coat before you apply your vinyl (make sure the paint is completely dry first). This will help the vinyl to stick better.
The same goes for wood, which you can also sand down and stain before applying vinyl.
How To Use Adhesive Vinyl
Here's what you need to make your own adhesive vinyl decals:
You will need to cut your design with the backing paper side down and the vinyl facing up, in your cutting machine. Unlike with HTV, you do not need to mirror your design before you send it to be cut.
Here's how the process goes (also see video on how to use adhesive vinyl below):
cut your design into the vinyl
remove the excess vinyl
apply transfer tape over the top of the adhesive vinyl and burnish
pull away the sticker paper
apply transfer to the surface and burnish
remove transfer paper leaving only the adhesive vinyl on your project
HTV Vs Adhesive Vinyl
Should you use heat transfer vinyl or adhesive vinyl?
Heat transfer vinyl is always best for clothing and for fabric items such as tote bags, cosmetic pouches, drink coolies, mousepads and so on. The use of heat allows the design to firmly adhere to the substrate, making it more durable.
Adhesive vinyl is great for awkwardly shaped objects that aren't able to be heat transferred. Overall, adhesive vinyl can be a lot more versatile with the things you are able to create with it. It's great for making wall art, or for decorating things such as glass chopping boards!
This video from Expressions Vinyl shows some interesting and unconventional ways of using HTV (you might get a few new ideas!):
Pros of Using Heat Transfer Vinyl
It is more durable and lasts a lot longer when used on canvas, wood, ceramic etc.
HTV is better for business – if you want to sell great, high quality products, then HTV will give a better result (as long as it's appropriate to be used on the substrate)
It is more fun doing heat transfers, especially with a heat press!
Pros of Using Adhesive Vinyl
Likely to be cheaper than using HTV as you need less equipments
Apply adhesive vinyl to awkwardly shaped surfaces, like wine glasses. You can't do this with a heat press!
Easily applied to outdoor surfaces, like vehicles
It's quicker to use and less complicated than HTV. You don't need to buy a heat press, learn how to use it  and learn how to use it. Once you have cut your design you can simply apply it with your hands.
HTV Vs Vinyl
I hope you now have a better idea of when to use HTV and when to use adhesive vinyl.
As you see, there are pros and cons to using each, depending on the project you have in mind. You can consider which is going to be more durable and which is going to be more convenient. You can choose which is going to be cheaper and which one is best for the surface.
Thanks for reading! Please leave us a comment down below and tell us about a project you have completed recently!
Pin this post for later! 🙂
(Please note: This post contains affiliate links. Read our full disclosure policy here.)