21 Best Adhesive Vinyl Projects – Inspiration For Cricut & Silhouette
This post contains affiliate links. If you use these links to buy something, we may earn a commission, but it doesn't cost you anything. Thanks!
Recently, I accidentally ordered a whole lot of adhesive vinyl when I meant to buy iron-on.
I was pretty disappointed when I first realized I'd done – I had been looking forward to making metallic, holographic, and glitter designs for t-shirts. However, when life hands you a lemon, you gotta make lemonade.
Rather than send it all back, I needed to find some ideas on how to use it. And that is the origin story of this post (if you were interested!). I've searched the internet for the best vinyl projects, and am sharing them here today.
The Best Vinyl Project Ideas
I've got 21 different things you can make with adhesive vinyl. They are in no particular order, I've just listed them as I found them. Make sure you take a look at them all before deciding on your next project!
1. Hand Lettered Sign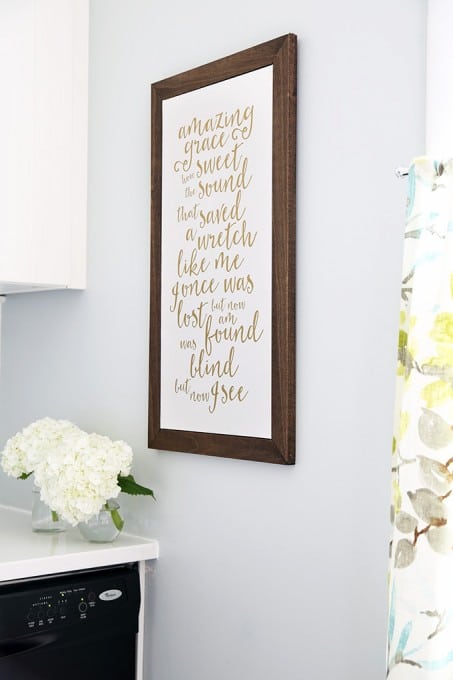 This project from Abby, at Just A Girl And Her Blog, is one that I am definitely going to have to try. It is simple gold vinyl on a painted canvas, with a hand made frame around it. Nothing too complicated, but like all of these adhesive vinyl projects, it looks great.
2. Snowflake Gift Jar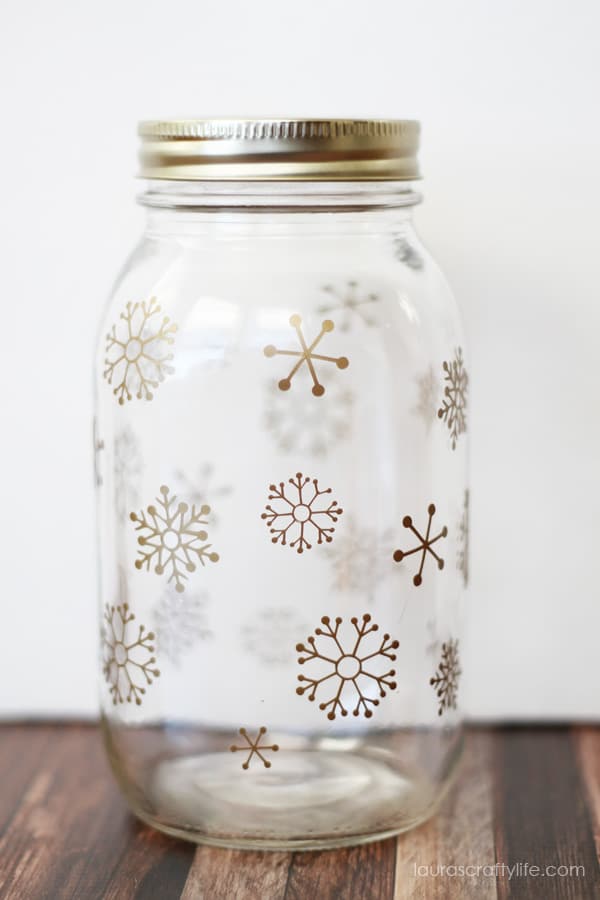 This snowflake gift jar is a very easy adhesive vinyl project. Laura uses Cricut Metallic Vinyl to transform this ordinary glass jar into something you'll want to keep forever. Fill it with chocolate or candy and give it away as a DIY gift!
3. Personalized Drink Bottles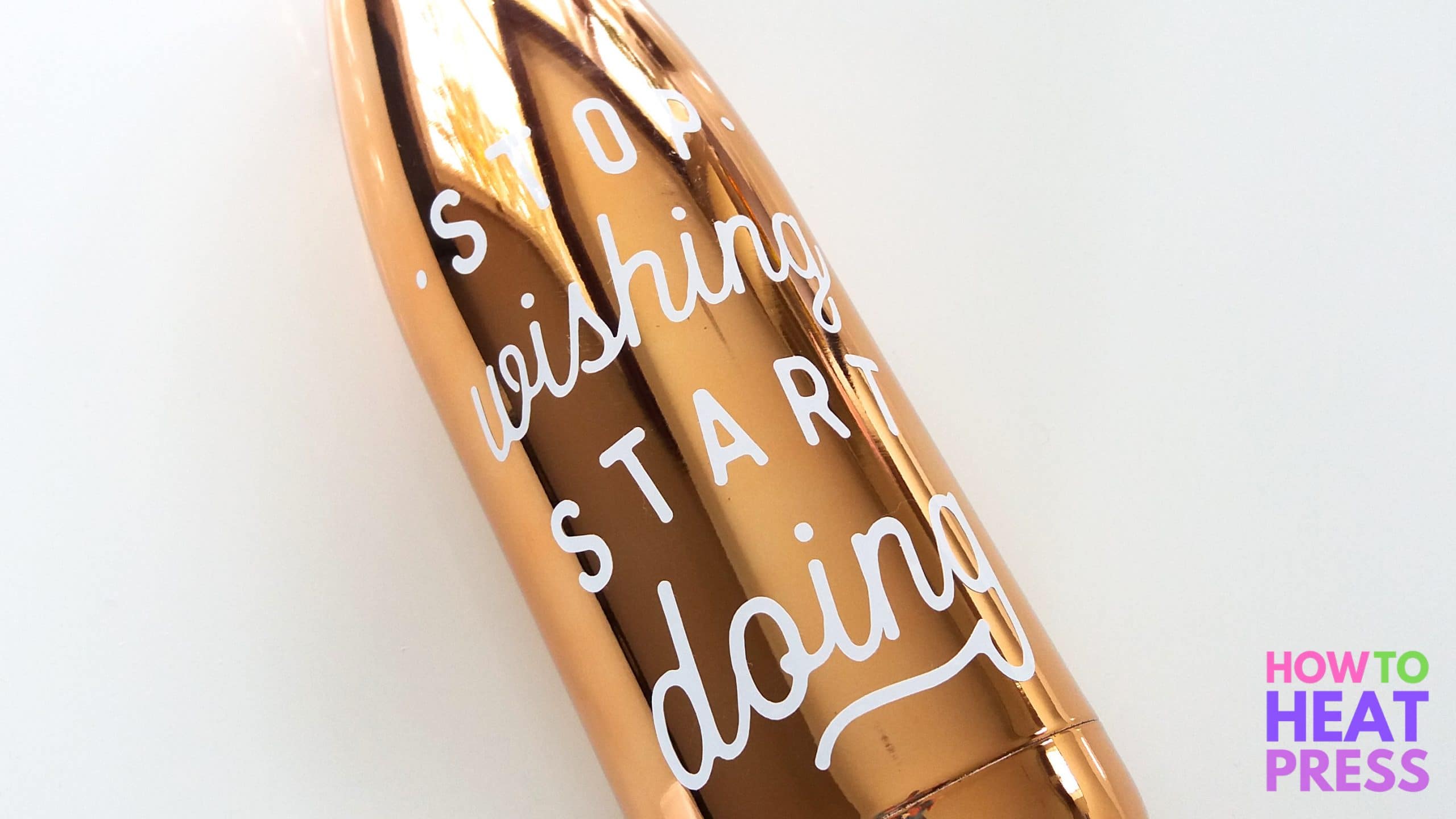 This customized stainless steel drink bottle is actually a project I did myself recently. I used ordinary Cricut vinyl and made two of these bottles. The one in the picture is single colored, and the other is multiple colors. I really like how they turned out!
4. Custom Birth Stats Board
In this fun project, Stephanie uses vinyl in a slightly different way. To make this custom birth stats board, she put vinyl onto a painted wood board (you could use a canvas as well), and then painted over the vinyl, and then removed the vinyl.
Pealing off the vinyl reveals the color underneath. The completed project has no vinyl on it, but it couldn't have been made without it!
5. DIY Growth Ruler Chart
Find out how Melissa from Silhouette School got her first gray hair in this post on how to make a growth chart board. I haven't made one myself, but apparently there is quite a bit of work involved in buying the board, painting it, and then applying the vinyl. However, it looks well worth it – that will do for many children!
6. Photo Frame Menu Board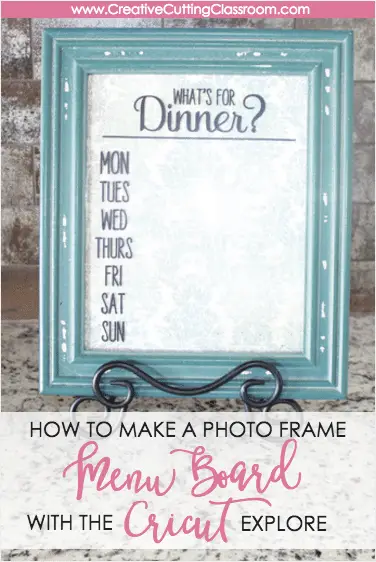 www.creativecuttingclassroom.com
Ever wanted to know how to make a custom menu board? Brandi shows us how she does it in this post. She's using her Cricut, with a file from Design Space, to make this simple and effective menu board. Next step, gotta get organized enough to do menu planning!
7. DIY Dry Erase Calendar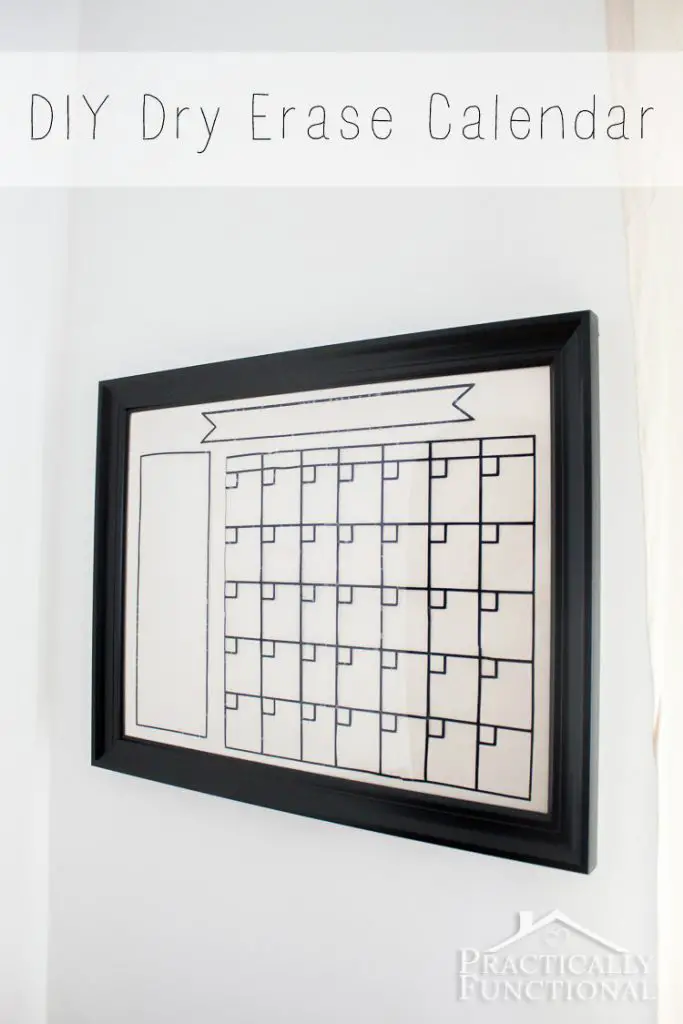 This next adhesive vinyl project is very practically functional. Jessi uses her Silhouette Cameo to make a dry erase calendar. The vinyl is placed on the inside of the glass (so remember to reverse) to make wiping down the calendar much easier, and of course it will protect the vinyl. You can get the free cut file in the tutorial through the link above.
8. Custom Holographic Phone Case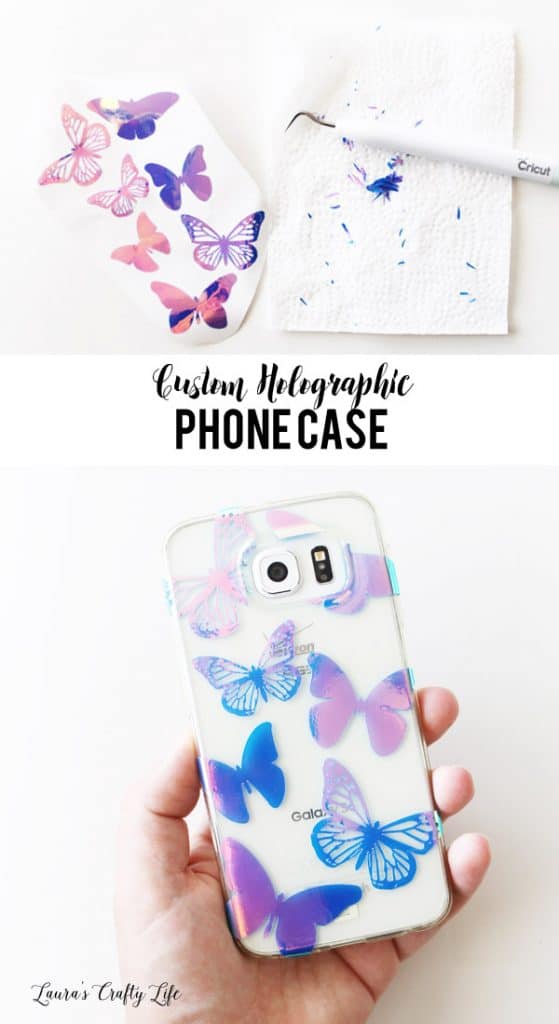 Another beautiful project from Laura's Crafty Life, this time a custom holographic phone case. Laura uses her Cricut Explore, Cricut Holographic Vinyl, and butterflies from the Design Space library to complete this project. The weeding looks very tricky, but the result is super cool!
9. Floating Frame Wall Art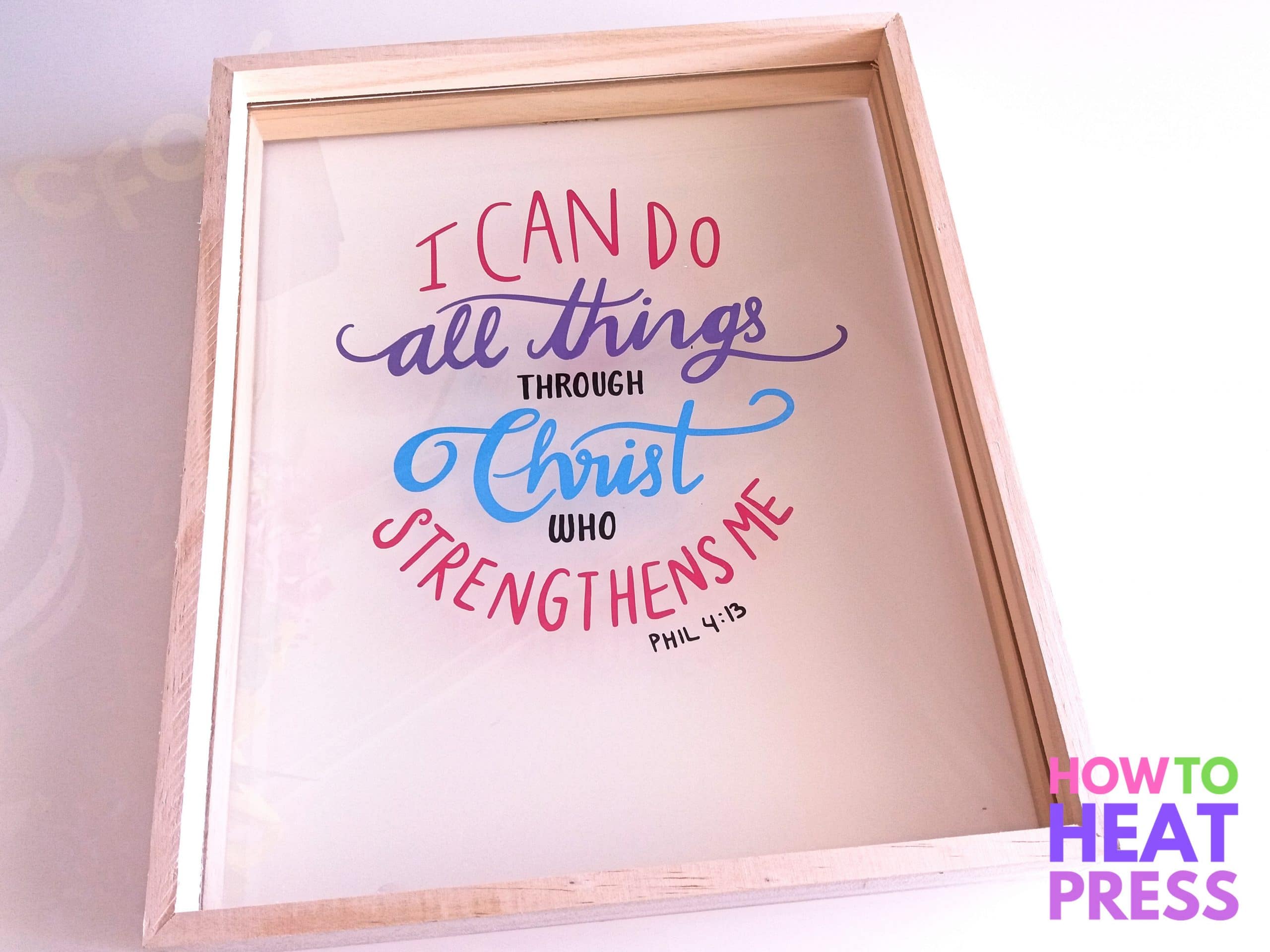 Reverse Canvases Can Also Be Made With Vinyl
This custom floating frame is another project I made with adhesive vinyl as a gift. Using multiple colors of vinyl does take a bit more time, both in cutting and applying the vinyl. But multiples colors sometimes looks so much better than a single color would. Sorry, I didn't make a post on how to do this, but it is very straightforward.
10. DIY Succulent Planters & More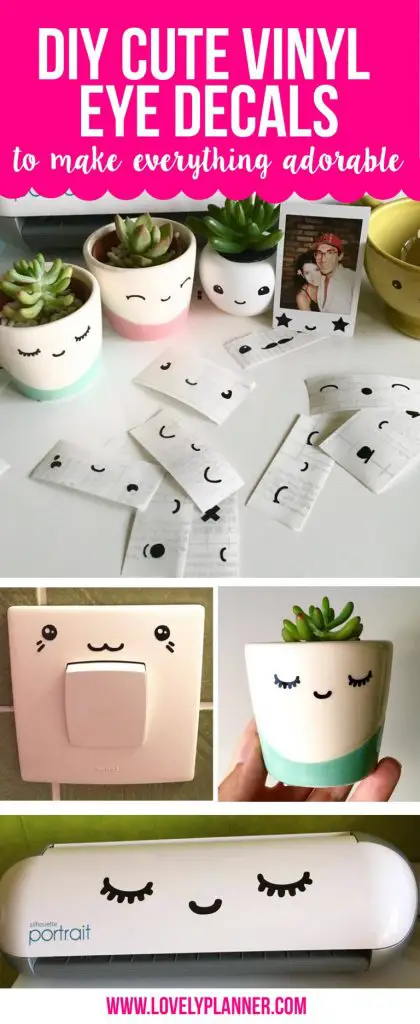 Maddie from Lovely Planner has this great post on how to make everything adorable – by putting cute eyes on everything! I have a friend from college that would love this – she used to buy bags of hundreds of eyes and put them on everything around our house!
11. DIY Personalized Notebook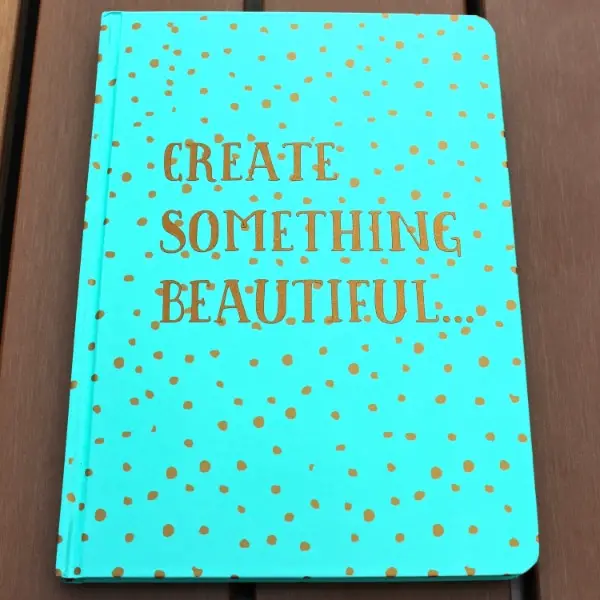 This customized notebook really stood out to me, because I've got a bunch of blank diaries just waiting for some vinyl. Michelle uses gold vinyl cut with her Silhouette Cameo to make this notebook better. This project is very quick and easy, but can also make for a cool present for friends and family.
12. Customize Balloons

Now this is something I probably wouldn't have thought of on my own – custom balloons! Expressions vinyl (who sell a huge range of premium vinyls) show how to customize balloons for the likes of a baby shower in this post.
13. Customize Cricut With Holographic Vinyl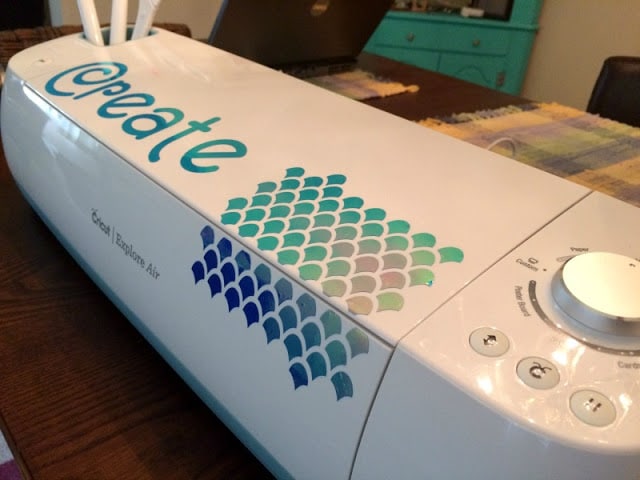 This next idea is something I've definitely considered doing – customizing a Cricut (or Silhouette) machine. Mary from Real Girl's Realm uses Cricut Holographic Vinyl to add something a bit more personal to her Cricut Explore Air. Looks great!
14. Baby Name Subway Art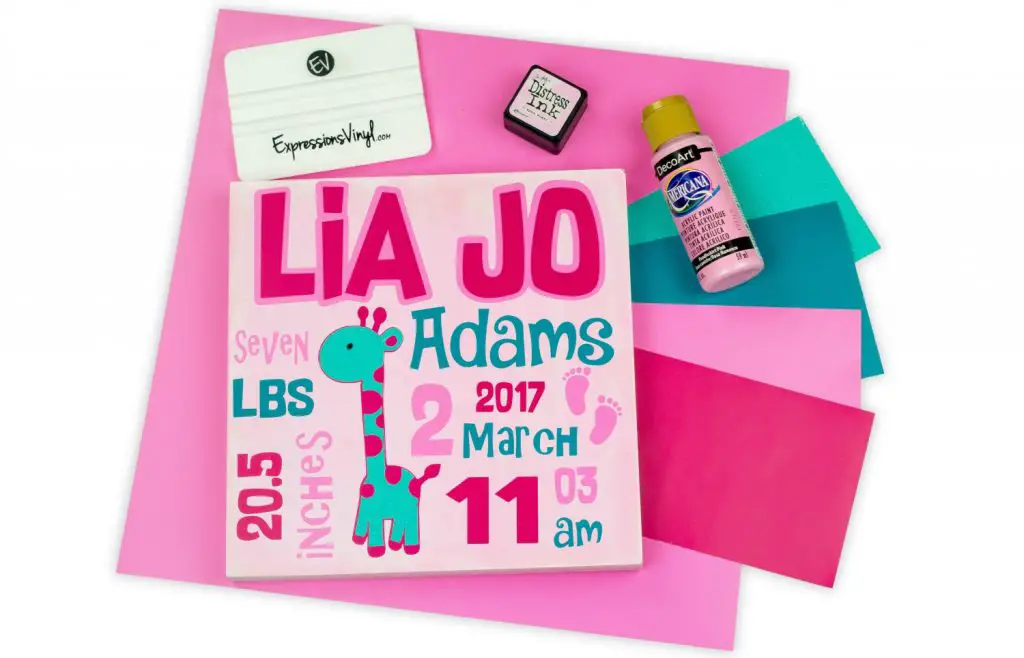 Another vinyl project idea from Expressions Vinyl – this time, baby name subway art. This is a painted piece of wood with vinyl text and images. You will see in the pictures that some of the vinyl has been layered.
15. Quote Clipboards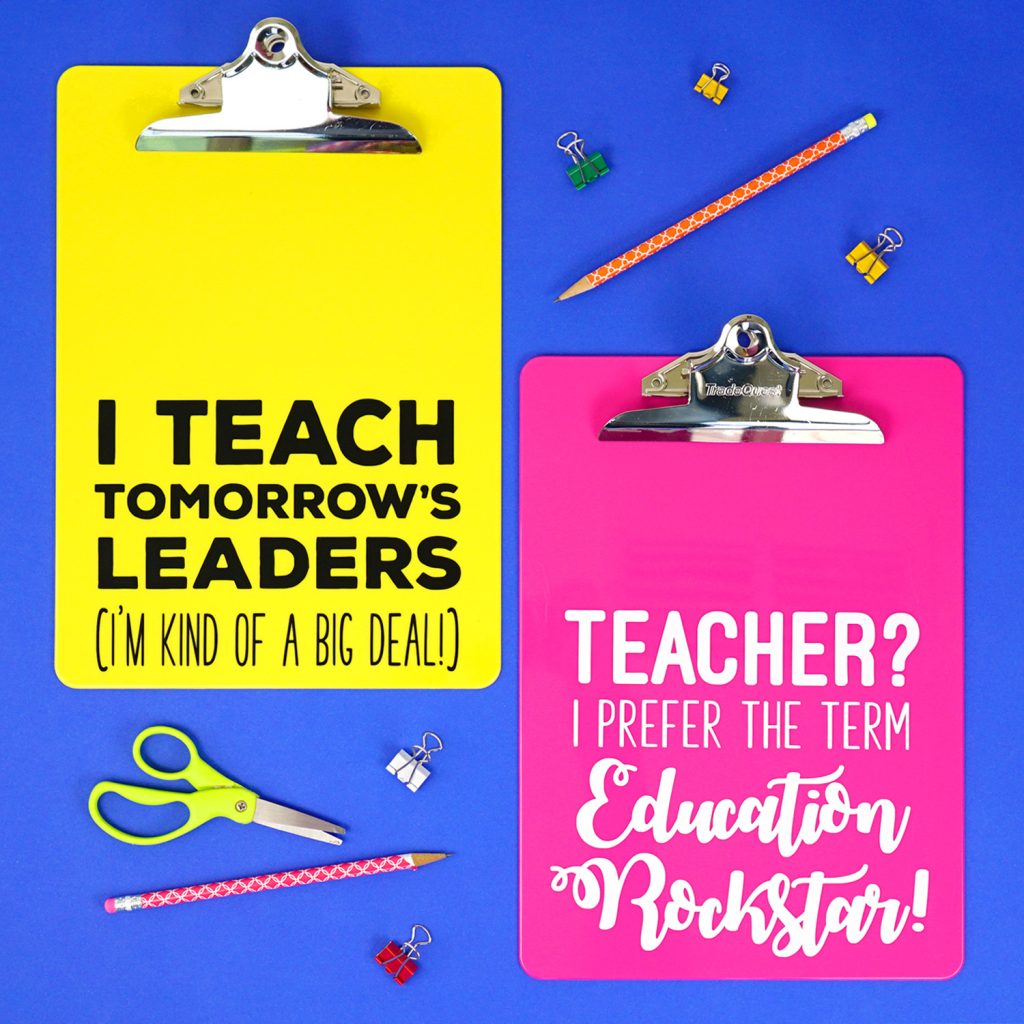 Another awesome idea – custom colorful acrylic clipboards! Heidi from Happiness Is Homemade gives some ideas for Teacher Appreciation Day (with free SVGs) but I could imagine using this sort of thing around the home as well.
16. Seasonal Wall Art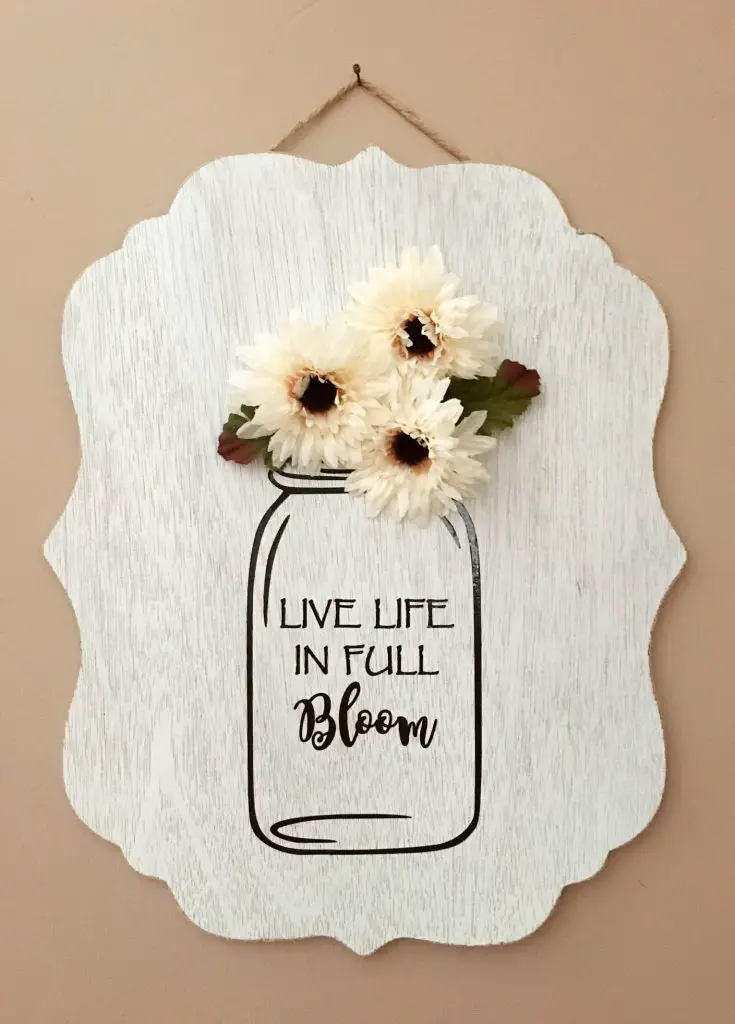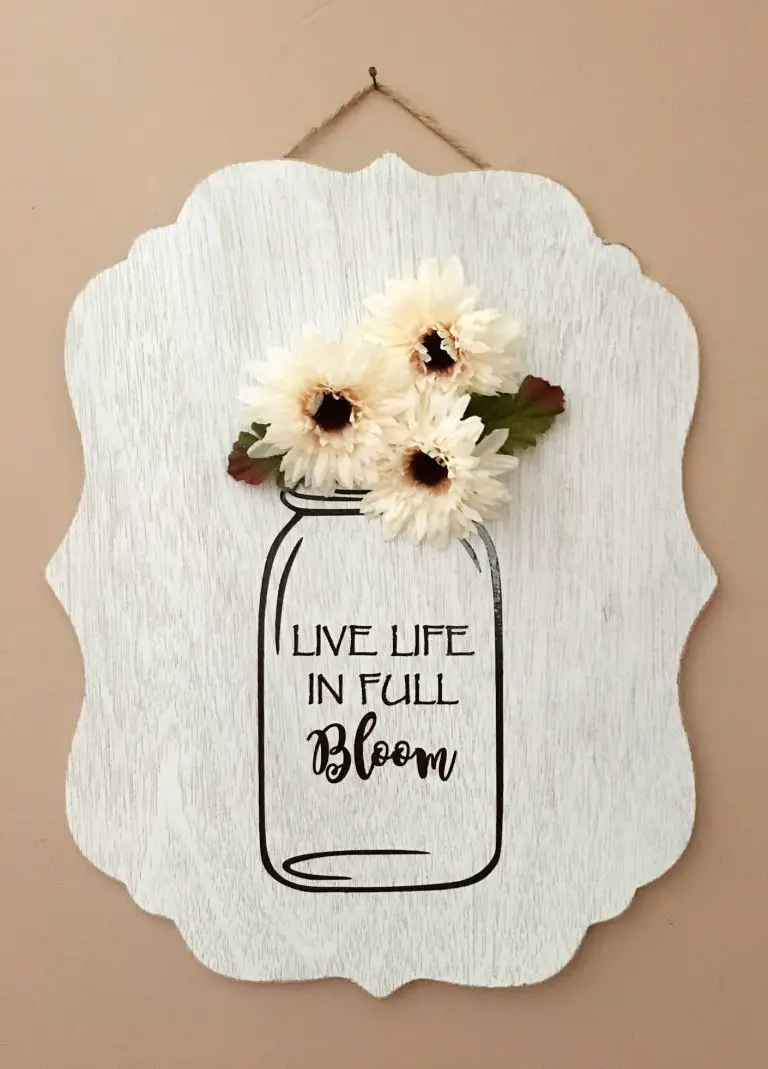 A really cool faux flower vase – the jar being made of vinyl. Thanks to ProWorld for this great idea – the result is fantastic. I'm seriously considering making something like this.
17. DIY Confetti Chair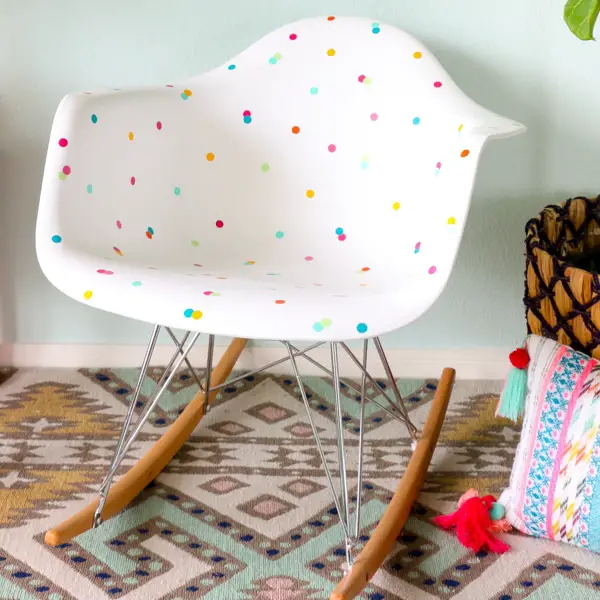 I absolutely love this project – covering a cool looking chair in spots and calling it a 'confetti chair'. This was made so easily by Kara from A Kailo Chic Life. She simply cut out vinyl dots with her Silhouette and applied them somewhat randomly to her blank chair. Awesome!
18. Stylish Kitchen Labels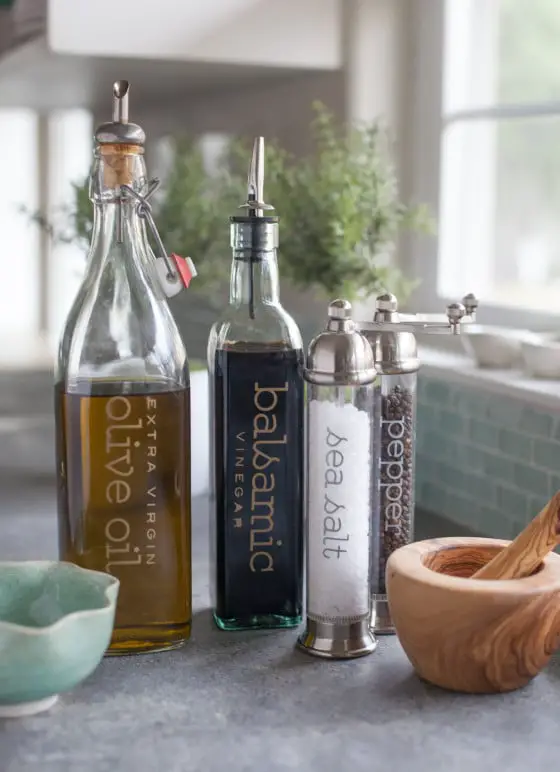 Another really simple, but really impressive adhesive vinyl project idea. Lia designed these stylish labels for her kitchen condiments. I absolutely love that font – it is available in Cricut Design Space for those who have access.
19. DIY Holographic Photo Frames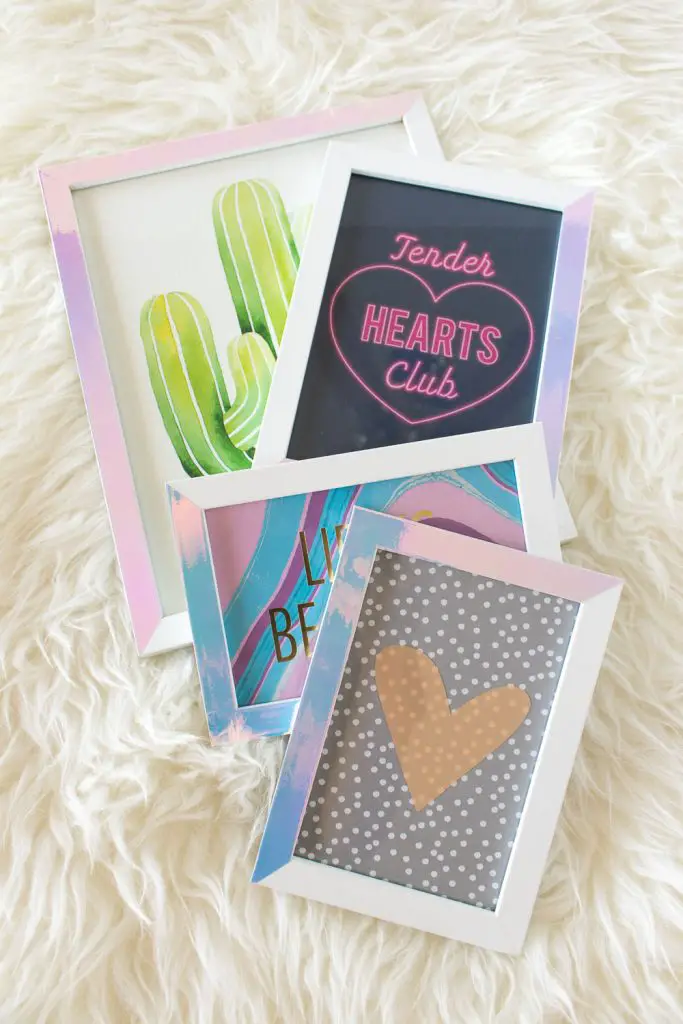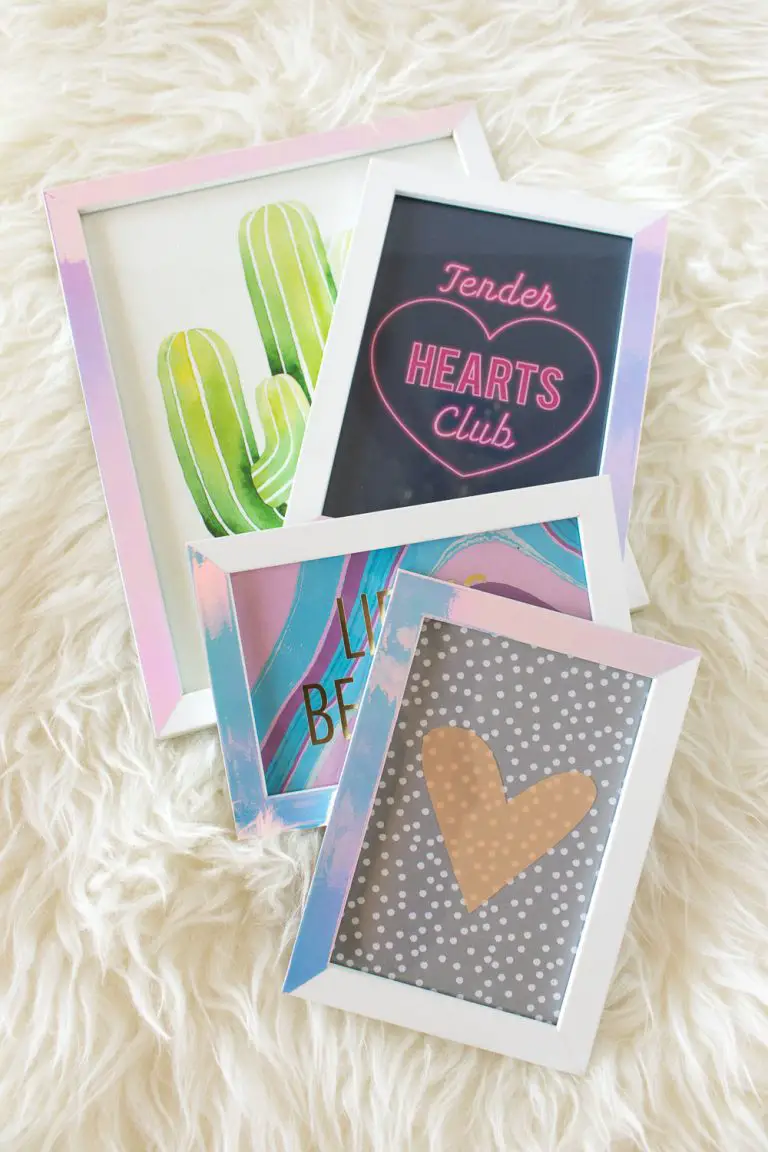 In this project, Holly applies Cricut Holographic Vinyl to relatively cheap photo frames, totally transforming them into amazing eye-catchers. With just the right photos in them, these will make a wonderful statement in your home.
20. DIY Personalized Wedding Gift Tray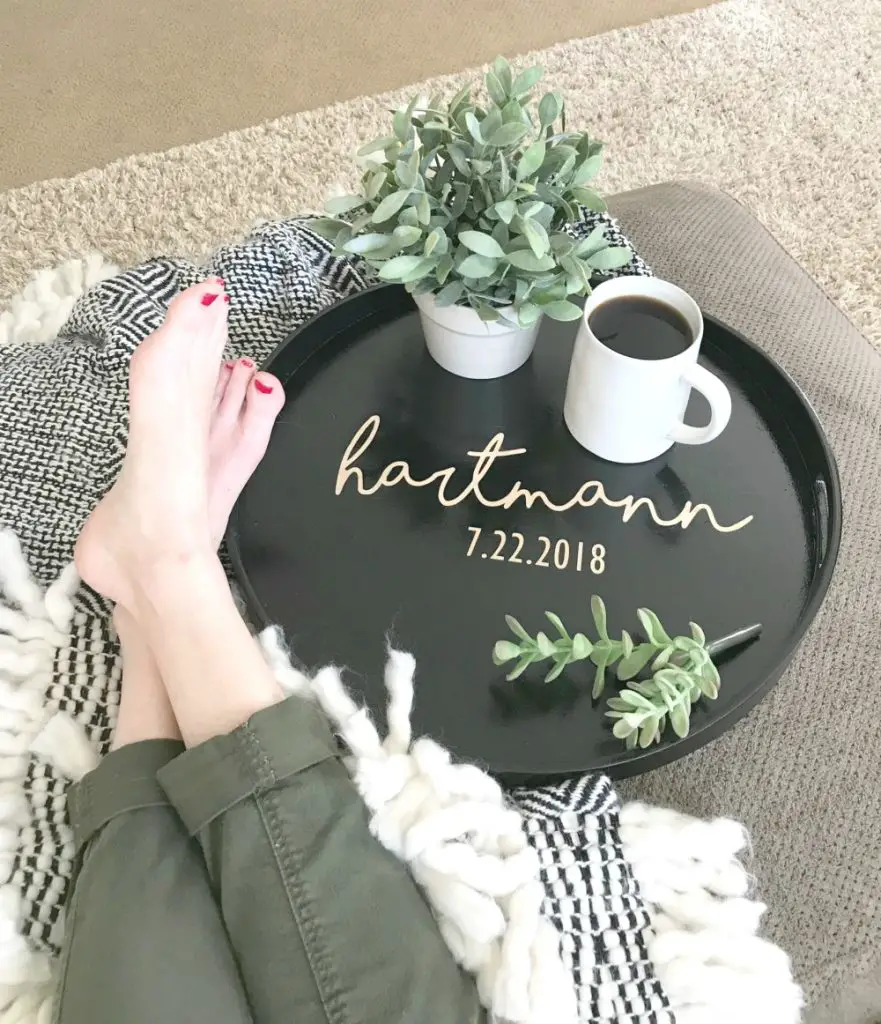 Now trays might seem like a thing of the past, but apply some vinyl to them and they'll be back in fashion in no time. Rachel decorates this wedding tray from bare wood! Check it out if you need a unique wedding gift anytime soon.
21. Personalized Coffee Mug
And finally, a personalized mug. You can't have a list of adhesive vinyl projects and not have a mug! I have made this mug for a friend with some of the accidentally ordered vinyl – Black Glitter Vinyl to be precise (I was looking forward to glitter vinyl tees, but will have to wait for another order to arrive!).
Favorite Craft Vinyl Projects
Those are my top 21 ideas on what to make with adhesive vinyl – well, not mine really… the great ideas of all these wonderful bloggers. Make sure you support their sites if you aren't already, and follow them for more great project ideas.
What are your favorite self adhesive vinyl projects?
Please leave a comment below on what your favorite project might be, and share any other ideas that we've missed… we can always update the list to include new ideas! Or, find out more about how to use Oracal 651 here.
(Please note: This post contains affiliate links. Read our full disclosure policy here.)