How To Easily Apply Vinyl To Curved Surfaces – A Custom Mug Project
I still remember the first time I went to apply vinyl to a curved surface. I didn't realize it was a bit harder to do compared with applying vinyl to a flat surface, and the result was a bit of a wonky flop!
I've learnt a lot since then, and want to share my tips and tricks on how to apply vinyl to a curved surface.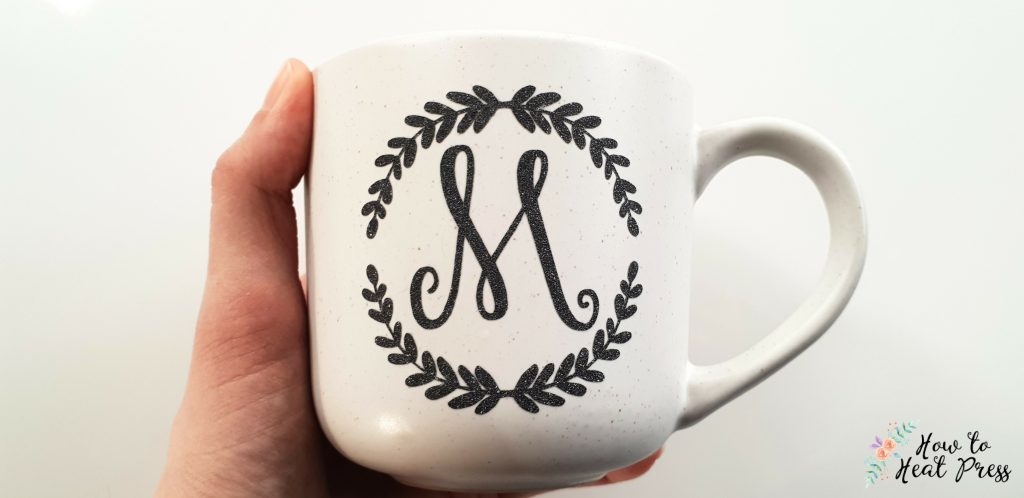 Tips & Tricks For Applying Vinyl To A Curved Surface
The types of rounded surfaces you might be applying vinyl to include:
mugs and cups
tumblers and glasses
water bottles
vases
Christmas ornaments
For this mug project, I'm applying black Cricut Glitter Vinyl to a plain blank mug. I created the design in Cricut Design Space and cut it out with my Explore Air 2.
How To Easily Apply Vinyl To A Mug
1. Prepare your mug (or other curved surface) by wiping it with rubbing alcohol, and allowing it to dry completely.
2. Apply transfer tape to the cut and weeded design, and burnish it with a squeegee or a scraper tool. Make sure the transfer tape is going to pick up the vinyl well.
I recommend using normal/standard Cricut transfer tape for a project like this, not strong grip or light grip.
3. Once the transfer tape is applied, cut away the excess as close as you can around the outside of your design. This will make it easier to work with and apply to your surface.
Depending on your specific design, take some scissors and make slits in the top, bottom, and sides of the backing paper (and transfer tape). As you'll see later on, cutting slits will make your design much easier to apply.
As you can see with my monogram, I wasn't able to make slits in the top or bottom of my design (because of the frame), but I made a slit in each side.
4. Peel away half of the backing paper and cut it off.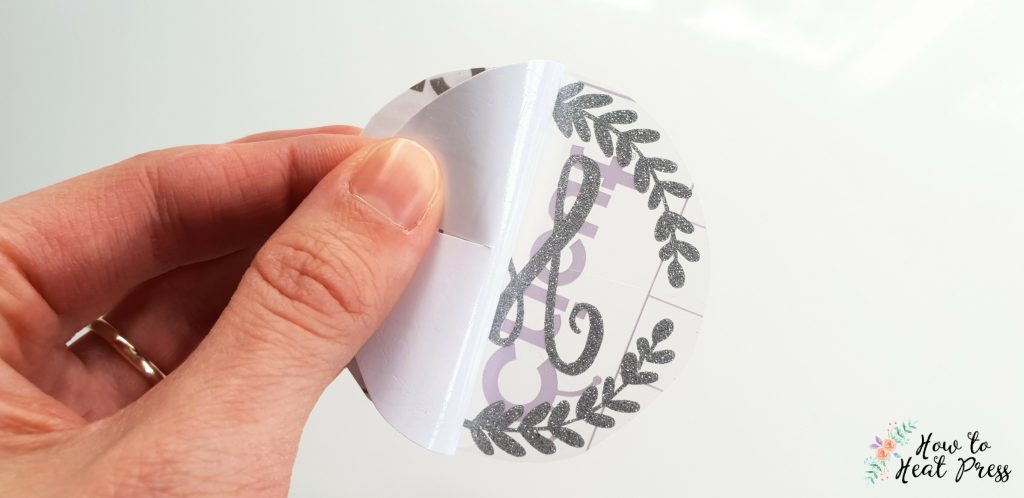 5. Position the design onto the mug and start by pressing it down the middle to secure it in place. Press from the middle first, and then slowly out to the edge.
Depending on your design and where you have cut your slits, press your design down in sections. With my design, as I have cut a slit on either side, I could secure one quarter down first, and then work on the second quarter. This is much easier than trying to get one whole side perfect at once!
6. Now you'll have one side completely done. To start on the other side, first remove the backing paper.
7. Once again, focus on one section at a time, and press from the middle out towards the edge.
8. Use your burnishing tool or scraper to make sure it is completely stuck down.
9. As you have slits cut in the transfer tape, this will allow you to easily rip it off in sections. I was able to remove half of my design at a time (which is especially helpful if parts of your design are small and intricate).
Remove the transfer tape by rolling it back onto itself. Do this nice and slowly, making sure every part of your design has stuck properly to the mug. If any part of the design has not adhered, roll the tape back and place and burnish it again.
10. Now you're all done – easy peasy! Leave the vinyl to cure for at least 24 hours before using and washing your mug.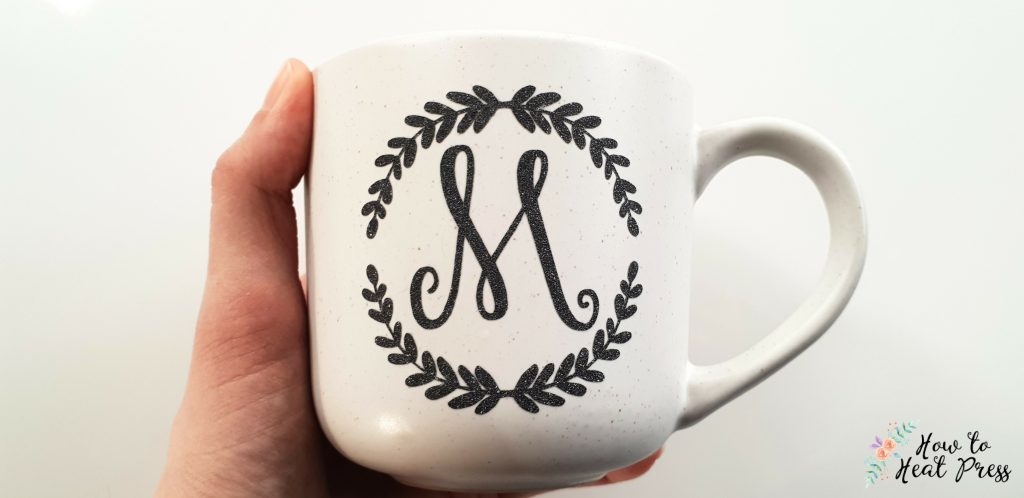 Applying Vinyl To Rounded Surfaces
What rounded surfaces have you played with? I applied vinyl onto stainless steel water bottles a while ago, and have done many mugs. I'm going to have to try putting vinyl onto Christmas tree ornaments this Christmas!
For more info, check out this post from Expressions Vinyl, and watch the following video on how to apply vinyl onto wine glasses.
Let me know what you're working on in the comments below.
Pin this post!
(Please note: This post contains affiliate links. Read our full disclosure policy here.)