How To Apply Vinyl On Glass – Cricut Metallic Vinyl Project
This post contains affiliate links. If you use these links to buy something, we may earn a commission, but it doesn't cost you anything. Thanks!
We're using Cricut Metallic Vinyl and blank glass bottles to make an easy DIY gift!
We are friends with a couple from Japan and Korea, and so we're applying a simple vinyl decal to the bottles
This post will show you how to apply vinyl on glass – it really isn't all that different from applying vinyl to curved surfaces.
Cricut Vinyl Project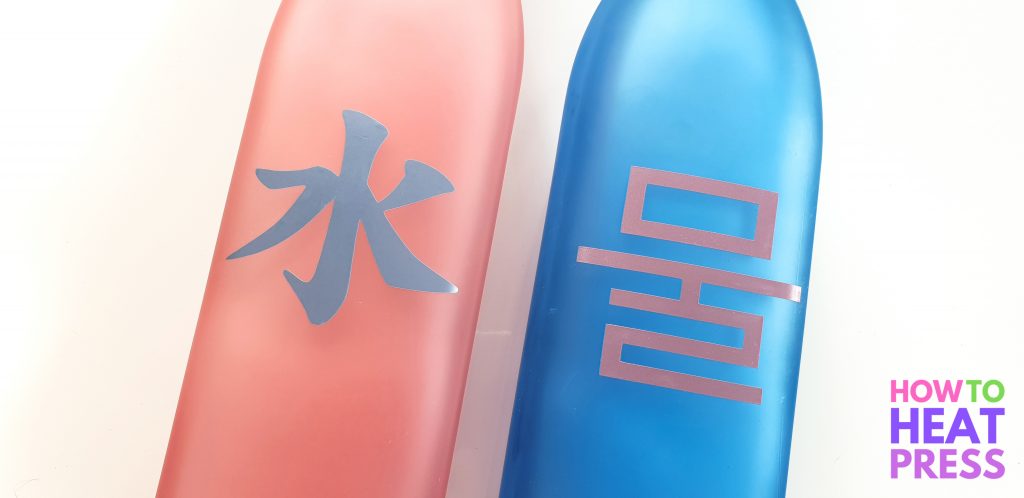 Here are the water jugs I've bought for this project. I've prepared them by wiping them down with turpentine (rubbing alcohol) and letting them dry completely. That's tip 1 for applying vinyl on glass – make sure they're clean!
I looked for similar bottles online, and these are the closest I could find.
The vinyl I'm using is Blush and Ocean Metallic from the Cricut Metallics Vinyl Sampler Pack. This is permanent adhesive vinyl, not heat transfer vinyl.
I chose these colors to match the bottles. I'll put the pink vinyl onto the blue bottle, and the blue vinyl onto the pink bottle.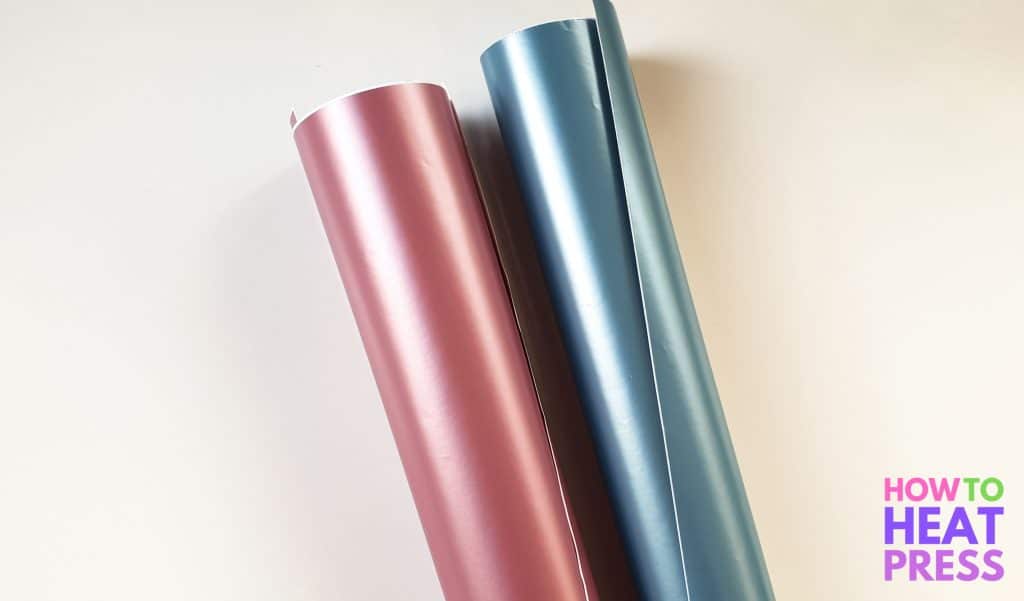 In the next picture are my two SVG images in Cricut Design Space. The image on the left is the Japanese character for water (pronounced mizu), and the right is the Korean word for water (pronounced mul).
To make the Japanese cut file, I just searched 'Japanese word for water' in Google images. The results came up with a nice clear image of the Japanese character. I saved the image, uploaded it to Cricut Design Space, selected 'simple' image type, erased the background, saved it as a cut image, and then inserted it into my new project.
For the Korean word, I couldn't find an image in Google images. Instead, I just google translated the word water, took a nice close-up screenshot of the Korean word, cropped it, and imported that image into Cricut Design Space. Then once again I selected 'simple' image type, removed the background, saved it as a cut image, and inserted that file also into my project.

I cut out the Korean word first. I set my machine dial to 'Vinyl' and it cut out the Cricut Metallic Vinyl perfectly. You do not need to cut in reverse when cutting adhesive vinyl.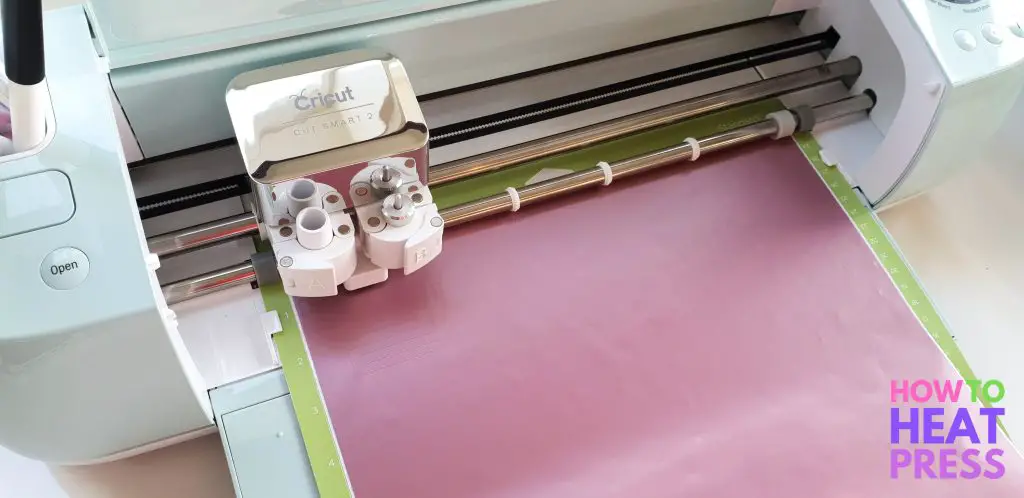 And here I am about to cut out my second mat, the Japanese character – love the metallic vinyl look!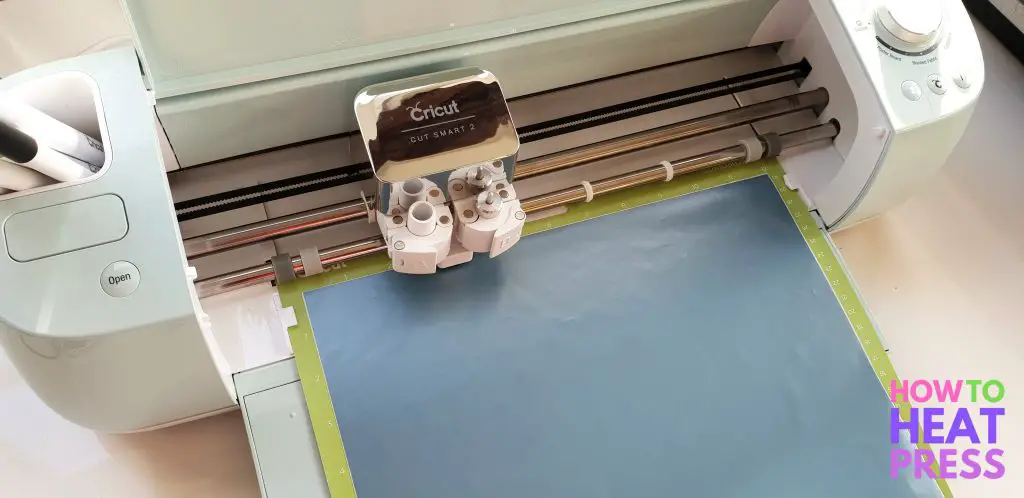 Once cut it's time to weed the excess vinyl away so that I'm left with only my designs on the backing paper.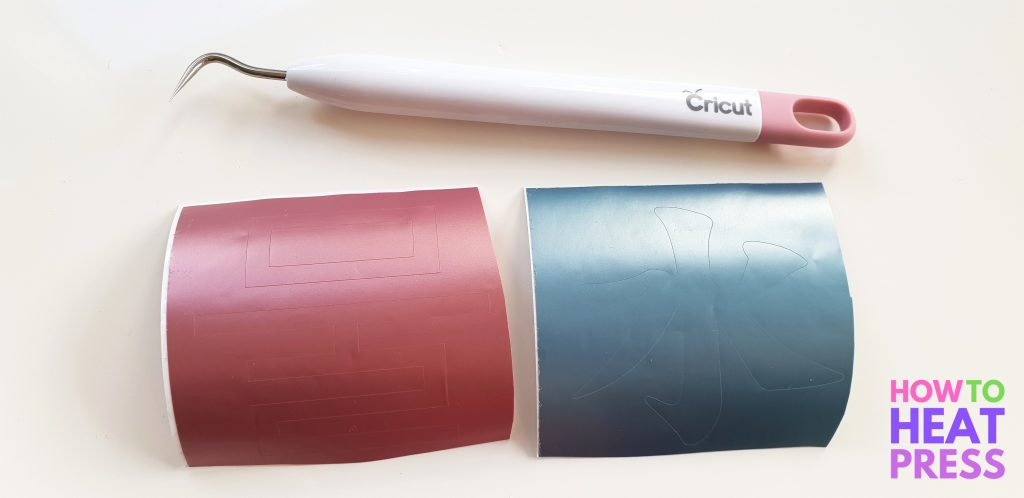 All done with weeding and I'm ready to transfer them onto my water jugs.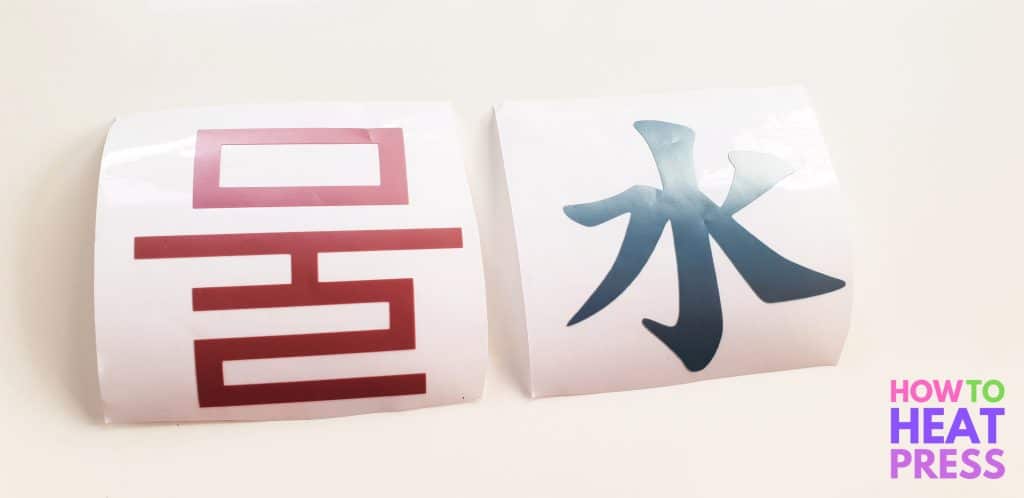 To transfer my design onto the water jug, I carefully put transfer tape onto the weeded design and burnished it with my scraper tool. I didn't need to burnish it much at all because my transfer tape is super sticky.
I find that cutting closely around the outside of my design helps me to position it onto my surface nice and straight. After doing that I cut one half of the backing paper off, and positioned my design onto the bottle. I pressed it down along the middle first, and then out towards the edges, so that there were no bubbles.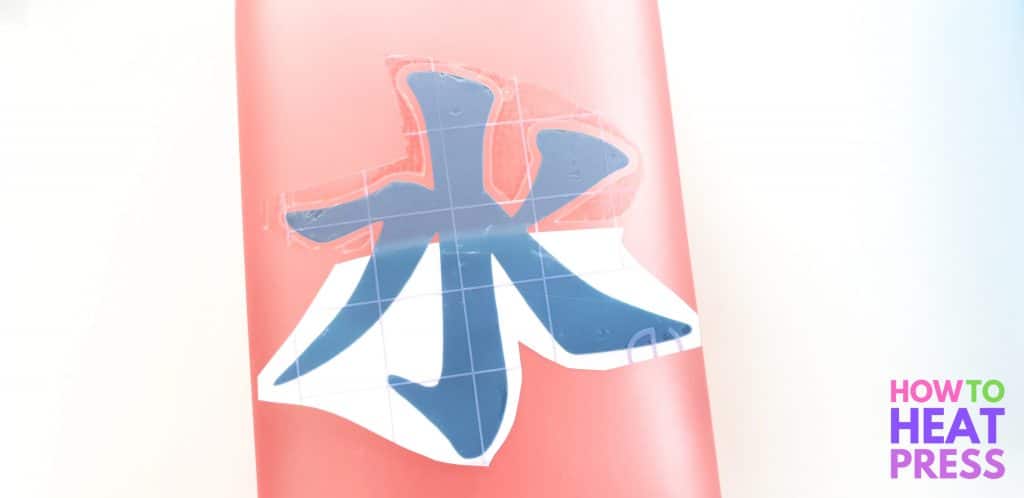 Next I removed the other half of the backing paper, and pressed the rest of my design down. Once again I worked from the middle out towards the edges.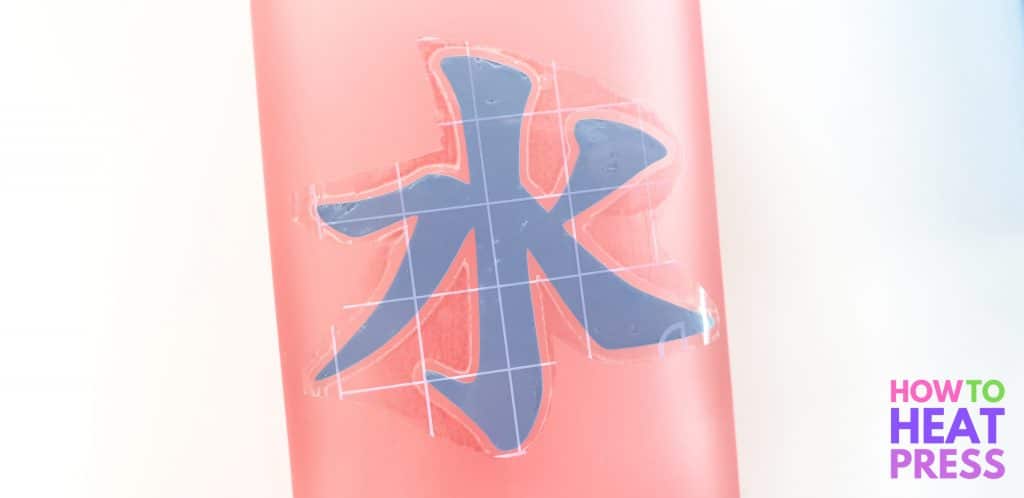 I removed the transfer tape slowly by rolling it back at a sharp angle onto itself. I removed it in several pieces so that I could make sure none of my design was going to lift up as I removed the tape.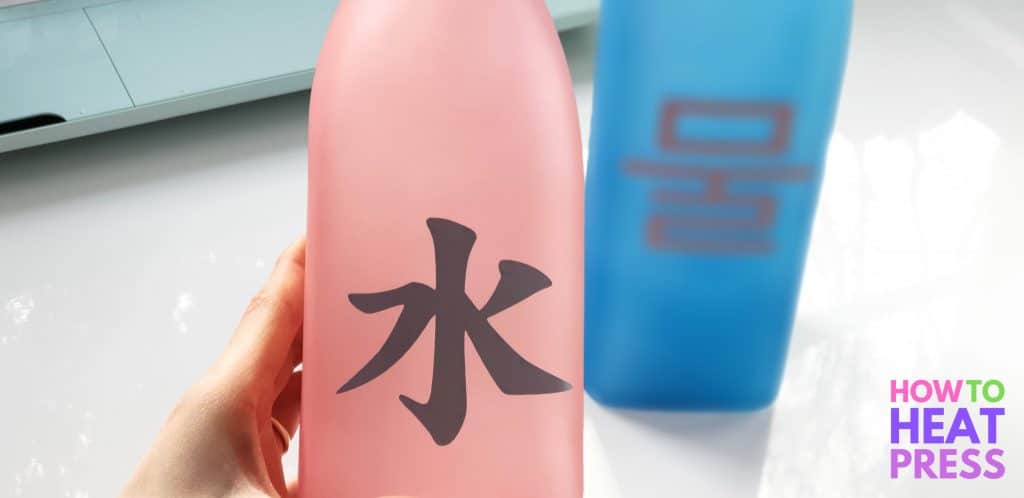 I'm really pleased with the result. The colors are a bit hard to see in the pictures, but I think they were a good choice. The two bottles really complement one another.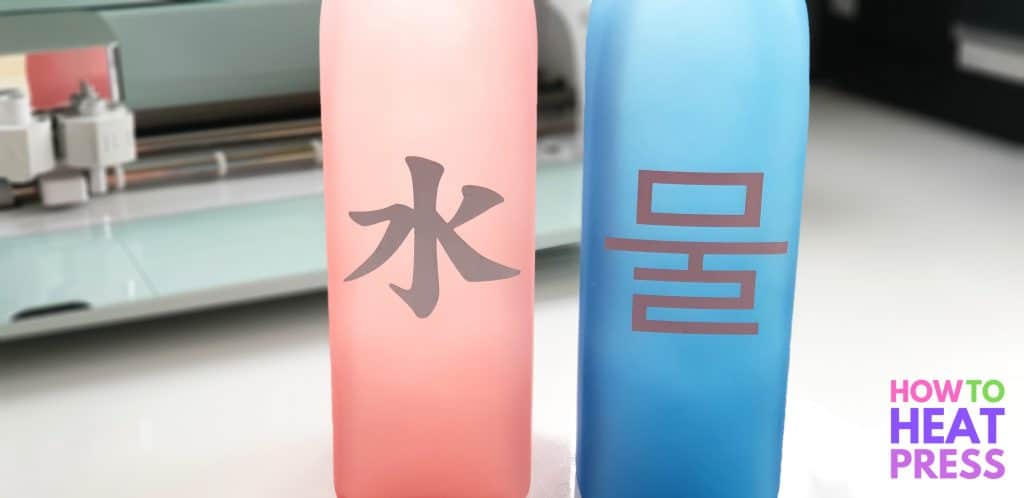 When applying vinyl to glass, you need to leave the finished project for a day or two afterwards before using and washing it. This allows the adhesive to fully adhere.
It is best to hand wash this type of thing – though personally I do put mugs with the same vinyl through the dishwasher and they're totally fine. Though they're more likely to last longer the better you take care of them!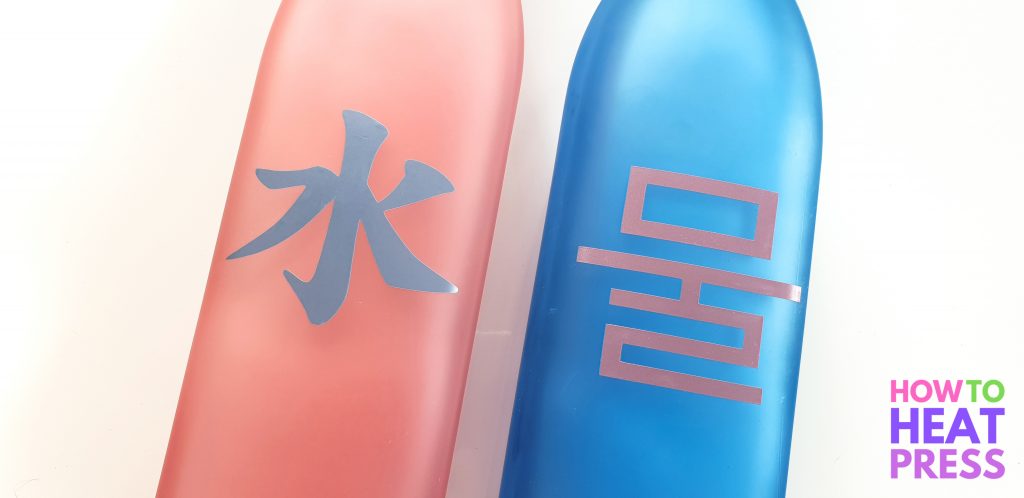 What do you think? What language would you write 'water' in? What type of vinyl on glass projects have you been making? Let me know in the comments below. Also, you might be interested in this 'vinyl on stainless steel water bottle' project I did recently.
Pin this post! 🙂
(Please note: This post contains affiliate links. Read our full disclosure policy here.)