10 Christmas Project Ideas Using Vinyl
It's Christmas project time again!
Are you looking for ideas for gifts? Vinyl crafts and tees do make great Christmas presents. Or are you looking for vinyl project ideas to keep the kids busy over the Christmas break? These sorts of things can keep them busy for hours. Whatever your reason for looking, we hope you enjoy this collection of Christmas project ideas using vinyl.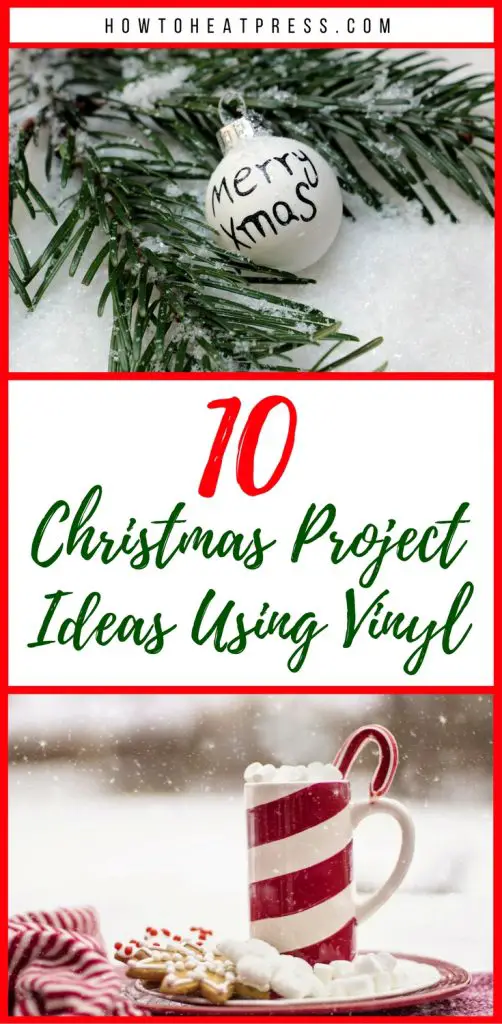 Christmas Project Materials
Some of these projects will require equipment and materials you may not already have at home. Here are some recommended items:
Or check out our post, The Best Heat Press and Cutting Machines for Christmas!
Now let's have a look at these projects.
#1 Coordinating Christmas Placemats
In this video from The Rhinestone World, Lisa shows how to make these coordinating Christmas placemats. She uses Siser Glitter heat transfer vinyl and The Rhinestone World Magic Foil, and she cuts these with a Silhouette Cameo 3. These placemats would make a lovely addition to your Christmas home decor or a great gift.
#2 Layered Vinyl On Christmas Ornaments
In this video, Jessica from Expressions Vinyl demonstrates how to layer vinyl and put it perfectly onto a Christmas ornament without any wrinkles or bubbles. This is a great way to add a personalized and special touch to your Christmas tree this season!
#3 Merry Christmas Decorative Plate
Our third Christmas project idea is this 'Merry Christmas' decorative plate shown in this tutorial from Maymay Made It Crafts. She uses glitter vinyl and transfer tape from Expressions Vinyl, and she cuts out her design with her Cricut. What a cute and inexpensive gift this would make!
#4 Holiday Mug Decals
Now here is a super cute and inexpensive gift you can make for all your friends and family! From Stacy Williams on YouTube, here is how to cut some vinyl holiday decals from Cricut Design Space and easily transfer them onto mugs. This gift idea could also be used not just for Christmas, but also for Valentines Day, Thanksgiving, and so much more!
#5 Personalized Christmas Stockings
Here's how you can easily personalize your store bought Christmas stockings with heat transfer vinyl. In this video from The Rhinestone World, Lisa uses scraps of Siser EasyWeed HTV, a Silhouette Cameo 3, and a heat press to customize some stockings. I recommend you also check out this video from Stahls' TV showing other ideas for pressing HTV onto stockings, and how you could add some cute embellishments.
#6 Christmas Decorative Shadow Box
Next up we've got this video tutorial from Dreaming Tree on YouTube showing how to make holiday themed shadow boxes. This is such a fun and unique idea, and an easy one to personalize to your individual taste. Again, this project would make great home decor not just for the Christmas season, but for others too!
#7 Personalized Christmas Truck
Here at howtoheatpress.com we love to find new and unique project ideas that will inspire you to get crafting. This personalized Christmas truck would make a cute addition to your Christmas decor. This video tutorial is from Nasayi on YouTube. She uses Cricut iron-on vinyl and a Silhouette Cameo 3 to make this project.
#8 Vinyl Christmas Signs
This video from StephanieD2 shows several different Christmas sign ideas using vinyl. She shows an example of vinyl used on tin, as well as vinyl used on two different types of wood. She made these projects using her Silhouette and used Oracal 651 vinyl to get the best adhesion. This video will hopefully give you some ideas and inspiration as to what projects you could create using these materials.
#9 Festive Burlap Pillow Band
In this video tutorial from The Rhinestone World, Susan shows how to make this festive burlap pillow band. She uses Siser EasyWeed and Siser Glitter heat transfer vinyl, cuts it with her Silhouette Cameo and presses it with a heat press. A pillow band is an easy way to dress up your ordinary pillows for the holiday season, and a great way to add a personalized special touch to your living space.
#10 Custom Christmas Sweatshirt
In this video tutorial by Maymay Made It Crafts, she shows the process of how to make this super cute reindeer sweatshirt. She purchased this design from misskatecuttables.com, uses glitter HTV from Expressions Vinyl, and cuts out her design with a Cricut Explore. We recommend using a heat press instead of an iron for this project for longer lasting adhesion. And like she says in the video, for heat transfers, don't forget to mirror your image before you send it to be cut!
Conclusion
So that's a collection of the best Christmas vinyl craft videos from YouTube. We hope you've been inspired. Comment below if you've given one a go, or send us some pictures and we'd love to add them to this post. Vinyl crafting is such a great way to fill in time productively and make memorable gifts for loved ones. If you haven't tried it before, you must give it a go today!
(Please note: This post contains affiliate links. Read our full disclosure policy here.)