23 Cricut Christmas Ideas for 2022 – Iron On & Adhesive Vinyl Projects
This post contains affiliate links. If you use these links to buy something, we may earn a commission, but it doesn't cost you anything. Thanks!
It's Christmas time again – And we've got a load of Cricut Christmas ideas just for you!
Are you looking for ideas for gifts to make this holiday season using vinyl or iron on? Or are you wanting some DIY Christmas decor and decoration ideas? The big day is approaching quickly but there's always time to create beautiful decor using your cutting machine and some vinyl.
There are so many different things you can customize using both adhesive vinyl or iron-on vinyl, so let's get into them!
Christmas Vinyl Project Ideas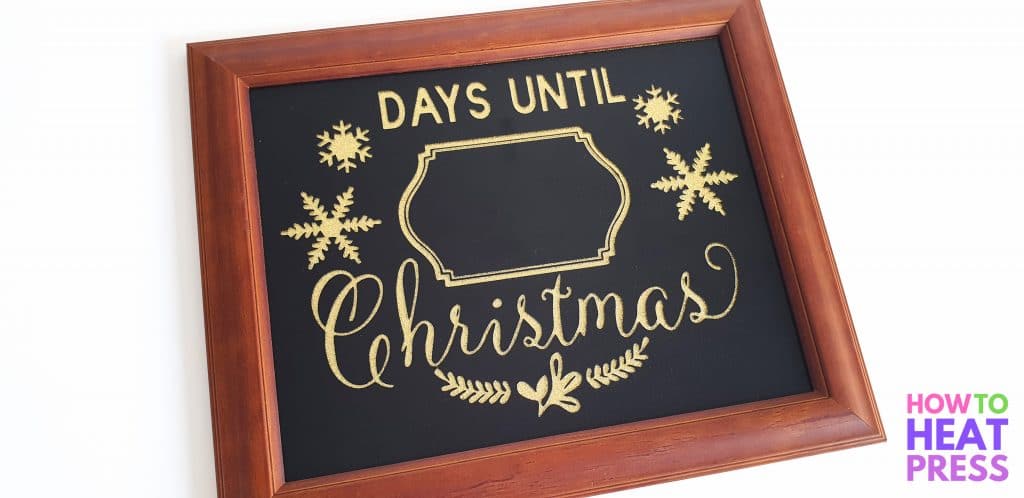 We've got a range of both video and written step-by-step Cricut tutorials to share. Some of them we've made ourselves, and some are from other Cricut crafters.
Enjoy!
1. Cricut Christmas Calendar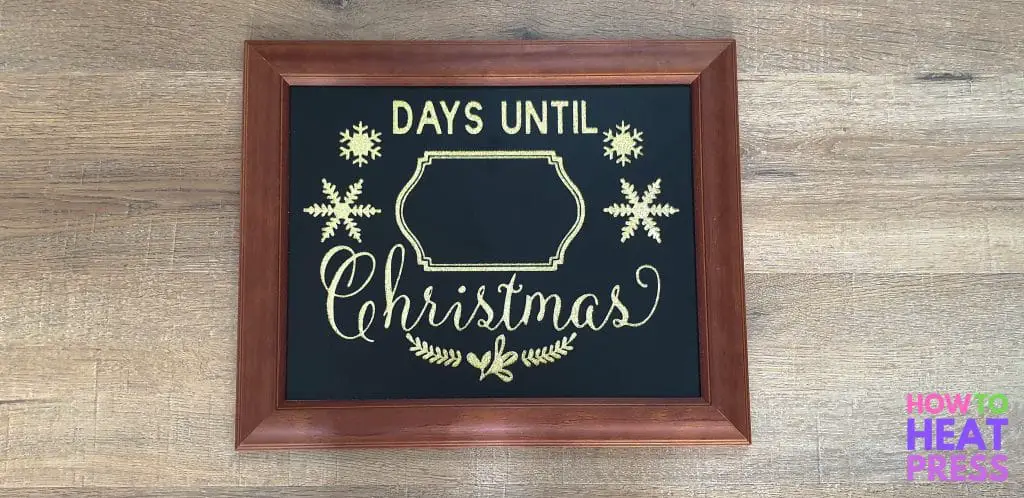 This Cricut Christmas Calendar was made using Cricut Chalkboard Vinyl.
We found an old unused picture frame, placed gold cardstock behind it, and then chalkboard vinyl over the glass. It worked perfectly! The center piece is obviously where we can put the number of days till Christmas.
It could possibly make a fun early Christmas present, but besides that, it's great for generating Christmas cheer in the home!
2. Cricut Window Decals
The following window decals were made using Cricut Window Cling.
I had a lot of fun making these vinyl decals for Christmas, and now I've just got to find a way to keep my 3 year old from peeling them off!
3. Christmas Onesie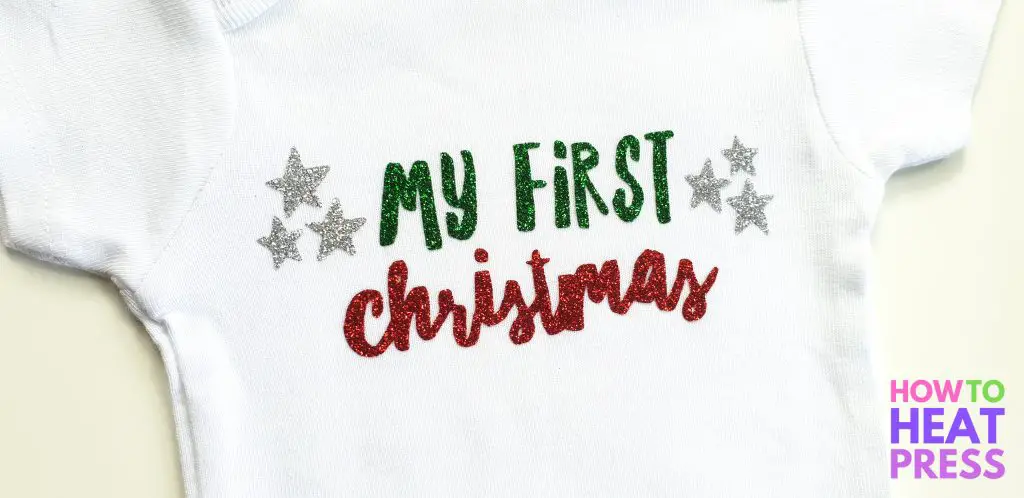 This Christmas baby onesie is a perfect gift idea for any babies born over the last year!
It was made using Siser Glitter HTV because who doesn't want to sparkle at Christmas? The glitter iron-on bundle that I used can be found here on Amazon.
4. DIY Christmas Placemats
In this video from The Rhinestone World, Lisa shows how to make these coordinating Christmas placemats.
She also uses Siser Glitter HTV, and The Rhinestone World Magic Foil, and she cuts these with a Silhouette Cameo 3.
These placemats would make a lovely addition to your Christmas home decor, or a great gift.
5. Vinyl Christmas Ornaments
In this next video, Jessica from Expressions Vinyl demonstrates how to layer vinyl and put it perfectly onto a Christmas ornament – without any wrinkles or bubbles!
This is a great way to add a personalized and special touch to your Christmas tree this season! Acrylic ornament blanks like the ones pictured below are inexpensive and another festive choice. Cricut Access has lots of fun SVG files for ornaments!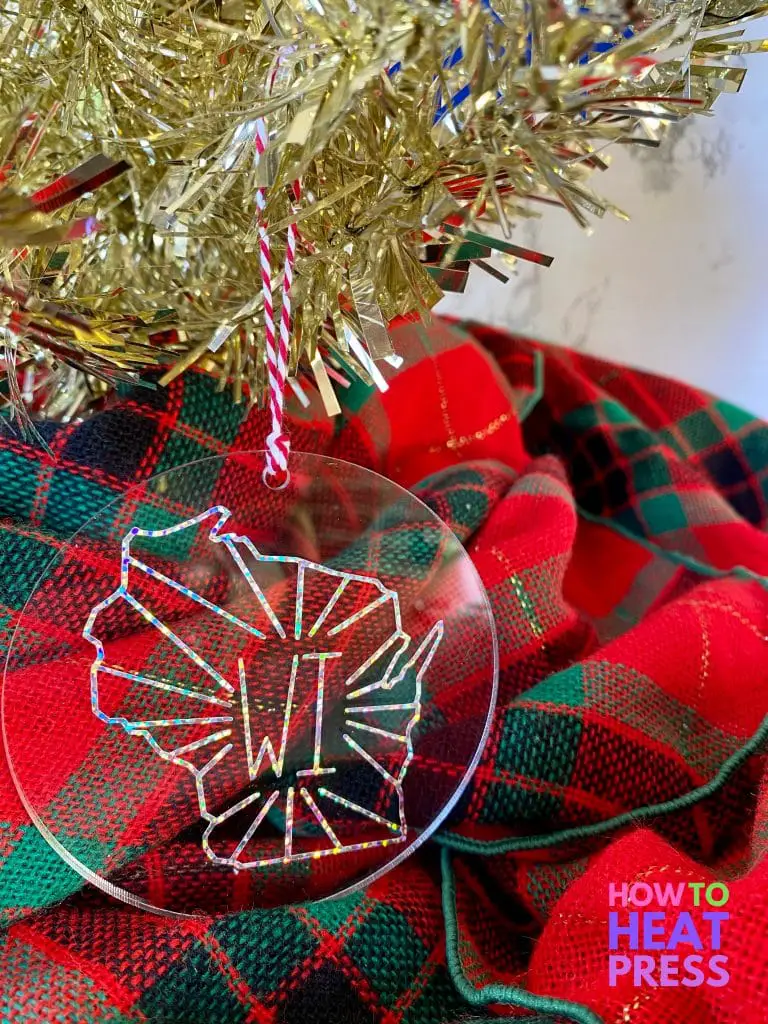 Personalized gifts are always a hit and easy to make. The ornament below was made with the Cricut Joy and is a super easy DIY project. Just make sure the adhesive side of the vinyl shows the same pretty pattern as the front for a see through ornament like this one.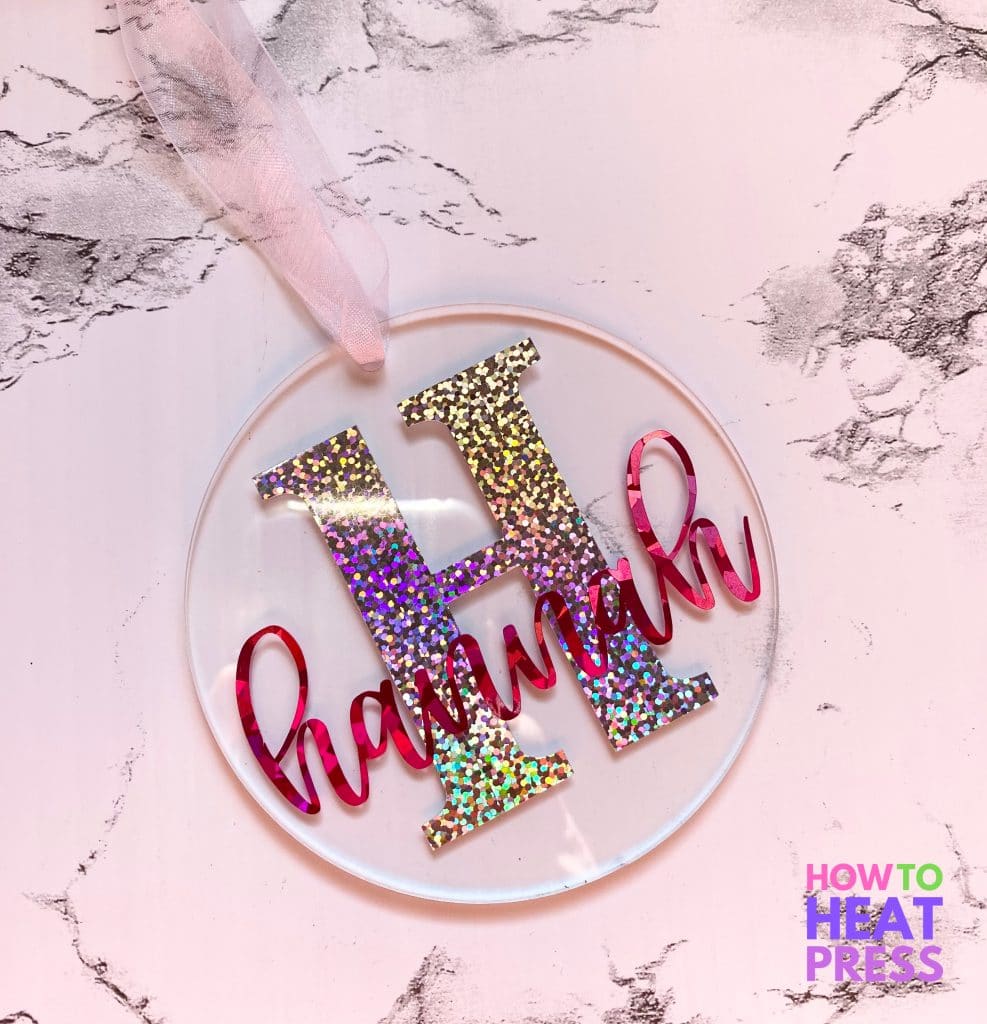 Ornaments are so fun we can't stop! The design below is one of about 30 we made for friends and neighbors featuring their house number and street. They're a cute addition to everyone's holiday decor without breaking the bank.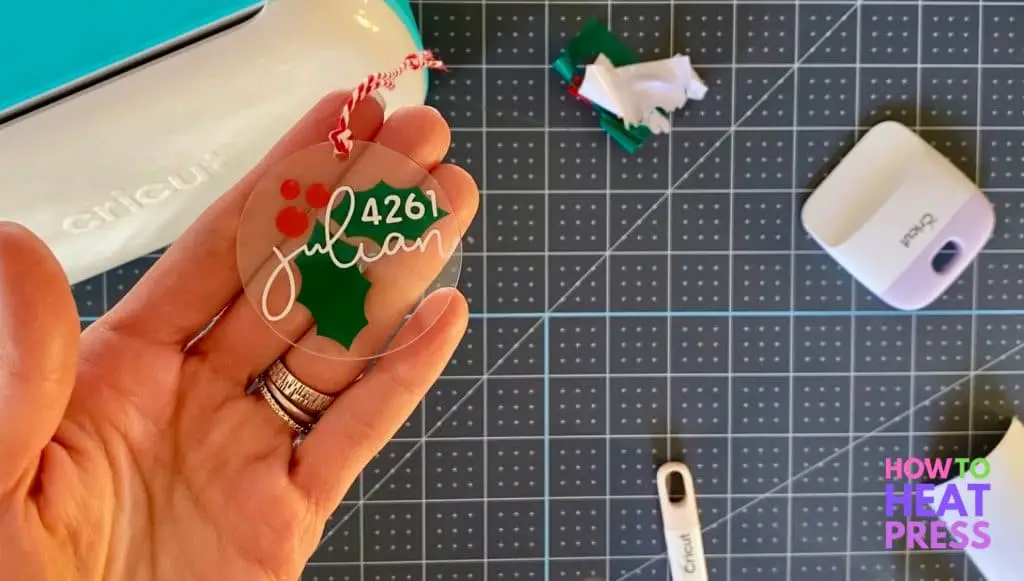 6. Personalized Stocking Tags
Want to make stockings even more fun? Give them the personal touch with quick DIY personalized stocking nametags. We have beautiful handknit stockings (thanks, Mom!) that I'd never add HTV to. Instead, I created these tags using blank acrylic ornaments, adhesive vinyl, and some cute buffalo check ribbon.
You could also make these using wooden blanks or even more dimensional rounded ornaments. Here are some other great ideas for how to spice up your holiday mantel!
7. Christmas Reverse Canvas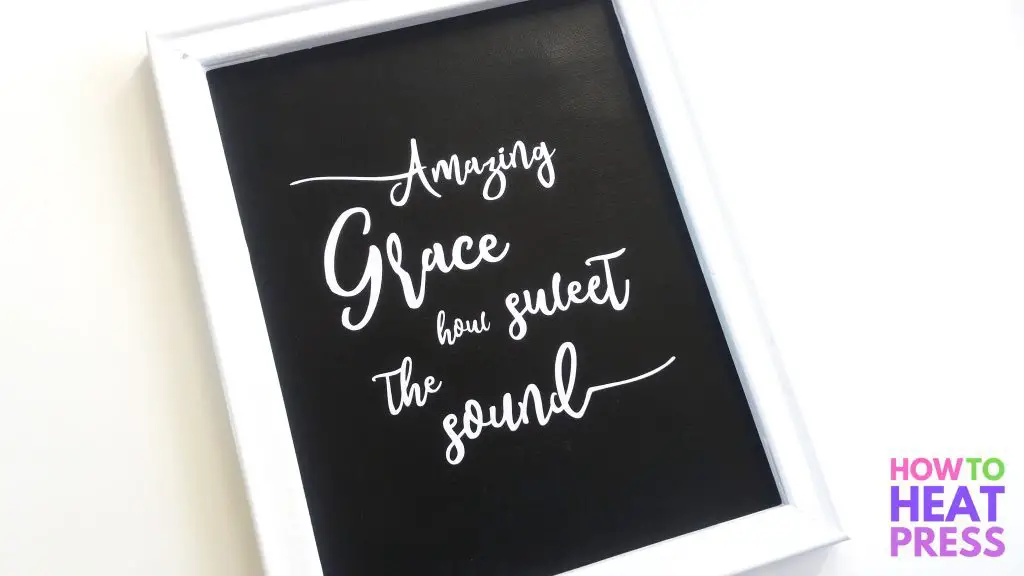 This Cricut Reverse Canvas project is the type of thing that makes for a good handmade Christmas gift.
There's quite a bit of work involved, from painting the frame & canvas, to cutting and applying the vinyl, but it's something special that will last a long time.
I used Cricut iron on vinyl for this project, but something like Oracal 651 would work well too!
8. Decorative Christmas Plate
Our next Christmas project idea is this 'Merry Christmas' decorative plate shown in this tutorial from Maymay Made It Crafts.
She uses glitter vinyl and transfer tape from Expressions Vinyl, and cuts out the design with her vinyl cutting machine.
What a cute but inexpensive gift this makes!
9. Christmas Mug Decals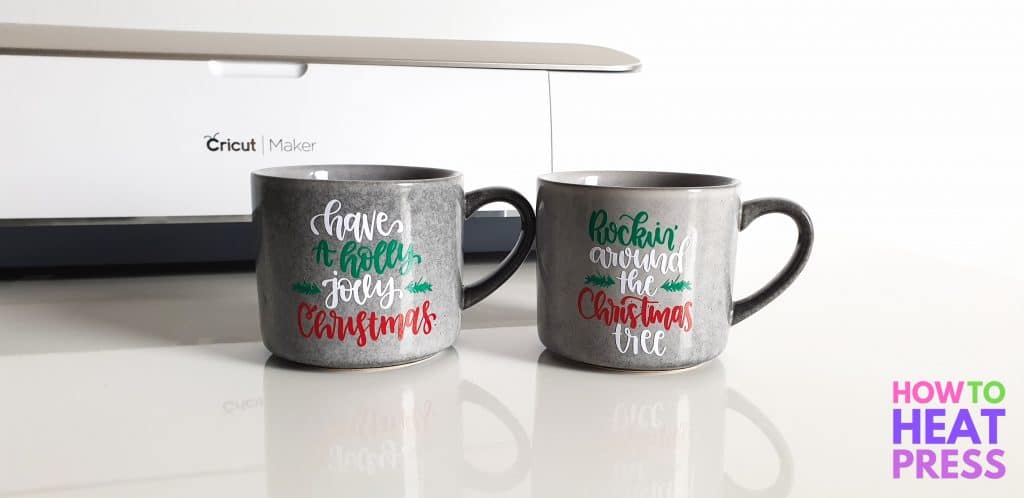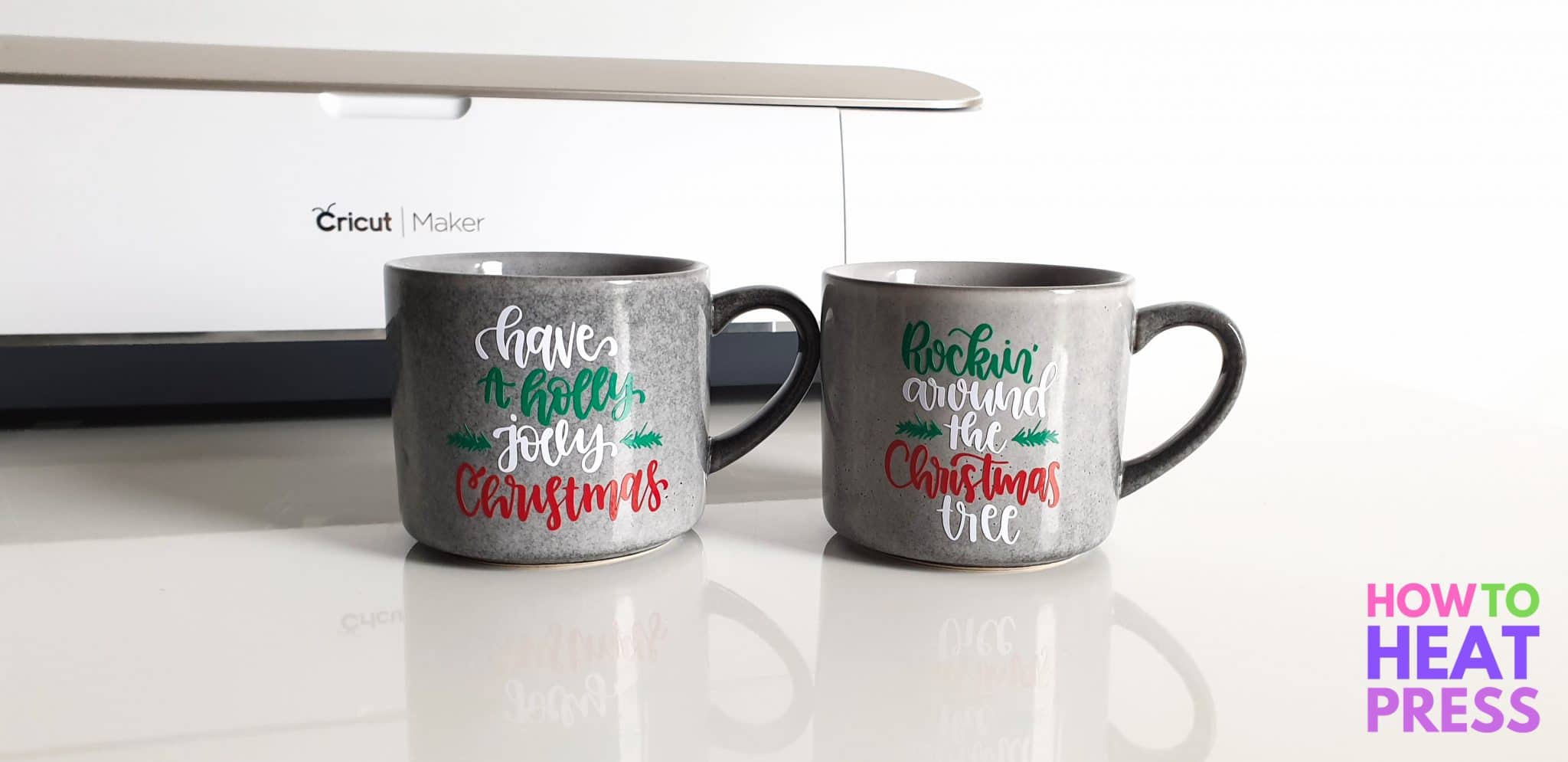 Here is another super cute and inexpensive gift you can make for all your friends and family!
In this reverse weeding tutorial we cut some vinyl holiday decals using Cricut Design Space, and easily transfer them onto mugs.
This gift idea could also be used not just for Christmas, but also for Valentines Day, Thanksgiving, and so much more!
10. Custom Christmas Kitchenware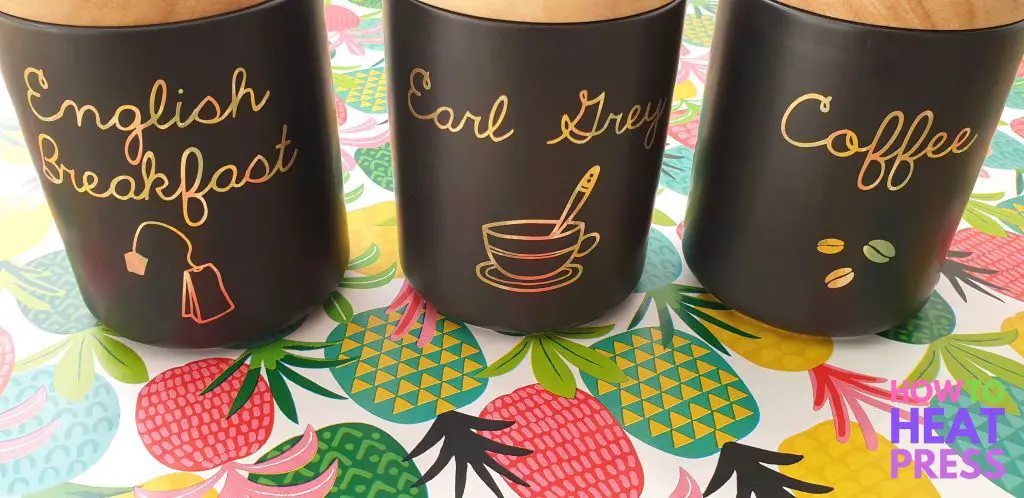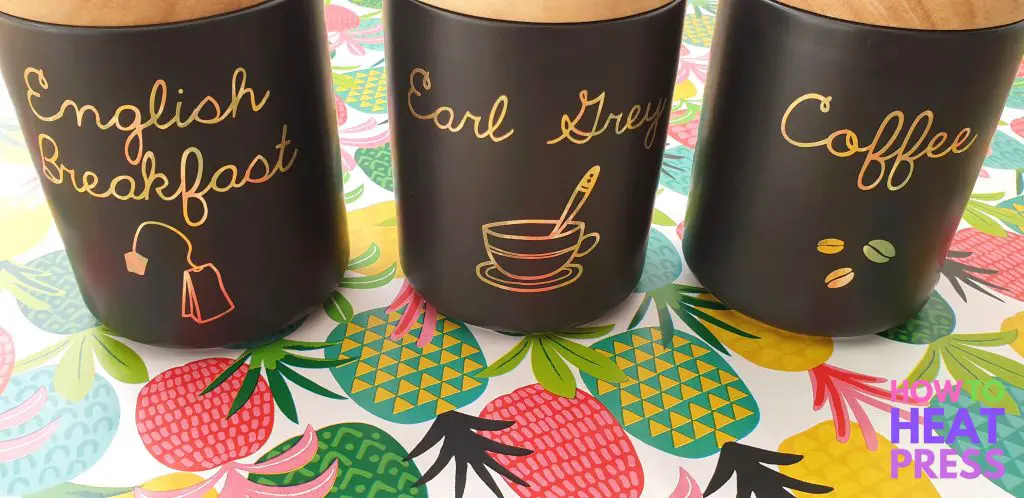 Cricut vinyl labels can be applied to anything (and everything)!
It's so simple to get a really nice piece of kitchen storage, like the tea and coffee canisters above, grab a great free SVG, cut it out, and apply it!
We used this adhesive vinyl from this cheap bundle on Amazon. It's lasting well!
11. Personalized Christmas Stockings
Here's how you can easily personalize blank Christmas stockings with heat transfer vinyl.
In this video from The Rhinestone World, Lisa uses scraps of Siser EasyWeed, a Silhouette Cameo 3, and a heat press to customize Christmas stockings.
12. Christmas Shadow Box
Next up is this video tutorial from Dreaming Tree (known for their 3D SVGs).
It shows how to make holiday themed shadow boxes. This is such a fun and unique idea, and an easy way to personalize to your individual taste.
Again, this project would make great home decor not just for the Christmas season, but for others too!
13. Personalized Starbucks Tumbler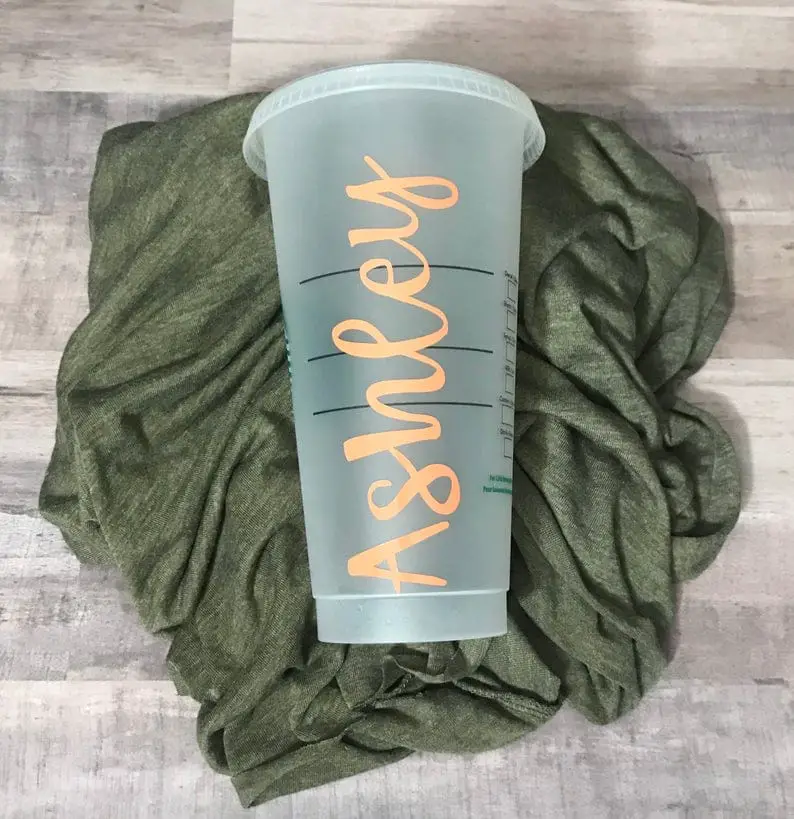 This Starbucks Tumbler can be picked up on Etsy here, but if you have a Cricut cutting machine, you can easily personalize it yourself!
Grab yourself some blank Starbucks tumblers and adhesive vinyl, and get customizing!
14. Personalized Christmas Truck
I love to find new and unique project ideas that will inspire us to get crafting!
This personalized Christmas truck would make a cute addition to your Christmas decor. This video tutorial is from Nasayi. She uses Cricut iron-on vinyl, and a Silhouette Cameo 3 to make this project (also take a look at the new CAMEO 4).
15. Cricut Christmas Fabric Projects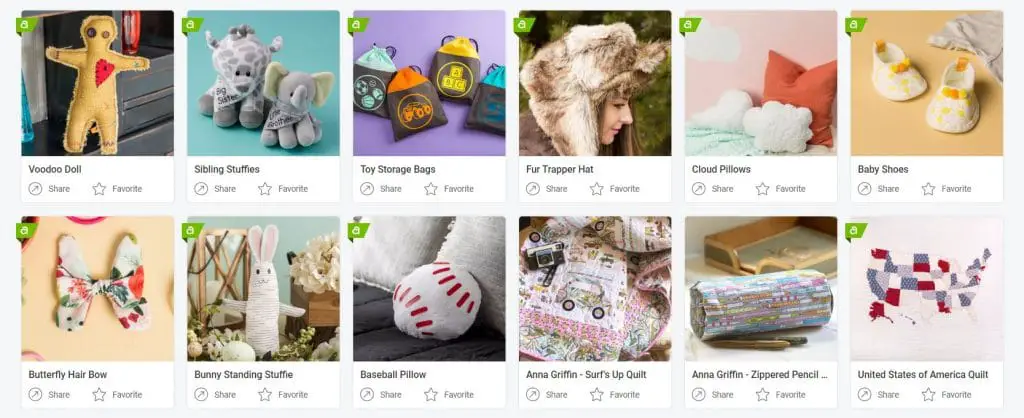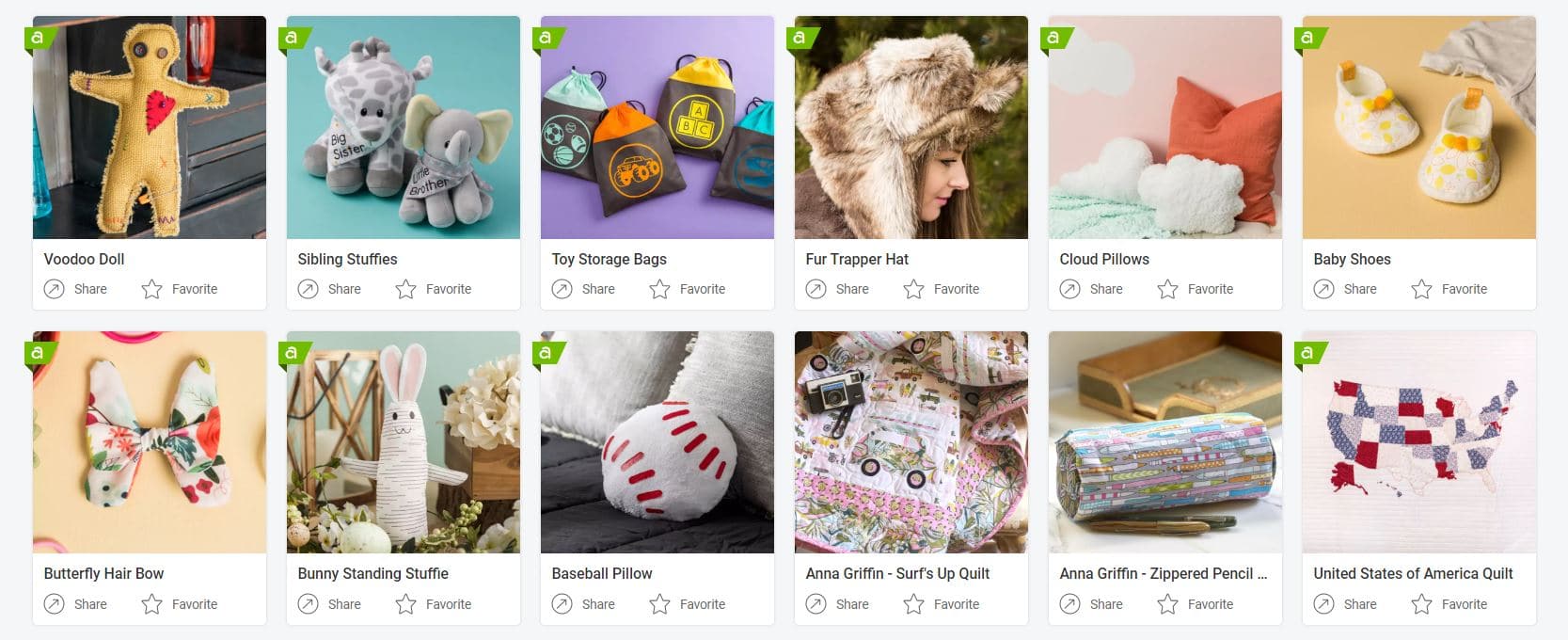 If you are a member of Cricut Access, you have access to a ton of Cricut sewing patterns.
There are patterns for stuffed toys, kids clothing, puzzles, and all sorts of other awesome projects (especially for cutting with the Cricut Maker).
A number of these projects would be totally suitable as Christmas presents, and many include iron-on vinyl as well!
16. Vinyl Christmas Signs
This video from StephanieD2 shows several different Christmas sign ideas using vinyl.
The first shows how to apply vinyl on tin, followed by examples of how to apply vinyl on different types of wood.
She made these projects using her Silhouette and used Oracal 651 vinyl to get the best adhesion. No doubt this video will give you other ideas for projects you could create using these materials.
17. Kids Sweatshirt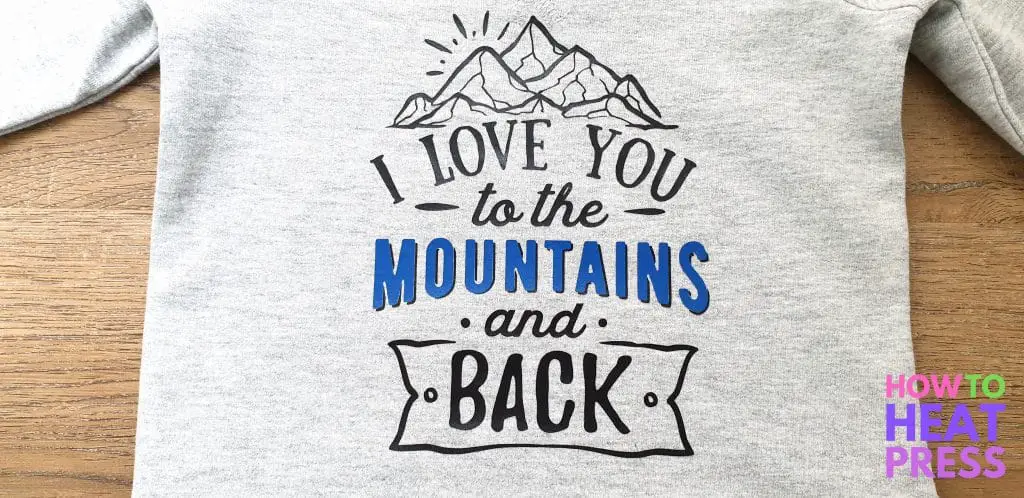 Another really easy Cricut Christmas project – a kids sweatshirt with a HTV transfer. The SVG I used for this top can be found here.
One could easily buy something like this from the shops, but it adds so much to say you made it yourself. Make custom tops for all the nieces and nephews this Christmas!
18. Christmas T Shirt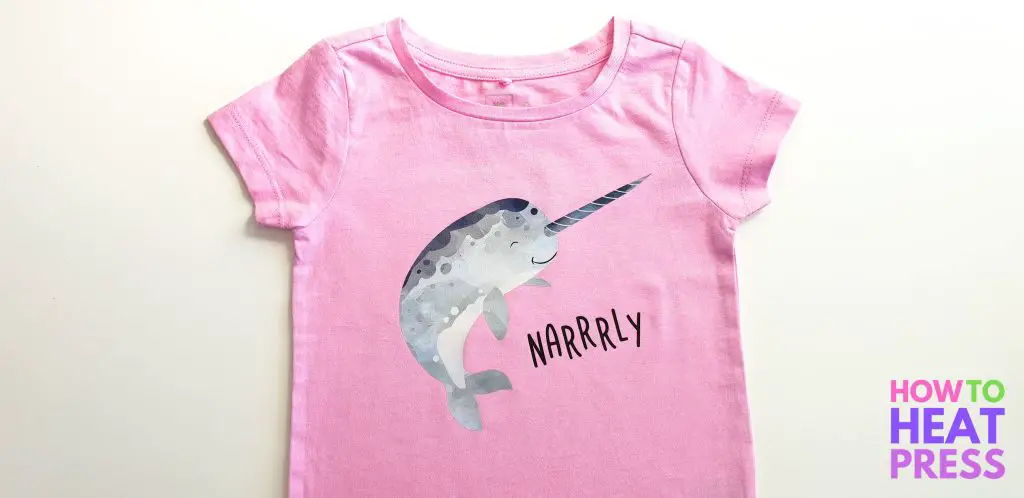 Create a Christmas t shirt using iron on transfer paper! There are so many cute designs to choose from, feature a beautiful snowflake, Santa, or a monogram.
Avery transfer paper can be applied with an iron, the EasyPress, or a regular heat press machine. You just print out your clipart onto the transfer paper, and then press it on!
19. Christmas Wood Sign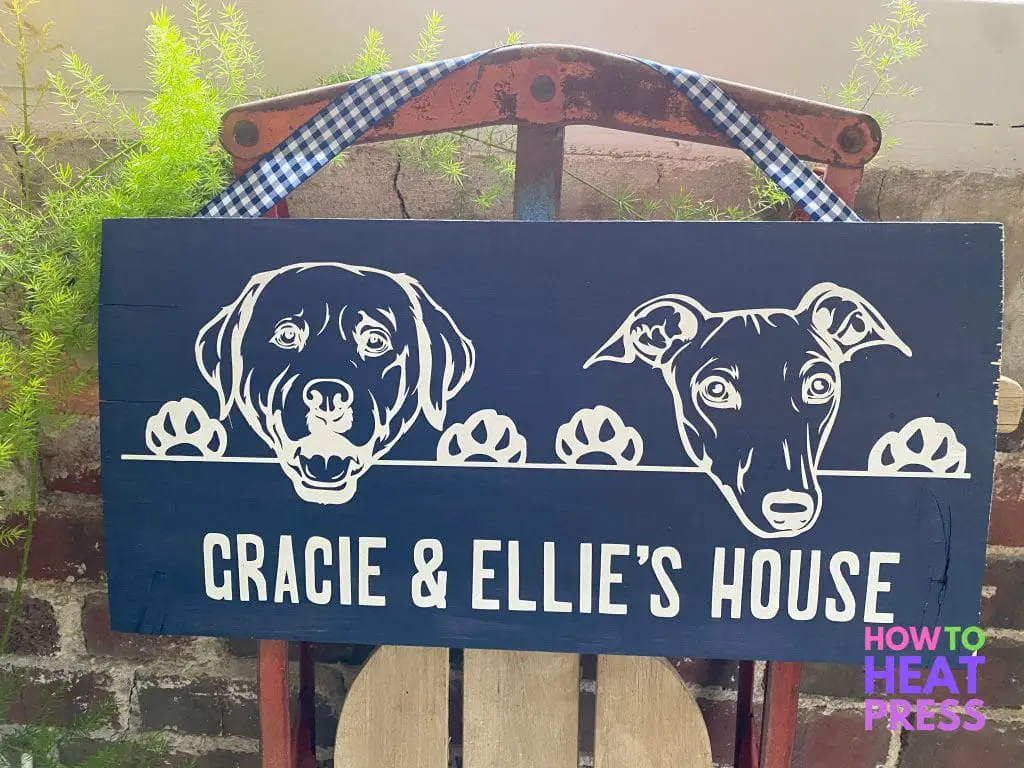 Know a dog lover? A wood sign like this would make an amazing holiday gift! We made this with adhesive vinyl but you could also go the freezer paper stencil route.
Finding a cut file to match the pup can be time-consuming but it's doable! Expert Outfit on Etsy is a great source for dog SVGs and you can search by breed. This would also look great on tea towels! Apk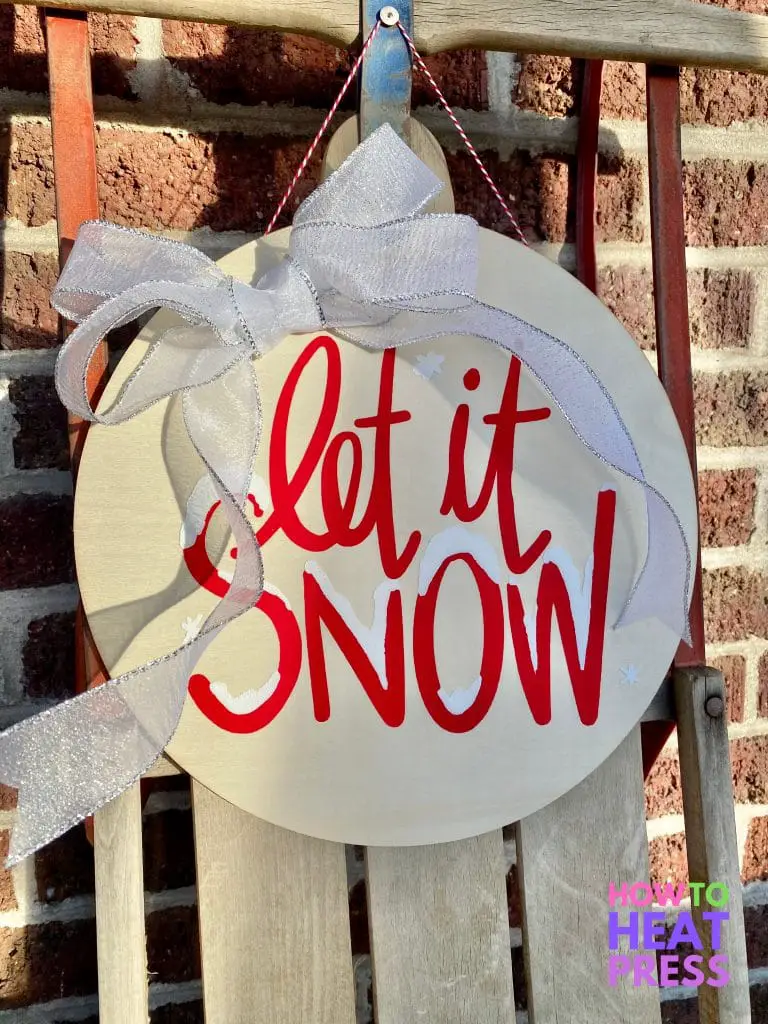 You can also go with a fun winter themed wooden sign. This cute "Let it Snow" SVG came from Design Bundles.
20. Custom Doormat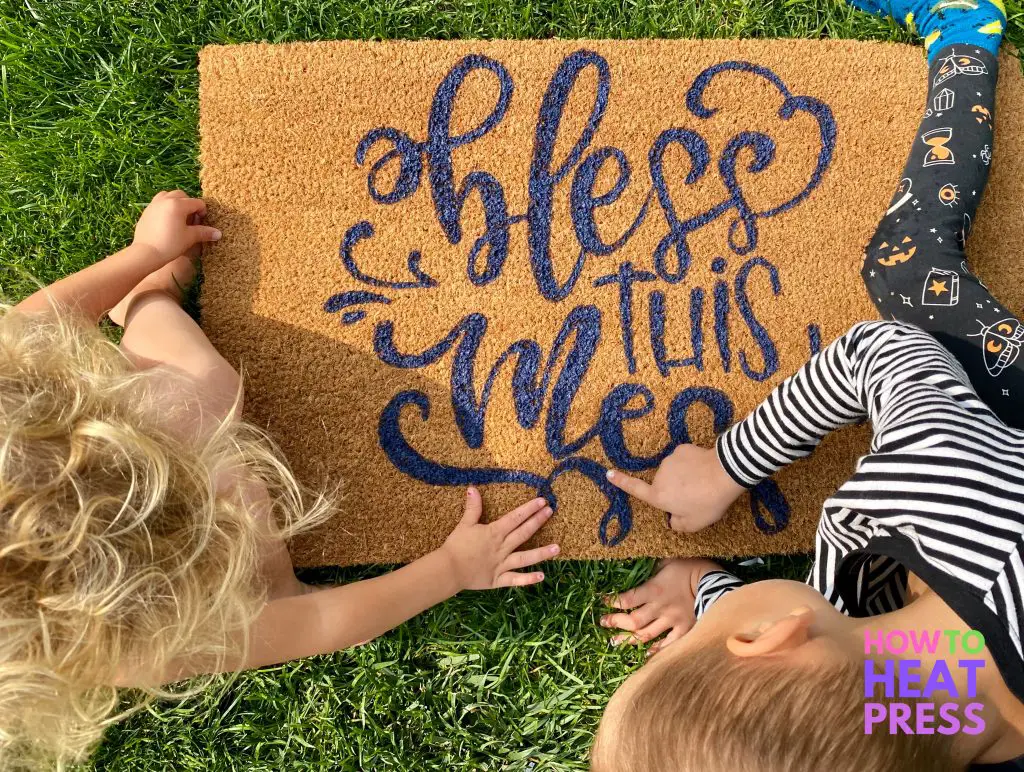 Making a custom doormat is an awesome way to update your Christmas decorations for the year.
This is easiest to do with either a Maker Cricut machine or the Cricut Explore Air 2 because of the size. It's more time consuming than some of the other Christmas gift ideas here but is a really fun, crafty project.
21. Custom Wine Tumbler or Insulated Mug

There's nothing quite as nice as getting a homemade gift that's personalized just for you!
There are a lot of amazing personalized tumblers out there on Etsy but you can also do it yourself. This is an ombre tumbler from Target, gold permanent adhesive vinyl cut on the Joy, and a monogram font from this bundle.
22. Gift Tags

Making decorative gift tags for your goodies will really take your gift giving to the next level. It's quick and easy to make the tags and you can do them as cut files like the ones above or written with Cricut pens.
These tags aren't just for wrapped presents. They would look nice on a gift basket, advent calendar, bottle of wine, or any other hostess gift.
23. DIY Thank You Cards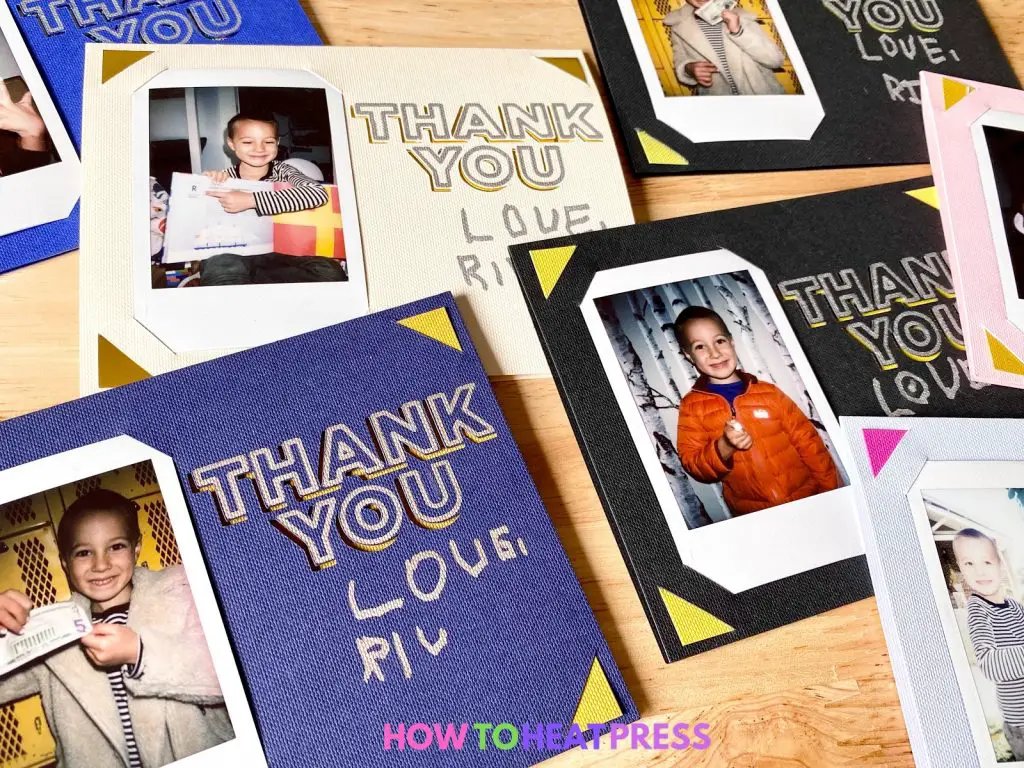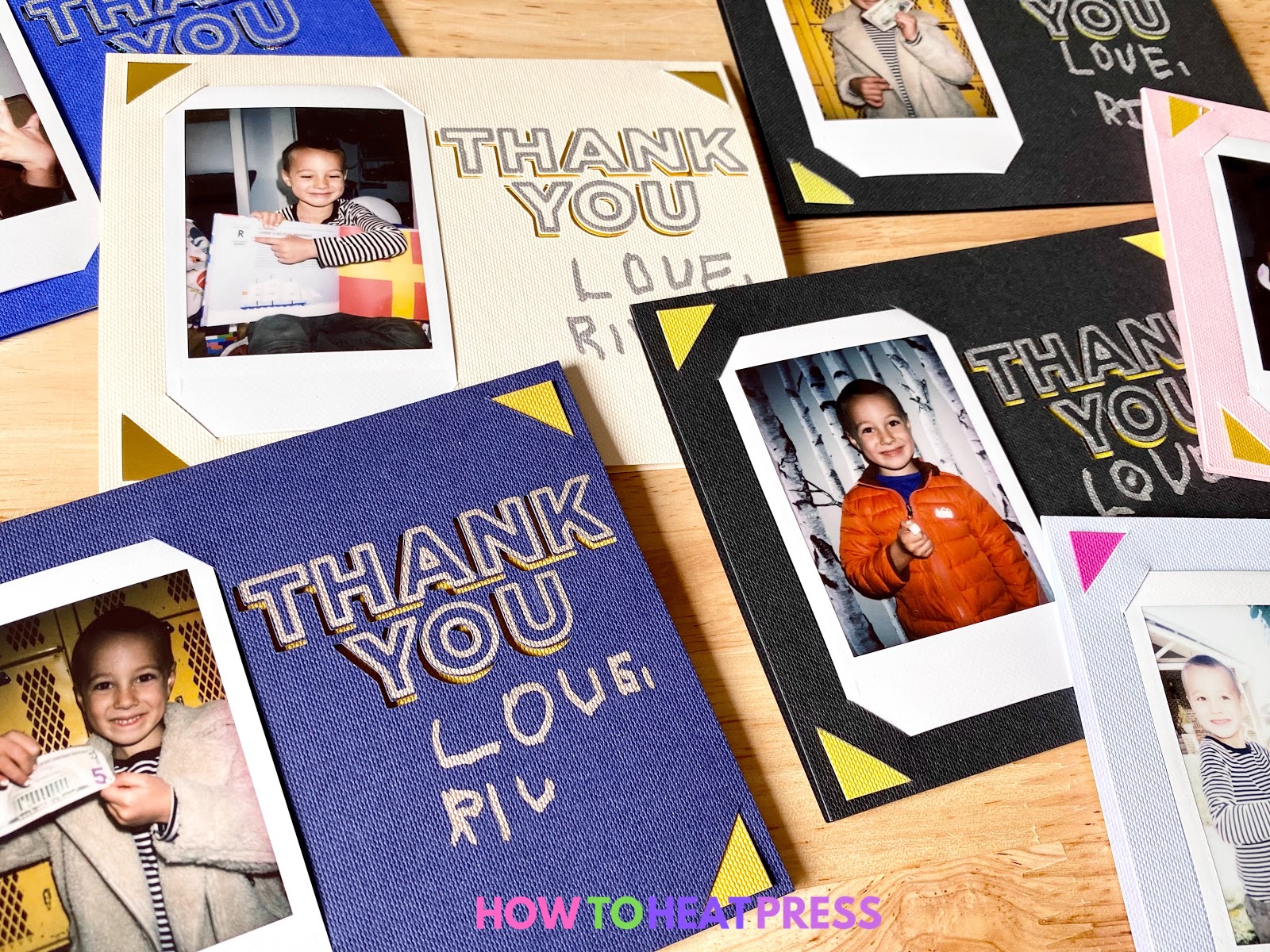 While we've focused on decorations and gifts so far it's important to remember to always write a nice thank you note!
You can see how we made these thank you notes with the Cricut Joy. It's the best machine for making cards – another great craft idea for the holidays!
Christmas Cricut Projects
That's all the projects we've got for now, but let us know in the comments if you have any other ideas!
Vinyl crafts are a great way to fill in time productively and create memorable gifts for loved ones. If you haven't tried it before, you've got to give it a go!
Pin this post!
(Please note: This post contains affiliate links. Read our full disclosure policy here.)