Silhouette Cameo 4 Review – The New Cameo Shipping Now!
The Silhouette Cameo 4 is here!
The Cameo 4 is much improved on the Cameo 3, and even comes in the larger sizes of 15 inches and 20 inches wide. Though only the 12 inch model is currently available, this will make a lot of people happy.
In this post we'll start with where you can buy the Silhouette Cameo 4 for the best price, before we take a look at everything you might need to know about it!
Silhouette Cameo 4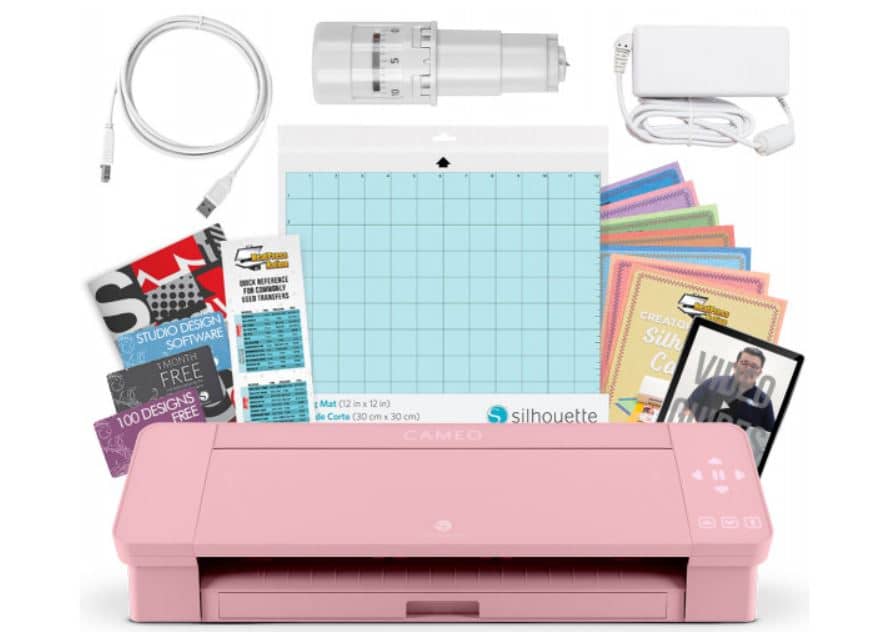 There are multiple retailers now selling the Silhouette Cameo 4!
To begin with, I recommend comparing prices between Amazon, Heat Press Nation and Swing Design.
While HPN is our preferred retailer, Swing Design have some great buying options as well. It may not be immediately obvious, but HPN do have the 3 different color options – you make the choice once clicking on the listing.
Here are the different Silhouette Cameo 4 buying options out now!
Silhouette Cameo 4 Review
Here is our review of the new Silhouette Cameo 4.
Silhouette Cameo 4 Review
User Experience

Specifications

Software

Community

Value For Money
Summary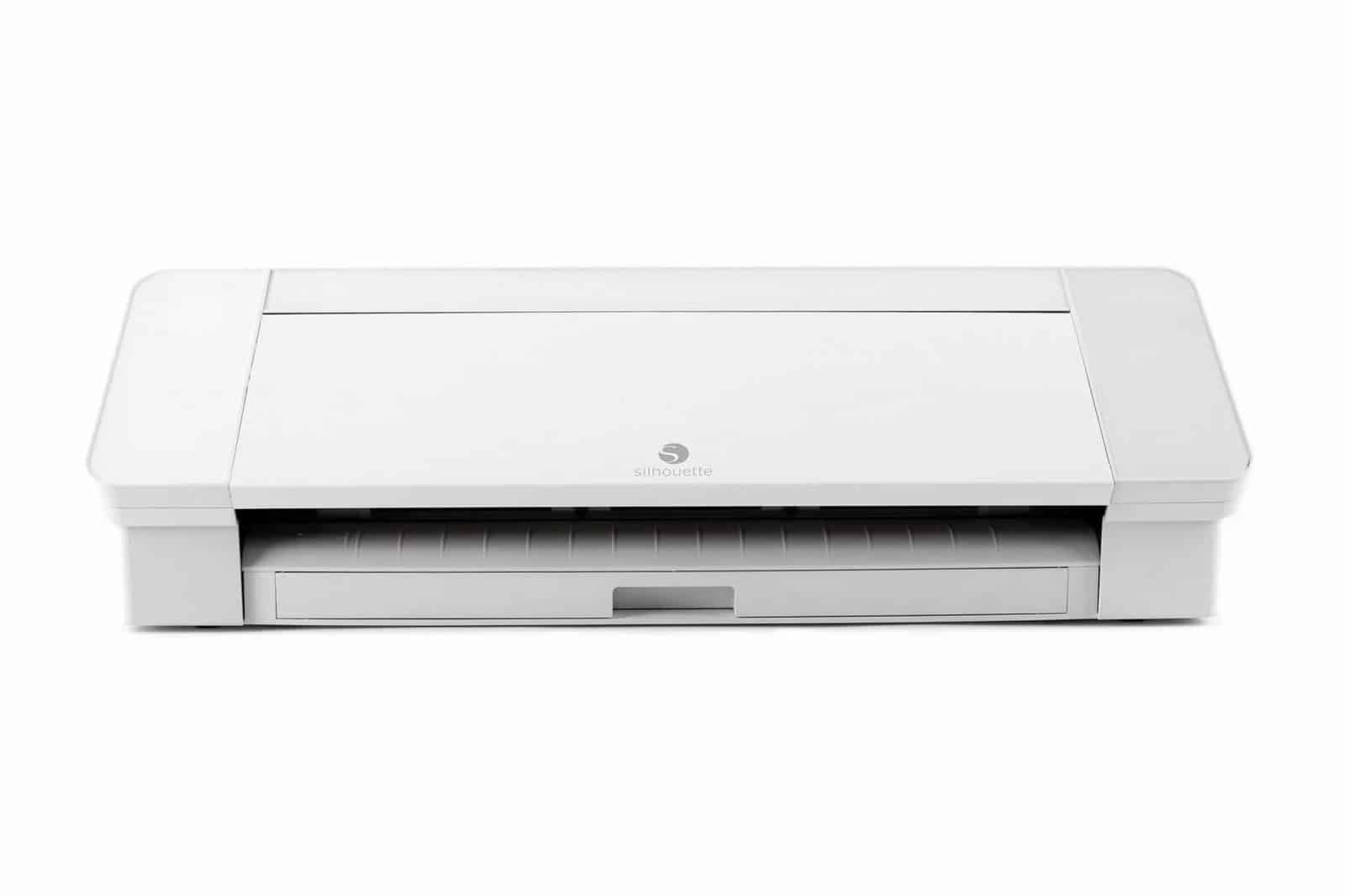 The Silhouette Cameo 4, coming 3 years after the Cameo 3, is a marked improvement on its predecessor.
Available in 3 different colors, and eventually in 3 different sizes, the Cameo 4 has a lot to get excited about.
It comes with the expected changes: it's faster, can cut thicker materials, and has a more modern look.
And then there are the more unexpected (but happy) new features:
matless cutting
built in roll feeder
built in crosscutter
vinyl weeding spot helper
You can't go wrong… pre-order your Cameo 4 today!
Pros
faster & stronger
new larger sizes
crosscutter
roll feeding
matless cutting
reasonable price
great support
good community
Cons
larger sizes not available til 2020
Silhouette Cameo 4 Release Date
The Cameo 4 release date was late September 2019.
The pre-sale began on the 9/10/2019, and orders are now shipping.
From here on out, the delay on arrival should be kept to a minimum, and this machine would make the perfect Christmas present for those wanting to upgrade from the Cameo 3.
As mentioned above, the 15 inch and 20 inch Cameo 4 machines are not yet available for pre-purchase. They are expected to be on sale from early 2020.
Silhouette Cameo 4 Sizes
So one of the most exciting things about the new Silhouette Cameo, is that it will be available in 3 sizes!
The sizes are:
Standard Silhouette Cameo 4 is 12 inches wide – available from now
Silhouette Cameo 4 Elite is 15 inches wide – expected to be released in January 2020
Silhouette Cameo 4 Pro is 20 inches wide – expected to be released in January 2020
Cameo 4 Colors

What colors is the new Cameo 4 available in?
At the time of release there are 3 different colors:
As always, we can expect more colors further down the line (though perhaps not as many colors as the Explore Air 2). The larger models may also be in other colors when they are released.
Cameo 4 Unboxing
What does the Silhouette Cameo 4 come with? What's in the box?
You will need to double check depending on which retailer you buy from, but here is what you can expect to find in the box:
Silhouette Cameo 4 Cutting Machine
Silhouette Studio Software (digital download)
100 Cuttable Designs (via email code)
All the operating cords (power and USB)
AutoBlade cutting blade
The user manual
One month access to Club Silhouette
A 12 inch Cutting Mat
$25 in Downloads from Design Store  (code to be sent during registration)
4 Tool Adapters – for use of Cameo 3, 2, & 1 tools
Ratchet Adjustment Tool
See what it all looks like in this unboxing from Heat Press Nation!
New Cameo 4 Features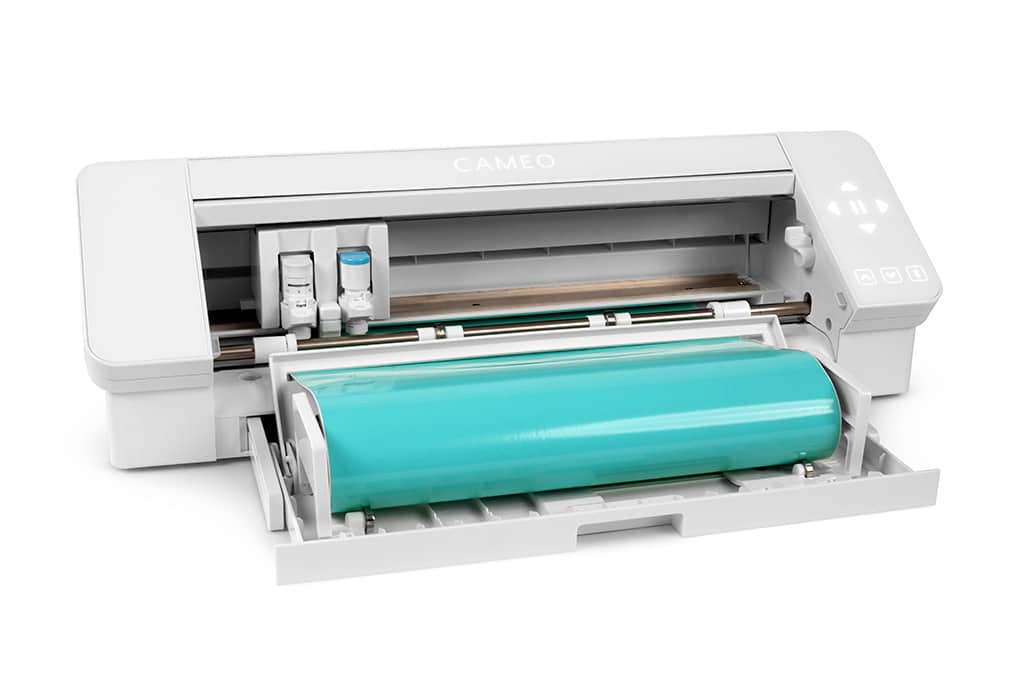 Here are the features of the Cameo 4:
Built-In Roll Feeder: This allows you to load up larger rolls of vinyl or HTV into the machine – the completed cut comes out the rear where it can be easily cut with the built in cross cutter. The 12 inch Cameo can be used with both 9 and 12 inch wide rolls. Holds up to 150 foot rolls!
Built-In Crosscutter: As just mentioned, this lets you trim vinyl or iron-on off the roll once your machine has finished cutting. Super handy!
Matless Cutting: That's right, you don't always need to use a mat when cutting with the Cameo 4 – a necessary feature when there's a roll feeder of course!
Stronger & Faster: Cuts at least twice as fast as the Cameo 3, and has 20 times more force.
Max cutting speed is 30mm sec
Max cutting force is 5000 grams
High Material Clearance: 3mm clearance allows you to cut thicker materials like cardstock, flocked HTV, and fabric. The Cameo 4 can take materials up to 2mm thick.
Bluetooth Capabilities: Bluetooth wireless cutting through the Silhouette app.
Silhouette Studio: Free design software especially created for Silhouette. No need for additional software.
Computer Compatibility: As you'd expect, Silhouette Cameo 4 works well with both Windows and Mac.
Other features include:
Roll back lid comes down to protect your machine
3x faster than the Cameo 3 – up to 30mm a sec
Blade sensor – machine can auto detect which tool is in the machine
Smart tangential mode – allows for tools that need to swivel (eg. the Rotary Blade)
Improved easier pinch roller adjustment
Increased cutting force – 5000 grams of cutting force
Rotary Blade support – This will enable users to cut fabric materials without the need of any fabric stabilizer
Improved AutoBlade to more efficiently set the blade
Punching tool support
Cut fonts already installed on your computer
Silhouette Cameo 4 Vs Cricut Maker
Should you get a Cameo 4 or the Cricut Maker?
The Cricut Maker is slightly more expensive than the 12 inch Cameo, but is capable of more. Compare the following details.
Keep in mind that 99% of users won't be using their cutting machines to the extreme. You won't necessarily need to go faster and cut thicker.
Both machines are excellent for home, craft, and small business use. I think ultimately it comes down to which machine and community you prefer.
Cricut Maker
Max Force: 4kgs
Max Speed: 30mm a second
Max Cutting Depth: 2.4mm material thickness
Included Blades: Fine Point & Rotary
Included Mats: fabric grip & light grip
Matless Cutting: no
Cameo 4:
Max Force: 5kgs
Max Speed: 30mm a second
Max Cutting Depth: 2mm material thickness
Included Blades: AutoBlade cutting blade
Included Mats: 1 regular mat
Matless Cutting: yes
If you are wanting to do a lot of projects with a more established machine, I would go with the Maker for now. It's going to be quite a while before the Cameo 4 can be used with a full range of blades & materials.
The Cricut Maker is way past that point. There is a huge range of blades that allow for cutting a wider range of materials. Cricut are a step ahead.
It has been announced as well that there will be a Silhouette Heat Press, but again this is a late reponse to Cricut's EasyPress.
Ultimately, if you are a Cricut person, go Cricut. If you are a Silhouette person, go Silhouette!
Pre Order Cameo 4
I hope this has served to give you all the info you need on the latest Silhouette cutting machine. Please leave any comments or questions down below!
Thanks for visiting, and if you're ready to purchase, see the latest prices below!
(Please note: This post contains affiliate links. Read our full disclosure policy here.)