Heat Press Nation Review – Read This Before You Buy!
This post contains affiliate links. If you use these links to buy something, we may earn a commission, but it doesn't cost you anything. Thanks!
Heat Press Nation are the for best heat press machines!
They truly have the best range of machines on offer – we don't know any other retailer with as many options. They stock all of the US made heat press brands, and have four of their own heat press series. On top of all this, they have other options as well, such as Siser heat press machines!
HeatPress Nation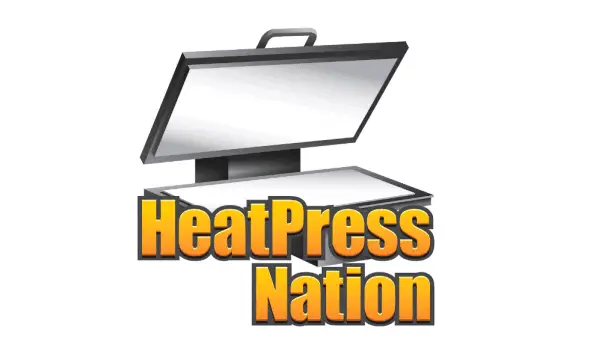 The company is 10+ years old, and they're well known for their good machines and friendly customer service. HPN also has a knack for making heat pressing fun and exciting (as it should be)!
The HPN Facebook Page is full of helpful and entertaining Facebook videos, presented primarily by Jared, but often supported by other hosts. For example, this lively Facebook Live held during a Black Friday Sale (you only need to watch a minute to get a feel):
See what we mean!?
And while they do have tons of fun at work, they do take heat press machines seriously. The other thing Heat Press Nation is well known for, is quality heat press education! For example, this video with Joe Piazza from Siser:
The Heat Press Nation YouTube Channel is full of super helpful resources, teaching everything from 'Everything You Need To Know About Sublimation', to individual heat press reviews, such as the 'HPN Black Series Clamshell Overview'.
It's great stuff!
Heat Press Nation Range
HeatPress Nation have four different heat press machine ranges, while also stocking other machines manufactured in the US (like Stahls' Hotronix or Hix heat press machines)
The HPN range costs more than the cheap machines on Amazon, however, they are also much better. Better both in quality of product, and in the support, service, and accompanying resources you will receive.
Here is their range of heat press machines (in order from least expensive to most expensive). Generally speaking, the higher priced machines have better quality components, more features, and are smoother to use.
Mpress Heat Press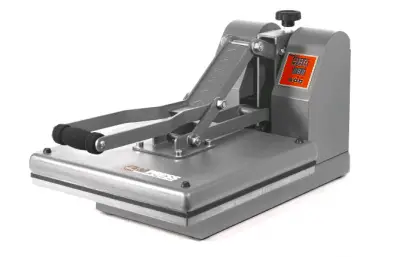 The Mpress Series is the cheapest line of machines that HPN offer.
The machine pictured above is the 15 x 15 inch clamshell heat press, which is priced $349.95. The smaller, 9 x 12 inch MPress, is much cheaper at only $199. There is also a 16×20 and 16×24 inch shirt press, and a mug press machine.
The Mpress Heat Press is best for:
as an entry level or beginners heat press machine
use as a home crafting press
for a small home t-shirt business
for those with a limited budget
Craft Pro Heat Press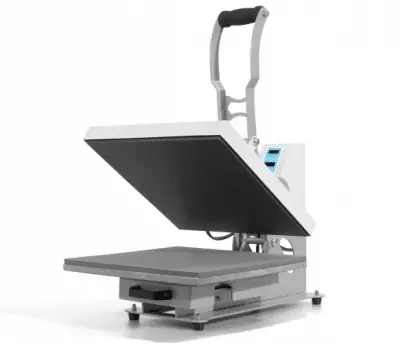 The HPN Craft Pro heat press machines are specifically designed for crafters. The 2 machines in the range are sure to keep even pressure and temperature for every press.
It's available in:
a 13 x 9 inch clamshell
a 15 x 15 inch clamshell
A top feature of this machine is the slide out draw. This makes it very easy to lay out garments and transfers without needing to worry about bumping your hand on the heat platen.
Black Series Heat Press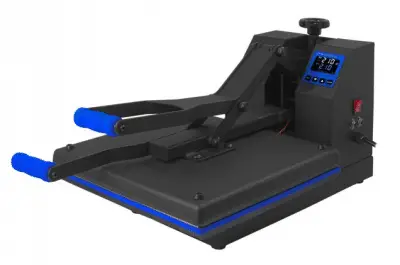 The HPN Black Series heat press machines are the next step up in quality and price. They range in price from $229.95 for the 9 x 12 inch clamshell, to $720 for the 8 in 1 multifunction heat press machine.
The HPN Black Series of heat press machine come in the following styles and sizes
Standard Clamshell in 9 x 12, 15 x 15, 16 x 20 & 16 x 24 inches
Auto-Open Clamshell in 15 x 15 & 16 x 20 inches
Swing Away in 9 x 12, 15 x 15 & 16 x 20 inches
The 8 in 1 Multifunction Press
A variety of cap, hat & label presses
This machine is great for craft and small business use. It's durable and dependable, and if the style and size of machine you need is available in this series, and it's top of budget, I wouldn't hesitate.
Signature Series Heat Press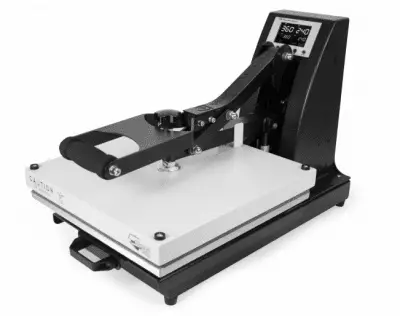 The HPN Signature Range of heat presses are HPN's best heat press machines (HPN branded that is, they also supply US made machines, listed below). There are at least 20 different machines in the Signature Range!
This will give you a good idea as to what's available:
Draw Style Press in 15 x 15, 16 x 20 & 16 x 24 inches
Auto Open Draw Press in 15 x 15, 16 x 20 & 16 x 24 inches
Swing Away Style Press in 12 x 15, 15 x 15 & 16 x 20 inches
Multifunction Heat Press as 8 in 1 & 12 in 1
Cap, Tag & Label Press Machines
Mug Press Machines with variety of sizes up to 6 in 1
These machines are priced mid-range and are more than suitable for advanced small business operations.
In the following video, Estevan and Jared give a further overview of the HP brand heat press machines from the HPN showroom. It's set up to start just before they introduce the MPress, so just press play!
American Made Heat Press Machines
Here are the 4 different US manufactured heat press machine brands which HPN offer.
Stahls Hotronix Heat Press Machines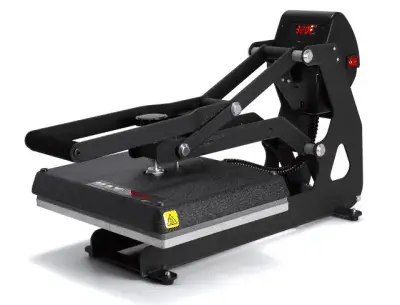 Stahls' Heat Press Machines are the gold standard in US made heat press machines (in my opinion). These are extremely high quality machines, with fine attention to detail.
Prices start at $700 for the 11 x 15 inch Hotronix Maxx Press pictured above. One of the more serious machines in the Hotronix range is the Hotronix Fusion – a supreme t-shirt press for business!
Hix Heat Press Machines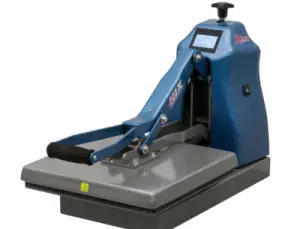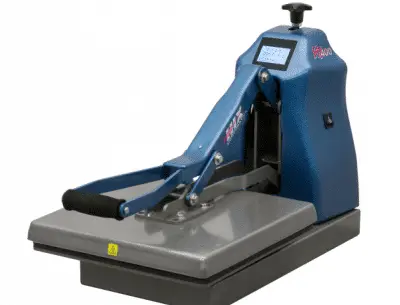 Hix heat press machines are another top US made machine stocked by Heat Press Nation. They have a very affordable 9 x 12 inch hobby press for little over $300.
HPN stock a range of Hix heat press machines in Swing-Away, Auto-Open, & Clamshell styles, as well as being in a range of sizes.
Geo Knight Heat Press Machines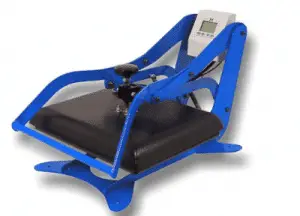 Geo Knight heat press machines are yet another US made heat press with a distinctive look about them.
While they come in the usual range of 15 x 15, 16 x 20, etc machines, they also supply commercial heat press machines costing $30,000+. However, Geo Knight also have presses for sale under $300 that are great entry level machines.
Insta Heat Press Machines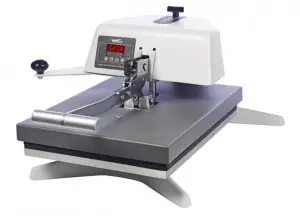 Insta heat press machines are one of the lessor known US made heat press machines.
Insta machines are not really for hobby, craft, or small home business variety (unless you've got a good budget)! These machines are made for advanced business. You can read our full Insta heat press review here.
Quality Control & Testing
You can expect HPN machines to be fault free, durable, hard-working heat presses. This is a bit of a novelty when compared with other heat press sellers!
HPN performs tests on each of their machines before shipping:

You can expect the US made machines to also have been extensively tested by the manufacturer as well.
These testing procedures give the buyer peace of mind, knowing that any defects or operation faults will be extremely unlikely. You don't want to loose time shipping things back and finding replacements.
Heat Transfer Supplies
Heat Press Nation not only sell heat press machines, but a huge range of other related products.
Cutting Machines
Heat Press Nation have a range of high quality and popular cutting machines. Brands include Graphtec, GCC, Vinyl Systems, and Silhouette, ranging in cutting width sizes.
Sublimation
HPN sell everything you need for sublimation. Besides sublimation heat press machines, this includes sublimation printers, ovens, inks, paper, and more.
Heat Transfer Vinyl
HPN stock Siser, Specialty Materials, & Silhouette HTV. Vinyl can be purchased in large or small quantities Choose from Flocked, Foil, Metallic, Reflective, & more!
Heat Press Accessories
You can pick up heat press accessories including heat press pillows, heat tape, heat press stands, cleaning products, additional or replacement platens, etc.
Heat Press Nation Reviews
So should you purchase your heat press from Heat Press Nation??
YES!
They are a fantastic company. They are extremely knowledgeable about heat press machines AND t-shirt business, they look after their customers, and they stock and sell quality products.
At the start of this post we shared a little something from HPN's Facebook Page and YouTube Channel. You might also be wondering, 'what's their Instagram like?!' (I'm sure you are…).
We'll, here's a small taste of that for you:
 

View this post on Instagram

 
Thanks for reading this Heat Press Nation review (or overview). Let us know your thoughts in the comment section below.
(Please note: This post contains affiliate links. Read our full disclosure policy here.)