The Best Hat Press Machines: Cap & Hat Heat Press Reviews
This post contains affiliate links. If you use these links to buy something, we may earn a commission, but it doesn't cost you anything. Thanks!
What is the best hat press?
Hat heat press machines come in two types: dedicated stand-alone machines, or as part of a multifunction heat press. Let's take a look at the pros and cons of each style, and find out which is best for you.
Hat Press Machines
All of the cap press machines that we've listed are suitable for sublimation, inkjet, or HTV transfers onto caps and hats. If your customers are asking for caps, or if you want to make them at home for friends and family, here are our recommendations.
The multifunction presses are reasonably priced and come with a variety of other heat press capabilities, while the stand-alone machines take up a lot less space and are easier to use.
Dedicated Cap Press Machines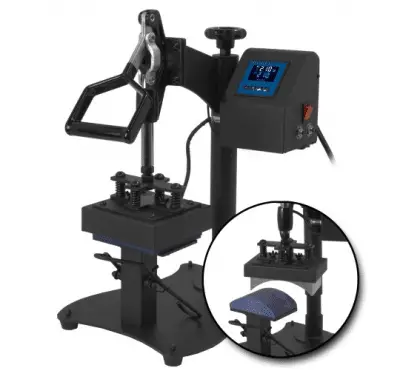 The better option is a stand-alone machine. These hat heat press machines are specifically designed to do heat transfers on hats and caps, and tend to be much stronger and more durable.
Also, you can sometimes make them work for putting labels or other small transfers onto other substrates.
Pros:
Easy to use
Ready to go
Affordable options
Easy to store, shift, or transport
Cons:
Cheap machines not as good
Stand-alone machines are the best way to decorate caps and hats, and all of the US heat press manufacturers have options.
For a large and busy operation, take a look at the Hotronix Cap Press – it's one of the very best!
Multifunction Cap Press Machines
Multifunction heat press machines usually have 5, 6 or 8 attachments. These include a t-shirt press, a cap press, a plate press, and a mug press. A press with more attachments has extra styles or sizes of those attachments. Usually there is only one size of cap press attachment.
To use the cap press option,  you must remove the flat upper and lower platens from your heat press. You then screw in the cap press attachments, plug it into the power unit on the heat press machine, and you're away.
Pros:
Multiple pressing options
Quality options (like HPN)
Cheaper than buying separate machines
Cons:
Have to change attachment platens
Usually more prone to fault
Some cheap multifunctions not designed so well
You will notice that most of the Amazon machines look very similar, or even identical. In fact, many of them are the same design, possibly built in the same factory, but imported and branded by different companies and individuals. If going for one of these machines choose the seller with the best reviews.
Consider a multifunction if:
You have limited space
Your budget is limited but you want to try our everything
You don't want to press hats all the time, just every now and again
Best Cap Press Machine
In summary, I think the best idea is to go with a stand-alone machine if you are serious about pressing hats.
The best machines are the US made cap press machines: Stahls, Geo Knight, Hix, or Insta. They are all extremely good. We recommend Stahls and Insta in particular.
But, if you are drawn towards a multifunction, first consider the HPN options: Signature Series or Black Series. Those machines are much higher quality than any that you will find on Amazon, and they will last for a longer time. HPN also has great customer support, tech support, and heat press resources.
Let us know what you think in the comments section below!
(Please note: This post contains affiliate links. Read our full disclosure policy here.)