The Best Hat Press Machines: Cap & Hat Heat Press Reviews
A cap & hat press machine can be a wonderful addition to your business or craft room.
You will be able to do sublimation or inkjet transfers, or heat transfer vinyl (HTV) transfers onto caps and hats. If your customers are asking for caps, or if you've simply got a desire to make them, let's find out all about them and discover which are best.
Hat Press Machines
You can either get a cap press as part of a multifunction heat press machine, or as a stand-alone hat press.
The multifunction presses are reasonably priced and come with a variety of other pressing abilities, while the stand-alone machines take up a lot less space and are easier to use. Stand alone machines also tend to be much better quality.
There are many more pros and cons to each option which we'll now consider.
Dedicated Cap Heat Press Machines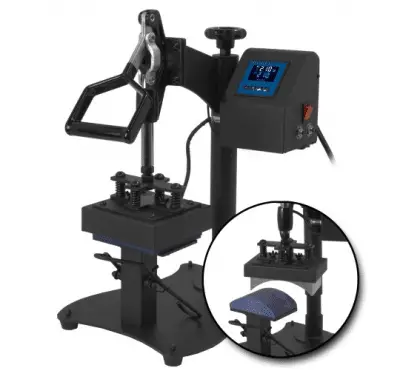 The best option is a stand-alone machine. These hat heat press machines are specifically designed to do heat transfers on hats and caps, and are much stronger and durable.
Also, you can sometimes make them work for putting labels or other small transfers onto other substrates.
Hat Press Pros
A higher quality press that is easier to use and produces a better transfer
No need to spend time changing platens over, etc.
Hat Press Cons
Takes up more space to have individual machines than a multifunction
Can work out to be more expensive
Unless you are using it often it's a whole lot of machine for little use
The Best Hat Press Machines
Stand-alone machines are the best way to make your own cap designs.
Here are the best standalone hat press machines, ordered from least expensive to more expensive.
Or for those of you looking for a cap press for a large and busy operation, take a look at the Hotronix Cap Press – it's the best of the best! See it in action in the following video.
Multifunction Cap Press Machines
A multifunction heat press usually has 5, 6 or 8 attachments. These include a t-shirt press, a cap press, a plate press, and a mug press. A press with more attachments has extra styles or sizes of those attachments. Usually there is only one size of cap press attachment.
To use the cap press option,  you must remove the flat upper and lower platens from your heat press. You then screw in the cap press attachments, plug it into the power unit on the heat press machine, and you're away.
Cap Press Pros
You get multiple presses
The cheaper machines are not much more than a stand-alone machine
A multifunction machine takes up far less room than were you to get all the stand-alone alternatives
Cap Press Cons
Difficult to change attachment platens
The multifunction machine can deteriorate quicker through constant platen and plug changes
It tends to be difficult to hold the cap and transfer in place in the press to clamp it shut – help is sometimes necessary
The cap press as part of a multifunction tends to be of lower quality than a stand-alone machine
The Best Multifunction Cap Press Machines
You will notice that most of the multifunction machines look very similar, or even identical. Many of them are the same design, possibly built in the same factory, but imported and branded by different companies and individuals. Therefore, the goal in this situation is about choosing the best seller with the best reviews.
The following are our favorite multifunction presses. You should consider these if:
You have limited space
Your budget is limited and you want to try pressing tees, cups, mugs, plates AND caps
You have someone that might be able to help you press caps if needed – sometimes you need more than two hands to hold everything in place to do the press!
We've written more about multifunction heat press machines, but check out these top picks for more info.
Which Is The Best Cap Press?
In summary, I think the best idea is to go with a stand-alone machine if you are serious about pressing hats.
They are a better machine that will be easier to use. But, if you are simply wanting a cap press to play around with – to test out the odd cap here and there, I would go for a multifunction. That way you can play around with all the different presses.
Let us know what you think in the comments section below. We're always happy to hear from you.
(Please note: This post contains affiliate links. Read our full disclosure policy here.)