The Best Multifunction Heat Press Machines | 5 in 1 / 6 in 1 / 8 in 1
This post contains affiliate links. If you use these links to buy something, we may earn a commission, but it doesn't cost you anything. Thanks!
What is the best multifunction heat press machine?
A multifunction machine is a heat press with attachments. They not only press shirts (and other flat substrates), but also take attachments for pressing hats, caps, plates, and more.
Best Multifunction Heat Press Machine
So what is the best multifunction heat press?
The Heat Press Nation machines are certainly the best, but they do cost quite a lot more. These would be best for those needing a machine for business.
If the Black Series or Signature Series Machines (listed below) are beyond your budget, our best advice is to go with the current top rated Amazon multifunction machine. Check the current best rated multifunction here.
F2C Multifunction Heat Press

5 in 1 or 6 in 1 options available
12" x 15" t shirt press
Non-stick surface W/ Detached upgraded aluminium alloy cradle

View On AmazonView On Walmart

Royal Press Multifunction

Popular 12 x 15" 5 in 1 heat press
Hat/Mug/Plate/Cap/T-Shirt Press
Highly Rated

View On AmazonView On Walmart

Mophorn 8 in 1 Heat Press

Choose from 5 in 1, 6 in 1, or 8 in 1
Mug, cap, plate attachments
15 x 15 inch t shirt press

View On AmazonView On Walmart

CO-Z 5 in 1 Heat Press

5 in 1 or 6 in 1 options available
12 x 10 or 12 x 15 inch platen
430F max temp

View On AmazonView On Walmart

HPN Black Series Multifunction

15 x 15 inch t-shirt press
Hat/Cap Heating Element
5 inch Ceramic Plate Heating Element

View On Heat Press Nation

HPN Signature Series Multifunction

3 Signature Series buying options
12" x 15" or 15" x 15" main platen
Swing away style with attachments

View On Heat Press Nation

Geo Knight Multifunction Press

Top quality US Made Multifunction heat press
Mug, cap, plate attachments
SuperCoil-Microwinding heater technology

View On Swing Design
Multifunction Heat Press
To reiterate, multifunction presses are those which have a standard heat platen for pressing t-shirts, but also take attachment presses or platens in order to press on other non-flat surfaces.
The attachments that generally come with these machines are:
hat/cap press platens
attachment mug press machine
attachment plate press platens
However, some presses, such as the Signature Series 12 in 1 heat press also comes with a shoe attachment press, as well as a flask press.
The attachments are generally connected in 2 different ways.
by switching out the flat shirt platens – eg. the cap and plate attachments
by plugging a separate platen into the control box – eg. the mug press attachment
Important features to keep in mind:
these machines are 'five in one', 'six in one', 'eight in one', or even greater
the main t shirt platen varies in size – usually 12 x 15 or 15 x 15 inches.
5 in 1 Heat Press
The RoyalPress multifunction is the top selling 5 in 1 heat press machine at the time of writing.
You will see that it comes with
a mug press attachment (1 3″-3.5″)
2 plate press attachments (a 5″ and 6″ max diameter)
a hat/cap press (6 x 3″)
and a 12 x 15 inch t shirt press
If I was buying a multifunction off Amazon today, this would be my choice. However, as I said above, it's a good idea to go with the top rated at the time you are looking. Most of these machines, you will have noticed, are identical!
This video shows how to use a 5 in 1 heat press:
6 in 1 Heat Press
6 in 1 heat press machines, such as this Mophorn option, seem to be less popular than the 6 in 1 or 8 in 1 models. The added attachment tends to be a different size of mug press, and that's the case with the machine pictured above.
The other great thing about this multi purpose heat press, is that is comes with a 15 x 15 inch platen, as opposed to the smaller size. In our opinion, a larger size t shirt press is better to have, allowing you to do larger heat transfers.
8 in 1 Press
The HPN Black Series Multifunction heat press is an 8 in 1 multifunction press with the following attachments included:
15 x 15 inch t-shirt press
Hat/Cap Heating Element
5 inch Ceramic Plate Heating Element
6 inch Ceramic Plate Heating Element
Standard 11oz Mug/Cup Heating Element
Espresso Mug/Cup Heating Element
Medium Tapered Mug/Cup Heating Element for Latte Mugs
Large Tapered Mug/Cup Heating Element for Latte Mugs and Pint Glasses
The Black Series Heat Press range is a step up from the Amazon options, and buying from Heat Press Nation gives you greater peace of mind. Each unit is tested before shipping, you get easy access to tech support if you have any problems, and the machine itself is higher spec.
Signature Series Multifunction Heat Press
The Signature Series Multifunction has three different buying options:
the 12 x 15 8 in 1 Heat Press – the cheapest HPN multifunction
the 15 x 15 8 in 1 Press
and the 15 x 15 12 in 1 Heat Press
The Signature Series Heat Press range is yet another step up from the Amazon presses, and also an improvement on the Black Series.
The 15 x 15 inch 12 in 1 heat press has the following attachments:
Cap/Hat heat press
5″ & 6″ plate press
6oz. Mugs or 20 oz stainless steel bottles
Standard 11-15 oz Mug/Cup press
Medium Tapered Mug/Cup heating element for Latte Mugs
Large Tapered Mug/Cup heating element for Latte Mugs and Pint Glasses
Flask Attachment
Shoe Attachment
10″ x 6″ drop on table
15″ x 5.5″ drop on table
This machine is a very good unit for business, featuring improved pressure adjustment, the ability to press items 2 inches thick, a reinforced body to maintain pressure, and so much more!
Geo Knight DC16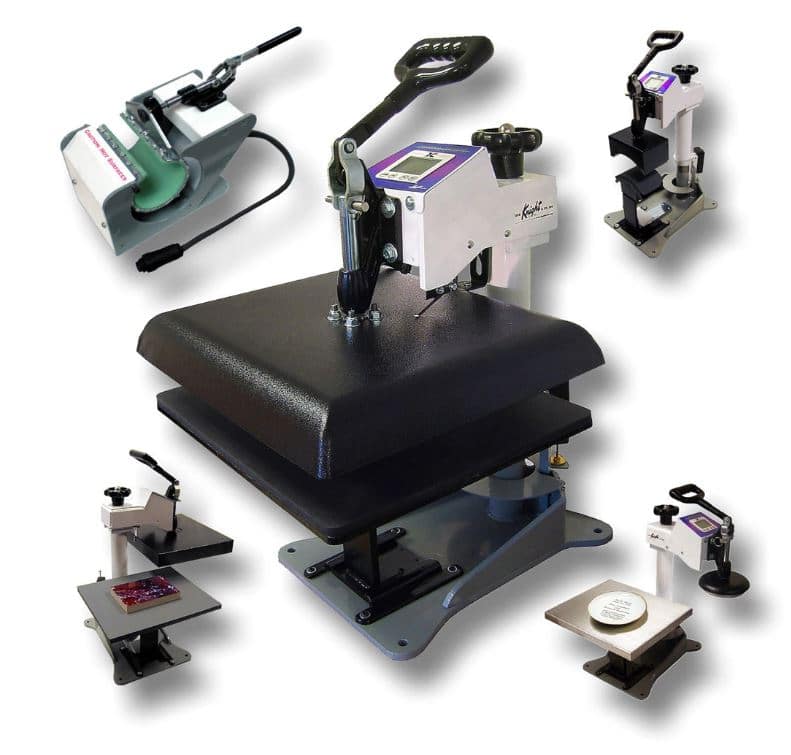 The Geo Knight DC16 is the only US made heat press on this list, and as far as I'm aware, the only US made multifunction heat press out there!
This is a high quality machine created for the business printing business. It is a Swing Away press, with a 14 x 16 inch t shirt platen.
Features include:
Mug, cap, plate attachments
Digital temperature control with max temp of 600°F
Automatic digital timer & dual pre-press timer
Digital Pressure Bar Graph
Interchangeable Heat Platens & Tables
Solid steel welded framework
SuperCoil-Microwinding heater technology
Press items up to 2″ thick
Temperature readout accuracy +-2°F – can show °C or °F
70 Programmable presets
Records number of pressing cycles done
Teflon-coated 3/4″ thick heat platen
Lifetime Support
You can't beat this machine if you really need the best multifunction heat press!
Multifunction Heat Press Instructions
The 3+ attachment presses connect electronically through the main outlet on the control box of the t-shirt press. However, there are generally differences in how they attach to the main body of the machine.
Mug Press Attachments
The mug press is usually a separate device that plugs into the main control of the heat press. It works alongside the heat press, unlike the other attachments that screw onto the press in the place of existing platens.
The typical sizes of mug press attachments are:
2 – 2.75 inch diameter (6OZ)
3 – 3.5 inch diameter (11OZ)
12oz latte mug (Cone)
17oz latte mug (Cone)
These sizes are true for the Mophorn 8 in 1, but whichever press you go with you will need to check they have the size that you're after.
When you've chosen the size and have set everything up, it can be a good idea to test that the pressure is set right before plugging it in. You may need to make slight adjustments to ensure a tight (but not too tight) clamp, and it is better to do this before it's heated.
You will need to apply the transfer to your mug with heat tape in preparation for pressing. This will ensure your transfer stays in place.
The mug press will heat up once you have plugged it into the main machine. You will also set the time and temperature on the main control as you usually would.
Once the attachment is plugged in and the appropriate time and temperature have been set and reached, you can slip your mug into the machine and wait for it to finish. Mug transfers tend to take much longer than a t-shirt press – generally needing over a minute.
Cap Press Attachment
The cap press attachment is perhaps the most difficult attachment to use on these machines because it generally requires you to unscrew and remove both the top and lower platens. The hat/cap platens are then screwed into their place and the top platen is connected to the control panel.
The hat/cap press is often a one size fits all kind of deal. You will only receive one attachment with any given multifunction heat press. You can usually press on either the bill or the main body of the cap – or both if you like!
The top platen of the cap press will heat up for you to do the press. Heat tape can also be very helpful when doing cap transfers because of the awkwardness of the curves.
Plate Press Attachments
The plate press is usually easier to attach than the cap press. With this one you only need to remove the top heat platen and screw in the plate press.
Again, as with the mug presses, different models and different brand machines will come with different sized plate press attachments.
You are likely to get one or more of the following sizes:
A 5 inch maximum diameter

A 6 inch maximum diameter
Again, it's always a good idea to set the right pressure before everything else is ready to go. You will likely need to turn the pressure knob all the way down for plates.
Heat Press With Attachments
Who should get a multifunction heat press?
The cheaper machines on Amazon are best for:
Testing projects
Home crafts and hobby use
Home-school projects
Smaller budgets
Beginners & learners
Here are a few of the possible problems (particularly with cheaper machines):
It's a hassle unscrewing and re-screwing the platens off and on
You will likely end up stripping the screws if you are moving platens around often
The screw holes become loose after prolonged use
The 15 x 15 platen is large and heavy and can be difficult to switch out or put back on
You have a bunch of spare attachment platens that you need to store carefully so they do not get bent or damaged
The wires in the attachment cords can be damaged through frequent switching in and out
The alternative to multifunctions:
But multifunctions can be a lot of fun for all those who just want to try making all sorts of things from time to time, but don't want to have tons of heat presses around the home!
Thanks for reading this post. Have you used a multifunction heat press? What do you think of them? Leave us a comment down below.
(Please note: This post contains affiliate links. Read our full disclosure policy here.)