What Is The Best Mug Press Machine? Mug Heat Press Review
What is the best overall mug press? And, what is the best mug heat press for you?
Because it all depends on the stage you are at, and what you're going to be using it for… The best mug press for home use is going to be very different to the best mug heat press for business.
And, it all depends on your budget!
Whether you're wanting to put your friend's and family's faces on mugs for a laugh, or you have a serious heat press mug business in the works, we'll find the right mug press for you.
Best Mug Heat Press
The home craft & beginner mug heat press machines are the cheaper option, while the business machines run at a much higher price.
For those of you in a hurry, here are 2 mug press recommendations, before we get into greater detail (and more options) below.
Mug Heat Press Machine
And now here is a greater range of mug press machines.
They are in general order of least expensive and lowest spec, to most expensive and highest spec.
If you are only really looking for a mug press for the odd job here and there, one of the cheaper machines in the table above is best for you.
The 5 in 1, or other multifunction, is best for those who would like to experiment with different types of heat press. Not only can you heat press mugs, but also caps, plates, tees, and other flat substrates.
The downside with multifunction heat press machines is that the mug press is generally not as good as a dedicated machine. Though, the HPN multifunctions are definitely a head above their cheaper Amazon counterparts.
Best Mug Heat Press For Business
The HPN fully auto press is great for those who will only be offering 11 ounce mugs.
But if you would like to add more sizes to your offering, you'll need to take a look at the 'Automated Mug Cup Heat Press' which comes with a range of additional inserts.
And beyond that, the Geo Knight DK3 Mug Press has got to be the best mug heat press machine.
We'll take a deeper look at each of these 3 coffee mug heat press machines now.
1. HPN Signature Series Fully Automatic Sublimation Mug Heat Press Machine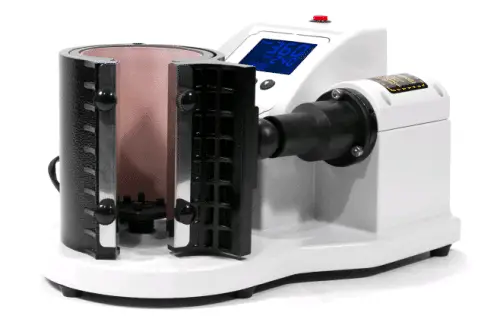 This is the only electric fully automatic mug press – this means it can be used without a air compressor. Check out this video for more information.
personalize drink ware quickly and easily
only fully auto electric mug press (does not need an air compressor)
digital temperature gauge with accurate time & temp readings
easy to set & use
automatically opens when time reaches zero
emergency open button on top if you need to get it out quickly
has gone through an extensive quality control process
1 year parts & service warranty
2. HPN Automated Coffee Mug Heat Press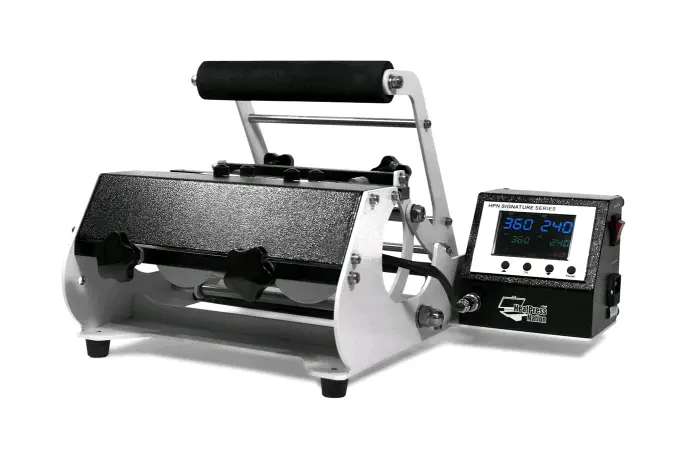 The other model of HPN mug heat press can come without attachments, and will press 11 & 15 ounce mugs, or it can be purchased with a range of attachments, up to the listed 6 in 1 model.
durable thick steel framework
good for home or commercial use
4 point pressure adjustment for top edge to edge sublimation transfers
easy to use digital time & temperature display
beeps when press is completed
heat press counter to keep track of how many you have pressed
can do travel mugs and beer steins (with appropriate fittings)
checked for quality before shipping
one year warranty on parts & service
3. Geo Knight Mug Press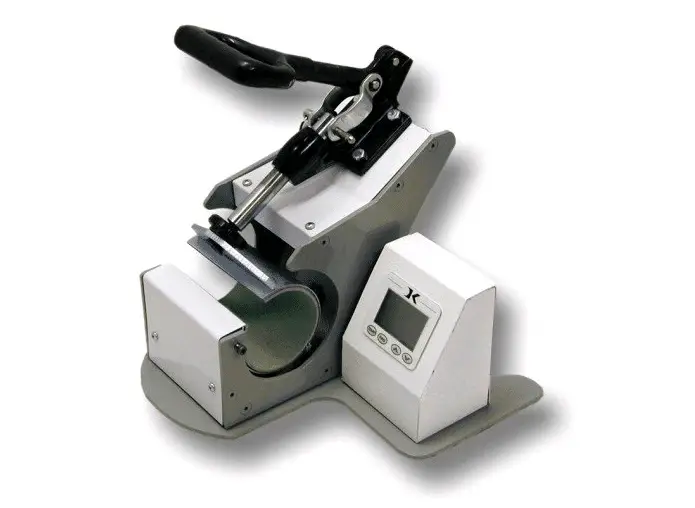 The Geo Knight DK3 is the best mug press in most people's book.
Geo Knight make heat press machines in the US, and are well known for their top quality machines. We have a full post on the Geo Knight Mug Heat Press with a ton of further information.
If you are serious about making your own sublimation mugs, that is the machine for you.
What Else Do You Need?
Here are the other supplies you will need (besides a mug press) to start printing your designs onto mugs:
How To Heat Press A Mug
Check out these tutorials for how to heat press a mug. These are some of the best that I have found on YouTube!
1. Using the HPN Signature Series mug press.
2. How to use the mug press on a cheap 5 in 1 multifunction heat press.
3. Intro to the Geo Knight mug heat press from Conde Systems.
Mug Press Alternatives
What other ways can you do sublimation transfers onto mugs? Because there are alternatives to using a mug press.
Using a mug press is probably the cheapest way to get it done, but here are another couple of methods you can consider.
Best Heat Press For Mugs
There you have it, the best mug presses for both home and business use. I hope this has helped you discover the best machine for your budget and purposes.
Let me know what machine you've got your eye, or if you would like to know anything else, in the comments below. We look forward to hearing from you.
Pin this post! 🙂
(Please note: This post contains affiliate links. Read our full disclosure policy here.)