MPress Heat Press Review – The 5 MPress Machines
MPress heat press machines are the cheapest heat press machines sold by Heat Press Nation.
And although the MPress range is cheap (compared to many other machines), that doesn't make them bad! In fact, I would far rather an MPress over most of the best selling Amazon heat presses.
MPress Heat Press Review
User Experience

Specifications

Design

Community

Value For Money
MPress Summary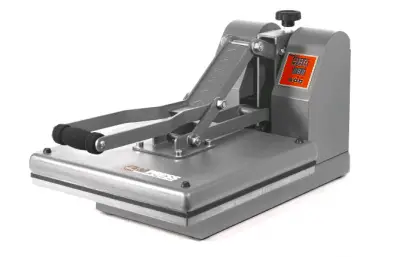 The MPress Heat Press is one of the best cheap heat press machines you can buy. Sold by Heat Press Nation, it comes with great support and community.
Heat Press Nation machines also go through a more stringent quality control process than the cheap Amazon machines, for example. You are less likely to have trouble with a heat press from HPN.
The MPress range are their cheapest machine, but they are quite a bit better than the likes of the PowerPress heat press.
Pros
quality control checks
HPN support
good user manuals
helpful online content
better than cheap Amazon machines
good warranties & gaurantees
HPN community
peace of mind
Cons
not the best quality components
not the smoothest press to use
Heat Press Nation's Mpress Heat Press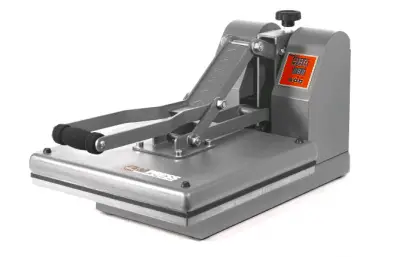 There are 5 machines in the MPress heat press range:
9 x 12″ swing-away press
15 x 15″ clamshell heat press
16 x 20″ clamshell press
16 x 24″ clamshell press
and a mug & cup press
The 4 t-shirt press machines all have the same general specifications (only differing in size). Both the small swing-away press and the larger clamshell machines have the following technical specs:
Temperature range: 0 – 400 °F
Timer range: 0-999 seconds
Power supply: 1400 watts
Voltage: 110 volts (standard US & Canada)
And all 4 of these machines are perfect for doing most (if not all) heat transfers, including:
rhinestones
sublimation
inkjet transfers, etc
Now let's take a look at some of the features unique to each heat press machine.
MPress 9″ x 12″ High Pressure Heat Press Machine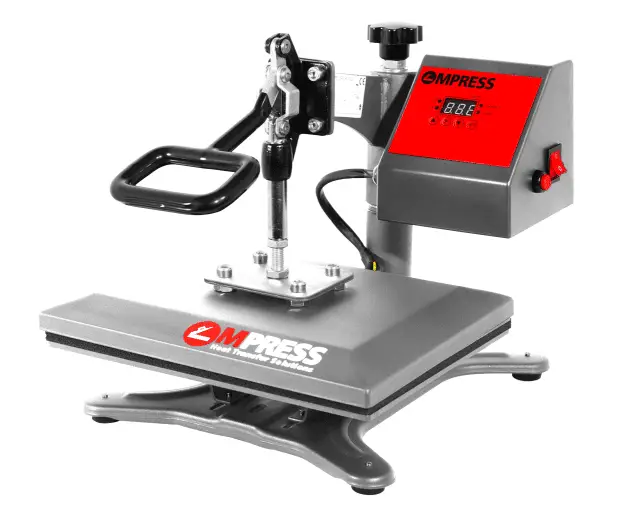 The 9 x 12″ Mpress heat press is one of the best small heat press machines that you can buy on a budget. It's the only swing-away machine in the MPress range.
Small heat press machines like this are good for people doing:
craft pressing
baby onesies
kids clothing
small transfers
labels & branding transfers
You can still press larger heat transfers as well, you will simply need to do it in 2 or 3 stages. While this is OK to do every once in a while, if you know you'll be doing large transfers often, it would be best to go with a 15 x 15″ machine or larger.
Small presses are good for those who don't have a lot of room! The 9 x 12″ MPress has a very small footprint, and can be stored away in a cupboard or closet far easier than a larger machine.
If this machine is your preferred size and fits your budget, I highly recommend it.
MPress Clamshell Heat Press Machine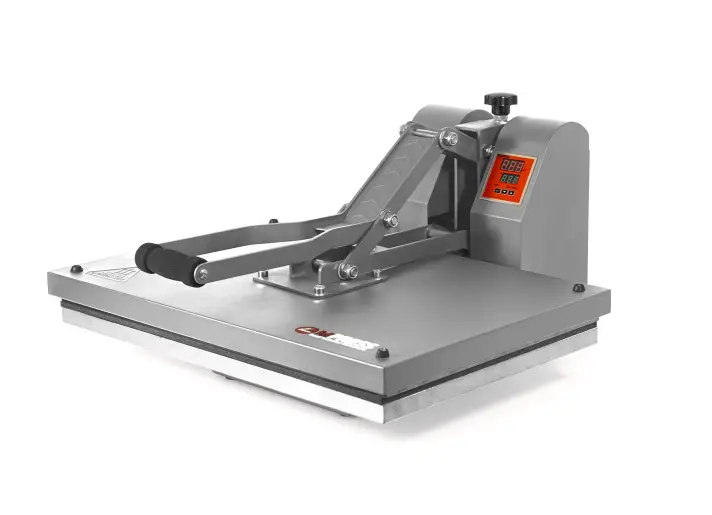 The 3 clamshell machines are essentially the same, but are (obviously) different sizes. A 15 x 15″ heat press is considered standard size (and this is the size I use mostly); while the 16 x 20″ & 16 x 24″ machines are considered large heat press machines.
If you are looking for a machine for home use, for crafts and customizing clothes for family and friends, a 15 x 15″ machine is great. Most of the transfers you do will be under 15 x 15 inches.
The larger machines are good for those:
doing over-sized t-shirts & transfers
doing all over sublimation
with plenty of space & a higher budget
MPress Digital Sublimation Mug Cup Heat Press Machine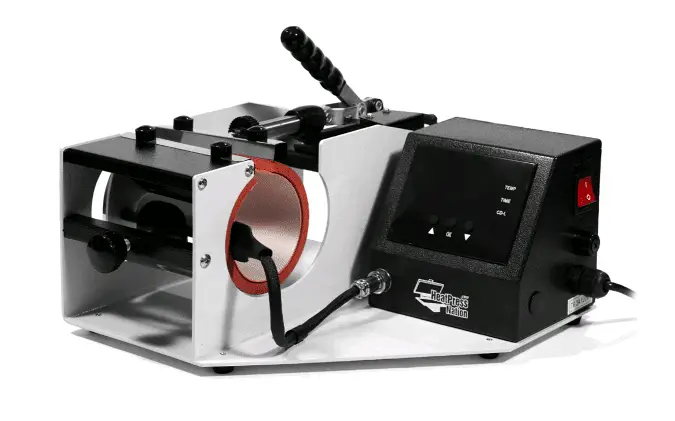 The MPress mug press has got to be the best cheap mug press!
This mug press is good for edge-to-edge sublimation transfers, while pressing HTV on mugs is not advisable (with any mug press)!
Here are the specs for the MPress:
Time Range: 0 – 255 seconds
Temperature Range: 0 – 400° F
Voltage: 110 V
It is only suitable for 11 oz. sublimation treated ceramic mugs. This machine cannot take attachment presses to accommodate larger mugs (15 oz. mugs, for example, will not work). If you are wanting to do both 11 & 15 oz. mugs, take a look at the HPN Signature Series Mug Press. This machine can press both sizes.
Should You Get An Mpress Heat Press?
If your favorite MPress machine is within your budget, then I would totally recommend getting one of these machines.
What's the difference between the MPress Machines and more expensive HPN machines?
The difference is mostly in the quality of components, ease of use, and features. The costlier models:
have a smoother action – opening & closing the press, for example, is easier & smoother
better components – which may, for example, grant a more consistent & accurate temperature
more features – HPN Black Series machines, for example, have a secondary opening mechanism that makes opening the machine easier & safer
It's going to depend on your budget as to which series of machine you go with. The MPress isn't at all a bad press, it just doesn't have as many bells and whistles as the next-level machines.
As far as the seller goes, in my opinion, there is no better heat press retailer than Heat Press Nation. They offer tech support on all their machines, and are constantly creating helpful and practical online content (Full Heat Press Nation Review). Also:
You are able to see the MPress heat press user manual online, which is a huge benefit that doesn't always come with the Amazon machines.
You can join the HPN Facebook Group where you can ask advice, support others, and share you work. When you buy a machine from HPN you are joining a community of other like minded folk!
If you have any further questions, ask away in the comments below, or chat with HPN customer service on their website.
Pin this post!
(Please note: This post may contain affiliate links. Read our full disclosure policy here.)