PowerPress Heat Press 15 x 15 Review: Everything You Need To Know
The PowerPress Heat Press is one of the most well known heat press machines.
The PowerPress is usually up the top of Amazon's best selling heat press list, with more reviews than you can read in a lifetime. The star rating isn't half bad either!
We own this machine, and have used it a lot. This PowerPress heat press review is based on our first hand experience. Let's find out, should you get a PowerPress Heat Press today?
The Power Press Heat Press
PowerPress Heat Press Review
User Experience

Specifications

Design

Value For Money
PowerPress Heat Press Summary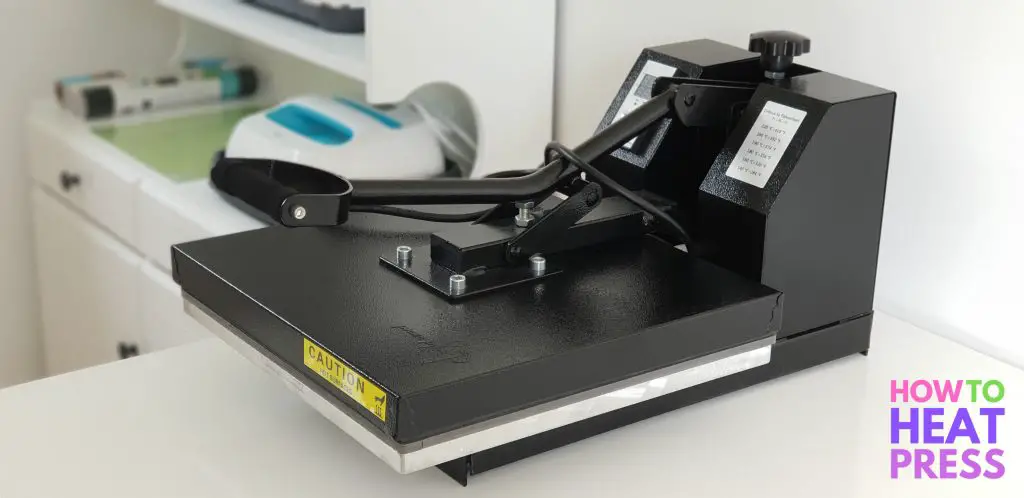 The PowerPress Heat Press is a really good, low cost heat press for beginners.
It is a 15 x 15 inch clamshell machine, that is manually opened and closed. The time and temperature are set digitally, while the pressure is set manually with a turning knob.
While this machine is not a professional heat press,  it is easy to use, it does the job well, and the price is right! The PowerPress is perfect for home and craft use, and could possibly be used for starting out in t-shirt business.
Pros
Cheap heat press
Easy to use
Great size for t-shirts
Replaceable fuse
Good results
Cons
Clunky (not smooth to use)
Some will have faults
Not good for heavy everyday use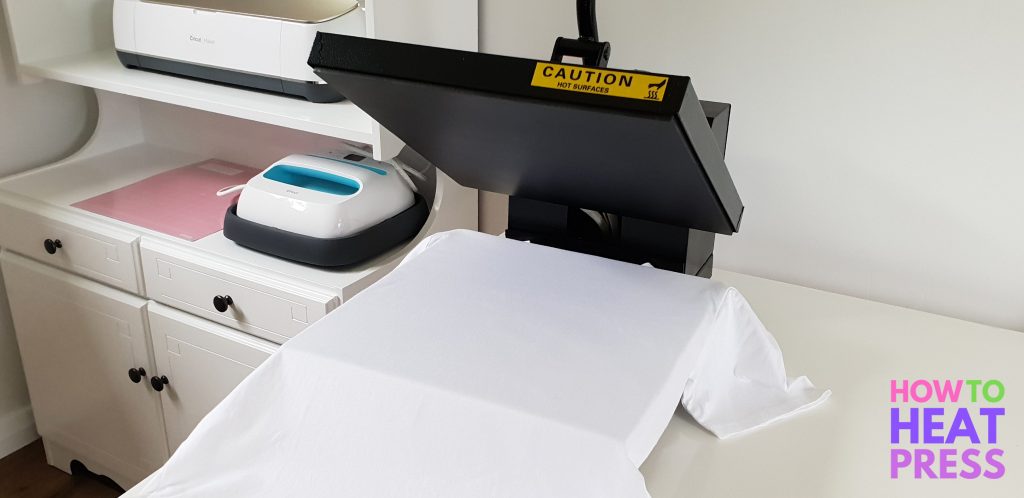 PowerPress Heat Press Review
The PowerPress Heat Press is a manual clamshell heat press.
Most 15 x 15 inch heat press machines under $200 are clamshell style machines, if not all of them. These are basic units and are very easy to use –  you can't really go wrong.
This Power Heat Press was my first heat press, and there really was no learning curve. It's not like trying to learn how to use the Cricut Maker, for example. That takes a little more time and patience.
This particular heat press, as you might have guessed, could be described as no frills. It is a basic entry level machine. But that being said, it still does the job and can produce good results.
If you just read the comments below this article, or the reviews on Amazon, you will see that many people have had issues with the PowerPress. With these cheap heat press machines it can be a case of holding your breath and hoping you haven't got a machine with a fault.
A percentage of these machines (and other cheap heat presses on Amazon) will have problems. However, I have had contact with the sellers of the PowerPress, and in my experience they have replied quickly and have been very generous. From what I know, they go out of their way to put things right.
If you are concerned about flaws or faults, and don't want to take the risk, I highly recommend Heat Press Nation's MPress Heat Press. It costs a little more, but is similar to the PowerPress. However, with Heat Press Nation you have access to much more support and a far better quality control process.
Keeping that in mind, let's continue looking at the PowerPress.
What To Make With The PowerPress Heat Press
With the PowerPress Heat Press you can apply heat transfers to all of the usual surfaces.
 T-Shirts
 Cotton and polyester garments
 Canvas bags
Kids clothing
 Ceramic tiles
 T-shirts/shirts/sweatpants
Canvas
 Throw pillow covers
And of course, many more items. I use mine mostly for children's clothing, baby onesies, and t-shirts for adults. Here are a bunch of projects I have done with the PowerPress Heat Press – click the image to see the full post.
PowerPress Heat Transfers
The PowerPress is 15×15 inches. Therefore, the largest transfer you can press is a little smaller than that, because the edges of the press are probably not sufficiently hot.
If you know you're going to be doing a lot of larger t-shirts, or are wanting to do edge-to-edge sublimation, you would be better off with a large heat press machine.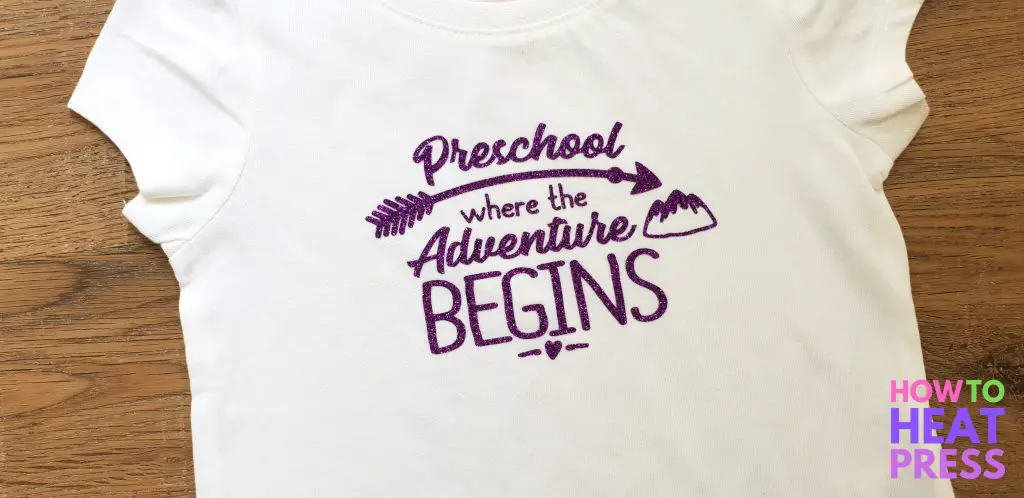 The PowerPress is said to press most standard transfers.
✔Heat transfer vinyl (HTV)
✔Smoothed/flocked/glittered HTV
✔Rhinestone
✔Inkjet
✔Sublimation
However, if you we're wanting to do a lot of sublimation, I would again choose a Heat Press Nation machine over the PowerPress machine.
 PowerPress Features
Here are the features of the Power Press:
A digital timer and temperature display
An adjustable pressure knob
A silicon base plate
A thickened aluminum heat platen
heat platen is Teflon Coated
It is made with a heavy duty steel frame
Replaceable fuse and safe electrical system
The ability to press flat items approx. 3/4 inch thick
What The Power Press Doesn't Do
It can't press mugs, plates, or caps (consider a multifunction heat press if you want to do these items)
It's neither a semi or fully-automatic press – you must open and close it manually
It does not give a pressure reading – this must be adjusted manually as necessary
It can't be easily attached to a work surface
Technical Specifications
Here are some of the numbers you might need to know:
Weight – 56 pounds
Time range – 0 – 999 seconds
Temperature range – 0 -500 degrees
Voltage – standard US 110 volts
Wattage: 1800 watts (some versions vary, so check if this is important to you)
And all going well, it will take about 15 minutes to get to the set temperature
PowerPress Heat Press Pros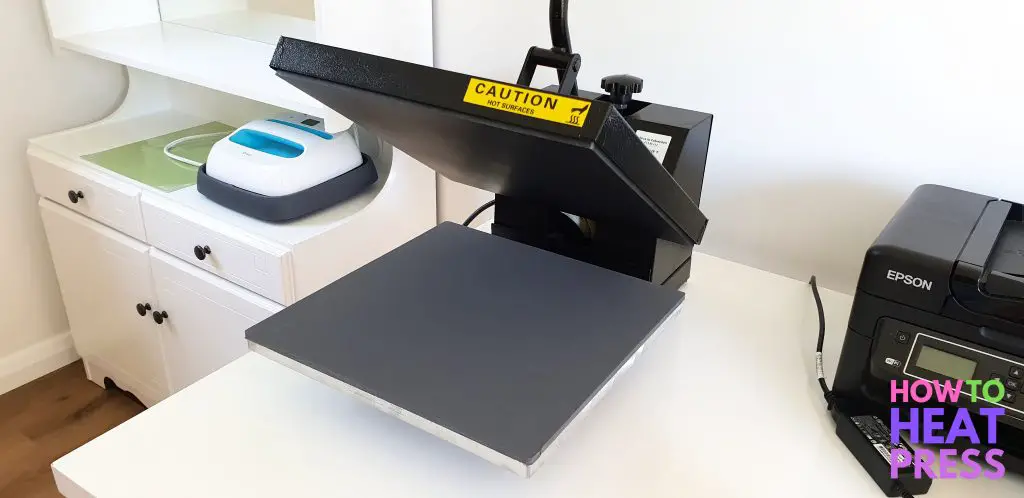 1. It's Cheap
Because it's cheap, you can buy one for infrequent use and not worry about having this expensive item in your house that you only use on occasion.
2. Good for beginners
Again, its just so easy to use. Just set the time and temperature, check the pressure, and close the lid on your heat transfer and t-shirt. That's really all there is to it!
3. Better than an iron
A heat press like the PowerPress is definitely better than an iron. You have much more control over the 3 factors that most influence a successful heat transfer: time, temperature, and pressure.
4. An easy way to make gifts
Owning a heat press gives you an easy way to make gifts for friends and family. You just find a cool free SVG, get a blank tee, and viola! Instant gift.
PowerPress Heat Press Cons
1. May fault
'Cheaper' means it will not have the same performance level of a more expensive heat press. In a high output business, your machine needs to be on 10 hours a day, for example. You will need a better heat press machine.
2. Fewer bells & whistles
A cheaper machine like the PowerPress does not have features like auto-open, pull out draw platens, or digital pressure readings. You need to pay more for these things.
3. Shorter life
Cheap machines will have a shorter life than their more expensive counterparts (though we've been using our PowerPress for over 2 years without issue now).
4. Component quality
The quality of the individual components will not be as good as with HPN's Black Series, for example.
Who should get the PowerPress?
It's good for use a hobby or craft press – for playing around with from time to time
It would be suitable for beginners – those of you who are wanting to start up and learn
It is good for somebody with a limited budget for a heat press – those of you needing an affordable heat press!
For the small start-up t-shirt business – maybe you've started an Etsy store, or are selling some items through Facebook?
It is fantastic for those wanting to make amazing gifts for your friends, family and community!
It might be good for those needing to create a side income – make money with your heat press
This is a good heat press for teenagers who want to learn about business – my daughters are too young to get near one at the moment, but they'll be proficient as soon as possible!
I know for a fact that there are many hundreds, if not thousands, of women using this very machine in their craft rooms for both work and hobby crafts.
You can join many of them in Facebook groups like Let's Learn Cricut Explore or Silhouette CAMEO Project Inspiration – two huge communities learning from and helping one another in their creative projects.
Who is the Power Press not for?
This machine is not for a very busy business – if you have a larger volume of orders you should look at getting a higher quality US made machine – or at least consider an automatic heat press!
This is not for a large business – again, you would be much better off with a higher quality press
This is not for you if you want the very best heat press or if you want super high quality. At the end of the day (and also at the beginning), this is a cheap heat press. While it still costs quite a bit, it is on the lower end of the range. Some of these machines will have flaws and faults, some of them will break. Unfortunately that's just the way it goes. However, remember that you can choose to extend the warranty as you check out on Amazon, and it is probably a good idea to do so!
Tips For Using Your PowerPress Heat Press
Set up your press in a position where you can access it from three sides. It is easiest to position everything when you can shift from the left side, to the front, to the right. There is nothing more frustrating than being hindered when you're in the middle of pressing a garment.
It is reasonably heavy, at 56 pounds, so you will not want to be shifting it from place to place within your home or business. Prepare a home for it where you can access it easily for use but where it will not be in the way from day to day.
Make sure you set up your press on a sturdy surface, rather than a flimsy table, for example. When you are clamping your press down for a job it does require a bit of force for it to click in.
PowerPress Problems
Some people have had concerns about the base pad not being totally attached. There was a reason for this. The manufacturer was asked not to completely secure it so that in the event of the pad needing replaced, it would be easier to do. Over time the base pad can become worn or get damaged and might need replaced.
However, because of customer concerns over it not being completely glued down, further presses will have the pad completely secured. If yours happens to be loose on arrival, or becomes loose over time, you can glue it back down.
Read about other PowerPress problems people have had in the comments section below.
Buy The PowerPress Heat Press
The Power Press is very affordable, and certainly one of the best cheap heat press machines that you can buy. It is definitely good value for money and should be thought of as an investment.
Used well, a heat press can not only generate you an income through selling products, it can also save you money when you use it to make gifts you would have otherwise purchased!
I've been very happy with my purchase of the Power Press heat press.
It's fun and easy to use, it works well, and I've got nothing to complain about! I can wholeheartedly recommend this heat press to you.
Thanks for reading our review of the power press heat press machine! Please leave us a comment if there is anything else you would like to know. 
(Please note: This post contains affiliate links. Read our full disclosure policy here.)