Free Easter SVG Files For Cricut & How To Use Them
It's that time of the year again to make Easter t-shirts for the children, and what better way than with these free Easter SVGs for Cricut?
I've also taken the opportunity to make an easy Easter baby onesie for my 1 year old. I'll use this to show any newbies how to use these Easter SVGs for making t shirts.
The Best Easter SVG Files For Cricut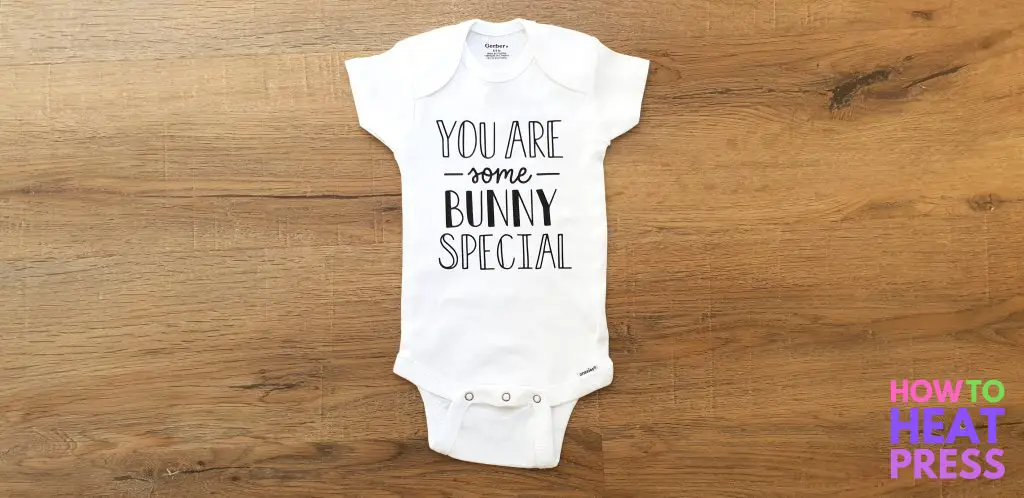 First I've got this short tutorial on how to use SVGs to make this onesie, then the free Easter SVGS at the end!
How To Use A SVG To Make A T-shirt
For this project I'm using an SVG from this Easter Bundle from Creative Fabrica (it's a priced SVG, but I just really liked it)!
I've decided to make my project 5 inches wide for my 6-9 month Gerber baby onesie. I really want the design to stand out on the onesie and be easily read.
To prepare this design, all I did was weld it all together to make sure the script writing was properly connected, and so that my Cricut Maker machine cuts it exactly as it is shown on the canvas.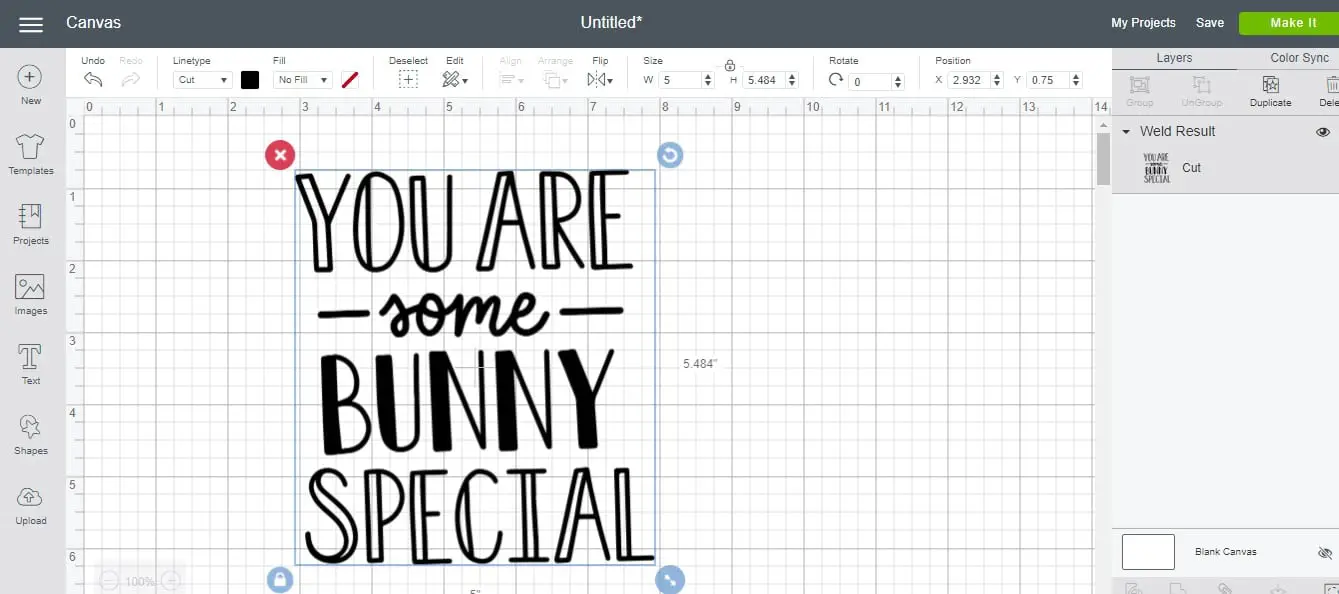 I'm going to cut the design all out in one color, because I love the monochromatic look on baby clothing! But, you can definitely use all different colors if you like!
Next, I mirrored my design so that it would be cut in reverse.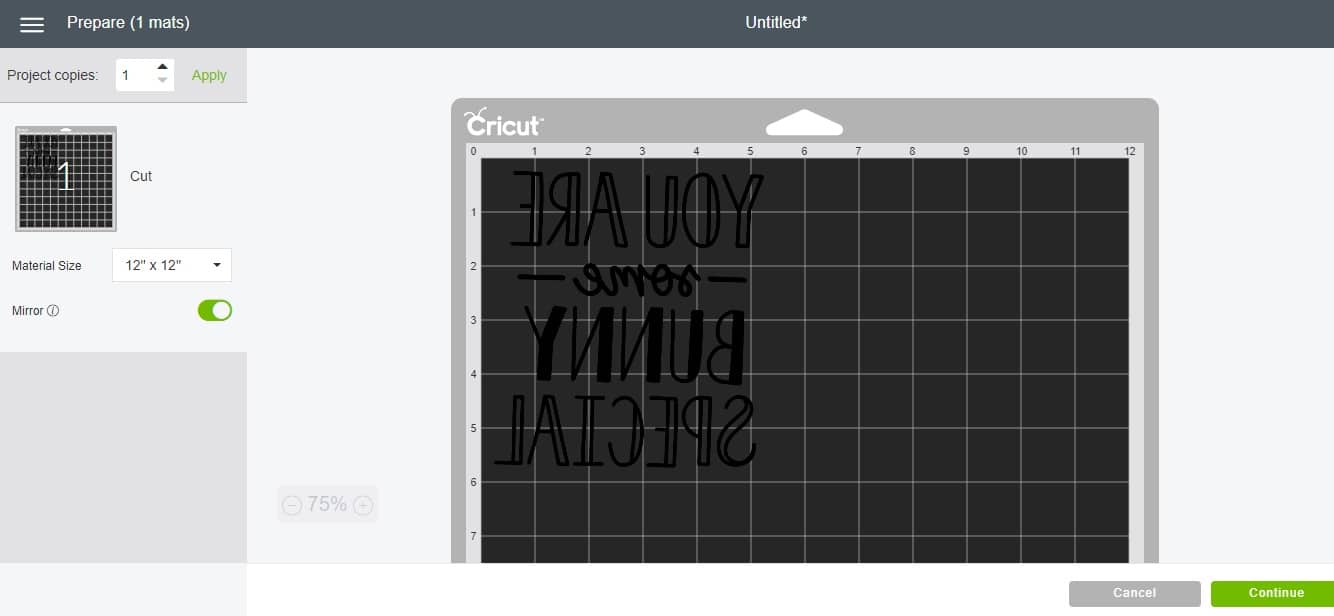 I'm using black Siser EasyWeed HTV which I have placed shiny side down on my cutting mat. I've loaded the mat into the machine, and I'm ready to cut. If you've got an Explore Air 2, set your dial to Iron-On, or if you've got a Cricut Maker, select Iron-On in your material settings.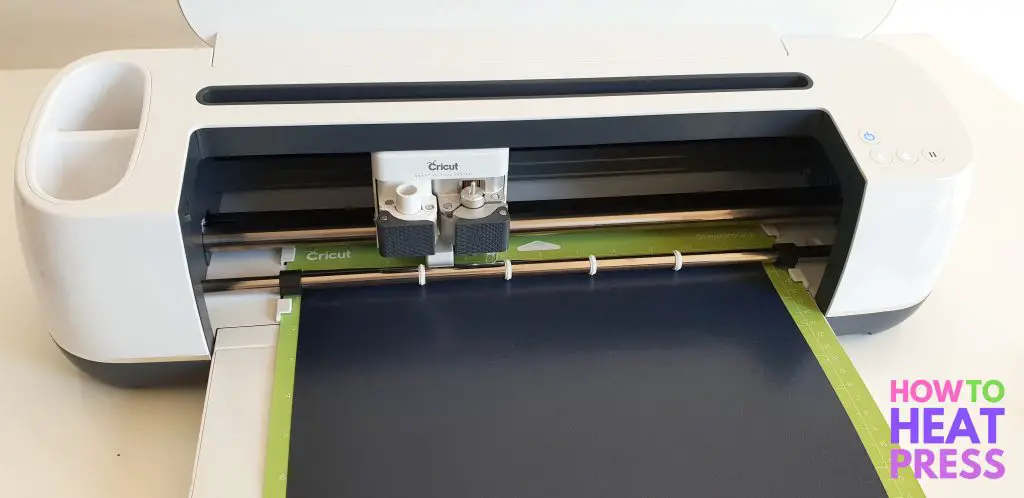 The next job is to weed out any Iron-On that is not part of your design.
I love this design from Creative Fabrica – I use their SVG's for projects all the time.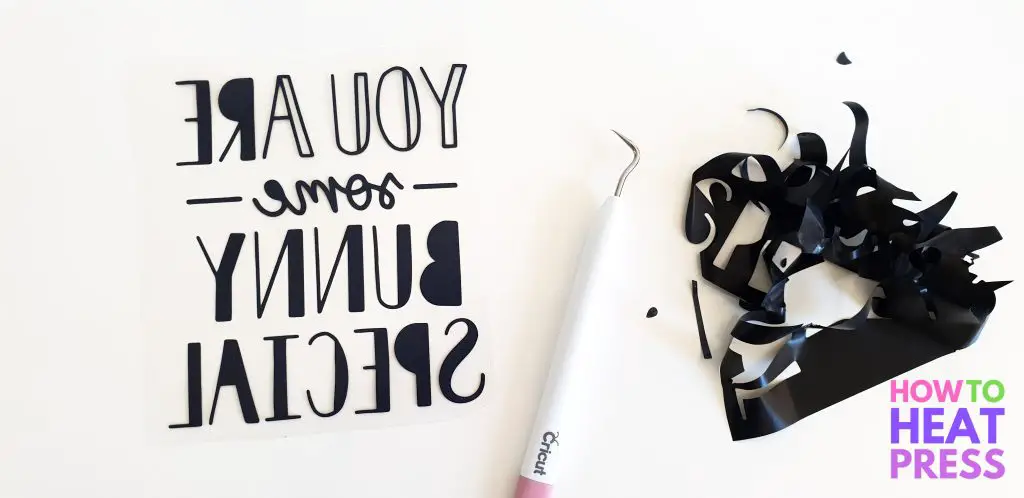 Heat Press The Design
My design is all ready to be pressed so now I'm going to set up my PowerPress heat press. I opened my machine (very important!!), turned it on, and set the temperature to 305°F and waited for it to heat up.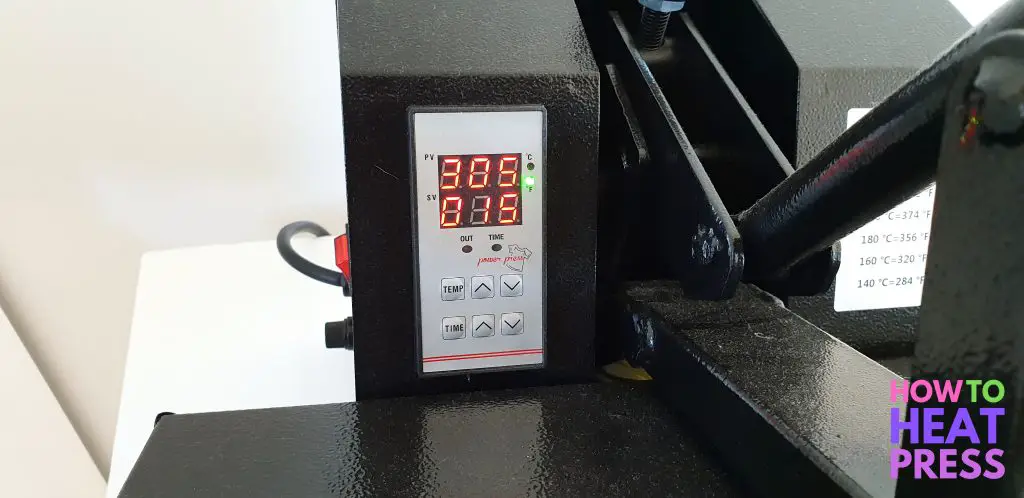 I pre-pressed my Gerber baby onesie for 3 seconds to remove any wrinkles and moisture in the fabric. While pre-pressing, now is the perfect time to check that your machine has medium pressure.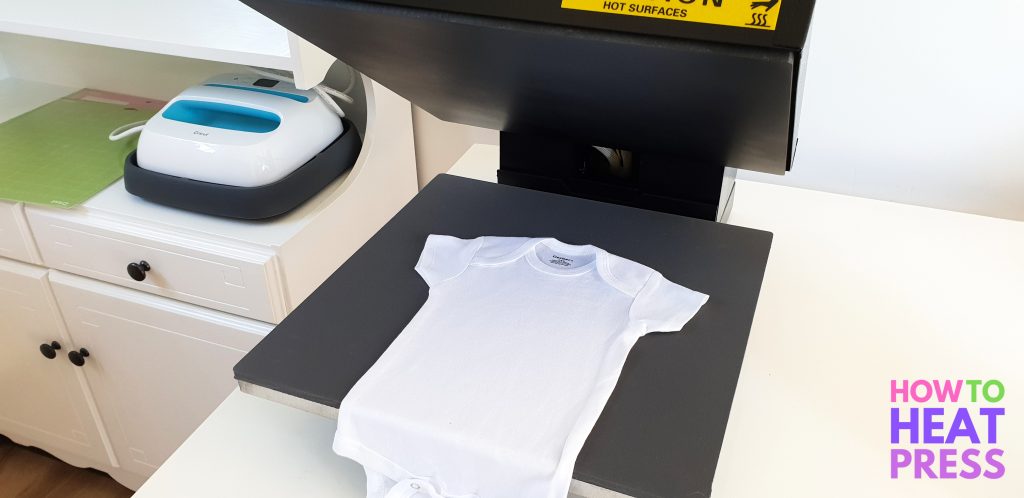 I positioned the design, covered it with a teflon sheet and pressed it for 10 seconds. The recommended time for EasyWeed is 10-15 seconds.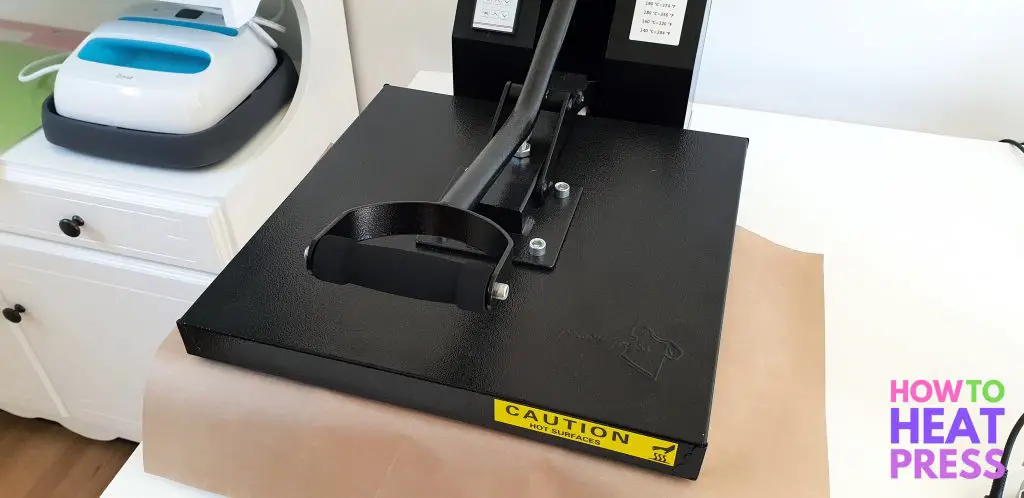 EasyWeed is a hot or cold peel. After pressing my onesie for 10 seconds, I peeled the carrier sheet hot. The HTV looked like it could do with a little bit more time so I decided to press it for another 5 seconds. I like to check my HTV early on and press again, rather than over-pressing the first time!!
I also generally like to remove the carrier sheet and press the last few seconds without one. This is because the carrier sheet can sometimes leave annoying marks on the fabric that are really hard to remove, so I like to press them out – especially if I'm making a gift for a friend!
So, having covered my HTV with a teflon sheet, I pressed my design for a further 5 seconds, without the carrier sheet, giving a total pressing time of 15 seconds (total recommended pressing time!).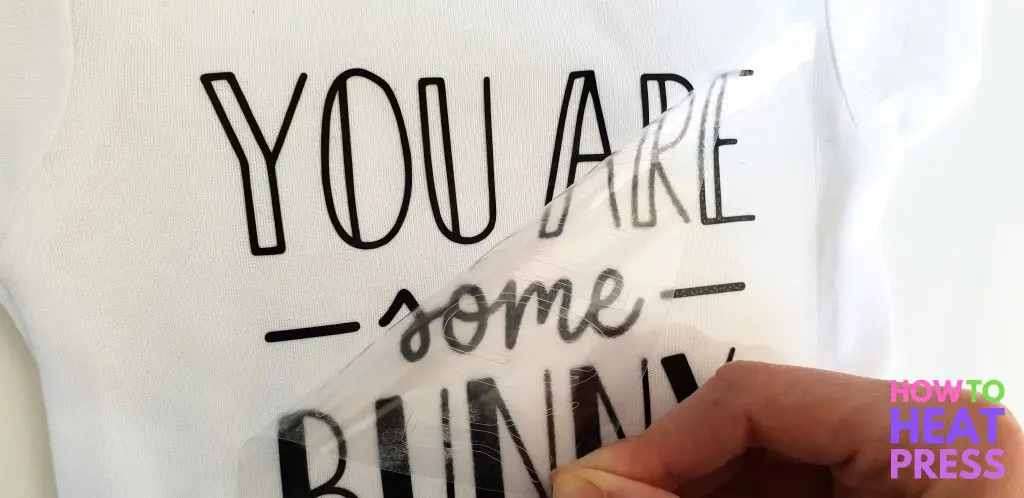 And all finished! I love the monochromatic look. So trendy! And, no annoying carrier sheet marks (I've had a battle with them in the past!). This would make an adorable gift.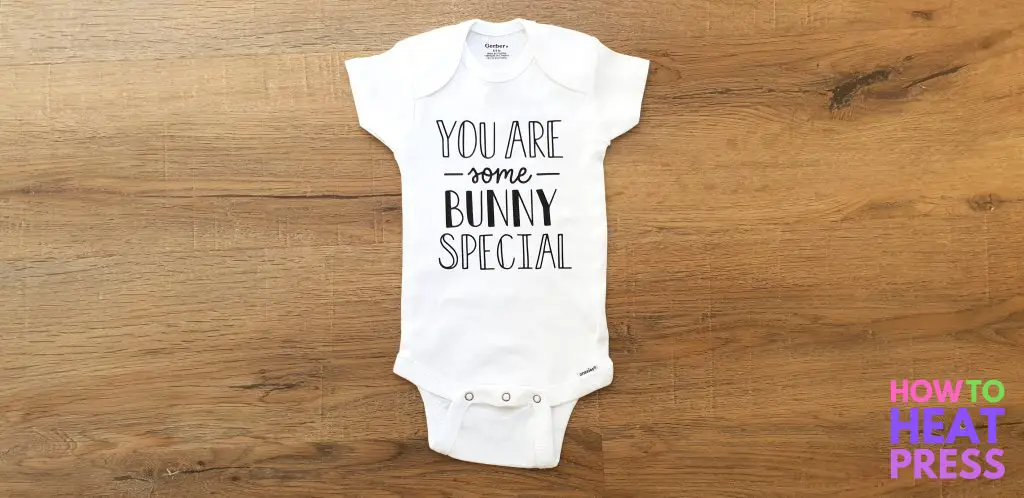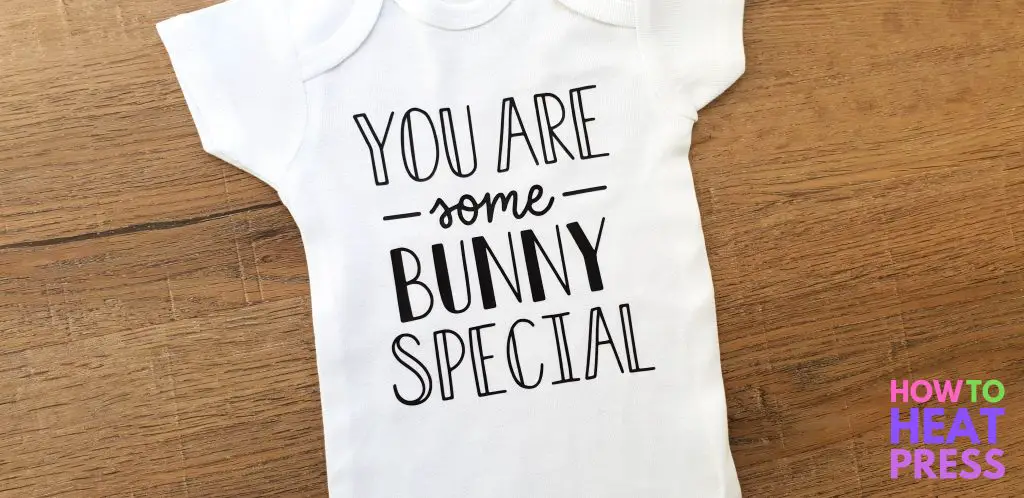 Creative Fabrica have a whole bunch of other Easter SVG's, bundles, and clipart on their website, so check them out and find one you love!
Other fun Easter SVGs from Creative Fabrica:
Free SVGs For Easter
Now to the Free Easter SVGS! These come from a variety of my favorite websites for free SVGS.
It's amazing what you can find for free out there! Remember though, that sometimes if you are using free SVGs for commerical purposes you may have to purchase a license. However, personal use is all good.
Check out all these bunny SVGs, Easter Egg SVGs, and maybe even an Easter Bunny crossed with an Easter Egg SVG!?
Free Easter SVG Bundles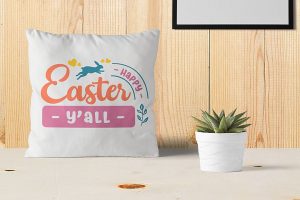 The 3 SVGs in the following pics are from Craftbundle's free Easter SVG bundle.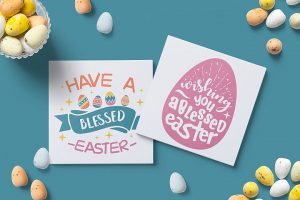 There are 12 designs in PNG, EPS, JPEG, and DXF formats. I think that this bundle contains some of the best free Easter cut files that you can find anywhere!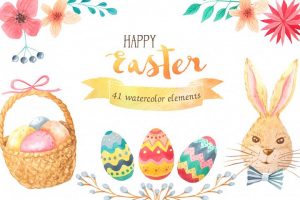 Also check out this free Easter watercolor set. This would be great for making a t-shirt with iron-on t-shirt transfer paper using the print and cut feature with Cricut machines.
Free Easter Cut Files
The next examples are not Easter bundles, but where you can find some of the best free cut files for Easter t-shirts this year.
The following SVGs are free over at LOVESVG. If you want to use them for commercial purposes, you'll need a commercial license.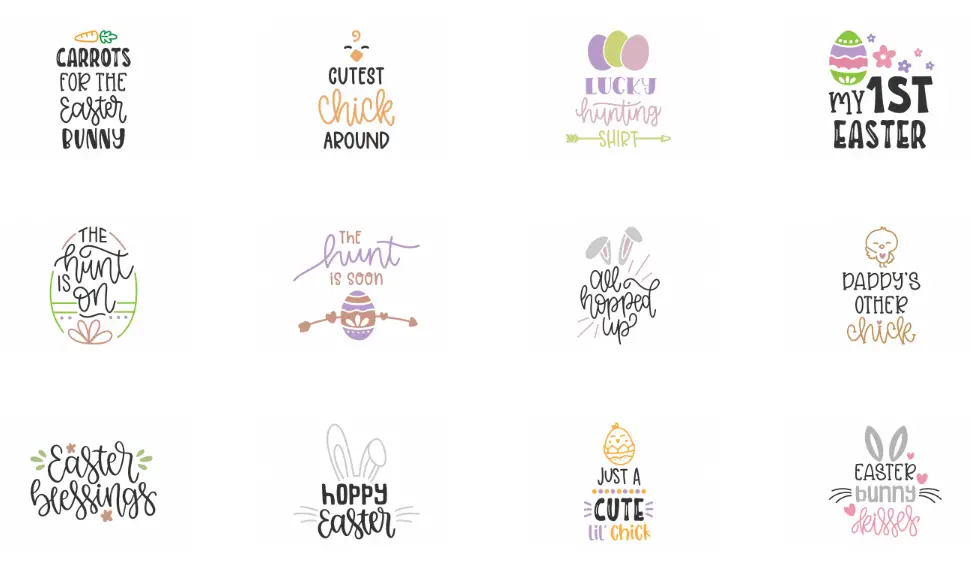 And this next freebie comes from Dreaming Tree. It's a free 3D Easter SVG! We'll, not necessarily for Easter, but I think this free cut file could be used to hold some little Easter Eggs. There are a bunch of other free 3D box cut files that will also work just as well.
And last but not least, I recommend you take a look at SVG & Me's selection of free Easter SVGs. There are a lot of really cool Easter cut files to choose from.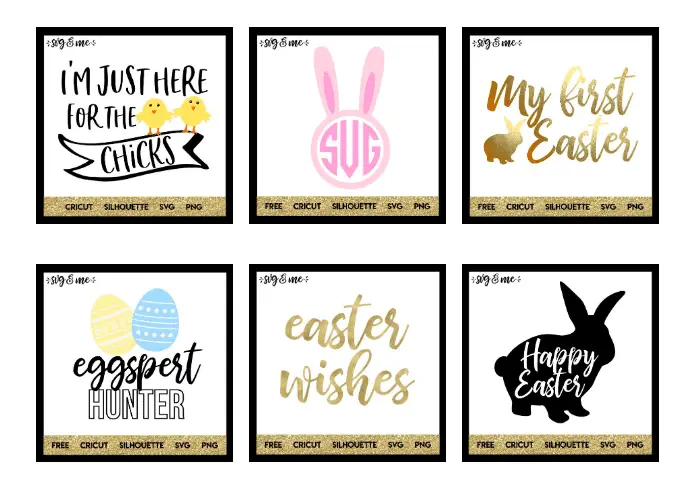 Easter Craft SVGs
I hope you found the perfect Easter cut file for your project. And did I mention an Easter bunny crossed with an Easter Egg SVG? Here is it from Creative Fabrica.
Thanks for visiting. Please leave any comments or questions down below!
(Please note: This post contains affiliate links. Read our full disclosure policy here.)