Top 5 Best Cricut Machines 2022 | Cricut Comparison [UPDATED]
This post contains affiliate links. If you use these links to buy something, we may earn a commission, but it doesn't cost you anything. Thanks!
What is the best Cricut machine?
If you're new to Cricut, the large range of cutting and heat press machines can be a bit confusing. However, it's basically just a case of which is the newest? Every year or two, Cricut releases a new machine. The previous model
By the end of this article you will know not only the different types of Cricut machines, but which one is best for you.
Best Cricut Machine
Here are the 5 newest and best Cricut machines. To sum up, the Cricut Maker is the most advanced and best cutting machine, while the EasyPress 2 is the best Cricut heat press. Much more info below!
If you want a Cricut history, see these older Cricut machines!
Compare Cricut Machines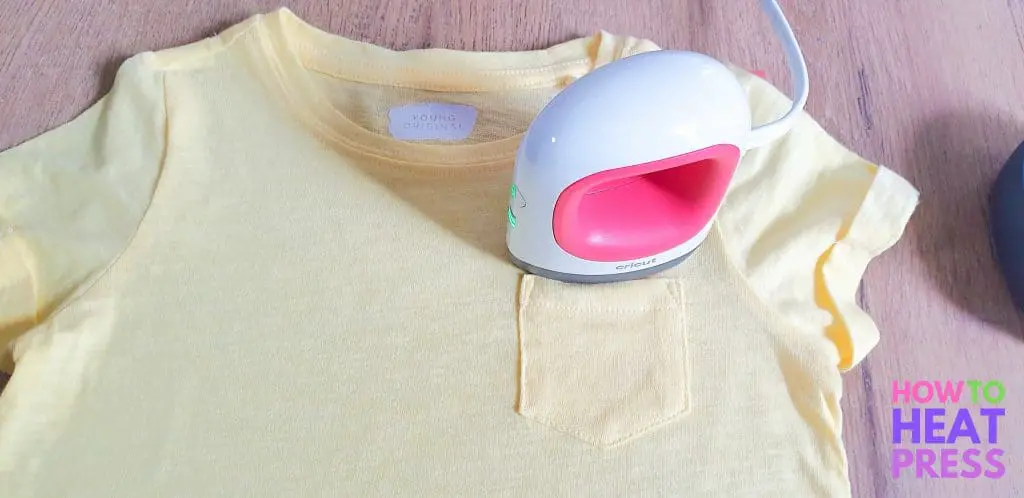 When comparing Cricut machines to buy, the decision is actually very easy!
The Cricut Joy is the newest Cricut machine (full review here). This is a small 4 or 5 inch cutting machine that will not be best for everyone. It's great as an addition to one of the larger machines, but because of it's small size you are more limited with what you can do. It's good for cutting lengths of vinyl and HTV, or for using as a portable and compact cutter for travel.
The Cricut Maker is the best machine (full review here). It's a 12 inch wide cutter, and can cut lengths of up to 24 inches. It can work with the most amount of materials and has more tools for different cut styles (like the engraving tip, perforation tip, etc). The Maker has greater force for cutting thicker materials, and is all round the better machine when compared with the Explore Air 2.
However, the Maker costs almost twice as much as the Air 2, so if you cannot afford it, the 12 inch Explore Air 2 is the next best Cricut machine (full review here). There is absolutely nothing wrong with it – it's an excellent machine. It cuts all the usual materials like vinyl, iron on, card, paper, Infusible Ink transfers, printable vinyl and sticker paper… you are not limited! Great for card makers and scrapbookers.
The Cricut EasyPress 2 is the best Cricut heat press (full review here) – it's an update on the original machine. It can press most (if not all) heat transfers, including sublimation and Infusible Ink sheets. It's a great craft press, or can be used for those in craft business.
The EasyPress Mini is best for those doing small and awkward heat transfers (full review here). It is a good additional press to the larger machine. Press mini transfers onto shows, caps, baby onesies, or put small logos inside shirts.
The Cricut Joy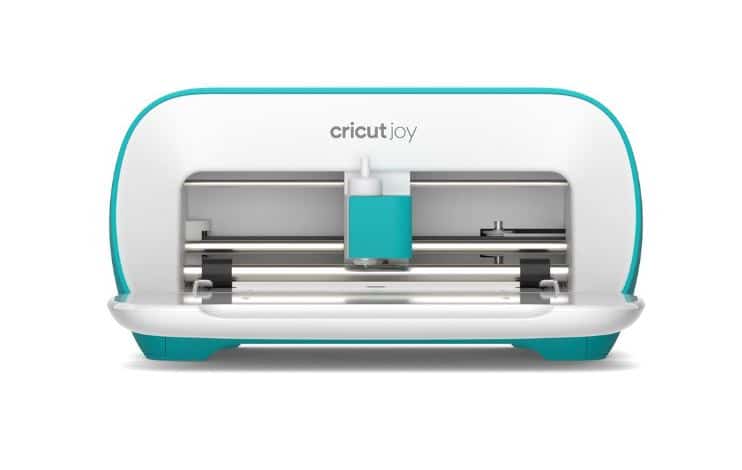 The Cricut Joy was released early 2020 and is definitely the best small cutting machine.
It weighs very little, and can be held in one hand. Easy to transport from room to room, or to your mom's house. It's really good for all those little tasks using basic materials (vinyl, HTV, card, sticker paper, etc).
This machine is best for those want to do a lot of small cutting machine tasks – like scrapbooking and/or small kids heat transfers. It also has the unique feature where it can cut up to 20ft lengths of vinyl and iron on.
Cricut Maker Vs Cricut Joy
In our opinion, the Joy makes a great addition to the Maker, but cannot really compete as the best overall Cricut machine. They really are two different machines that each serve different purposes.
Besides the size, the Joy differs from the Maker in these ways:
matless cutting
cut lengths up to 20 ft
compact, portable, and easier to store
only use via Bluetooth
single tool holder
uses Cricut Smart Materials
If you need a 12 inch cutting machine, go with the Maker or Air 2, but if you are happy with a small craft cutter, the Joy is great!
The Cricut Maker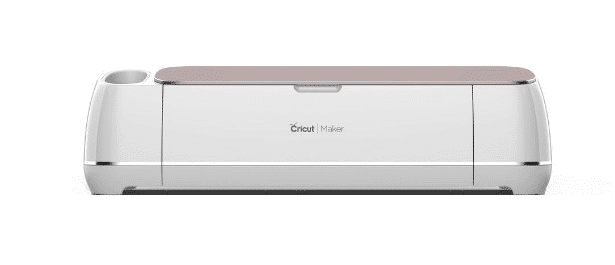 The Maker is the newest Cricut, and it is also the best Cricut Machine. It has the greatest cutting capacity, with 10x more cutting force compared to the Air 2. This machine has an adaptive tool system controlled masterfully by intelligent technology.
Also, if it were a toss up between the Cricut Maker and the Cameo 3, the Maker wins hands down. It is the next level in home cutting machines.
Cricut Maker Vs Explore Air 2
Here are the Cricut Maker features that make it different from the Air 2:
Cuts hundreds more materials from the finest paper to heavy fabrics
Rotary blade especially for cutting fabric (from leather to silk & so much more)
Knife blade for thick & heavy materials (like heavy chipboard or balsa wood)
Scoring Wheel replaces the scoring pen – sharper, finer scored lines
Digital sewing pattern library – access to hundreds of fabric plans to cut instantly
And besides all that, the Maker has a new look. There is no dial on the machine, there is a ridge for placing your tablet, and there are redesigned storage areas.
The Maker is supreme, but don't just take my word for it. Check out the full range of features on Cricut.com.
The Cricut Explore Air 2
The Cricut Explore Air 2 is the second oldest Cricut cutting machine, and in our opinion offers the best value for money. It's up to half the price of the Maker, and still has a huge range of features.
The Air 2 is easy to set up and begin using, and there are a ton of online resources to help you get started. You are not able to cut as thick or as delicate materials as with the Maker, but you will never run out of projects that you can complete!
Cricut Explore Air 2 Vs Explore Air
Here are the differences between the Explore Air 2 & original Explore Air:
The Air 2 (and Maker) can cut, score, or write two times faster than the Explore Air
The Air 2 comes in pastel colors, while the Air is in blue
Both the Air & Air 2 have a dual carriage, enabling you to cut and write without changing any tools. Both machines are compatible with the fine point and deep cut blades.
The Cricut EasyPress
The EasyPress is Cricut's heat press machine.
When comparing heat press machines, it can be difficult to decide on the EasyPress or a regular heat press. Cricut's machine is best for crafts and for those with limited space, but it can't apply pressure like a real heat press.
We use all these machines and find ourselves pulling the EasyPress out far more frequently because it's so quick and easy – especially when doing one or two shirts! We use the heat press when we're doing larger orders.
EasyPress Features
The EasyPress is a lot better than an iron because it is larger, has a timer, and a temperature display.
It reaches 400°F and can be used for Cricut Infusible Ink Transfers. It's really easy to use (living up to it's name), even if you've never done a heat transfer before.
It comes with a safety base for protecting yourself and the table, and has a range of dedicated accessories like the Cricut Mat, tote bag, and materials for use.
The EasyPress Mini
The EasyPress Mini is much the same as the machine above, but mini!
It is good for doing small transfers or awkward transfers – see this recent example where we put an iron on decal in a pocket using the EasyPress Mini! Again, it's really easy!
This machine has 3 heat settings – low, medium, and high – so you don't set the temp as you do with the larger machines. These settings cover all the usual and most popular materials for making transfers. You can find the setting you need over at the Cricut heat guide.
Cricket Machine
So now you know, it's not Cricket machine, it's Cricut!
And I'm sure you agree, the best Cricut machine has got to be the Cricut Maker. But that doesn't mean you should get it if you cannot afford it. The Explore Air 2 is also an incredible machine that is by no means obsolete.
The Cricut Joy is the best machine for when you're needing a small solution – or a small label maker!
Pin this post for later! 🙂
(Please note: This post contains affiliate links. Read our full disclosure policy here.)