Cricut Infusible Ink: What Is It? Prices, FAQ, & Where To Buy
Cricut's latest product has been announced: Cricut Infusible Ink!
Cricut Infusible Ink is now available for purchase at Michaels Stores (online only!) 
If this is the first time you're hearing about it, take a look at this Cricut promo video and then we'll tell you everything you need to know about the product.
What Is Cricut Infusible Ink?
There are actually a series of related products being released at the same time:
Infusible Ink Transfer Sheets
Infusible Ink Pens & Markers
Cricut Infusible Ink Blanks
The transfer sheets are pre-printed transfer sheets, likely with sublimation ink (I'm 99% sure that this is a sublimation ink product, which must be transferred onto sublimation blanks).
While it's not totally as new as what some are making it out to be, it's certainly an innovation on a long used product.
What is great about Cricut Infusible Ink Transfer Sheets is that you can easily do you own ink transfers at home, without needing a dedicated sublimation printer, transfer paper, or sublimation ink.
It makes sublimation (or sublimation-like) printing much more accessible to home crafters.
Where To Buy Cricut Infusible Ink
Cricut Infusible Ink is on sale now, exclusively at Michaels.com. Until 1st October 2019 it will only be available at Michaels, after which time it's assumed it will be for sale at all the usual outlets (Amazon, Cricut.com, JOANN's, etc).
You will be able to buy Cricut Infusible Ink transfer sheets:
as a 4 pack of 12 x 12 inch sheets for $17.99
as a 2 pack of 12 x 12 inch sheets for $12.99
The Cricut Blanks will cost:
Ceramic coasters will be $12.99
Cork coasters will be $12.99
Baby onesies will be $6.99
The large tote will cost $11.99, and the smaller will be $9.99
Cricut heat tape $6.99
You can visit Michaels now and learn more about the product and the process.
Infusible Ink Examples
Here is the 15 minute launch live stream from Facebook – it has a ton of examples and a demonstration on how to use Cricut Infusible Ink transfers.
There already looks to be a great range of colorful patterns and designs to choose from, and no doubt there will be plenty more in the future.
You can see in this image the sheet of transfer paper at the back. Using either your Cricut Explore or Maker (or even a Silhouette machine), you cut the design into the transfer.
The design is then applied to a suitable blank using a heat press or the EasyPress 2.
Infusible Ink FAQs
What Heat Press For Infusible Ink?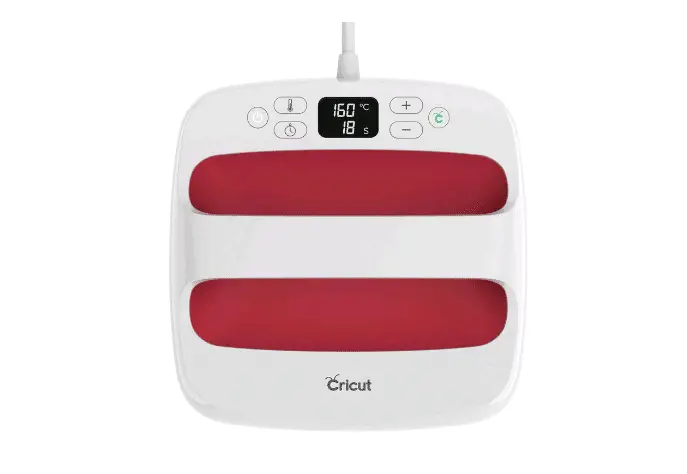 For the transfer to be successful, it needs to be done at 385°F.
The EasyPress 1 (the blue one) does not reach 400°, so it's not ideal for this type of transfer. You can still use the original EasyPress, but the results are unlikely to be as good. The EasyPress 2 does reach 400° and is therefore best for Infusible Ink transfers.
Most (if not all) heat press machines reach 400°+ and are also good for these transfers. Take a look at this list of best heat press machines for some examples of what you can use.
You will not be able to effectively use an iron for this product. You cannot set the temperature accurately, and most won't even reach 400°!
Infusible Ink Vs Iron On
These ink transfer sheets are similar to iron-on sheets in many ways, but very different in others.
They are loaded into your Cricut machine the same way, and the design is cut in reverse as you would with HTV. And, of course, Infusible Ink is also applied with heat.
The BIG difference is that iron on vinyl is vinyl! And vinyl sits on top of the t-shirt or other substrate. Infusible Ink is ink! And that transfers (or infuses) into the fabric itself.
It does not sit on top of the substrate, but becomes one with it. You cannot feel any ridges or texture if you run your hand across the applied transfer.
So, they are two very different products, and can even both be used in the same design. You can layer Cricut iron-on over top of an infusible ink transfer (as was shown in the FB live stream embedded above).
How To Use Cricut Infusible Ink
A bunch of Cricut experts got early access to test and promote the new Infusible Ink products. Here are a few of the best clips from YouTube Cricut.
From Lorrie Nunemaker – starting from where she begins her Cricut Infusible Ink tote bag project tutorial.
From Holly Mostella making an Infusible Ink t-shirt.
How To Use Infusible Ink Markers with Ken's Kreations.
So all of those videos should give you a good idea as to what infusible ink is, and what it can do!
Cricut Infusible Ink Review
Cricut Infusible Ink
Range

Ease Of Use

Fun

Community

Value For Money
Cricut Infusible Ink Review
Cricut Infusible Ink products are an easy way to complete beautiful vibrant ink transfers at home… without a printer!
Grab these sheets of pre-printer transfer ink, cut out your desired design, and press them onto a t-shirt, tote, or coaster with your EasyPress 2 or Heat Press.
This is a super fun product, that has a great community around it. It's easy to use, and the range will continue to expand.
Pros
Create vibrant, stunning ink transfers
Don't need a special printer & inks
Easy to learn how to use
Use with iron on
Beautiful results
Long lasting transfers
Cons
Only available at Michaels until 10/01/19
Limited range of Cricut blanks at this stage
Lack of transparency as to other alternative compatible blanks
Thanks for visiting and checking out this information on Cricut Infusible Ink. Please leave any comments or questions down below!
(Please note: This post contains affiliate links. Read our full disclosure policy here.)