The New Cricut Tote Bags – Cricut Machine Tote & Rolling Tote
The Tweed Cricut Tote has been out for some time now, BUT now we've totes got some new colors to choose from and enjoy!
Cricut have just released the rolling craft tote and the machine tote in a variety of new brighter colors: Raspberry, Purple, & Navy.
New Cricut Totes
There are two different types of Cricut Tote Bag, and it's important to know the difference between them:
The Cricut Rolling Craft Tote is for your craft supplies. It is not for (and does not fit) cutting machines.
The Cricut Machine Tote is for cutting machines. It fits all Cricut cutting machines.
The machine tote can be placed upon the rolling craft tote for easy transportation and storage (as pictured above).
The Cricut Totes are great for keeping your machine and supplies tidy, safe, and dust free. And, of course, they're awesome for getting everything from A to B. They are hand crafted from quality materials and components, and are a yet another stylish and hard-wearing Cricut product.
You should consider getting one if:
you travel with your machine & supplies
you're wanting quality storage while not in use
you like having everything neat and tidy (KonMarie it into a tote bag!)
Cricut Rolling Tote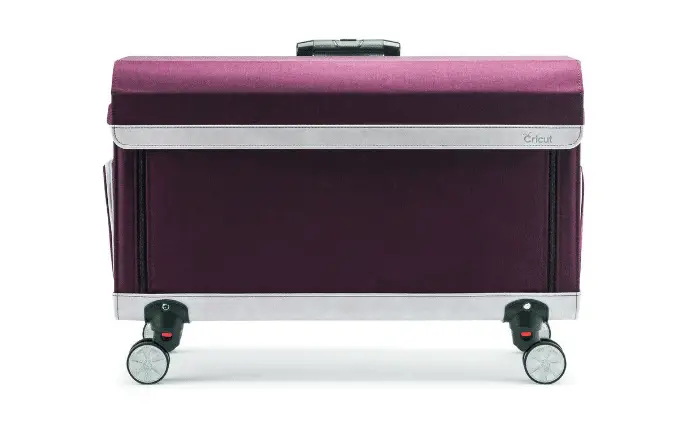 The Rolling Craft Tote is for holding all those wonderful Cricut craft supplies. Check out what it can store in the following pics!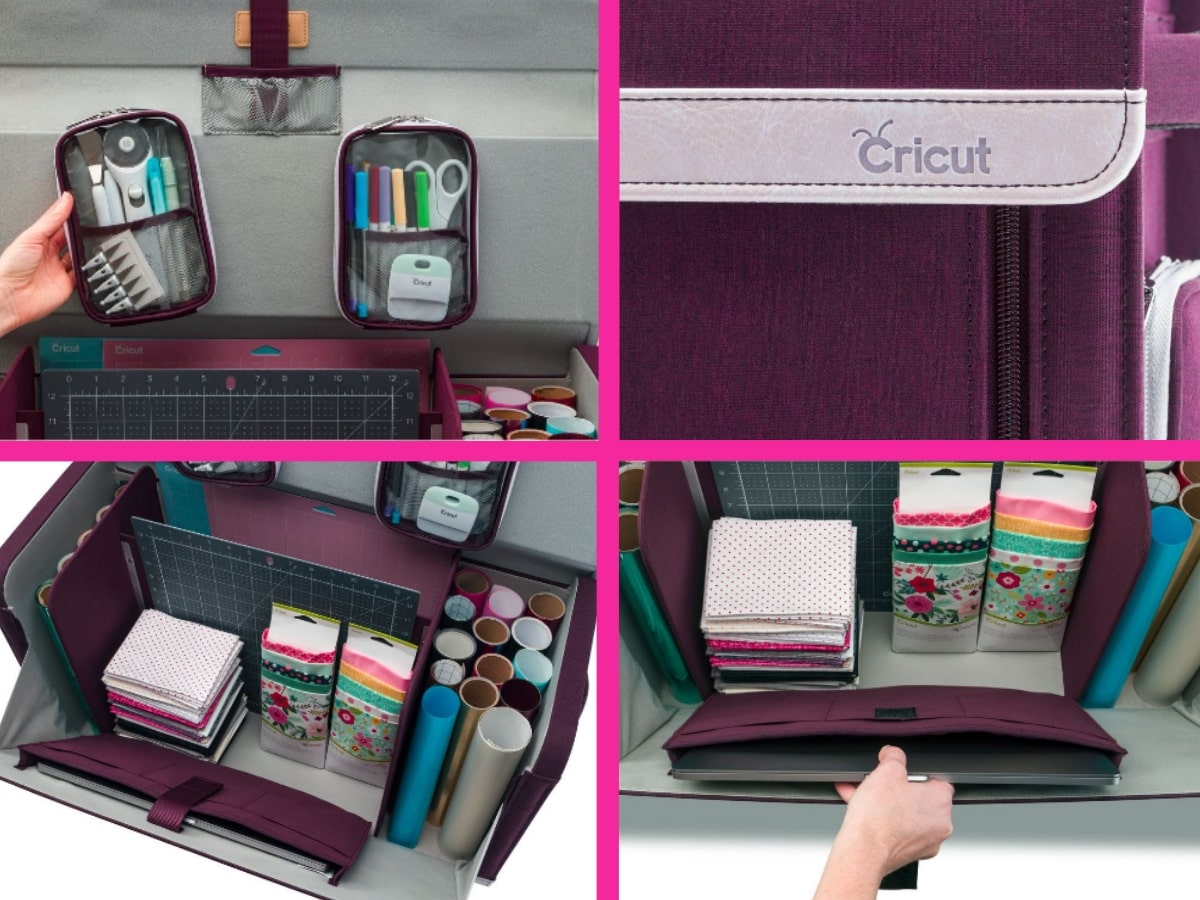 There is room to store:
Cricut weeding tools, blades, and accessories
Cricut cutting mats
rolls of vinyl, iron-on, and transfer tape
fabrics and sewing tools
an iPad or tablet
Plus whatever else you're needing to hide away! I love how it's designed to fit all the standard Cricut materials, tools, and accessories. Such a nice compact way to store or travel with everything.
Cricut Machine Tote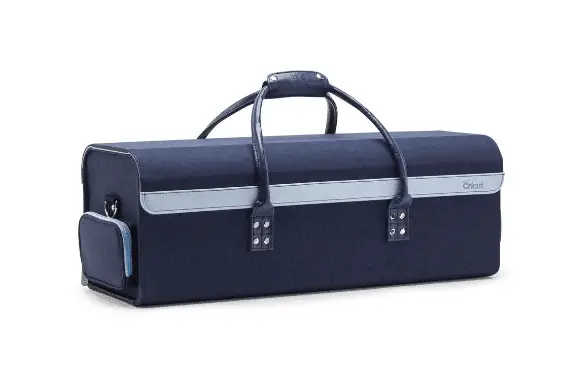 The Cricut Machine Tote is designed for carrying Cricut cutting machines. It can fit the Cricut Explore One, Air, & Air 2, as well as the Cricut Maker (review here).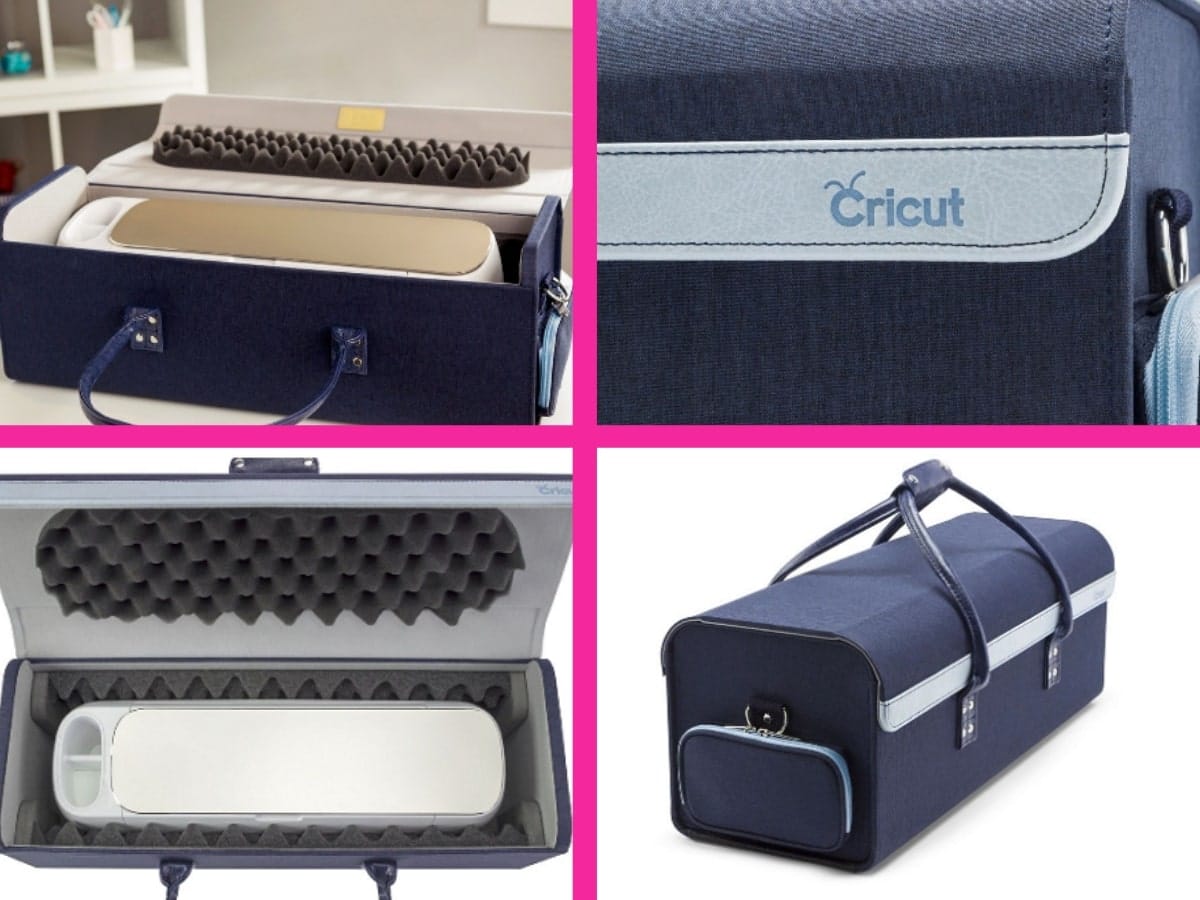 The machine tote is well padded to give your machine the protection it needs while on the move or in storage. You'll also notice the side pockets and compartments for added storage.
The other features include:
able to be stacked perfectly upon the Cricut Rolling Tote
quality double snap handles
can be used separately from the Rolling Craft Tote
available in Navy, Raspberry, Purple, & Tweed
Cricut Storage Totes
I think these Cricut bags are great for those with the money to spend, but they are a little unnecessary for most. If you are looking for a gift for someone that loves Cricut, this is it. Most people probably don't want to spend the money on a Cricut tote themselves, but they'd love to get one as a gift!
They are fantastic for those who have to have everything Cricut! This meme will resonate with those people: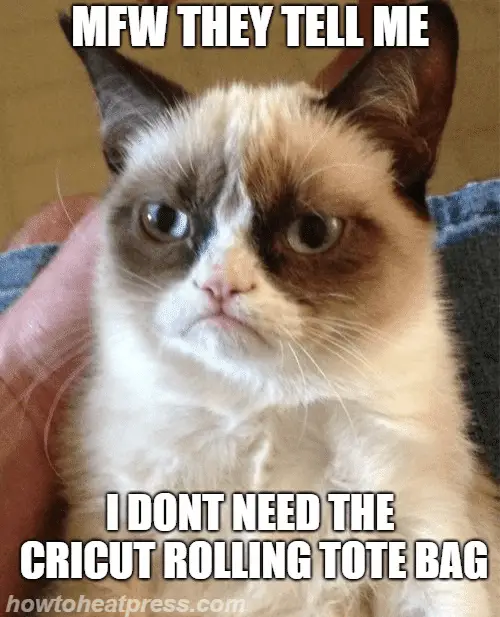 I hope you've enjoyed this Cricut Totes review, let us know your thoughts in the comment section below.
Pin this post!
(Please note: This post contains affiliate links. Read our full disclosure policy here.)