7 Best T Shirt Printing Methods – The Pros & Cons!
This post contains affiliate links. If you use these links to buy something, we may earn a commission, but it doesn't cost you anything. Thanks!
How many different t shirt printing methods are there?
T Shirt printing has been very popular for many years. It's a great way to make unique tops for yourself, gifts for friends & family, or even to make t shirts for business.
We'll get into all of the different methods of t-shirt printing below!
How To Print T Shirts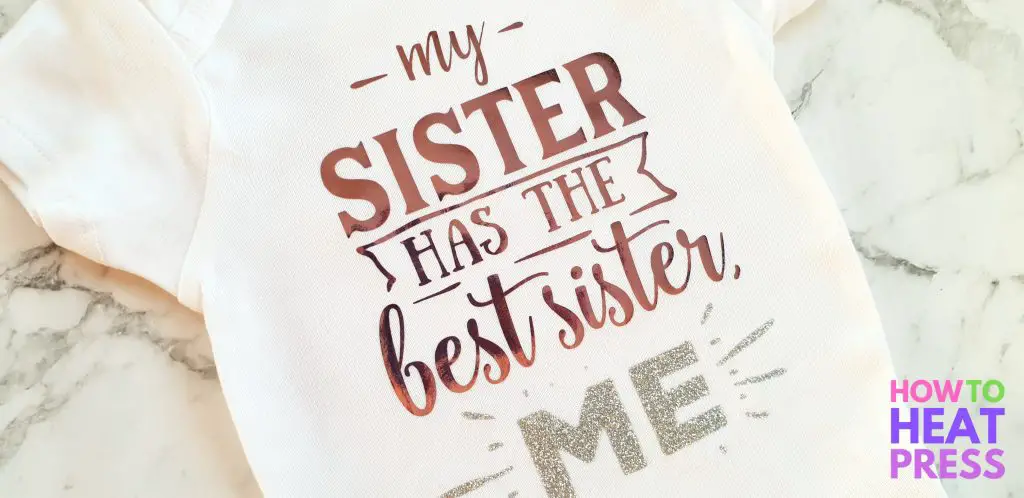 Thankfully, there are easy ways to print t shirts, which are also cheap. The results won't be as good as the more complicated and costly methods, but they're good for starting out.
The more complicated t shirt printing methods are good for those who are creating more often. They are better for printing t shirts for selling.
Types Of T-Shirt Printing
Here are four different methods of t-shirt printing that we'll look at in this article. They are listed in order from easiest and cheapest method of t-shirt printing, to the more difficult and expensive.
Home iron heat transfers
Heat press machines
Screen printing designs
Sublimation transfers
Direct to garment printing (DTG printing)
Machine embroidery (as an alternative to printing)
1. Iron-On T-Shirt Printing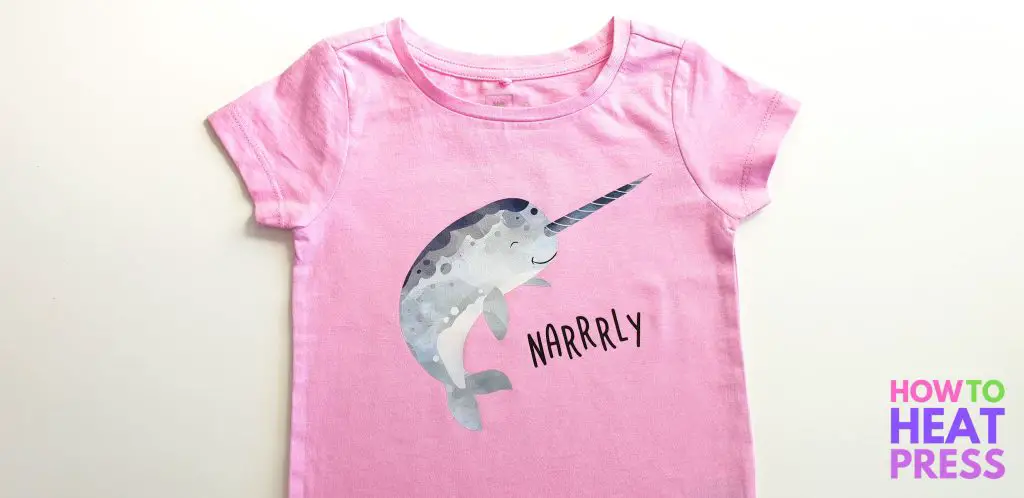 Using your home iron to press heat transfers is  perhaps the easiest way to get starting making your own t shirts.
There a few types of transfers suitable for application with an iron:
heat transfer vinyl (iron-on) transfers
transfer paper which you print on
Cricut Infusible Ink
Iron On Vinyl Transfers – are made using a cutting machine (such as the Cricut Maker or Silhouette Cameo). The machine cuts your chosen design out of vinyl, and you can then press it onto your t shirt with an iron. More info here.
Transfer Paper –  there are different types of transfer paper depending on what sort of printer you are using. Inkjet transfer paper for inkjet printers, laser transfer paper for laser printers, etc. Your selected image is printed onto the paper, and then pressed onto the t shirt. More info here.
Cricut Infusible Ink – is a new product that is suitable for use with an iron. These are basically pre-printed sublimation sheets which you cut designs from and apply to polyester garments. More info here.
Pros & Cons Of Using An Iron
Pros:
An iron is small and easy to store
You already have an iron
Easy set up with an iron
Irons are easy to use
Irons and iron-on transfers are the cheapest way to print t-shirts
Cons:
A lower quality transfer
Difficult to do large transfers
Easier to burn or scorch a tee with an iron
Irons with steam holes lack total pressure
Not designed for heat transfers
Iron On Transfers Are Best For…
Iron-on transfers are best for beginners!
If you already have a cutting machine, you can buy transfer paper, iron-on vinyl, or Infusible Ink sheets cheaply and get started right away.
However, iron-on transfers are not good for business purposes. You really want to get a heat press machine if you are wanting to sell t shirts on Etsy or your own site.
Iron-on transfers are great for older children to play around with as well. I can still remember pressing my first iron on transfer when I was about 10!
You might also want to consider the Cricut Easy Press which is somewhere between an iron and a heat press!
2. Heat Press Machine Printing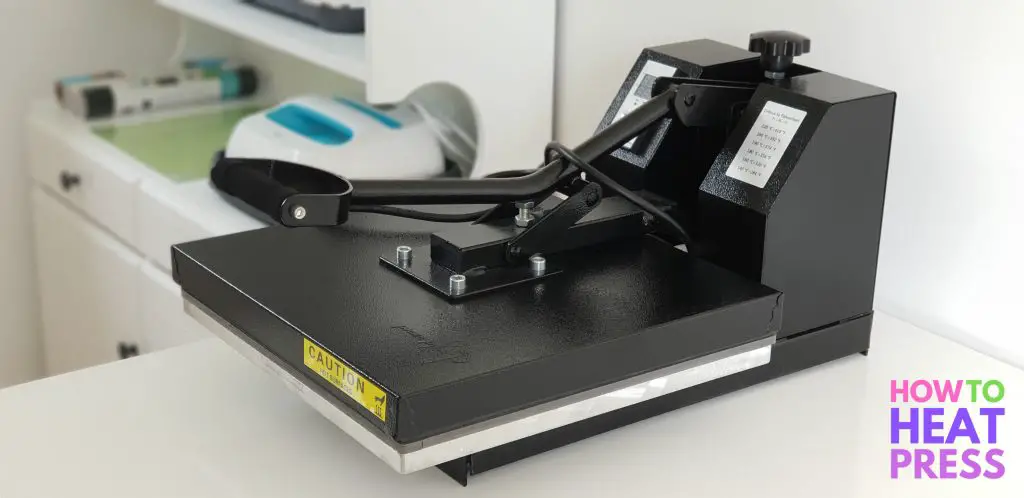 Heat press machines for t shirt printing and transfers are our preferred method!
The process of using a heat press machine for t-shirt printing is very similar to using an iron. They use a combination of time, temperature, and pressure to transfer the same types of heat transfers listed above.
Many transfers pressed with a heat press machine sit on top of your t-shirt, such as HTV or an Avery Inkjet Transfer. Other types, such as sublimation or Infusible Ink, transfer into the actual fabric.
There are cheap heat press machines which are fine for home crafts and that sort of thing. And then there are the real heat press machines (such as from Heat Press Nation), which are best not only for home use, but also for business.
Pros & Cons Of Using A Heat Press
Pros:
Easy to get the right time, temp and pressure
A better transfer than with an iron
Good for one-off designs
Easy to learn and set up
Some machines are very affordable
Range of sizes from 9″ x 12″ to 16″ x 24″, and beyond
Cons:
Takes up space/difficult to store
Can take a bit of practice to master
Not as efficient as other methods for larger print runs
Heat Press Machines Are Best For…
Cheap machines are good for beginners, those wanting something to work in tandem with a craft cutting machine. They are great for home and hobby use.
A good heat press machine is also essential for any t shirt business. In particular, US made heat press machines will deliver high quality transfer results.
3. Screen Printing Method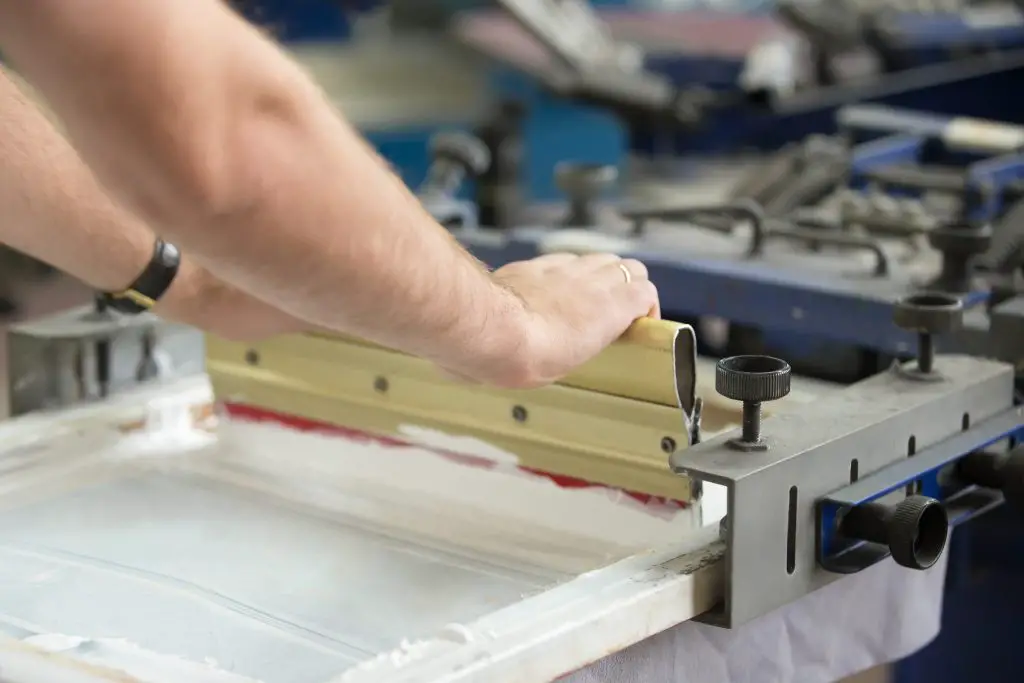 Screen printing is another way to print t shirts at home or for business.
In my opinion, screen printing is more technically difficult than heat press printing.  It does produce amazing results, and is far better when you need to do many identical t shirts, but I think there's more to it!
The screen printing process involves using a silkscreen that has a design exposed on it. You swipe ink across the screen with a squeegee, which sends the ink through the design onto the tee.
It's a bit tricky to explain, so check out this screen printing video demonstration!
Pros & Cons Of Screen Printing
Pros:
Use your screens again and again
Great for doing lots of the same design
You can make your own screens
Creates nice clean designs
Tee designs last a long time
Designs "become one" with the tee – absorbed into the fabric
Cons:
Making the screen designs takes practice
Only good for 1 -4 different colors
Can get messy
More set up and tidy up required
Not good for one-off or small jobs
Screen Printing Is Best For…
Unless you are screen printing with something like the Speedball Screen Printing Kits (which are good for at home use), screen printing is best for those making lots of tees.
The process is more prone to error, and harder to get perfect results, especially if you don't have all the right equipment (eg. a screen printing machine). For craft use, check out this Speedball ink project we did with freezer paper.
4. Sublimation Printing
Sublimation printing uses sublimation ink, which is printed onto sublimation paper, using a sublimation printer… lot's of sublimation there!
Once the printed transfer is pressed (at around 400 degrees) with a heat press, the heat and pressure change the ink into a gas. The gas then colors the garment or other poly coated substrate.
Sublimation can only be used with poly or high poly blend garments, or apply to items with a poly coating (coasters, mugs, etc.).
Sublimation Pros & Cons
Pros:
Create vibrant prints for t shirts
Not limited for color as with screen printing or HTV
Design becomes one with the garment
Do all over printing
Cons:
Only for use with poly garments & products
Only for white t shirts/products
Requires a dedicated sublimation printer
Sublimation Printing Is Best For…
Anyone passionate about making t shirts, mugs, and other fun custom products.
Because you need to have a dedicated sublimation printer and a heat press machine, it's best for those who are actually going to use it! You can end up wasting a lot of expensive ink when the print heads dry out if you are not regularly using the printer.
Cricut Infusible Ink is one way to give sublimation a go before buying a printer. An alternative to traditional sublimation printing is Siser EasySubli – this method allows you to sublimate colored and cotton garments (though it's more like printable transfer paper)!
5. Direct To Garment Printing
Direct to garment printing is the final t shirt print method we'll look at, before checking out an alternative!
Even if you haven't heard of DTG prints before, you can probably guess how it works… Yep, printing directly onto your garment.
DTG printers are very expensive, and are not typically bought for home use. Only those in t shirt business tend to be the using these machines.
Pros & Cons Of DTG Printing
Pros:
Best way to do multiple colors
A sharper image on the tee
Looks very professional
Headache free design changes
Good for small runs
Cons:
Expensive to set up
Not economical for large quantities
Design placement limited
DTG Printing Is Best For…
These machines are best for pro t shirt sellers, as the price tag is high, usually running in the multiple thousands of dollars.
Also, these printers need to be used often, keeping the ink from settling in the machine. The output of these machines is great, but only consider buying one if you have a sure path to recouping your income.
6. Outsource T Shirt Printing
Another way you can print your t shirts is to get someone else to do it!
There are a ton of online t shirt printing stores out there, who can take your design and print it onto basically anything you want.
Depending on which company you use, you can get custom screen printed, vinyl, DTG, embroidery, plastisol transfers, and anything else, all done for you.
This is the best way to do it if you don't have the time yourself, and you don't want to hire anyone else. It's a great way to create YouTube Merch, or merch for your podcast, blog, or brand.
Pros & Cons of Custom Printing
Pros:
Save yourself a ton of time
Less worry about quality
No need to purchase equipment, just send through designs
Shipping is taken care of
No need to keep stock, print on demand when the order comes
Hassle free
Cons:
You may make less per t shirt than if you make it yourself
You can't say you made it
So it depends on whether you are wanting to print t shirts for business/branding purposes, or if you're just at home wanting to make t shirts for family and friends.
Outsourcing is best for those who want to be hands off, and using one of the many print on demand sites is taking it to the next level!
7. Machine Embroidery
Machine embroidery designs are created with embroidery machines (surprise), and they are a great alternative to t shirt printing.
These machines work like a printer for thread. You select a design from your machine, and it then stitches the whole thing out for you onto your t shirt, cap, blouse, or whatever!
You can use multiple colors, though unless you have a multi needle embroidery machine, the machine will pause for you to change thread.
Embroidery Machine Pros & Cons
Pros:
A great alternative to HTV & prints
Use up to 10 colors (depends on machine)
Create beautiful, long lasting designs
3 dimensional
A totally different aesthetic
Cons:
The better machines are quite pricey
Takes some time & practice to master
Perhaps not as popular for selling
Machine Embroidery Is Best For…
This method of t shirt design is best for those wanting to try something more unique.
If you love working with sewing machines, then an embroidery machine will be no trouble for you. The designs you can create are so beautiful and intricate, and really can't be reproduced with any other method listed above.
Best Way To Make T Shirts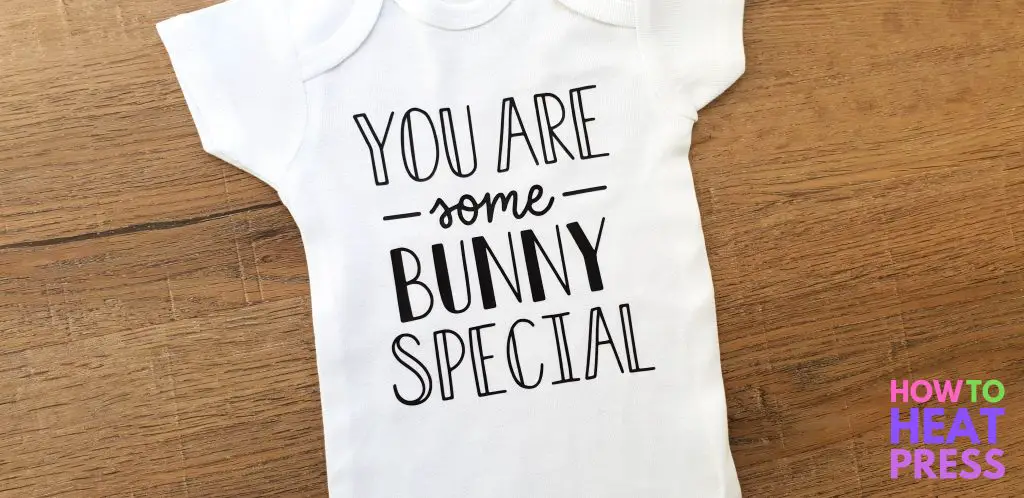 So there you have 7 ways of printing on t-shirts… or 6 + a bonus at least!
They are all quite different, producing different looks and effects, and as we've seen, each has its pros and cons – you have to weigh what your needs are and what's important for you.
Let us know in the comments below what your plans are – we love to hear people's stories!
Pin this post! 🙂
(Please note: This post contains affiliate links. Read our full disclosure policy here.)