The Ricoma EM-1010 Embroidery Machine – Read Before You Buy!
This post contains affiliate links. If you use these links to buy something, we may earn a commission, but it doesn't cost you anything. Thanks!
Should you get the Ricoma EM-1010 Embroidery Machine?
That's the question we're going to help you answer in this Ricoma embroidery machine review.
This is a top of the line home embroidery machine, that is not cheap, so you want to make sure it is best for your needs, and that there is not a better alternative.
Ricoma EM 1010 Review
The Ricoma EM-1010 is one of the best multi needle home embroidery machines, if not the best! It is a 10 needle machine, allowing you to save time not having to re-thread and change colors.
The EM-1010 is everything you could want or need in a home embroidery set up, coming with 4 different sized hoops and a hat attachment, 20,000 stock designs, a movable stand, and Ricoma's incredible support.
We can wholeheartedly recommend this machine for those who want quality without compromise.
Pros:
10 needle embroidery machine
24/7 technical support
excellent warranty
a wealth of online training videos
comes with stand
4 hoop sizes
cap & hat attachment
design software
Cons:
too expensive if only for craft & hobby use
Ricoma Embroidery Machine
The EM-1010 is designed for:
embroidery beginners & veterans alike
embroidery hobbyists & crafters
for home based embroidery businesses
This machine comes with 4 different size hoops (and cap attachment), and is able to embroider:
baby onesies & kids clothing
polos, robes & jackets
tees, sweatshirts & pants
totes, backpacks & denim
caps, hats & beanies
The following video is a helpful resource I found when researching and comparing the Ricoma EM-1010 embroidery machine. It compares the EM 1010 with the following machines:
Baby Lock Valient
Janome MB-7
Brother Entrepreneur Pro X
Keep in mind this video is made by Ricoma, but I think it is still helpful in demonstrating the differences between various multi needle embroidery machines.
Things to keep in mind:
designs – how many embroidery designs does the machine come with?
financing – are you able to get affordable financing options?
attachments – how many and what type of hoops does the machine come with?
And the next video (also produced by Ricoma) gives you the best overall look at the machine. Learn more about what's possible with this machine, and see it in action!
What Does It Come With?
Here is what generally comes with the EM-1010 – depending on where you are purchasing from, double check what is included.
4 embroidery hoops:
2.8 x 2 inches
4.3 x 4.3 inches
7.5 x 5.5 inches
12.2 x 8.2 inches
Cap Attachments:
1 cap driver
2 cap rings
1 snap on/snap off hoop station
A Movable Work Stand:
Perfectly designed for the EM-1010, this stand on wheels makes it easy to shift it to where you need it – and it's included in the one great price!
Also included:
Chroma digitizing software
20,000 stock designs
Complete starter kit with: thread, bobbins, needles, backing, etc.
Online training & how to videos (eg. this playlist)
A limited 25 year warranty
EM 1010 Features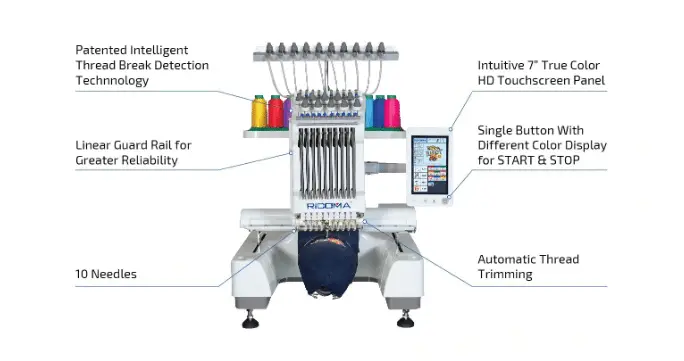 Other features of the Ricoma EM 1010 include:
upload and store 20 million stitches
15 different language options
7 inch HD touchscreen panel (edit on screen)
10 built in fonts
pre-set hoop options
one step tracing feature for best placement in hoop
1000 stitches per minute max speed
automatic color change
patented thread break system prevents breakage & stops when it happens
go forwards & back through design
1 step frame out function
easy thread tension adjustment
dual processor allows you to upload new designs while stitching
LED lighting system
auto thread trimming feature
connect EM 1010 to future Ricoma machines
EM 1010 Specs
weighs 99 pounds
110V/60Hz or 220V/50Hz available depending on your location (US is 110V)
Servo motor (also used in Graphtec cutting machines)
wireless connectivity
reads multiple design formats (eg DST & DSB)
low power consumption
And don't forget, there is 24 hour, 7 days a week support available for this machine. Never get stuck or caught out!
Ricoma EM-1010 Alternatives
If you're unsure whether or not the Ricoma EM-1010 is right for you, consider some of the following multi needle embroidery machine alternatives:
Melco Amaya Bravo – 16 Needle
Janome MB-7 – 7 Needle
Janome MB-4S – 4 Needle
If you have any questions or comments, please leave them down below and we'll get back to you as soon as possible.
Pin this post!
(Please note: This post contains affiliate links. Read our full disclosure policy here.)