Best Multi Needle Embroidery Machine: Janome, Babylock, Ricoma…
This post contains affiliate links. If you use these links to buy something, we may earn a commission, but it doesn't cost you anything. Thanks!
What is the best multi needle embroidery machine?
Let's compare the top machines from Janome, Melco, Juki, and more, to see which comes up on top.
We'll be looking at a range of machines, from a 4 needle to a 16 needle, and everything in between!
Multi Needle Embroidery Machines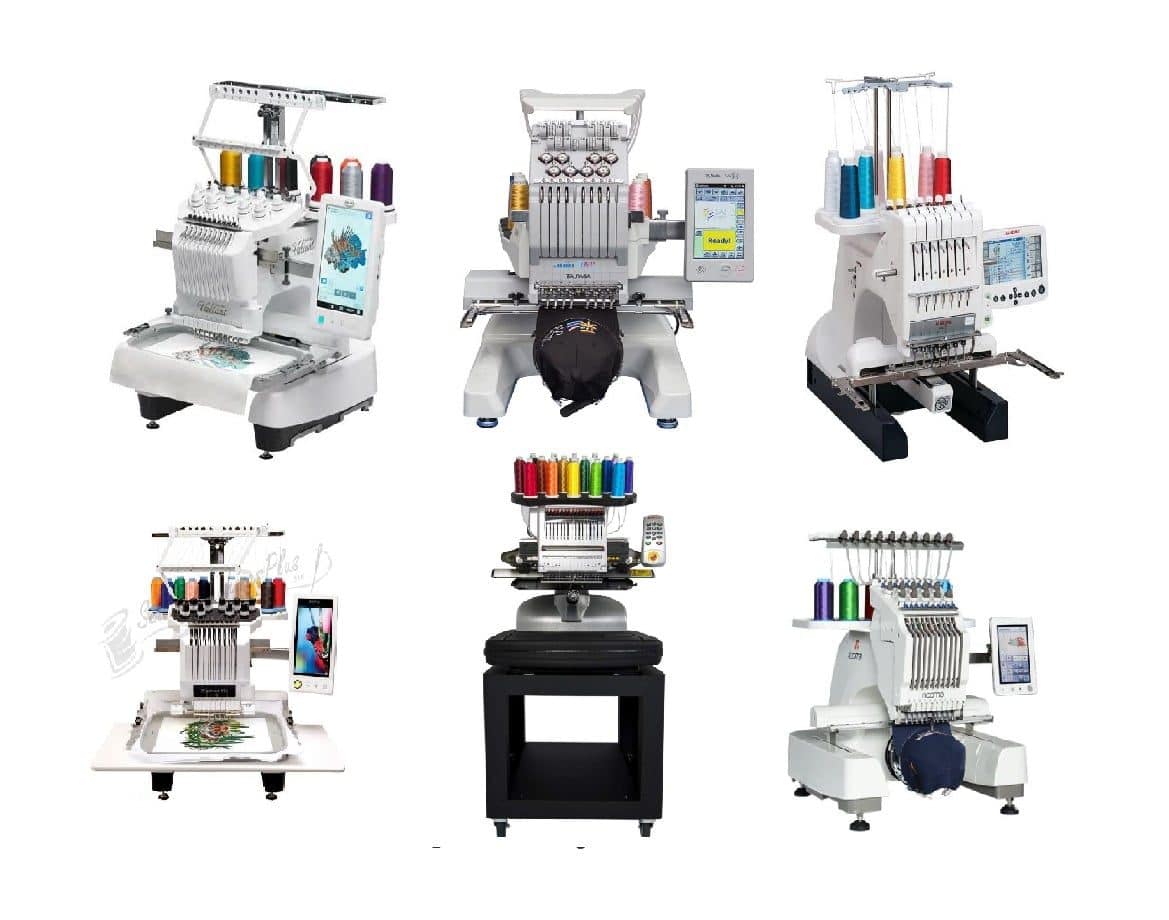 Some of these machines can be purchased at numerous outlets, and are more commonly found. For example, the Janome MB4S and MB7.
Other machines are less common, and perhaps less well known, such as the Baby Lock machine, for example.
We mention this only to say that it's usually better to go with a machine that sells more units and has more users. There are a number of reasons for this, including:
there are usually better resources for these machines on YouTube, sewing blogs, etc.
easier access to compatible materials, accessories, and tools
more spare parts if you ever have a machine malfunction
Here are the most popular and well known multi need embroidery machines.
Let's now take a closer look at these machines.
Janome MB 4S
The Janome MB4 is the cheapest multi needle embroidery machine in this round-up, and has the least amount of needles.
This is a 4 needle embroidery machine that can be used at home or for small business. It is a bit of a combination of the great features of smaller Janome embroidery machines.
It is built to work with most embroidery formats (.jef+.jef & .DST), including those used by industry professionals. It is also compatible with six of the standard Tajima hoops, along with the four available Janome hoops.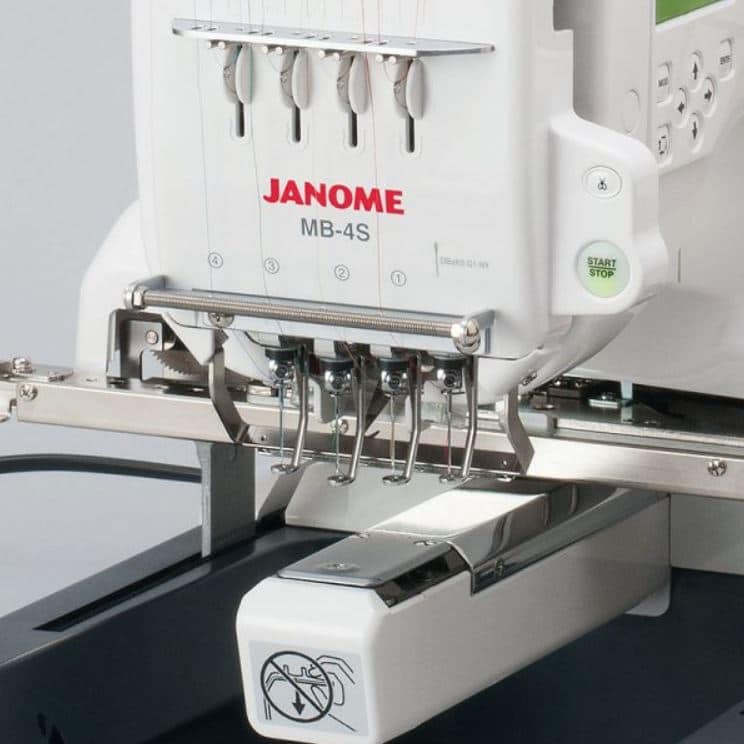 Also comes with:
Bobbins
Needle & Needle Threader
2 Felt Rings (large and small)
Hoop M1 (240 x 200), M2 (126 x 110), M3 (50 x 50)
Hoop Supporter
Spool Caps, Net, Pin, Rest, Stand
Lint Brush
Thread Guide Bar & pole
Tweezers
Seam Ripper
Scissors
Offset Screwdriver
Accessory Box

FREE

 MB-4S Hat Hoop (100mm x 60mm)

FREE

 Lettering Hoop Holder Unit

FREE

No. 7 & 9 Lettering Hoop J8 (25 x 121) & J6 (66 x 66)
Features include:
Backlit LCD screen
Auto thread cutter
USB memory key compatible
800spm Built-in features:
50 fonts built in
10 monogram choices – both 2 & 3 letter
Expanded built-in memory
Drag & Drop editing
Flip vertically and horizontally
Manual thread tension control
*Inclusions are from Sewing Machine Plus – different retailers may have different bonuses.
Janome MB7
The Janome MB7 is a step up from the MB4, though mainly just in that it is a seven needle machine. This allows you to do even more colors before needing to change in and out threads.
We have a complete overview of the Janome MB7, and so rather than reiterating what is already there, please consider that post for more information.
Melco Amaya Bravo
The Melco Amaya Bravo is a single head, 16 Needle, embroidery machine, created for very the advanced embroidery hobbyist, or those going into business.
It is a high speed multi needle machine, able of doing up to 1000 stitches per minute.
It's an easy to use system, and there are plenty of online resources that will how to use the machine. There are helpful videos showing how to set up the machine, along with those showing you how to complete various projects.
Includes:
Melco Amaya Bravo Professional Embroidery Machine & Cart
4 Round Hoop set (3.5″, 4.68″, 5.85″, 14.25″ x 11.75″)
Power Cord, Ethernet Crossover Cable
Design Shop Lite Software
Dakota Quick Click Program
Action Illustrated 1000 Design Pack
Small Business Start Up Guide.(PDF file)
New Operating Software with more functionality
Machine Features:
Easy cap sewing
Patented Acti-Feed thread feed system
embroidery on a wide variety of products
14.25″ x 11.75″ sewing field
Compatible with home and commercial file formats
Included items vary from seller to seller, and there are many optional accessories that can also be bought with the machine purchase.
SWF MAS
The SWF MAS-12 is a 12 needle embroidery machine.
It is full of great features, including the Smart Embroidery System. This allows you to instantly convert photos directly into embroidery-ready design data without further editing. Also, the free-hand stitch function allows you to draw, convert, and stitch your hand drawn designs directly on the screen!
You can easily create amazing embroidered designs, even as a beginner, especially with the support of their YouTube channel.
The SWF MAS 12 multi needle machine has a large 10.4″ touchscreen display, which is a big bonus. It also has wireless internet setup so that designs can be sent straight from your computer to your machine – so much better than USB transfer.
This machine also includes everything you need to use the quick change cap system. This system is super easy to use – it's tool-less and allows you to simply change from caps to hoops, and hoops to caps. This will save you a ton of time and energy.
See how easy the transition is in the following video.
Specifications:
1 Head
12 Needles Machine
Dimensions: 34" x 32" x 30"
Flat Sewing Field: 14" x 9"
Cap Sewing Field: 14" x 3"
Power: 110v
Operation Box: LCD Full Color Touchscreen Panel
Design Input: USB
Design Memory: 4 Million Stitches
Max Speed: 1000 SPM
What's included?
Tubular round and square frames
Cap frames (2 pieces)
Cap frame driver and holder
Machine stand
Tool kit
The SWF MAS-12 comes with a 7-year warranty.
Juki Tajima Sai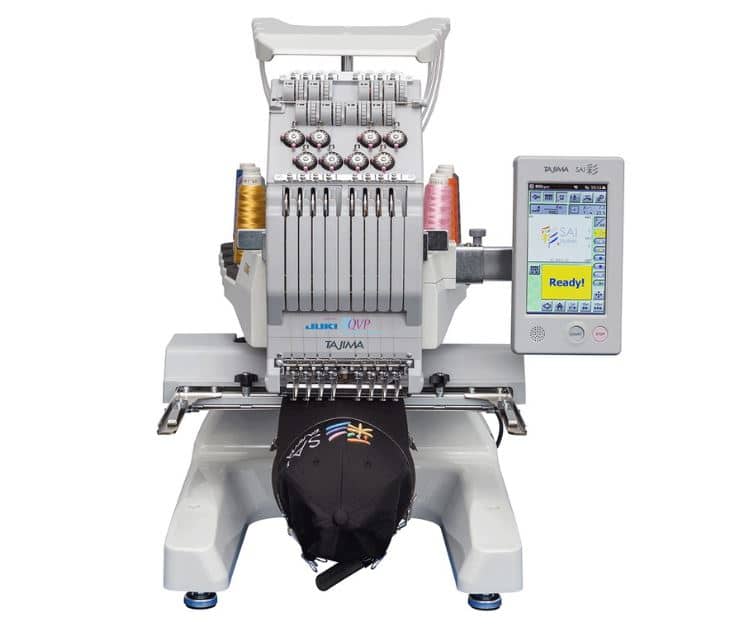 The Juki Tajima Sai is an 8 needle embroidery machine, allowing you to do multi-color embroidery easily and without hassle.
This machine can reach speeds of 800 stitches a minute, and comes with 6 fonts to create lettering for text and monogram designs. It also comes with more than 200 designs and 31 fonts pre-installed, and an additional 1000 embroidery designs by Pulse.
The auto thread trim feature is great! It will automatically trim thread when changing colors, and upon completion of a design for a clean design finish. It also has a thread break detection system that will stop the machine if a color breaks.
The Juki Tajima Sai also has a laser positioning system that makes lining up your start point super easy. It has a 3 ½" x 6" full-color touch panel for preparing your embroidery designs.
Baby Lock Valiant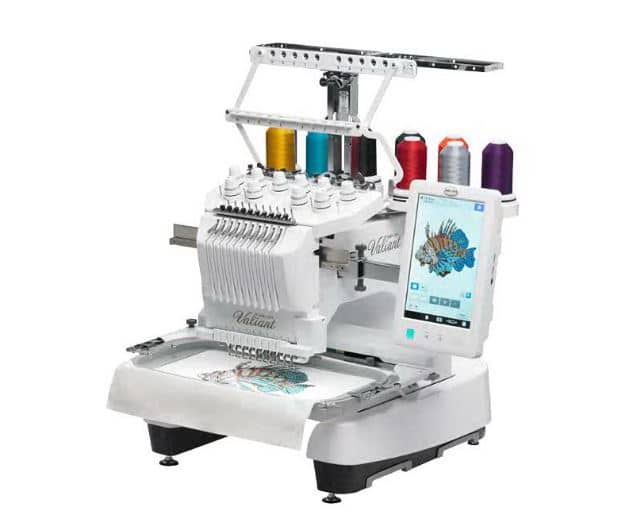 The Baby Lock Valiant is a 10 needle machine with a great stitch speed of 1000 spm. 10 needles means you can create wonderfully colorful embroidery designs without needing to switch colors in and out.
One of the unique features of this machine is the Needlecam - a camera above the needles that displays on your screen and shows you exactly where the next stitch will be made!
The screen itself is also spectacular. A 10.1 inch HD screen that can zoom in up to 200% to see the finest design details. You won't miss any flaws with this! Alongside this is a color visualizer which will help you to choose the perfect colors for your design.
Brother Entrepreneur Pro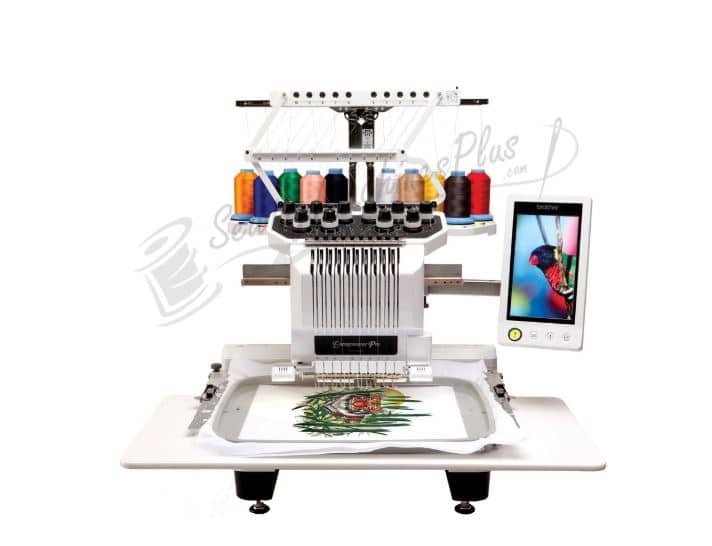 The Brother Entrepreneur Pro PR-1000 is a 10 needle machine with some special features.
It was the first multi needle embroidery machine to have a built in scanner. This allows you to get the perfect placement of your designs, especially when working with garments or fabrics that are already patterned. InnovEye Technology gives you precise positioning.
Another highlight of this machine is the high lights! There are 10 full color LED lights below each thread, making thread selection easy. The lighting helps you to ensure each job is going smoothly, that there are no breakages, and that you are happy with the thread density.
This is an excellent machine which you can learn more about in the following video.
Ricoma EM-1010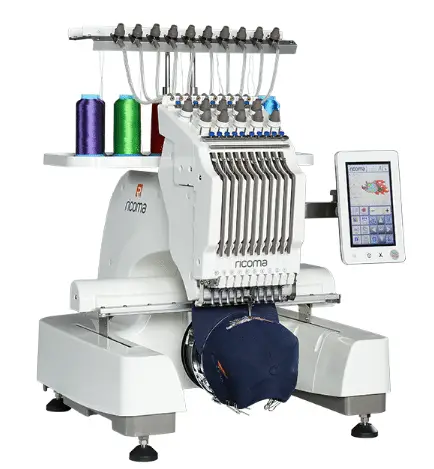 The Ricoma EM-1010 is the final multi needle embroidery machine in our list.
This machine is definitely one of the best, with its 10 needles and 1000 spm max speed.
Some of the big features of this machine include:
Auto thread trimming
Thread break detection
10 built in fonts + hundreds more included
Able to embroider hats and caps
25 year warranty
For more information, please see our Ricoma EM-1010 review!
Best Multi Needle Embroidery Machine
So those are the best multi needle embroidery machines for home use or for getting started in business.
That will help you to know what's out there, and what your options are when you are ready to buy. The Janome MB-4S or the MB7 are definitely recommended, and deserve close attention.
No matter what machine you choose there's always a chance of things going awry - in that case remember it is always to possible to remove embroidery. Check out our tips on removing embroidery if you find yourself in a jam!
Let us know if you have any questions or comments down below.
(Please note: This post contains affiliate links. Read our full disclosure policy here.)